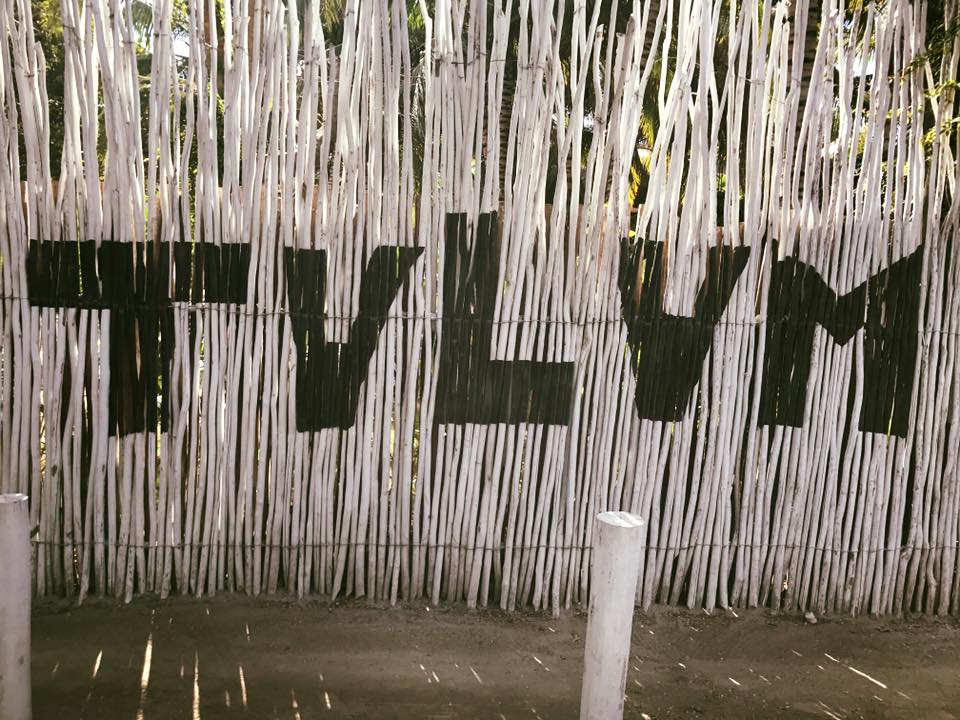 In my heart, I am a wanderluster with a gypsy soul who craves a life of clean eating, knowledge through exploration, and satisfaction derived from simple pleasures. Unfortunately, my real-life and my day job are not conducive to living the life I crave. But, a short trip to Tulum gave me a taste of that life. Calling all wanderlusters, gypsy souls, boho babes, hippies, yogis, beach babes, juicers, holisitc chicks, and wannabes of the aforementioned; I have found your haven!
Tulum is the prefect escape.  If you are looking to unwind and eat your heart out, you should come here.  But, I have a confession to make. I think I may have done Tulum wrong. Don't get me wrong, Chad and I enjoyed our trip, but I feel like we missed some of the best that Tulum has to offer, and I take full responsibility for that. Our anniversary is in April, and we always do an anniversary trip. We decided on Tulum because it had been on our "long weekend destination" list for a while, another trip we were working on for April fell through, and we needed to visit somewhere close(ish).
So, we planned our trip to Tulum as kind of a last minute getaway, during a time that both Chad and I were slammed at work. As a result, I did not do as much research as I usually do. We kind of winged it.  Kind of. We planned for our transportation to and from Tulum (because of the distance, you kind of have to), and we planned for a day trip to some of the ruins, but other than that, there was no plan. But after three days (which, by the way, is too short; you really need like 4 or 5 full days), we left Tulum feeling a little unfulfilled –like there was more to this little gem that we didn't get to experience. Maybe that is just the pull that Tulum has on some people. In this post, I hope to help you avoid that pitfall and help you make the most of your time in Tulum.  As for Chad and I, well, I guess we will just need to go back fora do-over!
VISIT TULUM
Not surprisingly, high season in Tulum is between October and December. We went in April, which is off-season. We found the weather to be comfortable, but, we are from Miami, so we are used to warmer temperatures, and most of the hotel options were affordable. The other nice thing was that it was not as crowded. However, the seas were a little rough, and the beaches were full of seaweed when we were there.
Getting to Tulum takes some planning.  You will likely fly into Cancun airport and then drive to Tulum, which is an hour and a half drive from the airport in no traffic. The flight from Miami to Cancun was only an hour and 20 minutes, so it actually took longer for us to drive to Tulum than it took for us to get to Mexico! Depending on where you stay, some of the hotels offer transportation, or as was the case with ours, can arrange transportation at an extra cost.
Initially, we had our hotel coordinate the transportation, but it was NOT cheap. As in a couple of hundred dollars each way. So, I started doing my own research, and I found Tucan Kin. They specialize in transfers and offer the best priced options that I could find. You can request a shared ride or a private transfer, and you can book online. You can pay in cash on arrival or through PayPal. In my opinion, it is better to pay in cash (and don't forget to account for a tip for the driver) because the rate is a little cheaper. They were very responsive to email requests and were very easy to deal with.
We scheduled a round trip transfer, and they were right on time when we got out of the airport and also right on time to pick us up for the return. We were transferred in a comfortable van with air-conditioning and a cooler of coll drinks. They also offer other transportation services for your in-country stay. We literally saved $200.00 using them, so I would highly recommend booking your transfer with them.
If you fail to plan for your transportation, expect to be solicited at the airport for a ride. Good luck with that, and I hope you have cash on had. But, if this is the situation in which you find yourself, then your best bet is to book a transfer from the transfer desk at the airport. When you arrive at the Cancun airport, you will clear customs, which was a pretty quick process, and then be directed to baggage claim.  From there, walk out the doors on the arrivals level and look for the transfer desk just to the left.  You really can't miss it because it is a fairly small airport and it is located in the only hall you have to walk through to actually exit the airport. Expect to wait up to 30 minutes for car or van (it won't be a taxi because they are not allowed to pick up from the airport), and the cost will be about $100 USD.   
I would not have done it on our first visit, but after visiting once, I think I would be comfortable renting a car and driving to Tulum ourselves. The roads are excellent and there is plenty of signage.  At a minimum, Chad and I would consider renting a car once we are in Tulum to drive around the town.  Otherwise, your only options are taxis (which can get expensive), walking (which isn't always feasible due to the distance), or biking (which is probably the most common mode of transportation).
Bikes are everywhere in Tulum. They are easy to rent and cost about 150 pesos a day, which is about $8 dollars.  If you rent for multiple days, it is cheaper.  Some places will rent you scooters or 4x4s but hardly anyone we saw had rented these.  There's a bike path from town all the way out to the beach, and the ride takes 20 to 35 minutes depending on where you're staying along the beach road. While the road is flat, keep in mind that depending on when you go, it can be pretty hot in Tulum.
A taxi from the beach to town should be about 100 pesos (or $5.00) and up and down the beach road about 80 pesos (or $4.00), but honestly, this varied wildly depending on the cab driver.
I research car rentals when we returned and it looks like you can rent a car once you get to Tulum for under $10.00 USD per day.  This seems to be the cheapest and easiest option. The only problem I foresee is parking. There are lots up and down the Hotel Zone (see below for what that means), but they are few and far between. Also, not all hotels offer parking.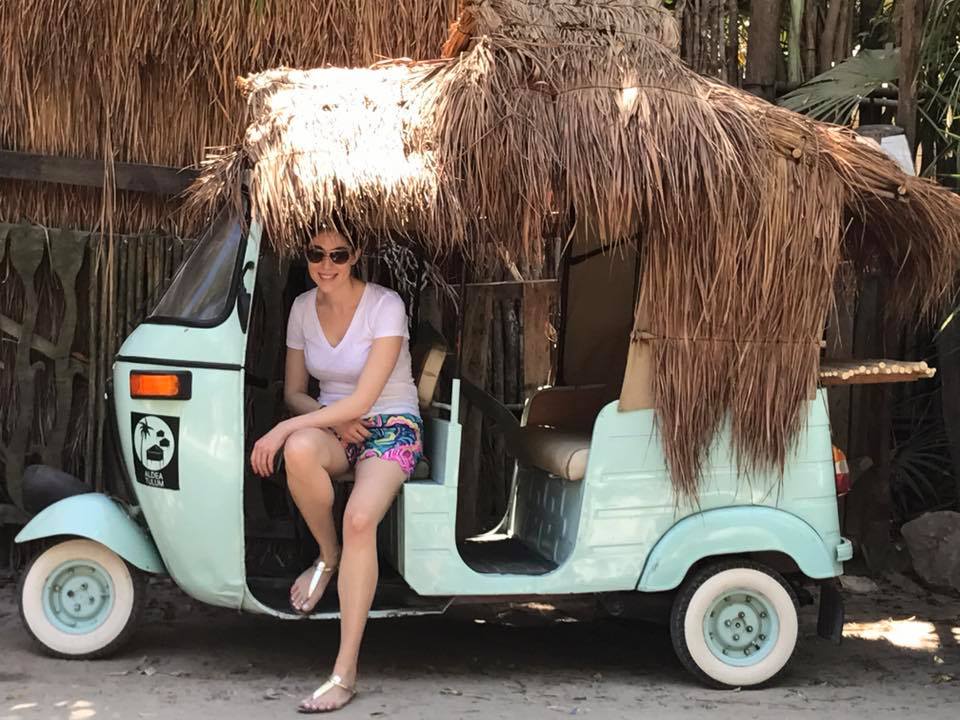 STAY TULUM
There are a lot of different options for accommodations in Tulum that span all budgets, from luxury resorts to beach tents and rustic beach huts with communal restrooms and sans electricity. Other than budget, I think the most important consideration to make is where in Tulum you want to be. There are basically two areas: Tulum Town and the Hotel Zone. If you want better prices, then you should look for properties in the town. If you want to be close to or on the water, then you should look for properties located in the Hotel Zone, which stretches for miles. A nice resort in off-season is about $300.00 USD per night.
We stayed at Maria Del Mar Tulum which is located in the Hotel Zone, probably about halfway between the Tulum Ruins and the town and the stretch of the Hotel Zone where most of the restaurants are located. The location was good, but (as with most accommodations) we still needed a cab to get to most restaurants and shops and a cab to go to the town.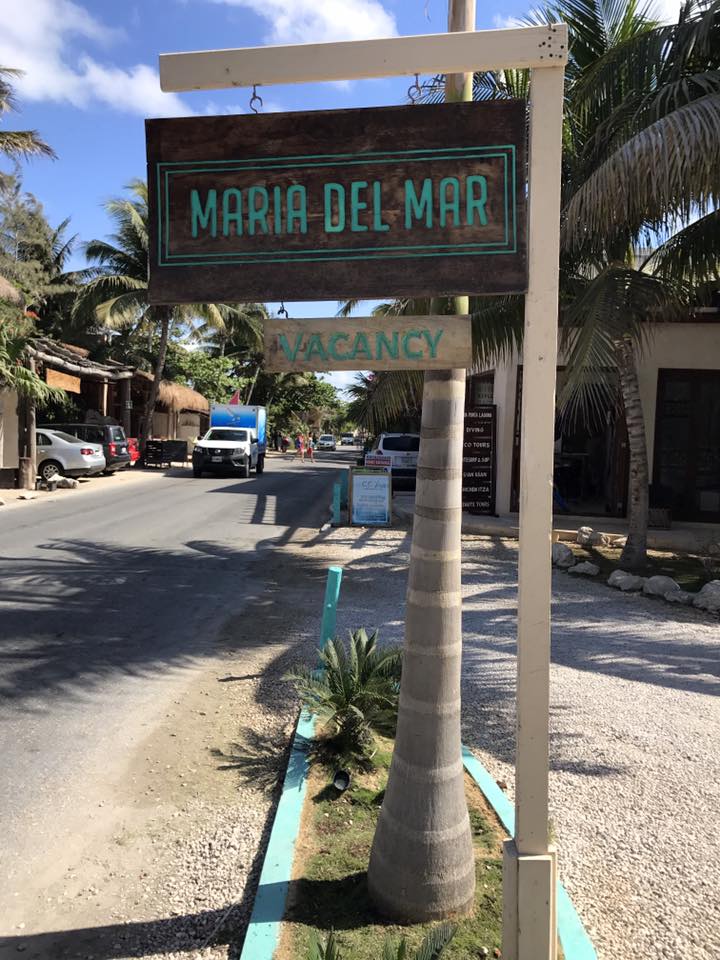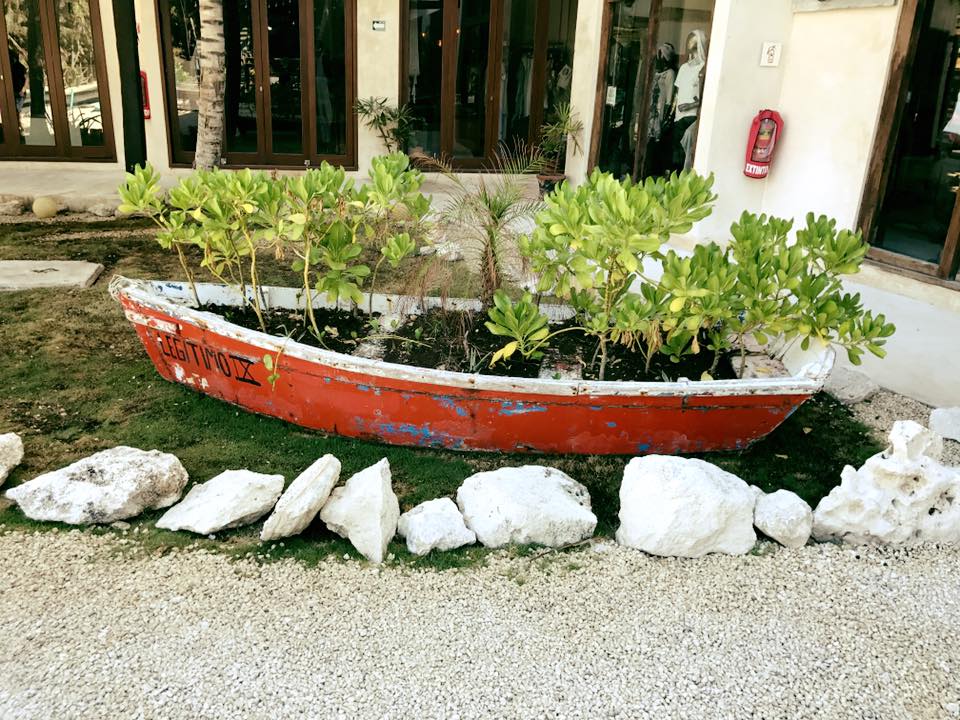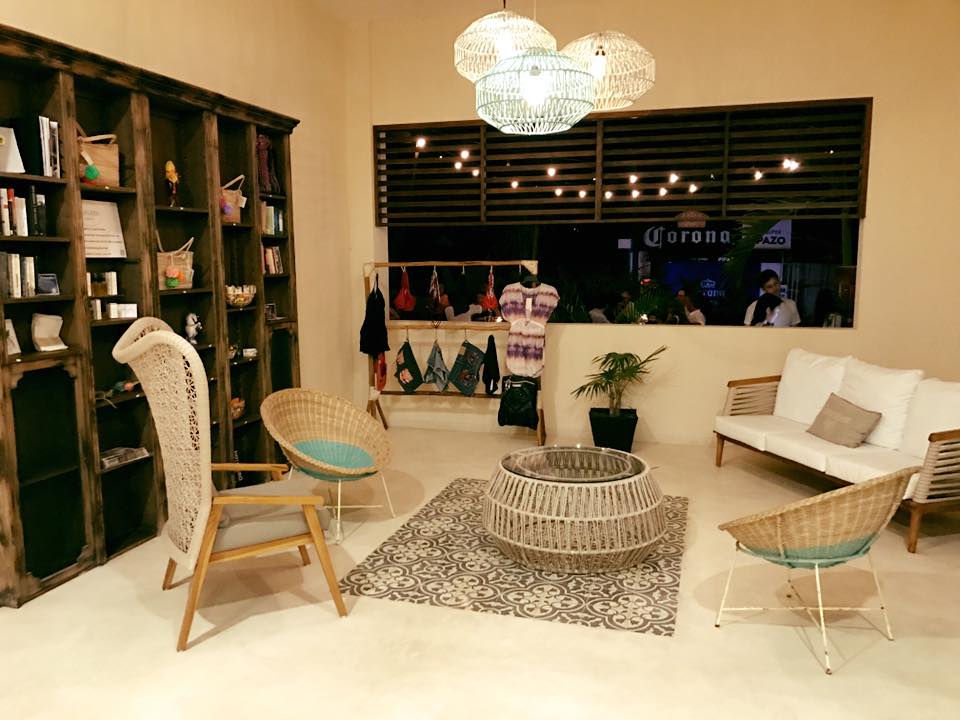 The hotel is fairly new.  It has an on-property restaurant called Mina, which is the sister-restaurant to the popular Casa Banana (more on the restaurants below). The hotel had its own little boutique, but right outside of the hotel therewere a few cute shops. A convenience store, a bike rental shop, an ATM, an exchange station, and some other causal eateries are located literally across the street and, in some case, just a few steps from the hotel. The draw for us was 1) it had air-conditioning and electricity, 2) it was on the water, and 3) it is adults only! We stayed in the room on the right hand corner on the second level in the picture below, so we had an ocean view from the front and the side of our room.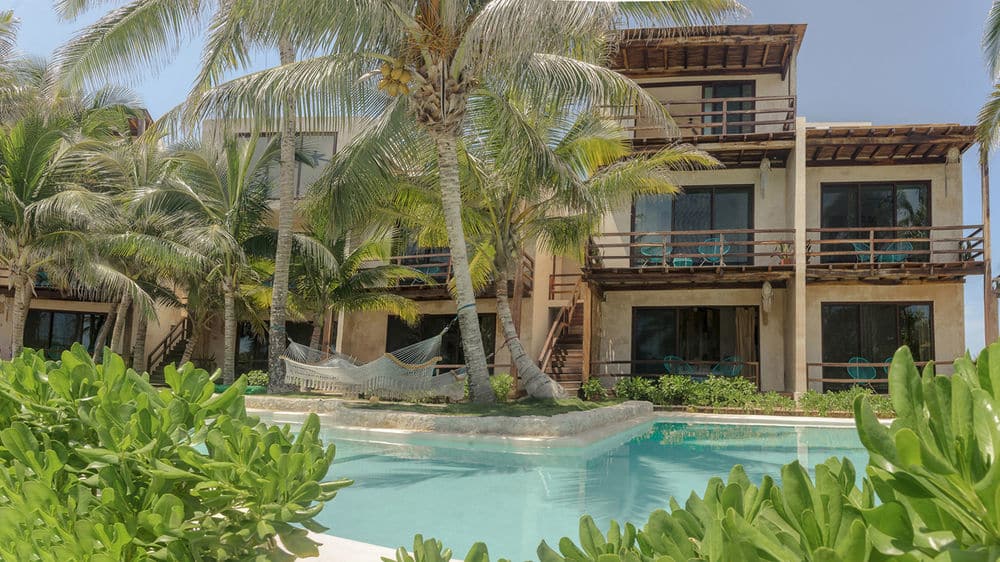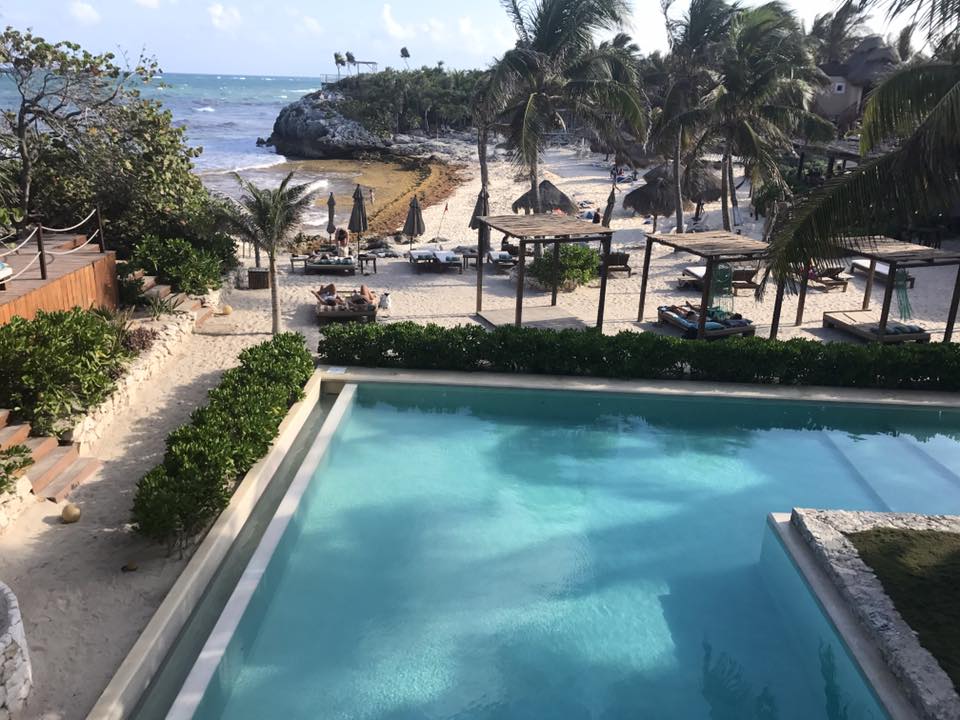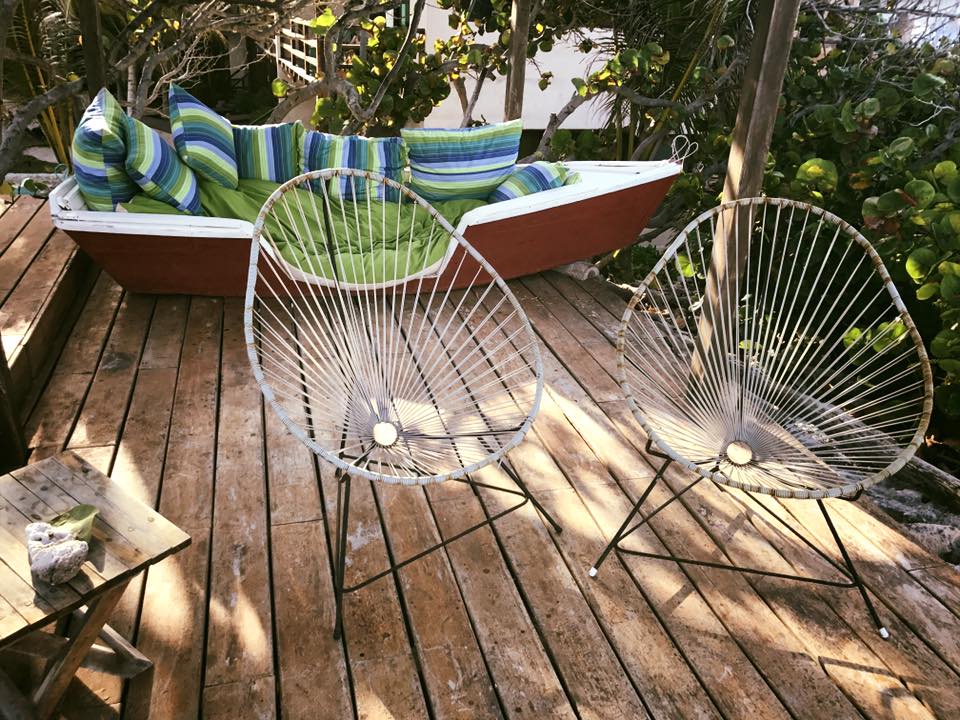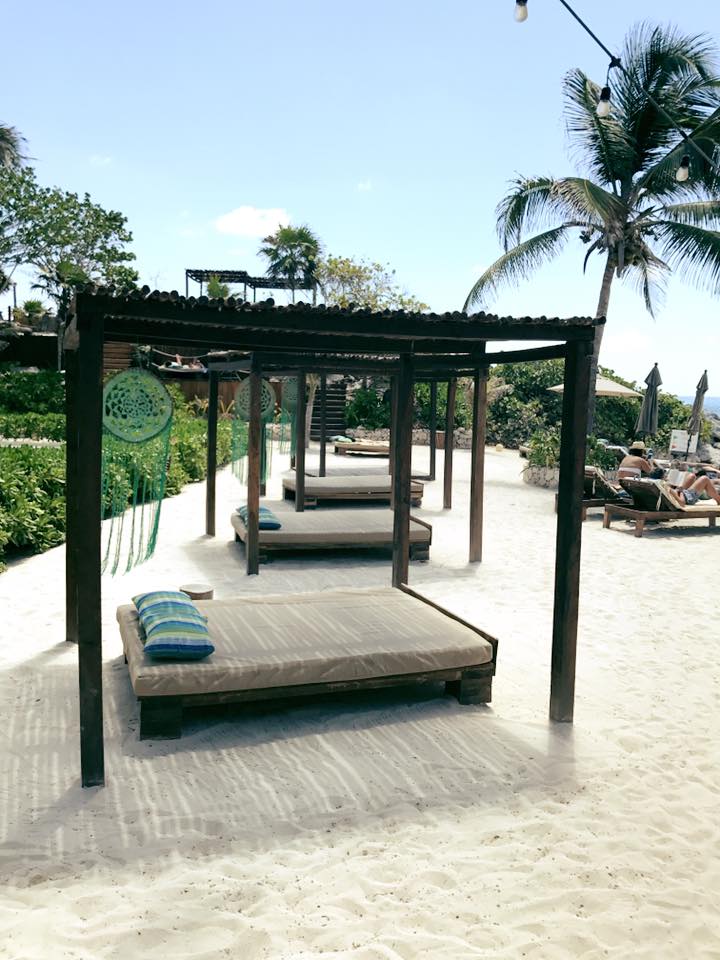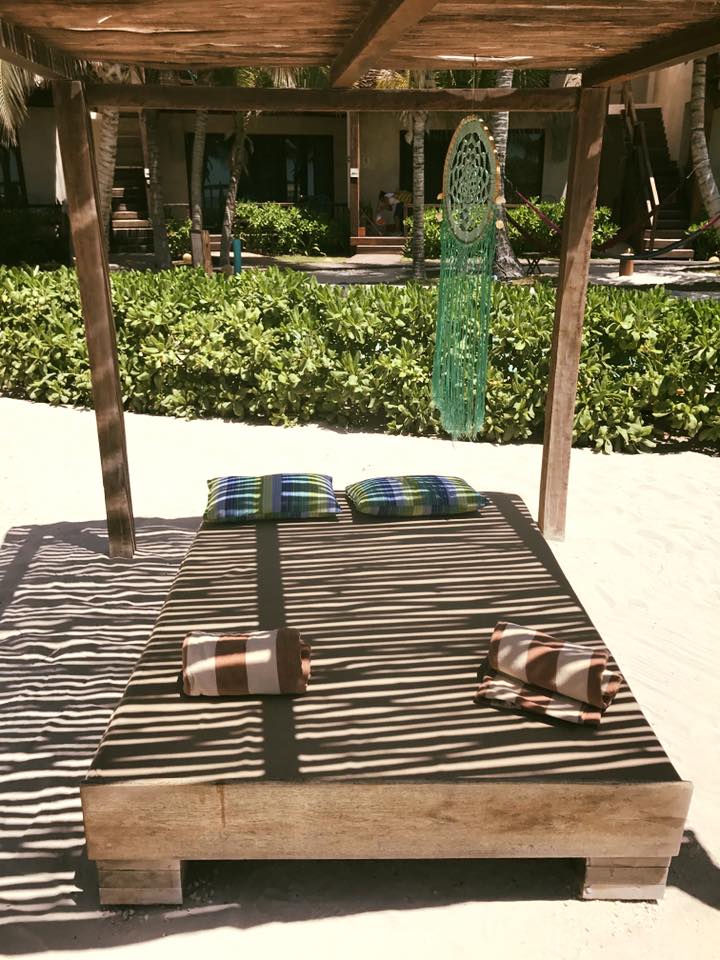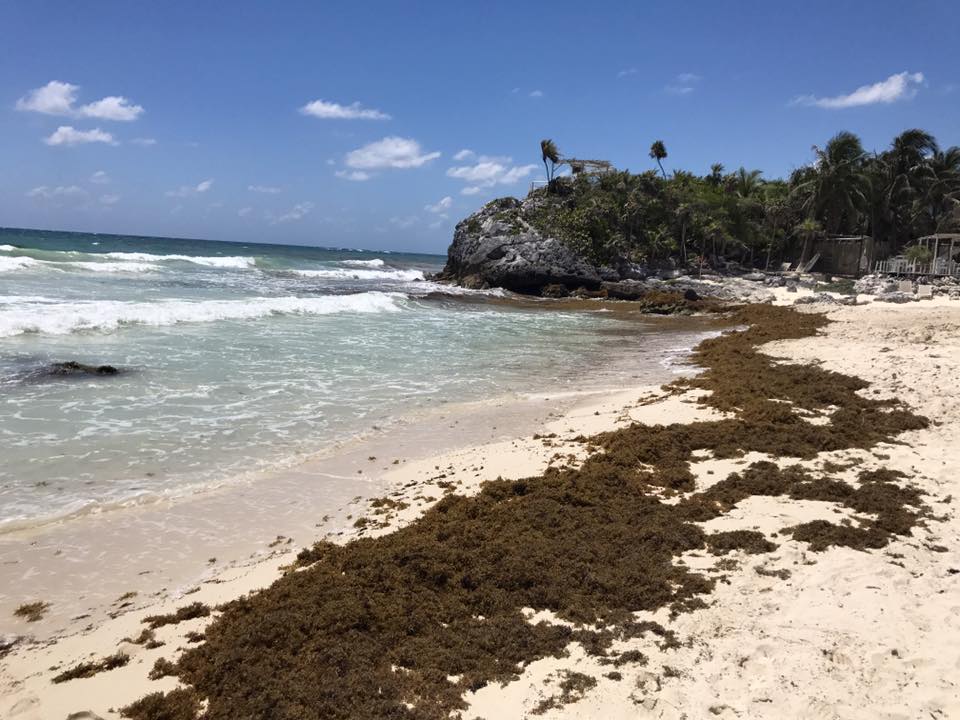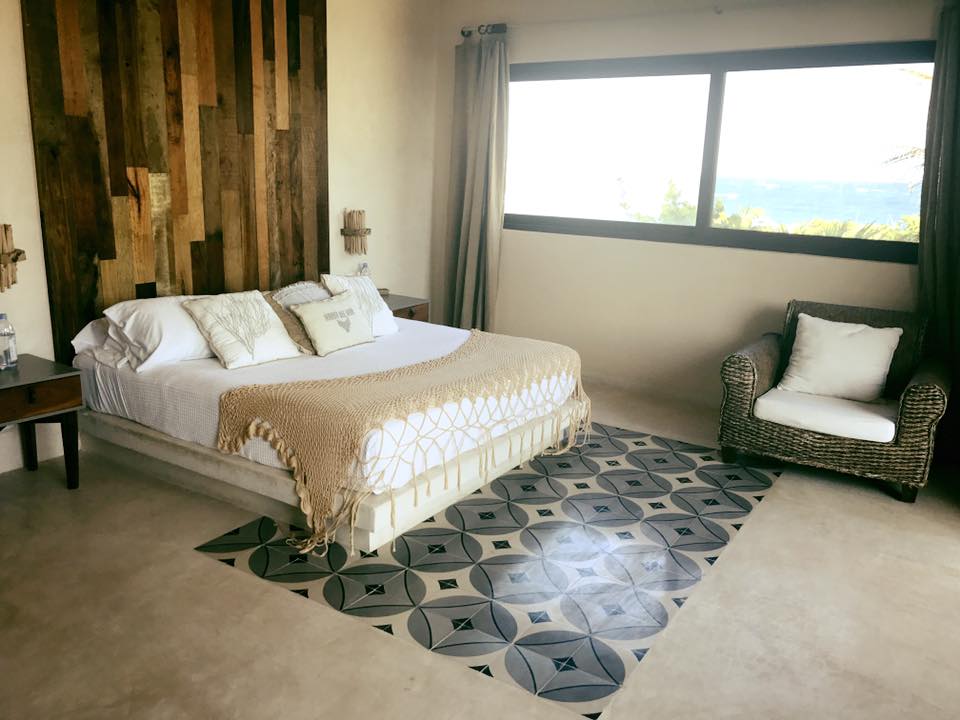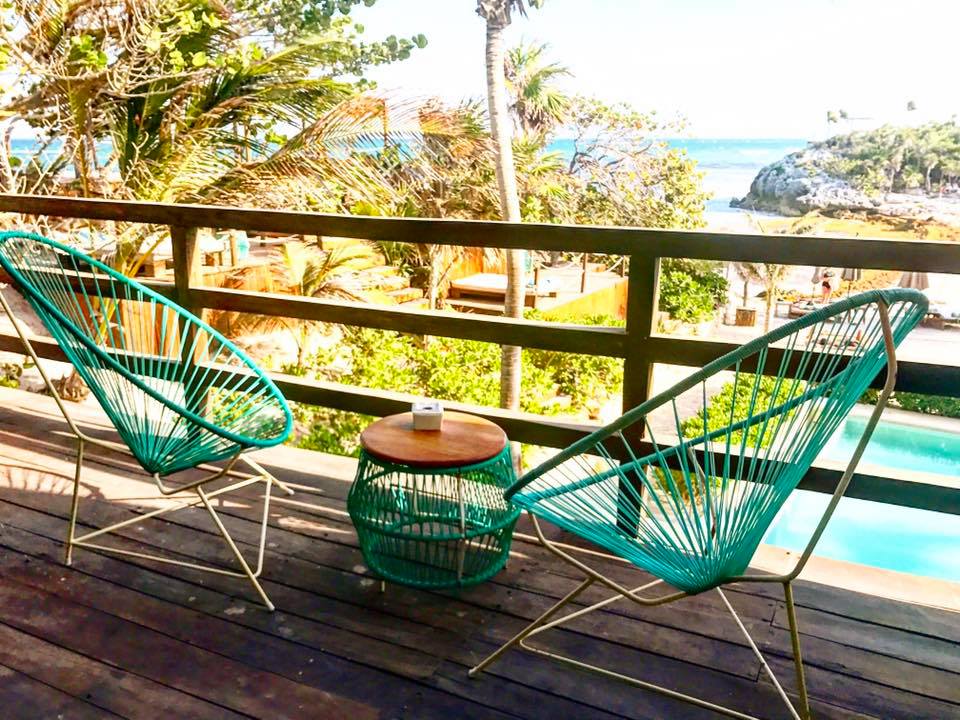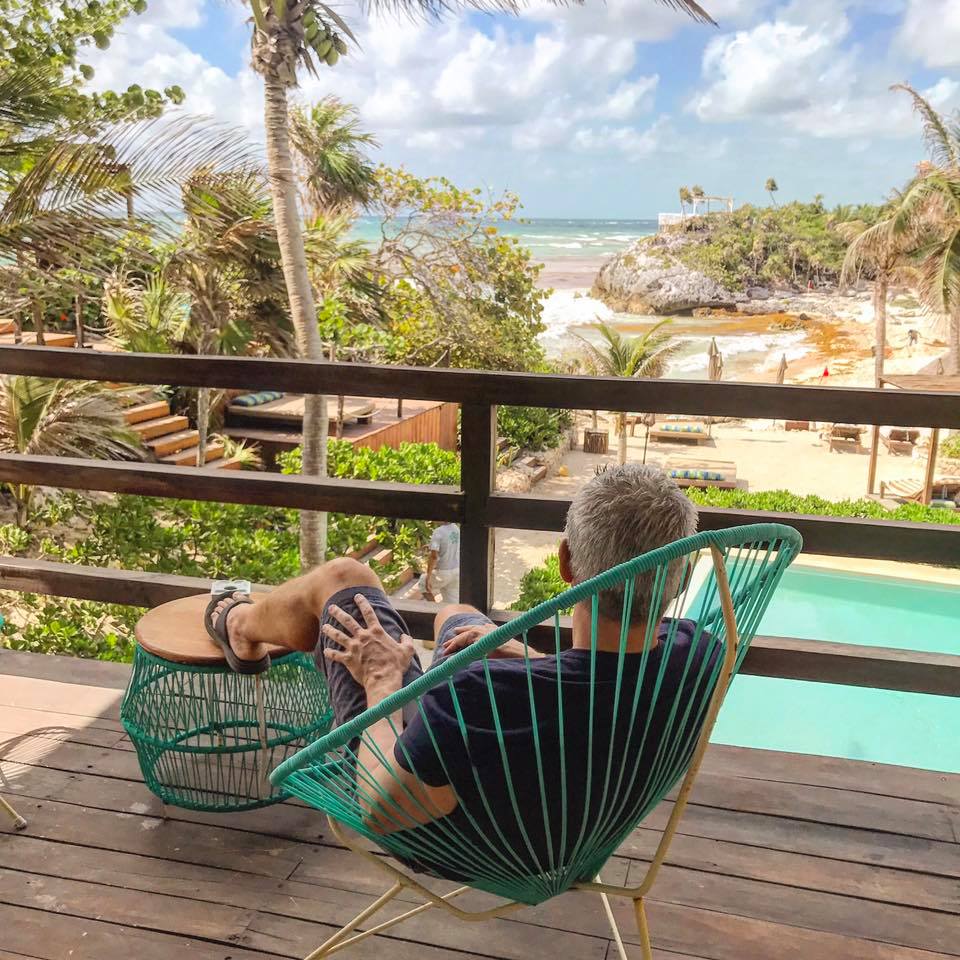 The room comes with a beach bag to use while you are there, which was very helpful, and their toiletries were amazing, all organic, and smelled like heaven. The staff was friendly. Housekeeping replenished the bottle water that was provided for brushing your teeth daily and accommodated requests for extra pillows. The hotel also helped with reservations to restaurants and rental of snorkel equipment. They also offered yoga every morning for an extra price and could arrange in-room massage services.
The other hotels that are on my list of places to stay in Tulum include Sanara (home of the my favorite breakfast restaurant of all time- The Real Coconut), Nomade, Nest (this one gets GREAT reviews), Be Tulum (the most expensive option at $500+ USD per night), and Ana y Jose.
SEE TULUM
Tulum is not just all beach. I mean, you could just do the beach and nothing else, but we live in a beach destination, so the beach is never really the main attraction for us. There are a lot of things to see and do in and around Tulum. If we were going to the Yucatan, we were going to see arguably the most famous ruins in the region, Chichen Itza. But, they aren't close. Indeed most of the ruins, except for the Tulum ruins, are an hour or more away. So, we hired Experiencias Riviera Maya. They offer a wide range of private day tour options and were the most responsive and reasonably priced operator I found.
We booked a day trip from Tulum to Chichen Itza, Akumal Bay, and the Tulum ruins. They were very professional and responsive from the start, quickly answering emails and working with us to customize our itinerary. They offered the best pricing and were accommodating to changes in our schedule. On the day of the tour, they were right on time for our (very early) pick up in a large, clean, and comfortable van with air-conditioning and a cooler of cold water and snacks, which is important because it is a long drive. The driver was professional, and the guide was great and spoke perfect English. They were willing to accommodate stops for restrooms, snacks, etc. They got us to Chichen Itza just as it opened to avoid the crowds (and it does get very crowded). They gave us a tour of the ruins at Chichen Itza and Tulum and allowed time for independent exploration. They were always right on time and in the exact meeting spot that was selected. I plan to book other excursions with them the next time we are in Tulum.
Ruins
If you want to get off the beach, there are plenty of day trips available from Tulum. For our first trip, we chose Chichen Itza and the Tulum Ruins. Chichen Itza is a UNESCO World Heritage Site.  It was a sacred, mythical Mayan site and was one of the greatest and largest Mayan centers of the Yucatán peninsula. Just an FYI, you are no longer allowed to climb this pyramid.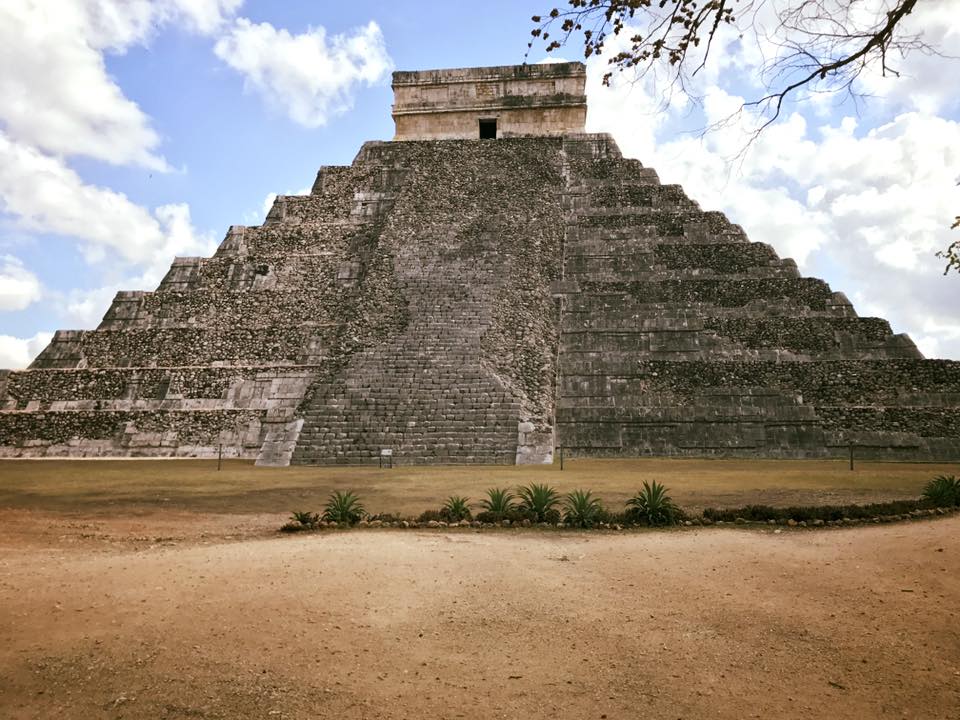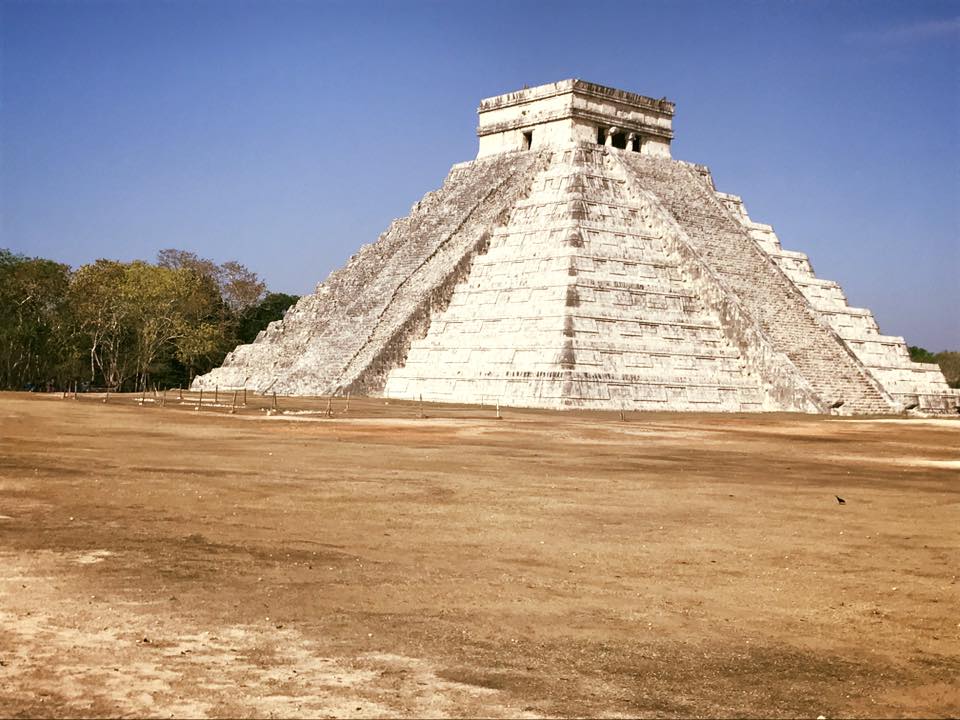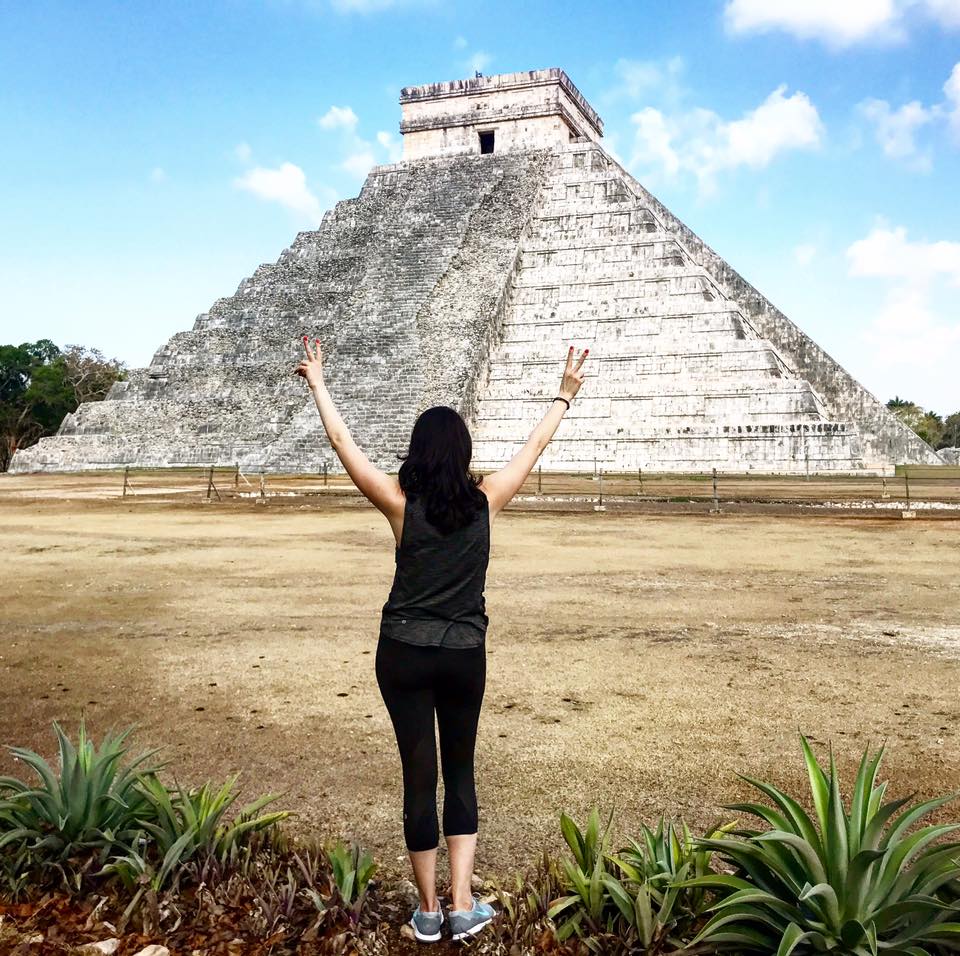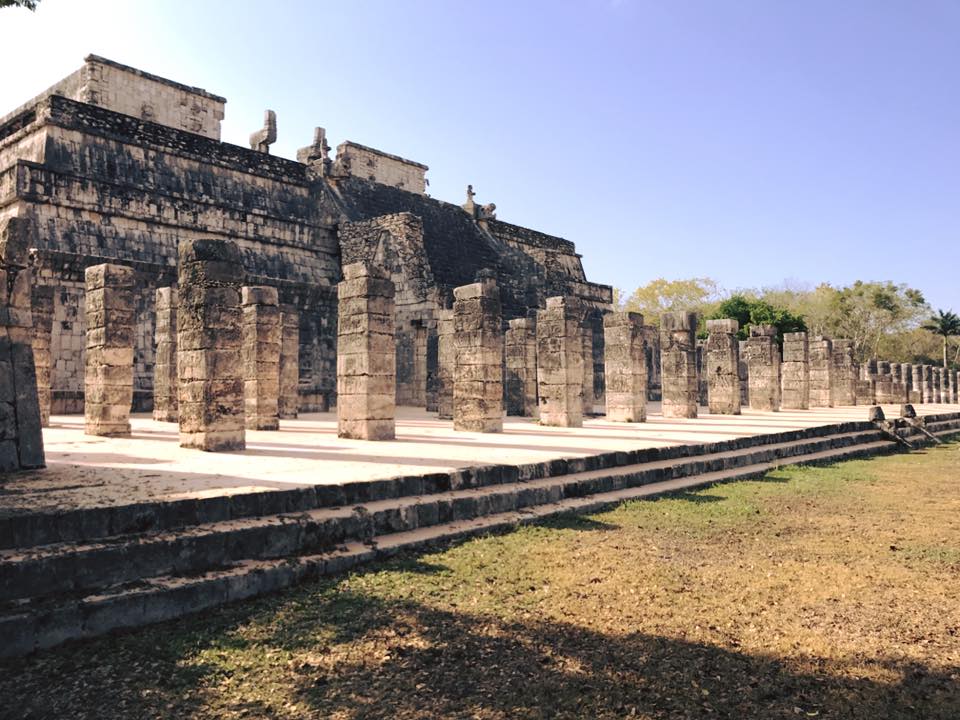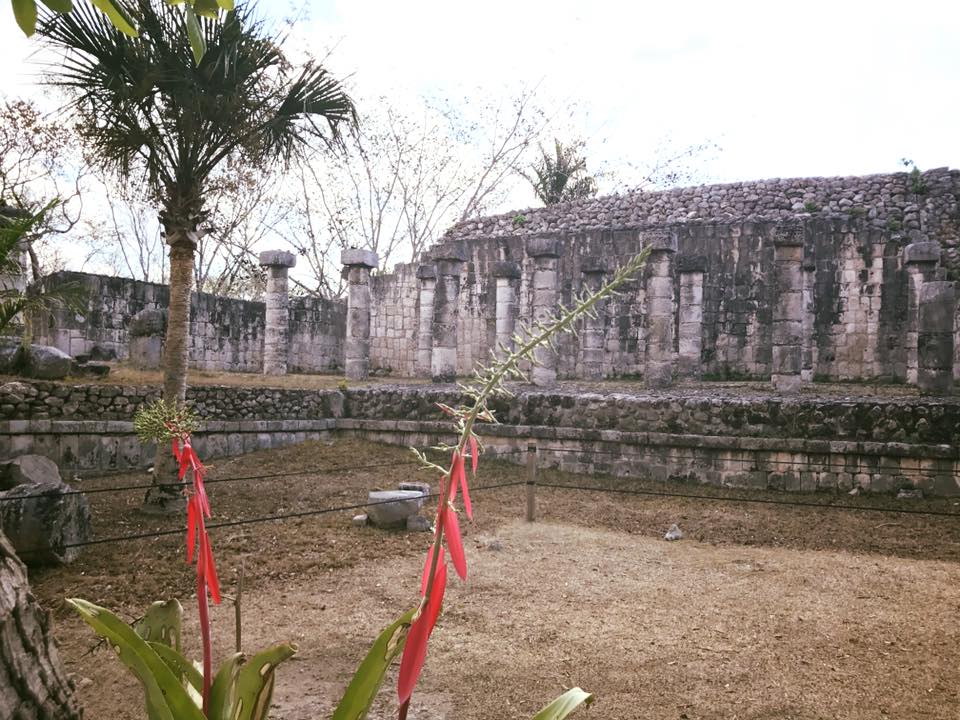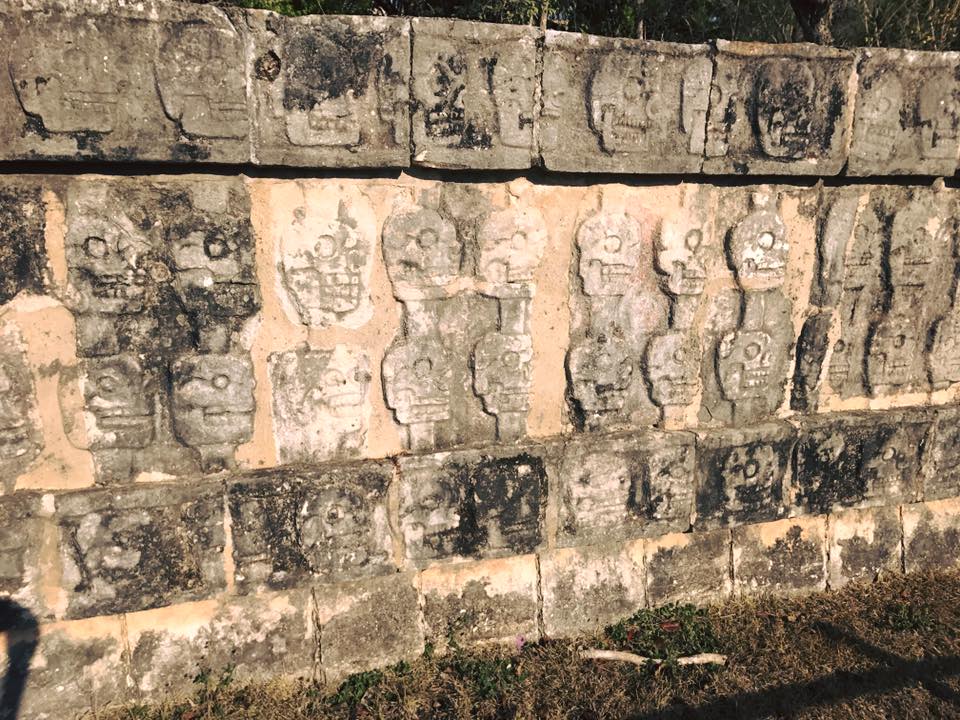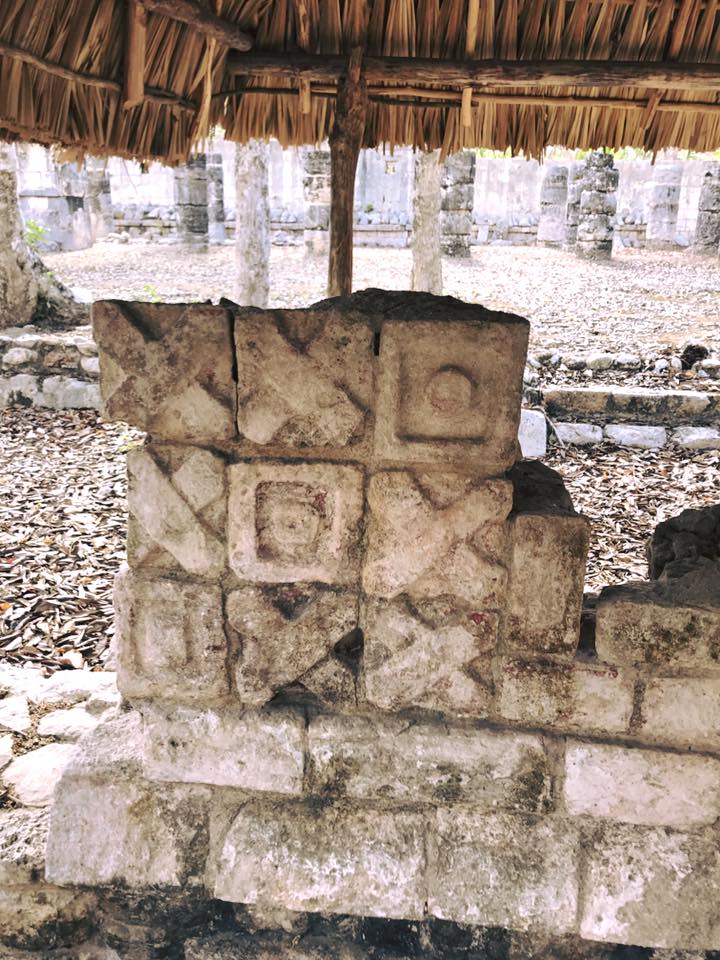 The most surprising thing we saw at Chichen Itza is that they allow a regular ole' flea market to operate within the grounds of the ruins. Hundreds of vendors set up selling all kinds of trinkets, art, t-shirts, magnets, and other souvenirs. If you are going to buy them, this is as good a place as any. You can haggle on the price, and it is cheaper than the shops in Tulum (including the downtown shops), but you need to pay cash. Also, who doesn't want to buy a Mexican souvenir, from a Mexican, in Mexico, wearing a Mexican sombrero?!? Nobody!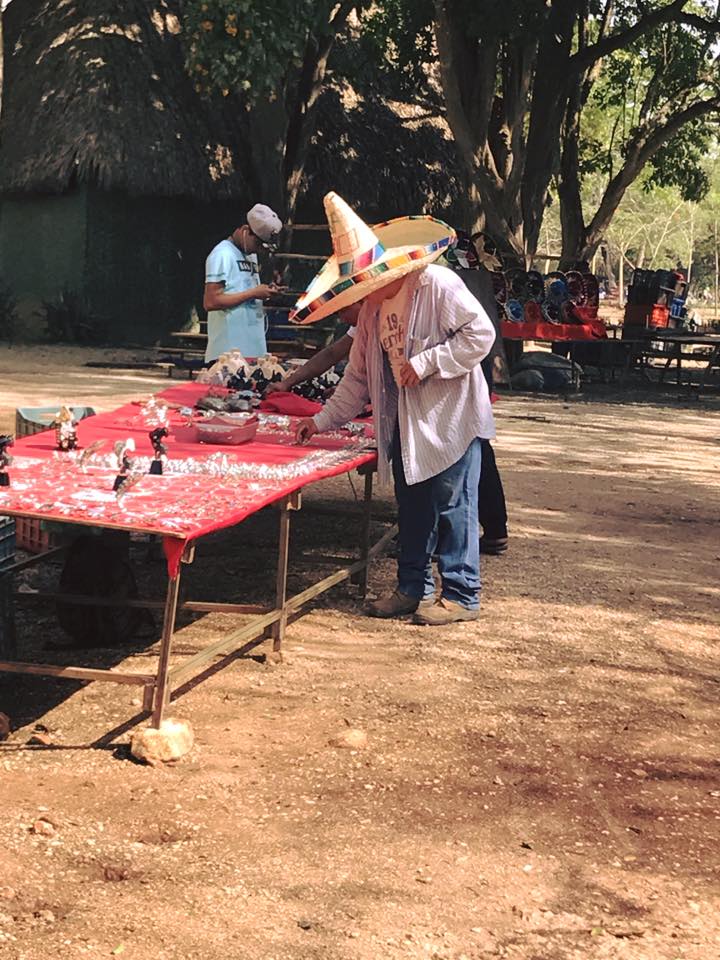 From there we made a stop in Akumal Bay to swim with the sea turtles. Akumal Bay is a small town between Playa del Carmen and Tulum on the Yucatan Peninsula of Mexico. While there were some sea turtles, I would skip this. First it is uber touristy. The beaches are very crowded because there are a lot of resorts here. The best part of Akumal Bay was this bar with swings. I love swings. But even this bar would only serve guests of its resort, so it was a fail. Seriously, just skip Akumal Bay. Go to a cenote instead (see below for what that means).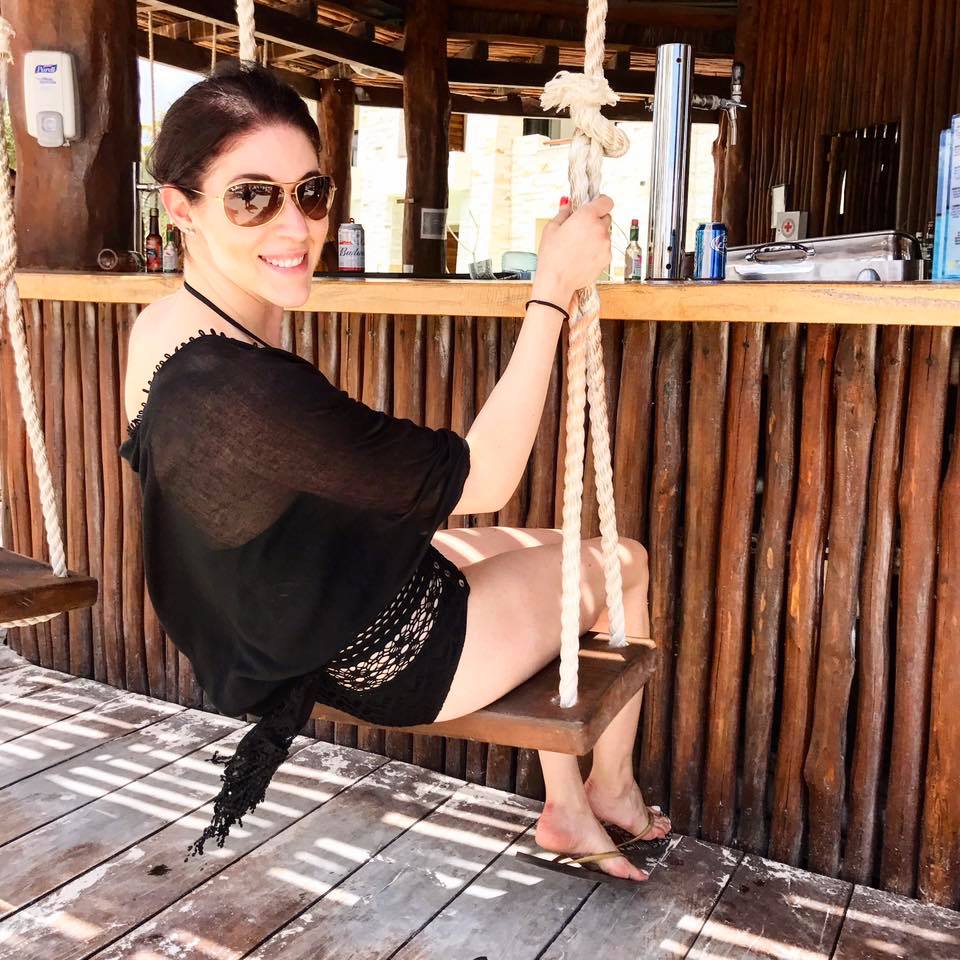 Our last stop was to the Tulum Ruins. After seeing Chichen Itza, the Tulum Ruins weren't as impressive, BUT they are right on the water. So, you can visit the ruins and walk down to the beach for a swim, which is pretty cool.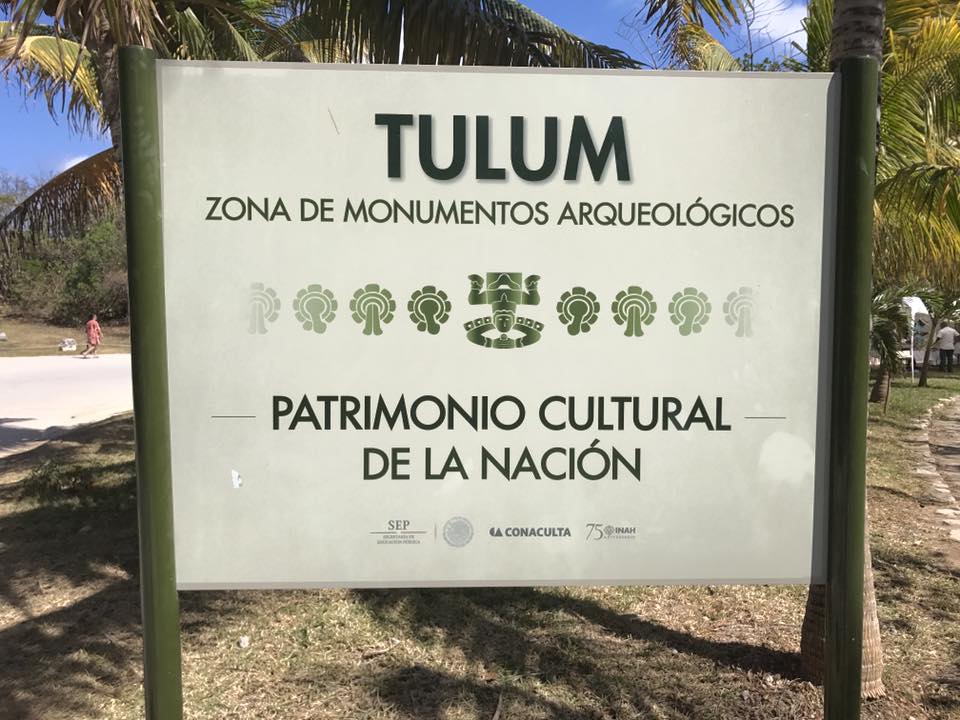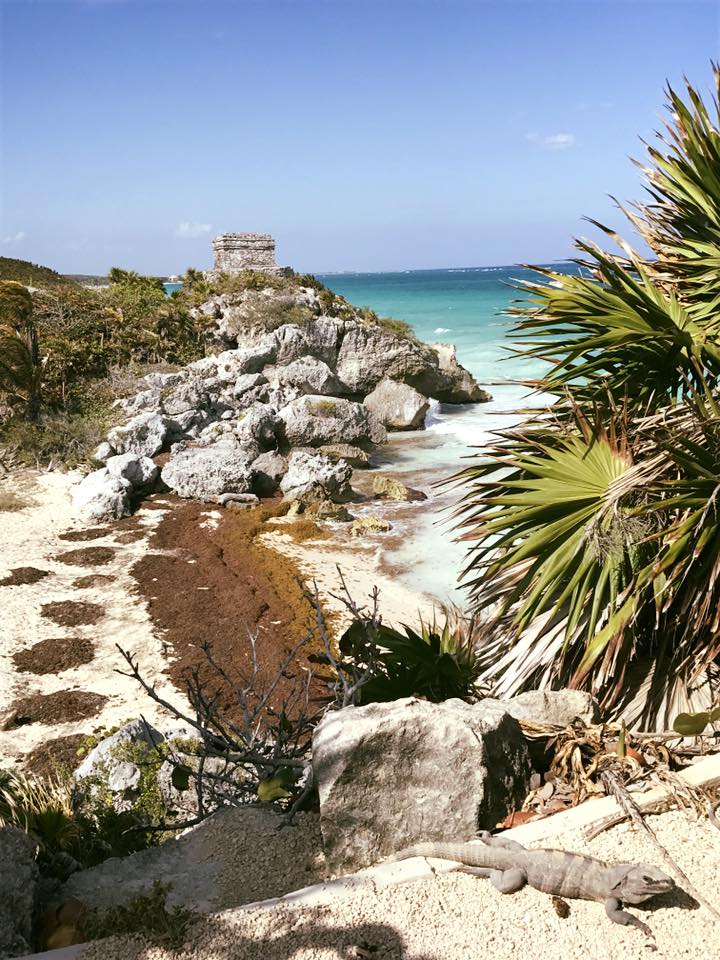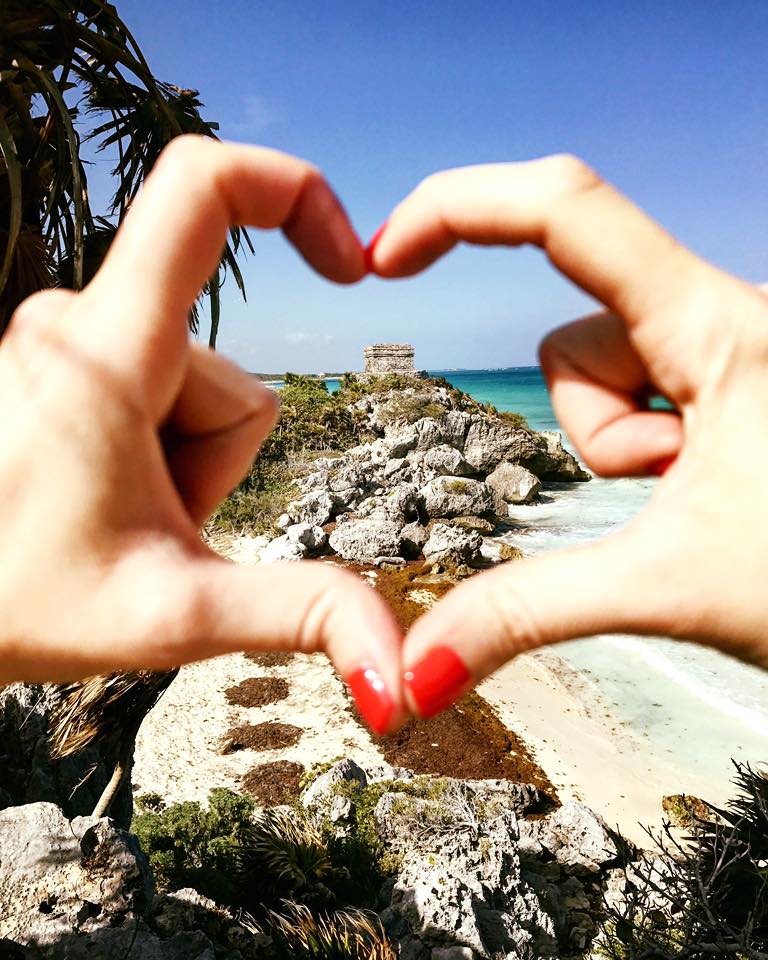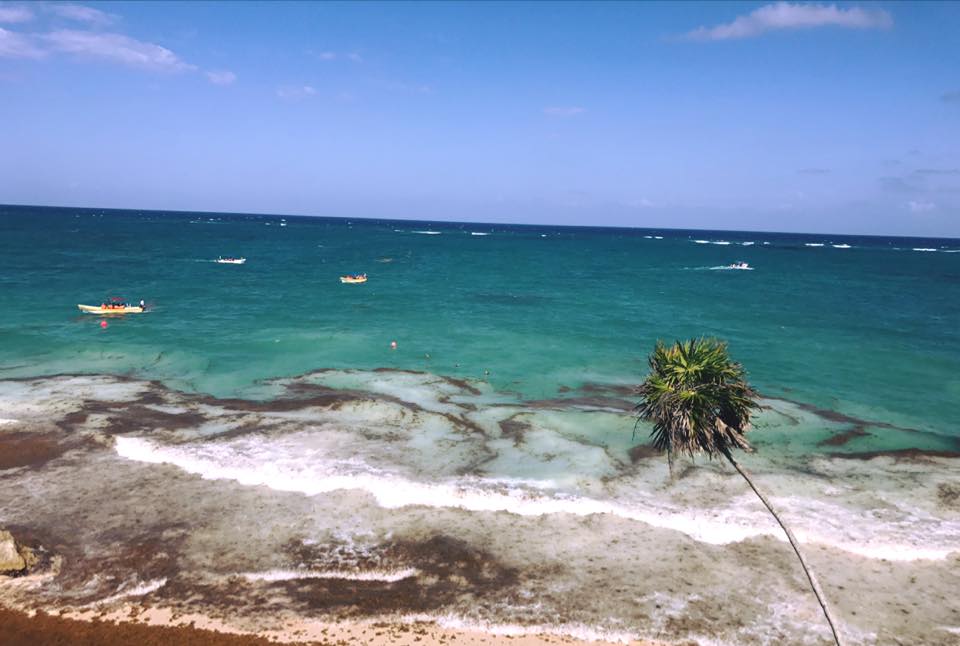 On our next trip, we plan to visit Ek' Balam, Coba (where you can actually climb up the ruins), and the enchanting little town of Valladolid.
Cenotes
Tulum is surrounded by cenotes, which are collapsed limestone caves that are very common throughout the Yucatan peninsula and are great for fresh water swimming. The Mayans considered them sacred waters. Because of our limited time, we did not visit a cenote, which begs the questions, did we even go to Tulum if we didn't go to a cenote? Probably not. This is yet another reason why we need to get back to Tulum. So, all the photos of them below are borrowed from the internet so you get an idea about what a cenote is and why you need to visit one (or three).
El Gran Cenote is the most famous in the region. Other popular cenotes include Cenote Agua Dulce (near Valladolid), Cenote Palomitas (also near Valladolid), Cenote Ik Kil (some consider this one the most beautiful), Cenote Dos Ojos (near Tulum), and Cenote Sac Actun.  You could literally do a tour of just cenotes. You can swim in them, snorkel in them, and for some, dive or zip-line.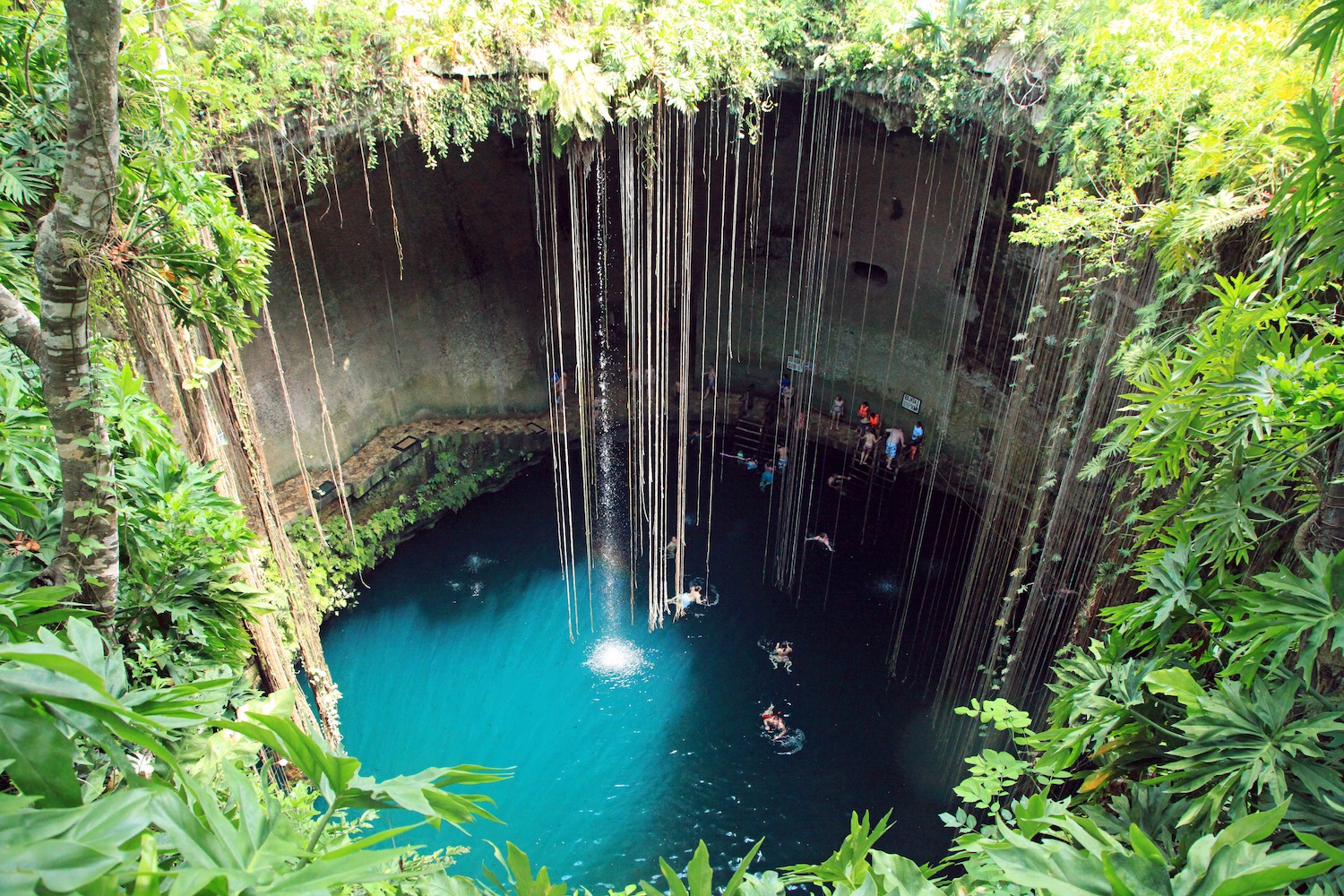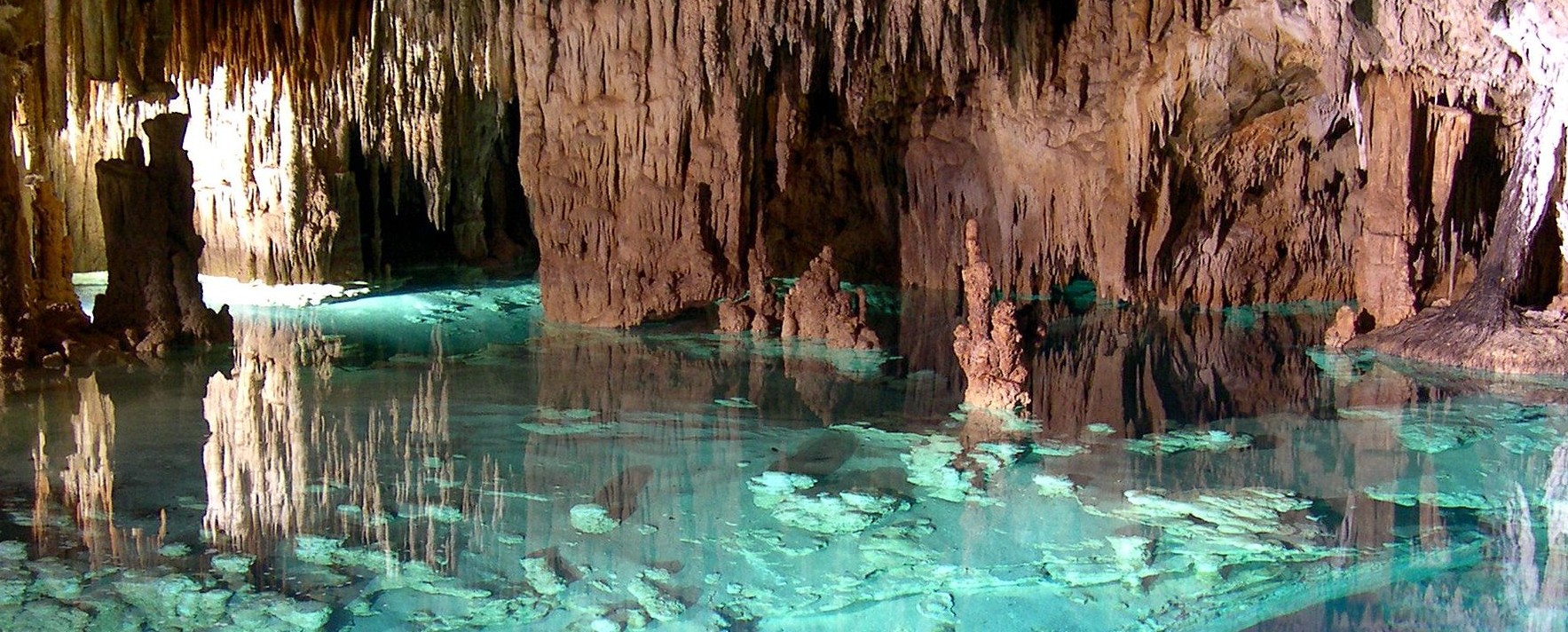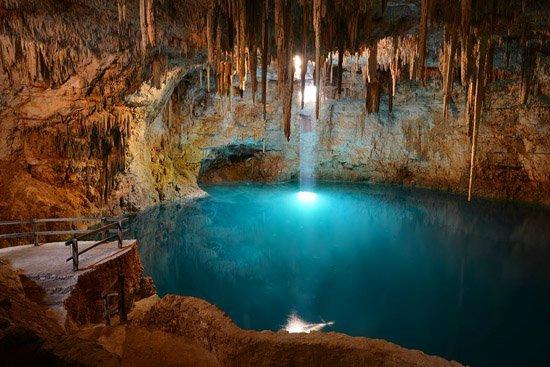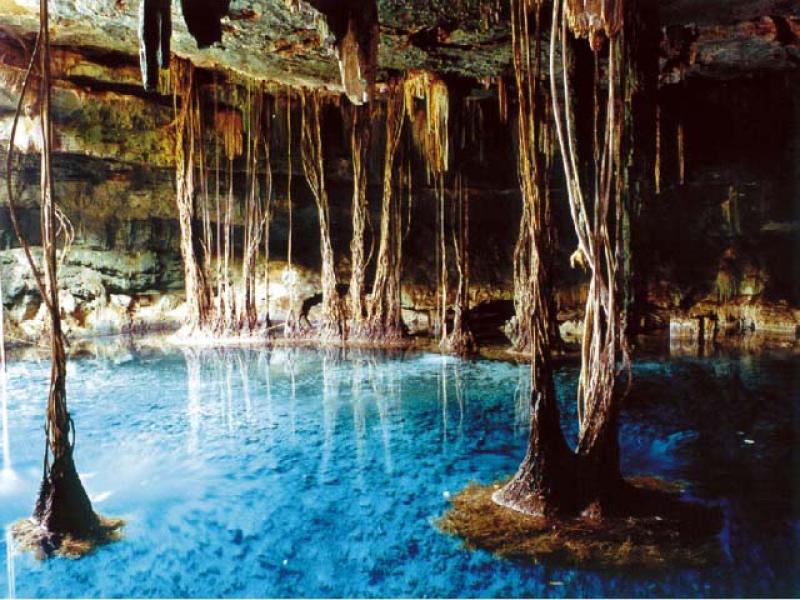 Other cenotes that are close to Tulum include Manatee, Carwash, Zacil Ha, and Crystal and Escondido. I even found a blog post dedicated just to cenotes.
If you don't visit a cenote as part of a tour, you can get a cab tell the driver where you want to go.  Some people recommended paying the taxi to wait for you so you have a way to get back to Tulum. This is where renting a car for the day is a good idea!
If you are looking for other water-based activities (other than Akumal Bay), you can also look into visiting Contoy Island and Isla de Mujeres, but I suspect that they are a little touristy, like Akumal Bay, except full of day tourists coming on boats. You are probably better off visiting the Sian Ka'an Biosphere Reserve.
Sian Ka'an Biosphere Preserve, a UNESCO World Heritage site, is a massive biosphere reserve near Tulum. Part of the reserve is on land and part is in the Caribbean Sea, including a section of coral reef. Five species of cat are found in the reserve, including the jaguar and puma, as well as the tapir and a wide range of bird species, turtles, dolphins, manatees, and crocodiles. The reserve also includes 23 known archaeological sites of the Mayan civilization, the most famous being the Castillo. Apparently, there are only a couple of operators who tour this area, but I found a guide on how to do it alone here.
Wellness
You can't throw a rock in Tulum without hitting a yoga spot. Yoga is everywhere in this town. Tulum is a yoga mecca. Pretty much every hotel offers yoga, and people who aren't staying at the various yoga retreats can still join the yoga classes. Sanara had a great yoga studio with a lot of class options. But, if we are being honest, I am not much of a yogi. I much prefer Pilates, barre, and a good HIIT class, so I found this post that gives you some insight on the yoga scene.
Juicing is also big in Tulum.  You can pretty much get a fresh juice everywhere. My favorite was at The Real Coconut.  They had one of the largest and most comprehensive juice menus I have ever seen.  I also heard that Posada Margherita made a mean green juice as well.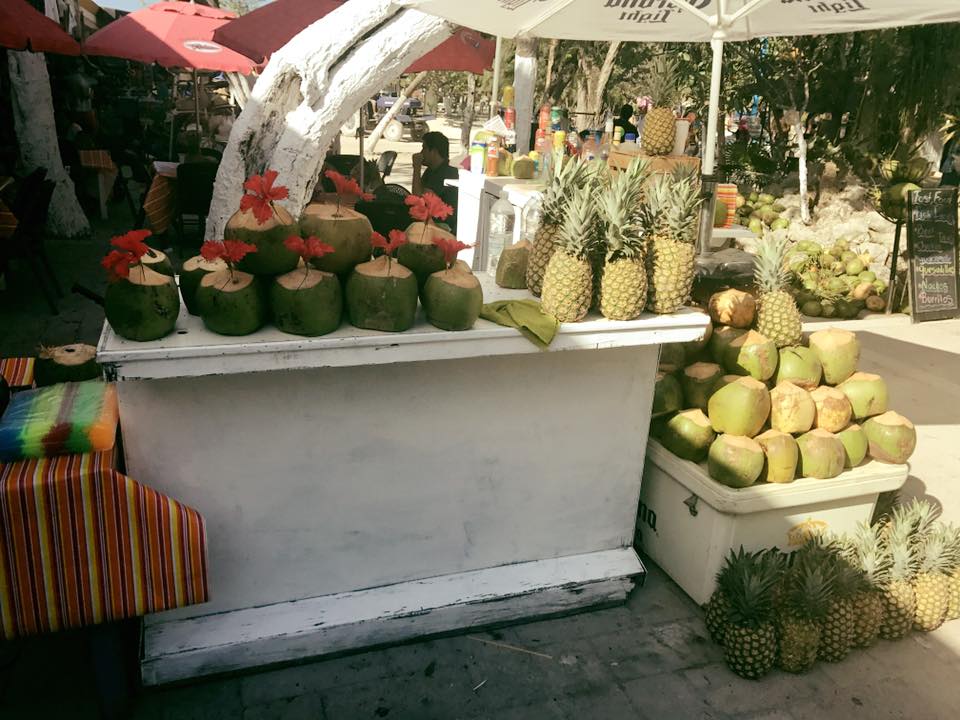 There are also no shortages of spas in Tulum. While I did not get to visit one this time, when I return, the spa at Coqui Coqui is on my list. In addition to their spa, I really really want to visit their perfume shop! The Mayan Clay Spa is also supposed to be very nice and one of the more affordable options.
EAT TULUM
One of the main reasons to come to Tulum is to eat (especially for vegetarians and vegans).  This is also the number one reason that I need to go back to Tulum. We simply did not have enough time to eat at all the places on my list. At this stage in the post, you should know that my favorite breakfast spot was The Real Coconut.  The views were amazing and the food was incredible, especially considering that it is all grain free, gluten free, dairy free, and free of refined sugars! I was in heaven! Chad was dreading it, but even he will admit that the food was tasty! It also had the best and most tasty juices, but it was NOT cheap. Breakfast was approximately $80.00. Whatever. It was worth it.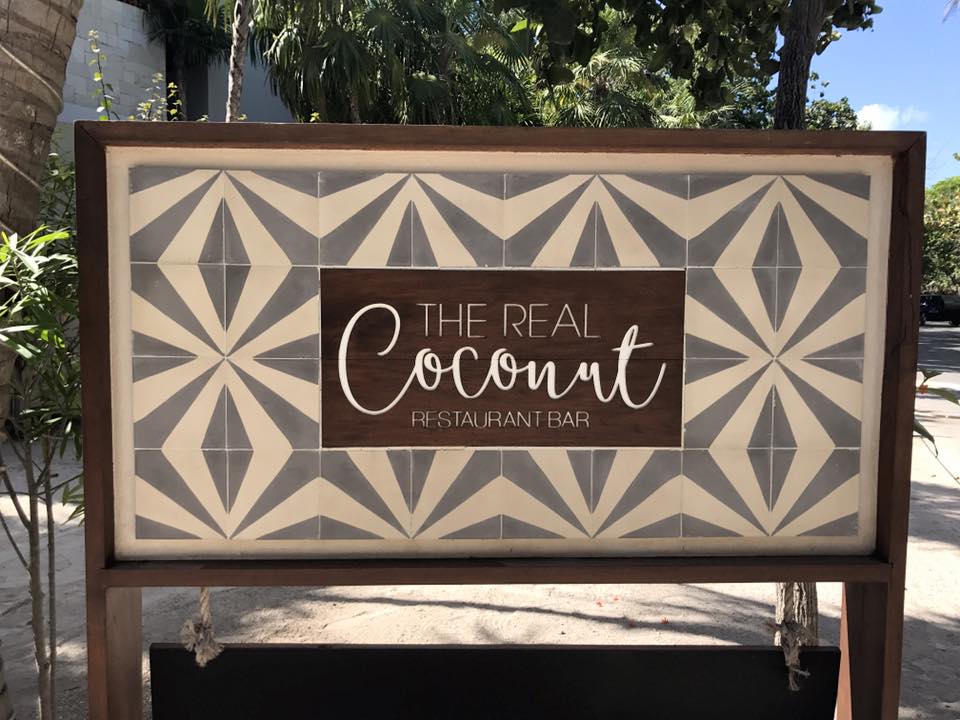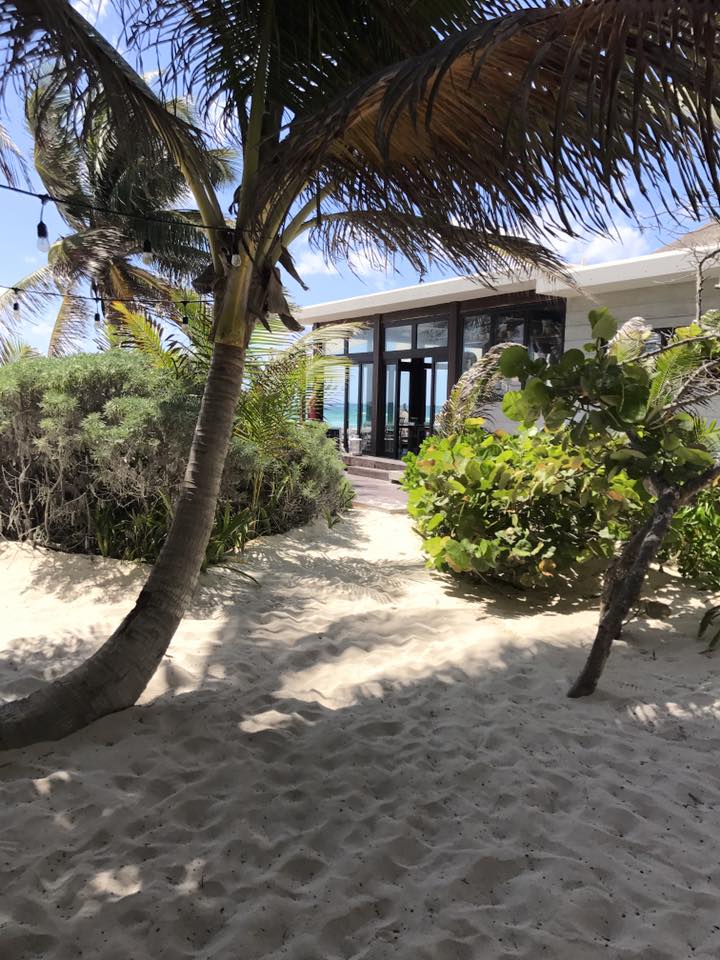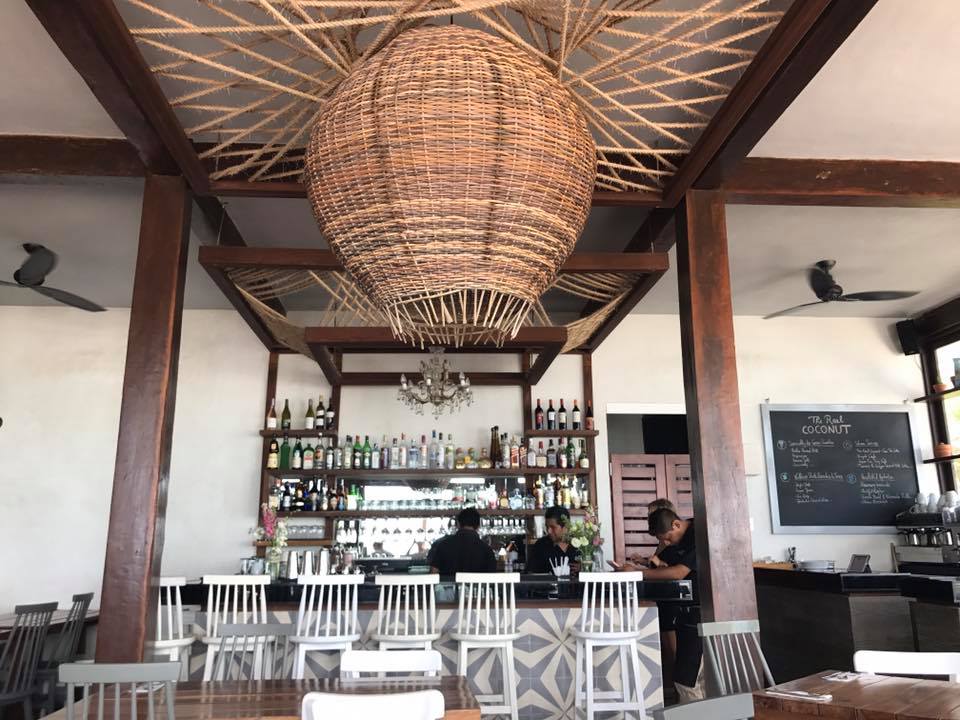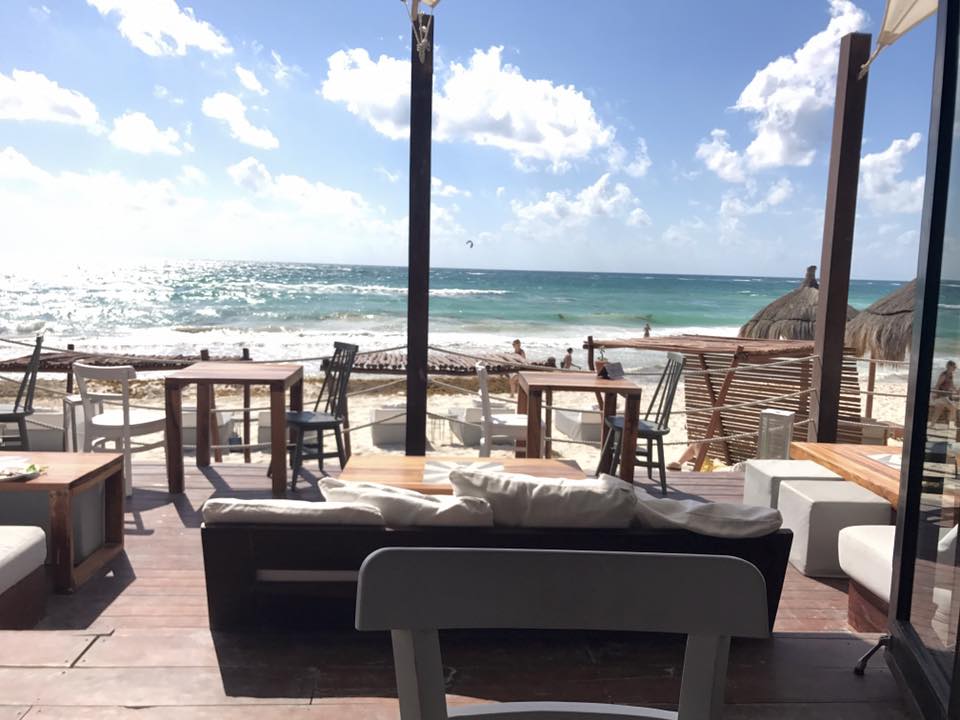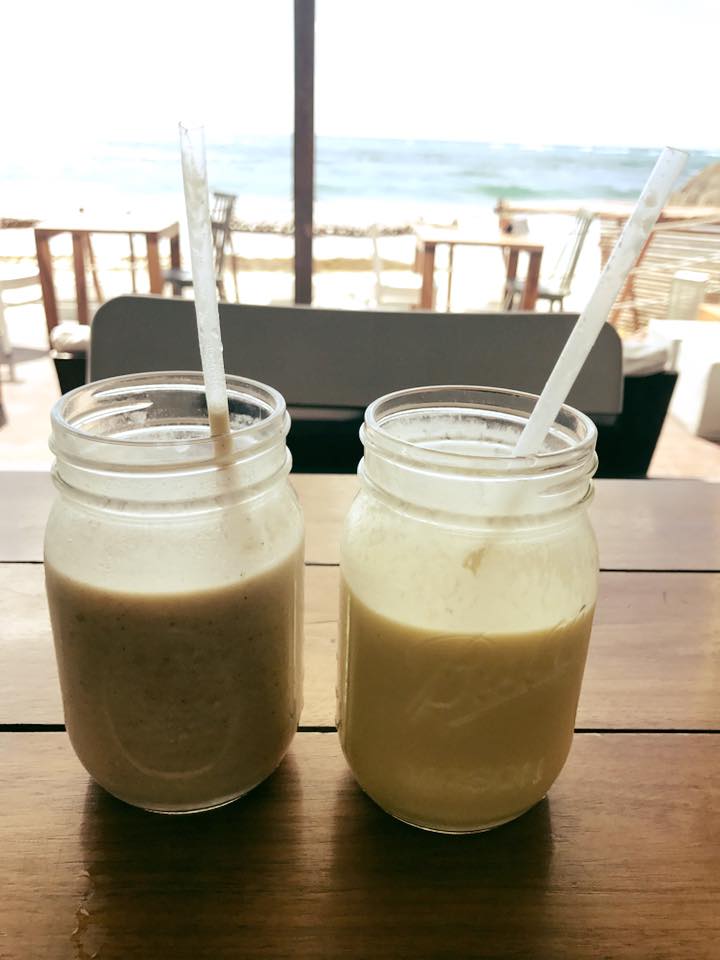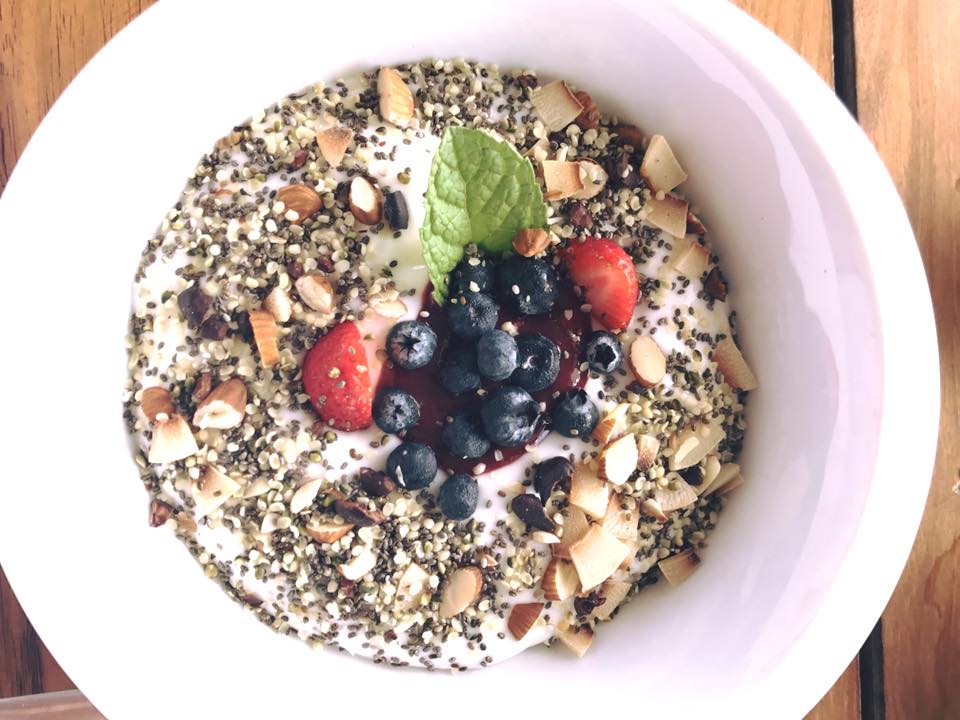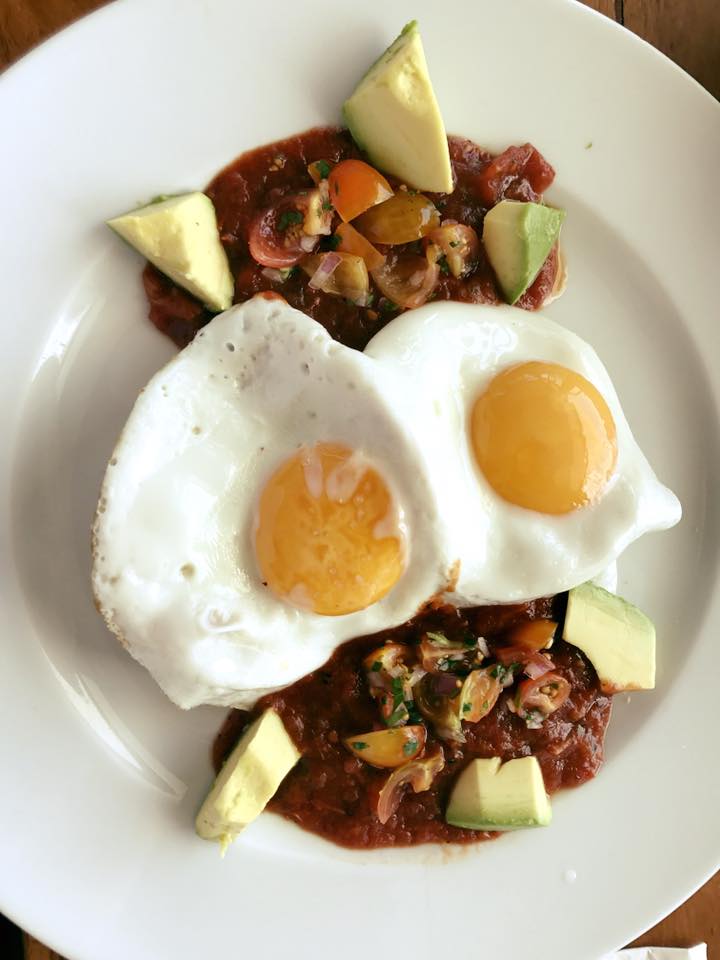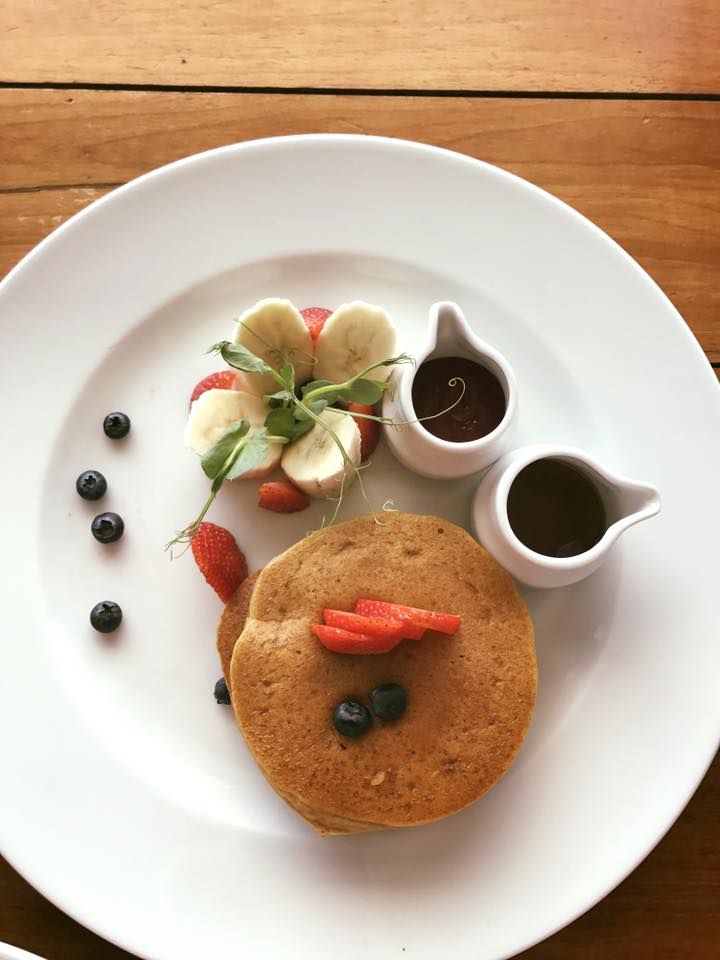 We also tried Casa Banana for breakfast because it is kind of a Tulum institution, but, I have to say, I liked The Real Coconut better. Also, this place (like a lot of local places in Tulum) was cash only, which was kind of annoying considering how touristy it is and considering that its sister restaurant, Mina, takes credit cards.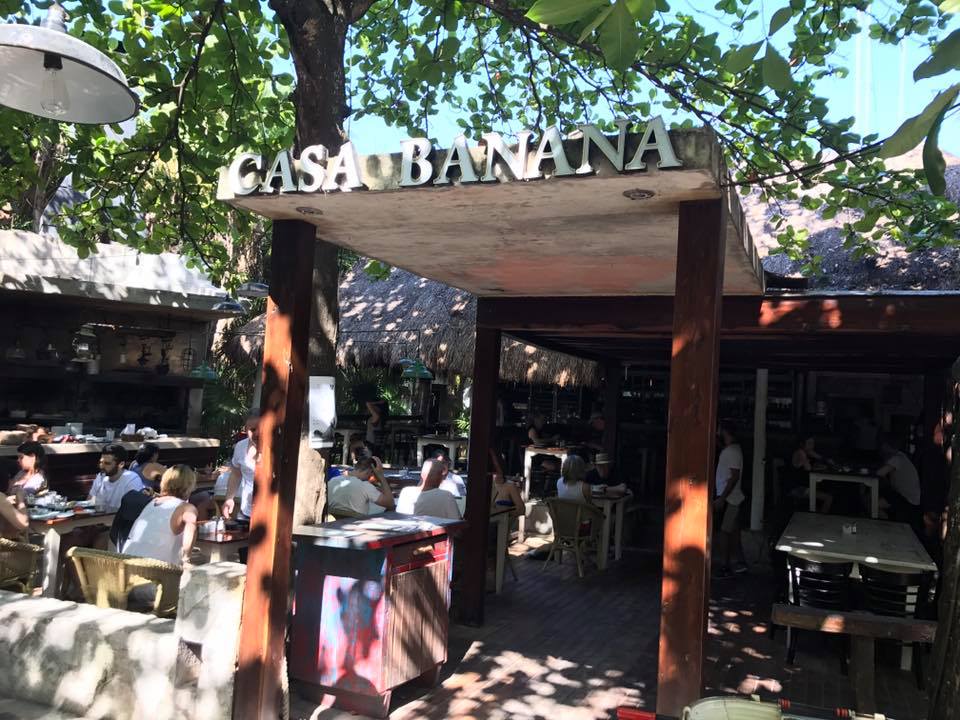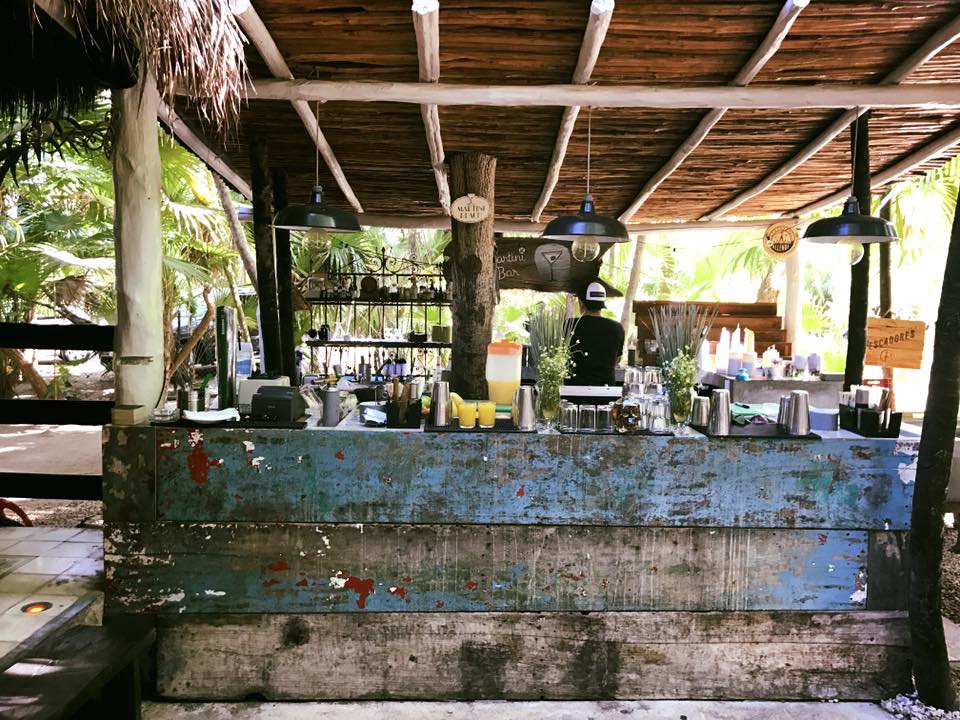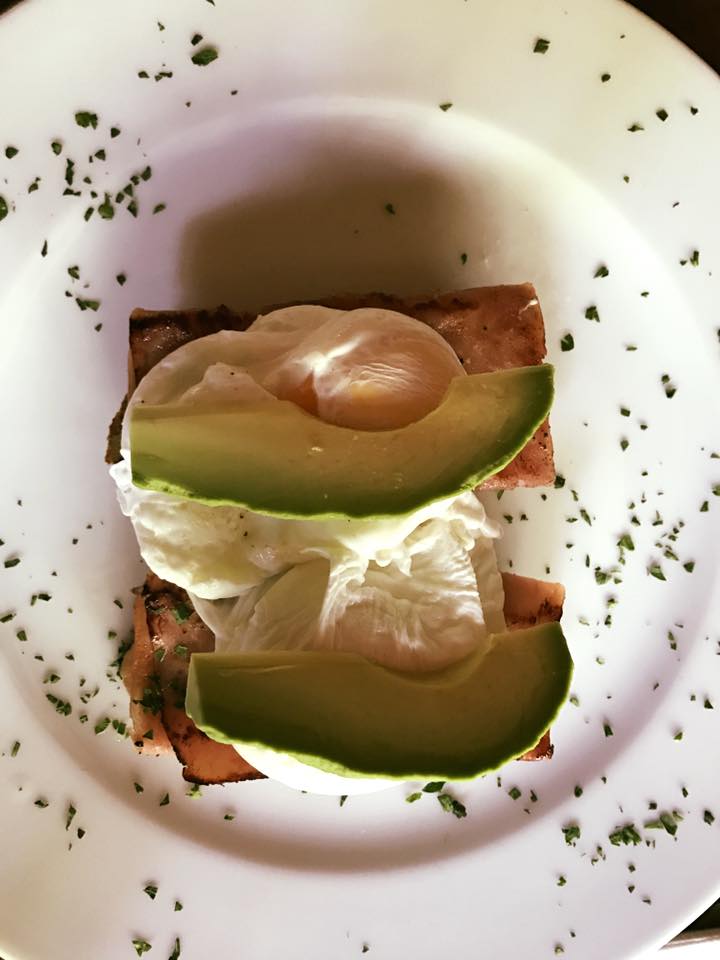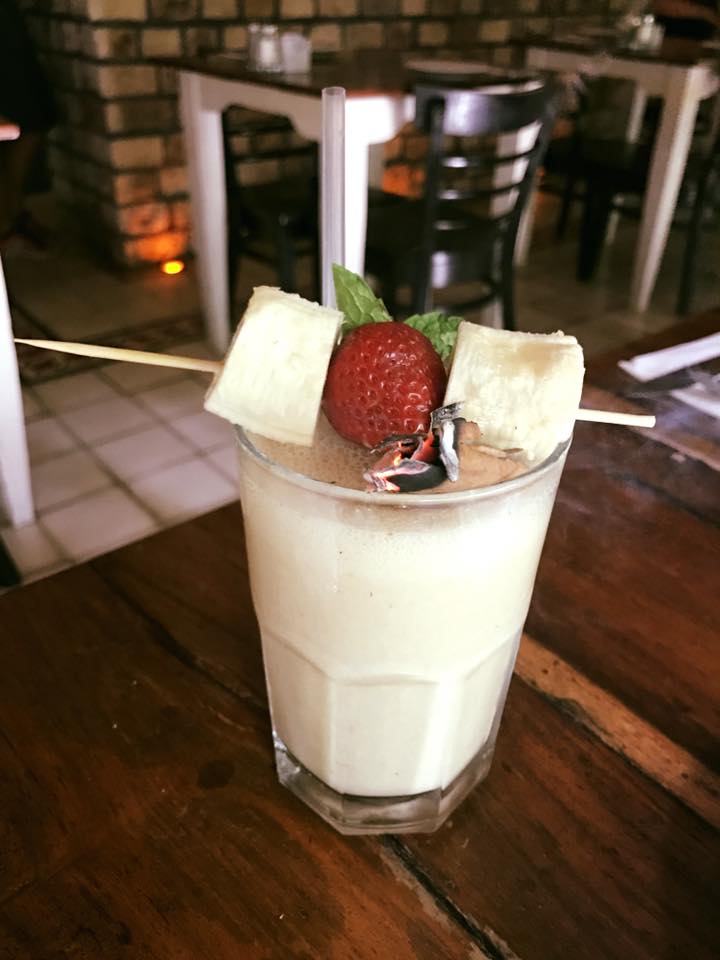 We kept hearing over and over that Be Tulum also had an amazing breakfast, so that is on our list for next time.
For dinner, we tried Kitchen Table one of the nights, and it was good, but also cash only. Overall, I left Tulum feeling like I didn't really eat at the places that I wanted to try.  These places include Cenzontle Secret Garden, which has a traditional Mexican menu and looked so stinking cute! The one night we went, there was a line out the door! For modern Mexican, Gitano is also supposed to be great.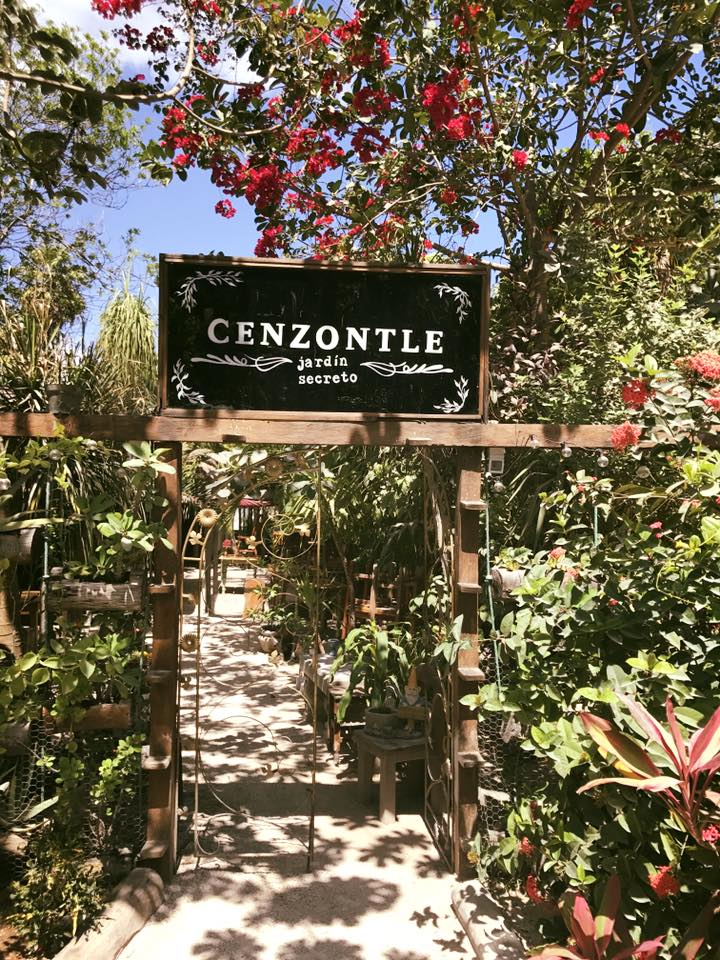 Also, the famous Hartwood was closed (for Easter weekend) when we were there, and that was high on my list! Hartwood is  an open-air spot famed for fresh, local ingredients cooked on an open fire and wood burning oven and grill. Reservations are now possible, but still difficult to get as they do not consistently respond to emails. Your best bet is to line up around 3:00 p.m. to secure a table for the evening. But if you do not, I hear Arca is just as good!
Wild is fairly new and is getting great reviews. It is a Mediterranean/Mexican fusion restaurant. Another legend in Tulum is Posada Margherita, an Italian place. Who goes to Mexico and eats Italian food? Apparently, everyone. It was the most recommended restaurant. Another place that was frequently recommended was Casa Jaguar.
We also made a special trip into downtown Tulum just to eat at Cetli, a traditional local Mexican restaurant that serves Oaxacan fare, only to find that it too was closed! We were there on Easter weekend, so that might have been the reason. We were, however, able to score a reservation at Noma, which is currently operating a pop-up restaurant in Tulum while their restaurant in Copenhagen is undergoing renovation.
Noma has been the number one restaurant in the world basically forever. It is on every single foodie's bucket list of restaurants. I refuse to die before I eat here. I almost peed my pants when I got the email saying we got a reservations. And then, they disclosed the price, which made me want to poop my pants. Dinner for two was going to cost $1,500.00 USD. Chad and I literally held a family meeting over this. Ultimately, we decided that $1,500.00 for dinner (which cost more than our flights and hotel combined for the weekend) was ridiculous, and in an email to the restaurant, I explained to them that while it hurt my heart to not visit and experience Noma Tulum, we just didn't feel right spending that kind of money on a meal in a place where the average daily wage is $15.00. Instead, we plan to visit the flagship in Copenhagen one day (if we can ever get a reservation again), where the meal will be (slightly) cheaper. If you are planning on Noma, here is what you need to know.
If you are after truly local fare, then Chamico's (known as a secret fish shack) is the place to be. Get to this hidden spot by heading north from Tulum on Highway 307 past the ruins.  You will see a sign on the right for Jashita Hotel. Turn right onto the unpaved road across from Oscar & Lalo's and driving to the end. There is no menu, but they have fresh caught fish and great views.
Other local favorites include the cochinita pibil at Taquería Honorio, a traditional Mayan breakfast at Don Cafeto (one of Tulum's oldest restaurants), tacos al pastor at Antojitos La Chiapaneca (a street-side stand in downtown where you can get tacos for $.50), and the best tacos at Taqueria La Eufemia, which invites you to "relax and eat some fucking tacos." Okay, you don't have to ask me twice!
The point is, there are no shortages of options here. From fine dining to local eats, there is something for every palate and budget in Tulum, and most of them are cute and insta-worthy.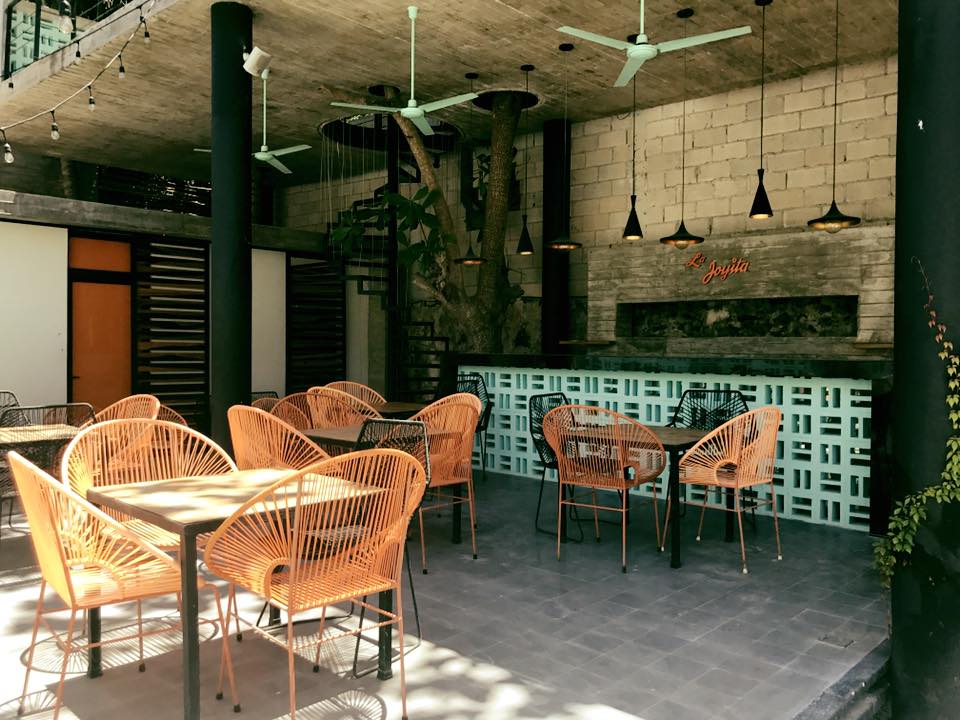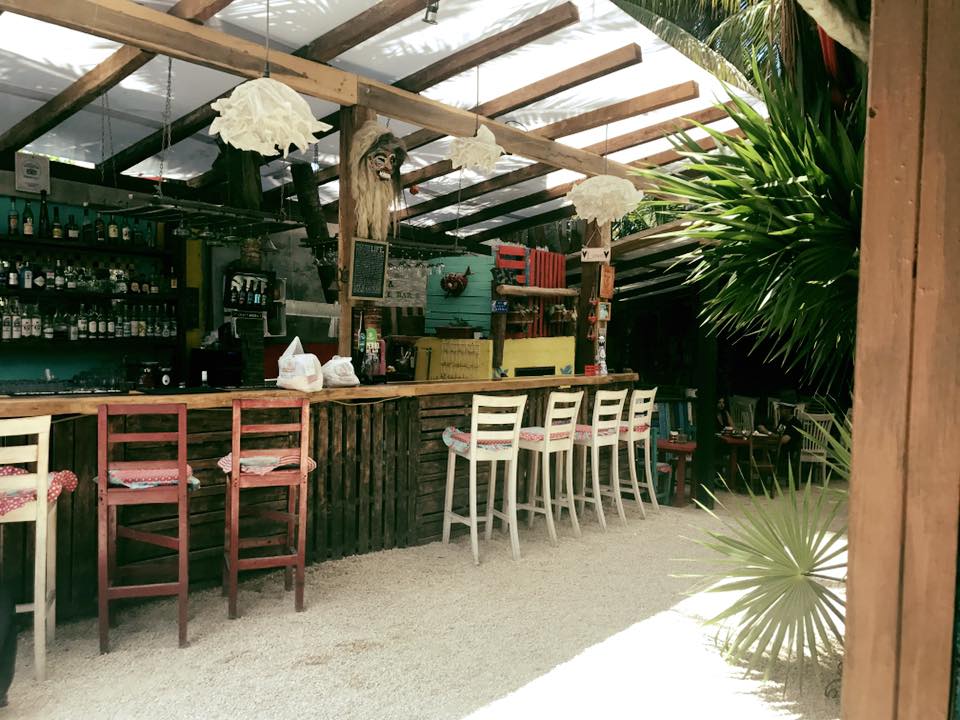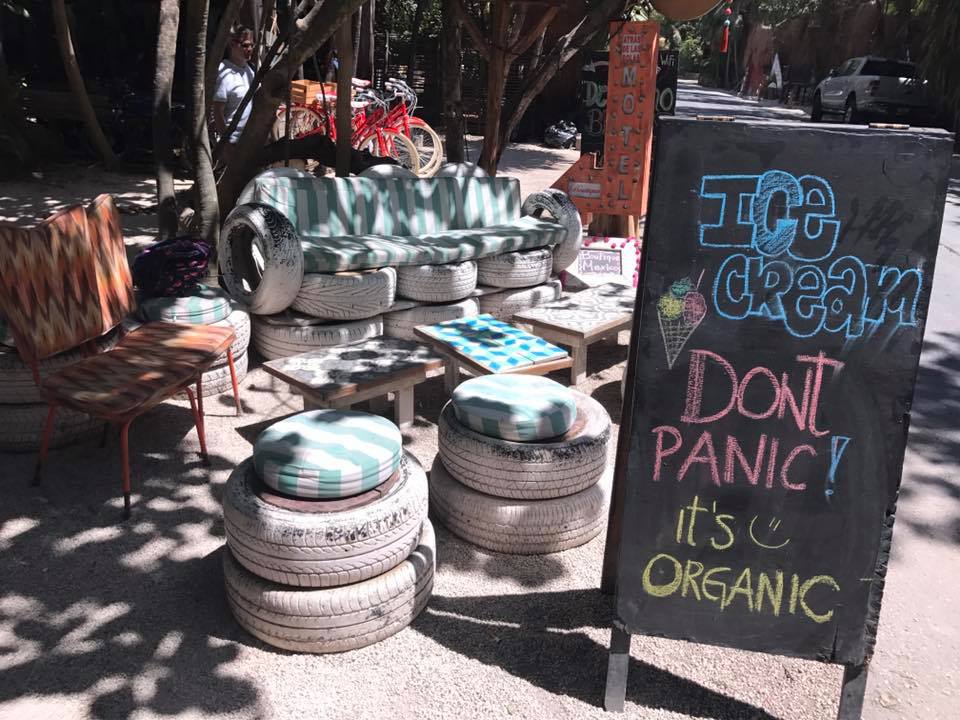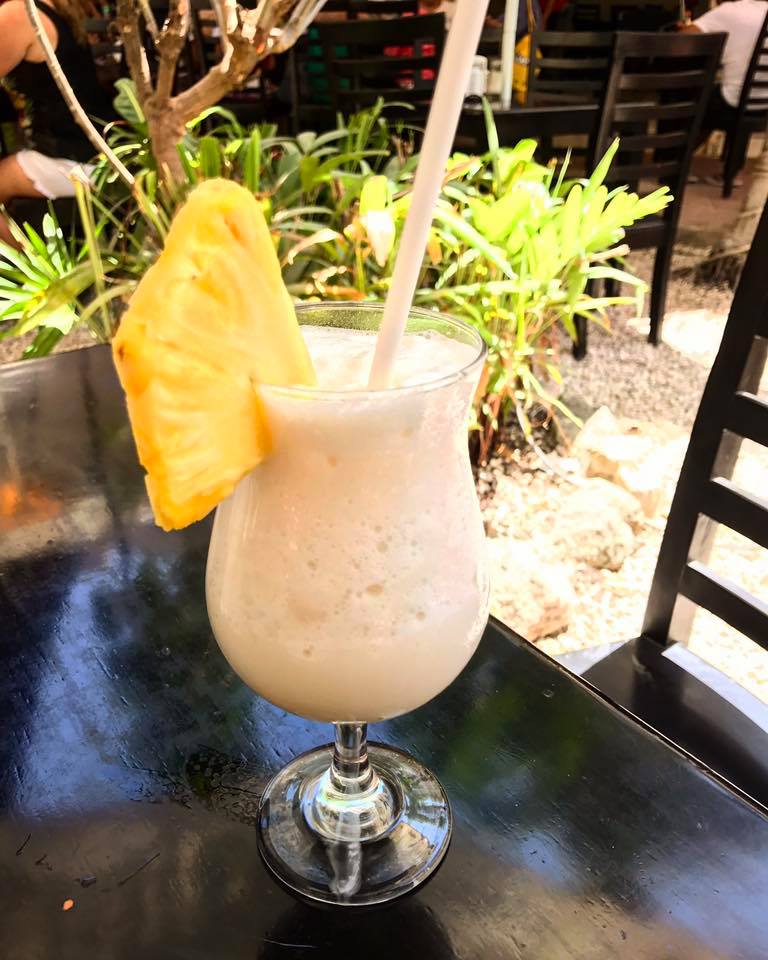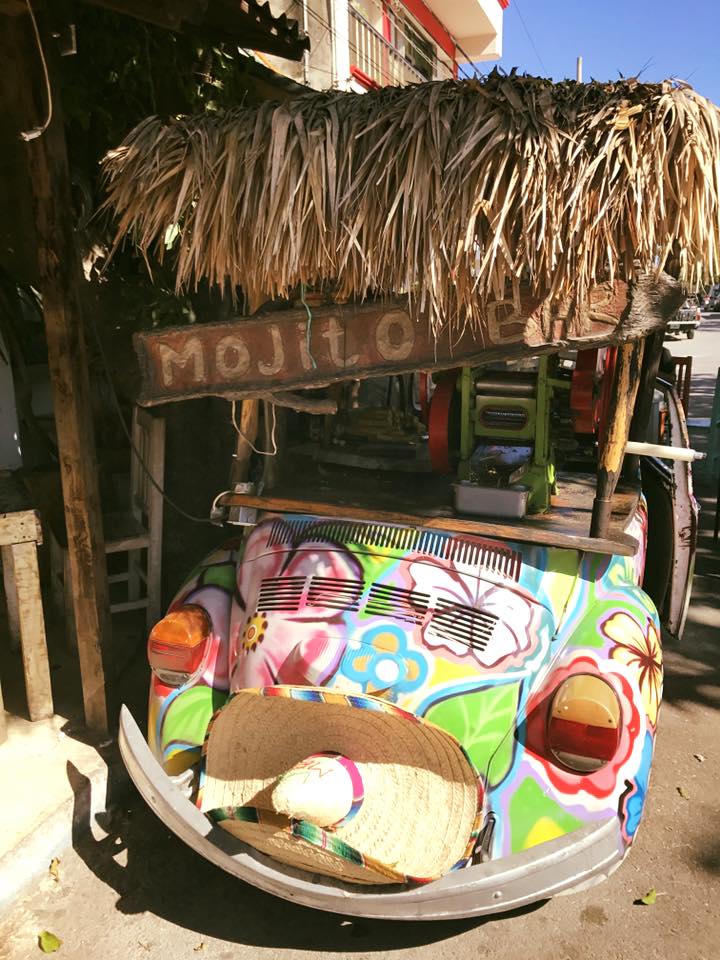 SHOP TULUM
Tulum has some of the cutest boutiques selling caftans, handmade jewelry, dream catchers, and hammocks, but if you plan to shop here, bring your cash and non-American Express credit cards, because things are NOT cheap here. In fact, they are downright overpriced. That being said, the shops are still the cutest road-side, sandy-floored, bohemian dreams I have ever seen.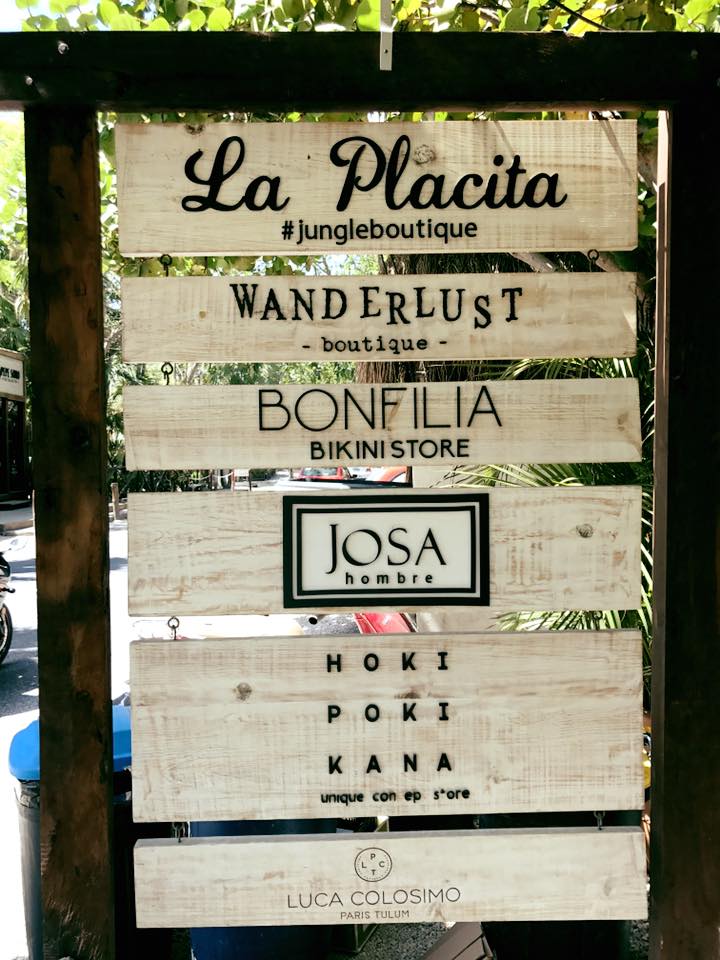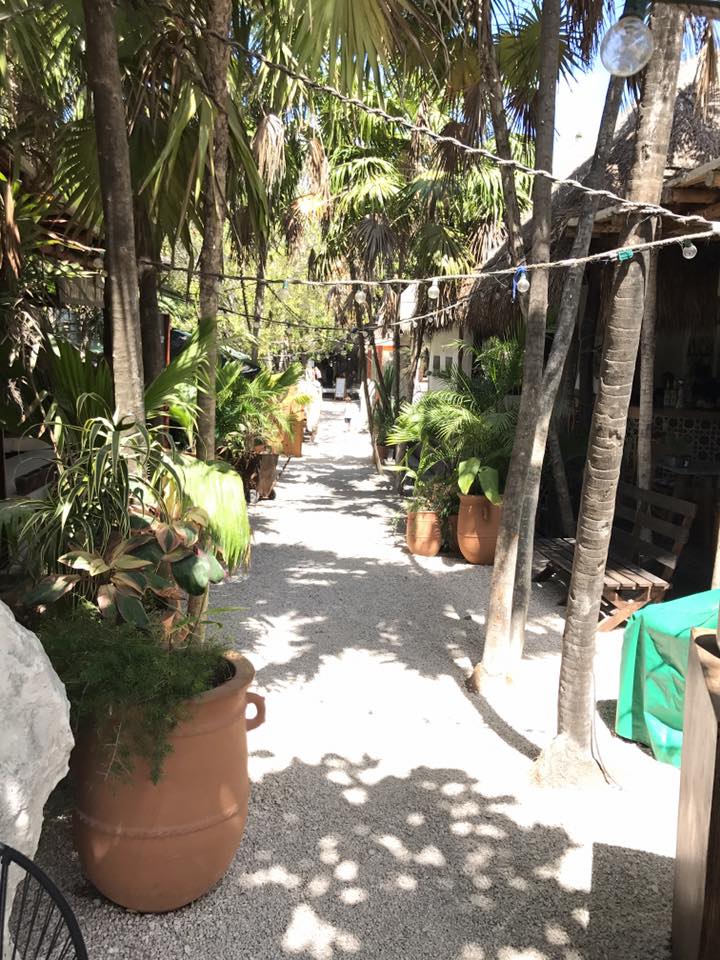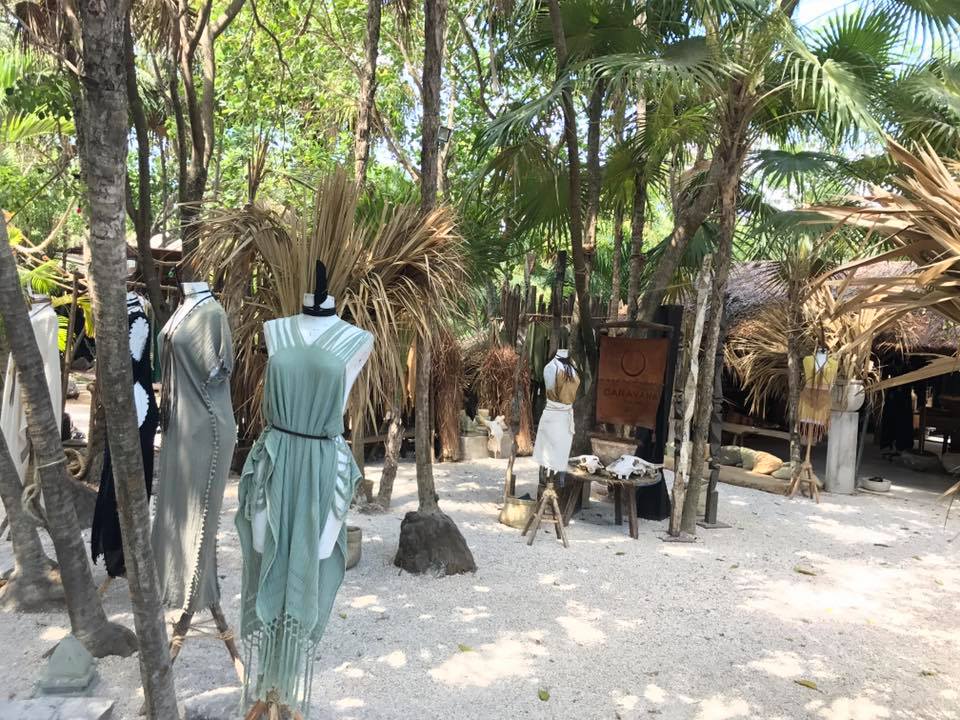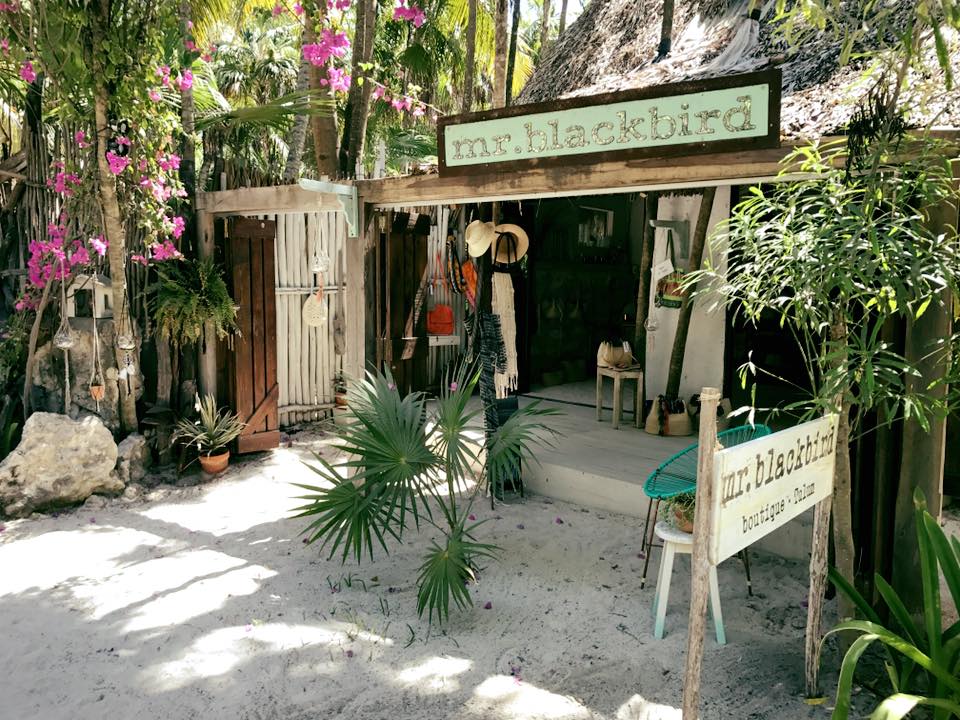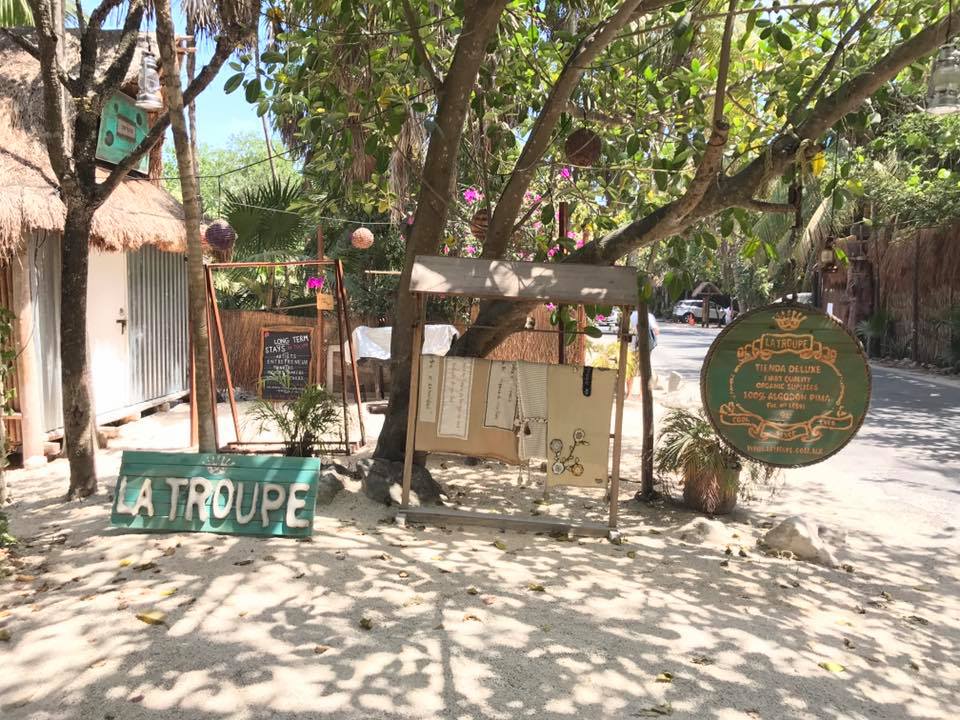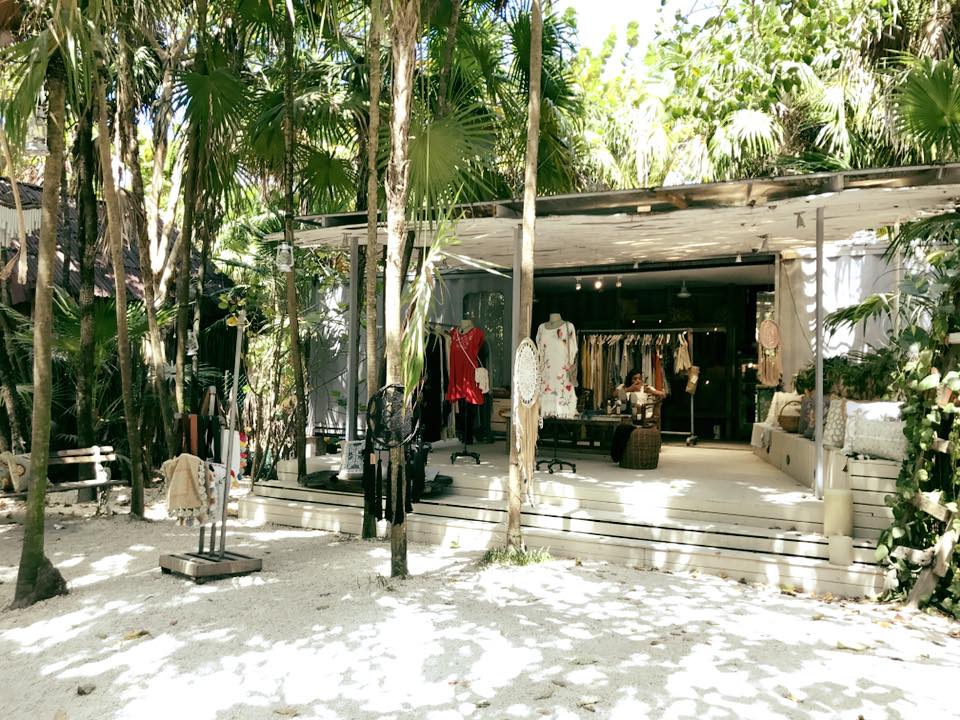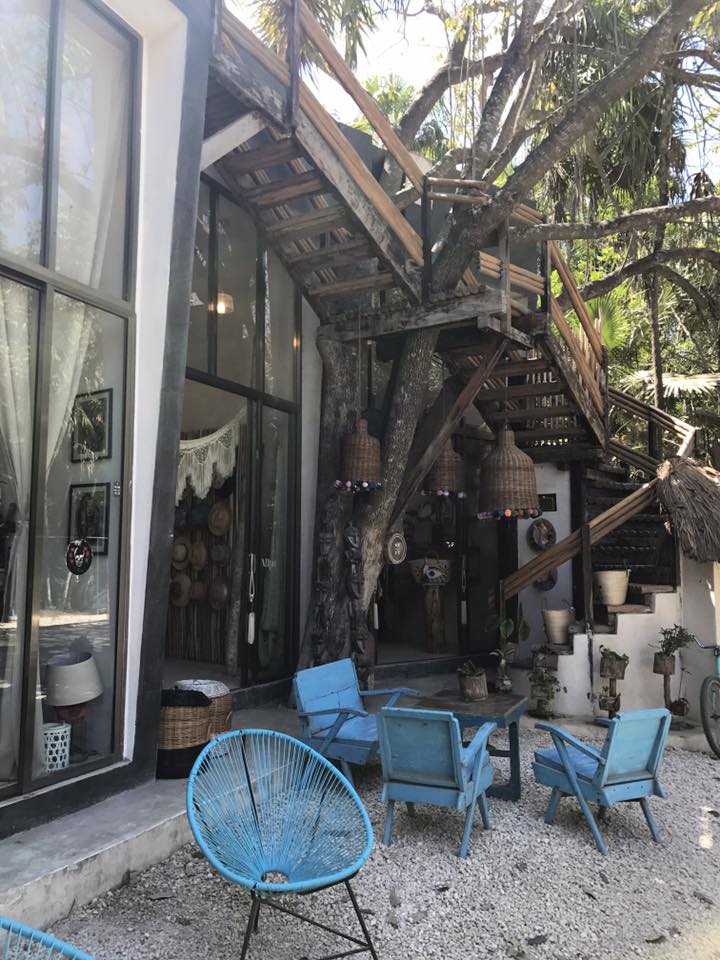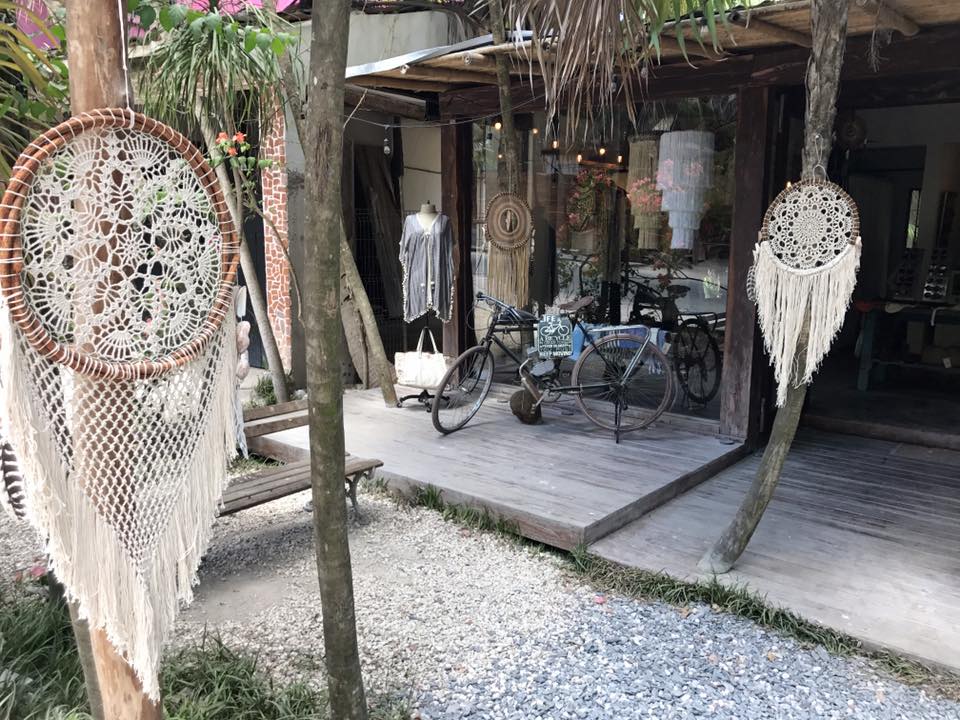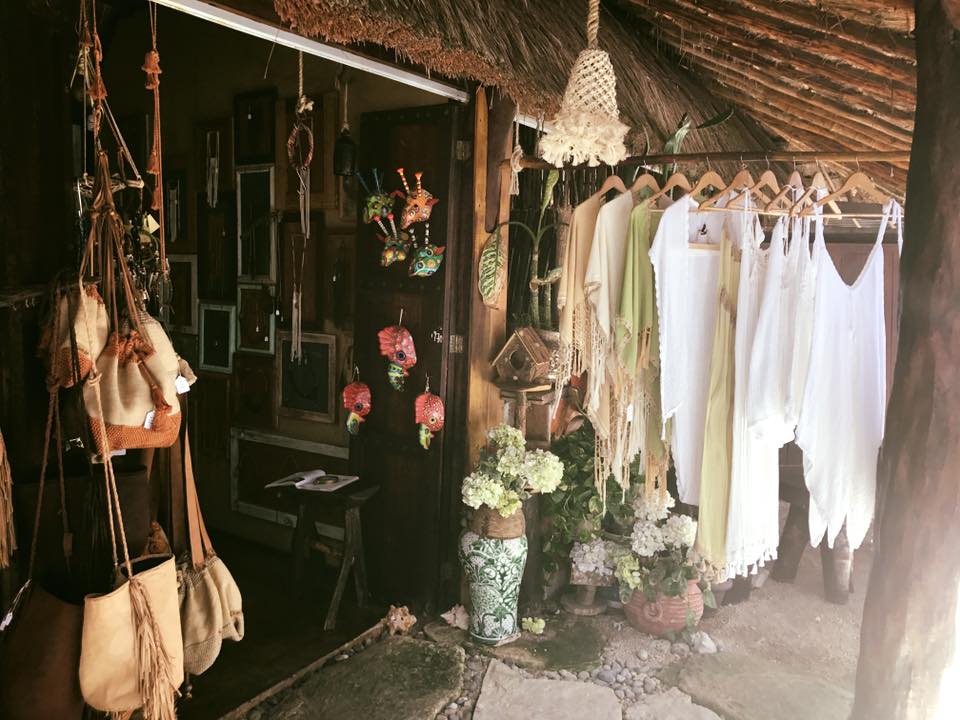 Other than the perfumes at Coqui Coqui, the one thing I wish I would have brought back is a beautiful, handmade dream catcher. If you want to buy one too, there was a shop directly across from our hotel that sold them for about $30.00 (all cash) or you could go into downtown and get them from the shops there for way cheaper than at the shops in the Hotel Zone.
KNOW TULUM
So here is what you need to know before visiting Tulum:
Cash is king. A lot of restaurants, local vendors, and all cabs only take cash.
Get pesos. You can get them from home before you go, at the airport, or at change stations throughout Tulum (although this is probably not the best rate). There are ATMs in the Hotel Zone, but I am not sure how reliable they are.
DO NOT DRINK THE WATER. The hotels will provide you with bottled water for brushing your teeth, and all the restaurants used filtered water for ice.
Bring sunscreen and bug spray.
Leave your heels and wedges at home. This is not a place to dress up, even at dinner. It is a very relaxed and laid-back vibe, and the dress code reflects that.
Everyone pretty much speaks English in the hotels, restaurants, sites, and shops. To communicate with most of the cab drivers, you are going to need to know basic Spanish.
When people refer to "the Jungle" they mean across the street from the beach; not an actual jungle.
Anyway, I hope you have found this post informative and that it helps you maximize your time in Tulum. I know I am going to use it to plan our next trip to this beach-side paradise.