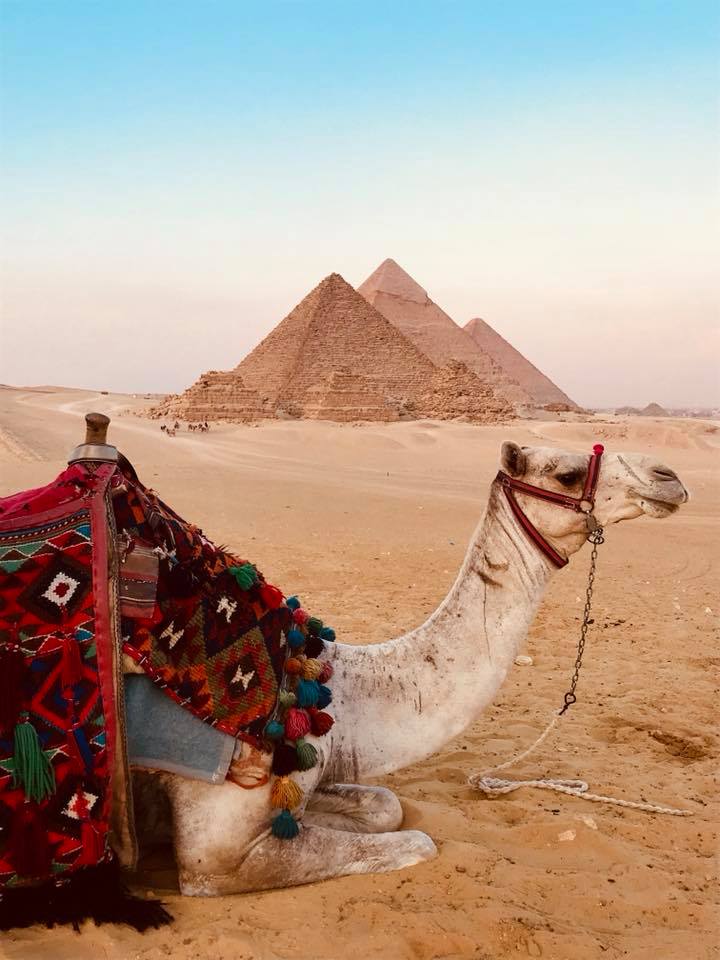 "Egypt?!? Why would you go to Egypt?!?  Isn't it really unsafe there?"  If only I had a dollar for every time I heard this (or some variation thereof) from every single person who learned that Chad and I would be spending Thanksgiving in Egypt this year.
Granted, the Egypt of today is probably not like what it was.  It is not the easiest country to navigate, and some of the locals can be a little overbearing by Western standards.  But that shouldn't stop you from visiting Egypt. It is, after all, the home to one of the seven wonders of the ancient world, as well as numerous other historically significant and interesting sites.  There are fewer tourists, giving you a more personalized experience.  And, it happens to be a super affordable trip, even when it is completely privately guided and staying in the best and most iconic hotels that Egypt has to offer.  As for safety concerns, I am sorry to say, but those are concerns for everywhere in the world these days.
So, we set off over the Thanksgiving holiday to spend four action packed days in Egypt.  Unfortunately, only one of those days was spent in Cairo.  Hindsight being 20/20, I would have added an extra day in Cairo because I think you need half a day to visit the Great Pyramids of Giza and probably another day for the Egyptian Museum – especially starting 2018, when the new museum is slated to open! Cairo's Grand Egyptian Museum will be the world's largest archaeological museum when it opens in 2018, and it will have an expanded exhibit dedicated to King Tut.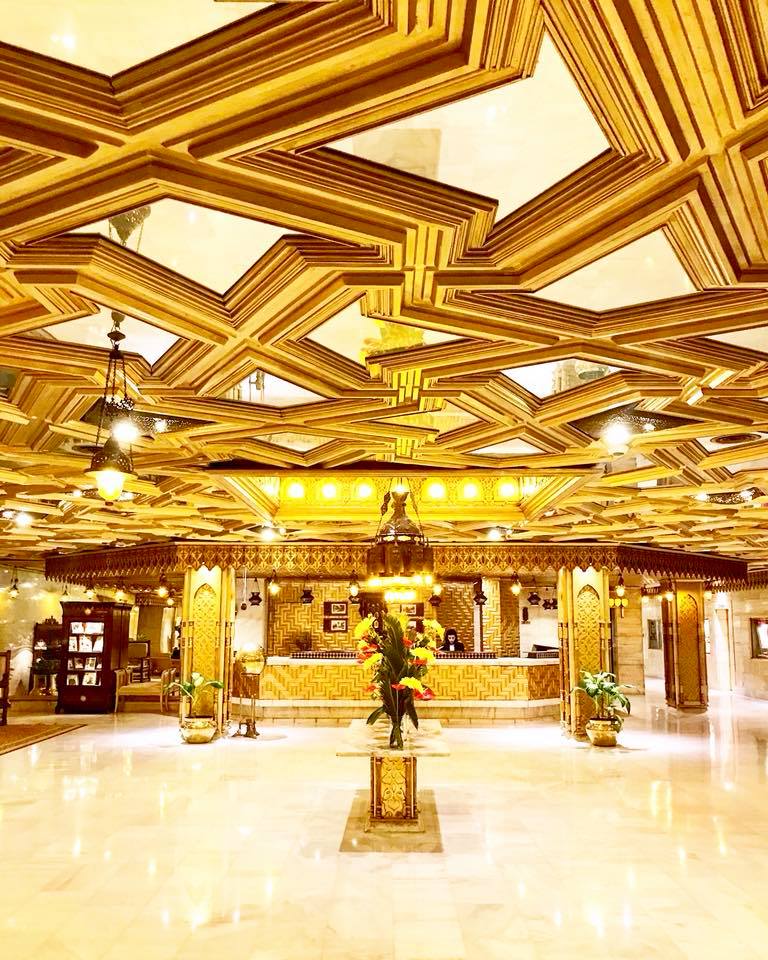 We started our day off at the Mena House Hotel in Cairo, which I guarantee you has the best breakfast view in all of Egypt! It used to be a palace, so the digs are not too shabby!  Book a pyramid view room because there is nothing like a sunrise or sunset with a pyramid view!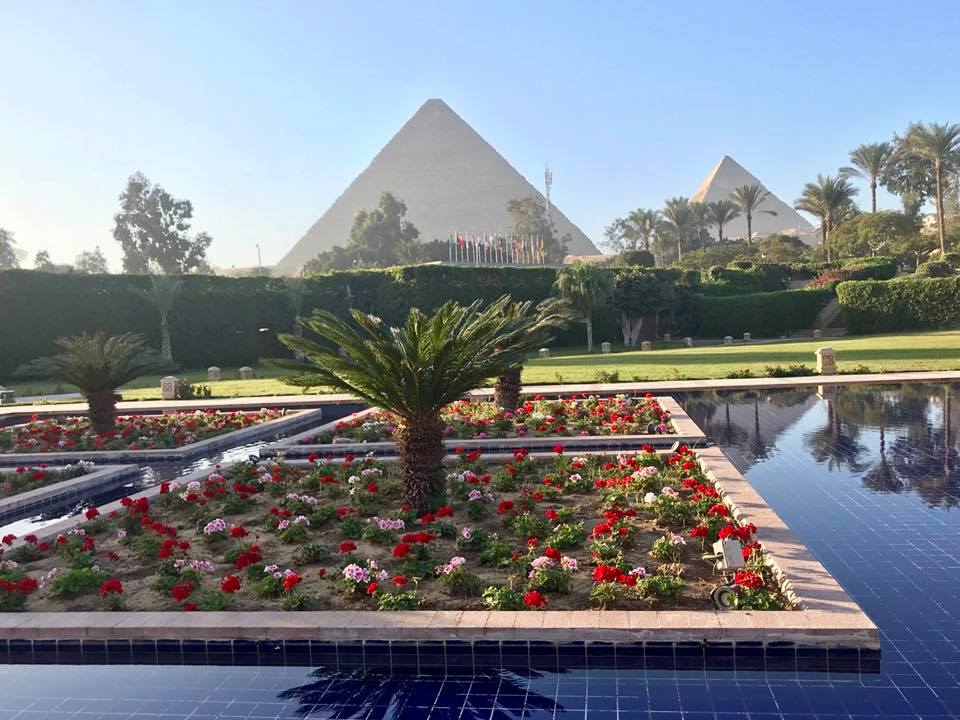 We booked our entire trip, which was privately guided, with Memphis Tours. Their guides and drivers were excellent, which is important, especially in a city like Cairo which has the worst and most chaotic traffic I have ever experienced anywhere else in the world.  They were also very responsive during the booking process.
After breakfast, we headed to Coptic Cairo to visit Saint Virgin Mary's Coptic Orthodox Church, also known as the Hanging Church. The Hanging Church is the most famous Coptic Christian church in Cairo.  It named for its location above a gatehouse of Babylon Fortress.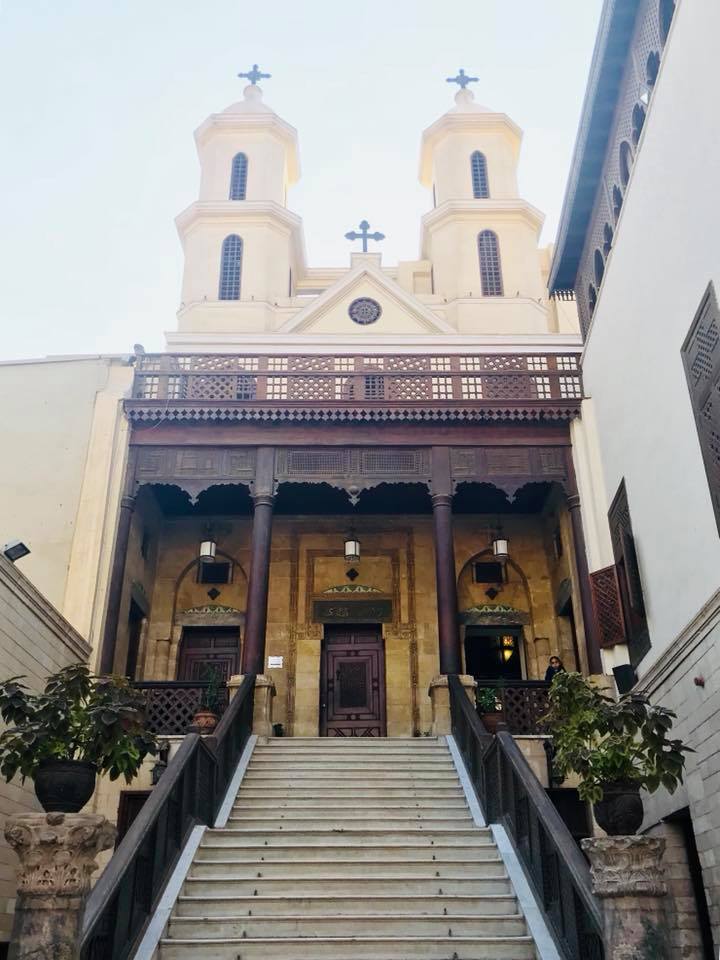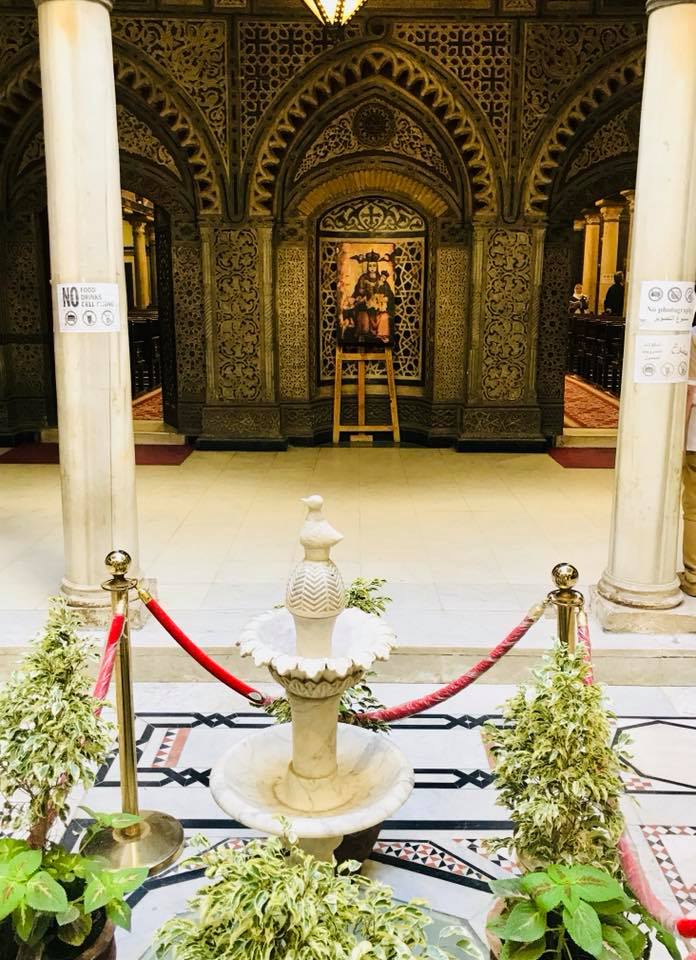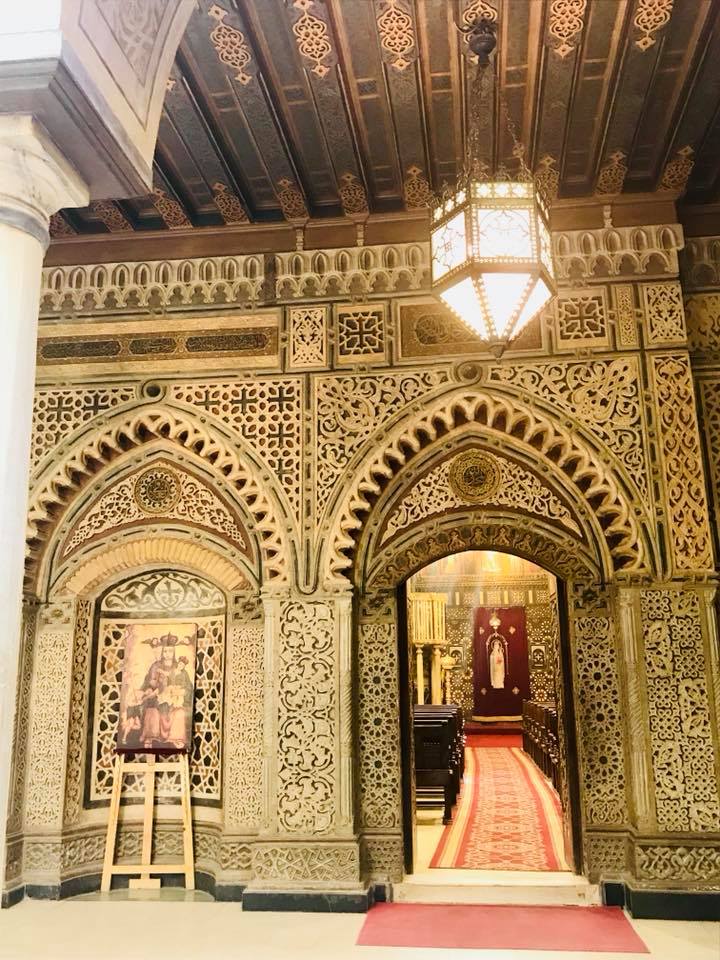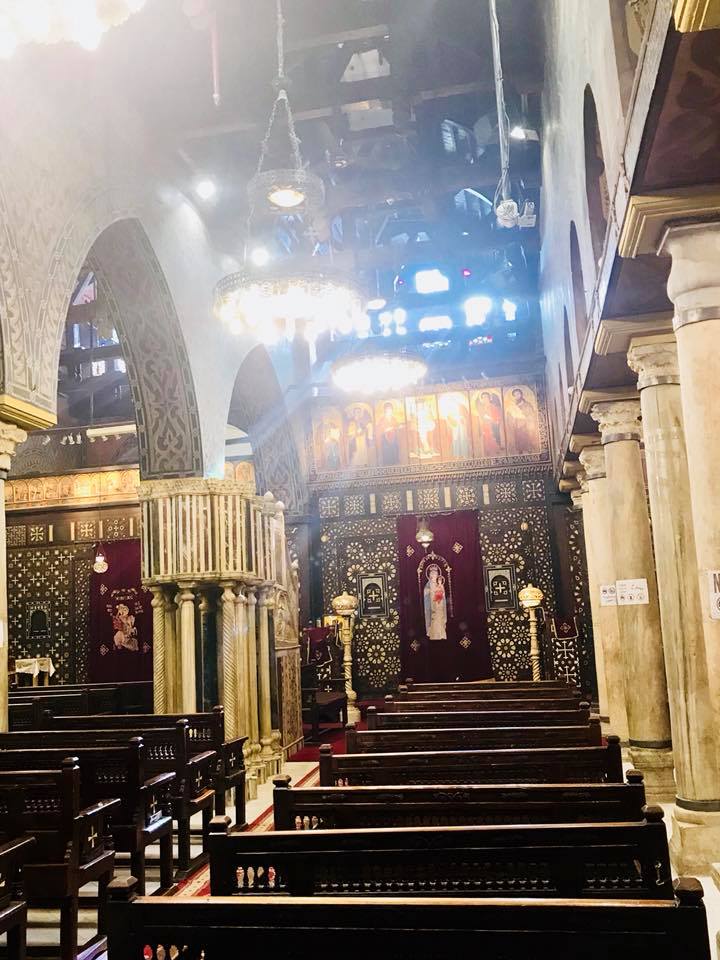 We also visited the Saints Sergius and Bacchus Church (Abu Segra).  The church is believed to have been built on the spot where the Holy Family, Joseph, Mary and the infant Jesus Christ, rested at the end of their journey into Egypt.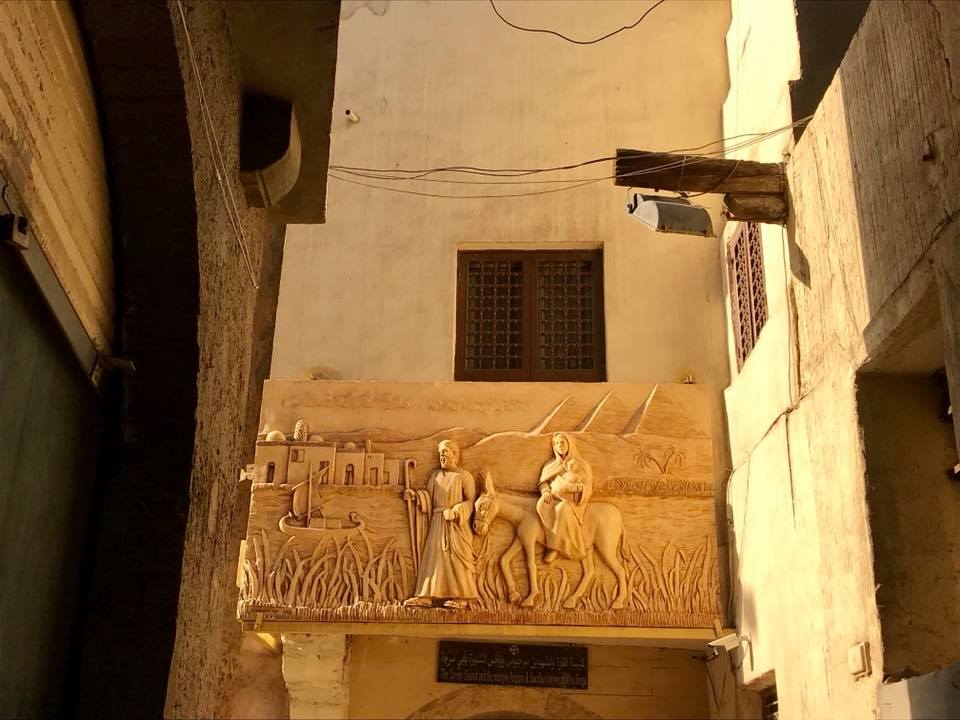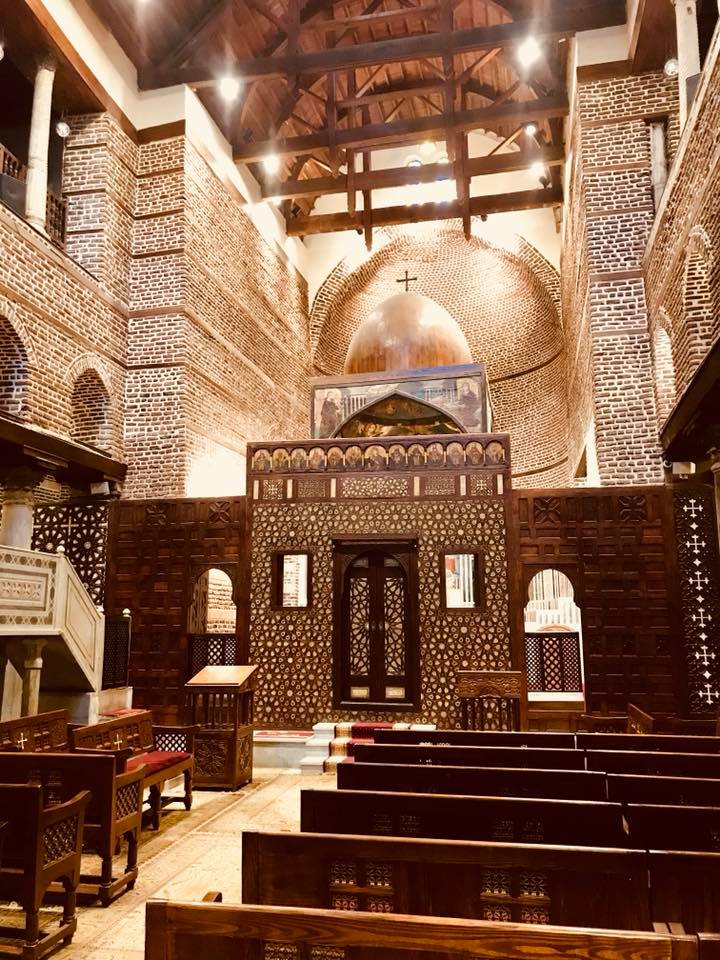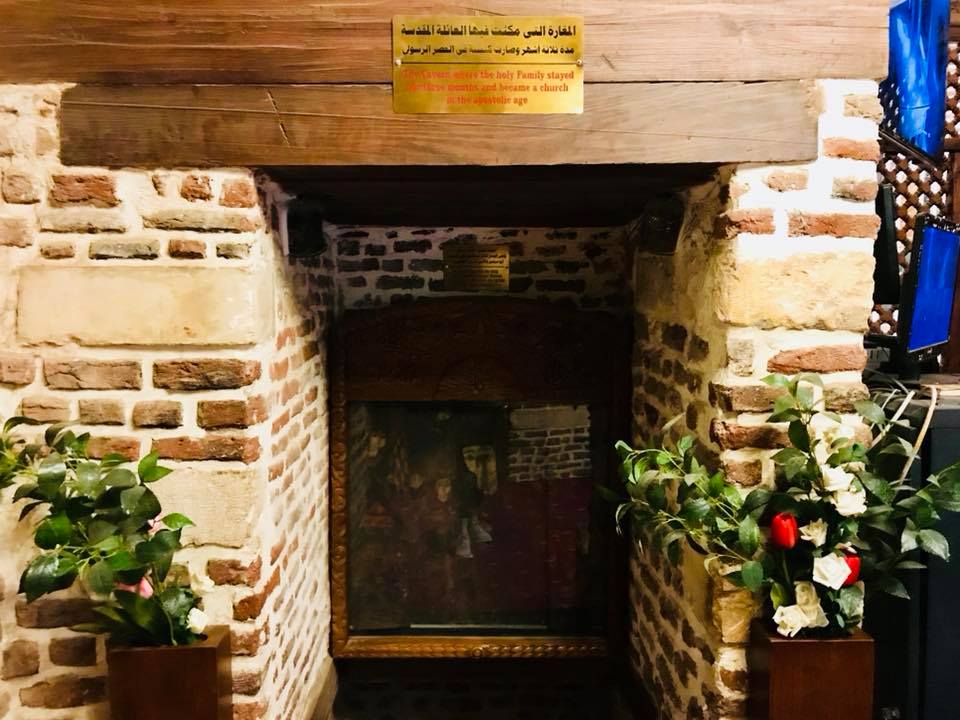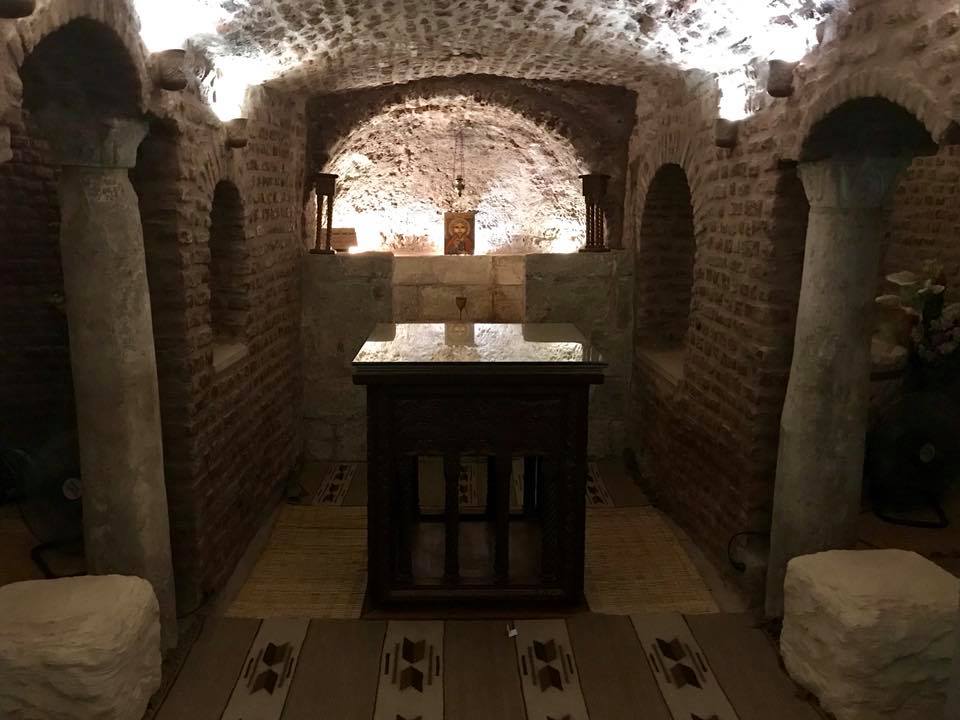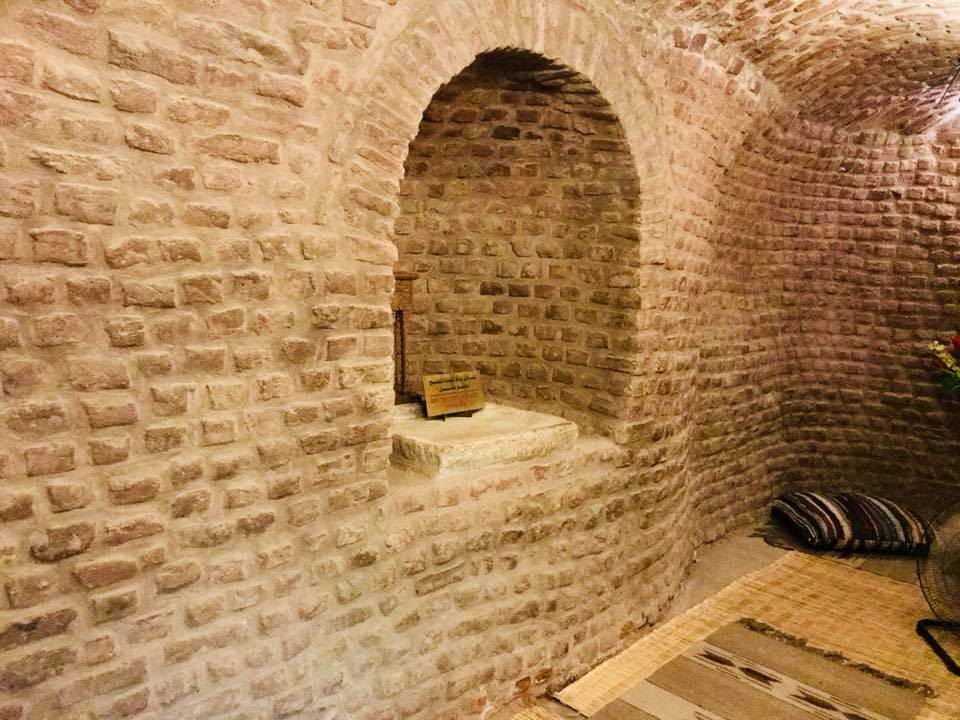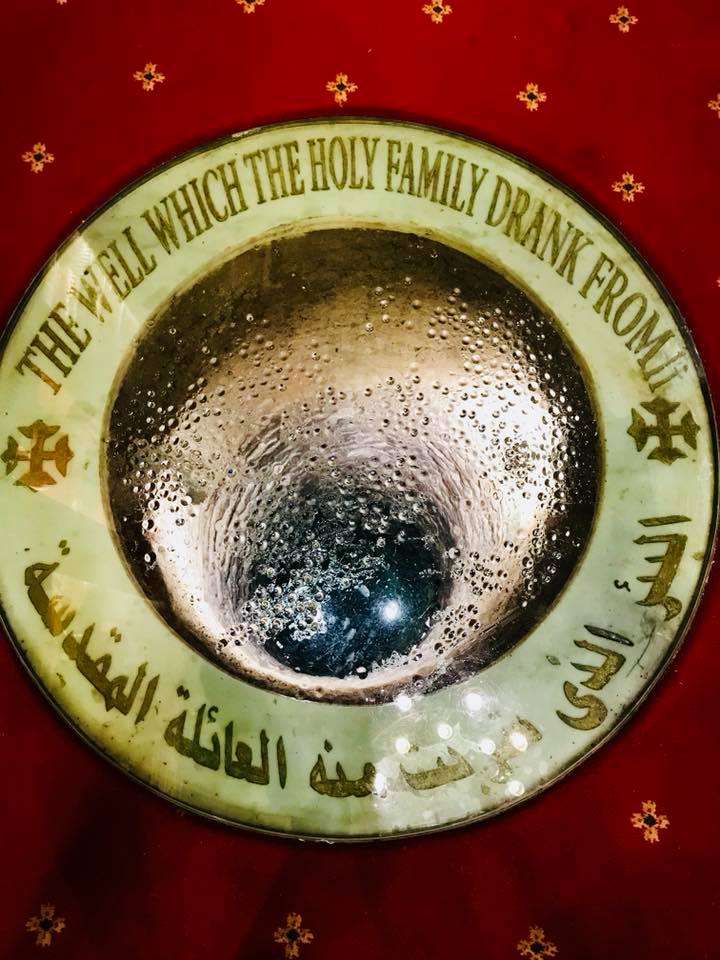 From there, we made our way to the Egyptian Museum to explore the wonders of the pharaohs and of King Tut. Now, if you are really into museums (like my husband, Chad) or Egyptian history, set aside a full day to visit the museum.  It is uber-crowded and showing its age, so I can't wait to go back and see the new museum.  This one will remain open, but all of the King Tut relics will be relocated to the new museum. Also, the museum is not very well laid out and the artifacts are not well marked at all, so I highly recommend you visit with a guide.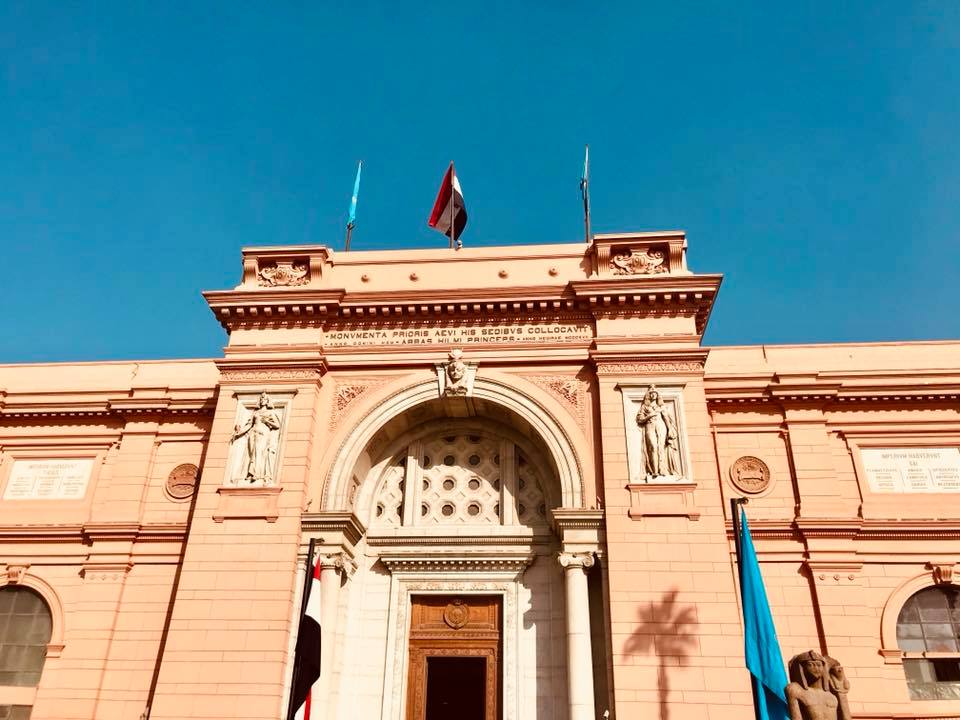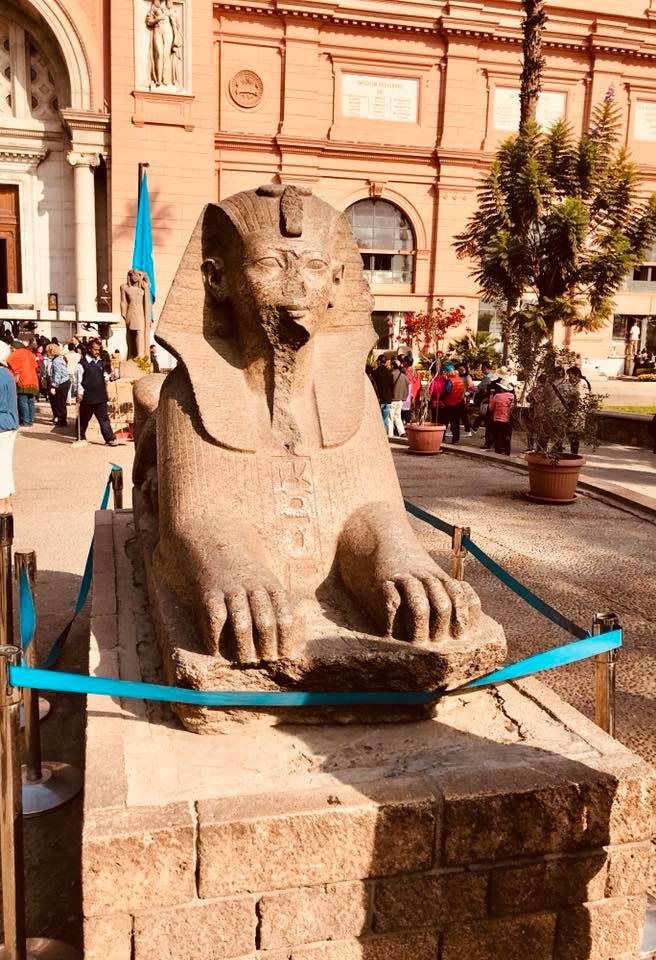 If you only want to hit the highlights of this museum then you should definitely go to the second floor where you will find the King Tut artifacts, including a room with his sarcophagi and the famous death mask, which can be found in room three.  Along the way, you will see all the items that were found in his tomb, which is located in Luxor in the Valley of the Kings.  These items include his bed, his chariot, his cane, his shoes (his sandal game was so on point), and his childhood games.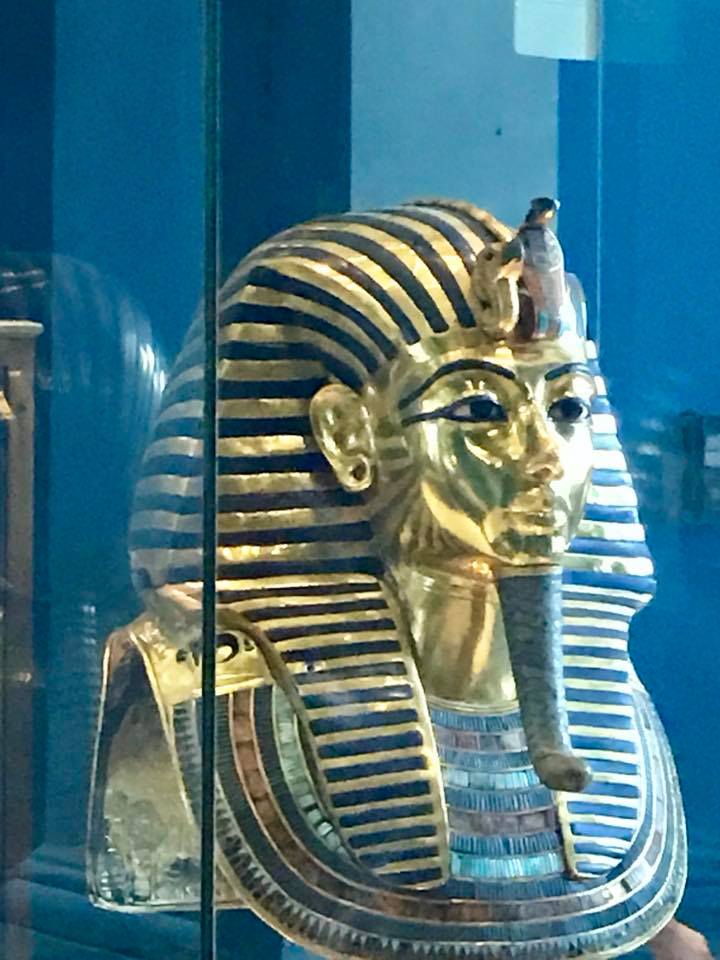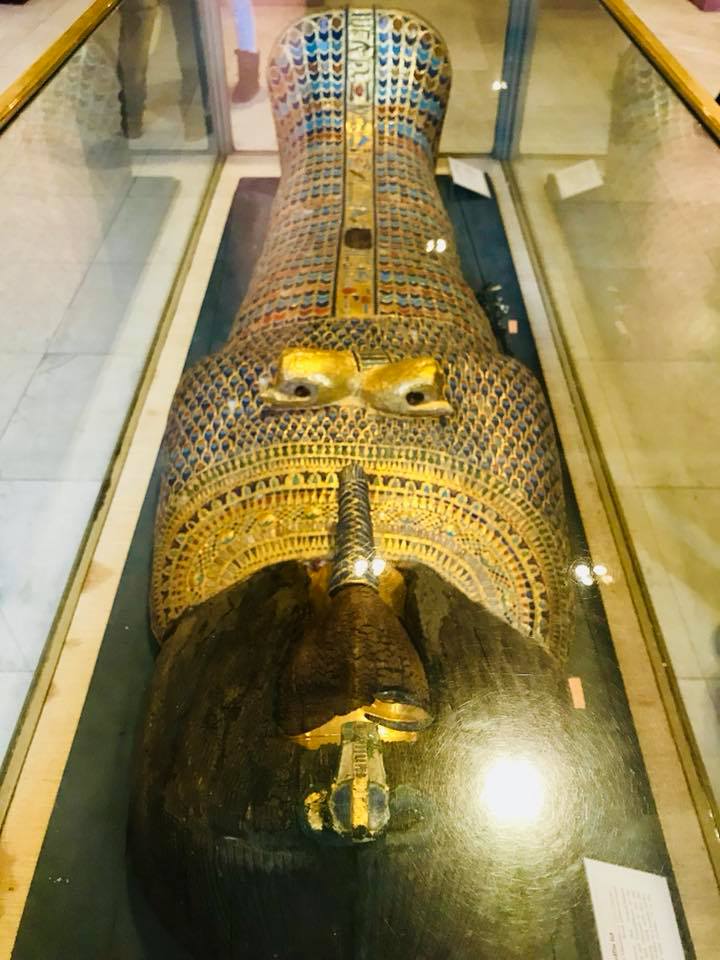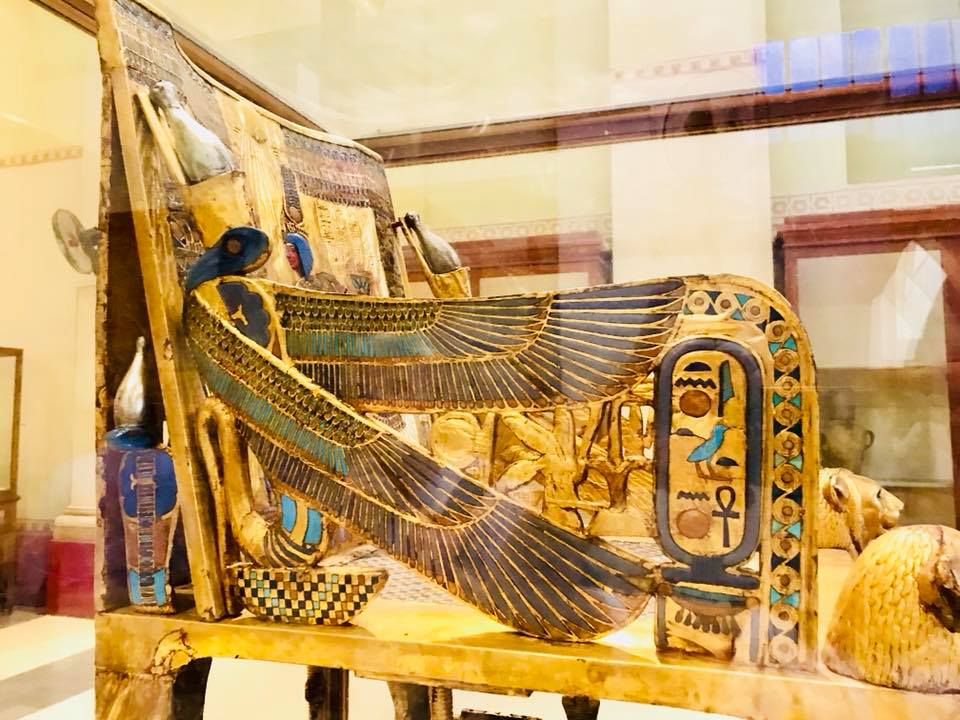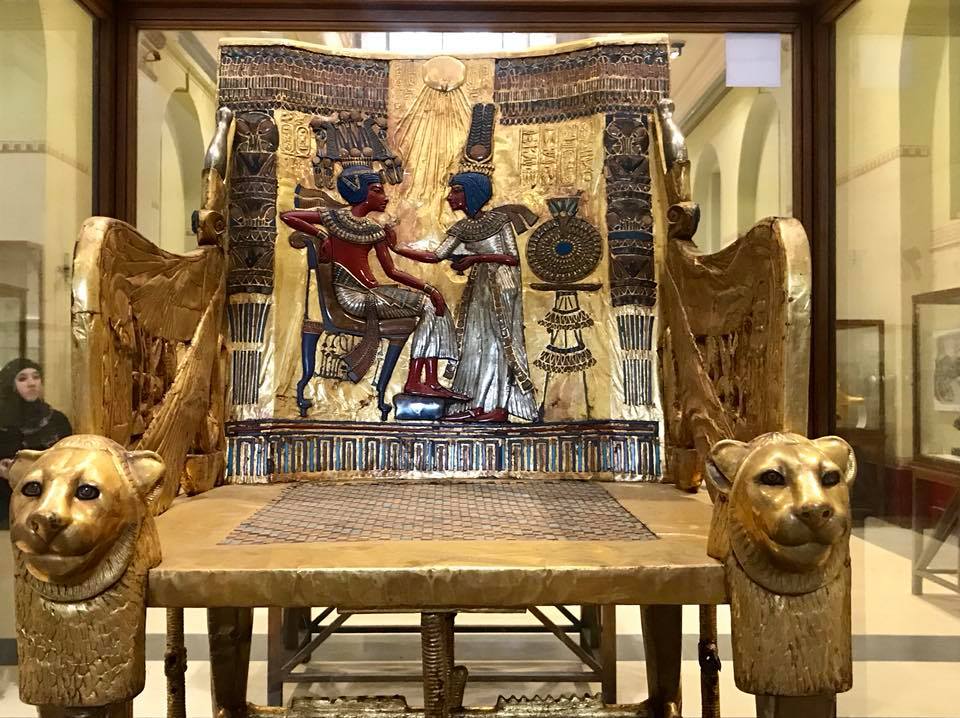 A couple of lesser known, but not to be missed pieces are the Seneb Statue in room 32 and Kaaper Statue in room 42. But other than Tut, the other MUST see in this museum is the Mummy Room. Now, the museum entry fee does not include a visit to the mummy rooms, which costs an extra $15 (and which must be paid in cash at the entrance of the exhibit), but it is probably one of the most fascinating exhibits in the entire museum, especially if you are going to visit the tombs of these mummies in Luxor! Each mummy occupies its own temperature-controlled case, and they are very well preserved.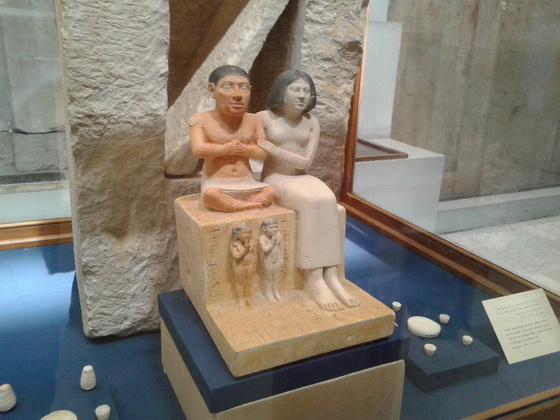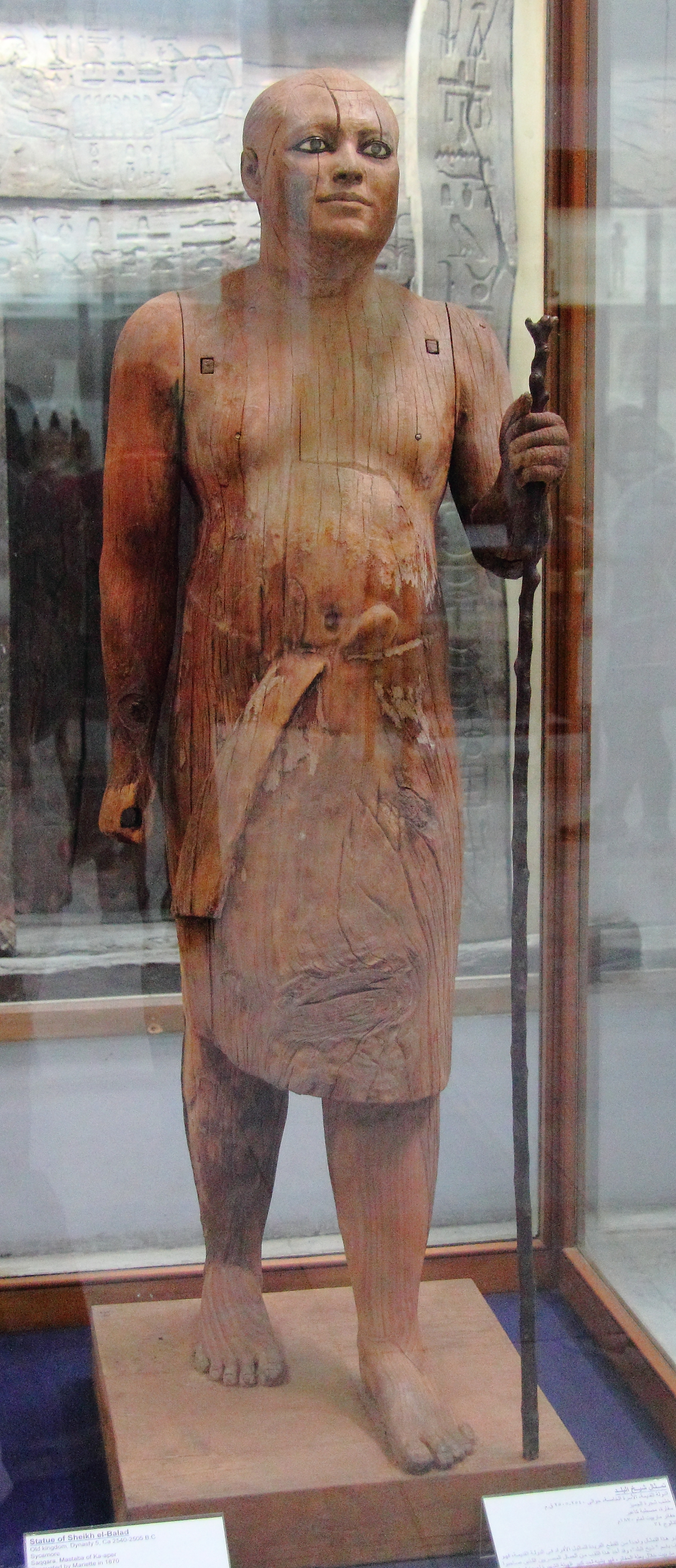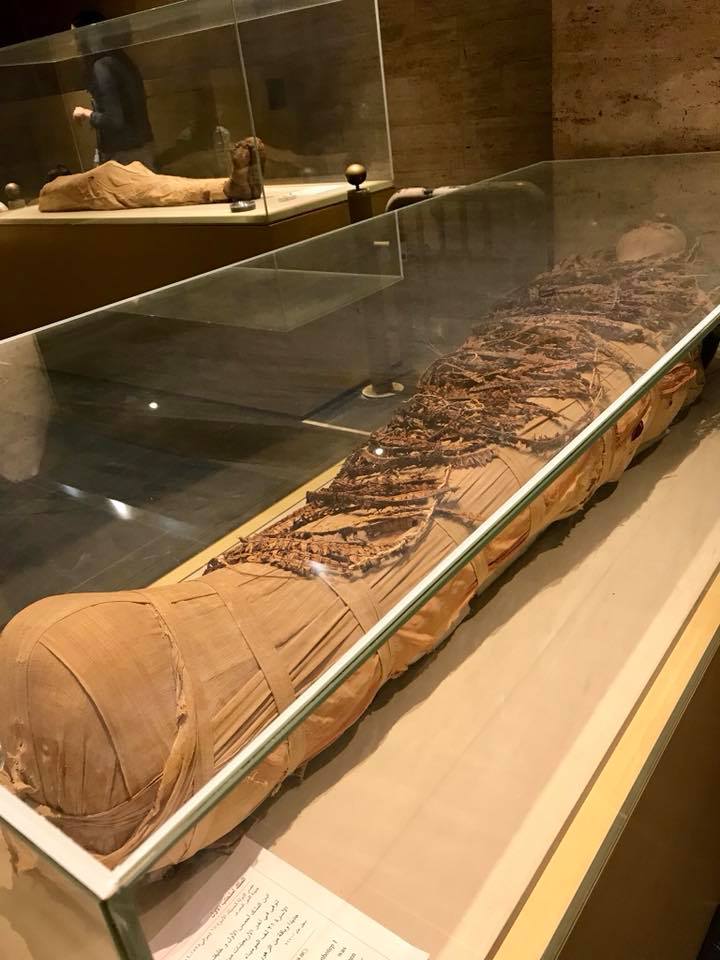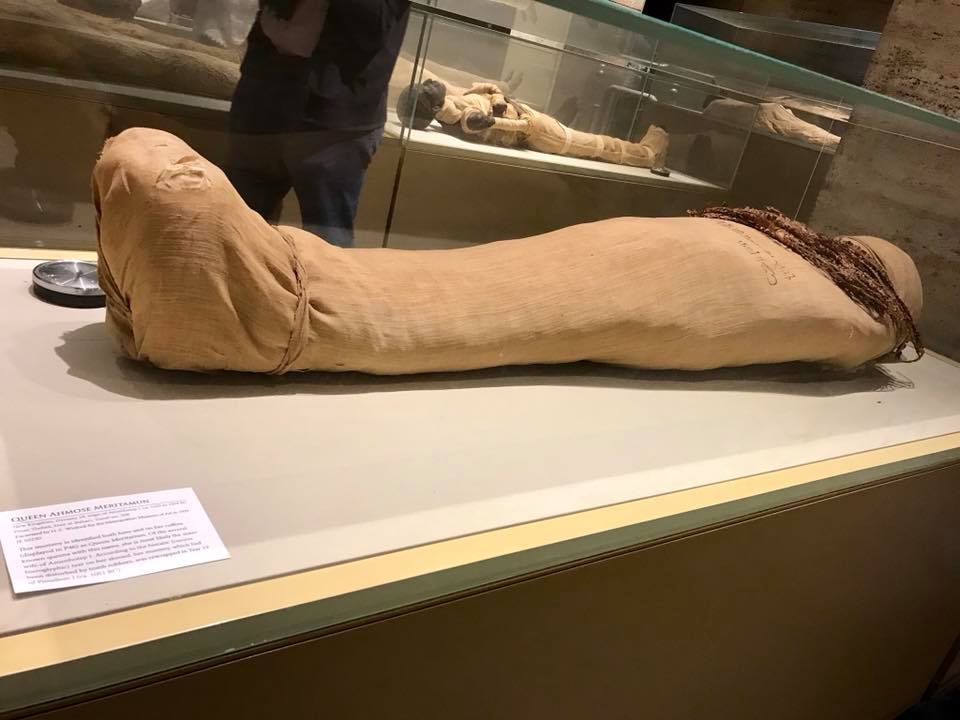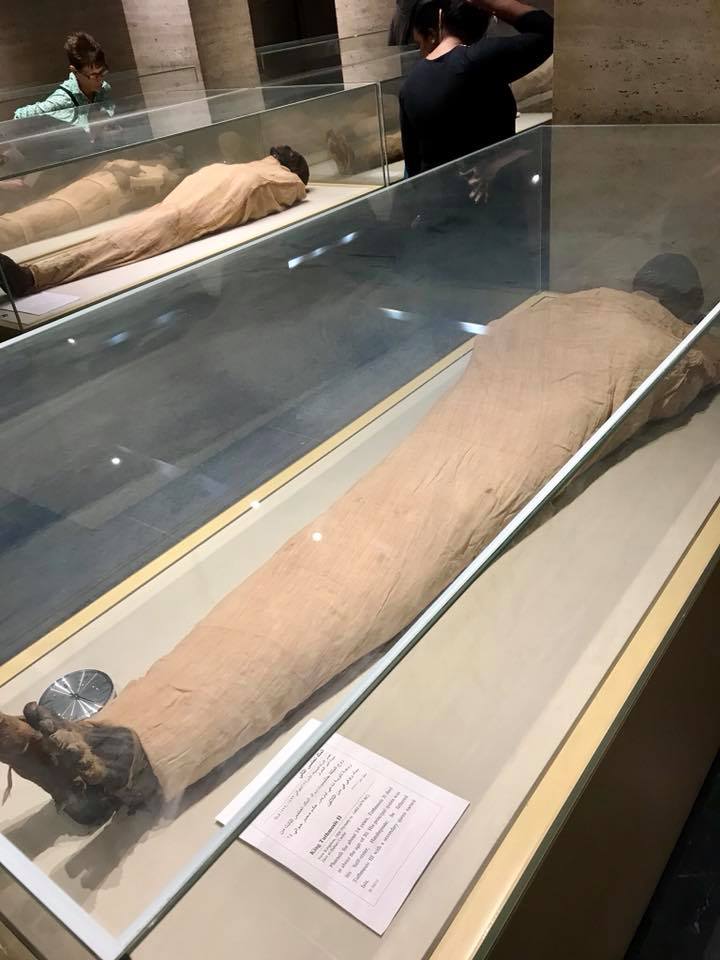 We ended our day at the Giza Plateau, where we visited one of the seven wonders of the ancient world, the Great Pyramids of Cheops, Chefren, and Mykerinus, and, of course, the Sphinx. I would HIGHLY recommend a guide for this site.  Not because it is complicated and requires a lot of explanation.  I say this only because it reduces the amount of harassment you will encounter at the site by vendors who want to sell you crap, locals who want you to take camel and horse rides, and scammers who claim to work there and can show you around and take your picture.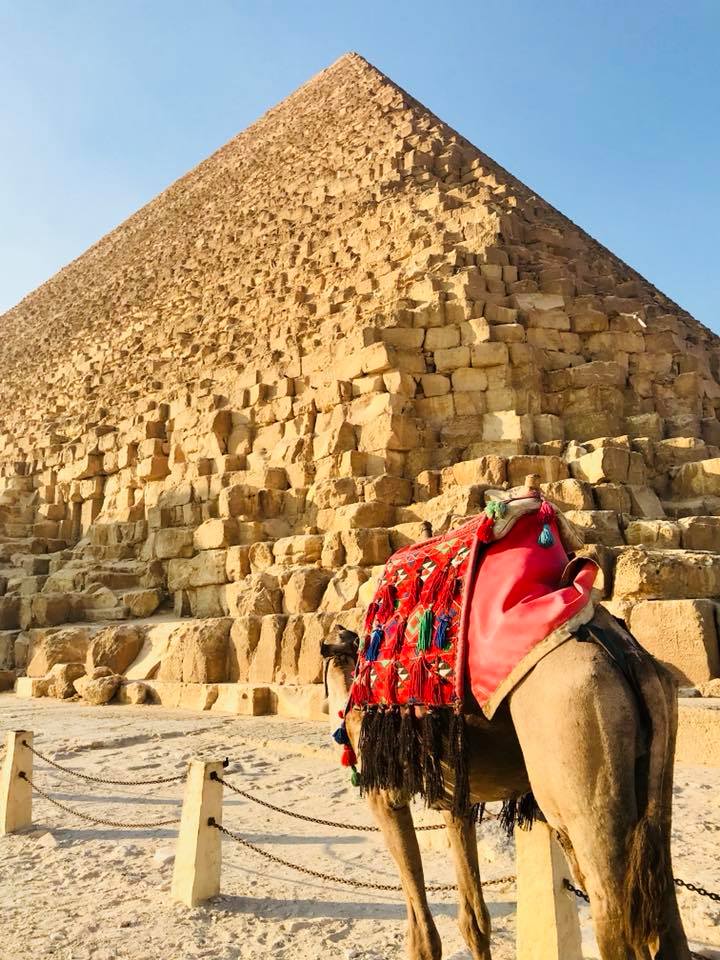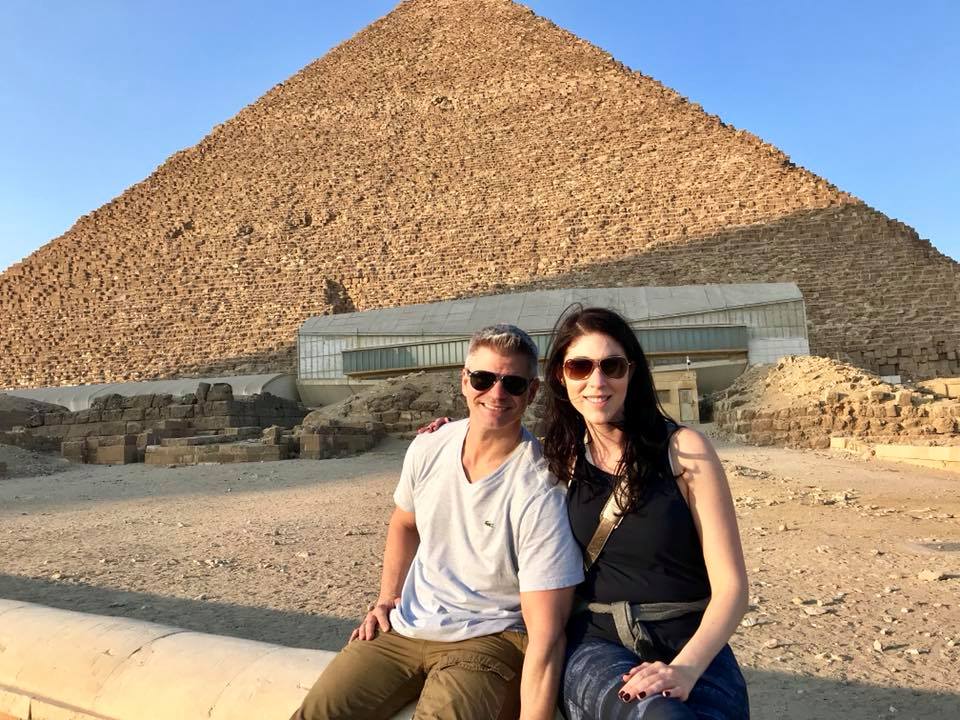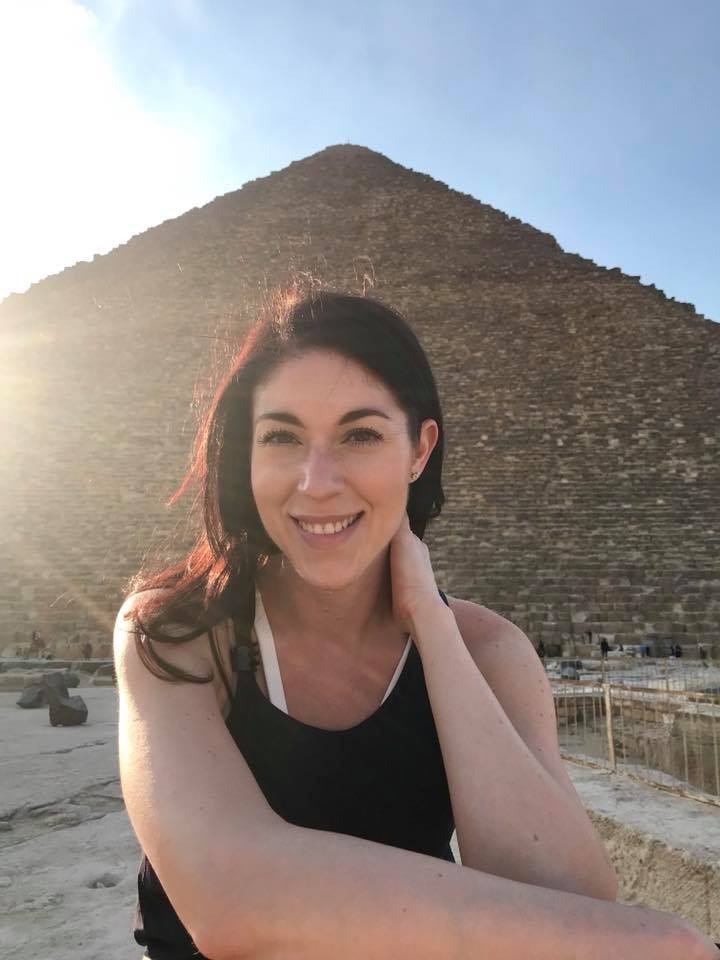 Also, our guide showed us this pretty cool ancient ship exhibit, which we would have totally missed if it weren't for him. It is located in the Solar Barque Museum, which is located behind the Great Pyramid. The ship was thought to transport pharaohs to the underworld.  You have to buy a separate ticket for this exhibit, but it is only a few dollars, and you get to wear these super stylish shoe covers!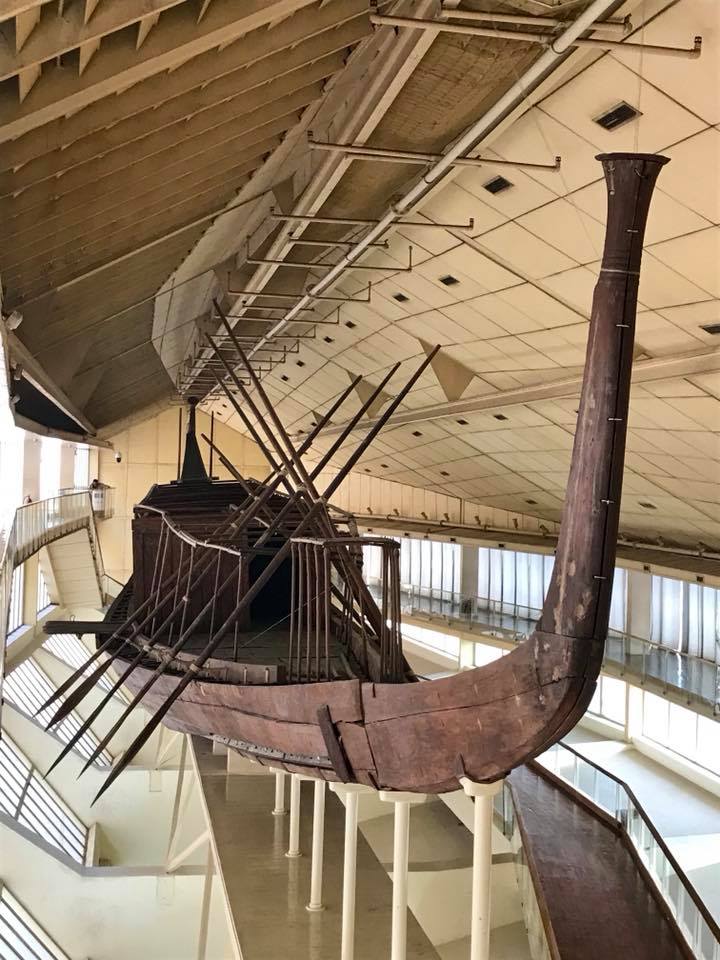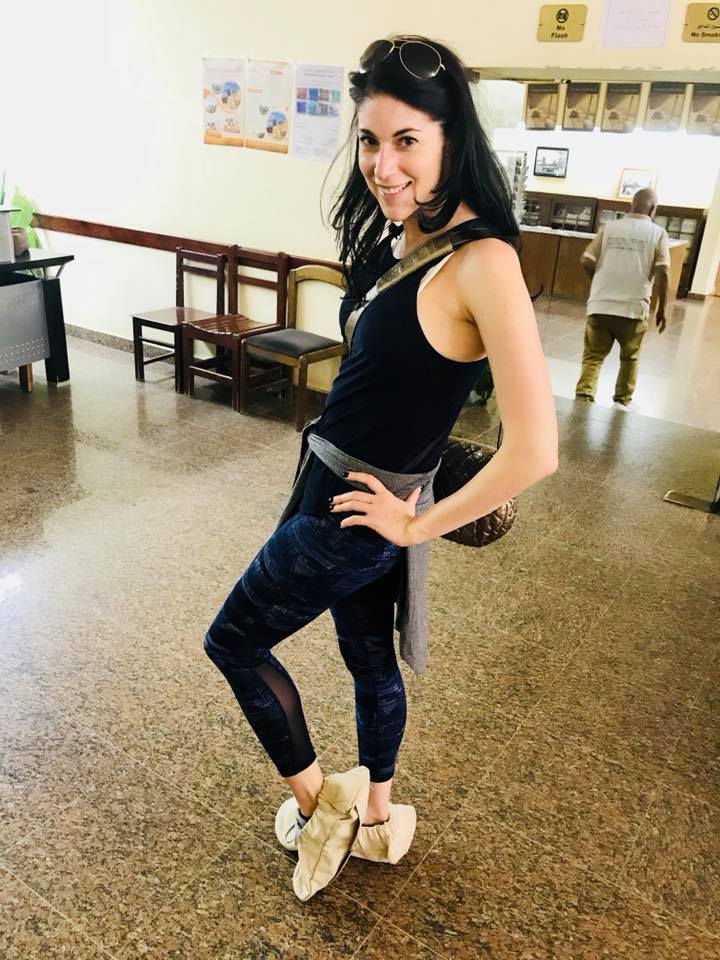 In case you were wondering, it is now illegal to scale the pyramids. You can, however, go into them.  First, while you can visit the pyramids every day, all year long, you can only access two of the three pyramids each day- the Great Pyramid and then one of the two smaller pyramids.  Each requires the purchase of a separate ticket for entry.  Allegedly, there are only 300 tickets sold per day, the first 150 tickets are sold early in the morning and the next 150 tickets in the early afternoon.  We got there two hours before closing, and were able to get tickets without a problem.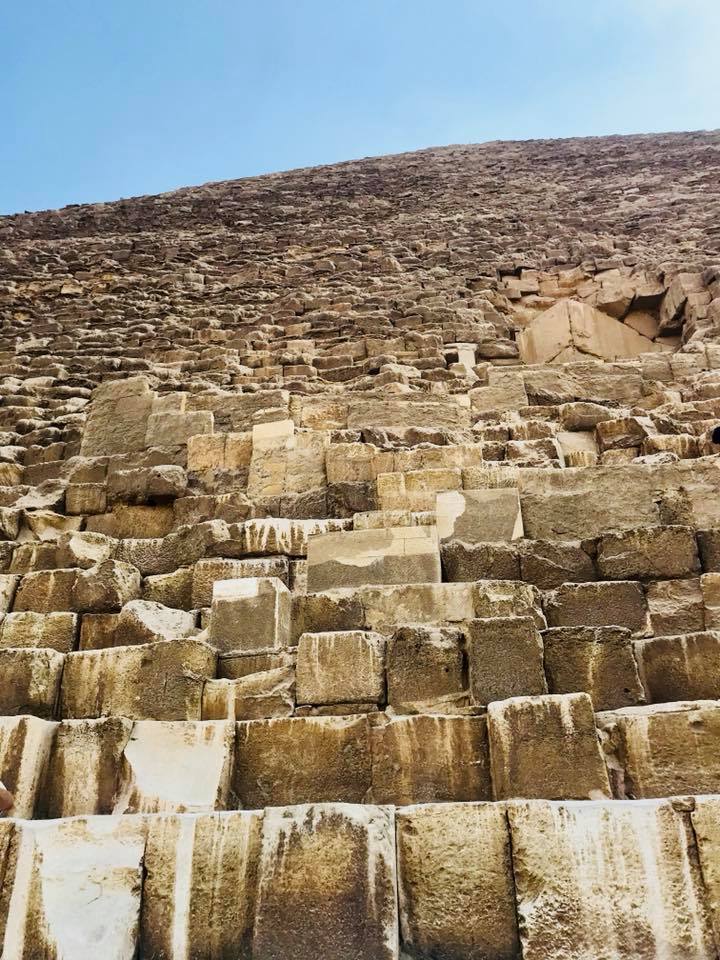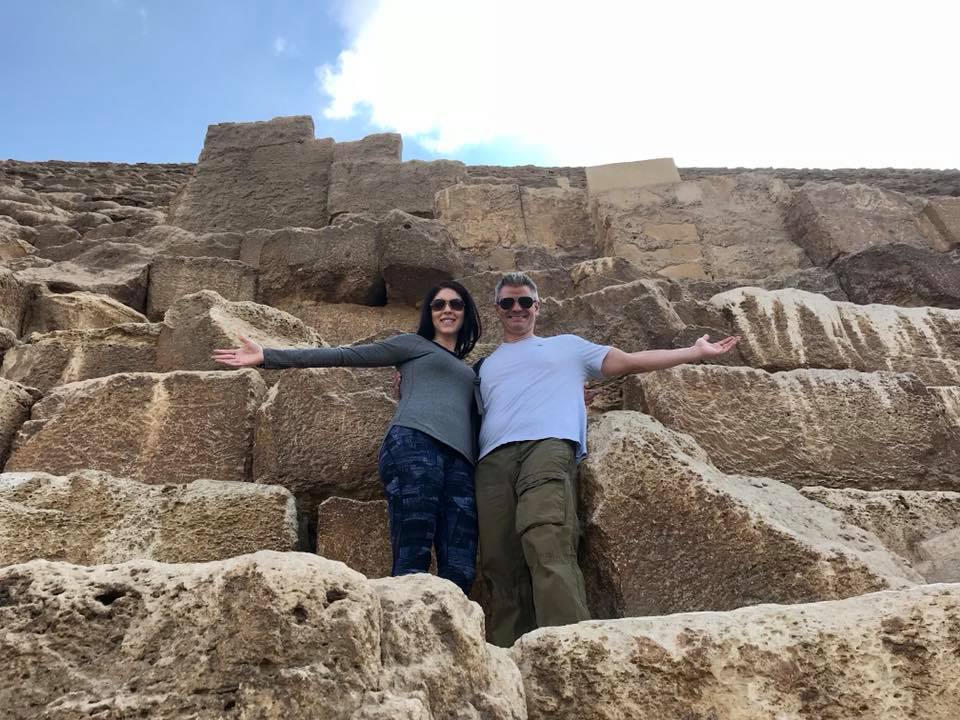 So, what's inside? Nothing really, but it's kind of cool to be IN an ancient wonder. So, I definitely recommend going into at least the Great Pyramid, unless you have severe claustrophobia.  Chad is a little claustrophobic, but he was able to do it.  Also, when we went, there weren't that many people coming in and out. If there were, I can see where it would be a little anxiety inducing.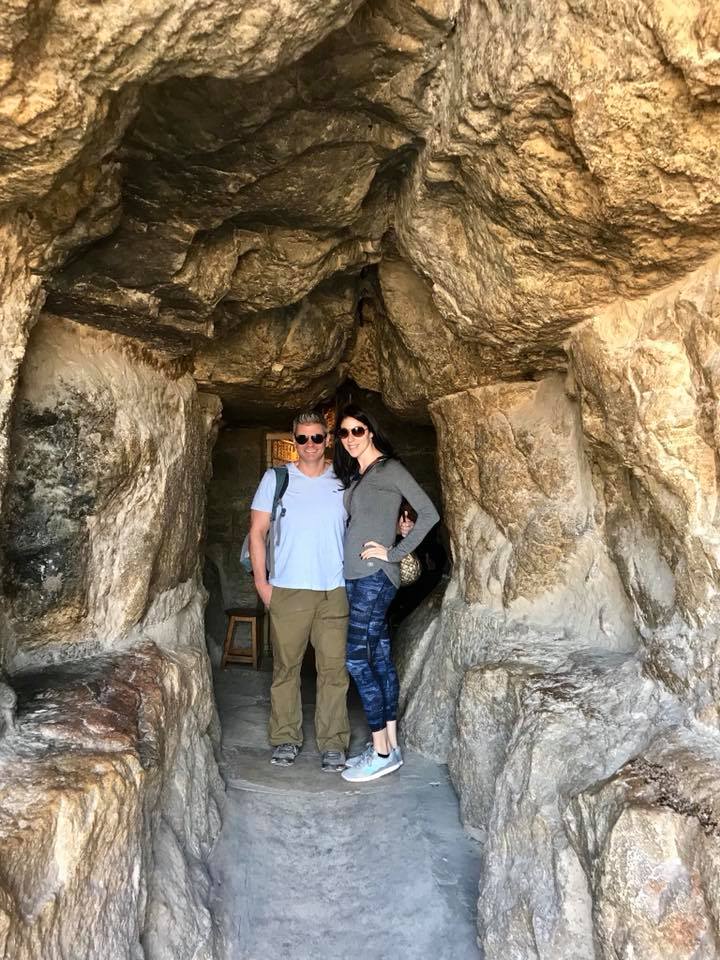 Here is what you are in for. First, you climb up a brief way from the outside until you reach the entry way.  Once inside, you will go through a small two-way tunnel where you are able to stand up right.  It will take you about a minute or two to get through this tunnel. You will then reach another tunnel that is two way but looks like it should only be one way.  This tunnel goes up at an angle and has handrail on each side with wood planking on the ground, but you have to crouch to get through it.  It is about three to five minutes long. You will then come to an open space where you can stand up right.  On either side will be a make shift ladder that you climb so that you can walk upright at an angle into the chamber room.  This will take you another three to five minutes. At the end, you will step into an empty room with a vault in it. The pathway to get here is lit, but kind of hot.  The chamber room is dark and hot.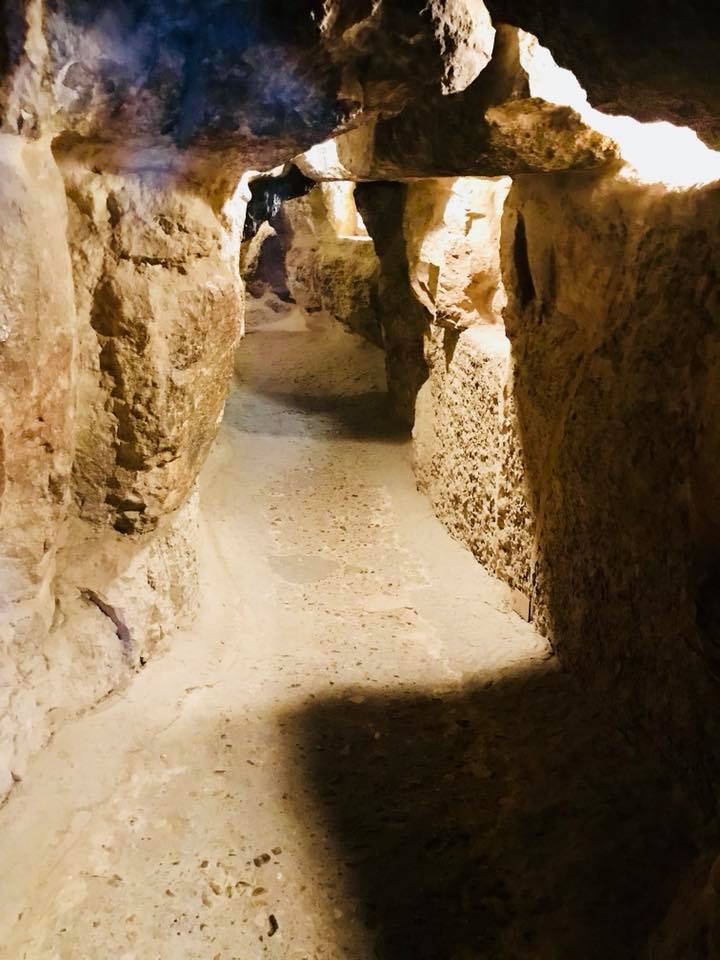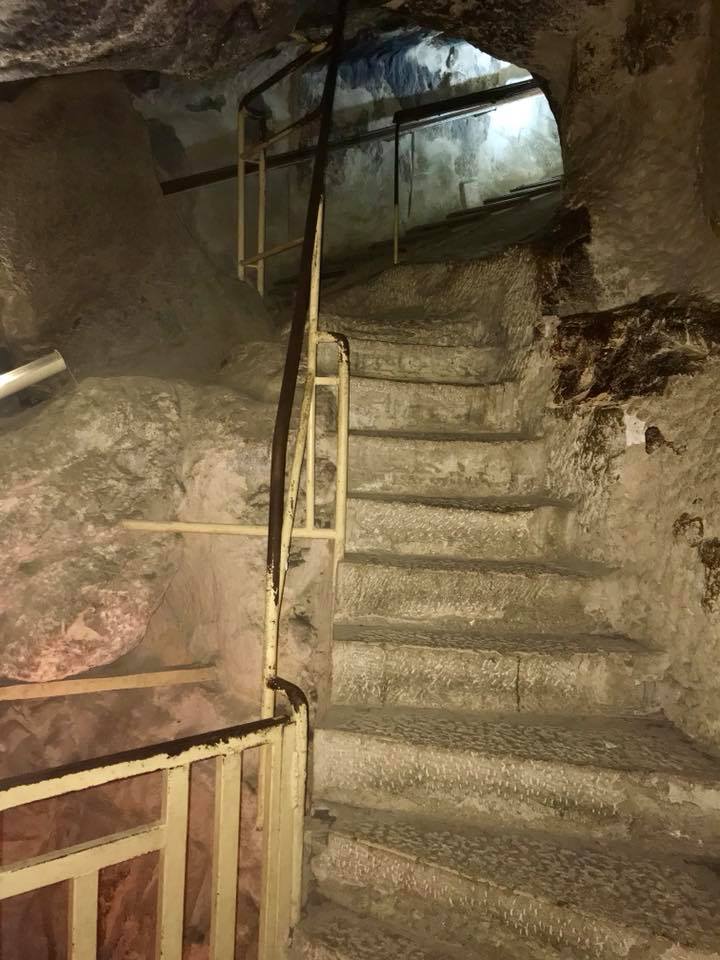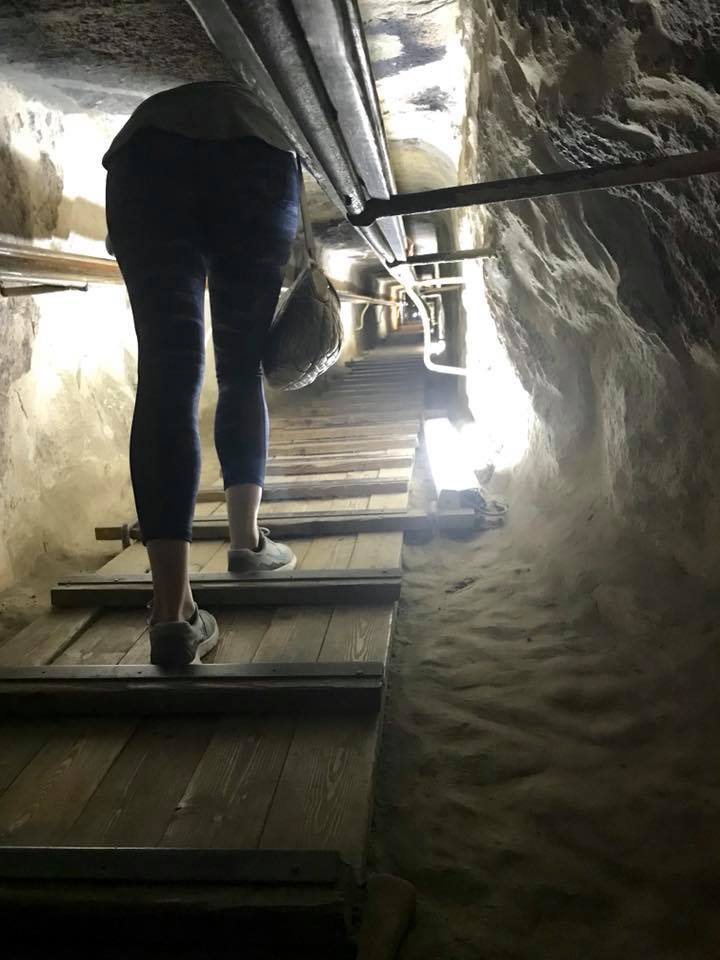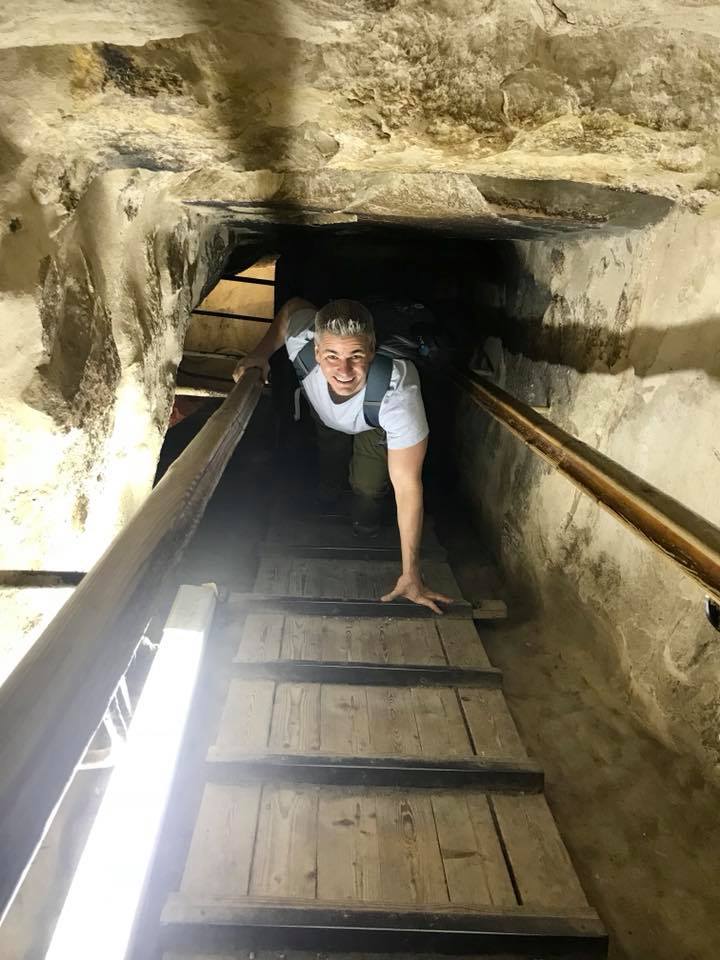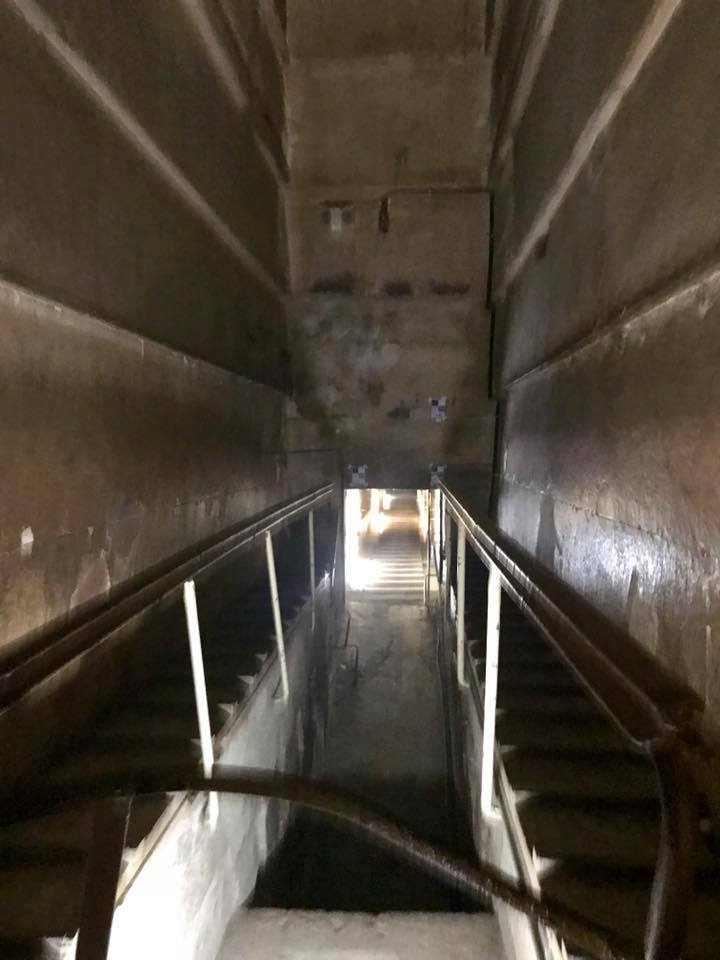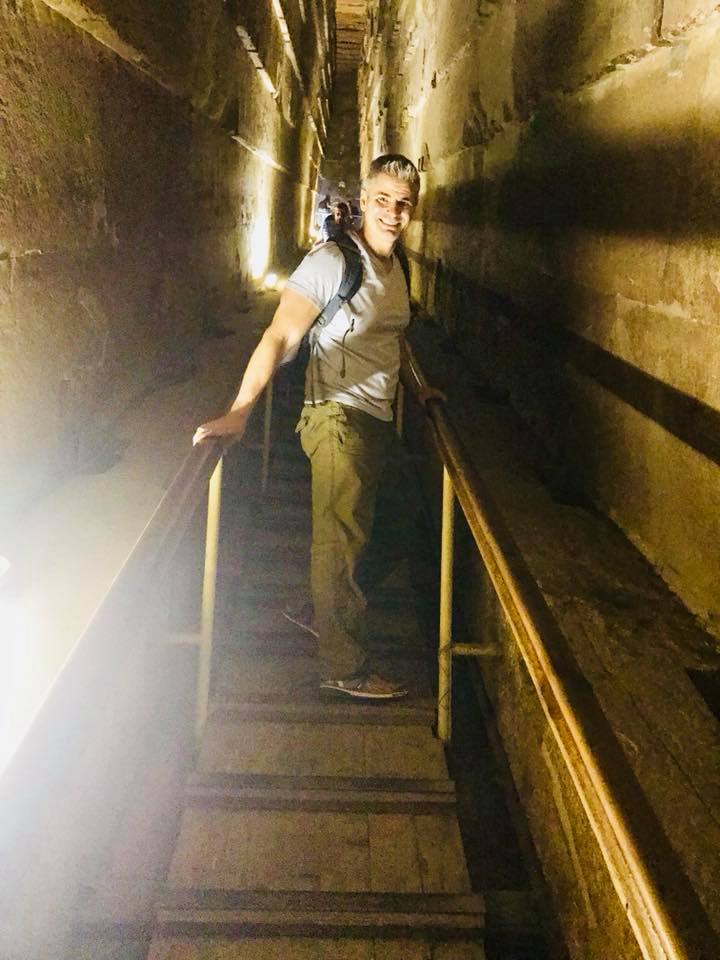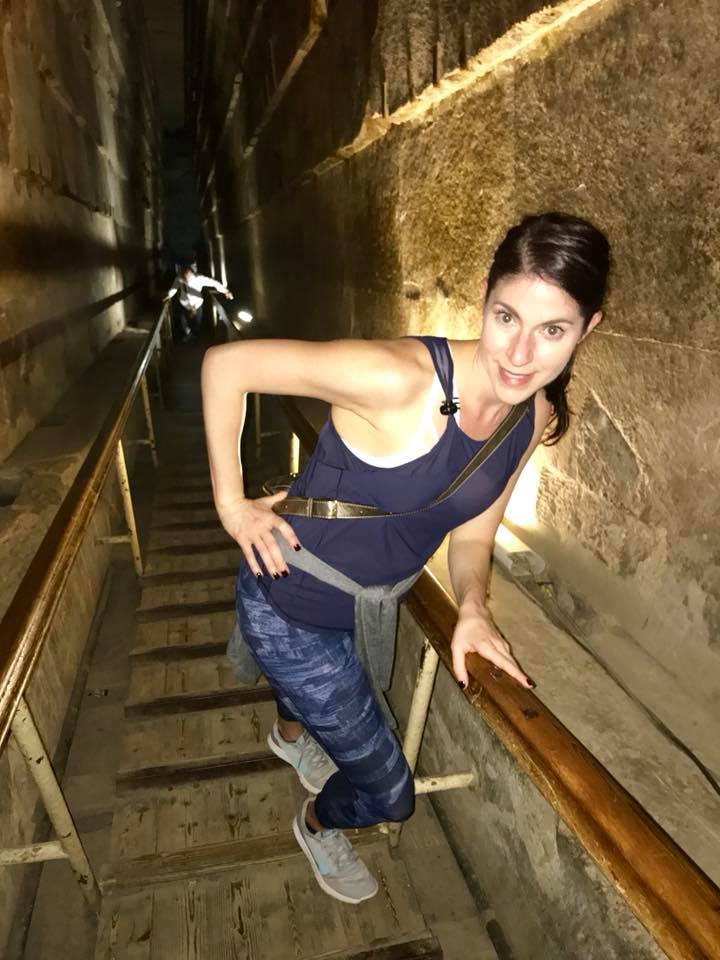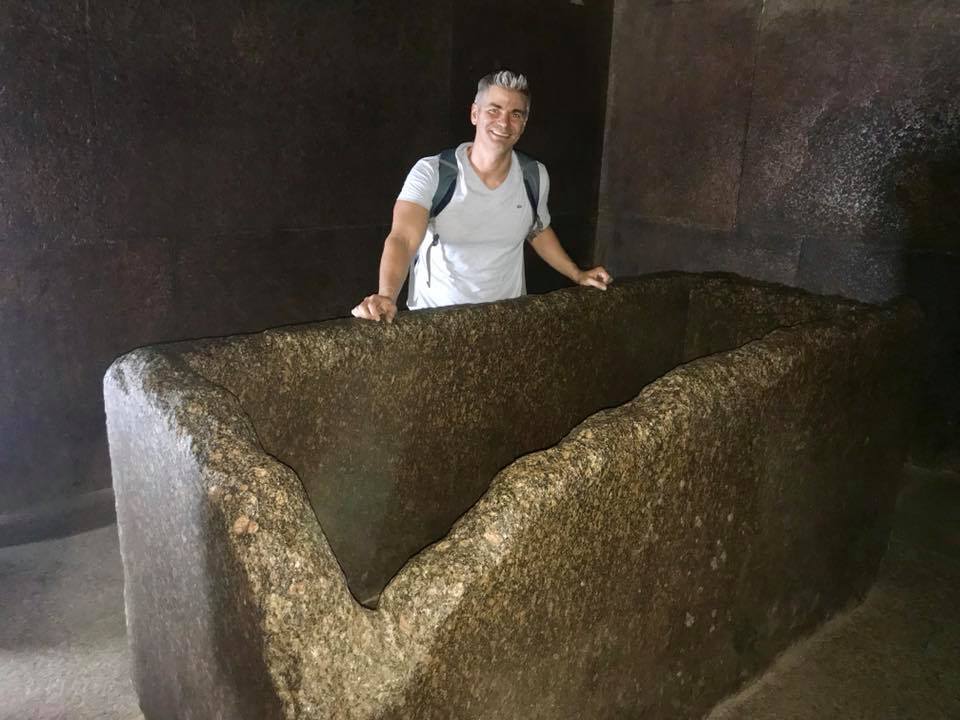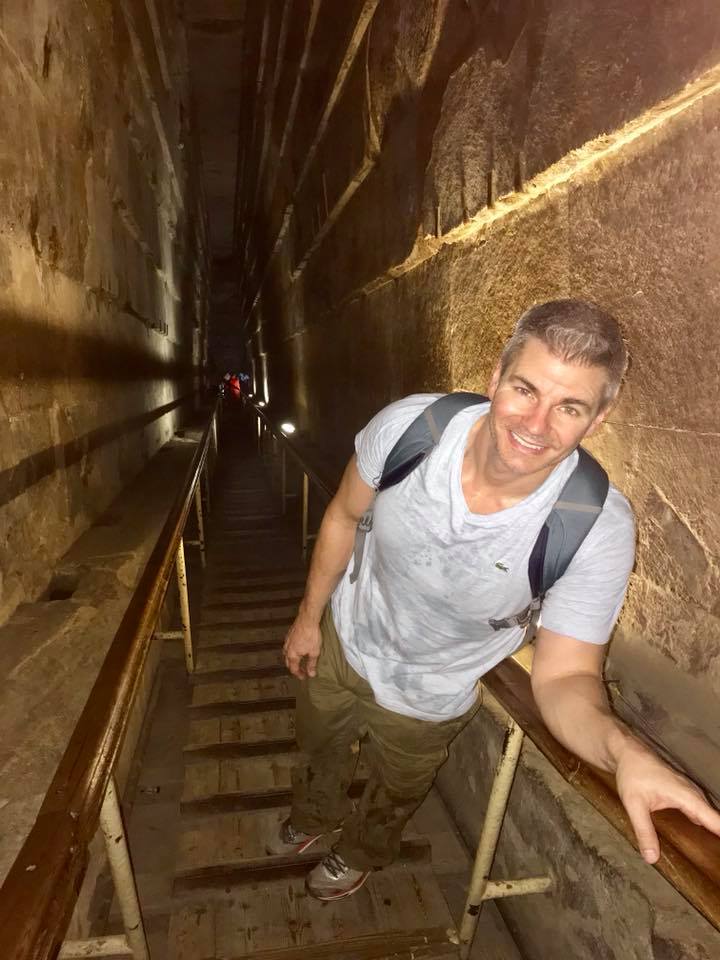 The treasures from inside the pyramids have been removed and can be viewed at world-famous museums around the world like the British Museum, Berlin's Egyptian Museum, and Italy's Turin Museum.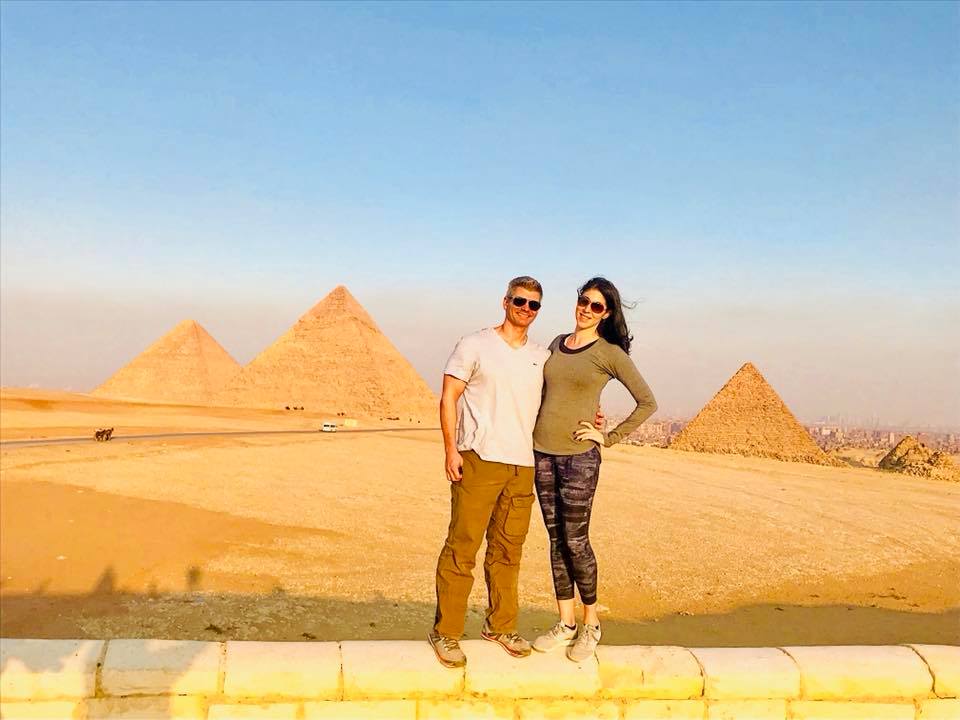 After exiting the tunnel, we were driven to a view spot where you can get a great view of the Great Pyramid.  From there, we took our camel ride around the complex to see the six pyramids.  This particular activity conflicted me. I discussed with our guide that I did not want to engage in this activity if the camels were treated inhumanely.  He assured me that while that was the case with some camels and camel herders, their company worked with locals who did not engage in this practice. Our camels looked healthier, but, honestly, I am not 100% sure that they were treated completely humanely.  In hindsight, I wish I would've asked if we could walk the trail or drive it instead because it is actually quite an amazing view and it is almost as if you are there alone as there are few other people around.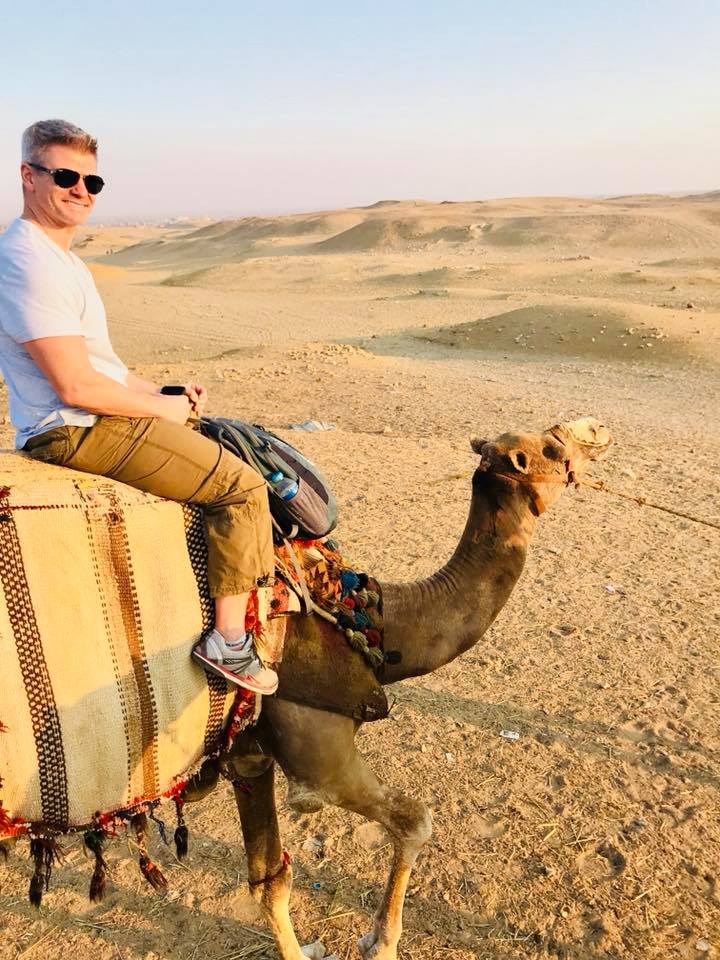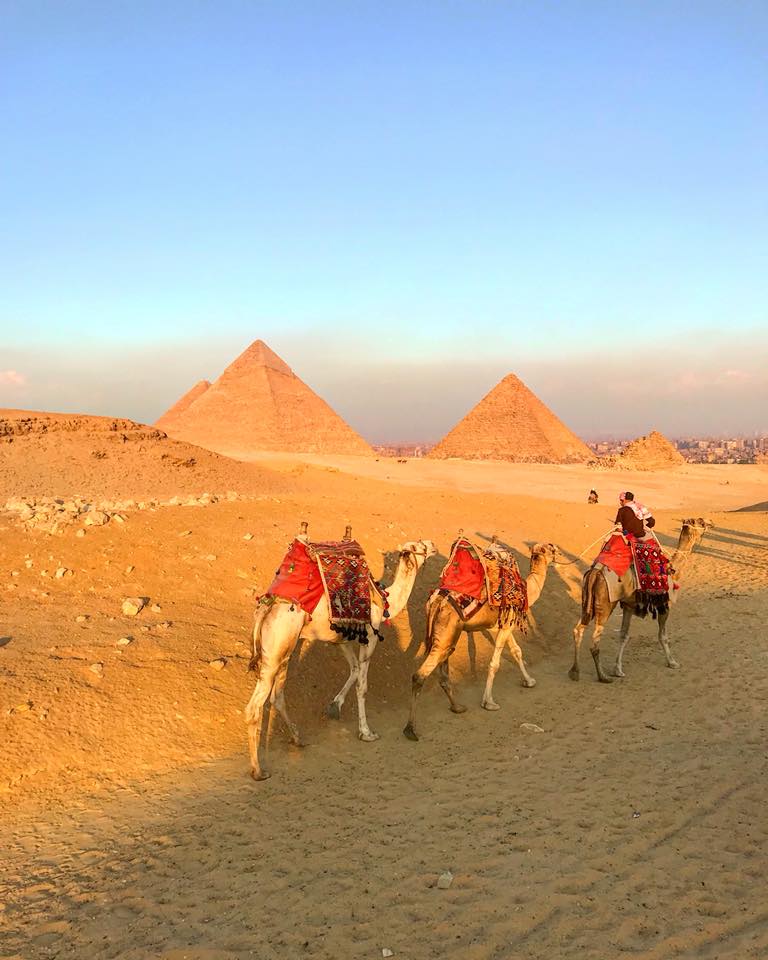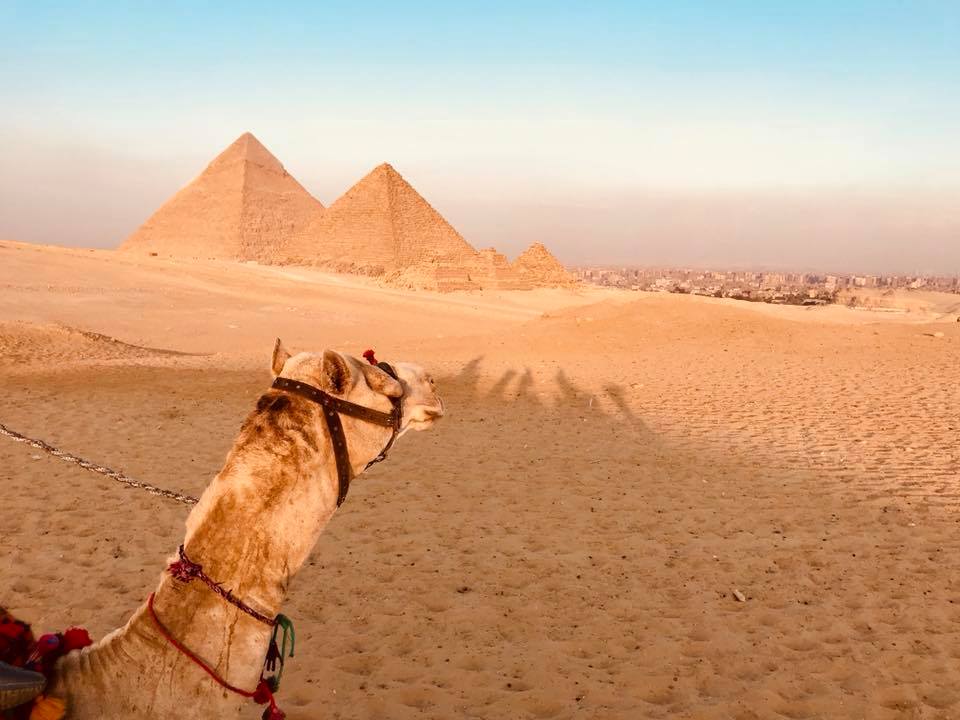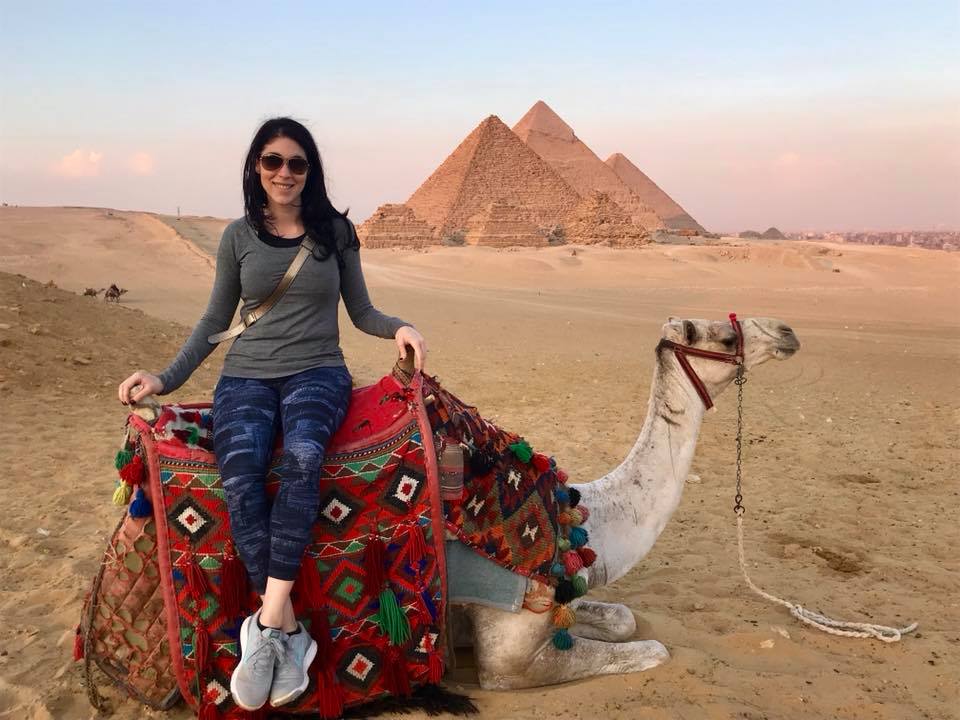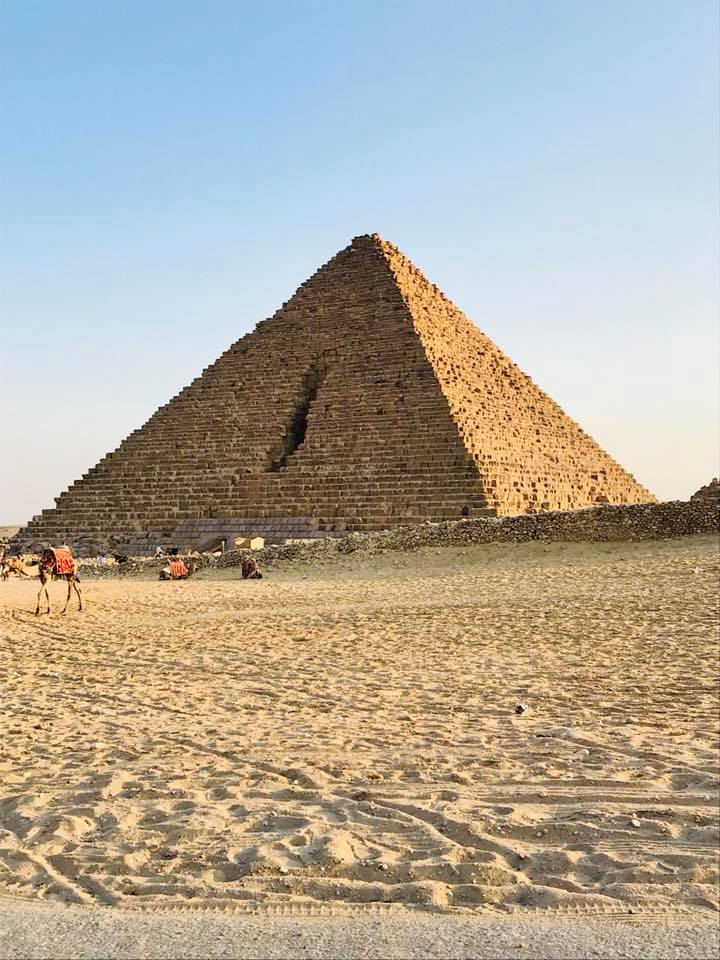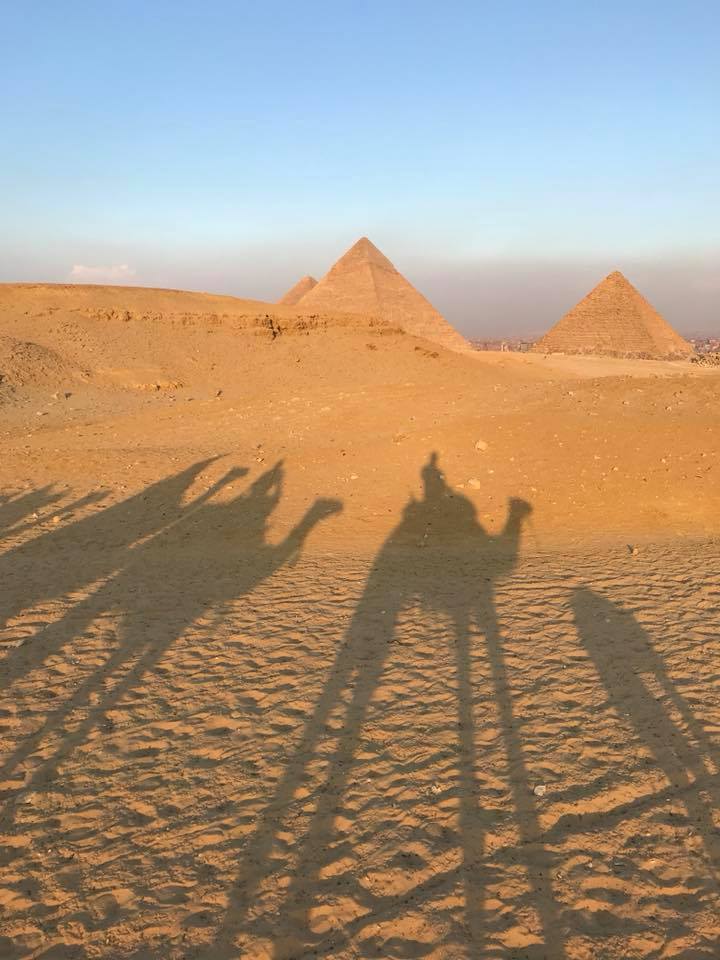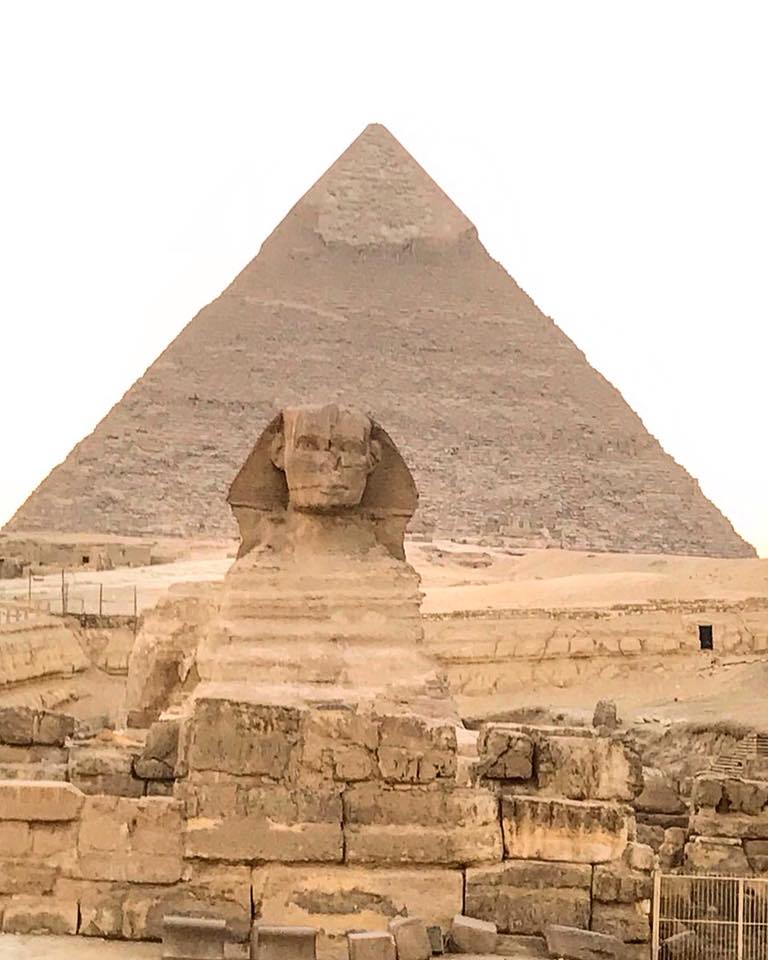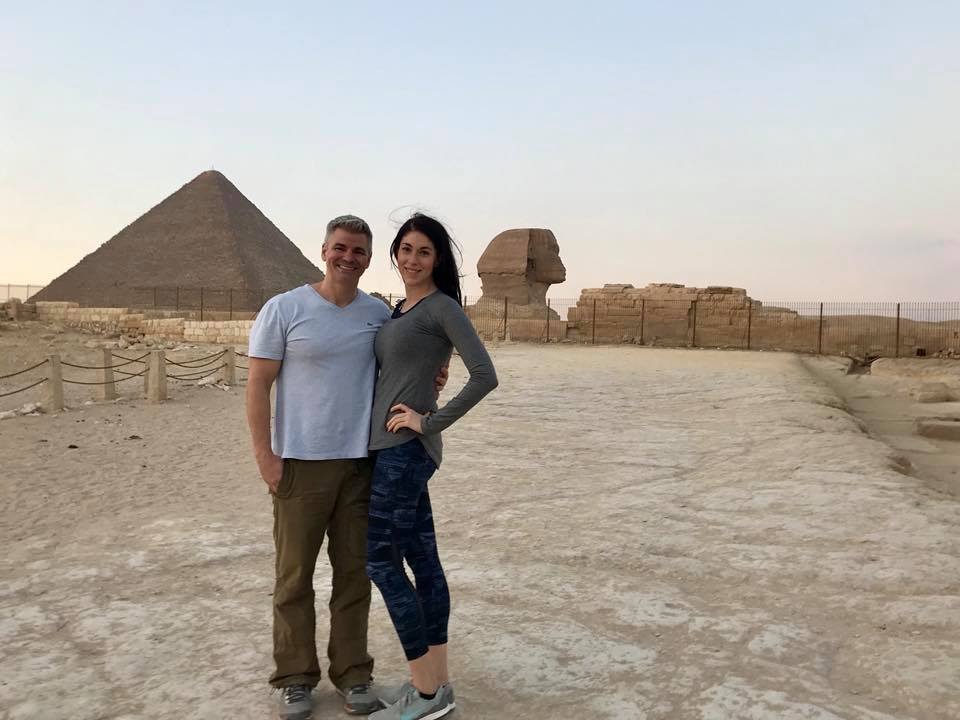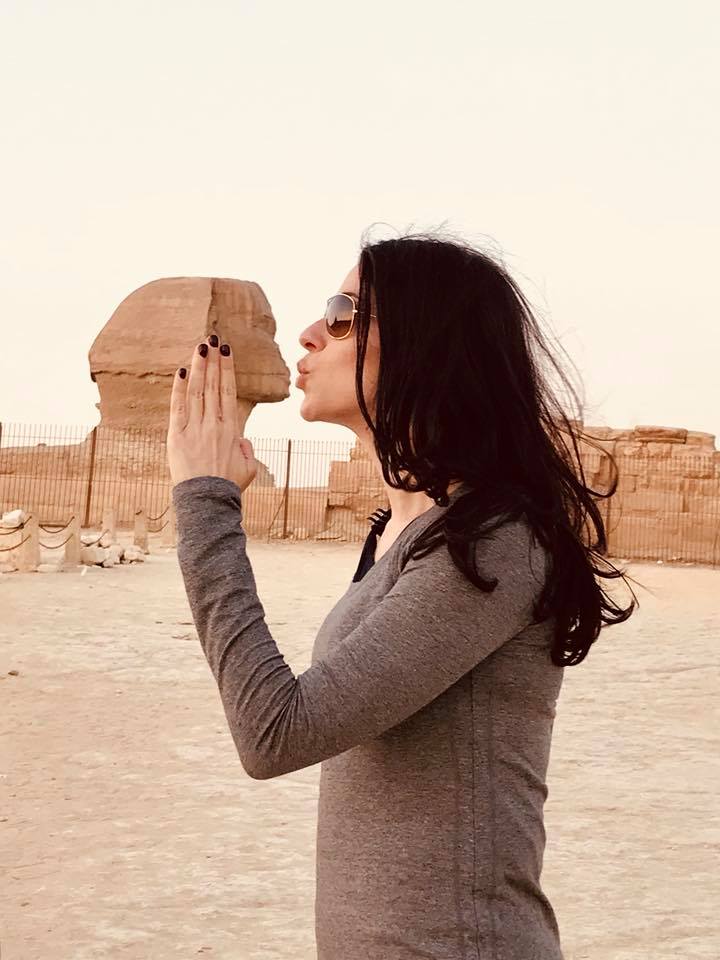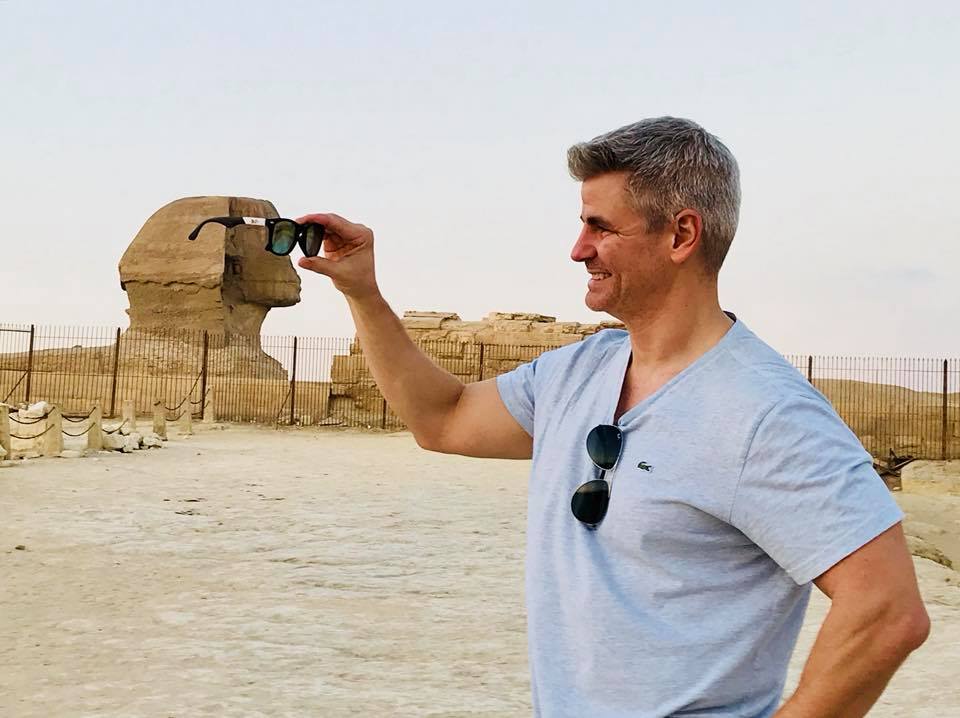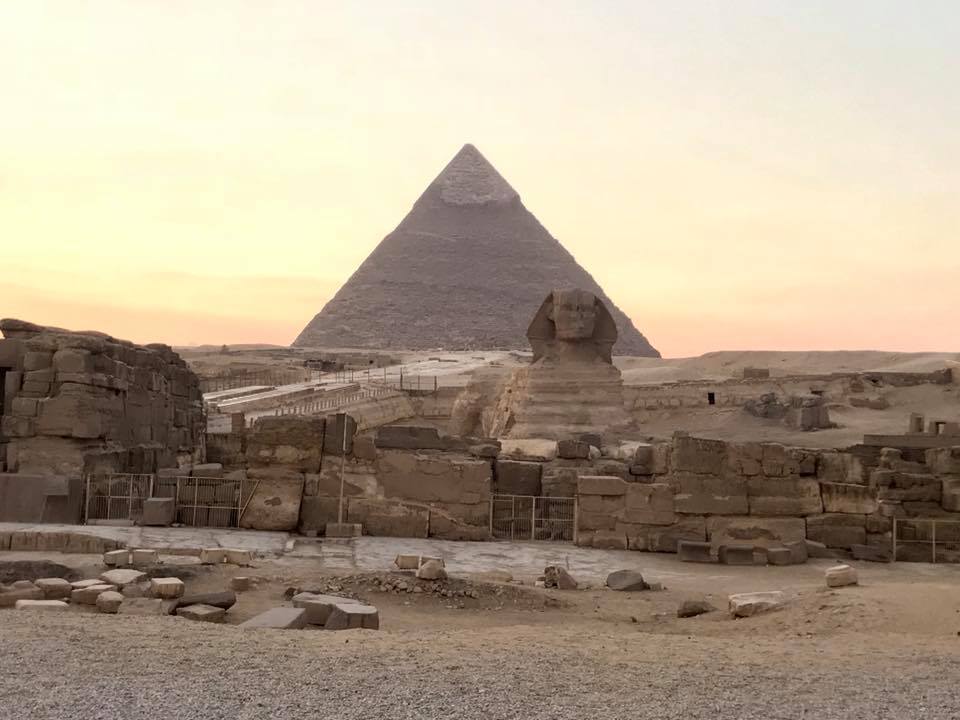 We stuck around for the sound and light show.  It is about 30 minutes, and it is kind of cheesy.  It explains the history of the pyramids in story format with lights and music.  We upgraded our tickets to VIP so we could be in the first row for about $4.00. It was pretty nice to see the pyramids and the sphinx lit up.  I wish they would've left them lit up after the show so we could get some pictures.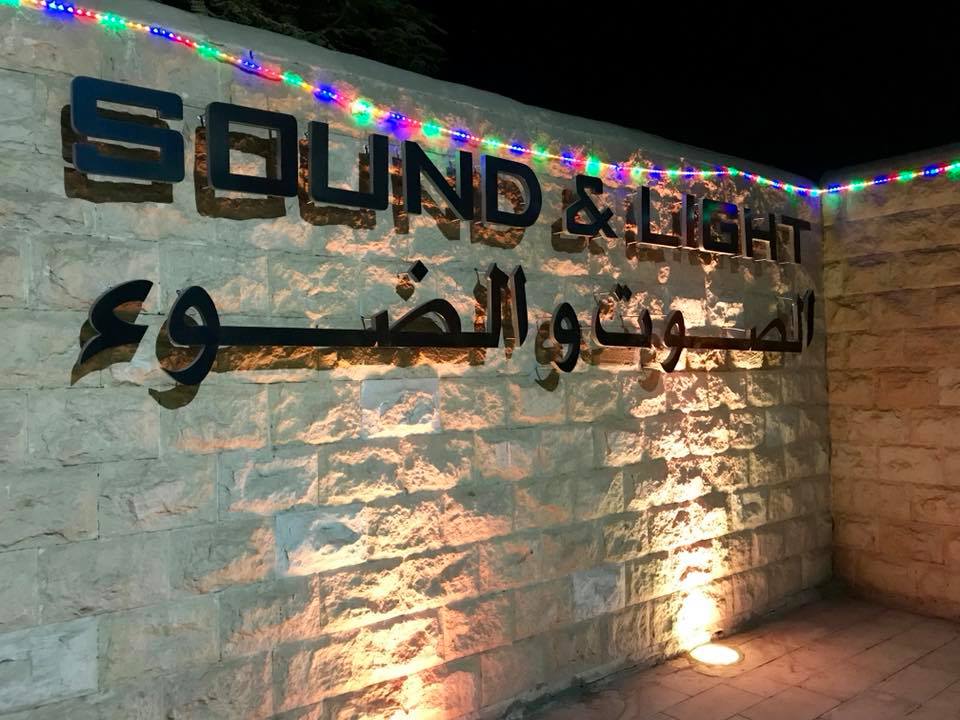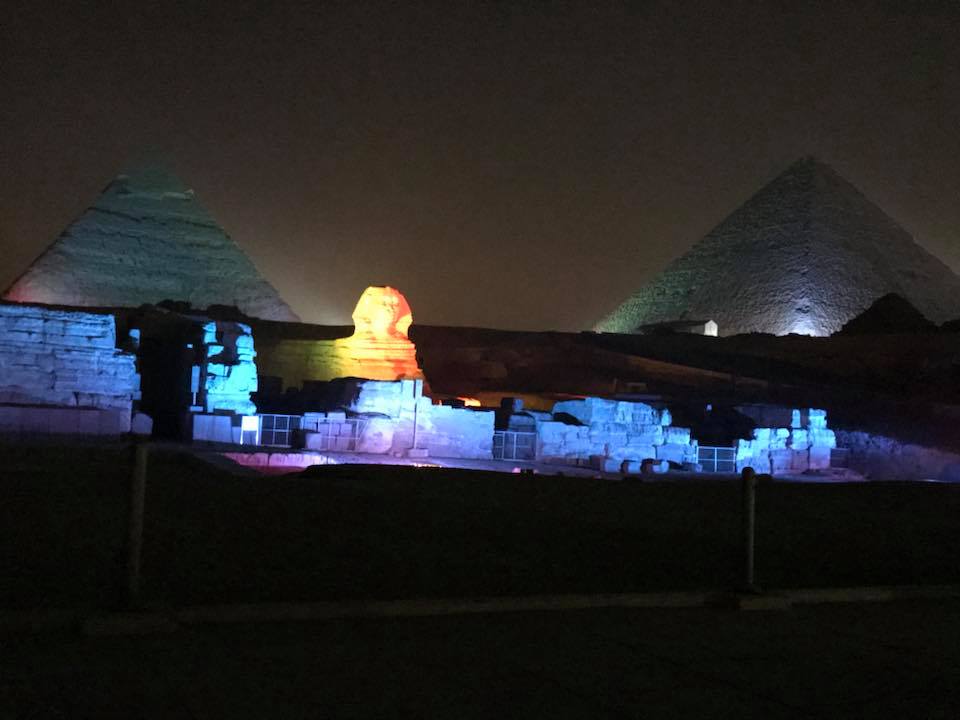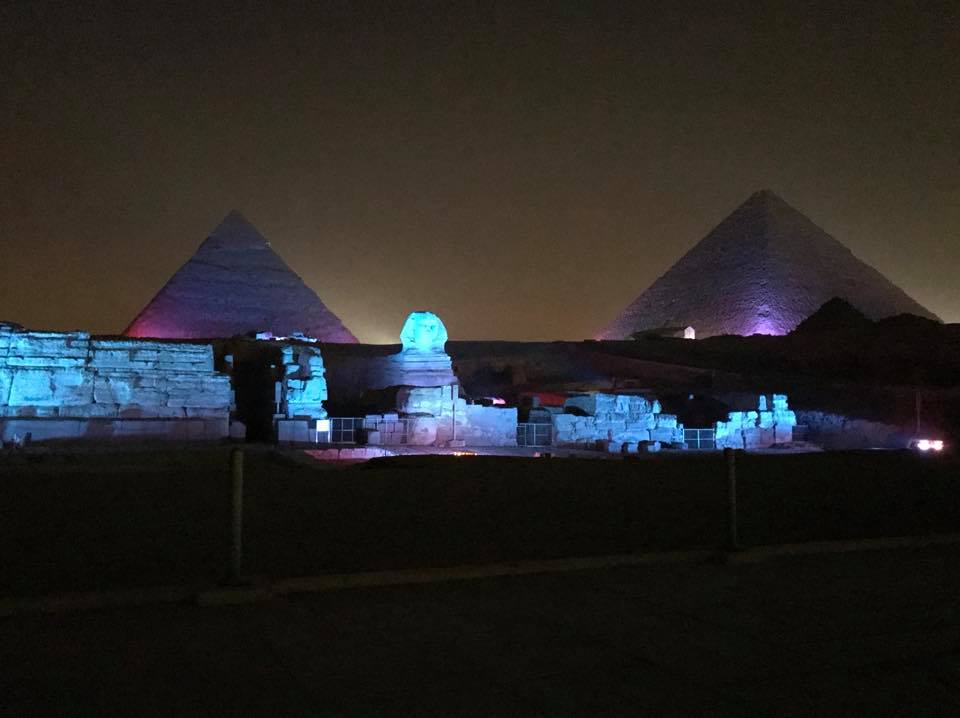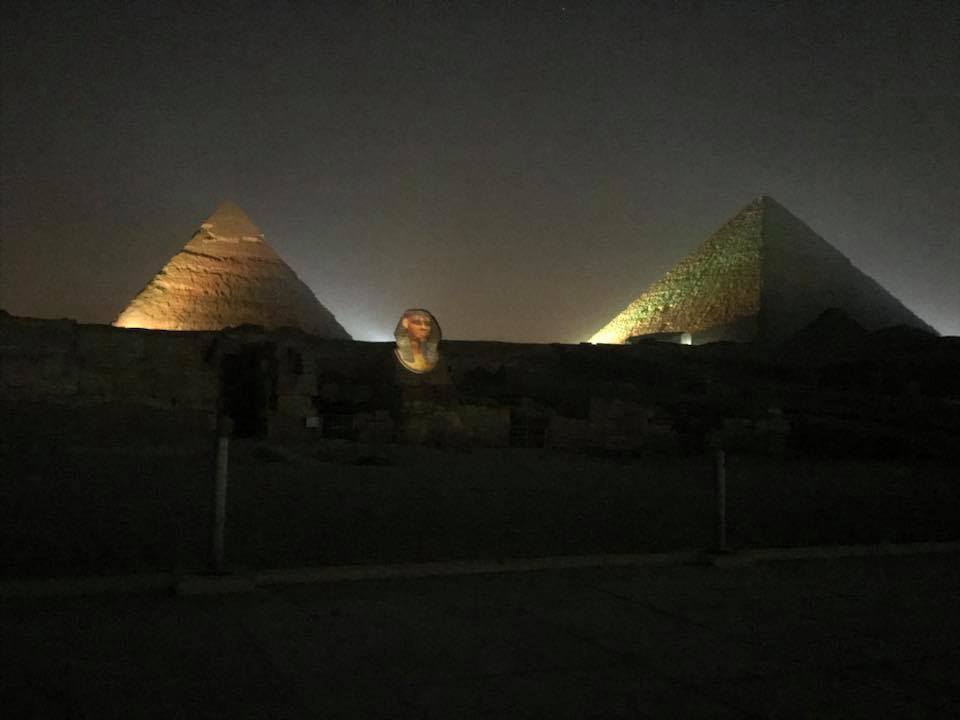 At the end of that action packed day, it was time to get back to our hotel to prepare for our trip to Luxor the next day. The one thing we did not have time to do was to visit Khan el-Khalili bazaar, and I am still annoyed by this. It is a major souk in the Islamic district of Cairo, and, from the photos, it looks beautiful!  The shops sell souvenirs, antiques and jewelry, but there are also still many traditional workshops that continue to operate in the surrounding area. There are also several coffeehouses, restaurants, and street food vendors, including one of the oldest and most famous coffeehouses, Fishawi's, established in 1773. Until I can get back to Egypt to take my own, photos from Mr. Google are going to have to do to give you an idea of what the market looks like.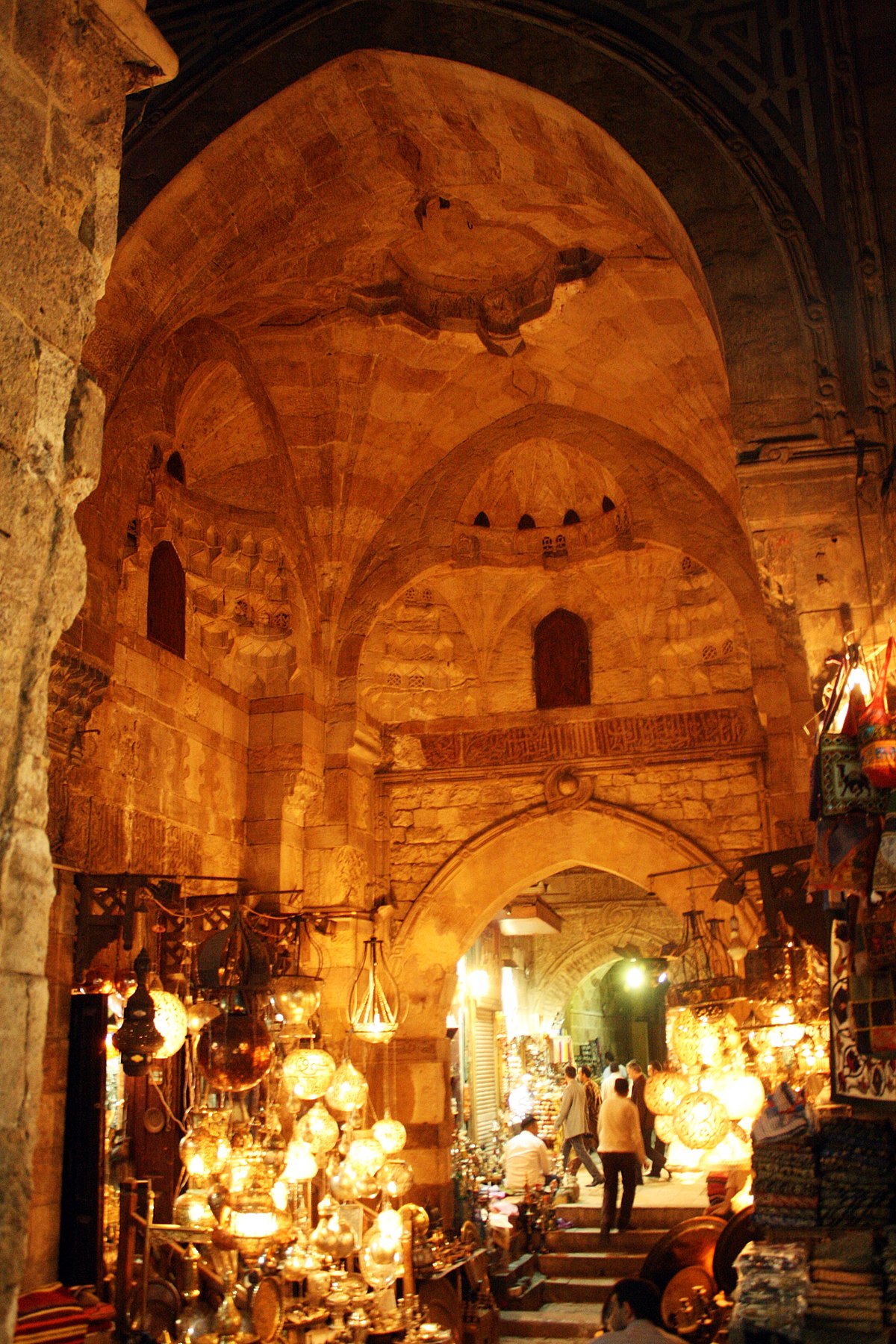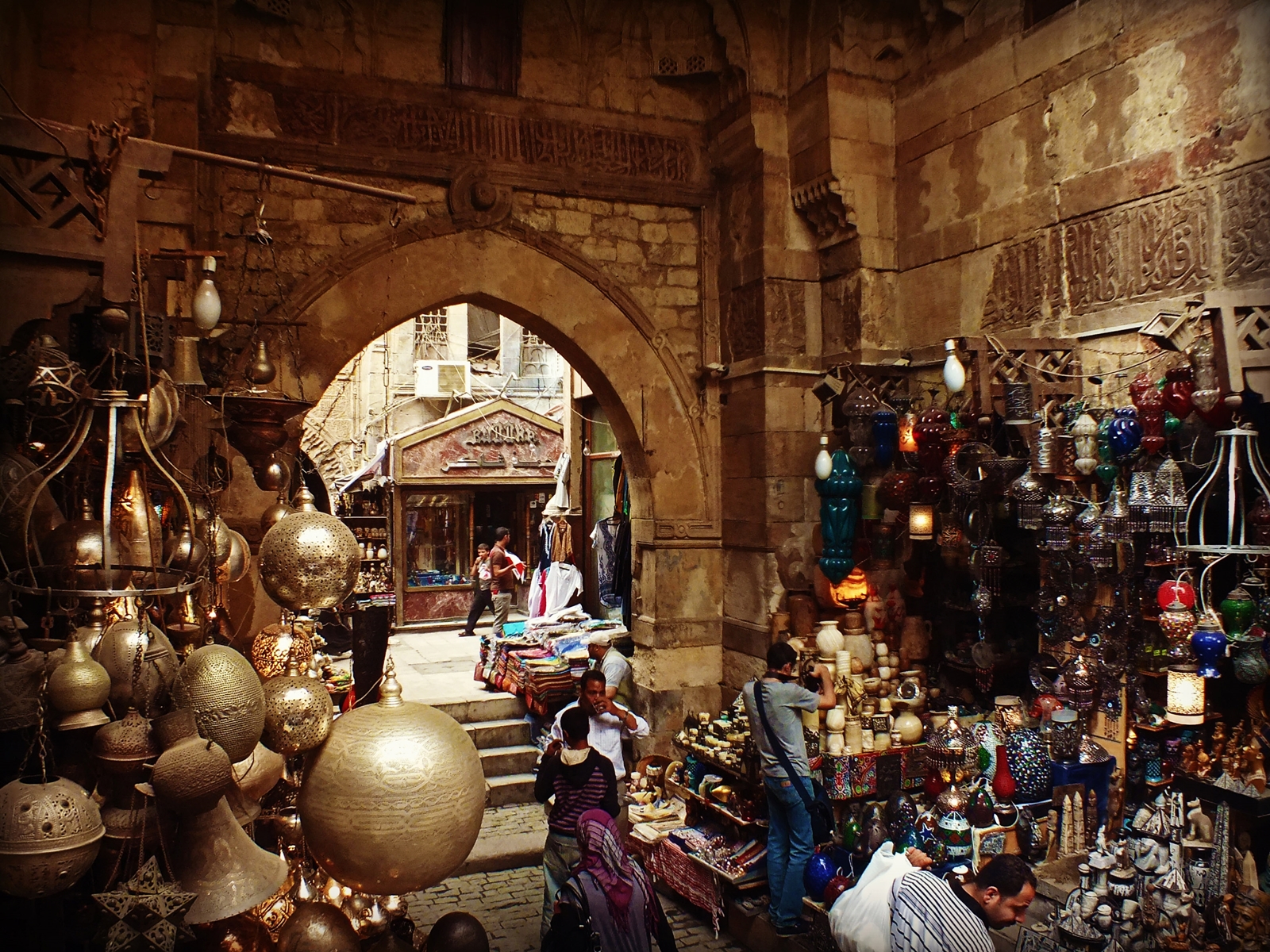 Anyway, if you've been to Egypt, I'd like to hear about your experience.  If you have always wanted to go, stop hesitating and book it!  Our entire trip, including international airfare, one in country flight for two people, private guides and drivers, all transfers, stays at two five star hotels, all breakfasts and lunches, and entrances to all sites for two people for four days was under $4,000.00 total. We probably spent an extra $500 in country on visas, tips, dinners, extra entrance tickets, and incidentals. And, we were surprised to see more Americans than we anticipated there, including families with children. So, fear not! The pyramids await you!