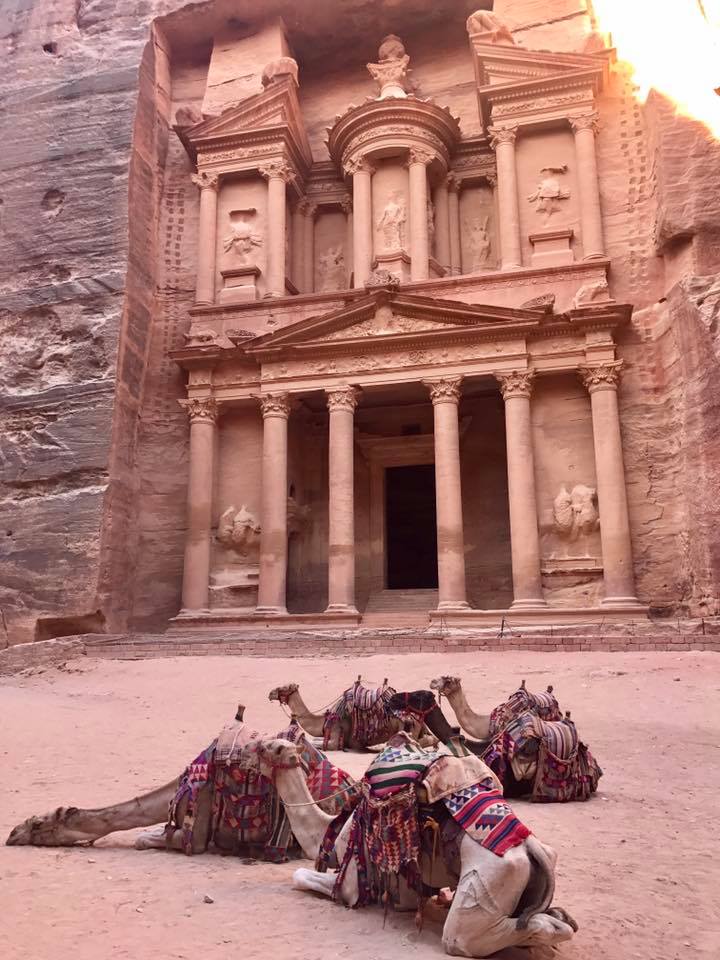 It may have once been lost, but now it has been found. First, by Hollywood. And then, by travelers, globetrotters, instagrammers, and bloggers. It seems like every legit traveler had made his or her way to Petra. And, each one has taken one jaw dropping photo after another. So, I just had to go and see for myself what all the hype was about.
For fans of the movie My Big Fat Greek Wedding, I have a simple explanation of what exactly Petra is. Ready? Petra is the Greek word for "rock." This entire city was carved out of rocks.  Petra is rocks. The city is made of rocks. So, there you go!
But seriously, in 1985, Petra was declared a UNESCO World Heritage site.  In 2007, Petra was named as one of the New 7 Wonders of the World. It is called the Lost City because it was essentially lost to the Western world for hundreds of years until it was discovered in 1812. Petra was once a thriving trading center and the capital of the Nabataean empire between 400 B.C. and A.D. 106. The Nabataeans were known for their great ability to construct water-collecting methods in barren deserts and for their talent in carving structures into solid rocks.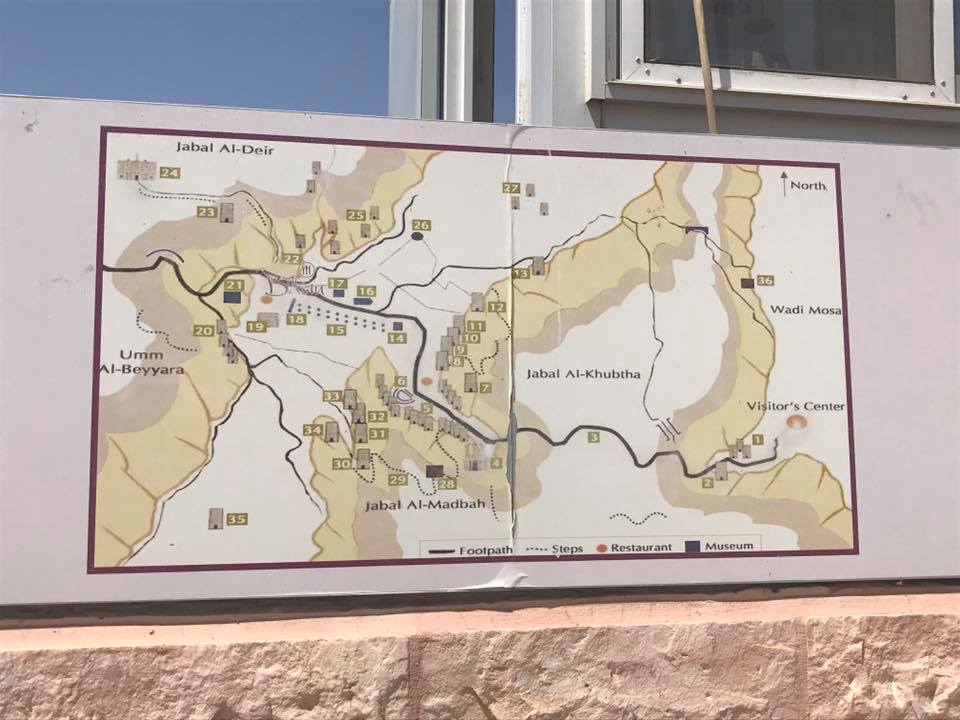 Petra is an enormous complex located in a basin among the mountains which form the eastern flank of Arabah (Wadi Araba), the large valley running from the Dead Sea to the Gulf of Aqaba.  Its structures have been carved into the rose colored stone, giving Petra its other nickname: The Rose City.  Amazingly only 15 percent of the city has been uncovered. Which means the vast majority of Petra—85 percent—is still underground and untouched.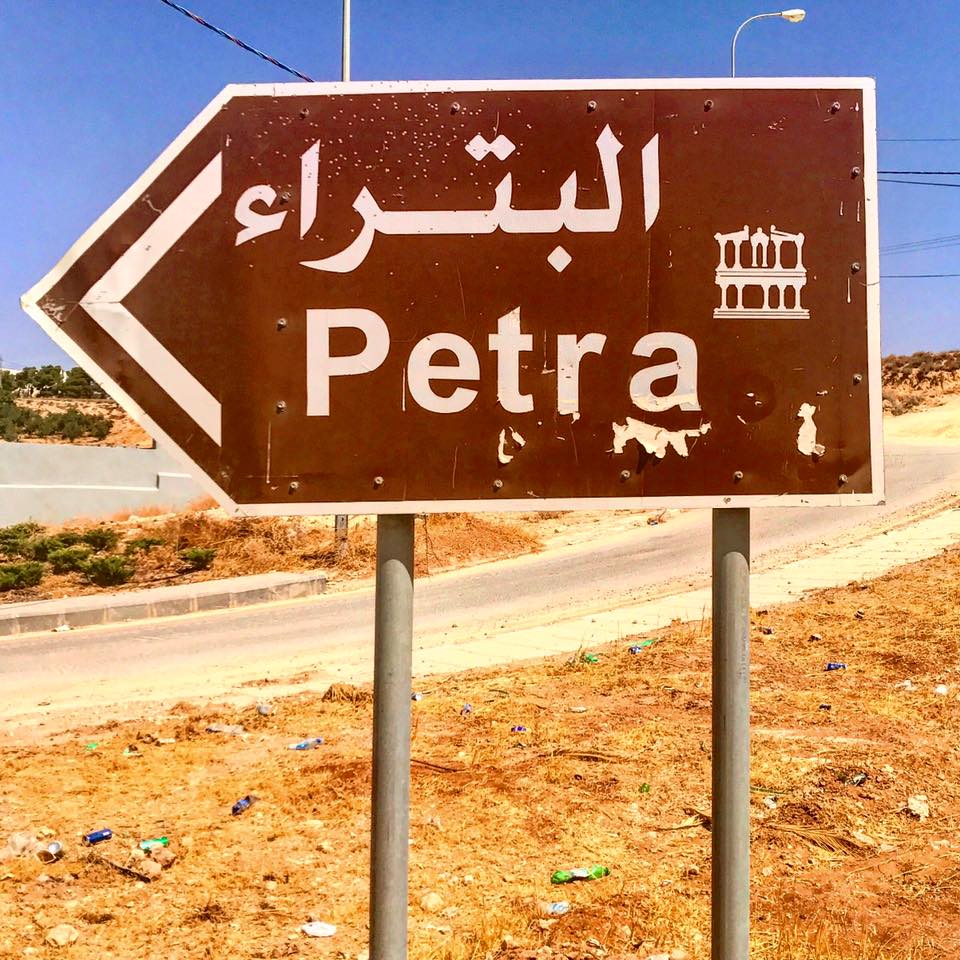 So, now that you know what it is,allow me to provide you with everything you need to know about visiting Petra! Also, while Petra is certainly one of the main attractions in Jordan, it's not the only one. Amman, Wadi Rum, and the Dead Sea are certainly worth your time.
The first thing you need to know about Petra is that it is NOT a day trip. You need to spend one night in Petra to really enjoy the site. In my opinion, the city that has cropped up around the site is not really worth your time. So, spend all your time focusing on visiting Petra.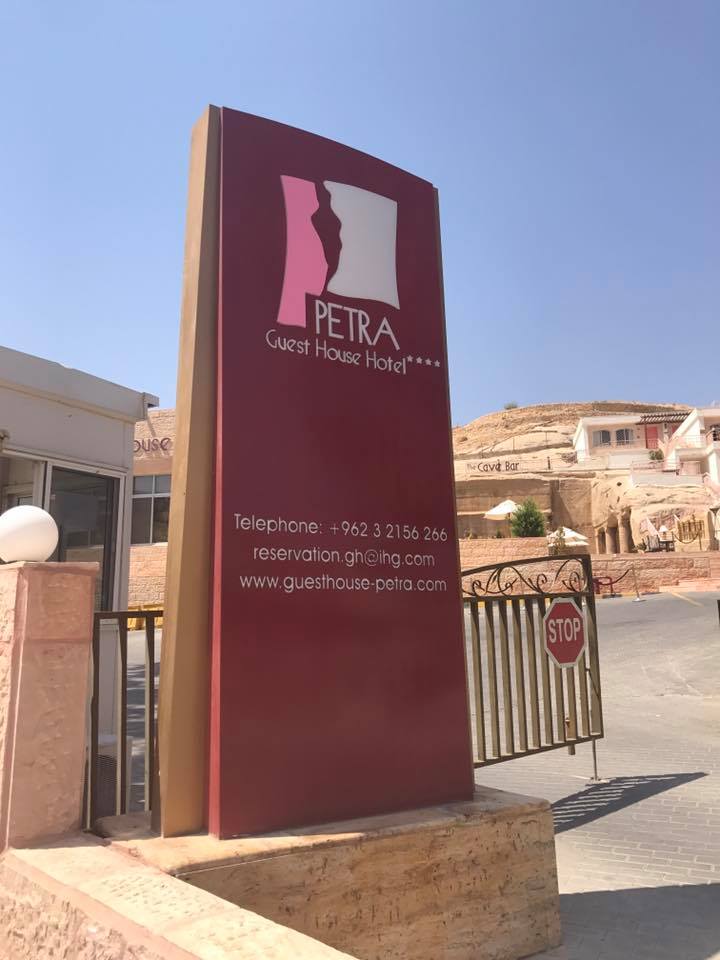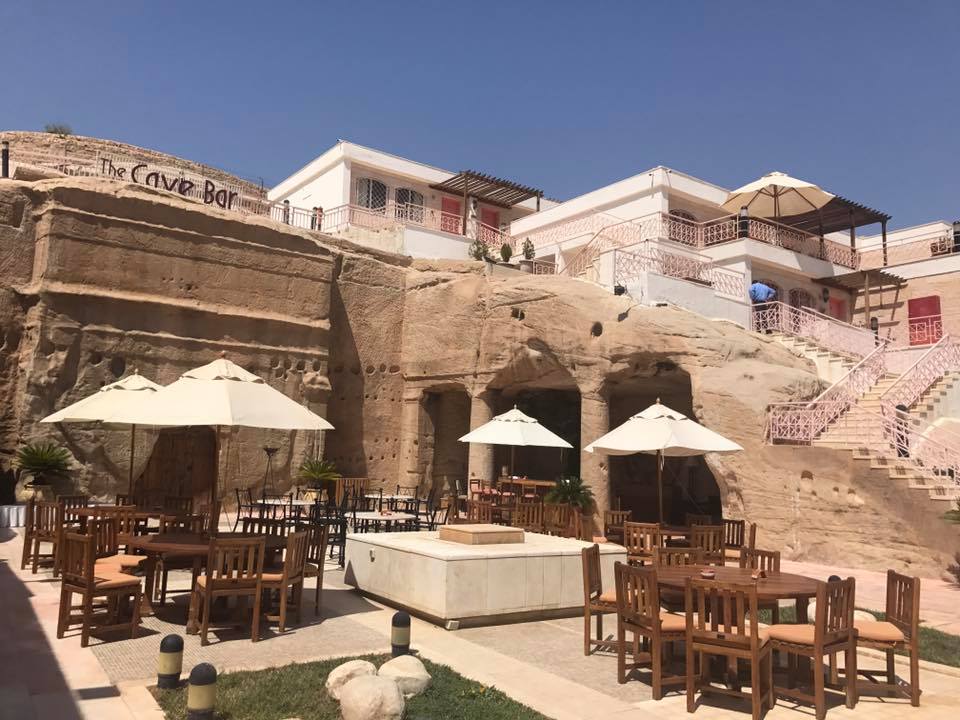 If you are going to spend the night in Petra, then there is only one place to stay– The Petra Guest House Hotel. It is the only four-star hotel in Petra, but that is NOT the reason to stay here.  If we are being honest, this hotel is a three-star hotel on its best day. Giving it four stars is generous, in my opinion. Don't get me wrong.  The rooms are sufficient. The staff is friendly. And, there is an adequate breakfast buffet. But if you are expecting an American four-star hotel, this ain't it.
The coolest part of this hotel is the Cave Bar, which is the hotel's bar but is also part of the ruins of Petra.  However, at night they have live entertainment – a singer and a musician – playing American music, but it is literally some of the worst singing I have heard in my life. Like it was comically bad. Okay, so then why am I telling you to stay here. Two reasons.  The first is that it is the best option in Petra. But most importantly (in real estate and in travelling) Location. Location. Location. This hotel is quite literally at the entrance gate of Petra. I mean, hello, the hotel bar is part of the ruins.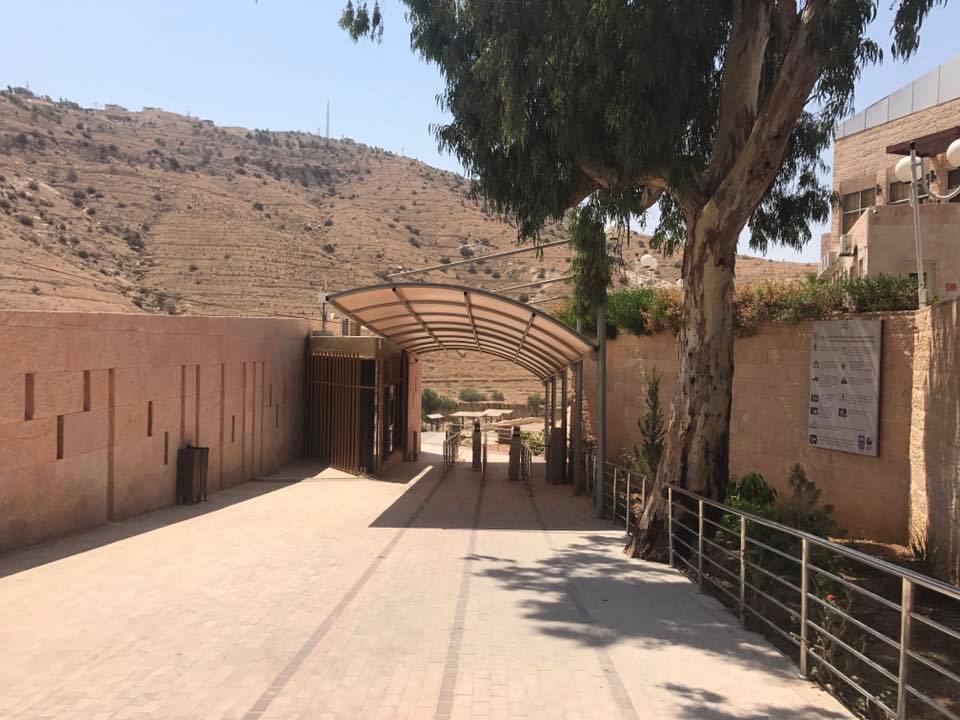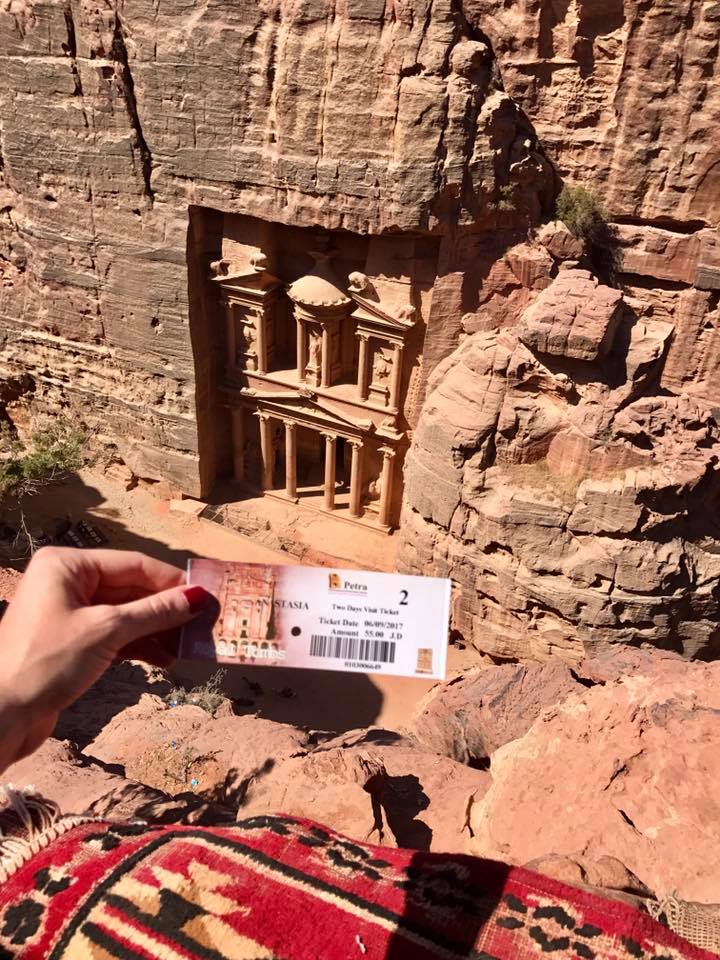 So, since you are staying overnight, you should buy the two-day ticket.  It is the better value. A one day ticket is 50 JD (about  71 USD), while the two-day ticket is 55 JD (about 78 USD). Also, there is enough to see in Petra to occupy your time for two full days, especially if you opt to do one or more of the hikes.
I would start as early as you can.  The site opens at 6:00 a.m. every day. It closes at 6:00 p.m. in the summer and 4:00 p.m. in the winter. The day trippers arrive around 11:30 a.m. to noon.  Late afternoon is also a good time to visit. You can find transportation information to get to Petra here.  I also recommend hiring a licensed guide from the visitor's center on the first day.  The monuments don't really have signs, so unless you have done a ton of research before you get there, you won't really know what you are looking at.
Just a quick point about planning for your visit. You are allowed to bring backpacks and bags in, and, unlike other places in Jordan, there is no security or bag checking at the entrance.  I would wear comfortable, light active-wear, a very comfortable pair of sneakers or hiking boots, a lot of sunscreen, and something to cover your head.  You will notice that most people are wearing Jordanian head scarves. I would also pack some water (you can buy more inside) and power bars or protein bars.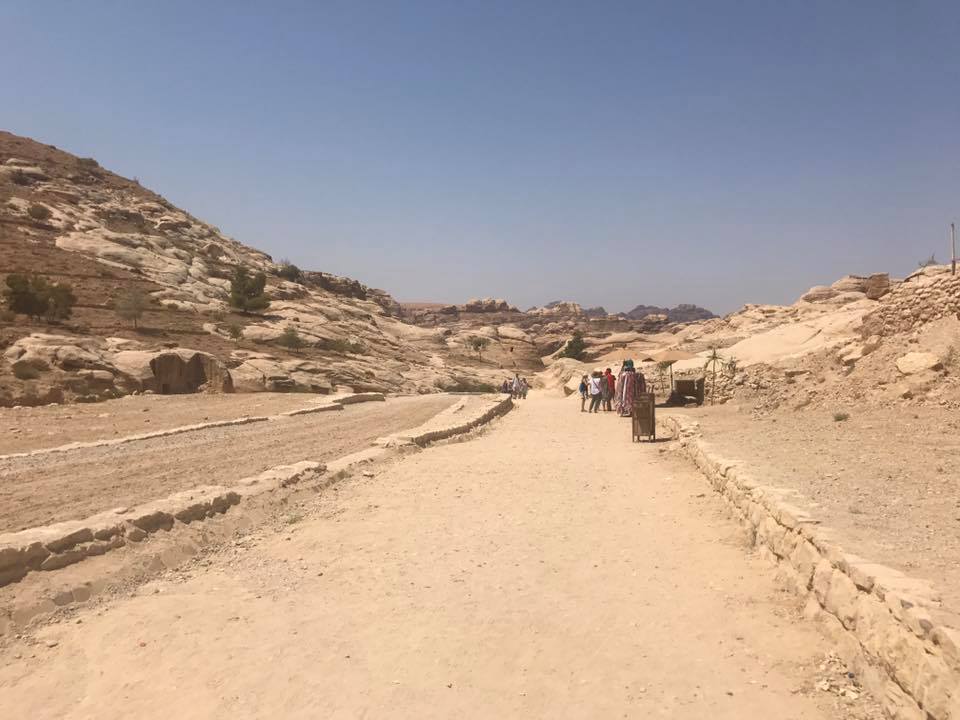 When you first walk in, you will have to walk on a dirt road for about 15 minutes before you reach the siq, a narrow gorge that leads you to the treasury in Petra.  The minute you walk in, you will be accosted by local Bedouins to take a horse ride or a donkey ride to the treasury site. They will tell you that it is included in your entrance ticket. And, it is. But PLEASE, PLEASE, PLEASE do not accept the ride.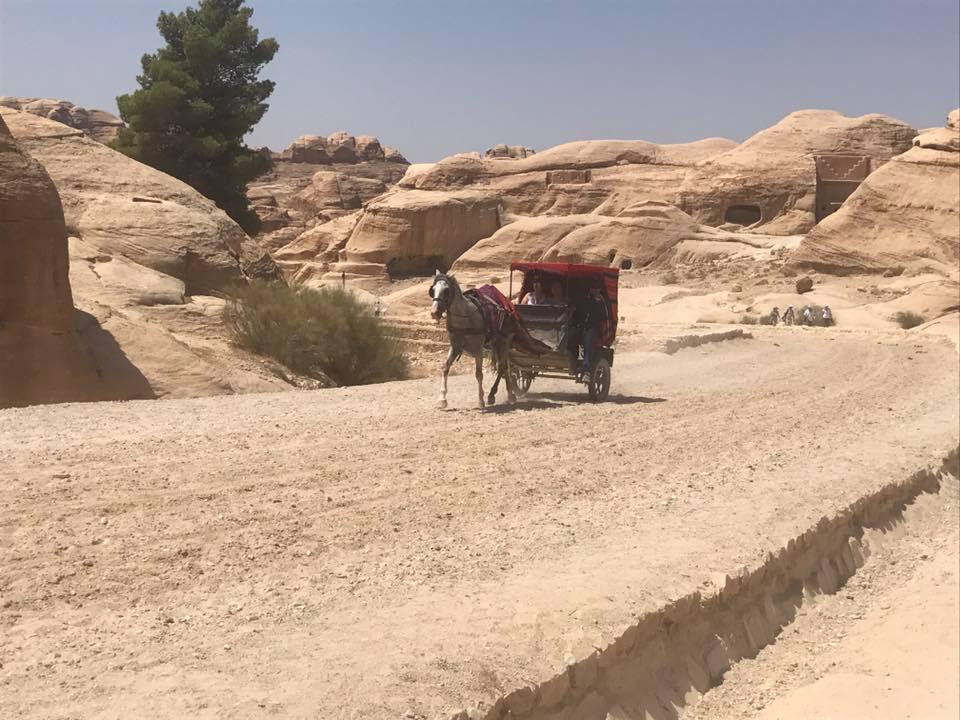 These poor horses are NOT treated well.  It is heart breaking.  They work all day, pulling huge carts behind them full of people. And, it is hot. Too hot for these poor horses to work like they do. The Bedouins hit them to make them go faster, and the horses are literally running on very rugged terrain. If that doesn't motivate you, then maybe this will. There is no such thing as a free ride. Even though the ride is included in the ticket, they will demand a tip. Look, you came all the way to Petra.  You must've had some idea that this was going to involve some degree of walking. Do everyone a favor and dress comfortably and resign yourself to doing a lot of exercise on this day.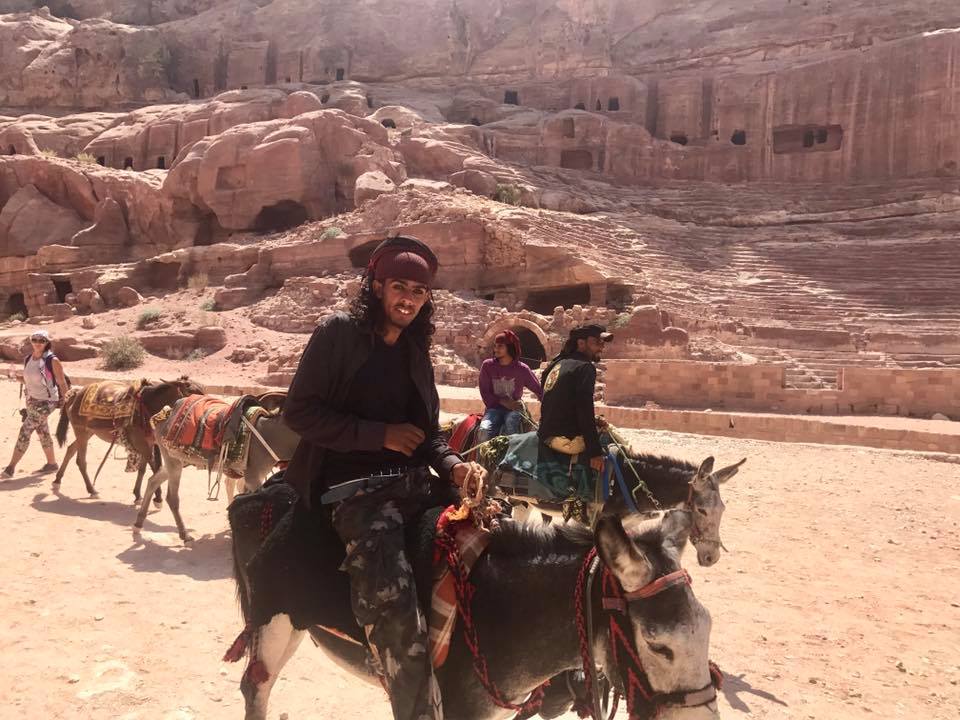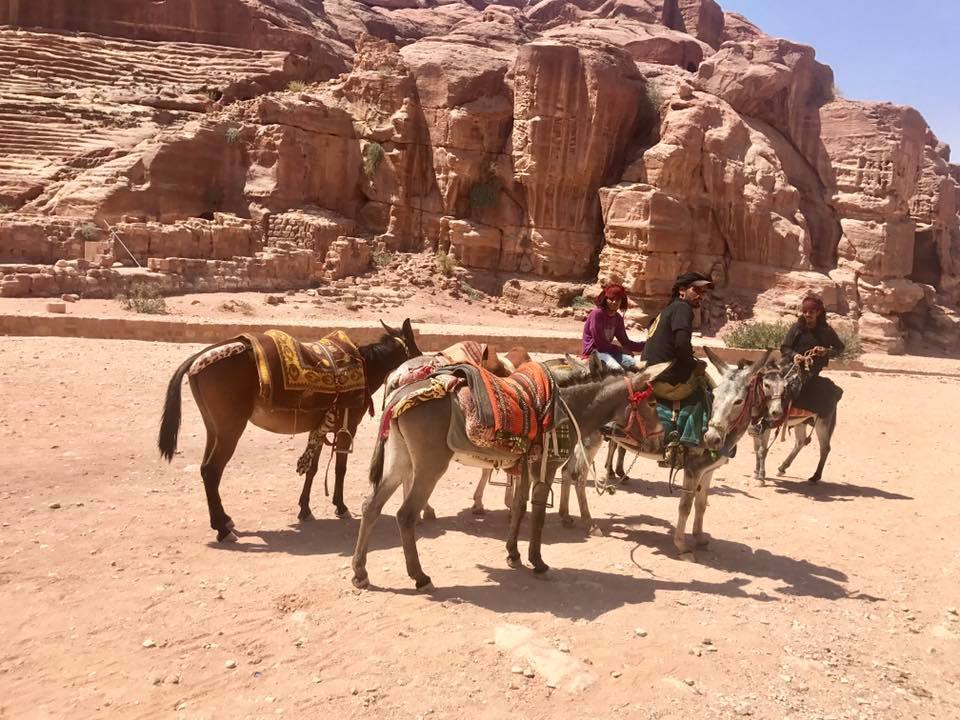 It doesn't end there. Once you are in Petra, there are more Bedouins (who all seem to look like Johnny Depp from Pirates of the Caribbean) who will follow you around all.damn.day and harass you to take a donkey ride or a camel ride. Seriously, just ignore them. Literally, ignore them. If you say later, they will find you later. They are pretty aggressive. They will follow you around and keep asking. Don't engage with them, and don't believe a single word that comes out of their mouths. In my opinion, they are all con artists. Sometimes, they get mad that you are blowing them off and they insult you. We began referring to them as the "Donkey Boys."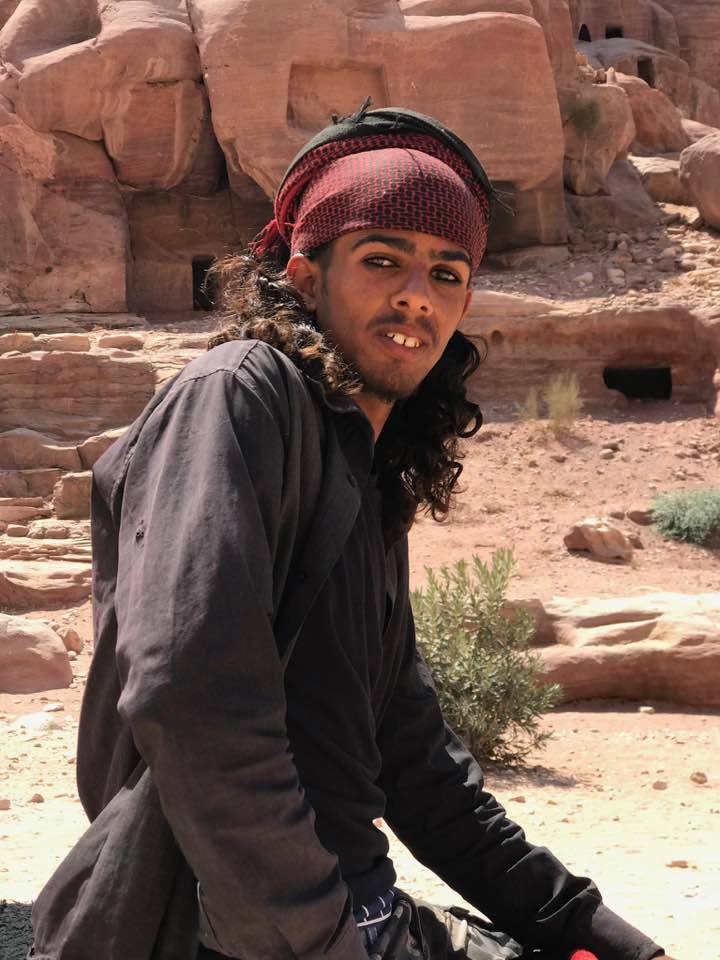 Getting insulted by a man on a donkey or camel who is wearing eyeliner (yes, you read that right) is kind of funny, actually. I mean, dude, you are wearing eyeliner. Eyeliner. The Donkey Boys have mastered the smokey eye. Their eye makeup is so on point. They could probably teach a master class at Sephora. Marilyn Manson and the front man for Green Day have nothing on these guys. Trust me, the Donkey Boys did not appreciate this detail when I pointed it out to them. They immediately got defensive and told me it was to protect their eyes from the sun. There is a whole invention that solves this problem.  They are called sunglasses. If you can get your hands on an iPhone in the desert, then I am confident that you can also find a pair of sunglasses. But, I digress.
Allow me to introduce you to the enchanting Siq. The gorge that will lead you to one of the most amazing first looks of Petra.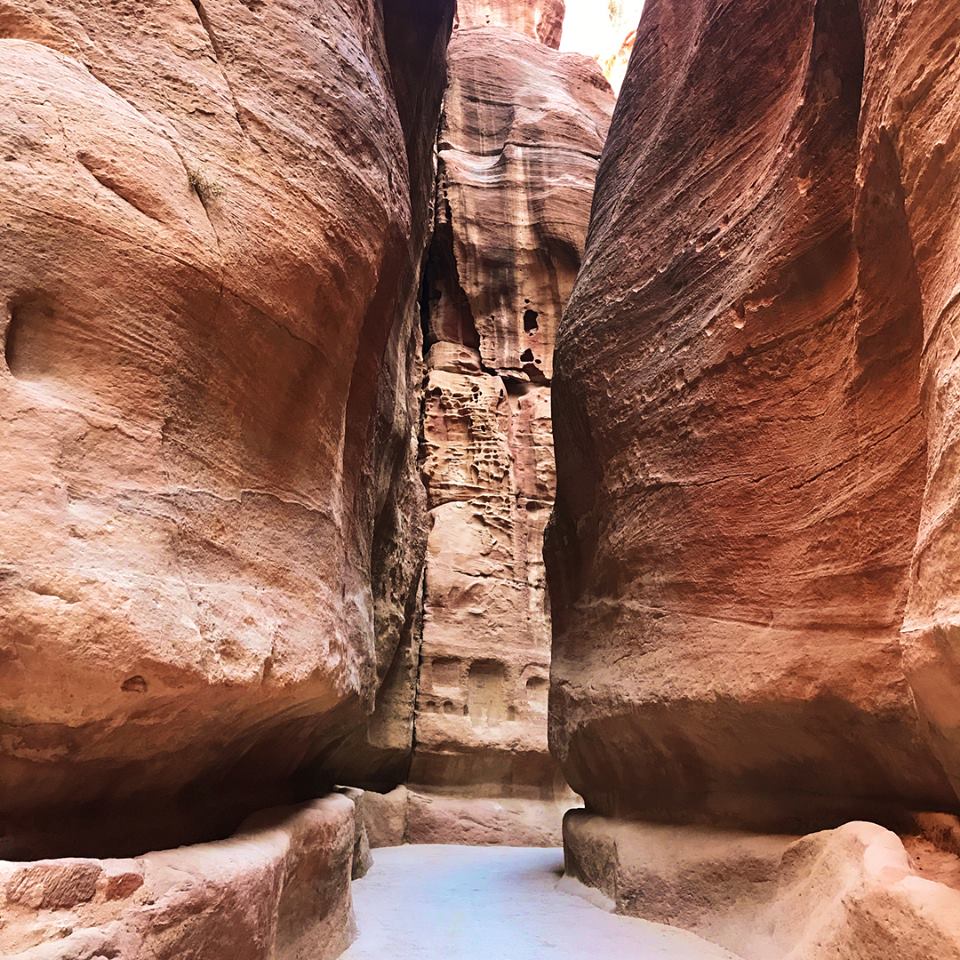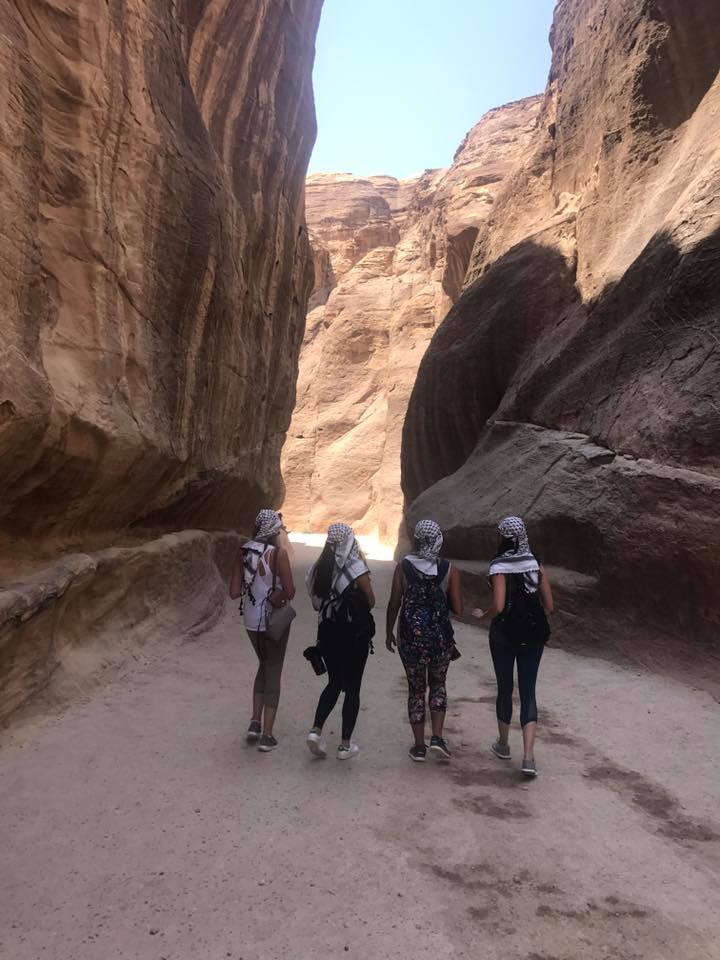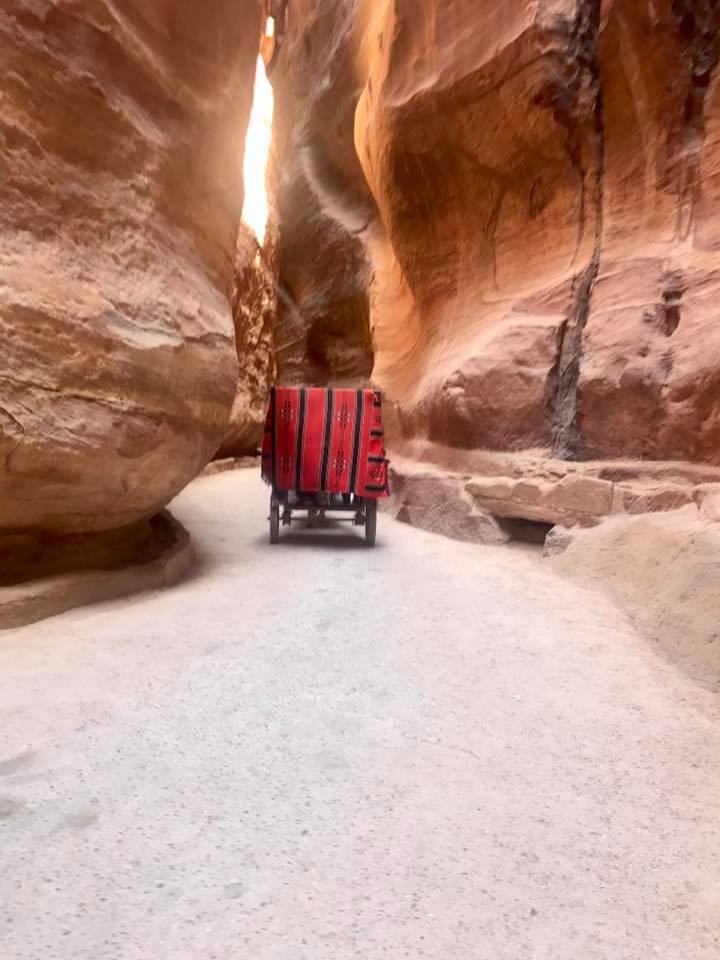 After walking for about 15 minutes on the dirt road, you will come to the entrance of the Siq. The Siq is a gorge that leads to Petra. It is one of the only shady spots you will encounter, so relish in the next 15 or so minutes that it takes to pass through the siq.  You will soon catch a glimpse of the reason you came to Jordan, and this first impression does not disappoint.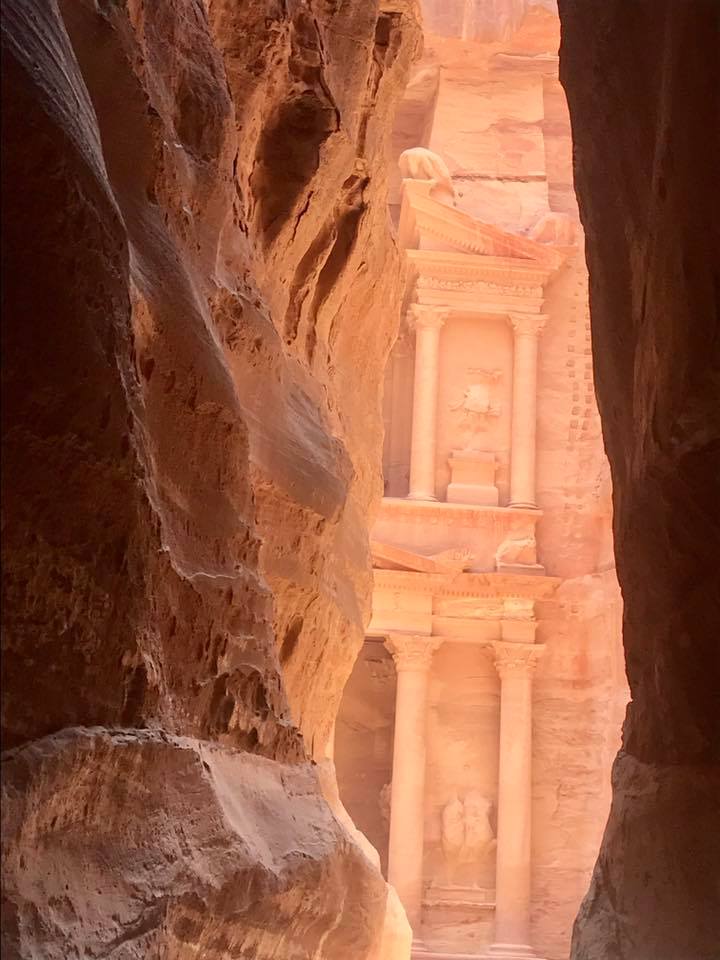 It is truly magical to see the rose colored treasury building. It is one of the most recognizable images of Petra. If you go early in the morning, you will have it all to yourself with great lighting. In the late afternoon or early evening it will be he same, but maybe not as great lighting. Also, there will usually be a few camels lounging around, waiting to pose for your selfie!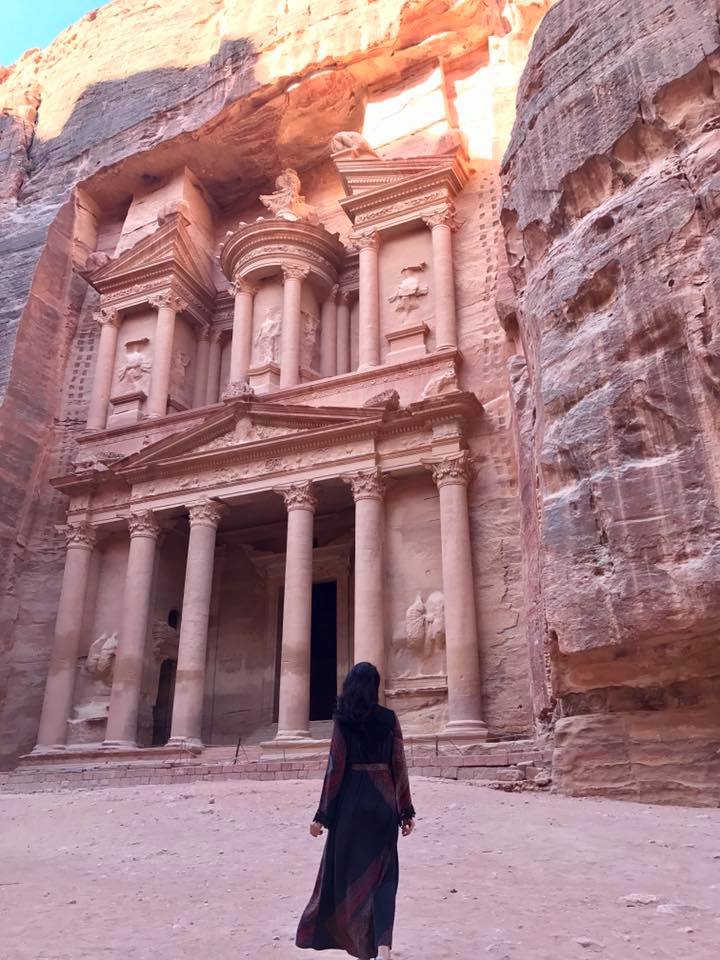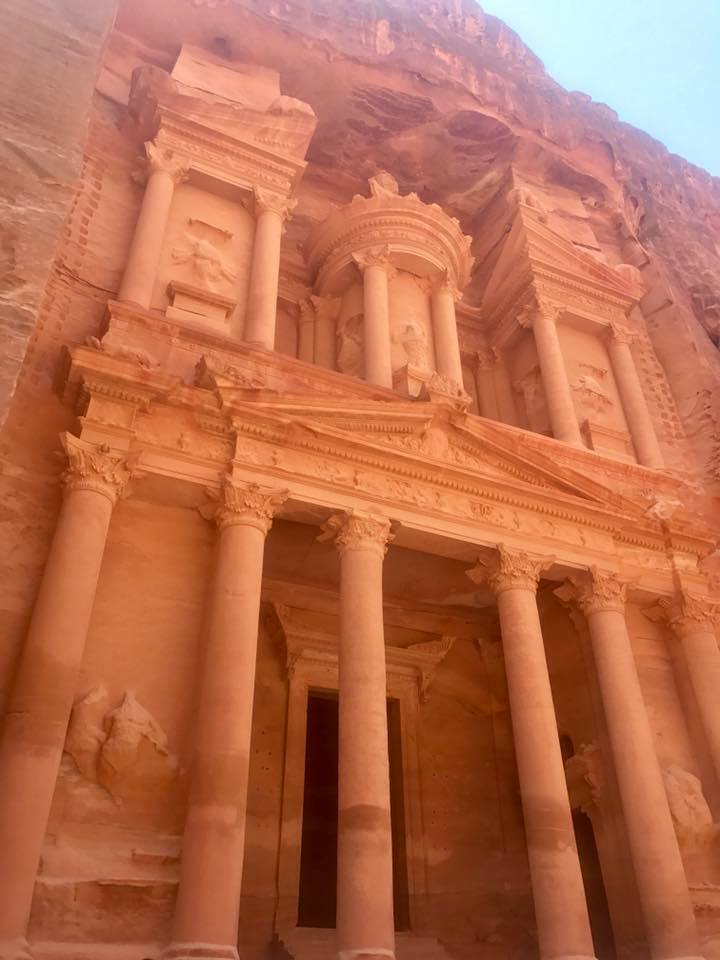 By 11:00 a.m., there will be a lot more people in front of the treasury, so if you like people-free pics, get there early or stay later. Here's a pro tip: the best picture of the treasury is taken from the right corner facing the monument. You get the best lighting and the best view of the monument from here.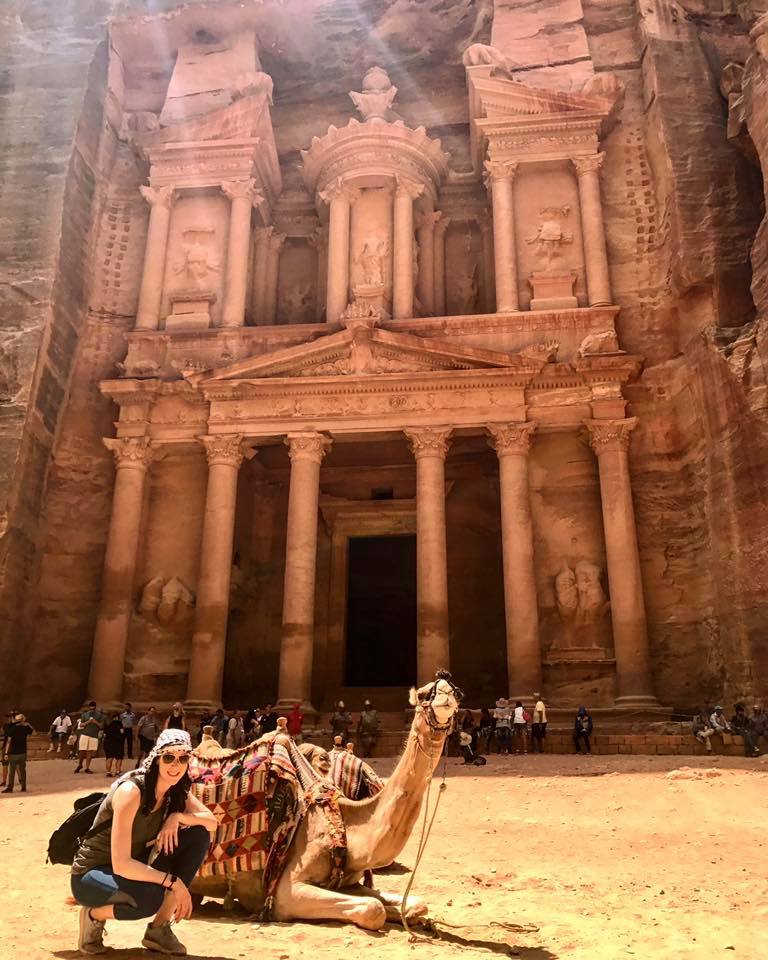 Also, if you walk to the right of the monument, on the opposite side, there is a cave that also gives you a great vantage point for photographing the treasury building.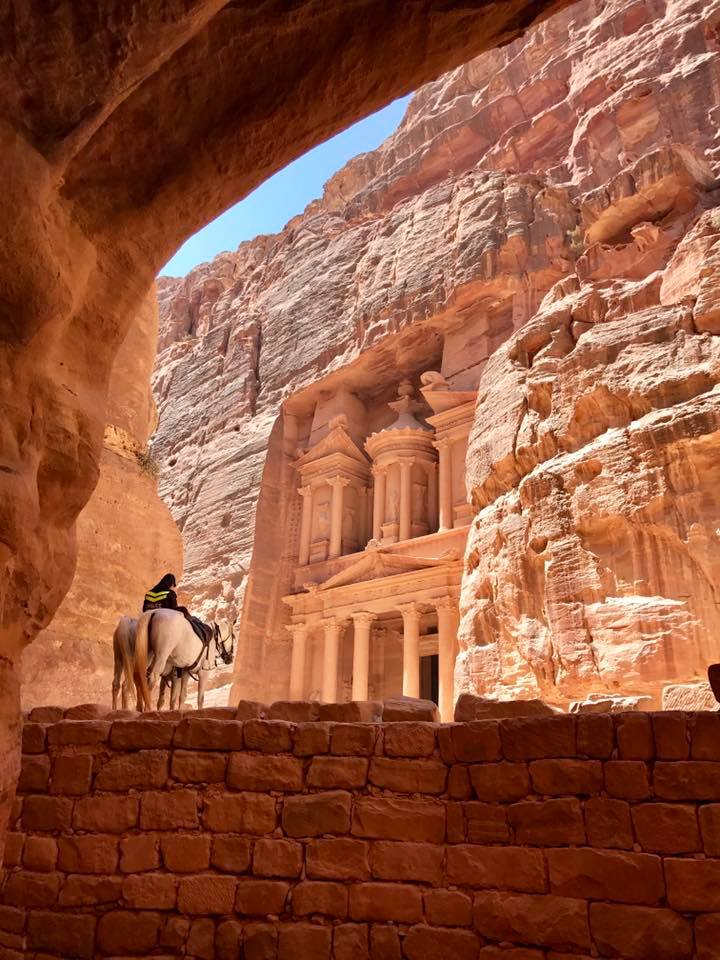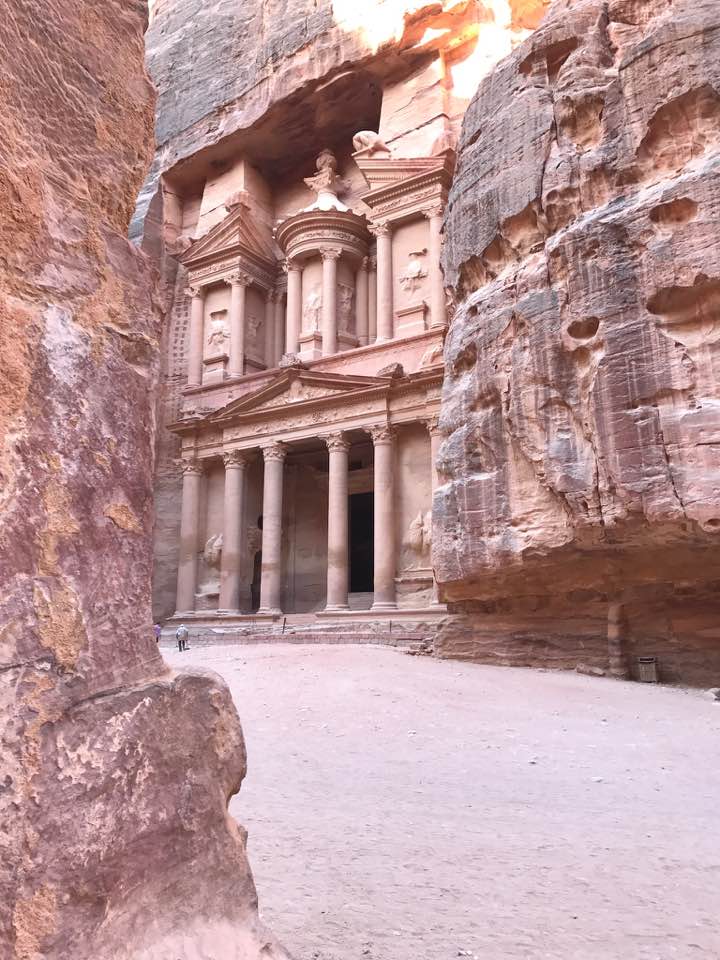 Probably the most famous (instafamous, really) picture of the treasury is the one taken from the top looking down. I will tell you how to get that shot later in this post, but, spoiler alert, it requires a lot of climbing.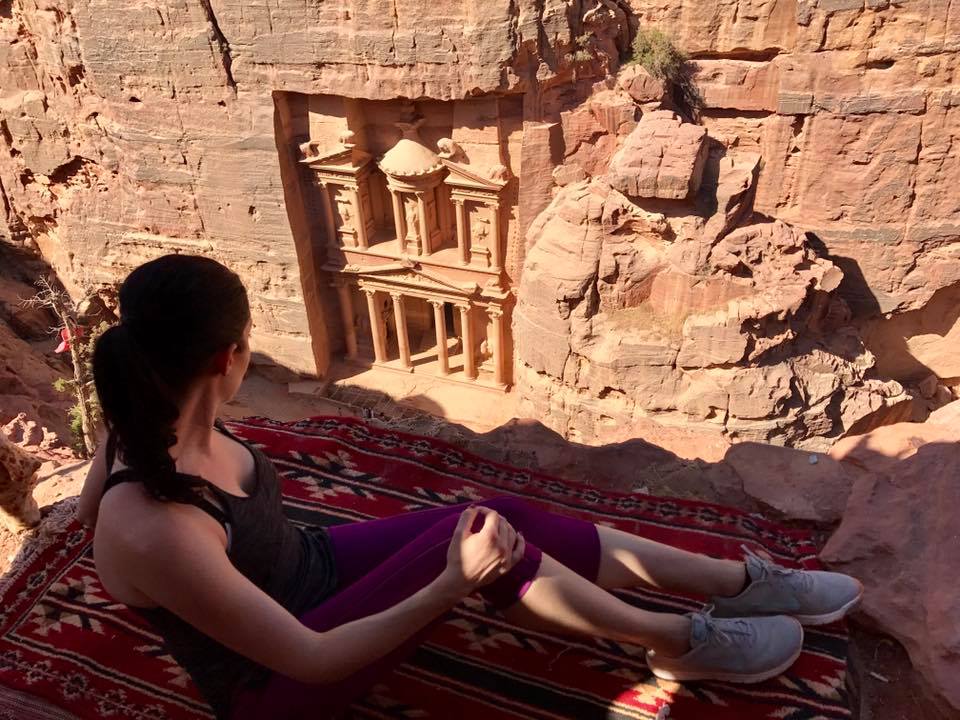 One thing you will notice as you explore Petra is that the locals have turned the ruins into a flea market. Some are established shops.  The rest are pitched tents. Sometimes the actual ruins themselves are used to drape useless junk.  Thankfully, though, nobody is trying to sell you selfie stick!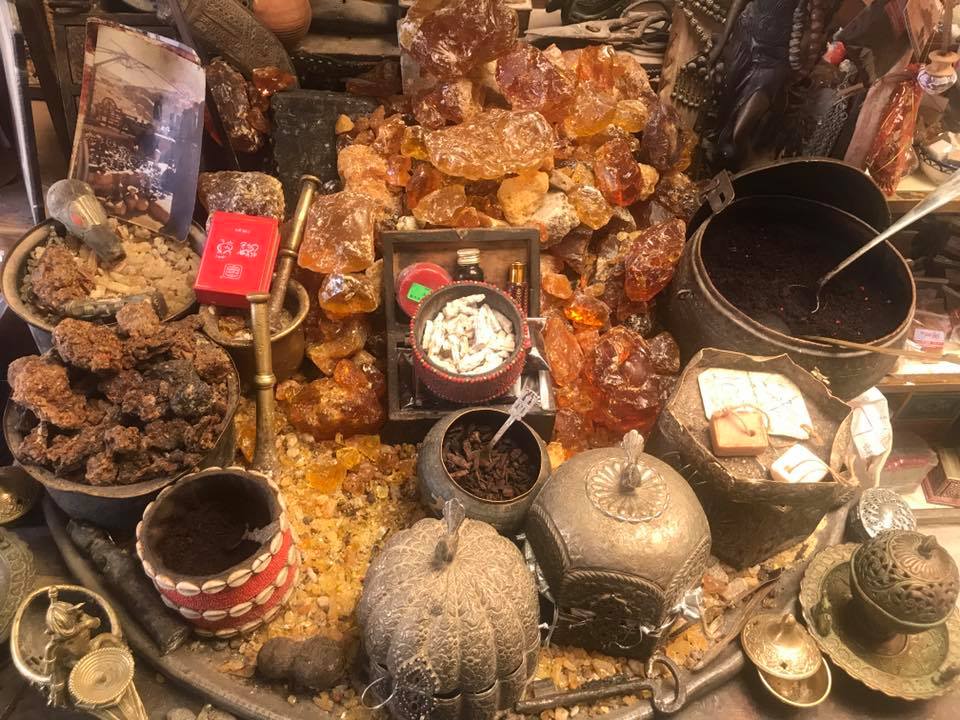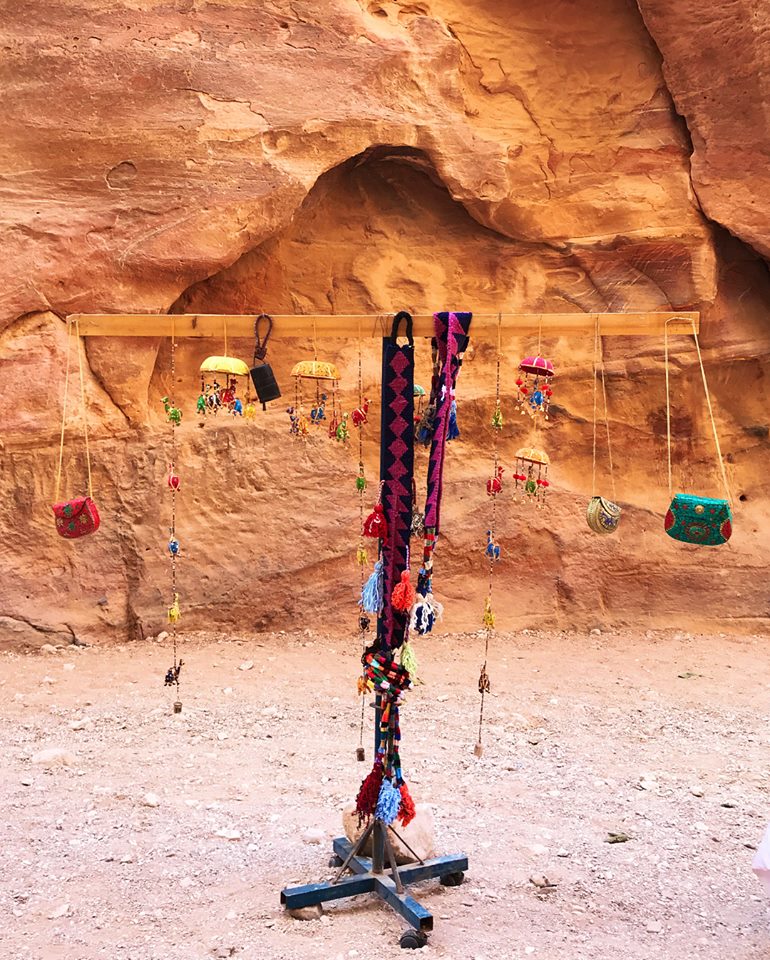 There are stands selling food, drinks, souvenirs, jewelry, and eyeliner, of course. Well, not the actual eyeliner, but for a small price, the Donkey Boys will line your eyes with coal so you too can look like Johnny Depp! I suggest you skip this service as it does not appear that cleanliness and hygiene are high on the list or priorities.  They literally use the same charcoal to line everyone's eyes without cleaning it in between.  Hello, Pink Eye! How do I know this? Well, let's just say that someone in our group was brave enough to try it out, and that someone was NOT me.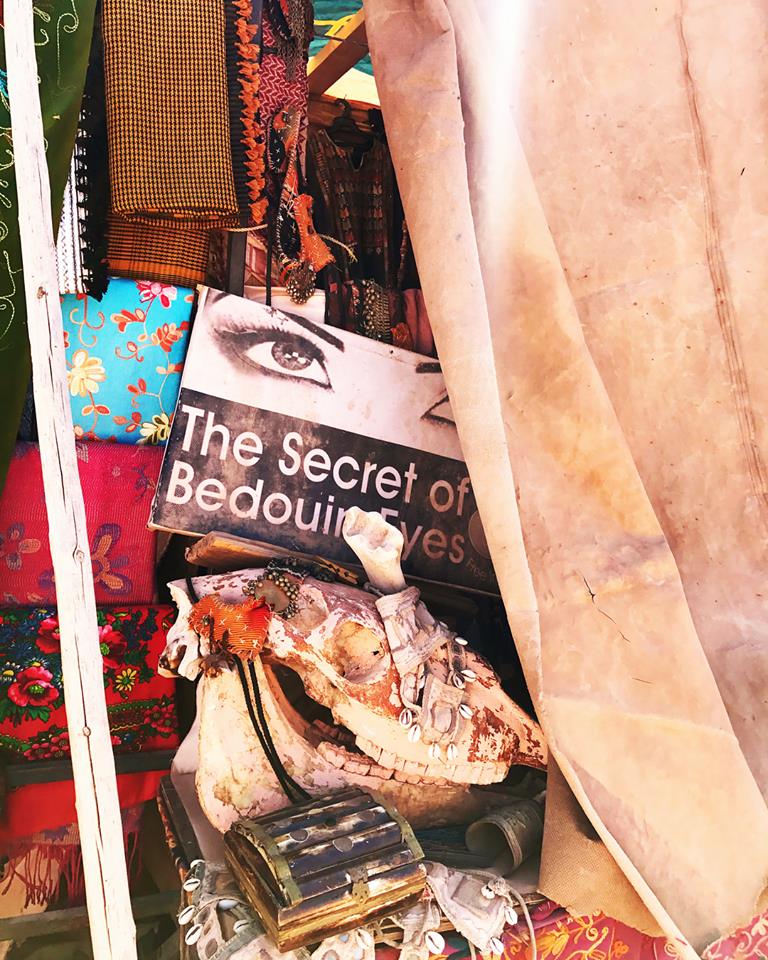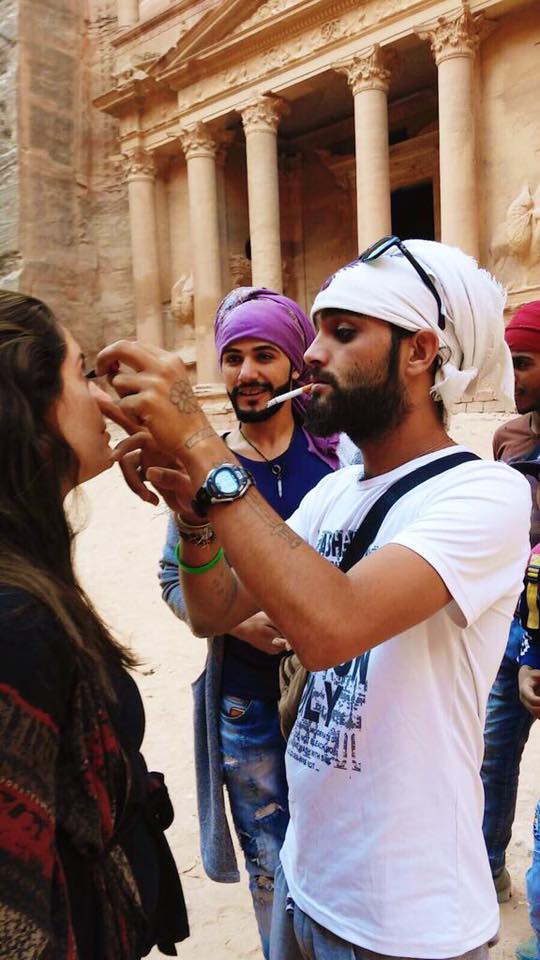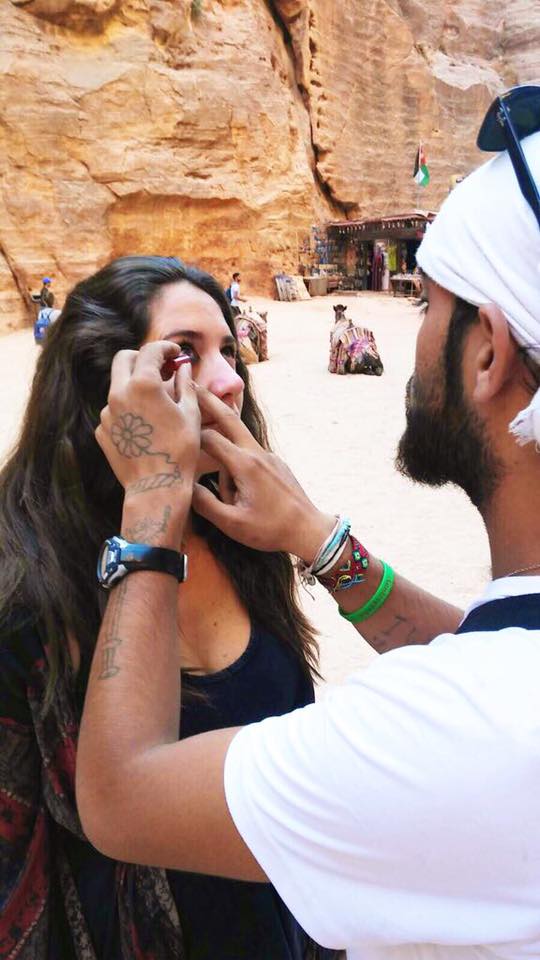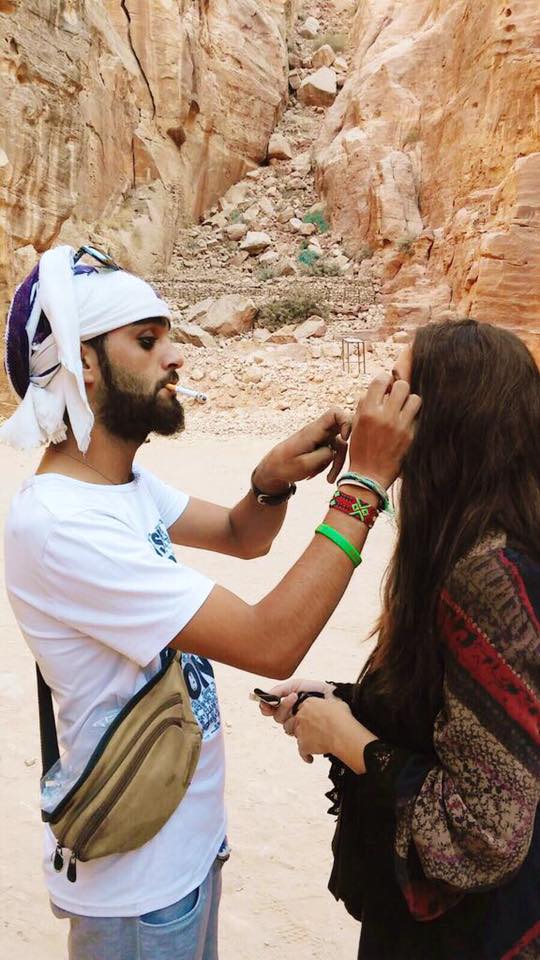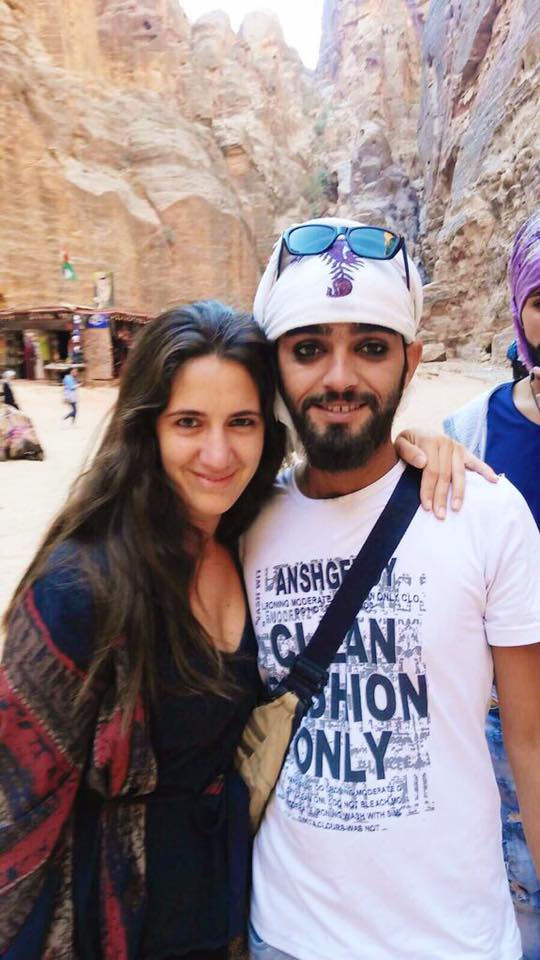 There is one shop that is worth a visit. You will immediately notice a difference in the interaction. This shop sells spices, teas, oils, and perfume solids.  The shop owner is lovely and speaks perfect English with a British accent.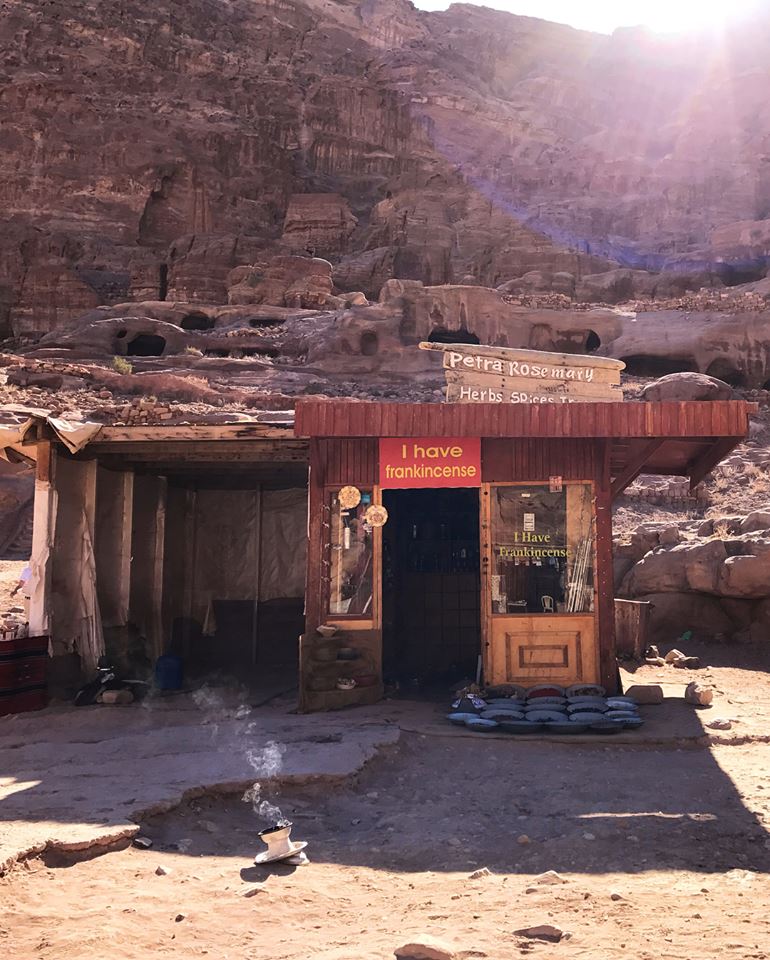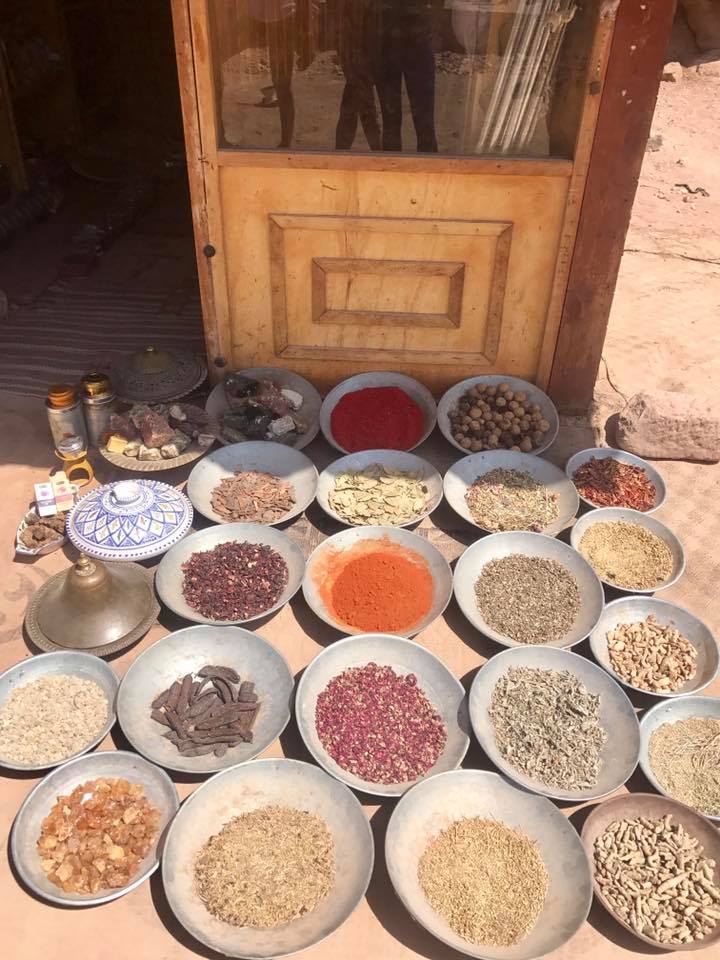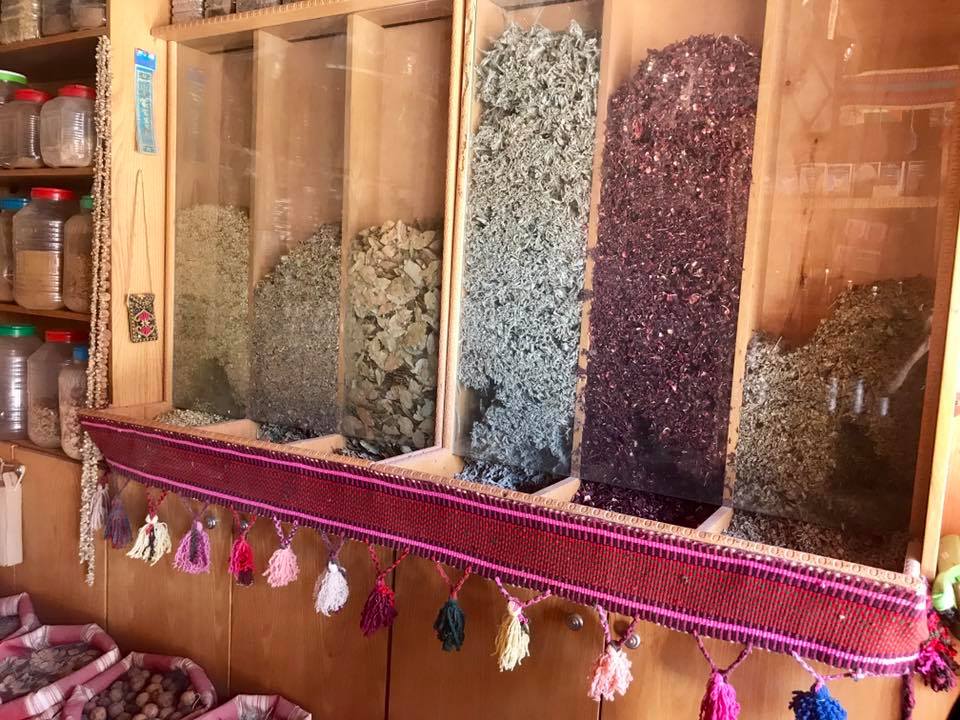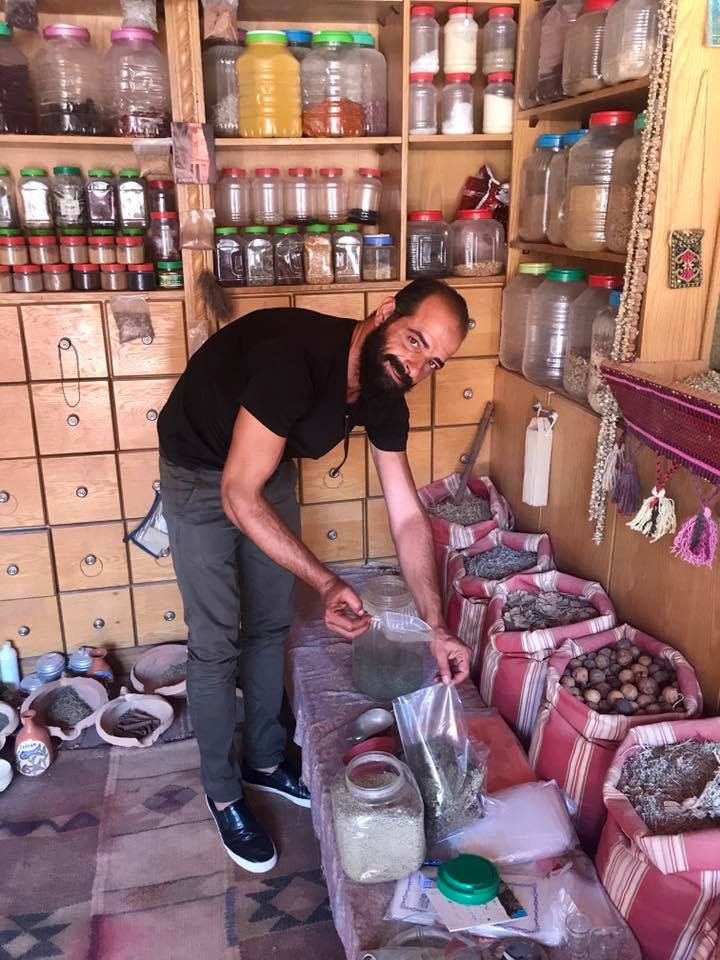 Coincidentally, this shop is located next to the only other interesting shop.  That of Marguerite van Geldermalsen, a New Zealand-born nurse who came to be married to Mohammad Abdallah Othman, a Bedouin souvenir-seller. She wrote a book about her experience, and, while the Bedouin husband has since died, Marguerite still lives and can often be found at her shop in Petra.
Once you pass flea market row, you will find yourself in the heart of Petra where you can explore different ruins like different the Royal Tombs, the Nabatean Theatre, the Byzantine Church, and the Great Temple.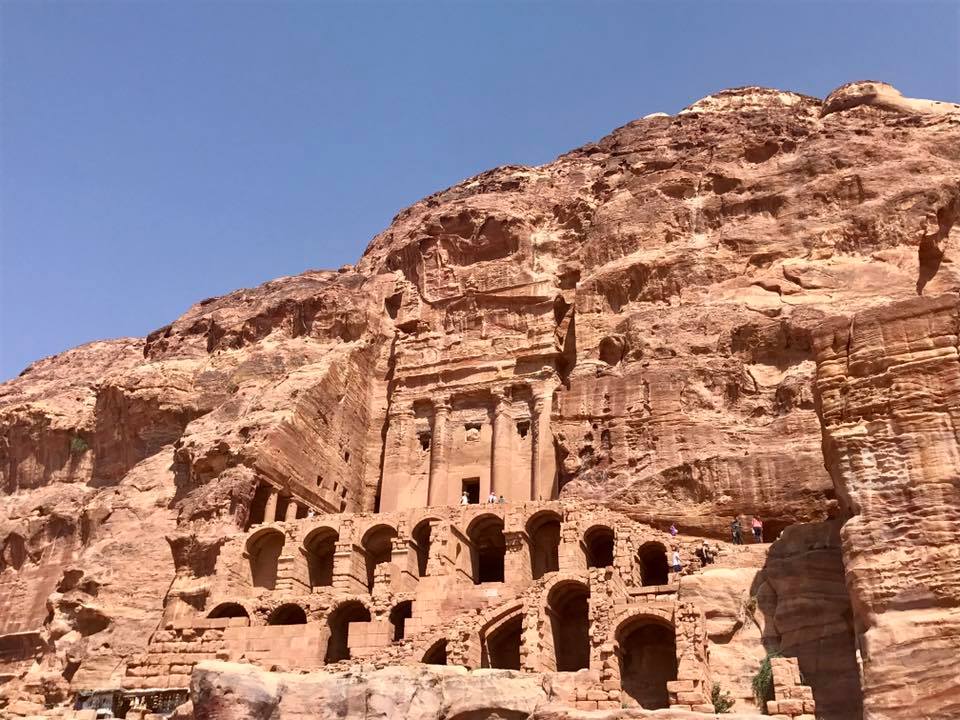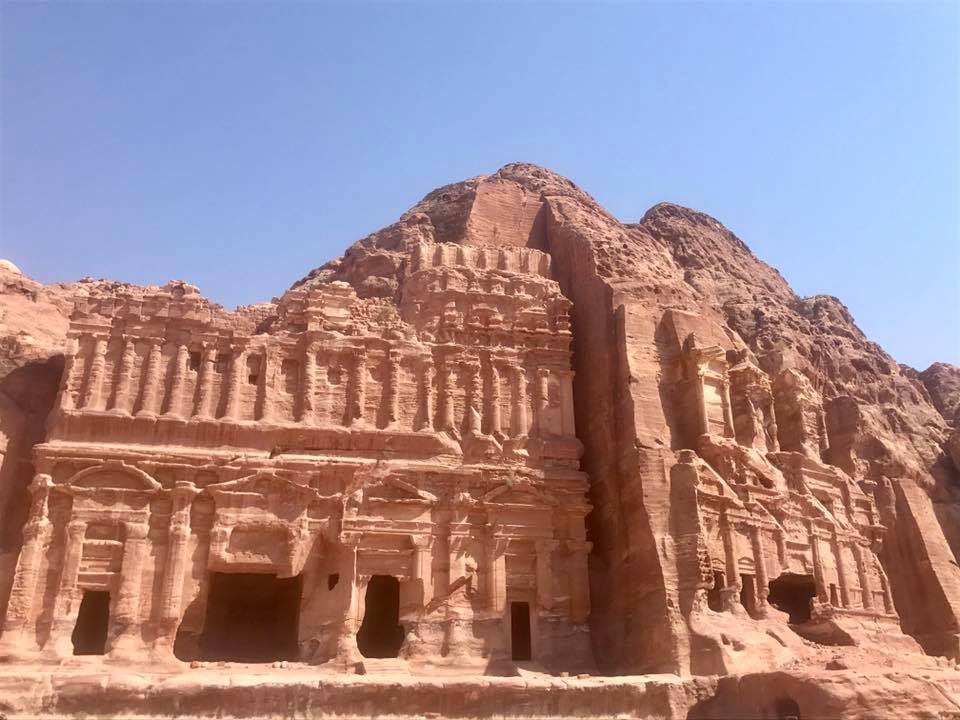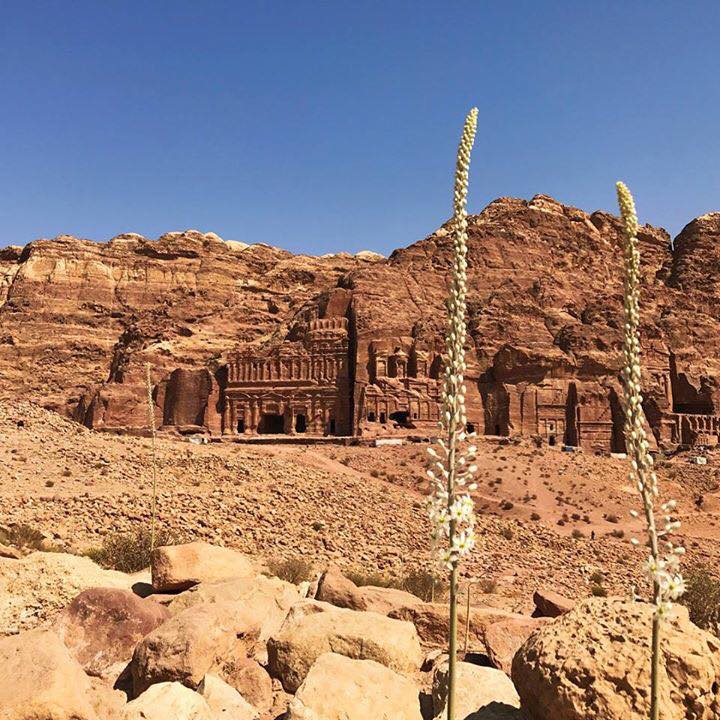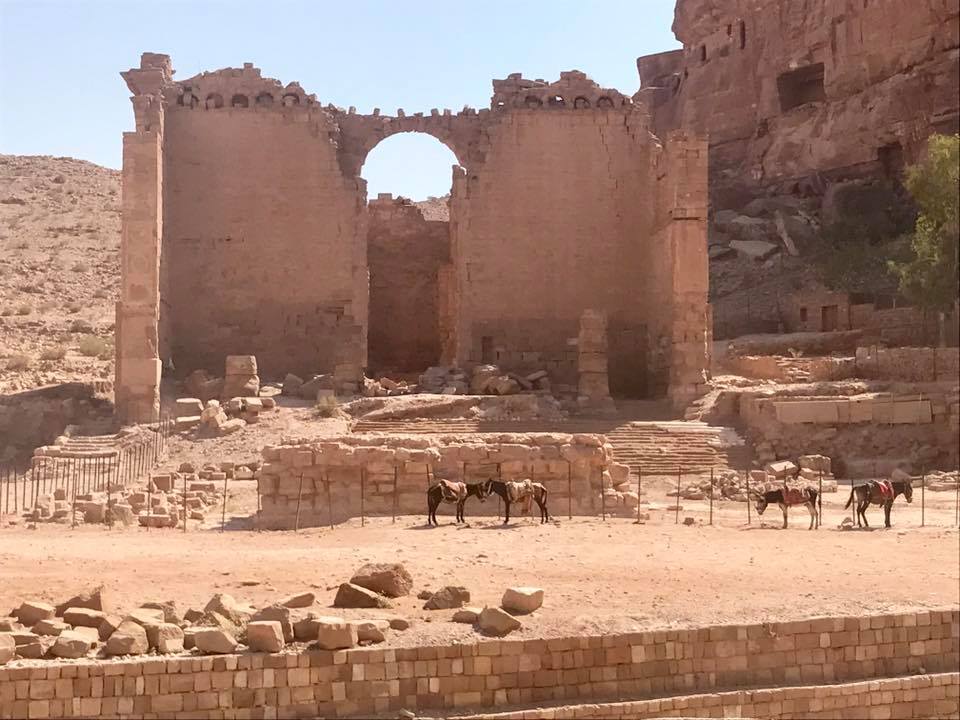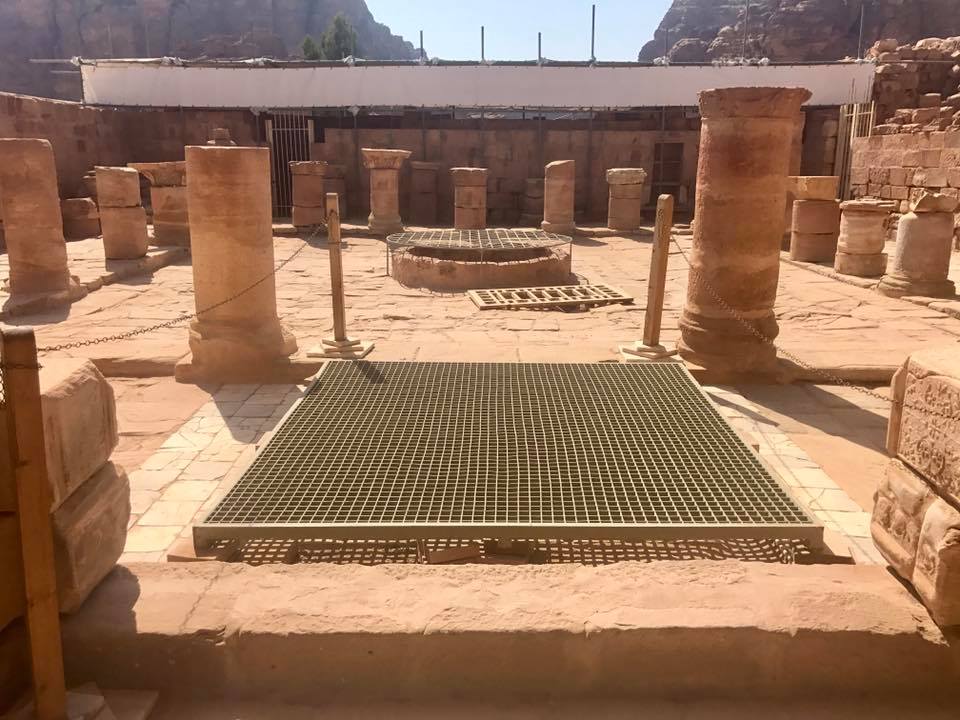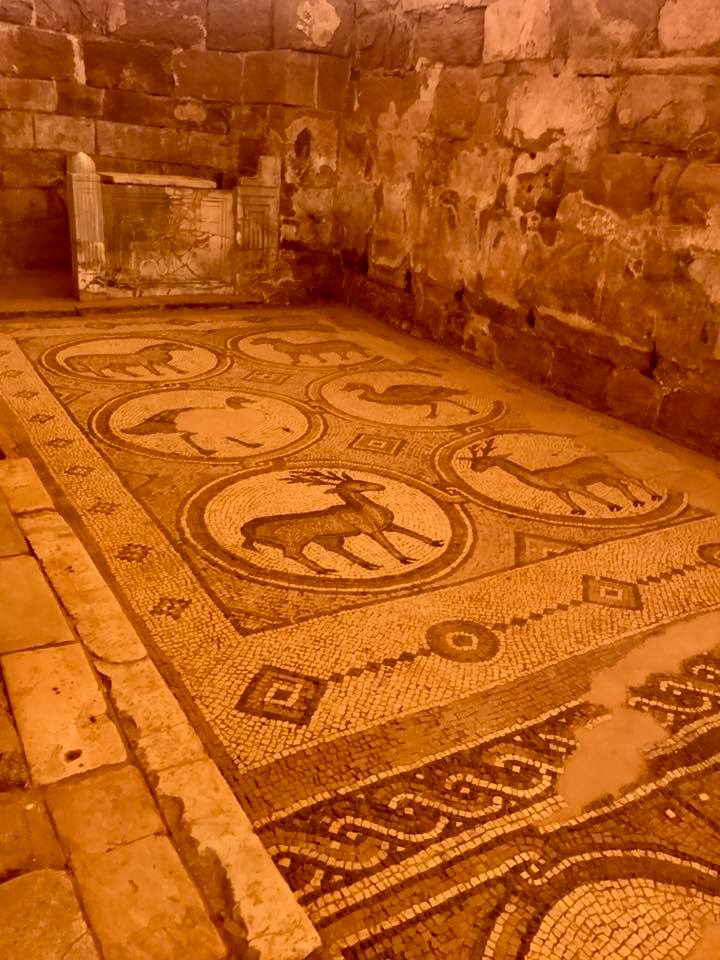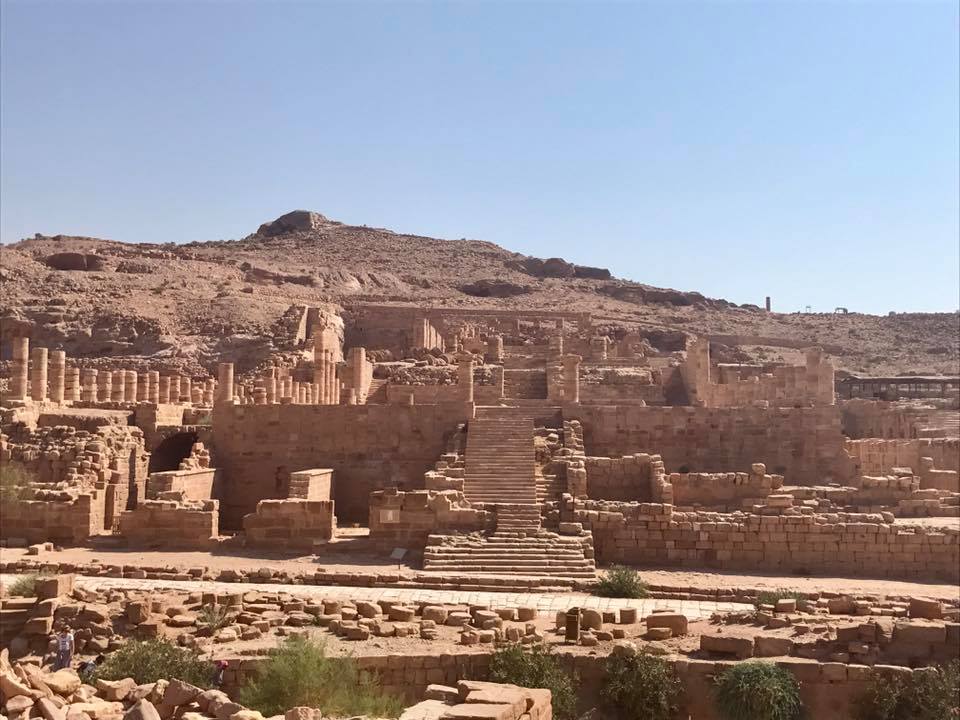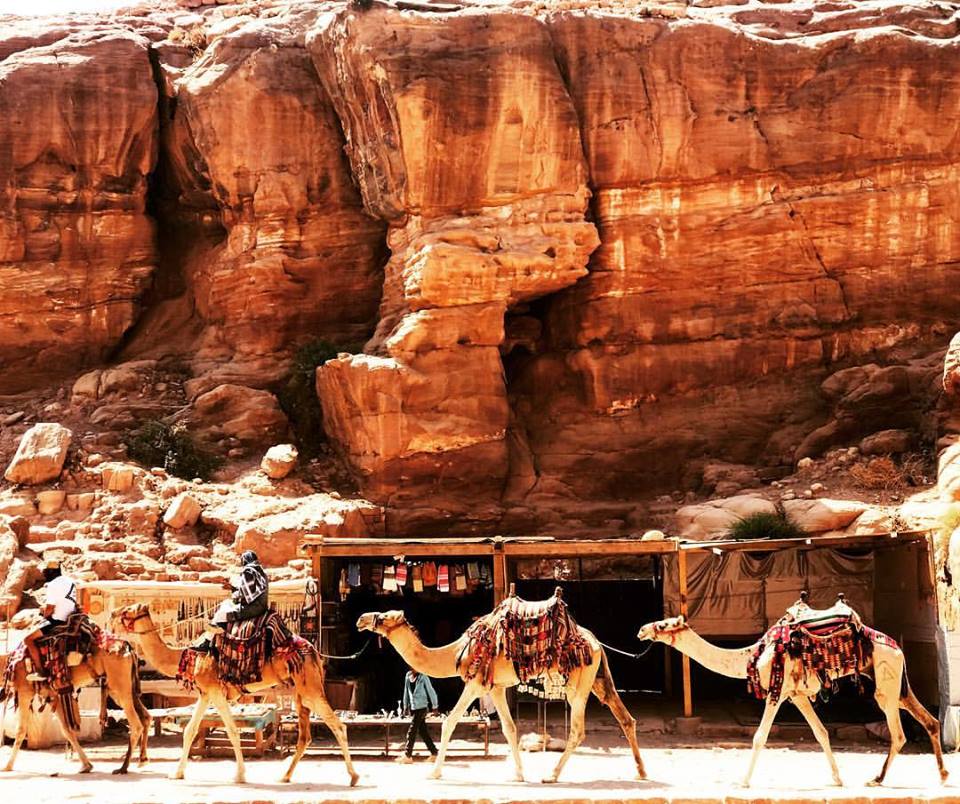 Also, while the Donkey Boys are relentless and annoying, there are some opportunities for some cool interactions with locals, so don't miss out on those!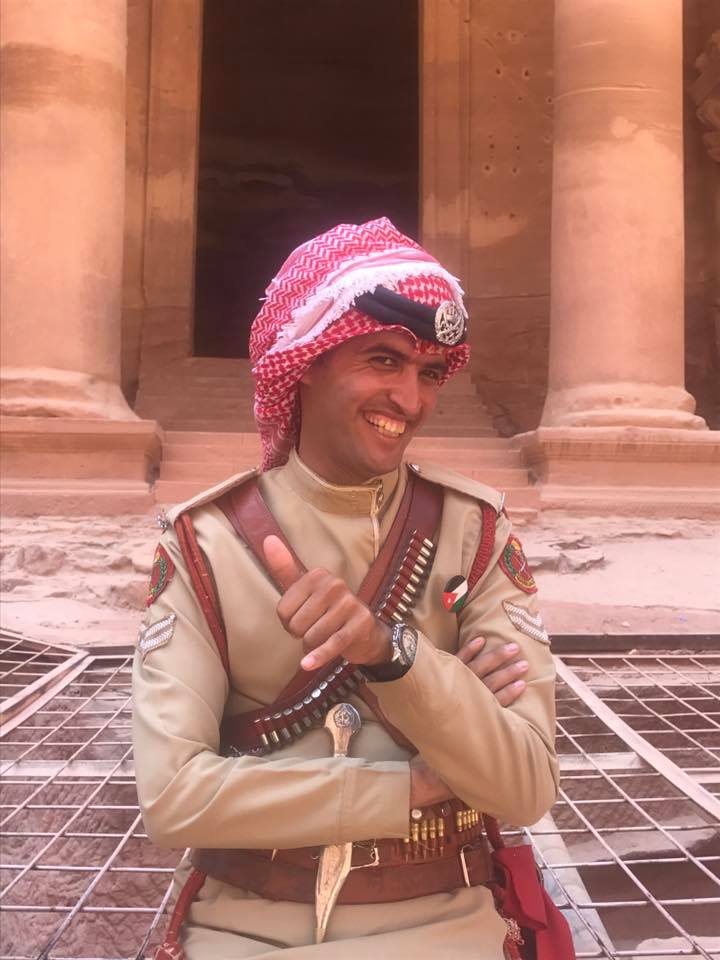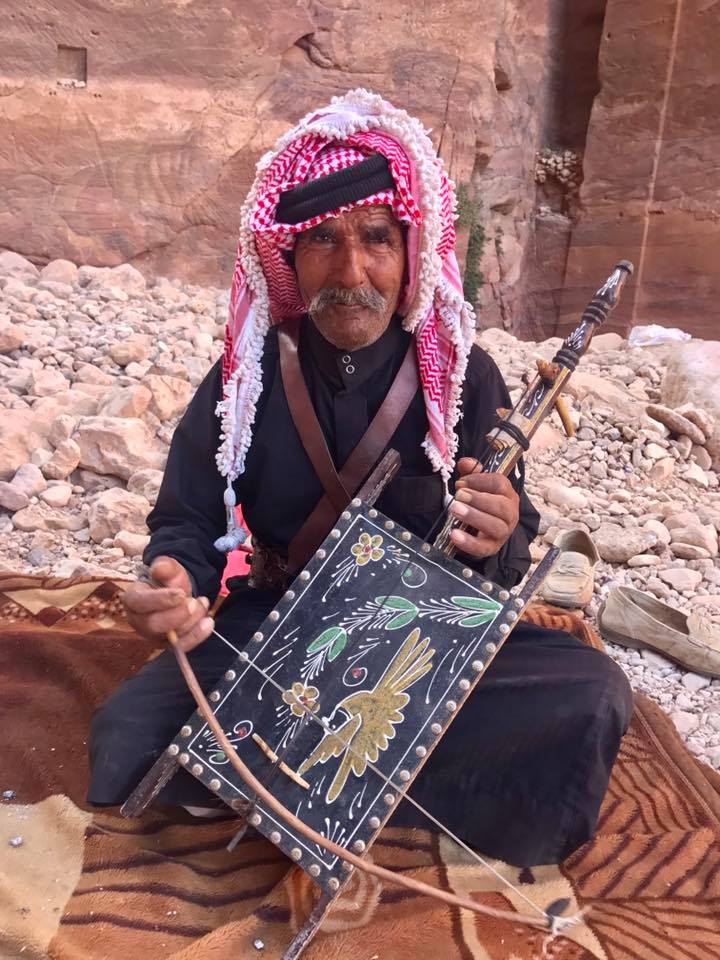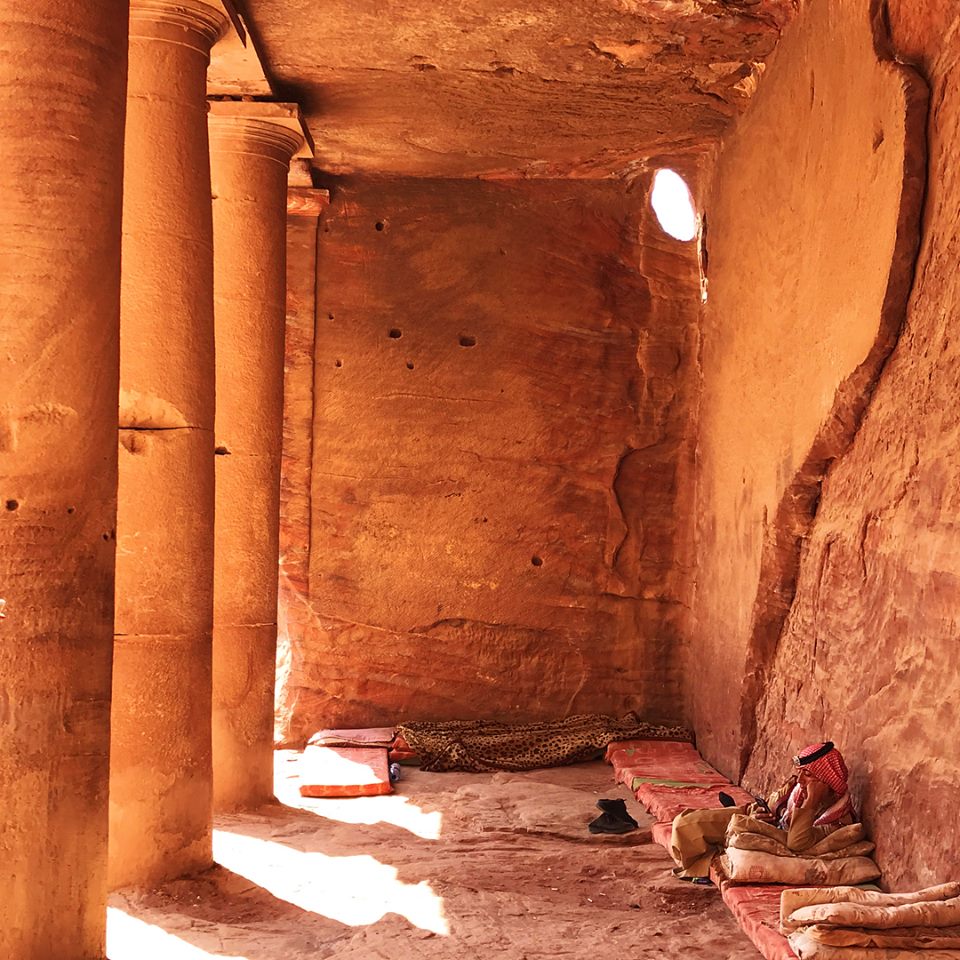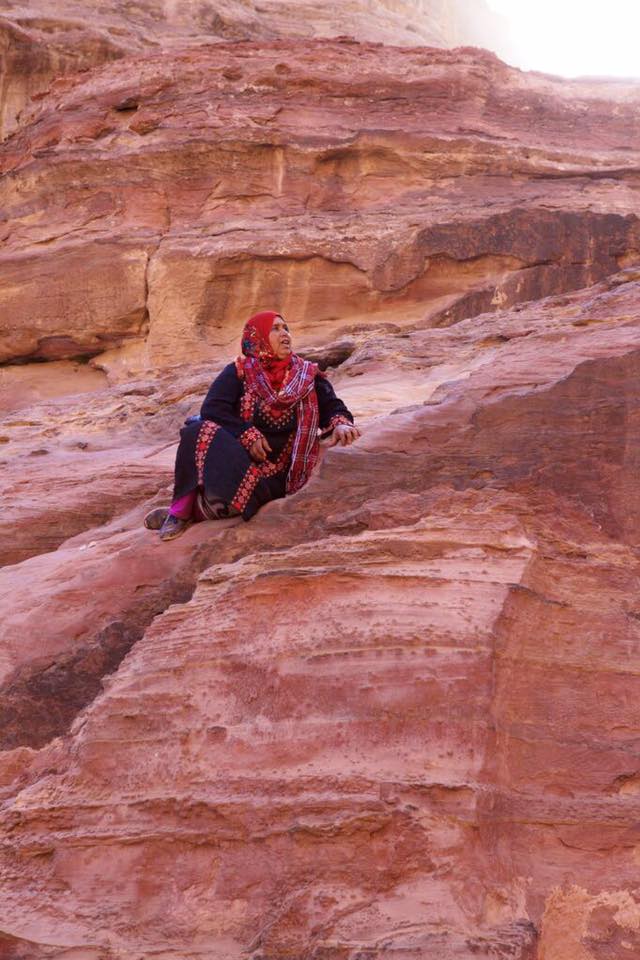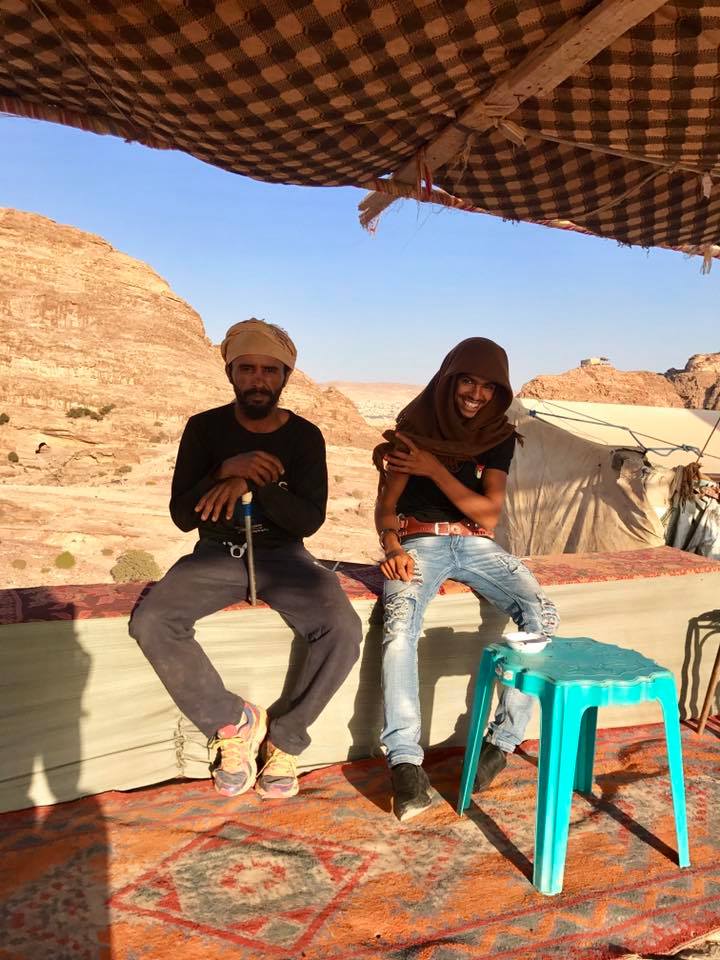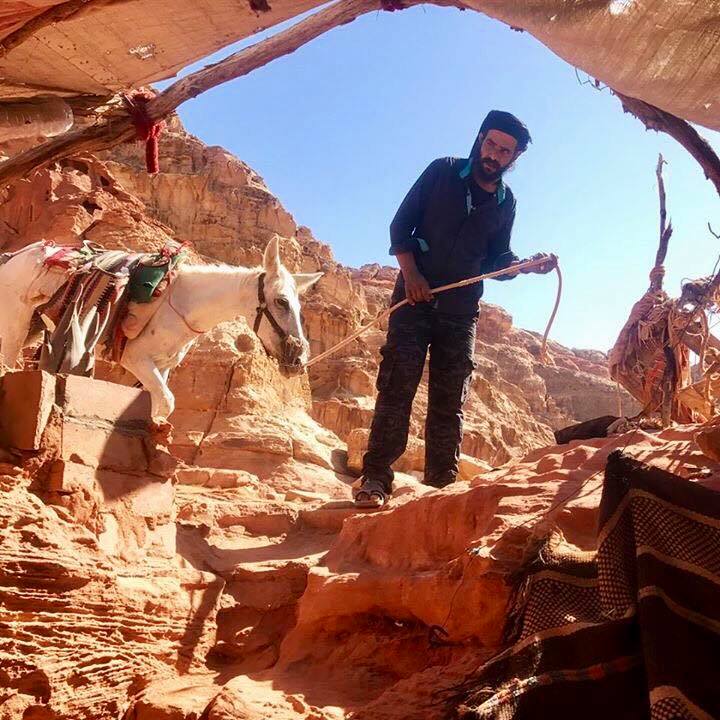 At this point, I suggest that you stop for lunch and contemplate your next move.  There are two restaurants in Petra. One is more of a stand and the other is a sit down place with both air-conditioned indoor and out door seating that is owned by Petra Guesthouse.  It has restrooms, WiFi, and serves a buffet style lunch. If you are a guest of the hotel, you get 20% off at this eatery. So, I'll let you guess where we ate. The food was average. Speaking of restrooms, there are actually three or four actual American-style bathrooms in Petra. I would, however, bring your own toilet paper and hand sanitizer.
Okay, so if you have made it this far, it is probably late afternoon. And, since you are close by, I would opt to take the hike up to the monastery after lunch. This is a good option because you've rested, cooled off, and fueled up.  Also, it's later in the day, so it's cooler.  All these factors are important because to get to the monastery, you have to climb about 950 stairs!
You to yourself: "I'm sorry, but did she just say I have to climb up 950 stairs?" She did. But, TRUST ME; it is SO worth it.  The climbing isn't that bad (I'll show you), and there is hardly anybody there so you get a really cool piece of Petra all to yourself.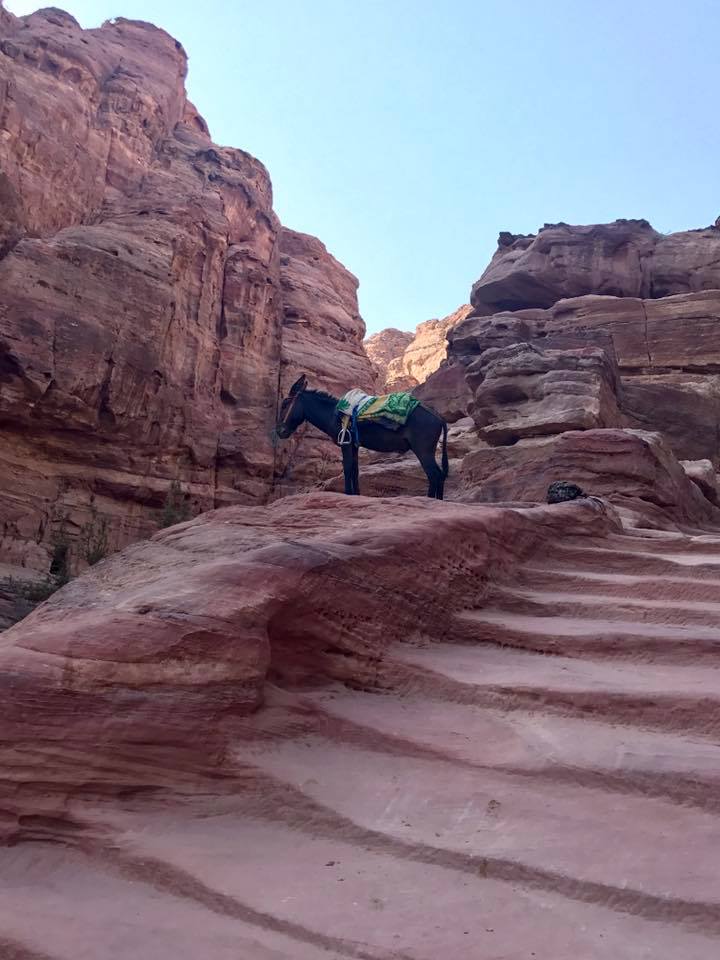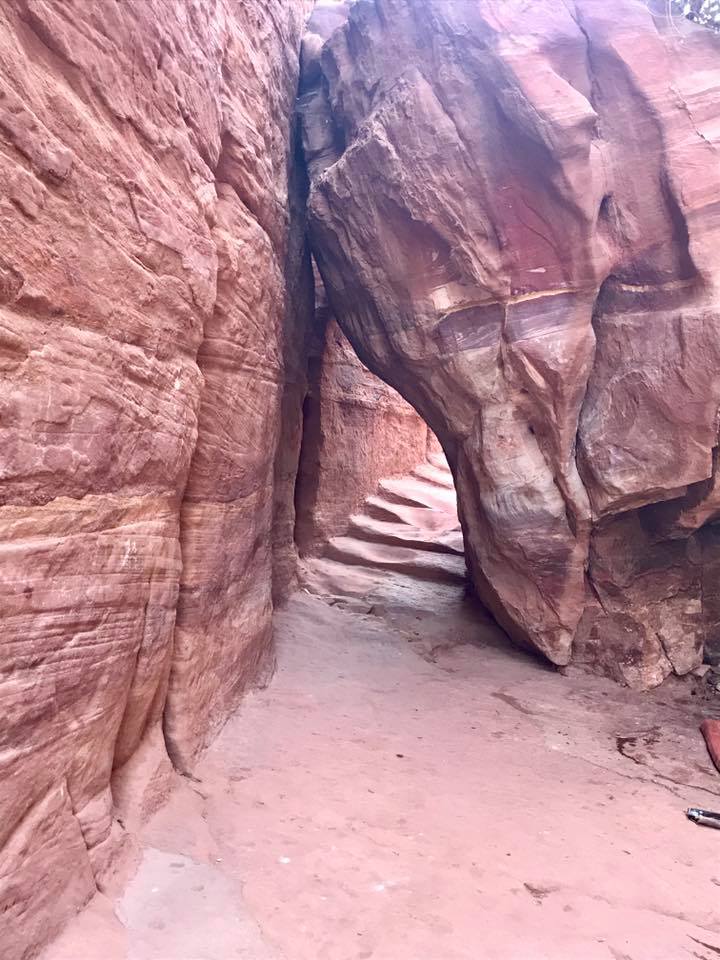 Now, you can take a donkey up. And you may be tempted to do so. But, for reasons we have already discussed (animal cruelty, annoying Donkey Boys, and a desire to not be ripped off), you will resist the urge and count this as a double cardio and booty blast day! After about 45 or so minutes (depending on your pace), you will get here: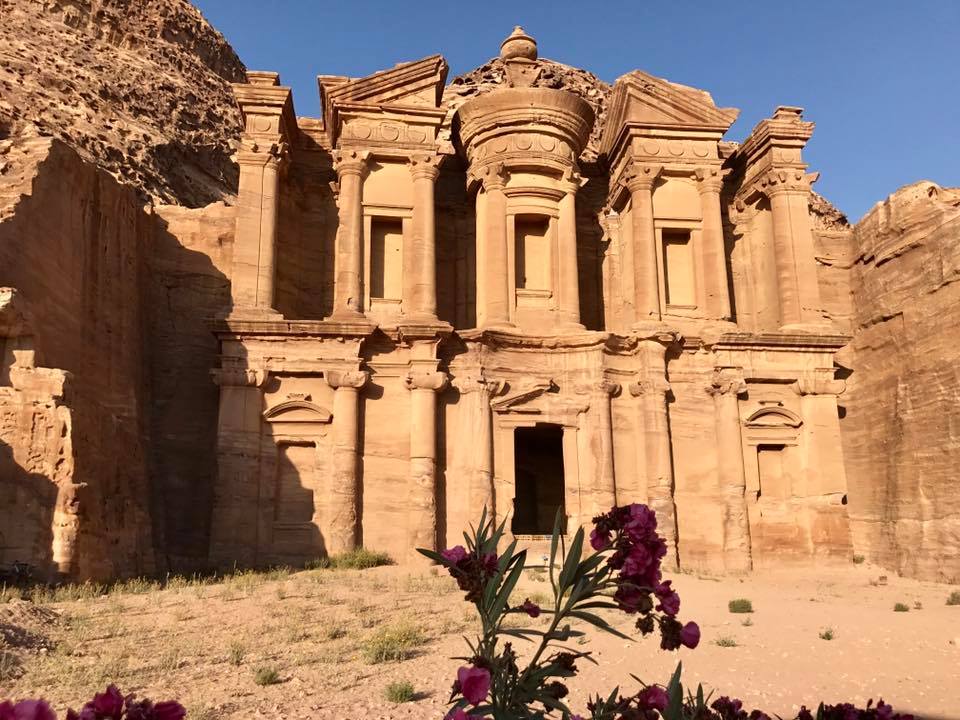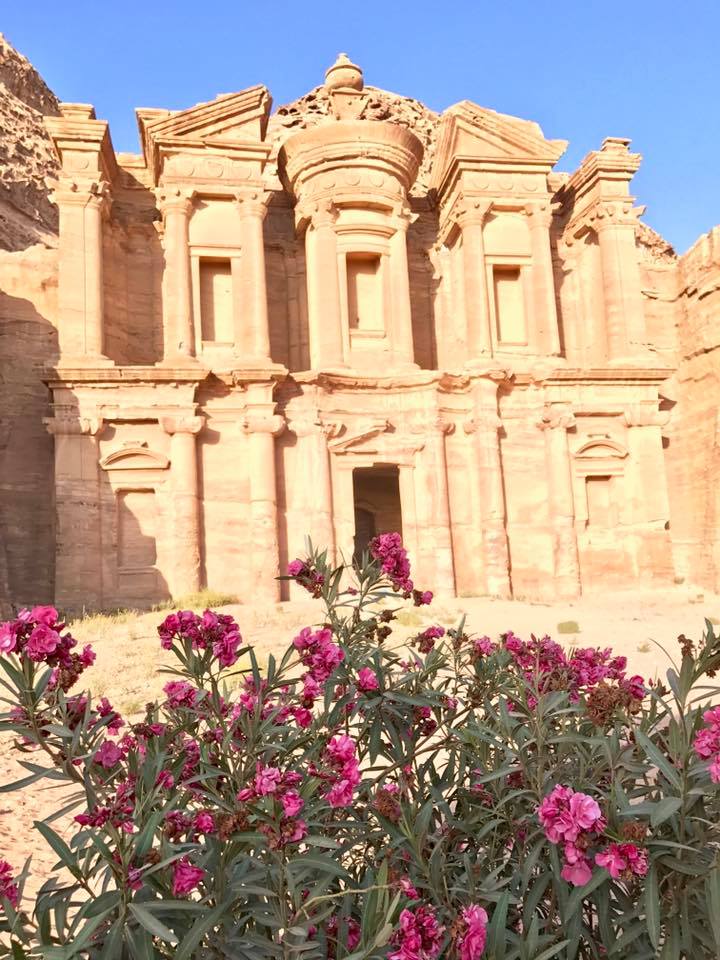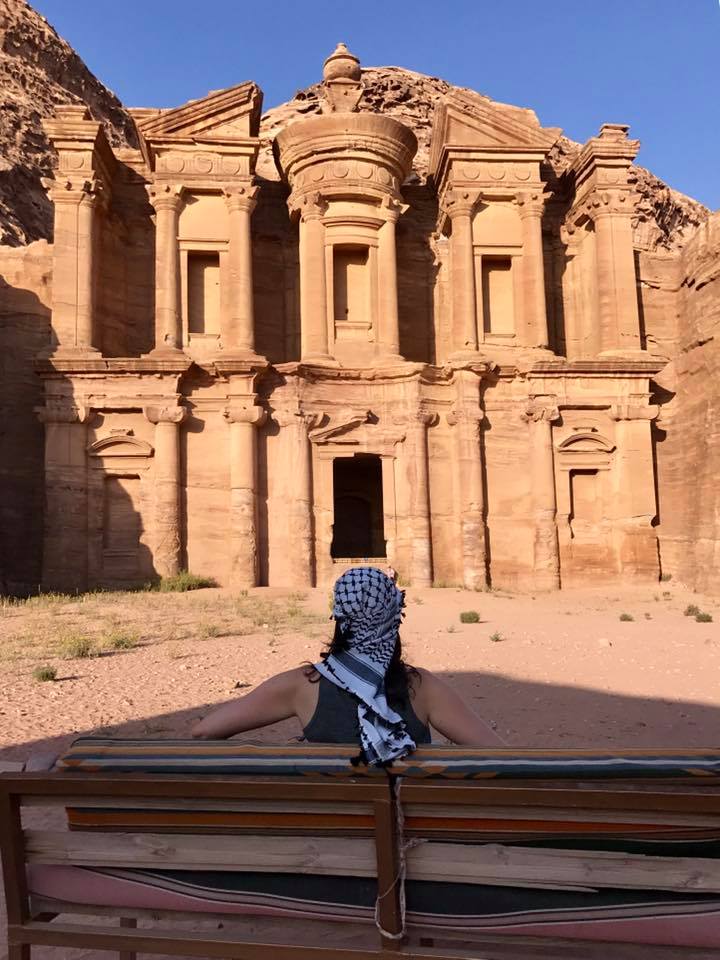 Amazing, right?  There is a small cafe up there, so kick back, have a drink, and enjoy the silence.
But wait, there is more! If you can stomach 15 more minutes of walking, you will be handsomely rewarded with the most amazing view! I think you have 15 minutes in you.  Just turn around with your back facing the monastery and start walking diagonally to the right, following the signs for the view point. You will come to a fork in the road and will have to choose the view to the left, which is a little closer, or the one to the right.  We chose left.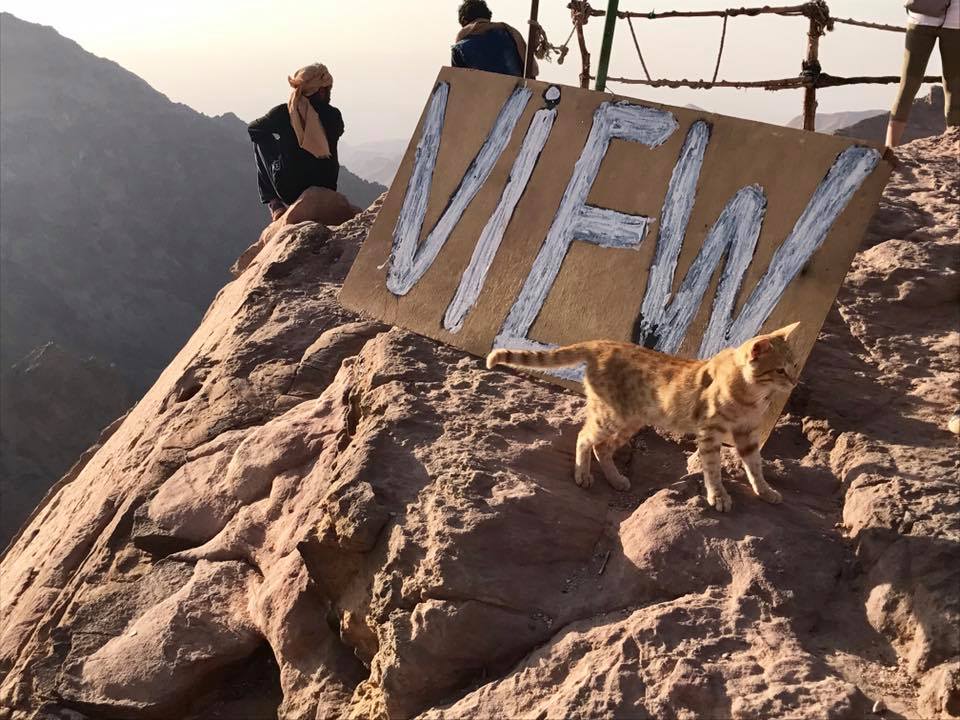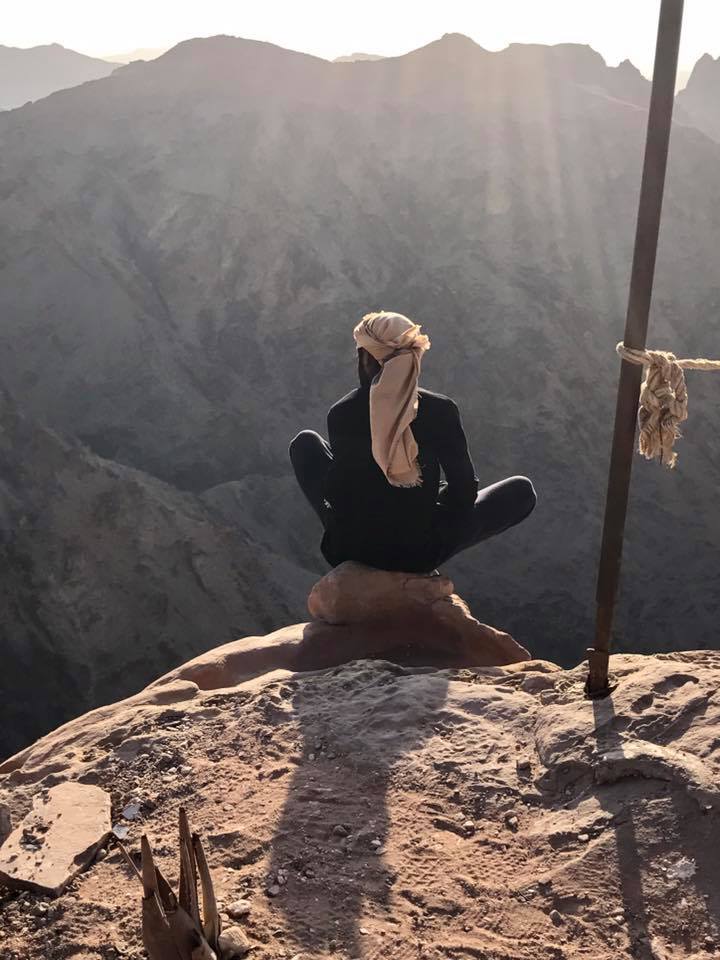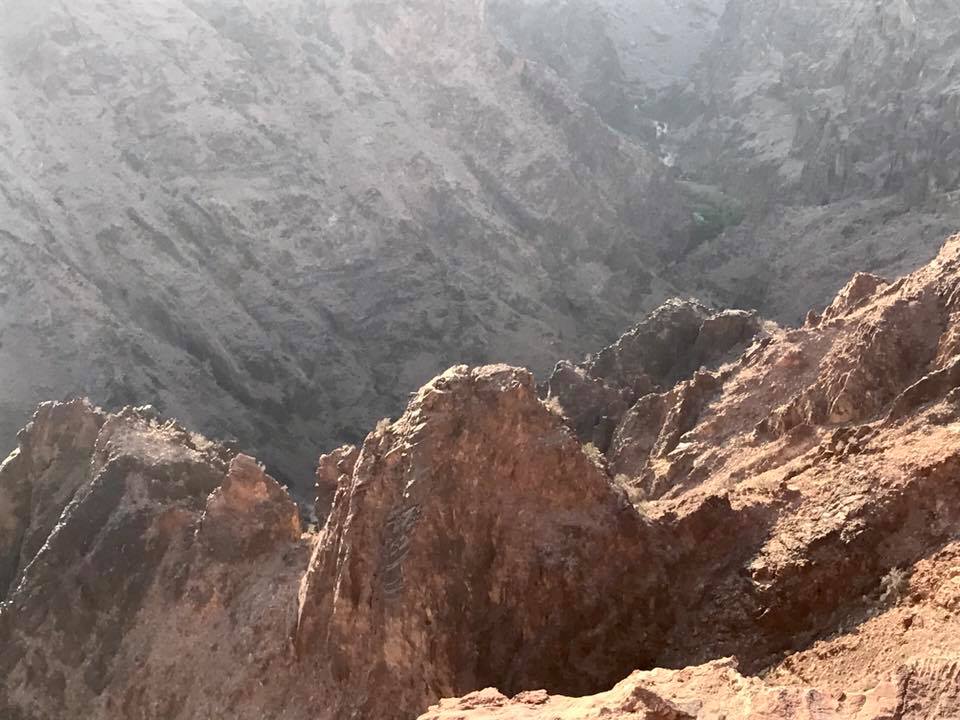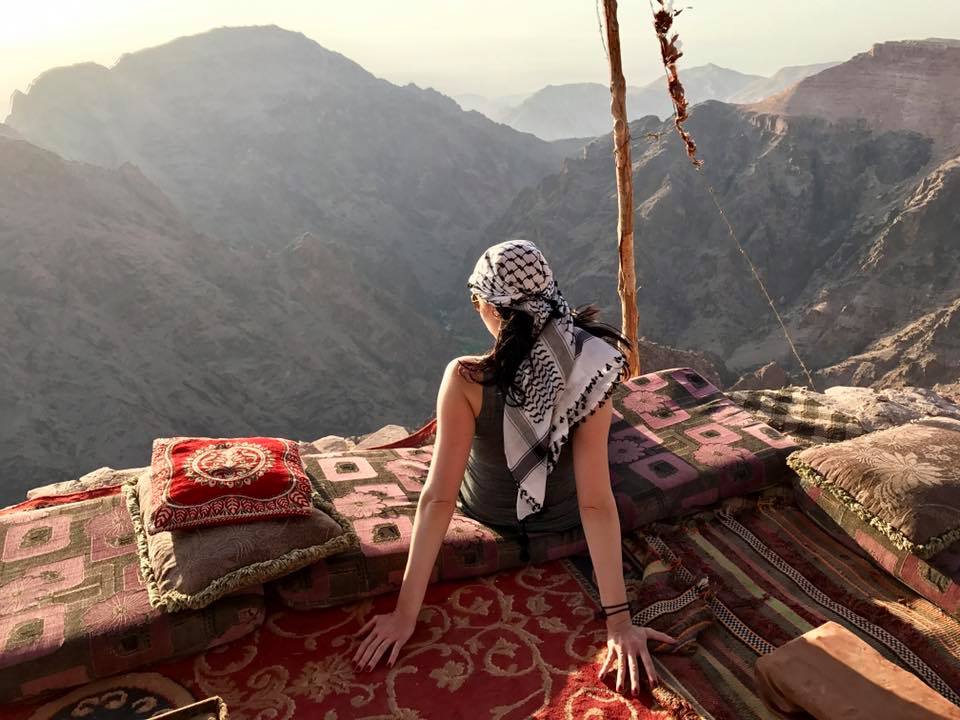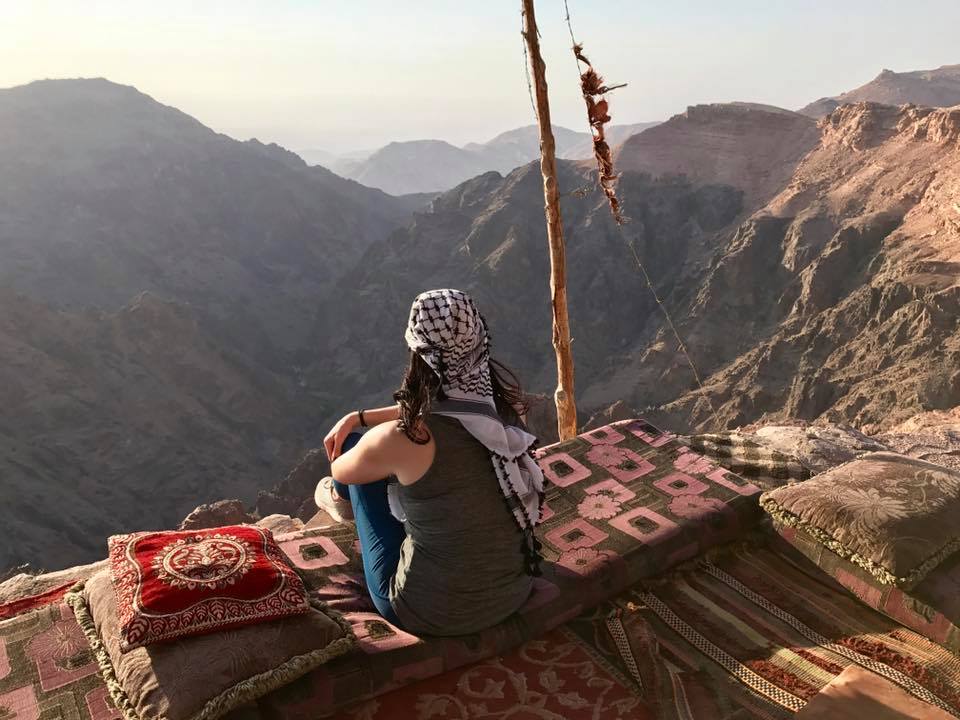 This is the PERFECT place to watch the sun set.  But, a little side note, this is VERY high up. If you are scared of heights, don't sit where I am sitting. Chad would have needed a diaper change by now. The only thing is that, you want to make sure and leave yourself enough time to get back down before it gets dark because there are no lights in Petra, unless, of course, you are staying for the Petra By Night experience.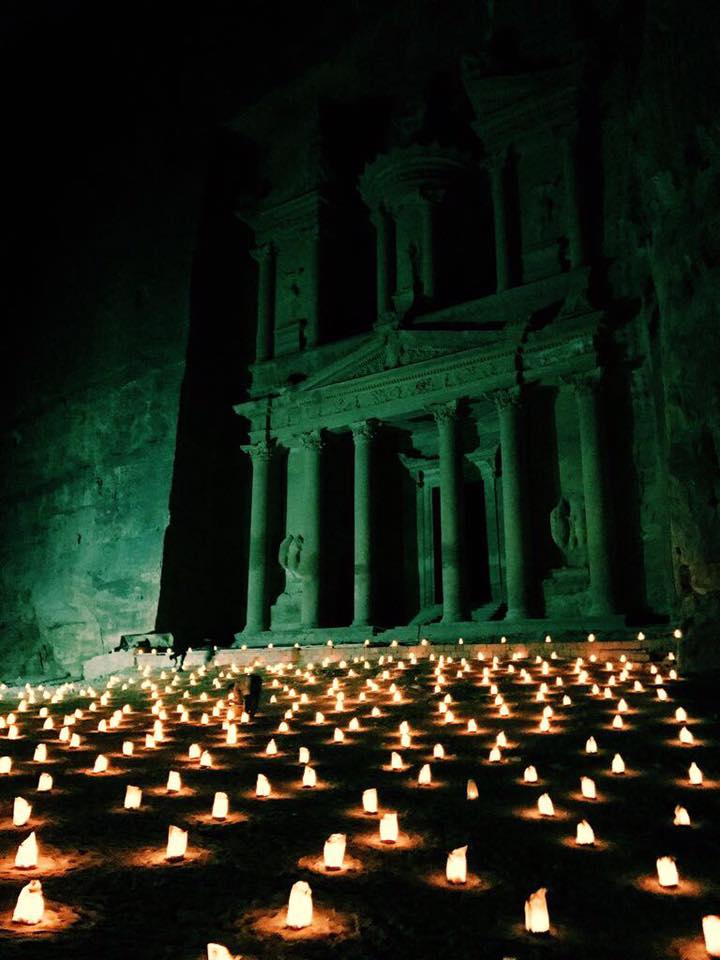 Petra by night is a two-hour experience where you get to visit just the treasury at night.  They light the path from the ticket entrance, through the Siq, and all in front of the treasury with paper bag lanterns. They serve hot tea and play traditional music.  At the end, the they light the entire treasury up with colored spot lights.  The Petra By Night experience only runs on Mondays, Wednesdays, and Thursdays.  It starts at 8:30 p.m. and costs  17 JD (or $24 USD). There is an unlimited amount of tickets, and it is pretty popular.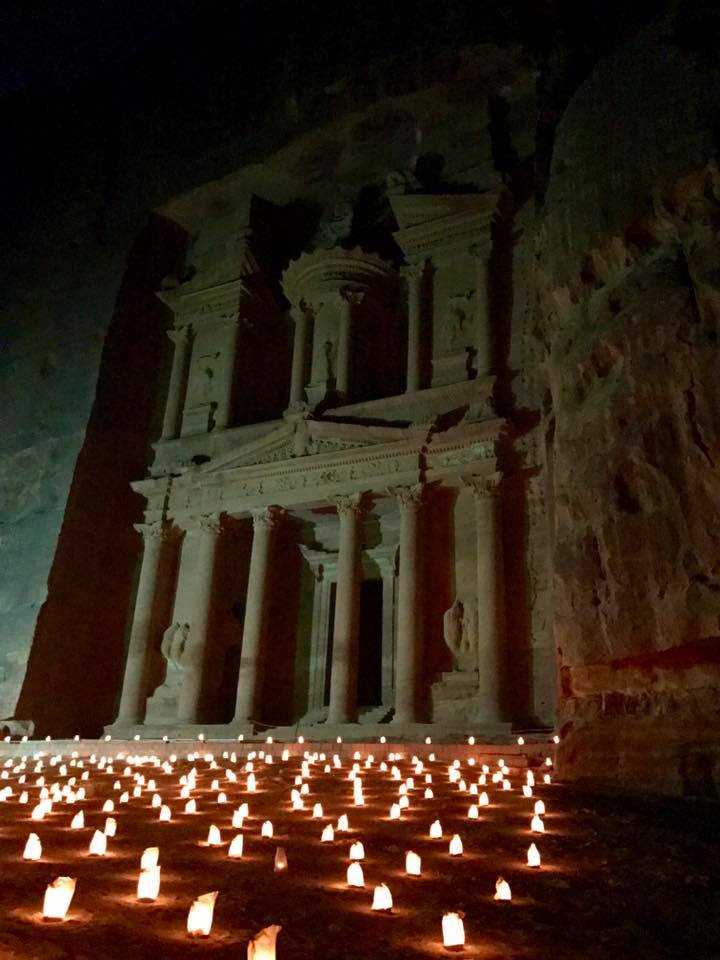 If you have stayed until sunset and want to do Petra by night, I suggest that you don't leave Petra and just hang out in front of the treasury. Why? Well, if you leave, you have to walk about 20 minutes out just to come right back in with a crowd of people.  If you stay, there are ticket vendors who sell tickets right in front of he treasury for the same price. You can save yourself the walk, and you can get some sweet people-free pictures before the crowds come in (because trust me, once they are there, it is impossible).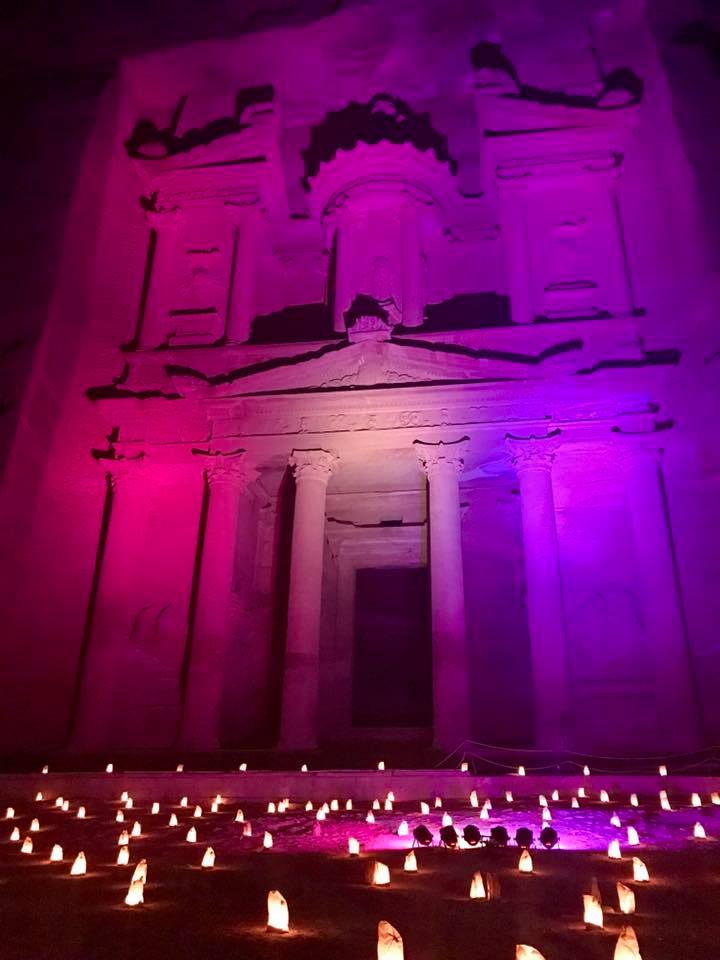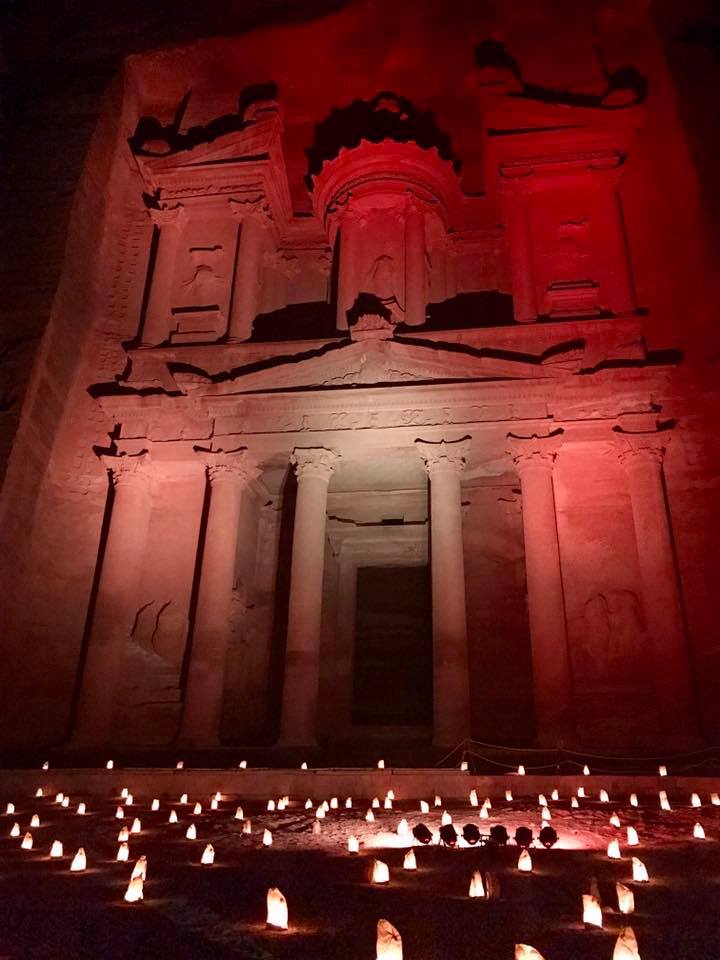 Is it touristy? Yes, it is. But the way we did it (staying in and seeing it all set up before the crowds) was amazing, and we really enjoyed it.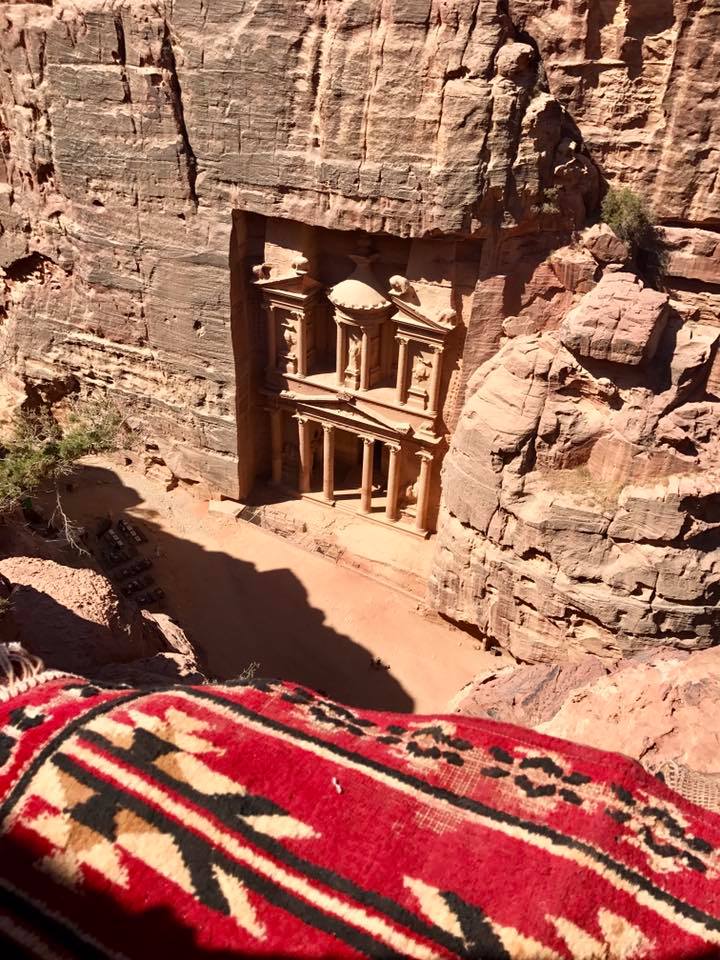 There was just one thing left to do, and that was to make the climb up to see the treasury from the top. On the second day we got up very early and were one of the first in the gates at Petra. This meant that we were able to get some pretty great shots of the treasury with literally nobody else around.
Now, if you thought the hike to the monastery was bad, the treasury trail says hold my beer. I mean this hike, in my opinion, was more difficult. Once you get in and go through the treasury and through the main drag, passing all the stores, you will come to a fork in the road.  If you go left, you will head towards the monastery road, if you stay right, you will find the trail to get to the viewpoint for the treasury.
Just past this site: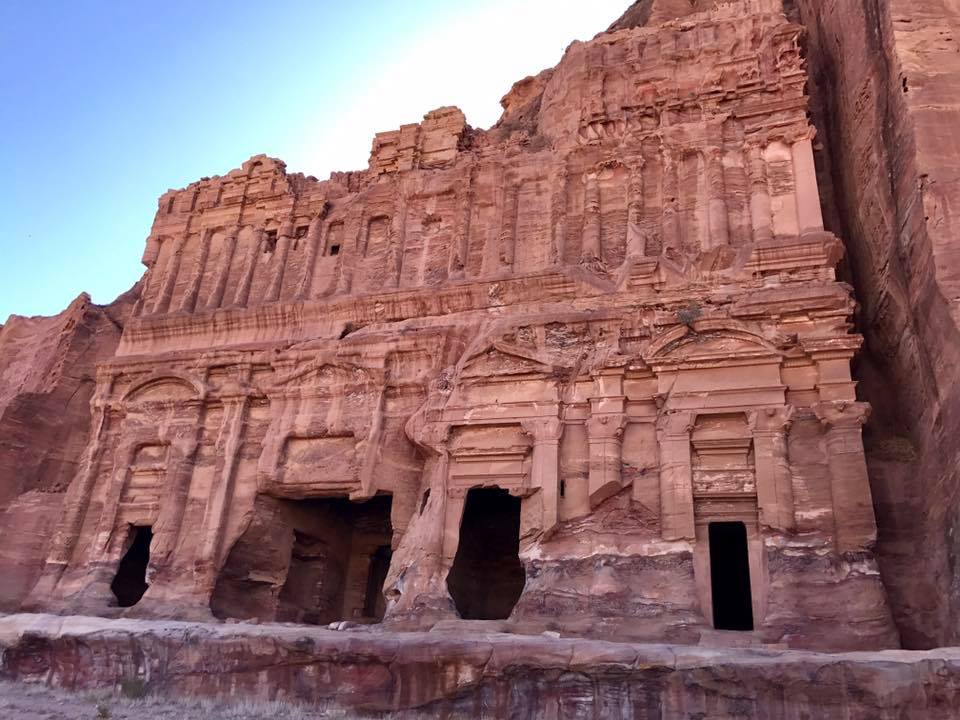 You will see this sign: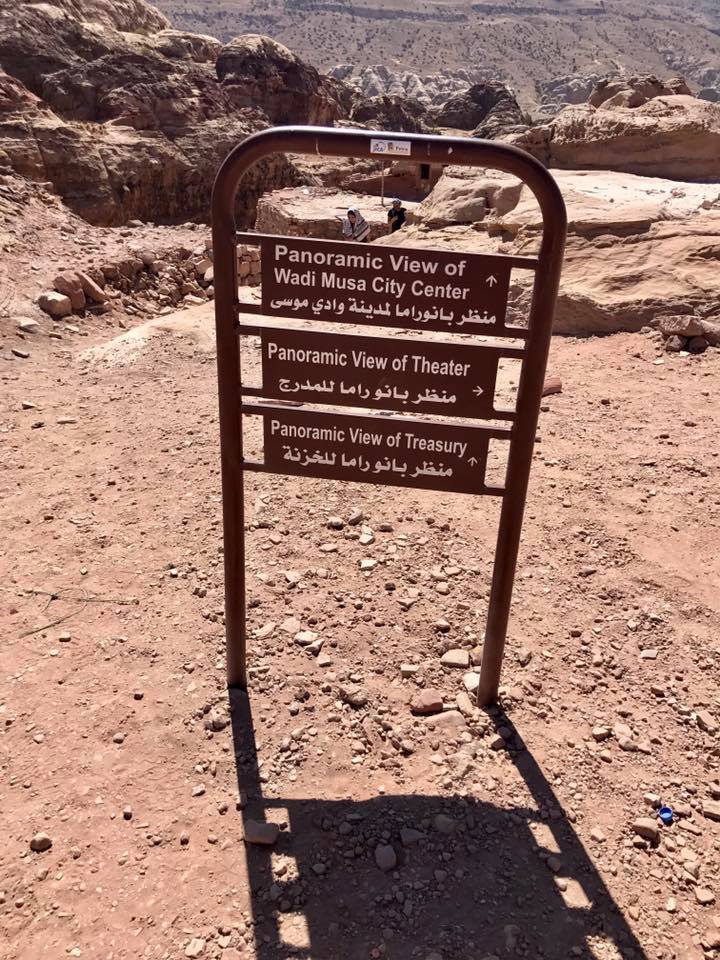 You want to stay to the right of the sign.  It will take you to a trail that looks like you are going behind the ruins.  You will encounter this path of stairs: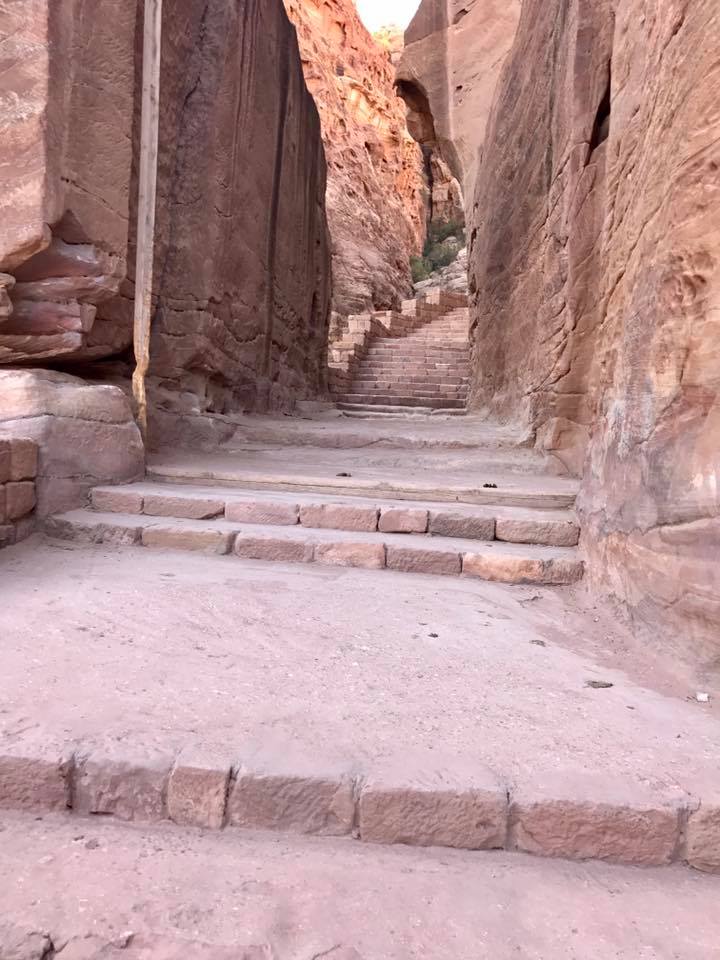 This is where you start climbing.  It is deceiving because it looks more organized and in better shape than the monastery climb. You do this for about 20 to 30 minutes. It's.A.Lot.Of.Stairs. After 20 to 30 minutes of climbing, the stairs stop, and now its another 20 to 30 minutes of hiking on the worst marked trail ever.  Once in a while, you will come upon these signs: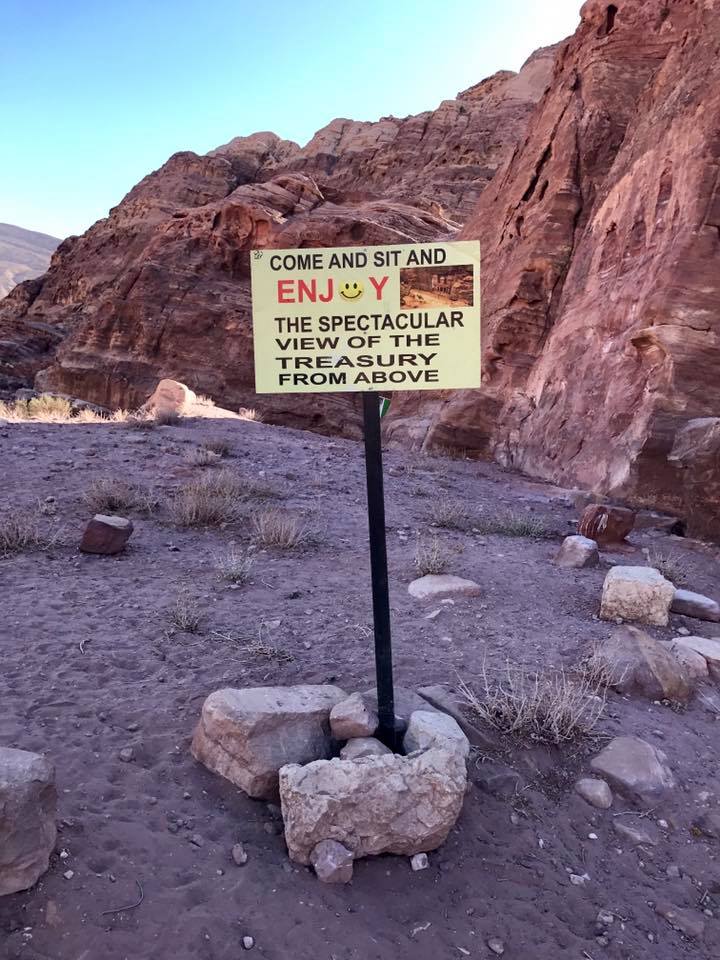 Do you see any directional signals? Exactly. Then you get: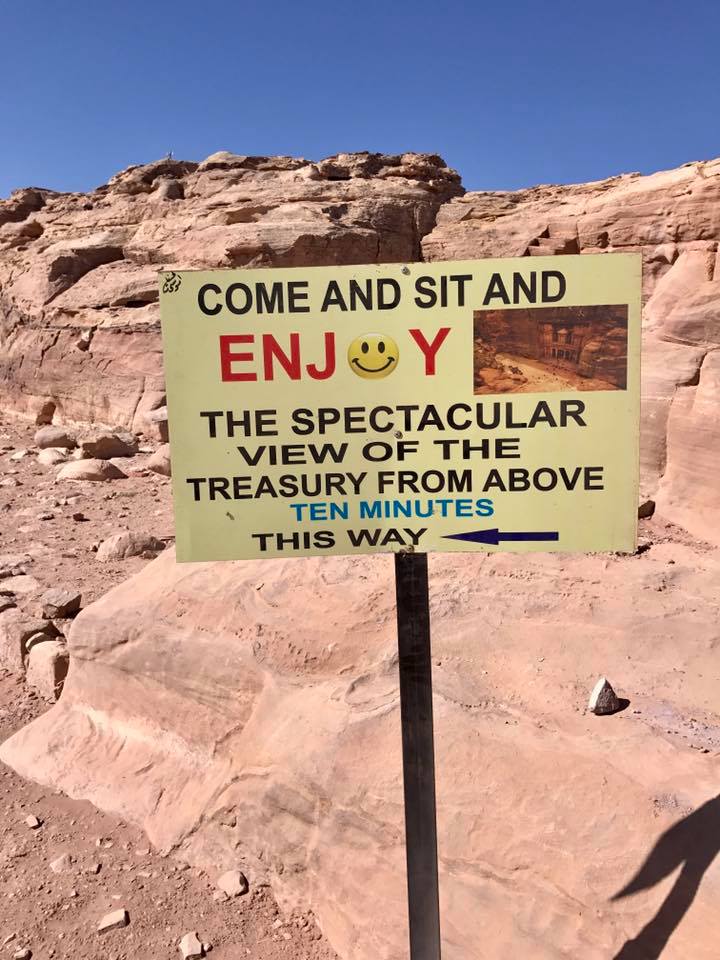 By the way, this is a lie. It is not 10 minutes. And just for fun, the Bedouins add these signs to confuse you and lead you to their shops: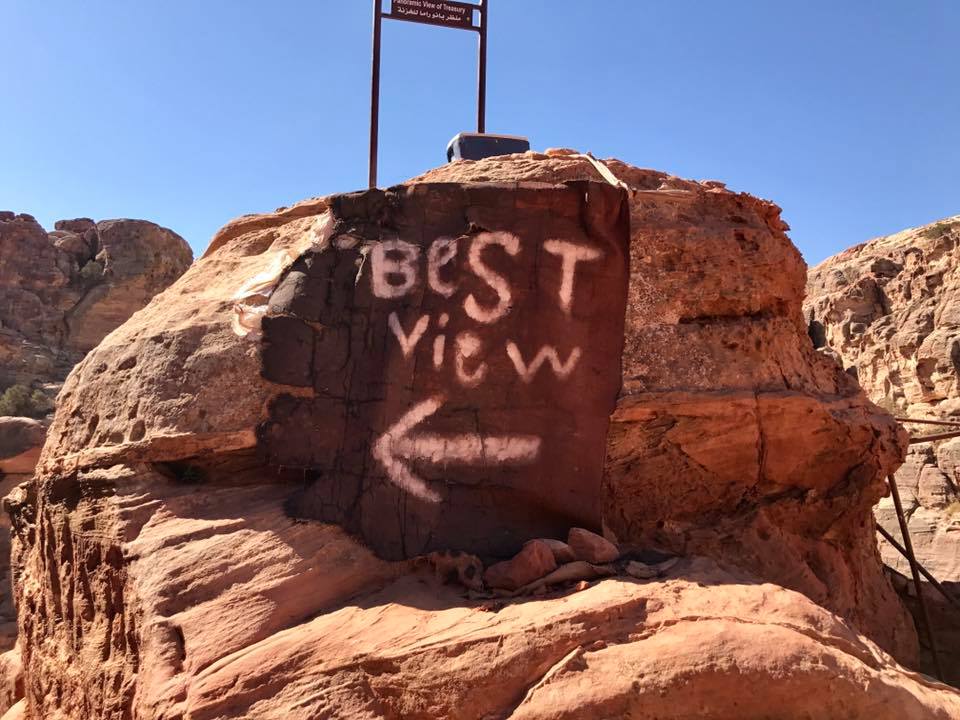 Finally, you will see this sign: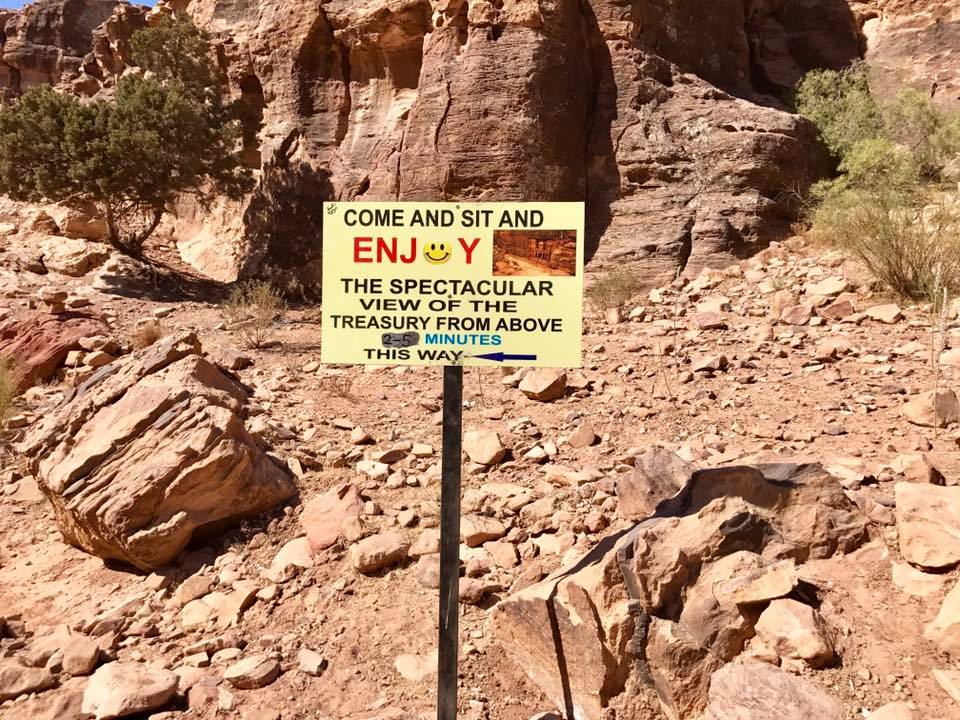 Two to five minutes? Yeah, right! As President Bush (a.k.a. W) once said  "…fool me once, shame on — shame on you. Fool me — you can't get fooled again." Once you see this sign, you won't be sure if you should go straight (kind of towards the right) or go to the left.  Go left. At some point you will see this: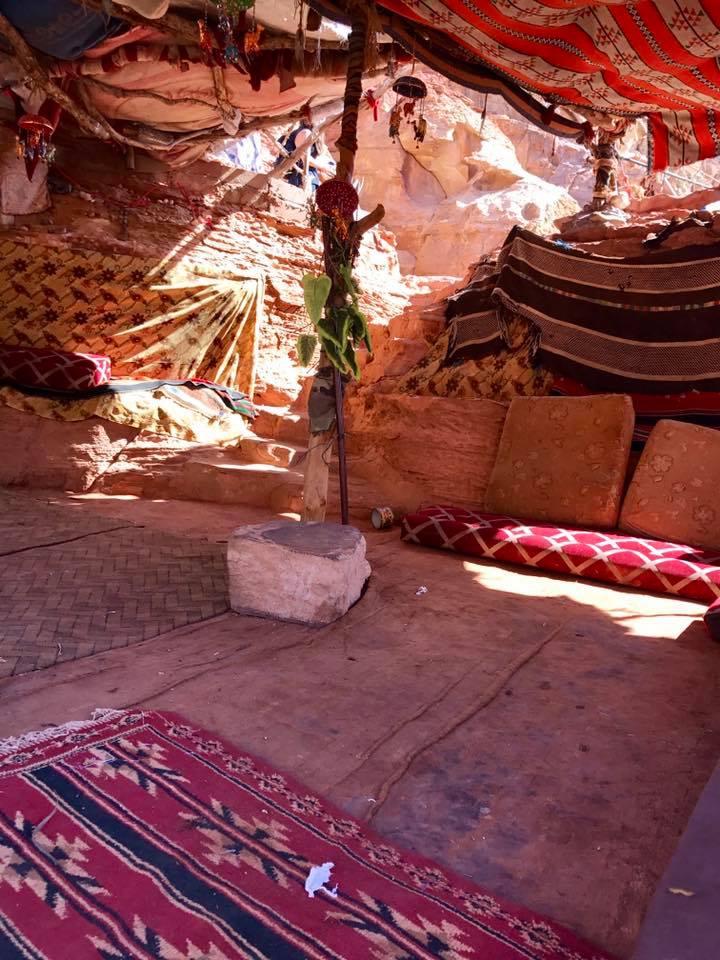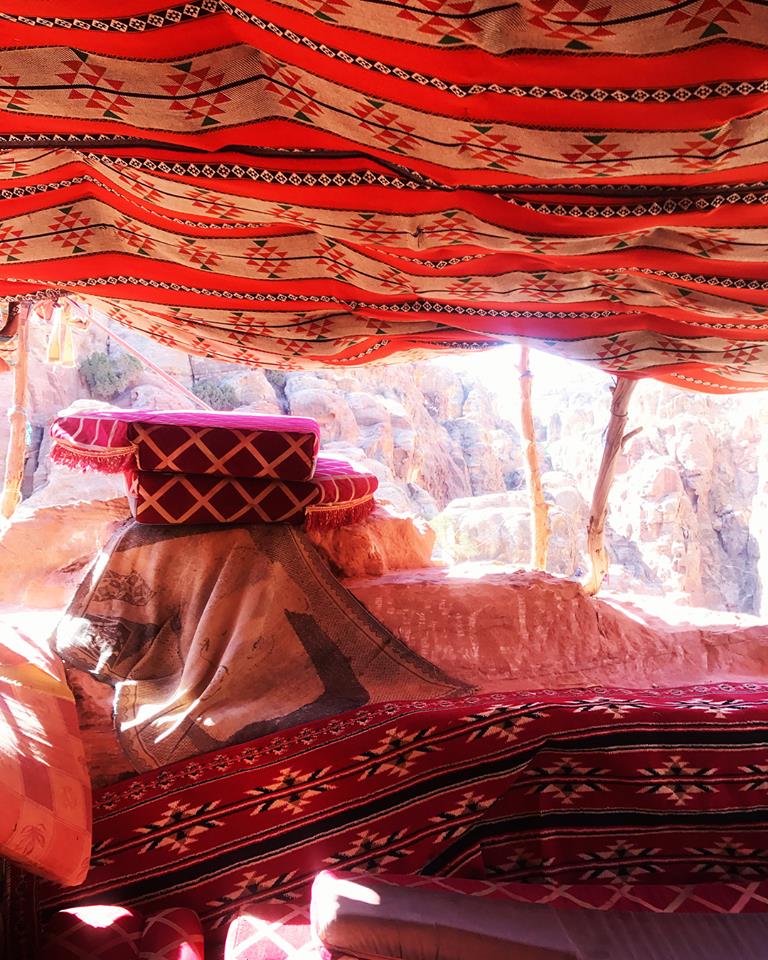 It will be the loveliest site because that means you made it! Behold the view: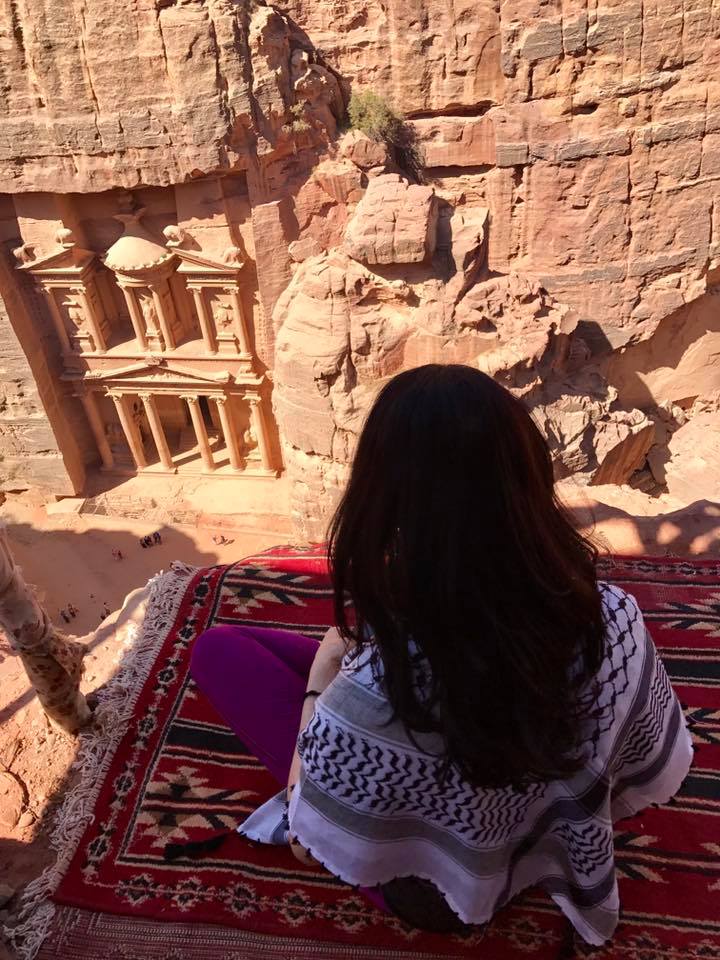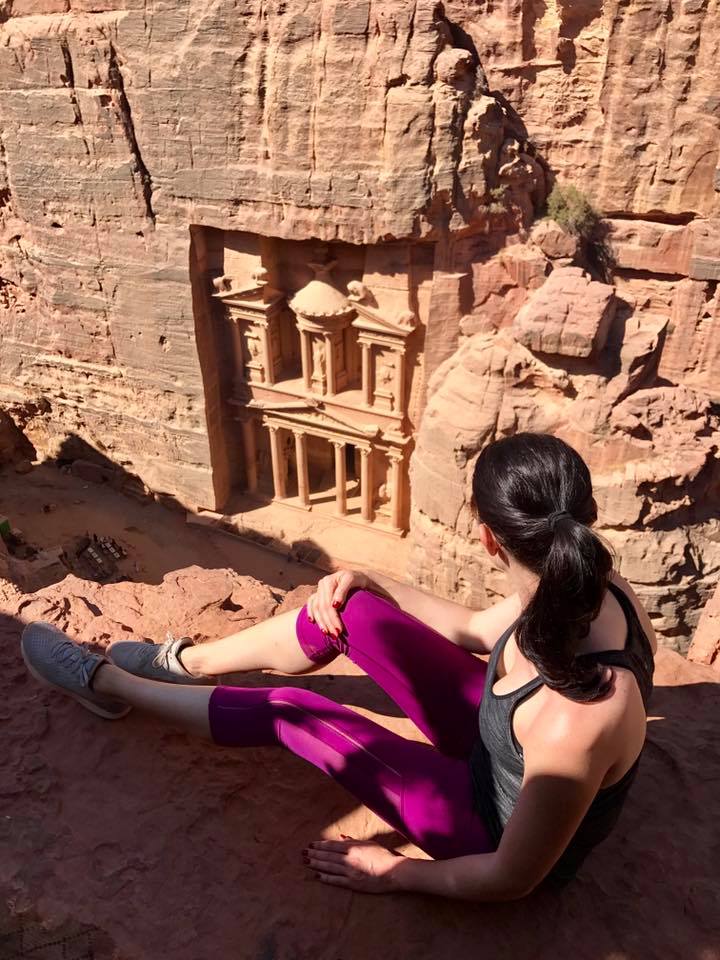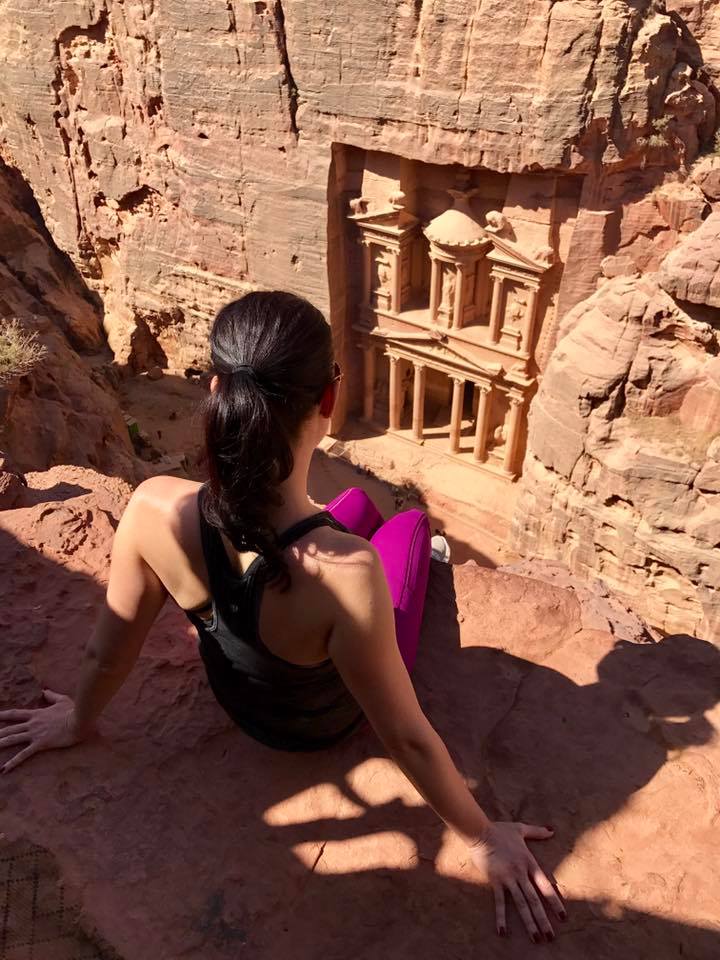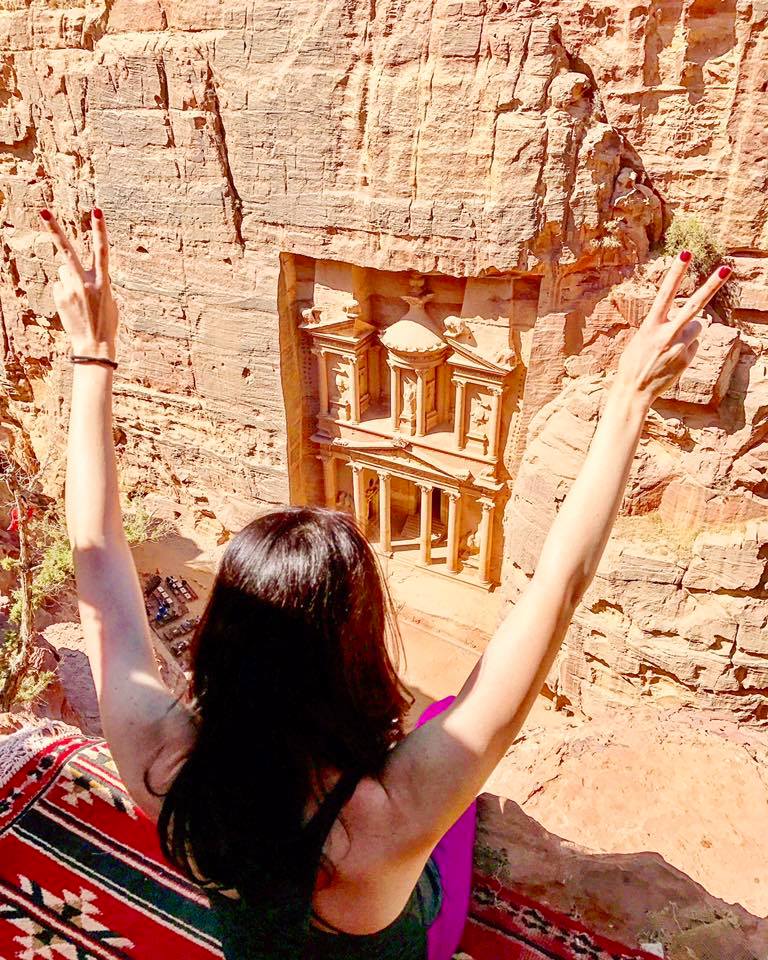 And then, the climb down (cue the Price Is Right Loser Music). No, but seriously, the climb is absolutely worth the view. Just do it early or late in the afternoon, so you can have the view from above and below all to yourself.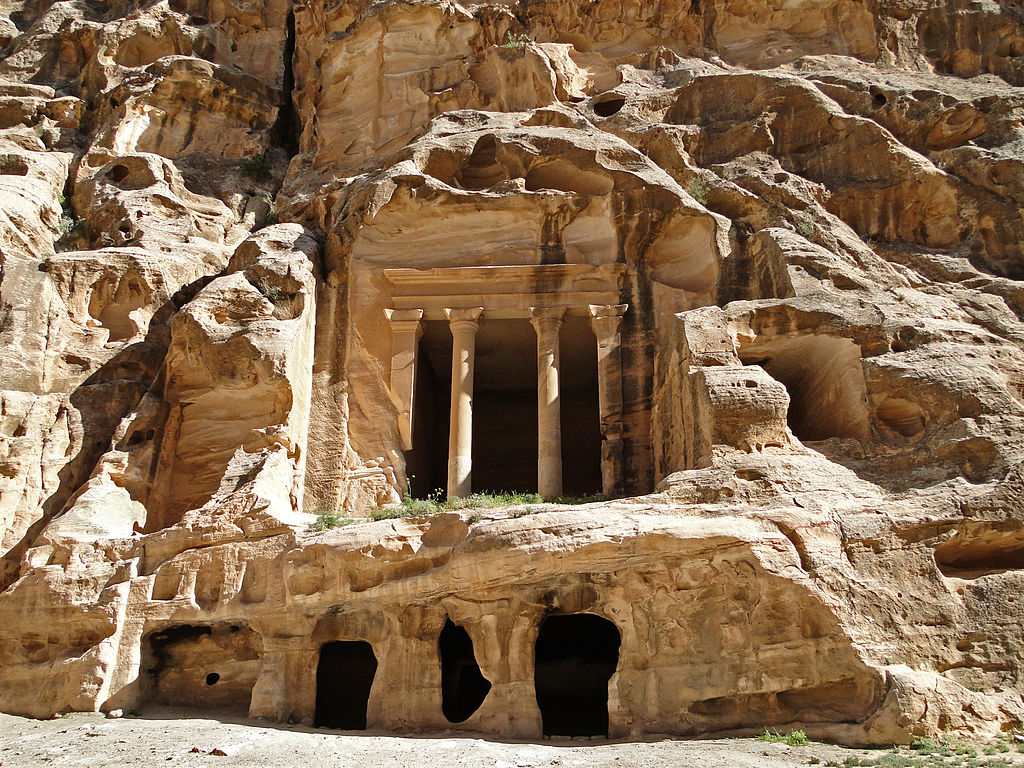 Side note: there is a site called Little Petra. It is located about 40 minutes north of Petra. We went there, but, honestly, you can skip it.  It is a very small site, and it is in terrible condition.  It literally does not compare to Petra at all.
So that is it.  You have now done it all in Petra! Get your pen out and cross this one off the bucket list. Up next, Wadi Rum Desert. You do not want to miss Wadi Rum when you are in Jordan.