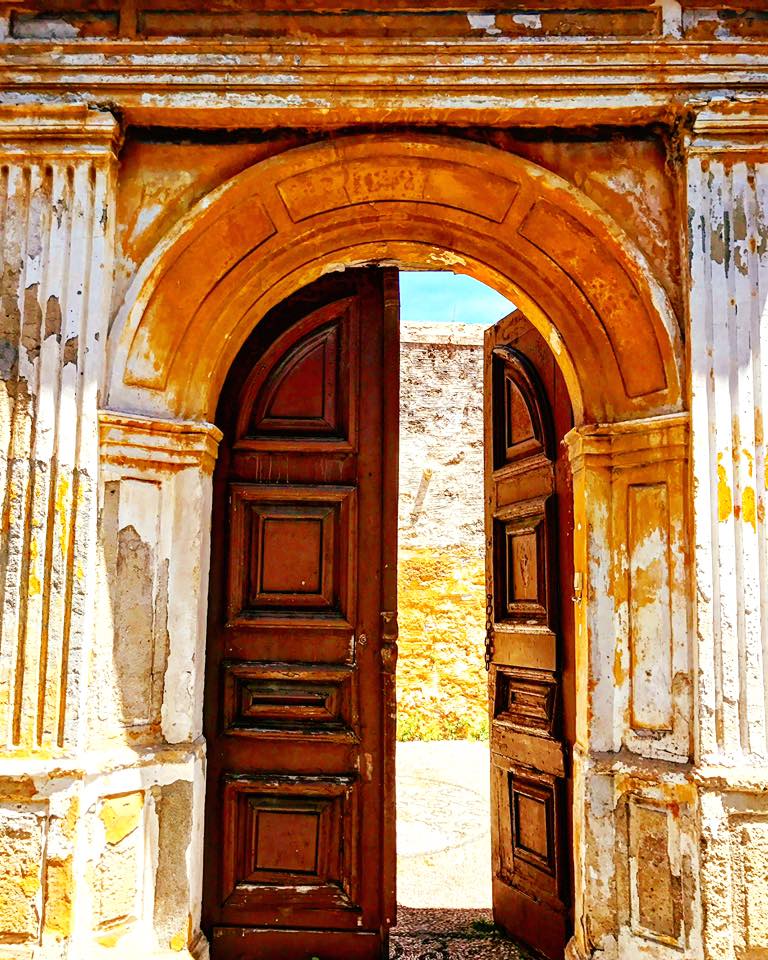 Rhodes is often overlooked on most people's Greece itinerary because it's one of the furthest islands away from the mainland. Also, Rhodes doesn't have the hype that Santorini and Mykonos have. Most people, especially first-timers to Greece, flock to these touristy islands for the sunsets, white washed buildings, blue domes, and the windmills.
Don't get me wrong, both Sanotrini and Mykonos, like all of Greece's islands, are beautiful. But, in my opinion, they lack the authenticity of the Greek culture.  They are  expensive and overrun with tourists and the dreaded cruise boats. Rhodes, on the other hand, is less crowded, more affordable, and, in my opinion, more interesting. It is also a photographer's dream! Allow me to introduce you to this little gem.
If you read this blog, you already know that I am Greek and that Chad and I visit Greece at least once a year because my dad lives on the island of Crete. Every time we go to Greece, we try to visit new places and new islands in Greece. This year, Rhodes was at the top of our list.
Rhodes is part  and also the capital of the Dodecanese, "The Twelve Islands" (which is a misleading name because the Dodecanese are actually made up of 15 larger islands plus 150 smaller  islands in the southeastern Aegean Sea). It is the largest of these islands. Rhodes is most famous  for the Colossus of Rhodes, one of the Seven Wonders of the Ancient World, and the Medieval Old Town of the City of Rhodes has been declared a World Heritage Site. In fact, the Old Town is surrounded by a huge, intact, wall, and there is even a castle!  It's very A Knight's Tale; and, even more importantly, it has a look and feel unlike anywhere else you'll experience in Greece.
Rhodes has a long and rich history. Suffice it to say, there were many things that attracted to us to Rhodes. To get to Rhodes, you can take a very long ferry from Athens or Thessaloniki or you could take an less than an hour flight. I'll let you guess which option we chose and which we recommend you do as well.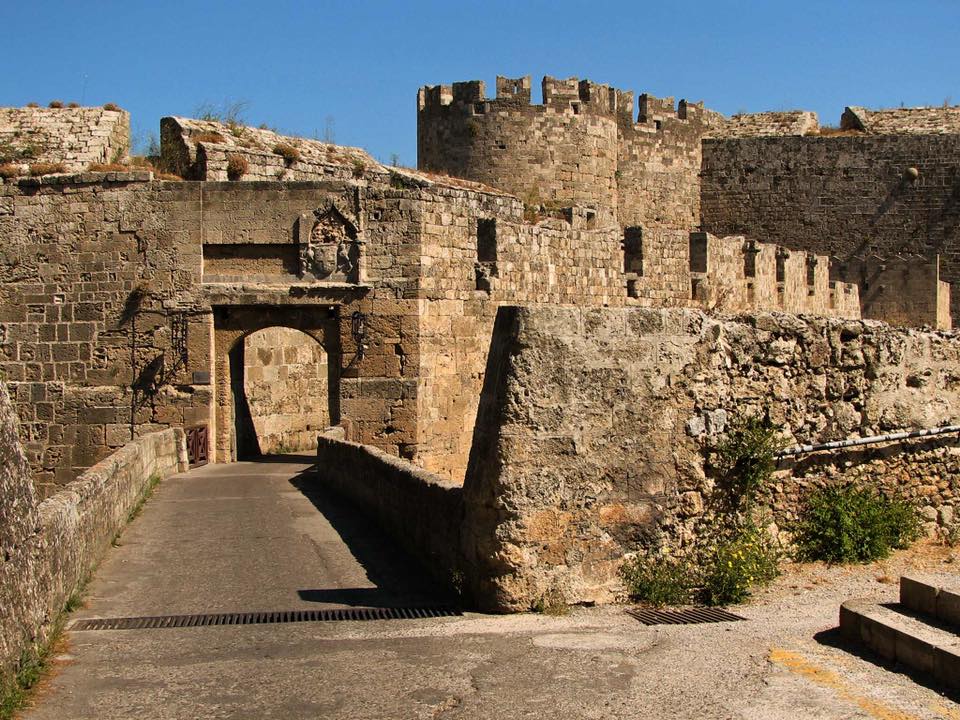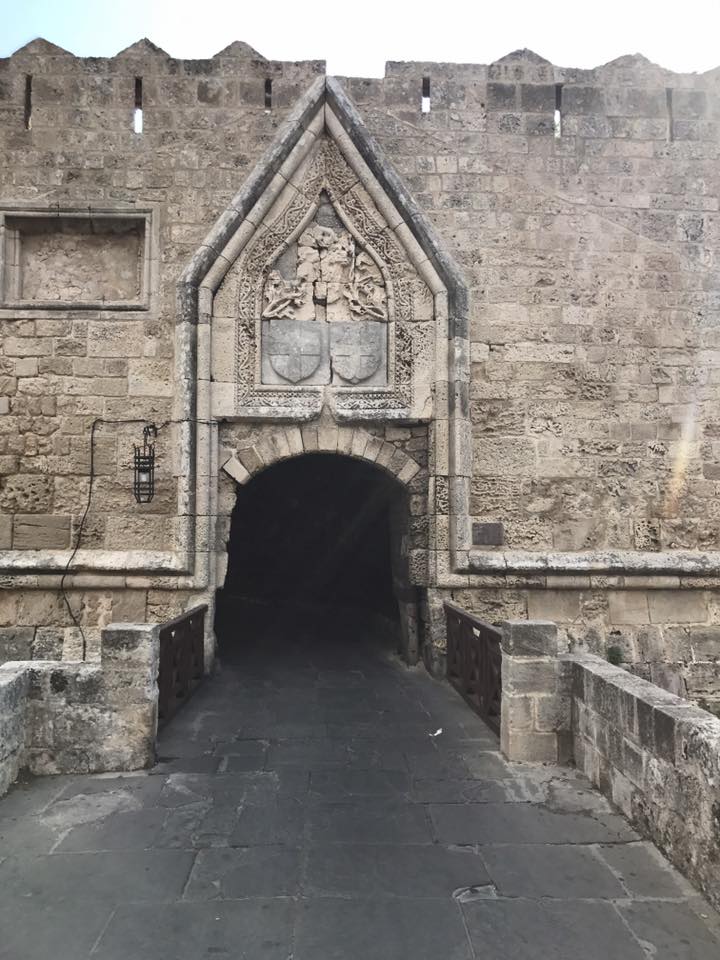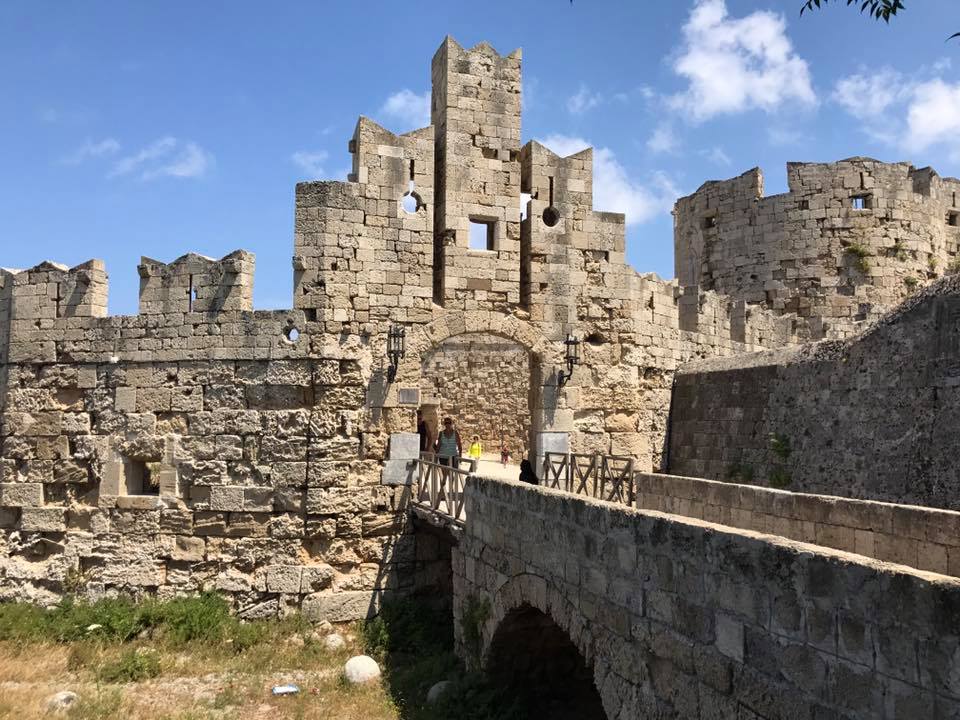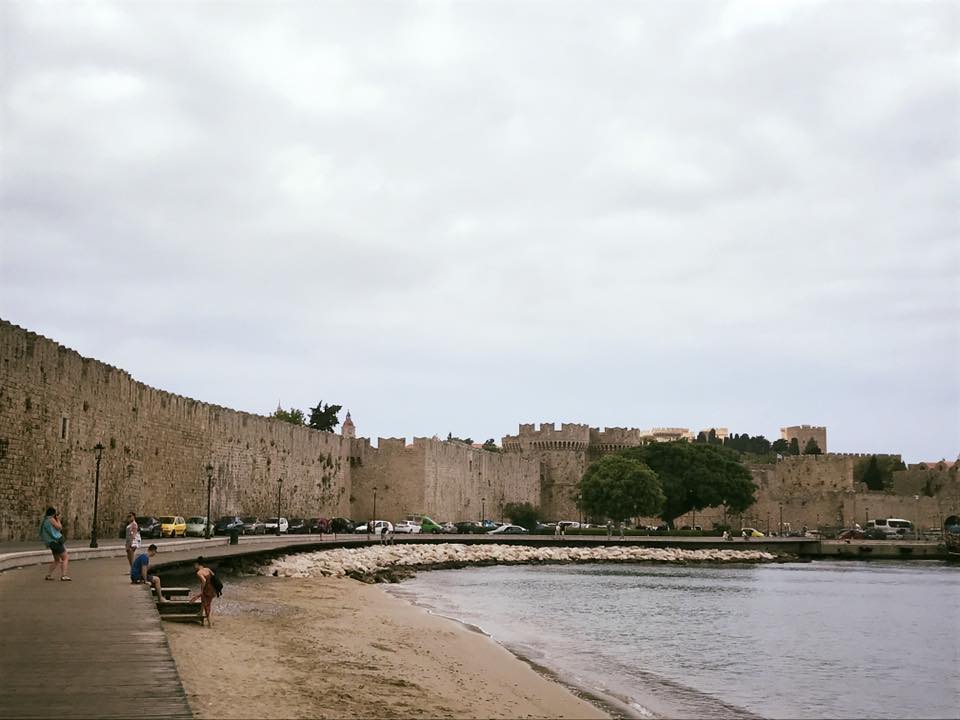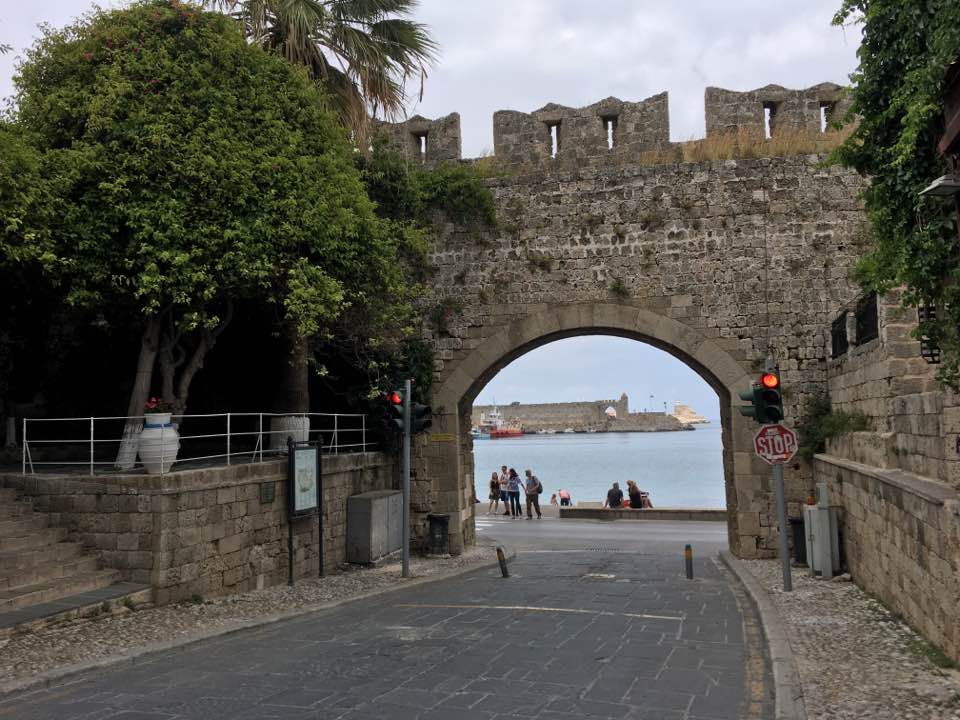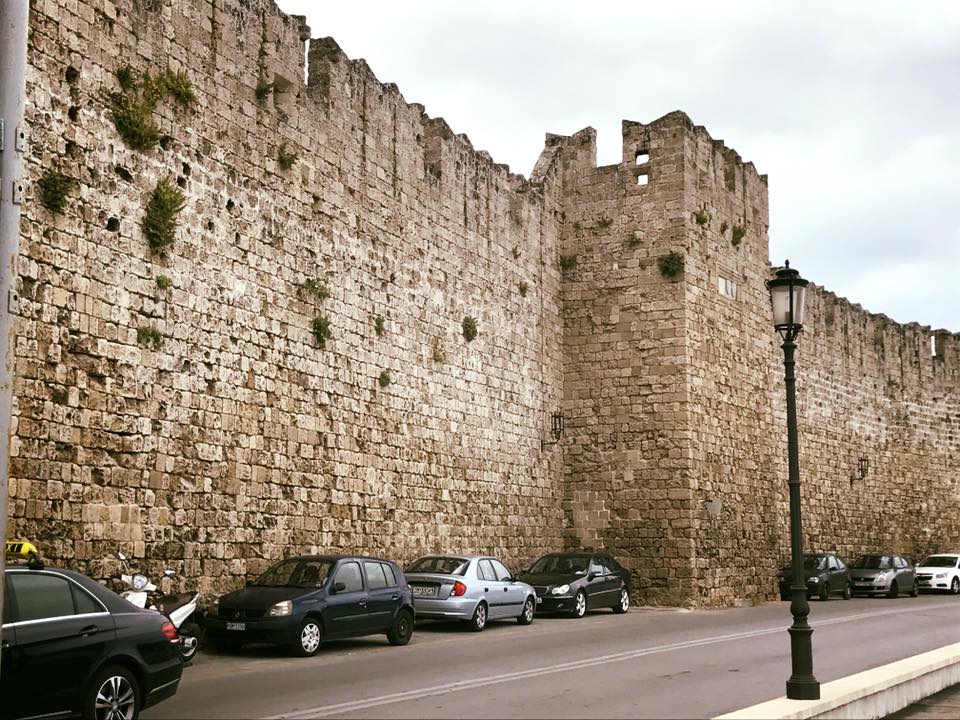 We chose to stay in the Old Town of Rhodes. Old Town is surrounded by medieval walls with seven "gates" (Gate of the Naval Station, Gate of Agios Ioannis, Gate of Agia Ekaterini, Gate of the Apostle Paul, Gate of Amboise, Gate of Agios Athanassios and the Gate of the Port). Today, the gates are the seven entry points into the Old Town. When you enter these gates, you feel as if you have entered another world. I am so glad we chose to stay in the Old Town. It was truly enchanting and much more charming than staying at one of the huge beach resorts in the modern city. You literally feel as though you have entered some sort of enchanted land.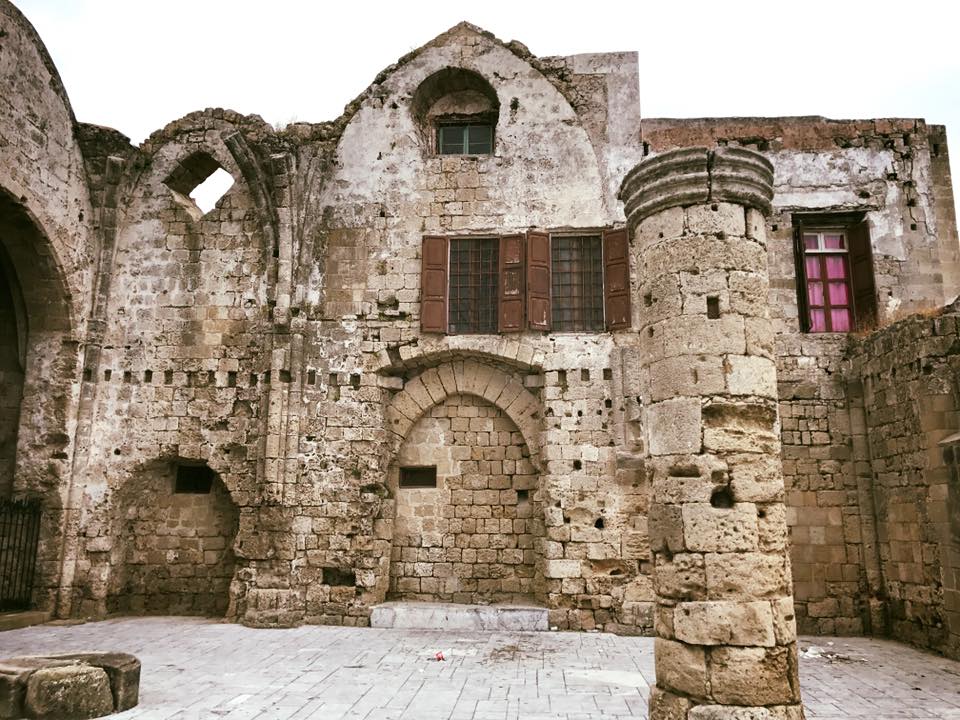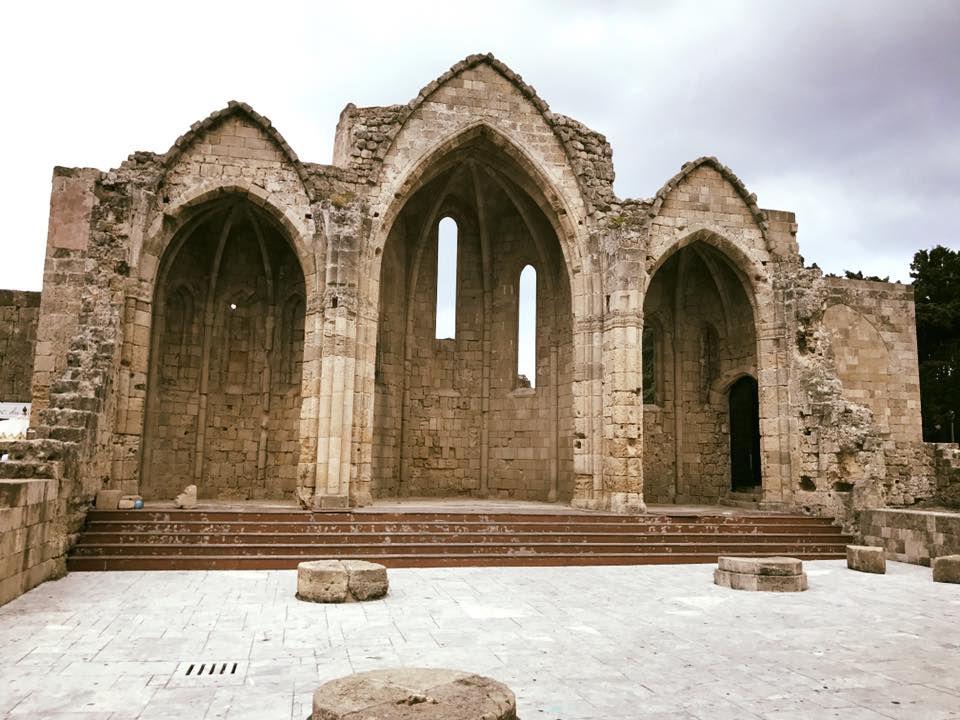 We stayed at a small boutique hotel called Kokkini Porta Rosa (which loosely translates into  the red door) in the Old Town. Now, this is NOT a sponsored post, but I love this hotel (it's really more of a guest house than a hotel) and its owners (who were just the loveliest, warmest, and most interesting couple) so much that I am going to dedicate part of my post about Rhodes to this fantastic gem because I think this hotel really colored our view of Rhodes in the most positive of ways.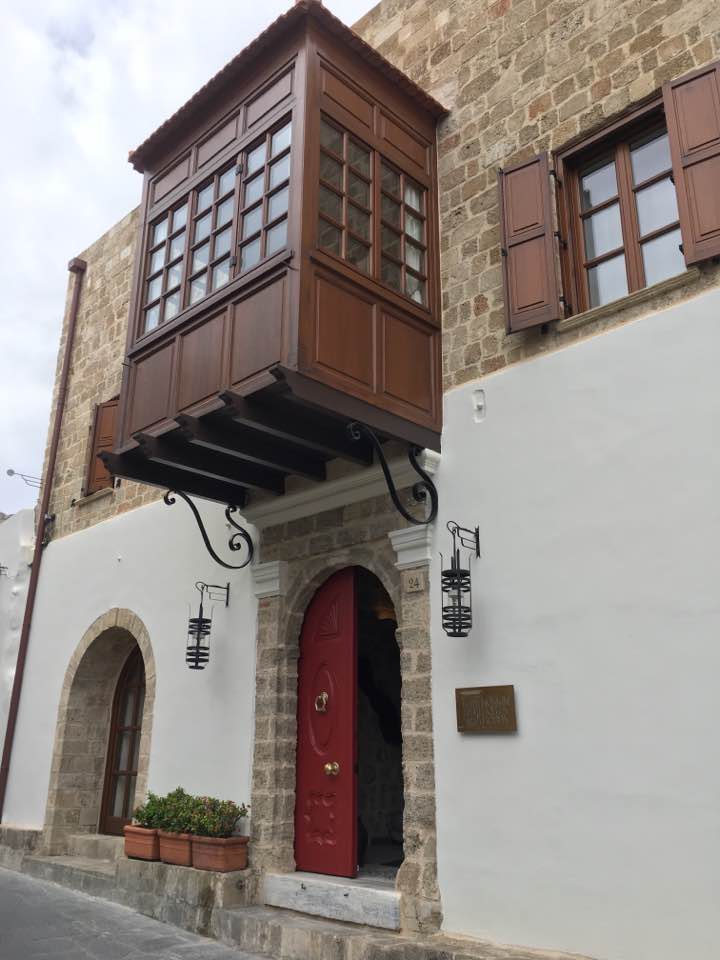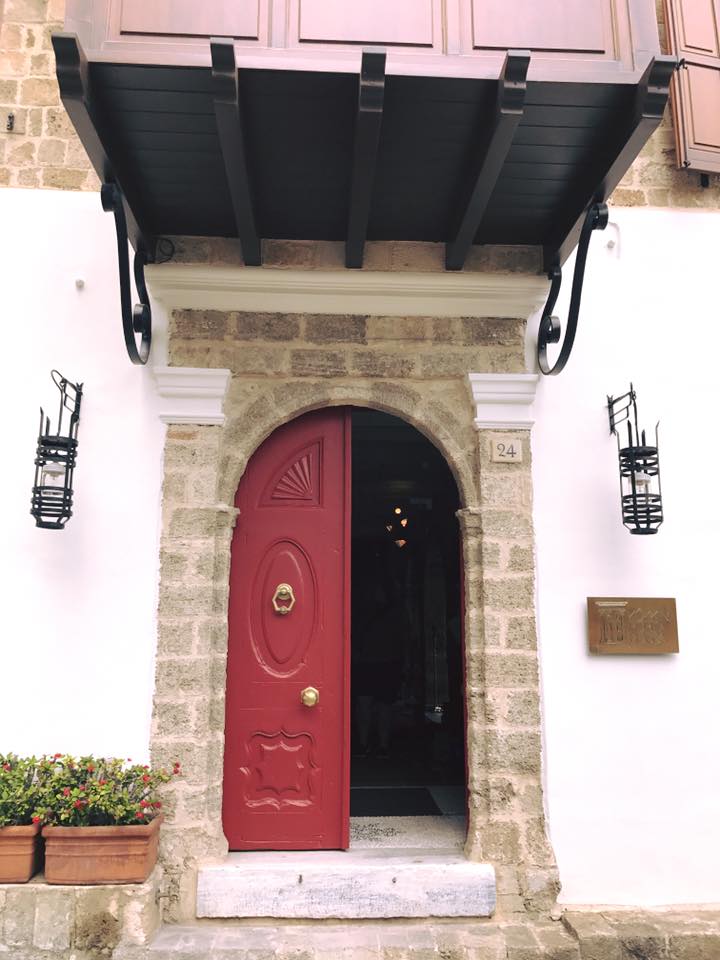 This hotel is a model for what hotels should be. In a world that has become so impersonal, Angela and Nikos, the owners (who have lovingly restored an old home, while staying true to its history), break the mold and have truly created a home away from home.
Every single guest of their small five-suite hotel is treated like family. Angela and Nikos pay the utmost attention to detail. This little hotel is luxury and service re-defined, from the moment you walk in until the moment you check out, with homemade gift in hand.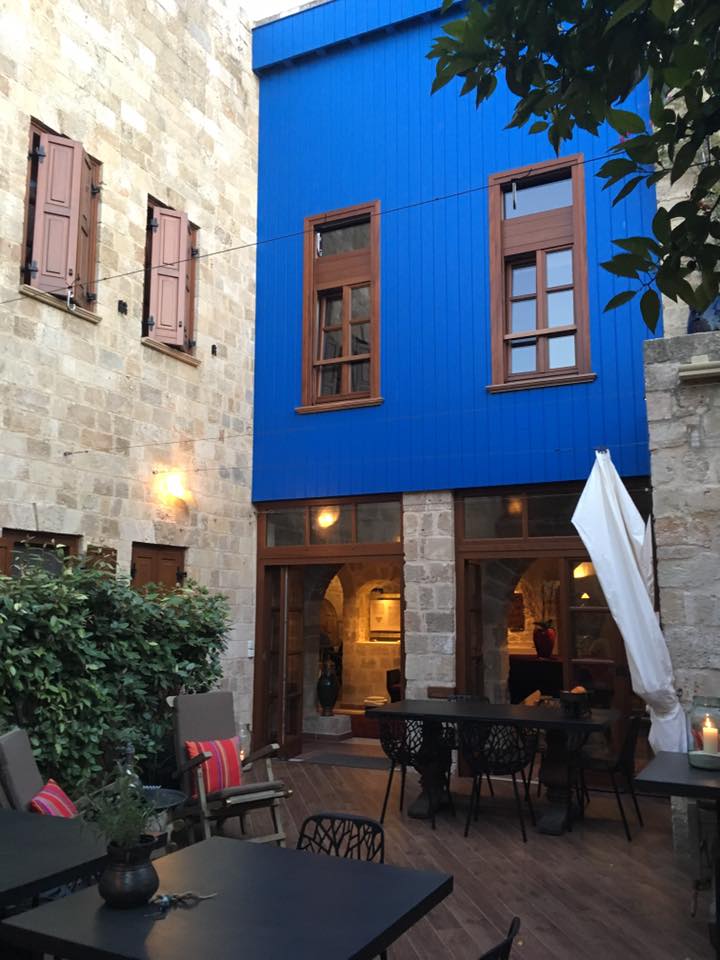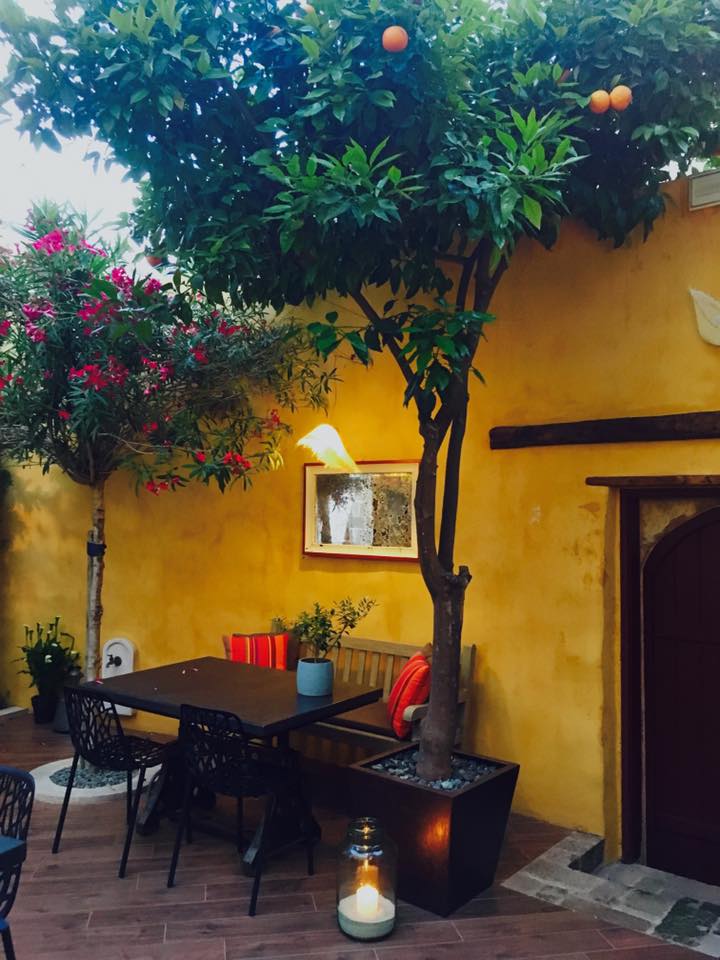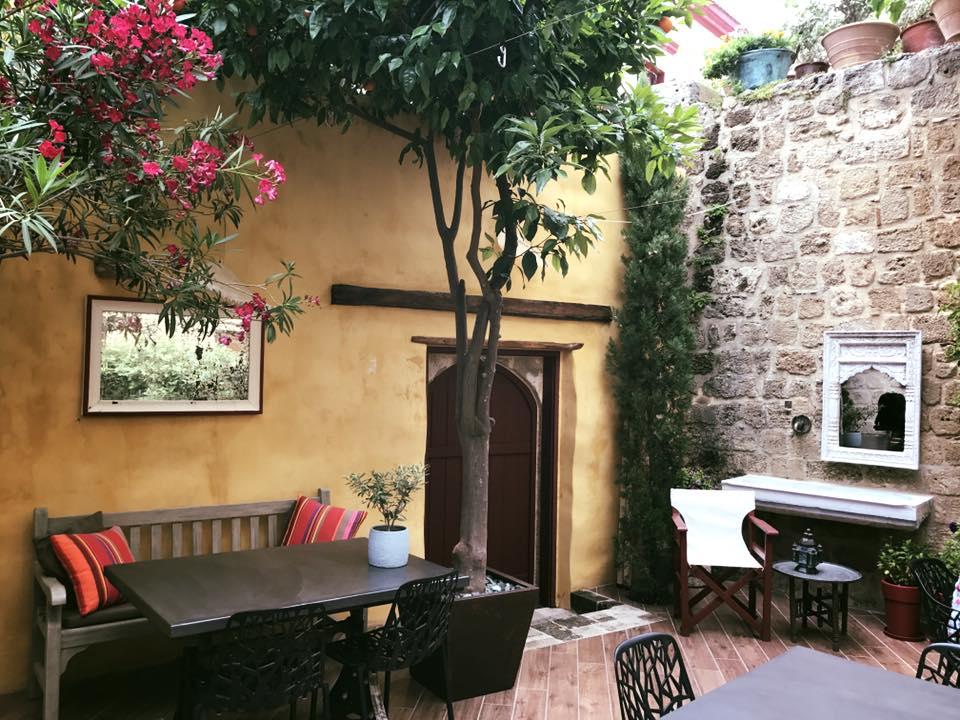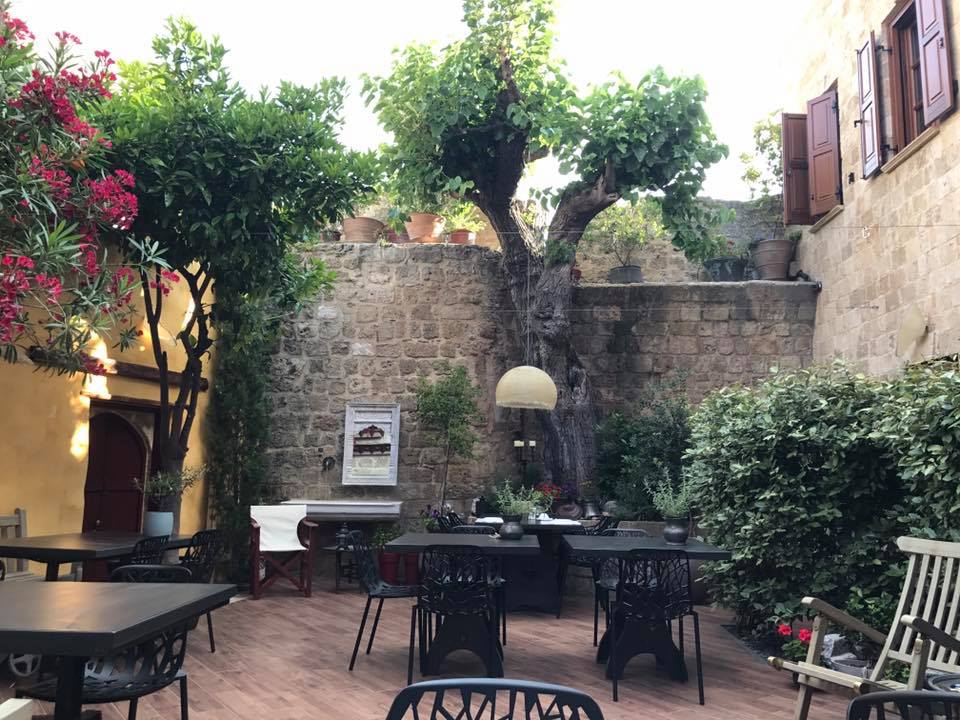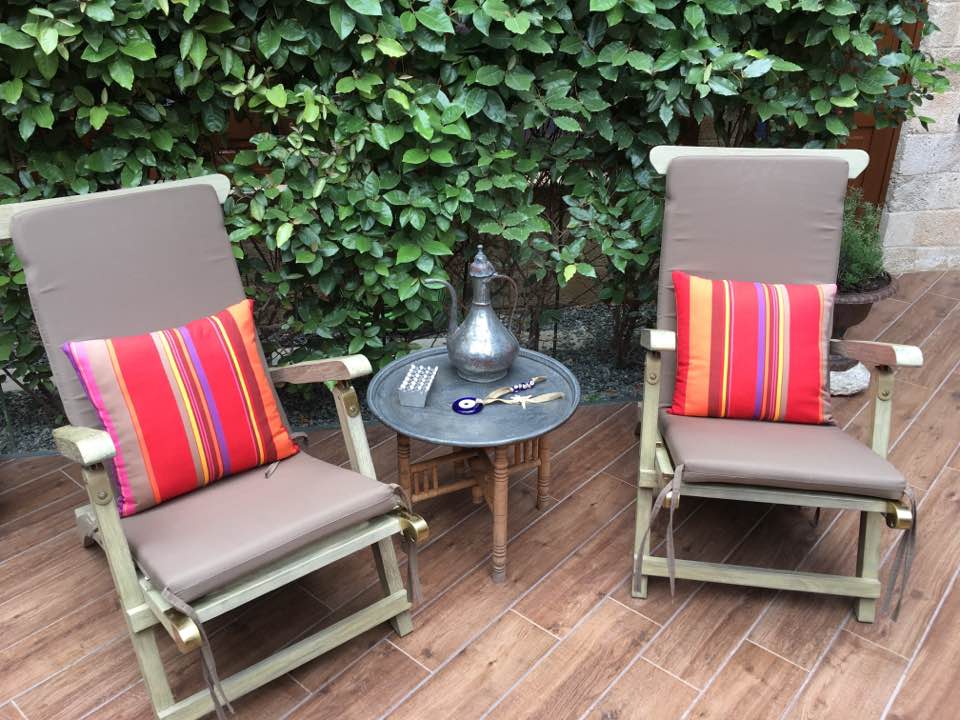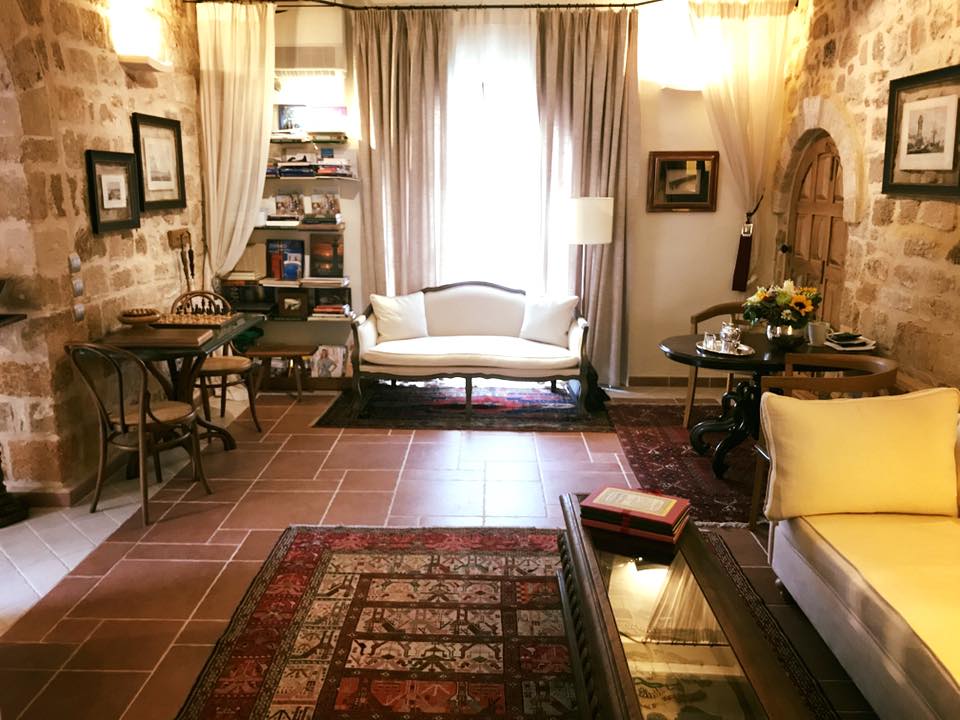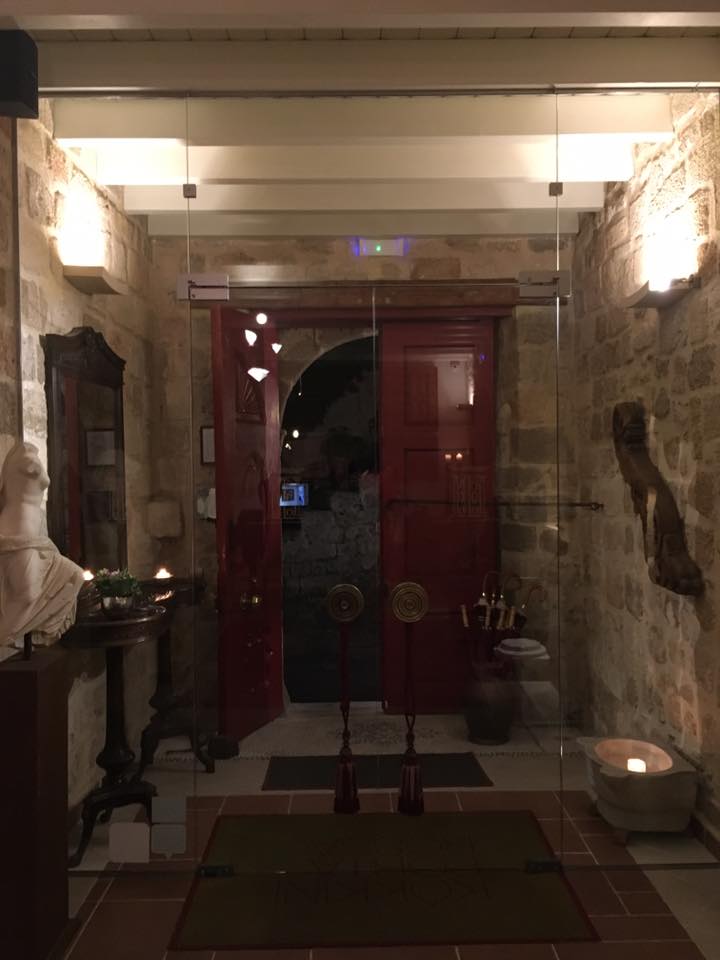 First, there is no such thing as a bad room.  All the rooms are breathtaking. They are large, they are beautifully appointed with the couple's own hand-selected furnishings from around the world.  The rooms have every comfort you could ask for, including a pillow menu, luxurious local, organic bath products, and a fully stocked mini bar that is FREE in every room for every guest for your entire stay. You read that right- the mini bar is FREE. Everything in it is FREE! And, there are A LOT of choices, which are replenished daily. Also, the Wi-Fi is strong!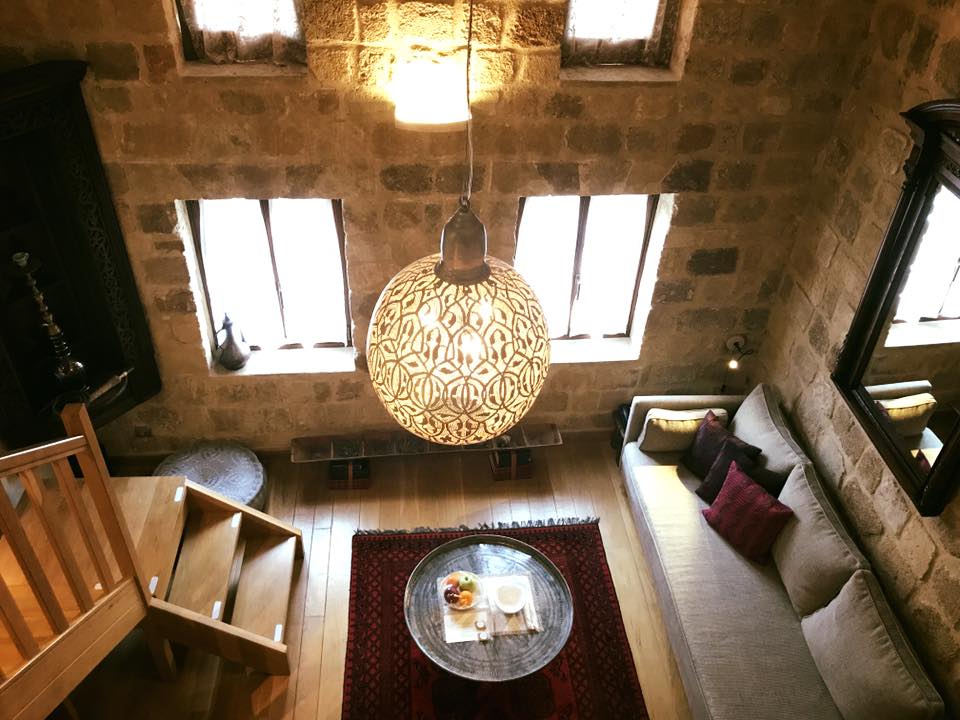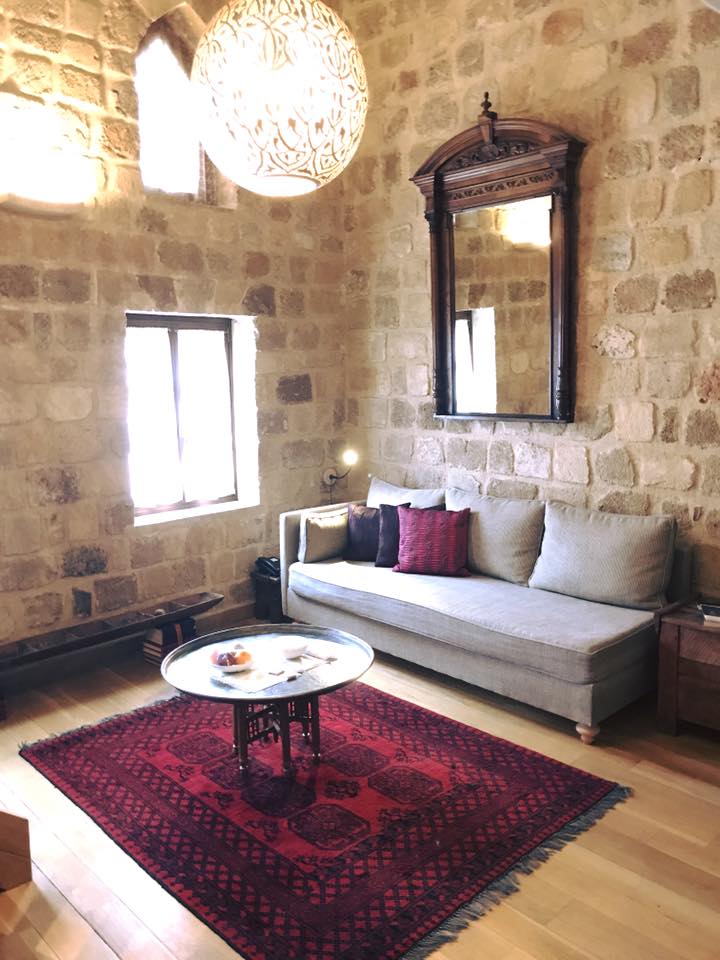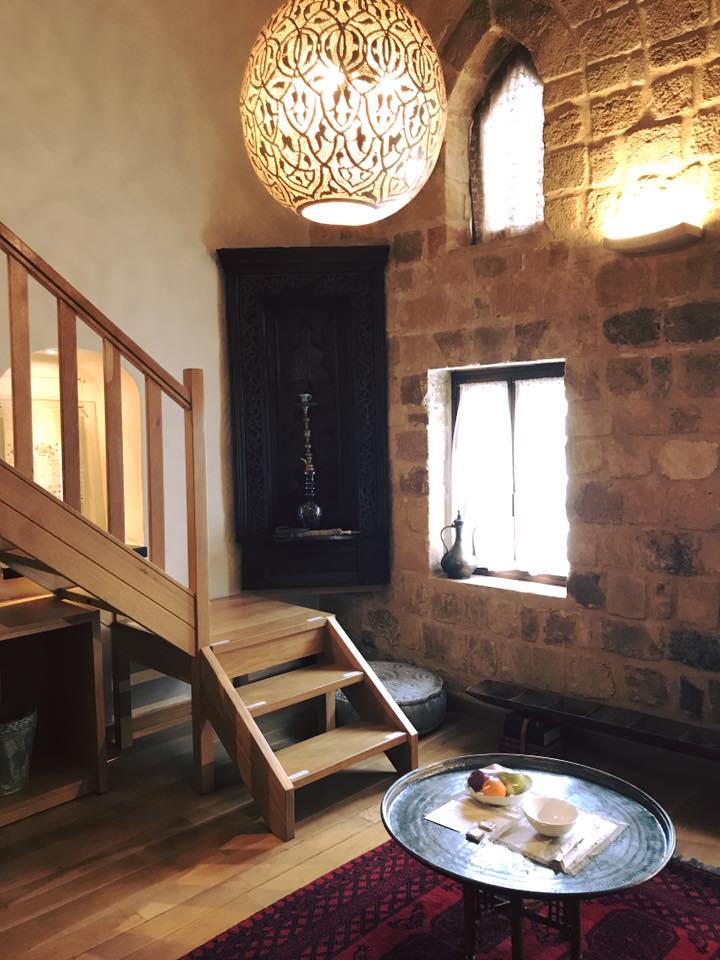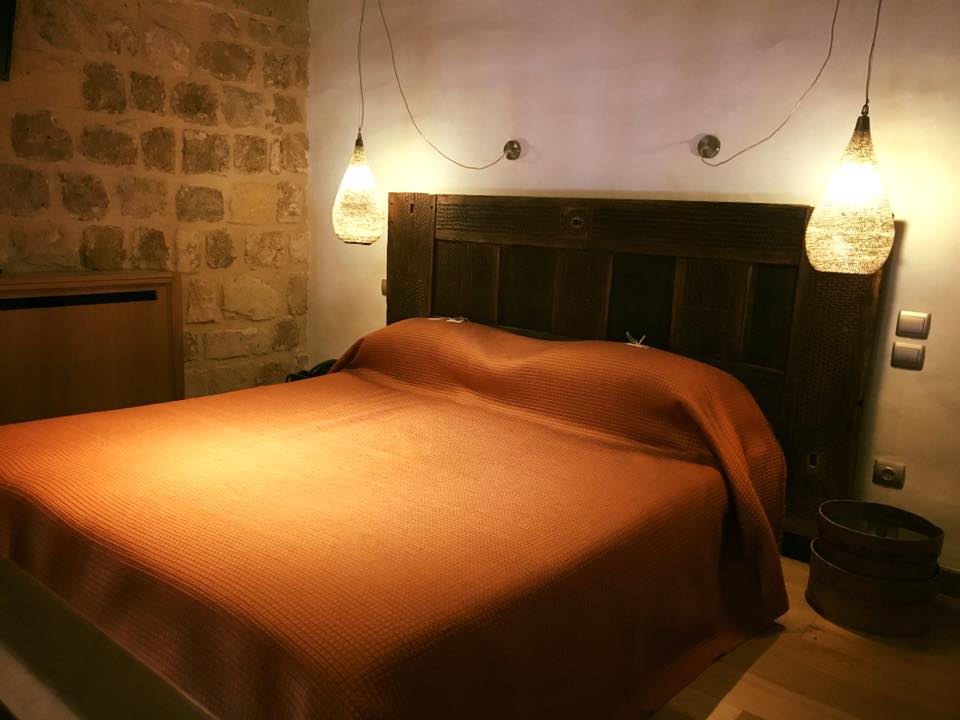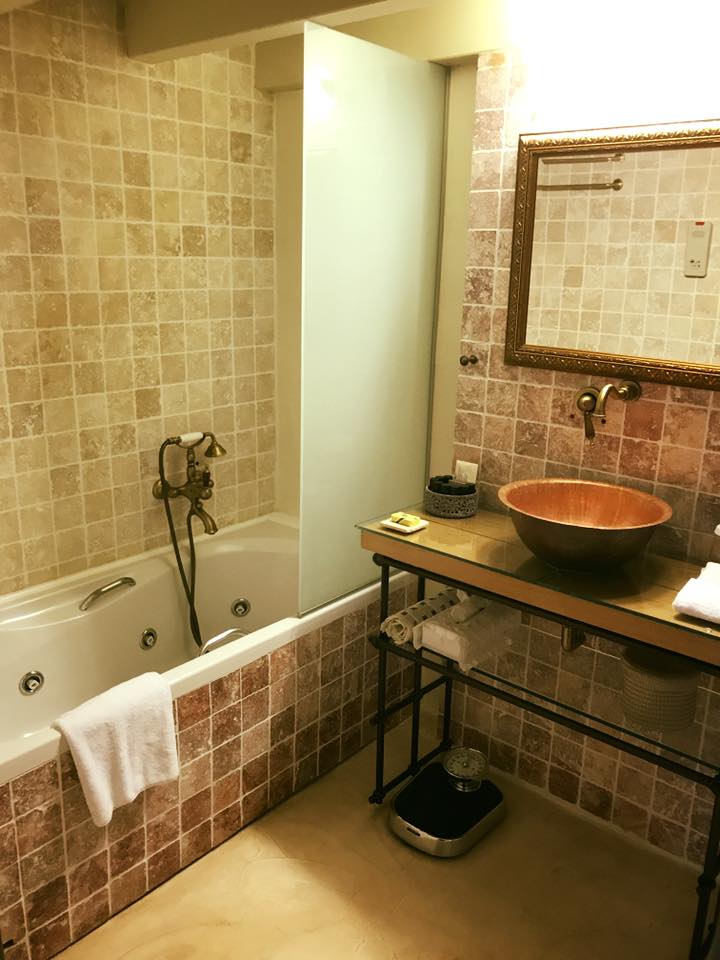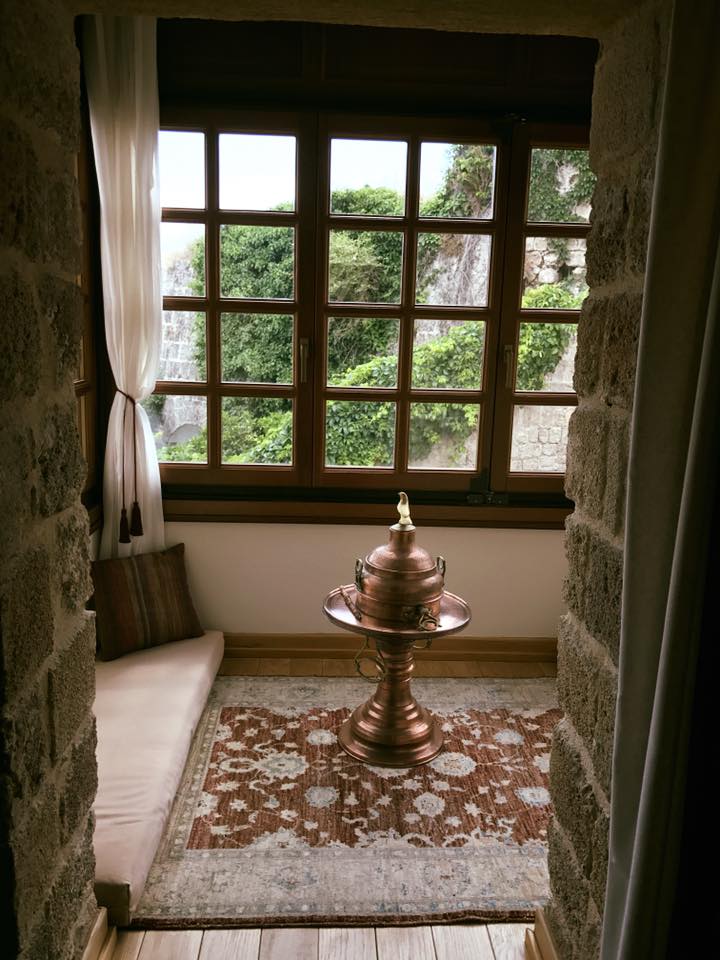 Angela and Nikos have anticipated your every need. They literally have thought of every single little detail. Each room comes with a fully stocked beach bag that includes towels, mats, and bottled water.
Also, every single room is assigned a tablet that is pre-loaded and customized to each guest every single day of your stay. Your tablet will have maps, itineraries, places of interest, and restaurants, which are hand-selected by Nikos every day for every single guest based on what you tell him that you are interested in.
The tablet acts as a GPS (which is helpful in the maze-like roads of the Old Town), and a means to communicate directly with Nikos and Angela from anywhere on the island. If you book directly with them, your room comes with a free car rental on a day of your choosing so that you can leave the Old Town and explore other areas of Rhodes, like Lindos.
Every day when you return, Angela and Nikos are there to greet you with a drink in hand and snacks. Every evening, they leave out a full array of cocktails for you to enjoy before or after dinner, including Angela's homemade limoncello, which is literally the best I have ever had.  Ever. Including the ones we tried in Italy. Even in Positano.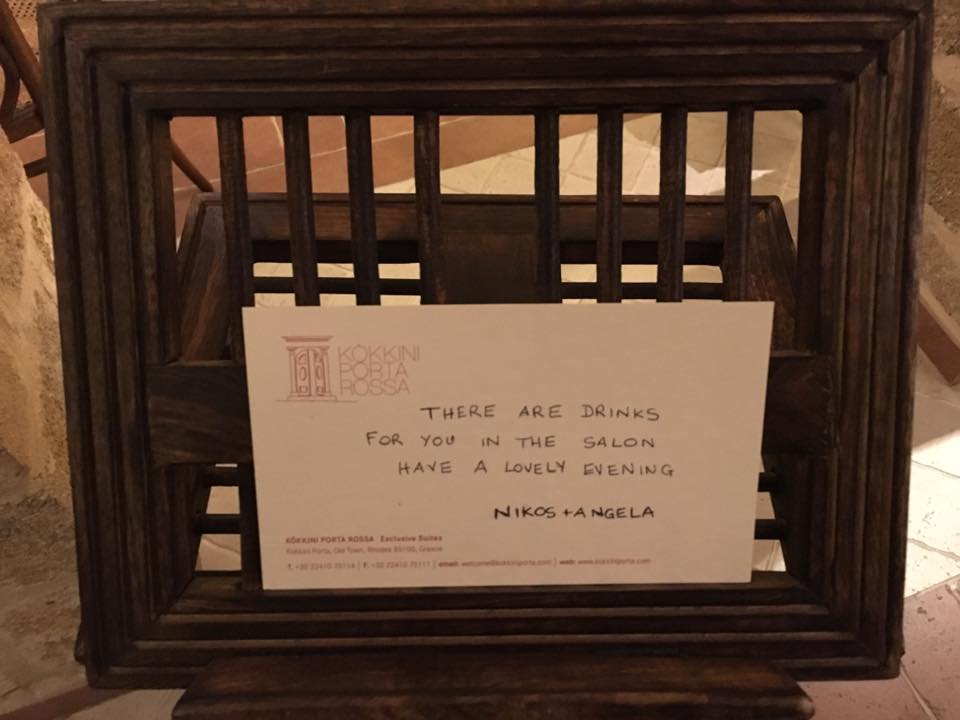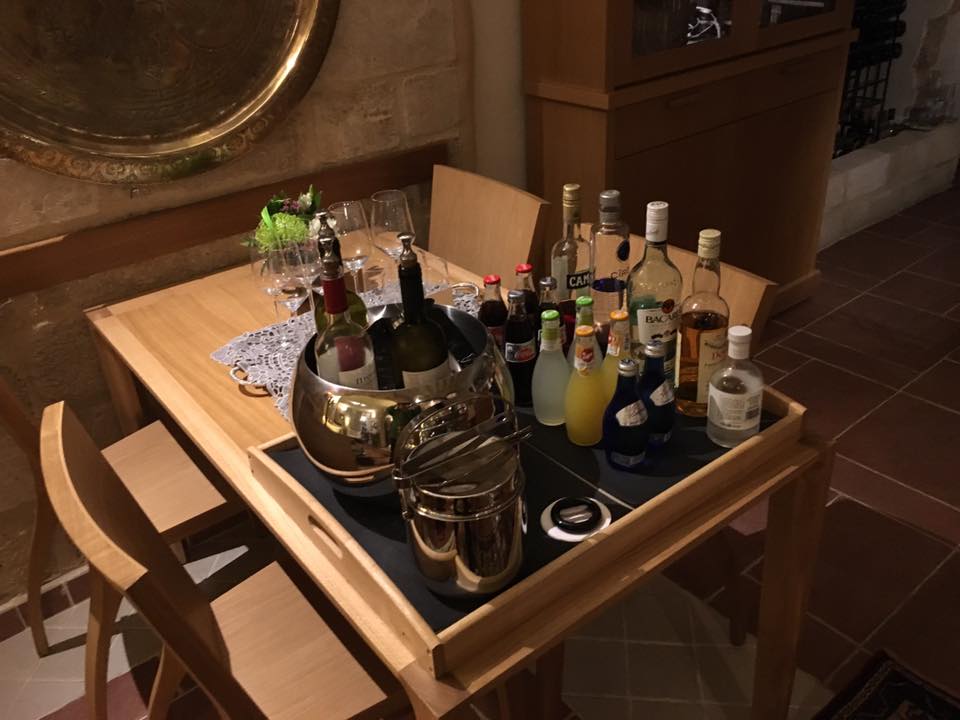 Breakfast is included with your room, and you would be a fool to miss it. It is literally the best breakfast I have ever had at a hotel, and Chad and I have stayed at some VERY nice hotels all over the world. Angela serves up a three-course, homemade breakfast. First, she brings you a French pressed coffee or a hand-squeezed juice (all of which are amazing) and an array of bread with homemade jams (which are also amazing).
Your first course will be something sweet and something savory from the local cuisine. This selection will change every day. Your second course is Greek yogurt with fresh fruit and bee pollen and/or honey. Finally, she will cook your eggs to order.
The presentation is beautiful, the food is delicious, and by the second morning, Angela has your preferences committed to memory. Oh, did I mention that your breakfast is taken in the garden oasis featured above?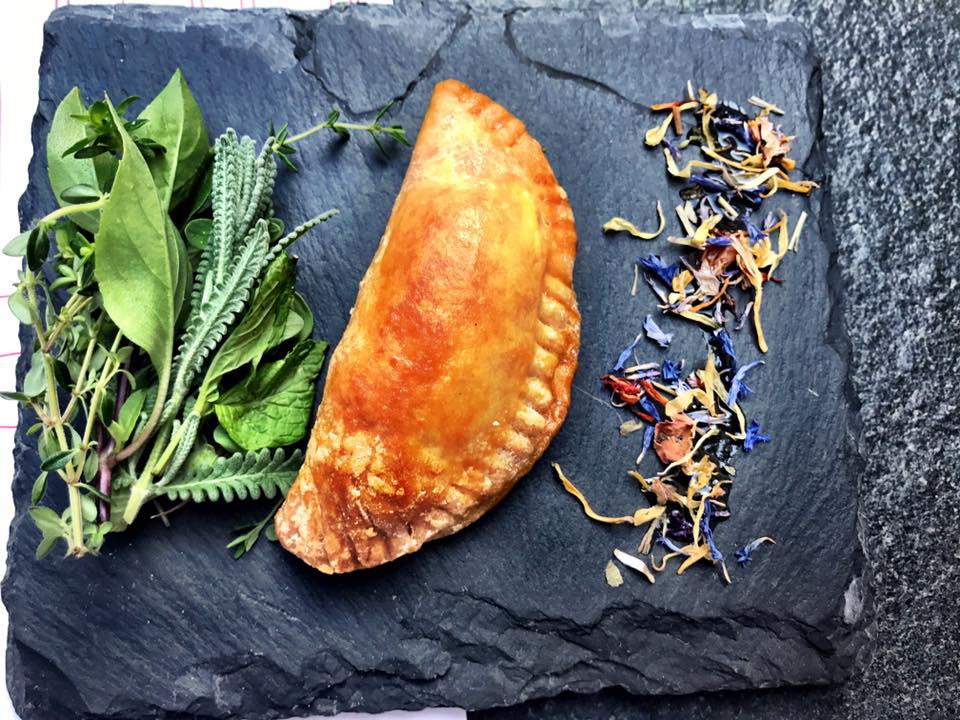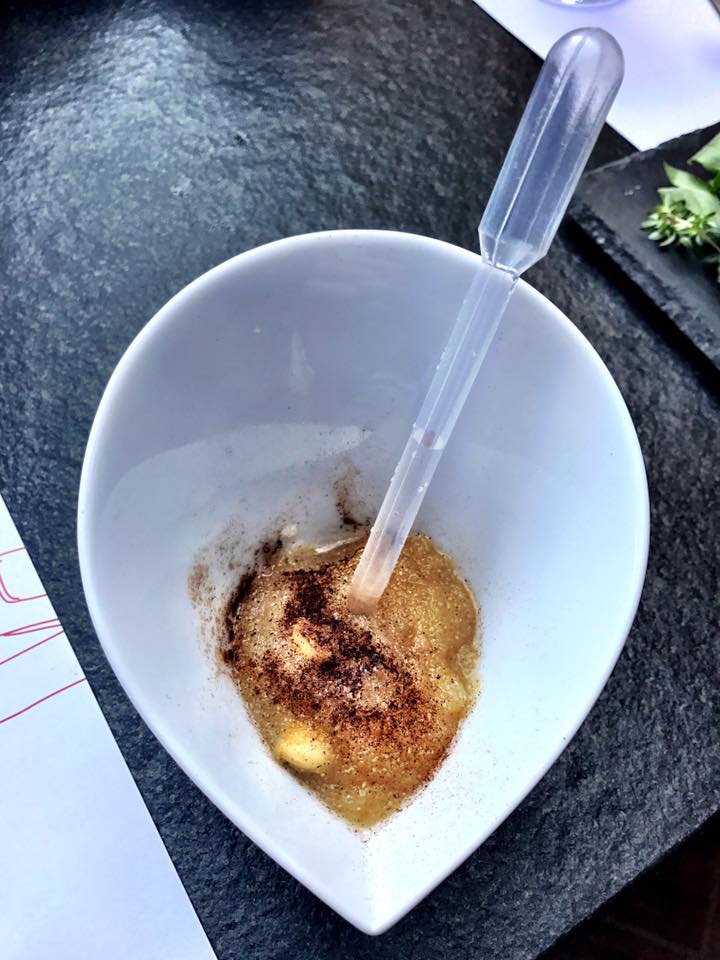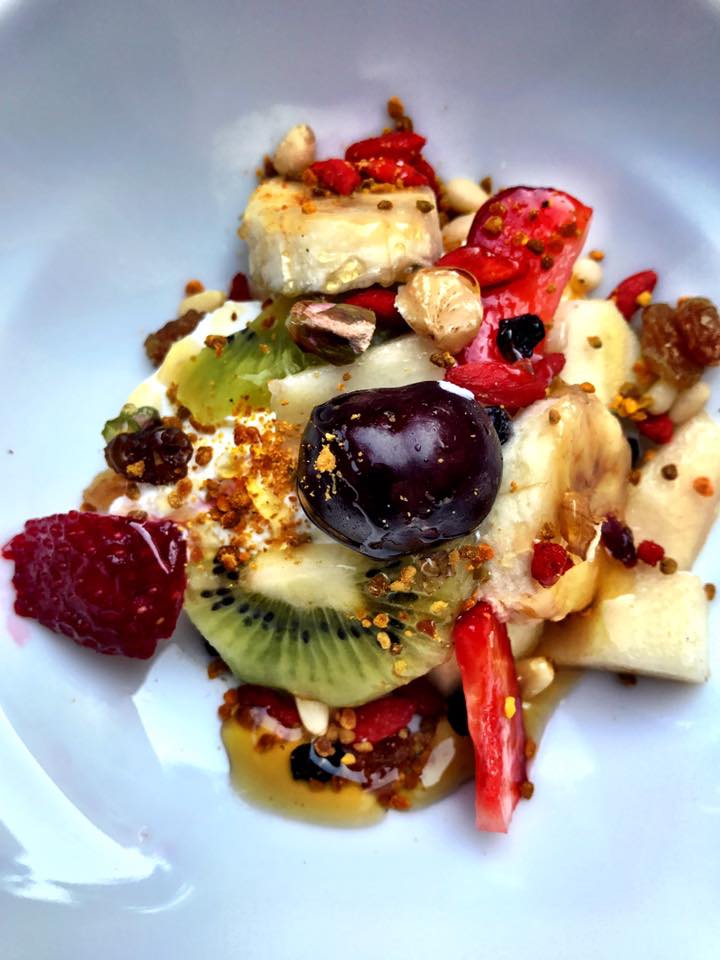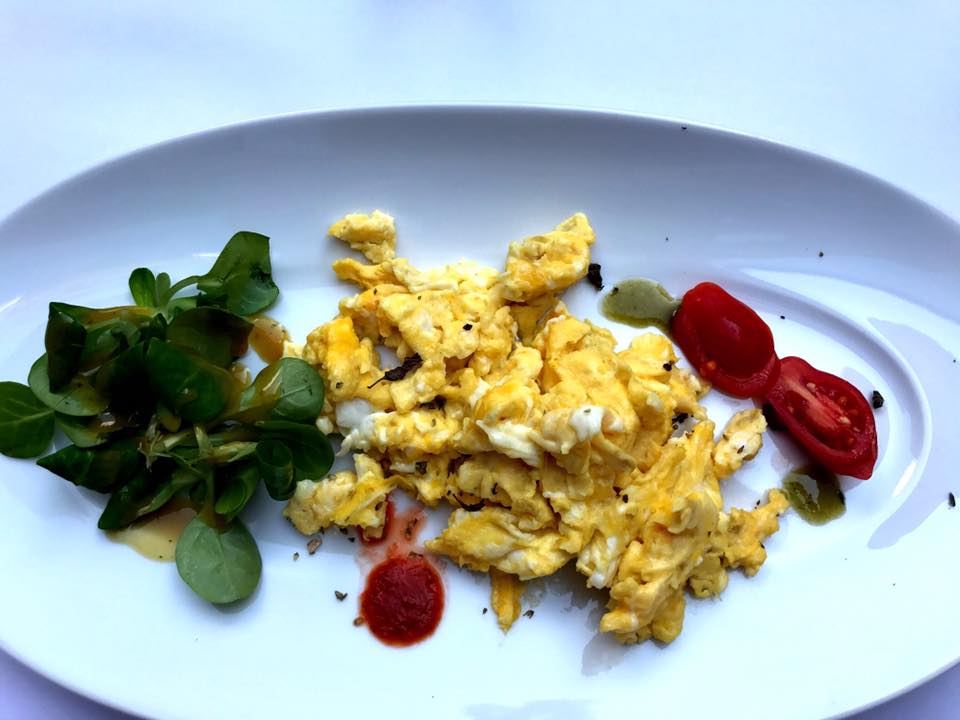 Also, the hotel is located in a quiet residential district, so there is no noise from cars, bars, restaurants and people, but it is walking distance from all the action.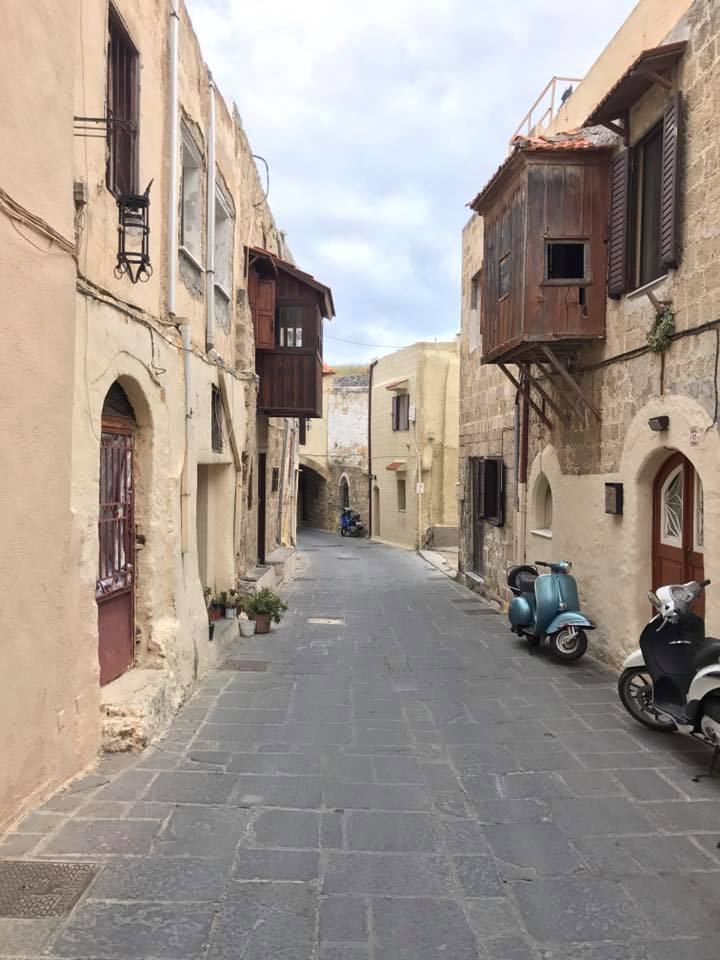 Here's the best part: this hotel is affordable, especially when you consider what you are getting (breakfast, fully stocked mini bar, daily cocktails, car rental, etc.) and compared to the other options on the island. Hell, even if the hotel was a splurge, I'd spend it! Nikos is a wealth of information about the island, and both Nikos and Angela are truly passionate about what they do, which translates into the guest experience.  Everyone on the island knows them and their hotel. I am quite confident when I say that you will never again stay a hotel that is quite like this one.  I dream about this hotel and coming back. Hats off to Angela and Nikos for creating the ultimate guest experience. If you go (and, I truly insist that you do), please let Angela and Nikos know that I sent you.
After we were done swooning over the hotel, we spent our first full day wandering around the Old Town and taking in all of the beautiful little corners of this charming town.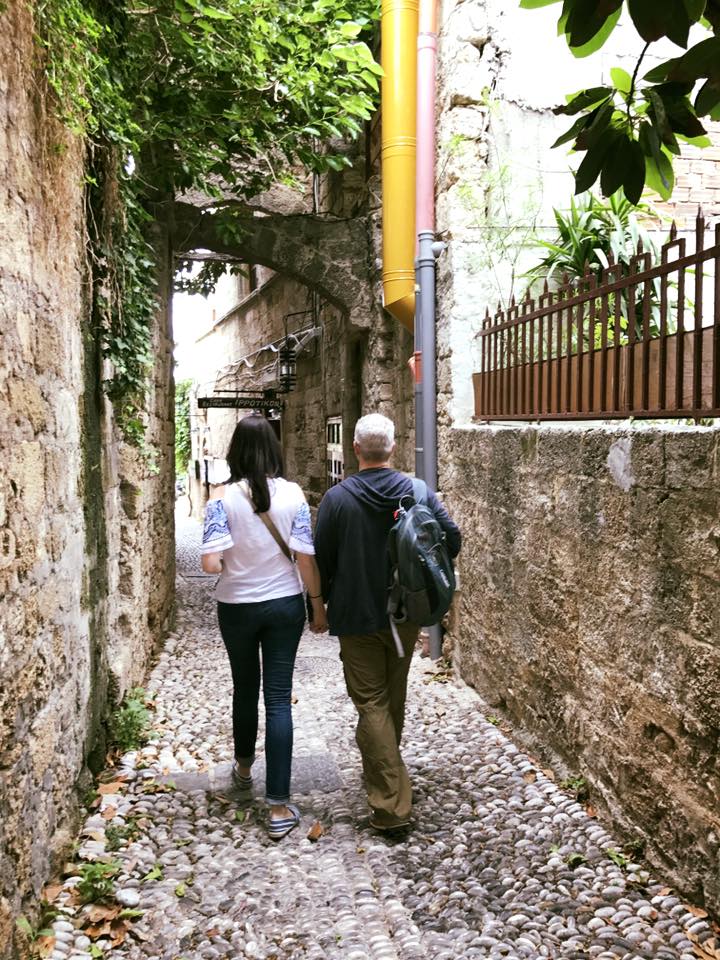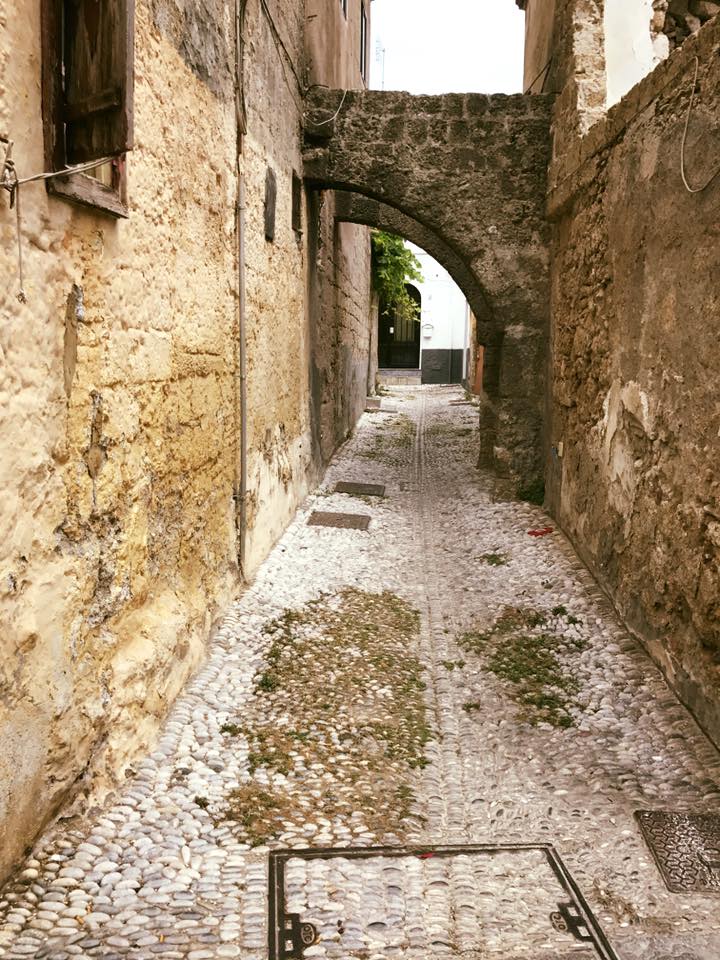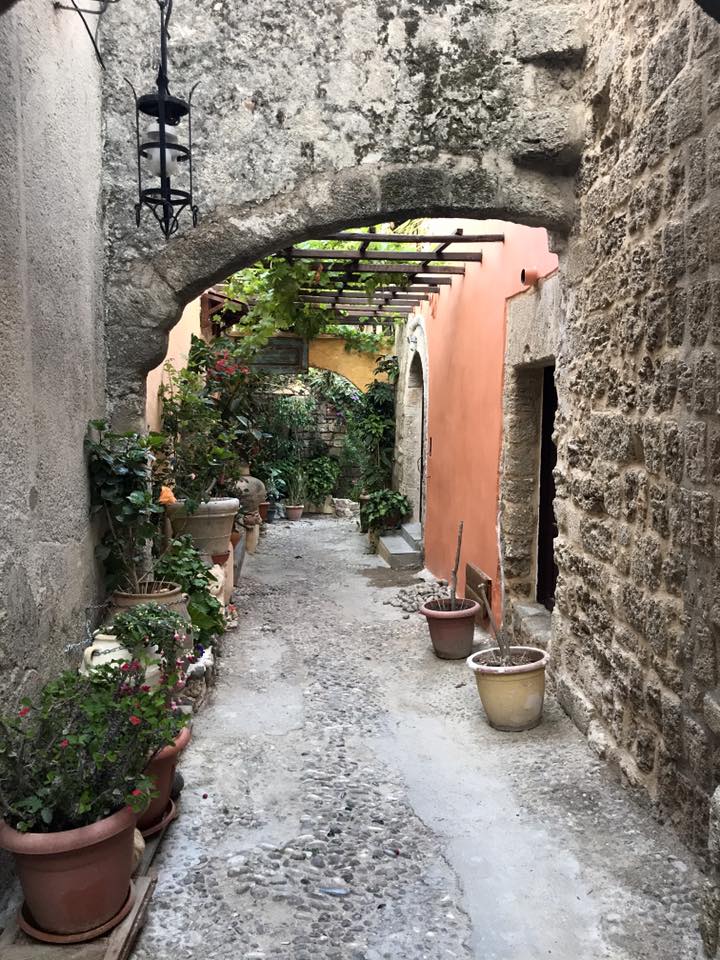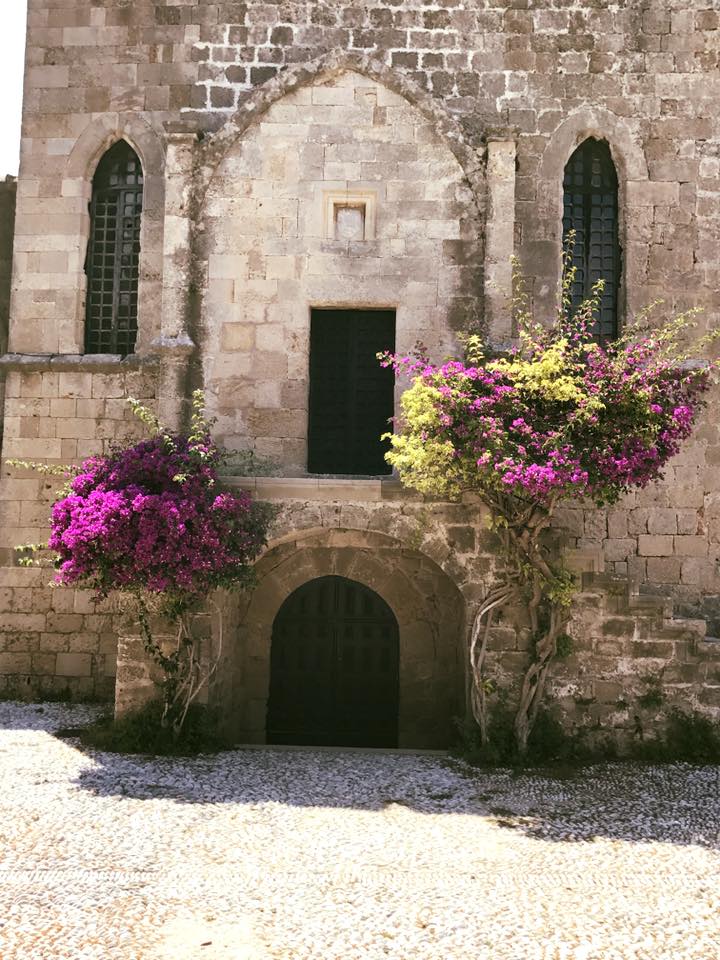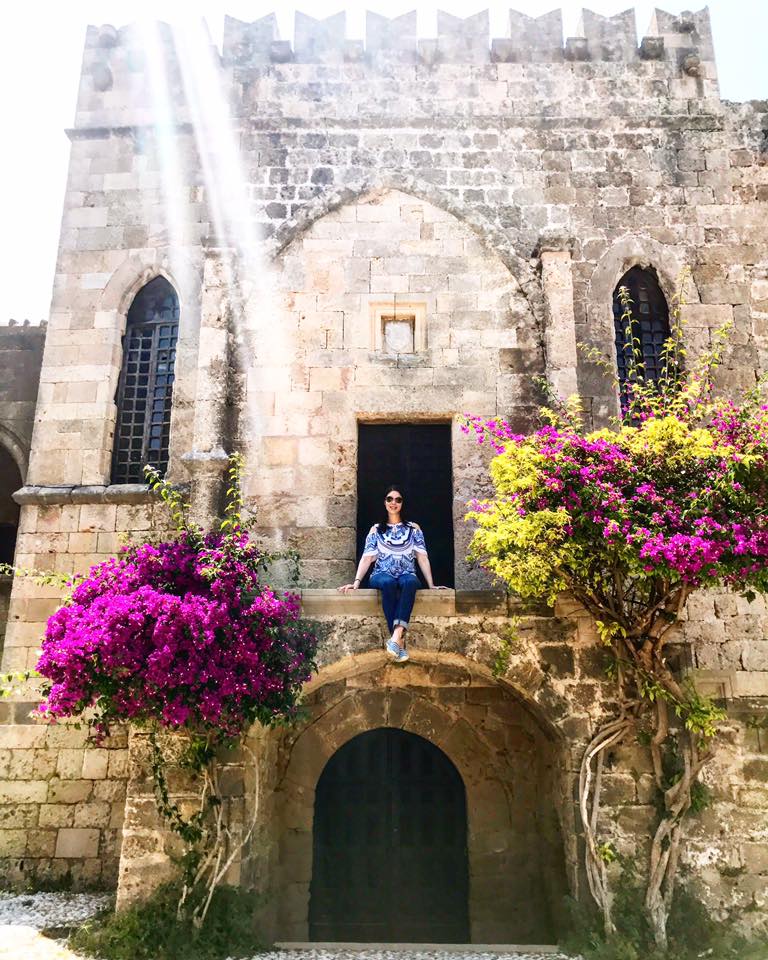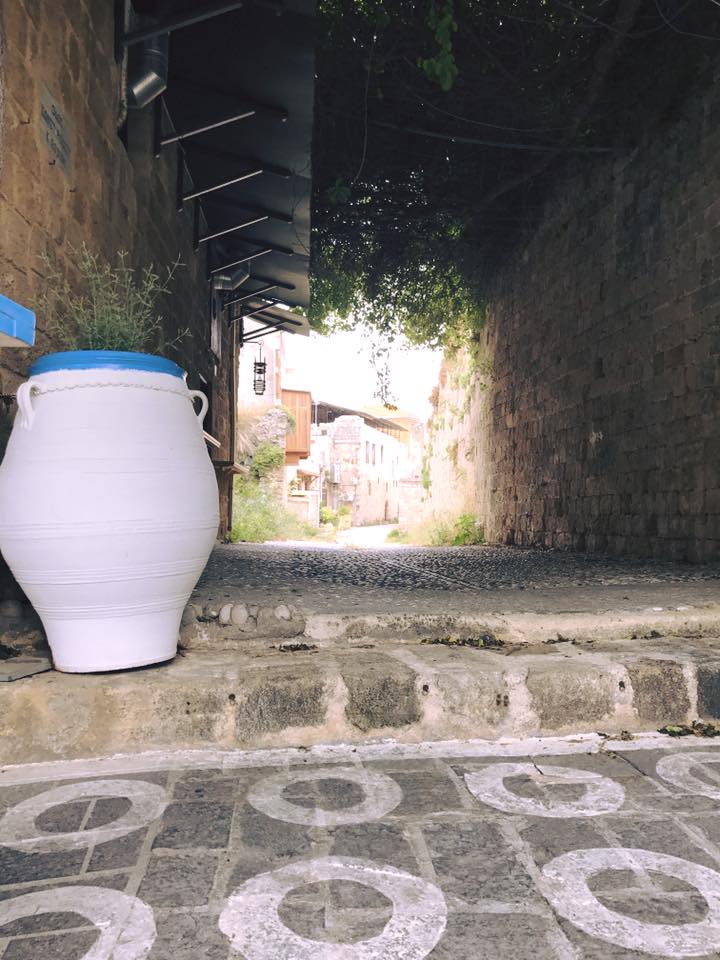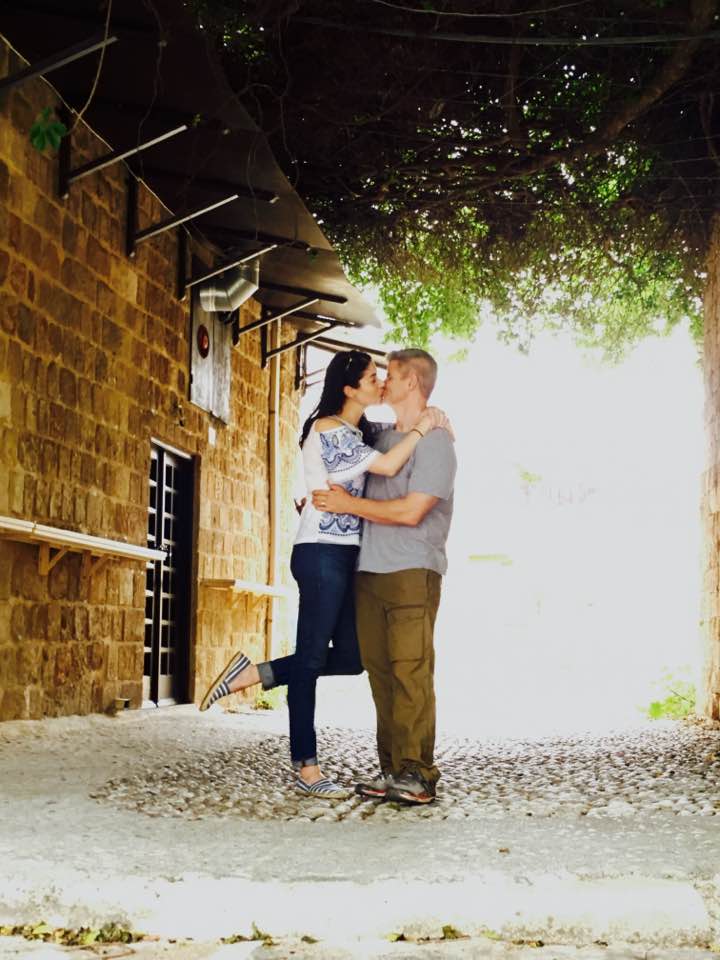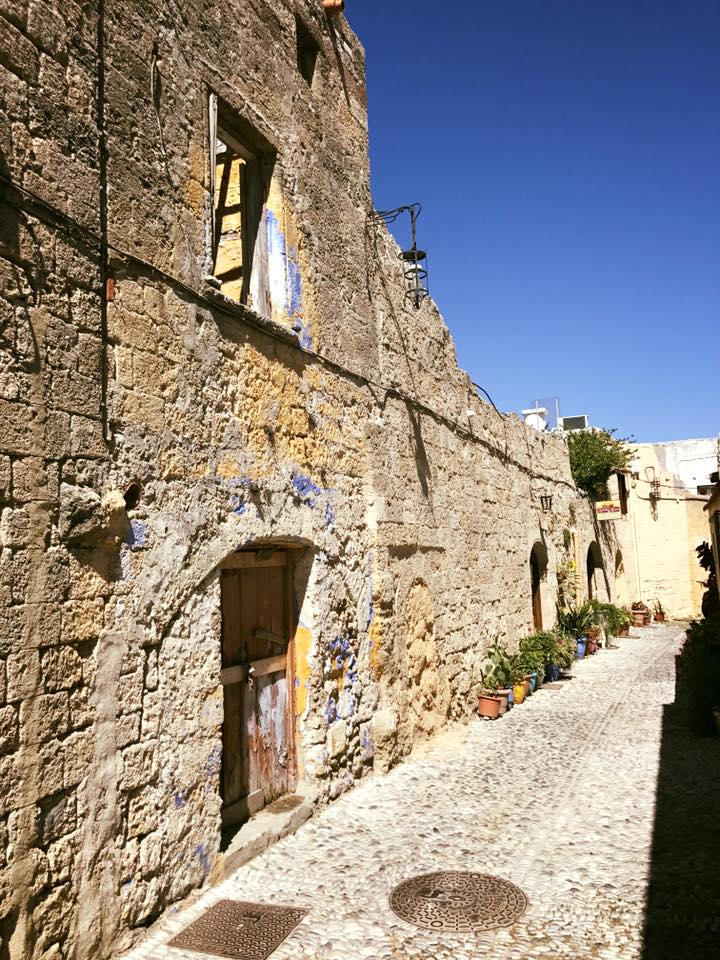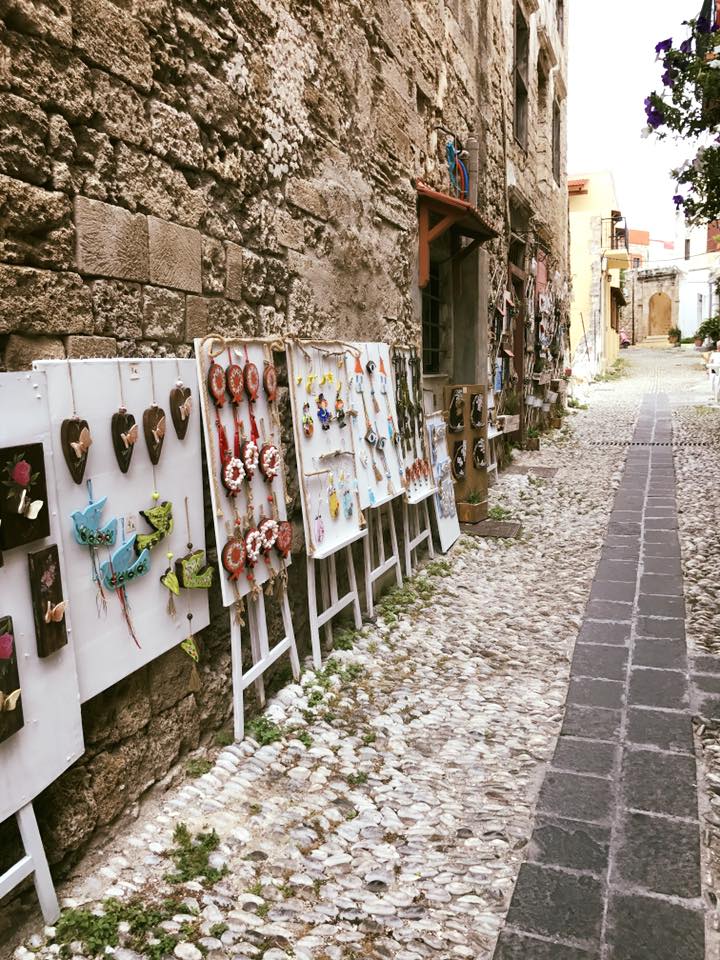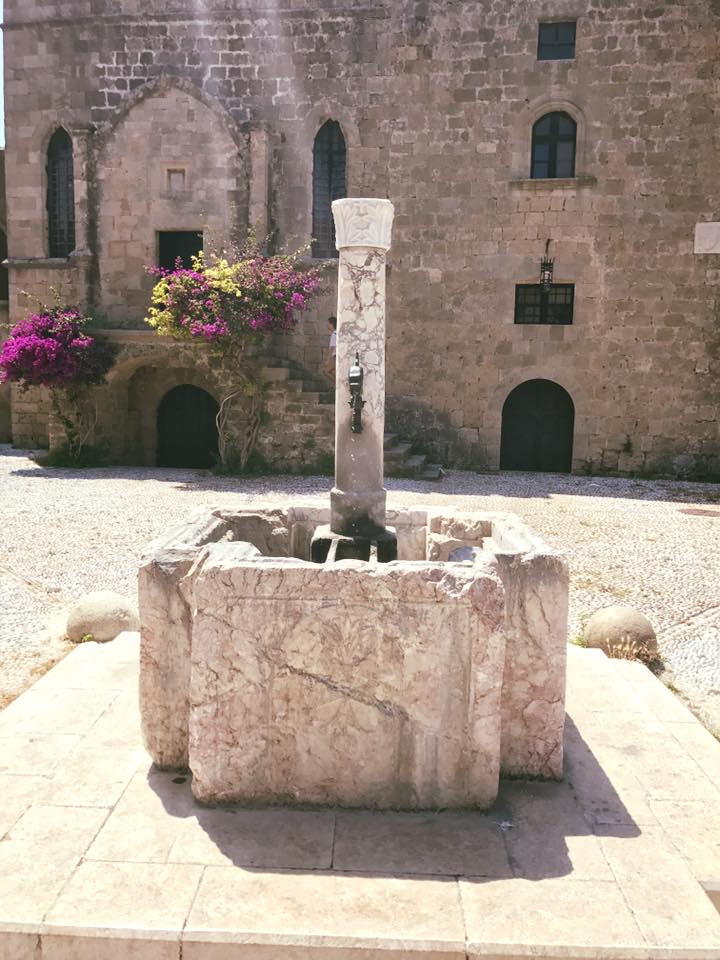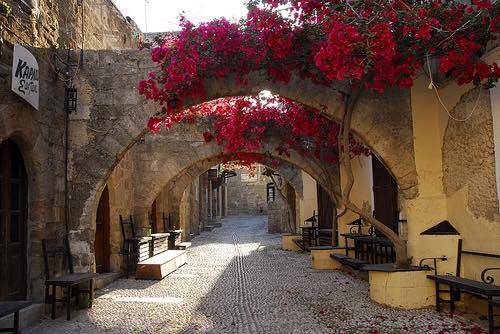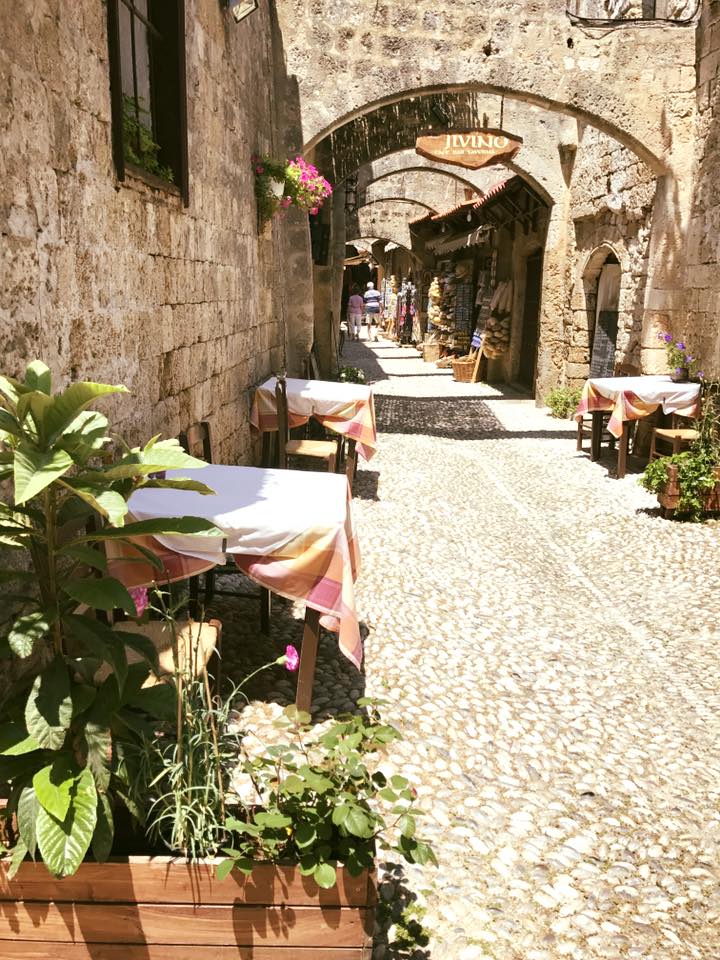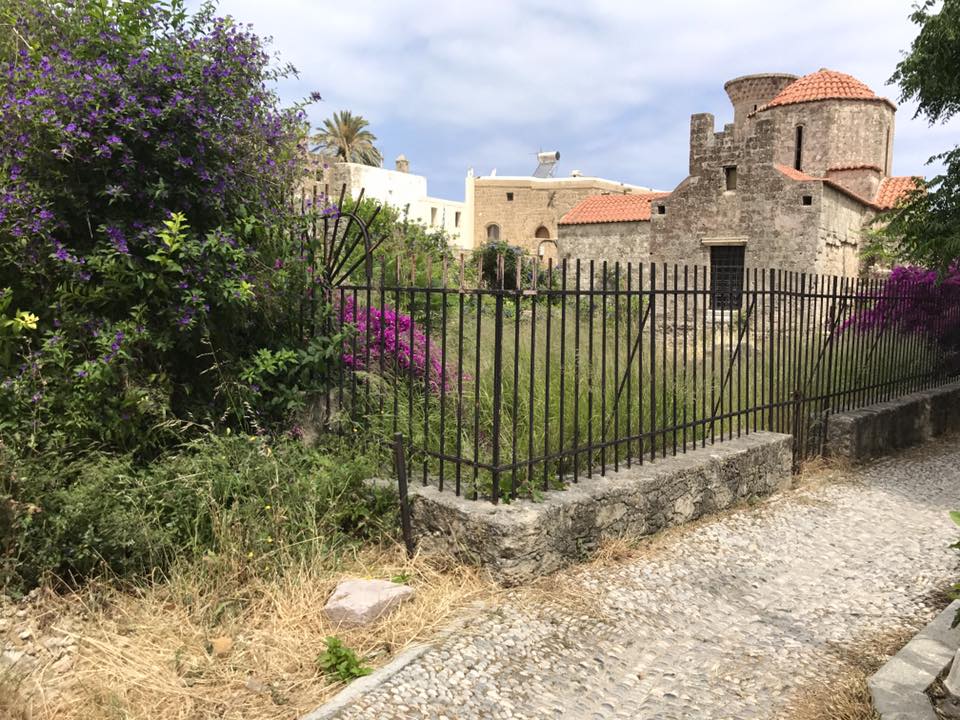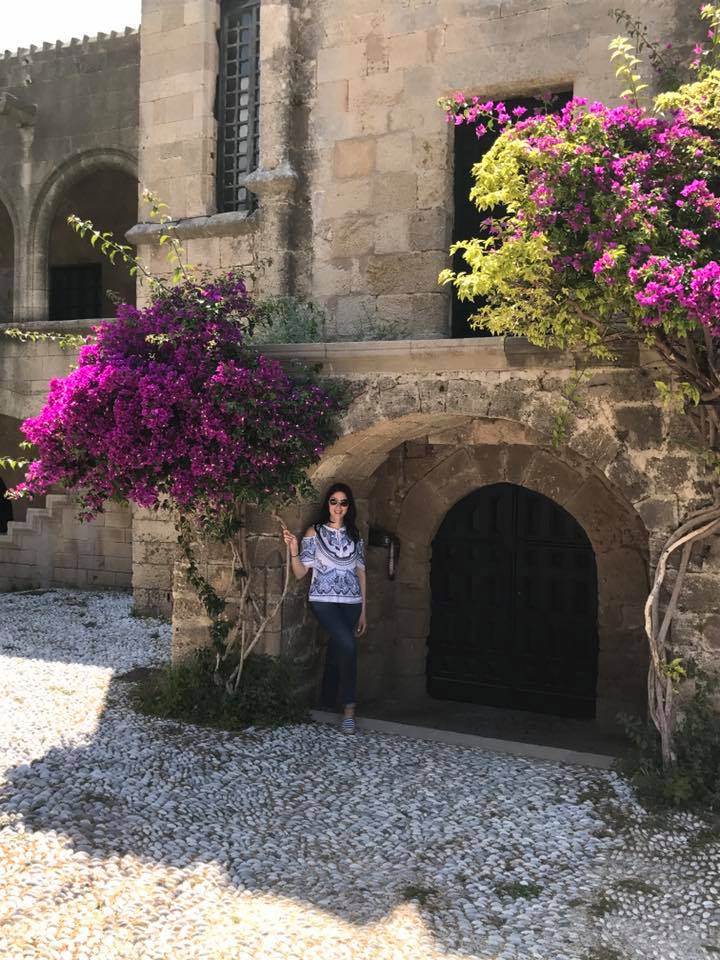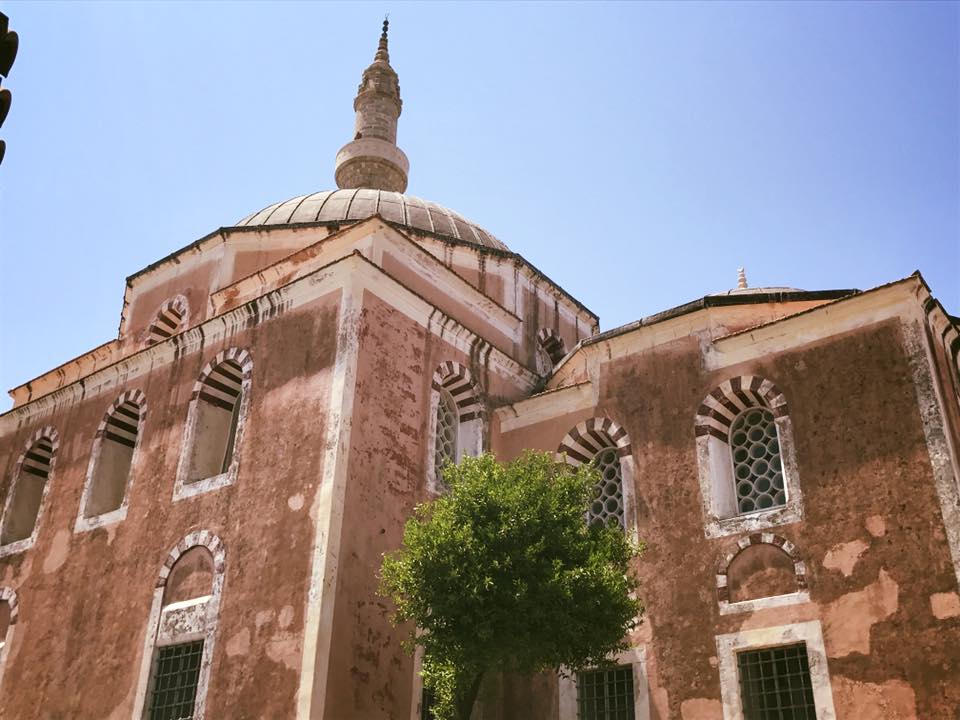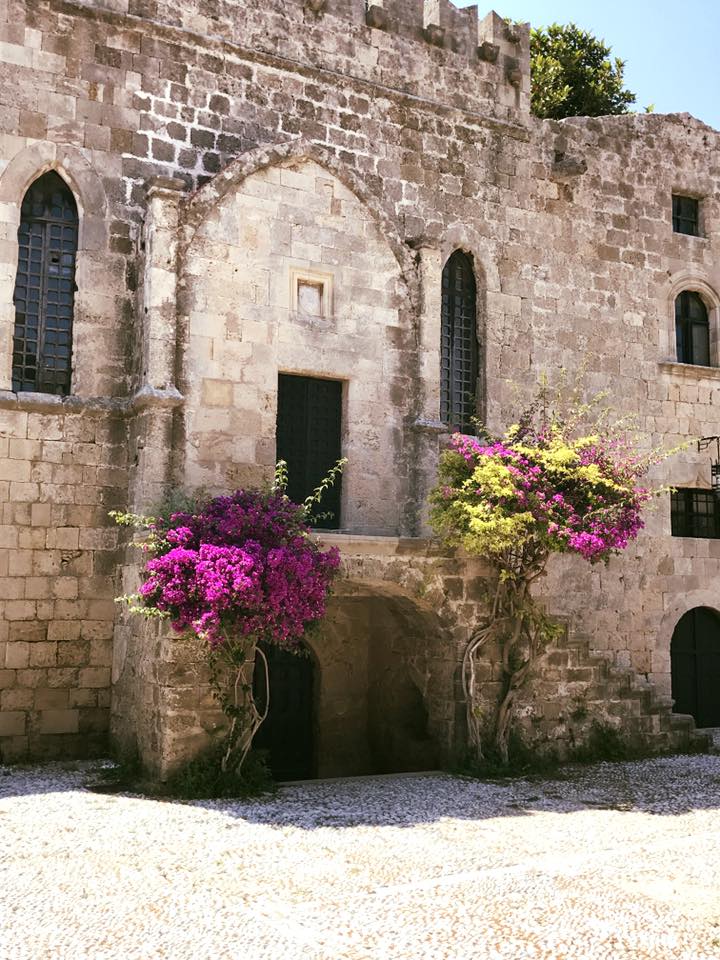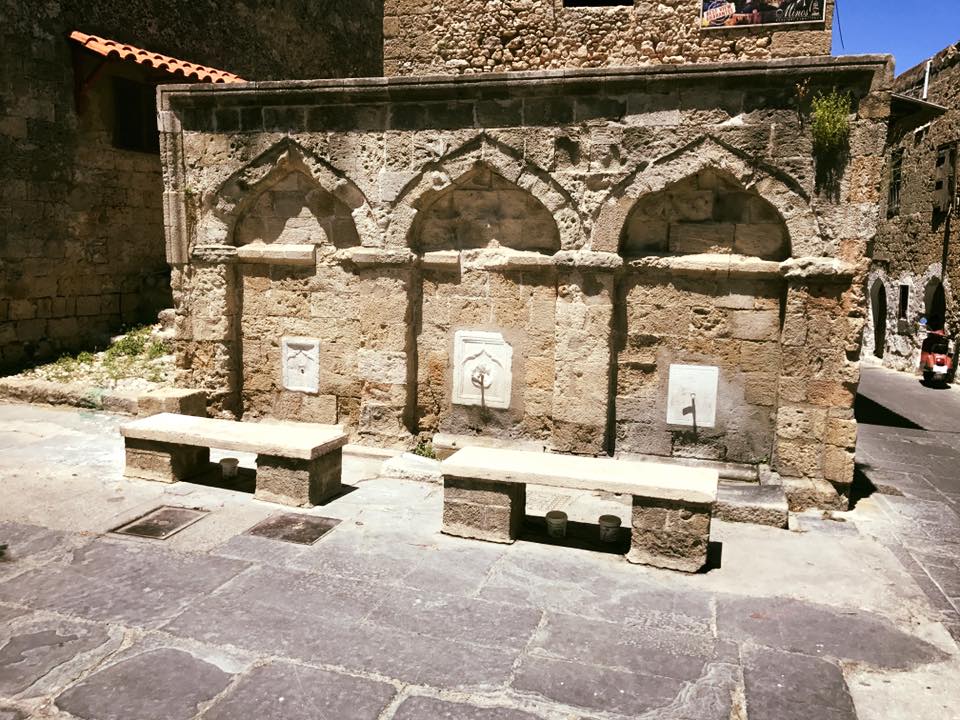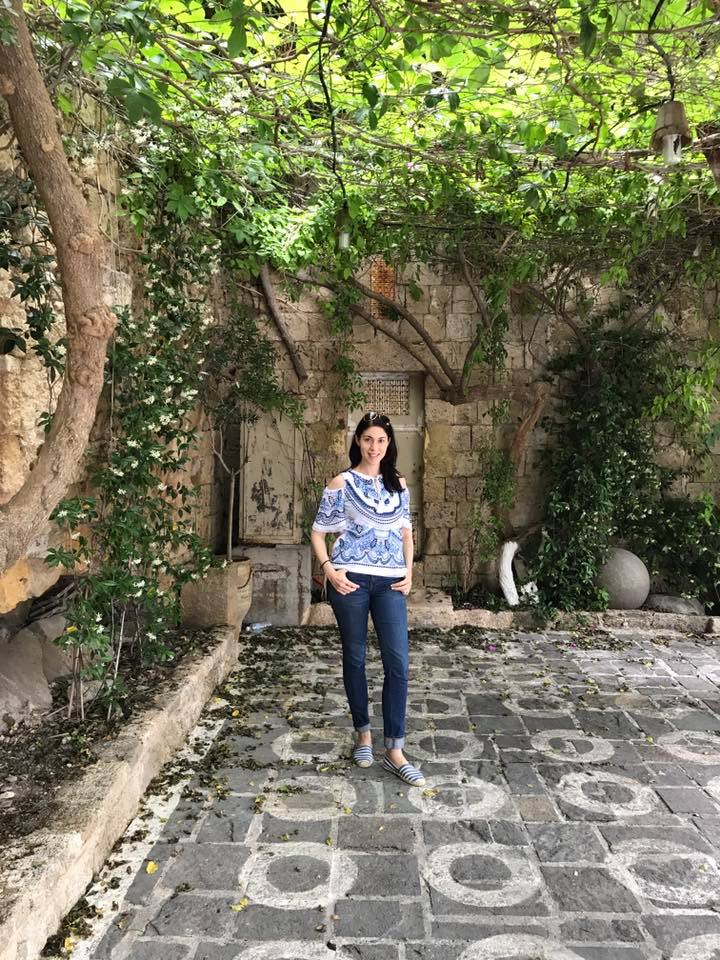 By the way, if you are into doors and floors, then hold on to your britches, because Old Town Rhodes is an assault of charm in the door and floor department. The ancient mosaic stone work on the floors is incredible! And, the doors…I died!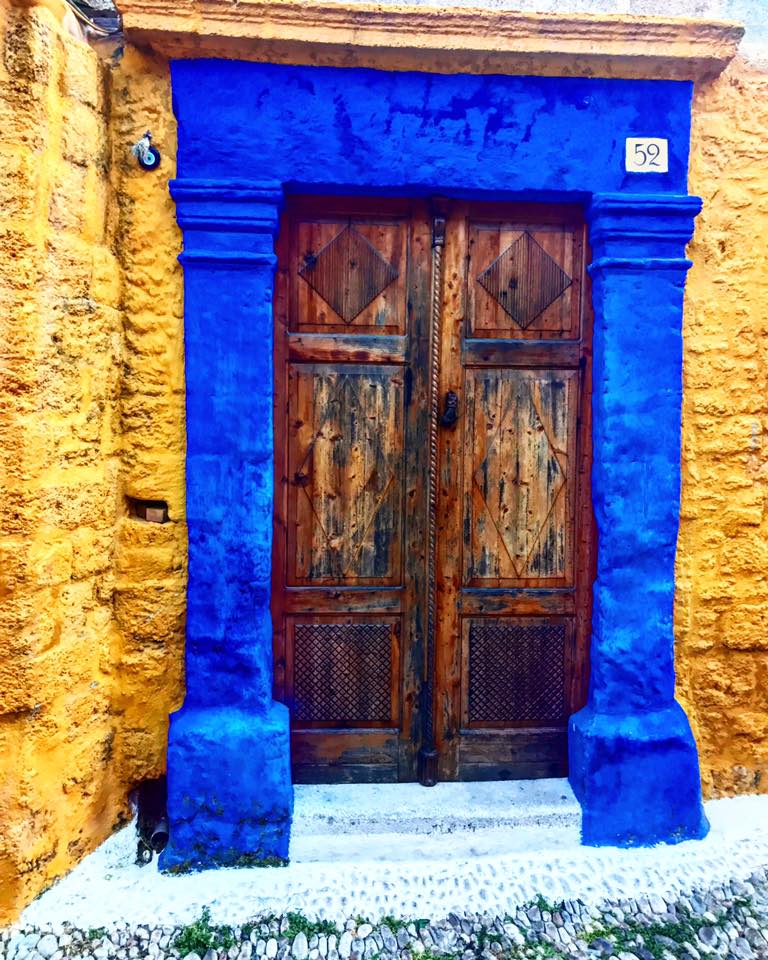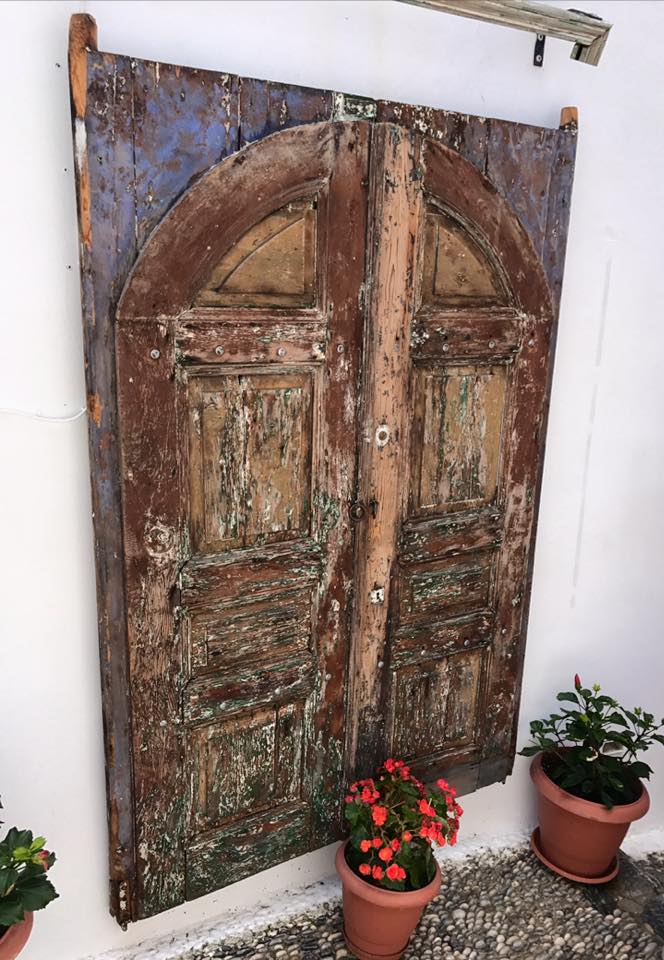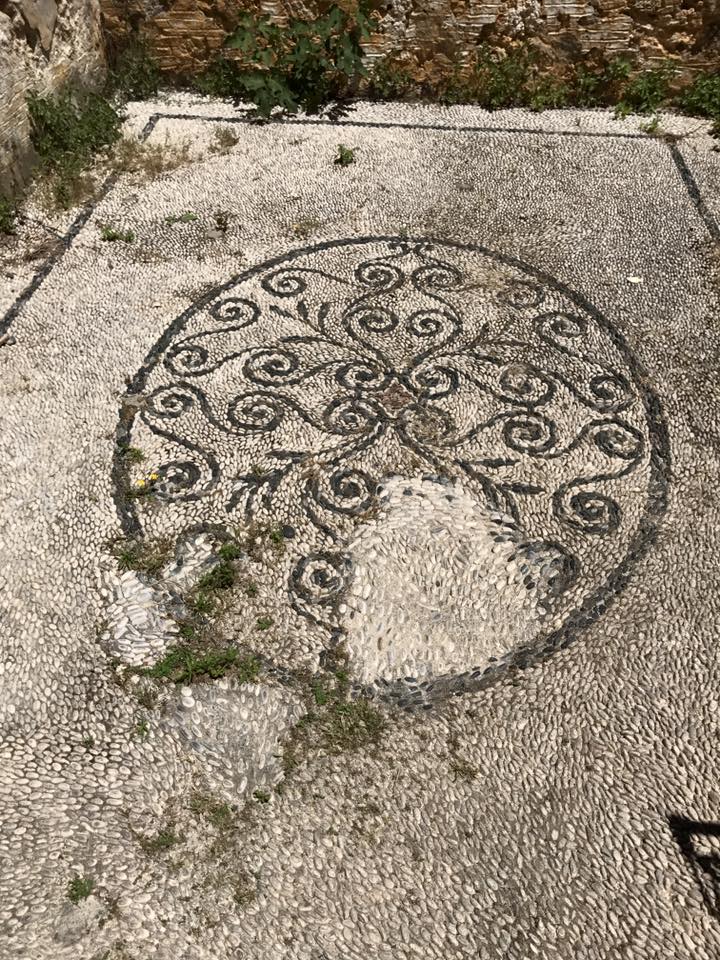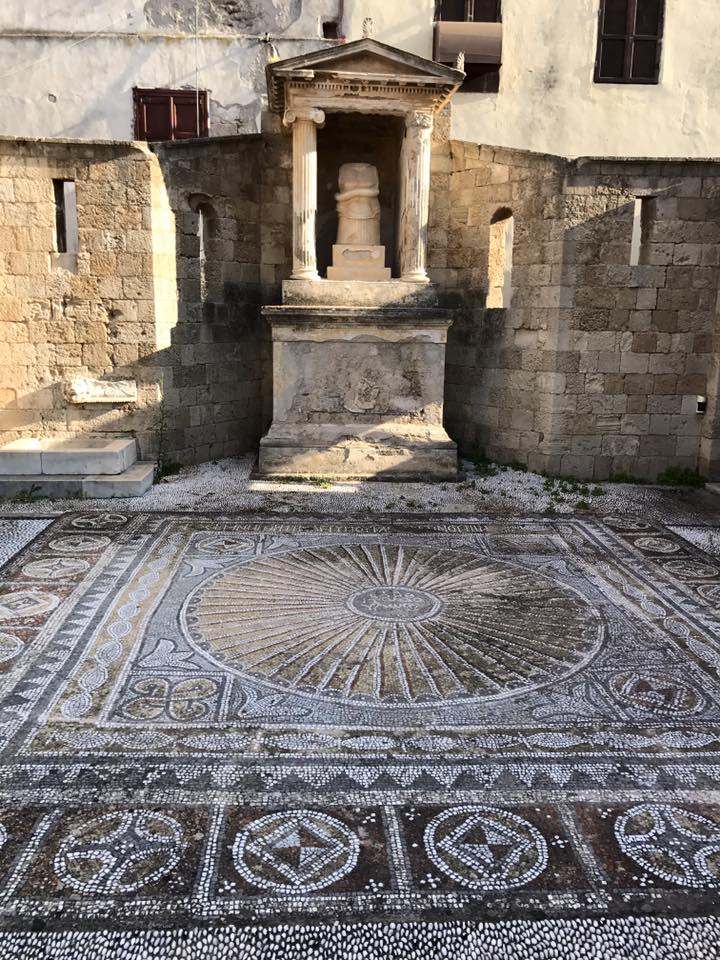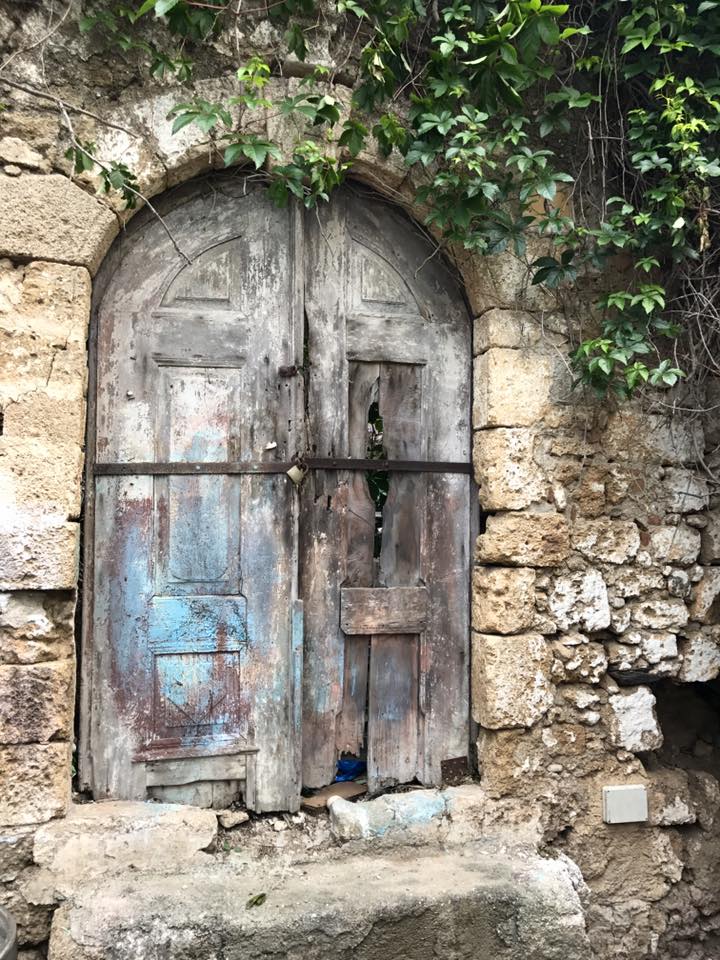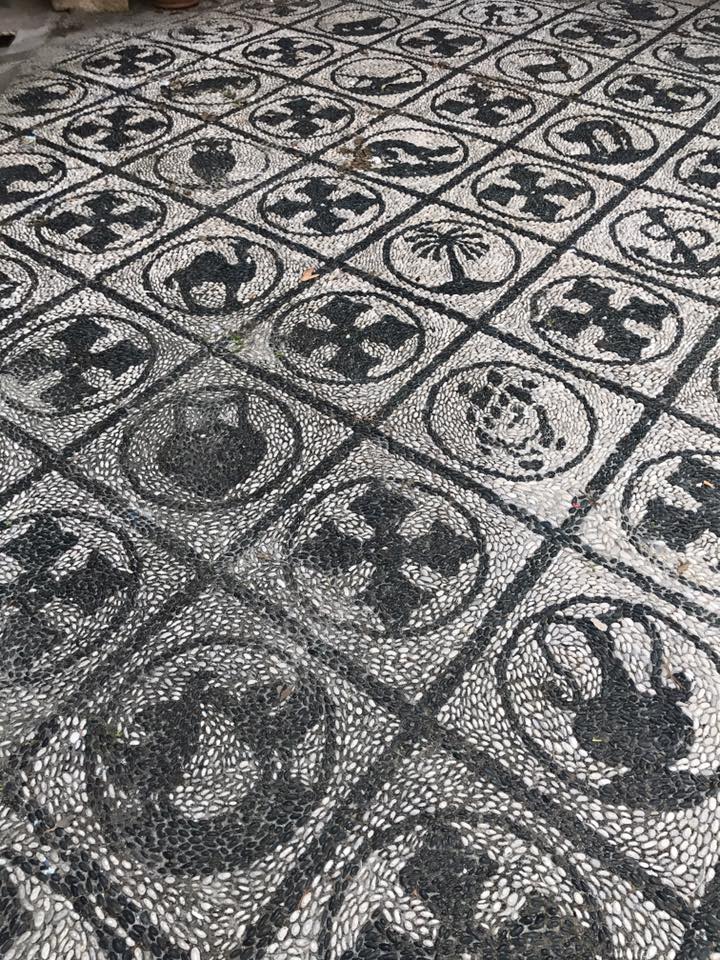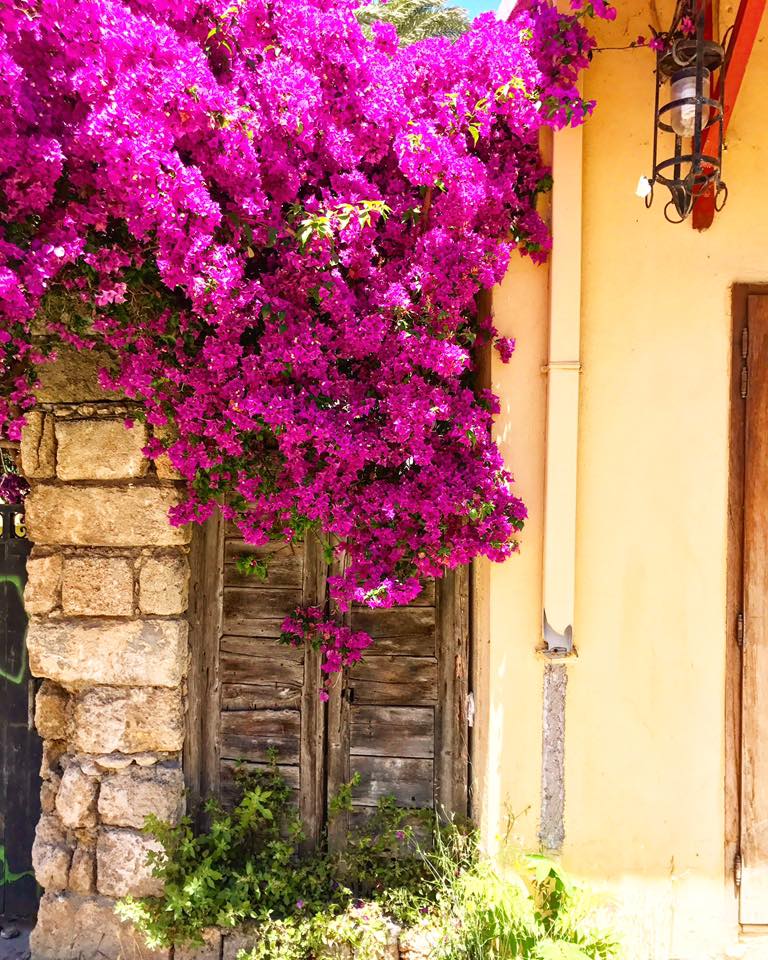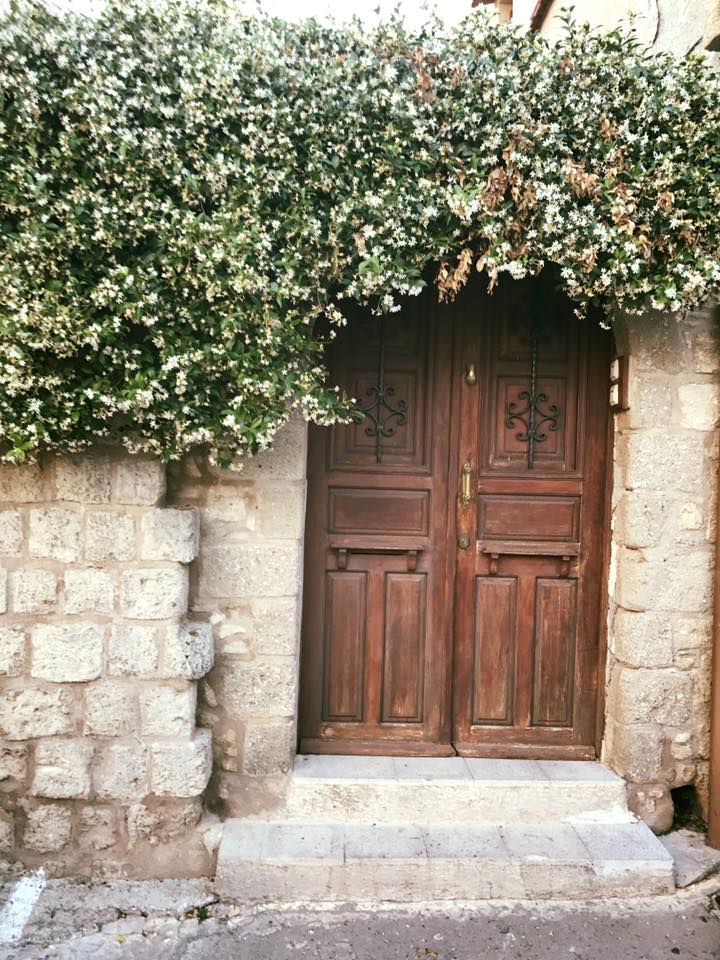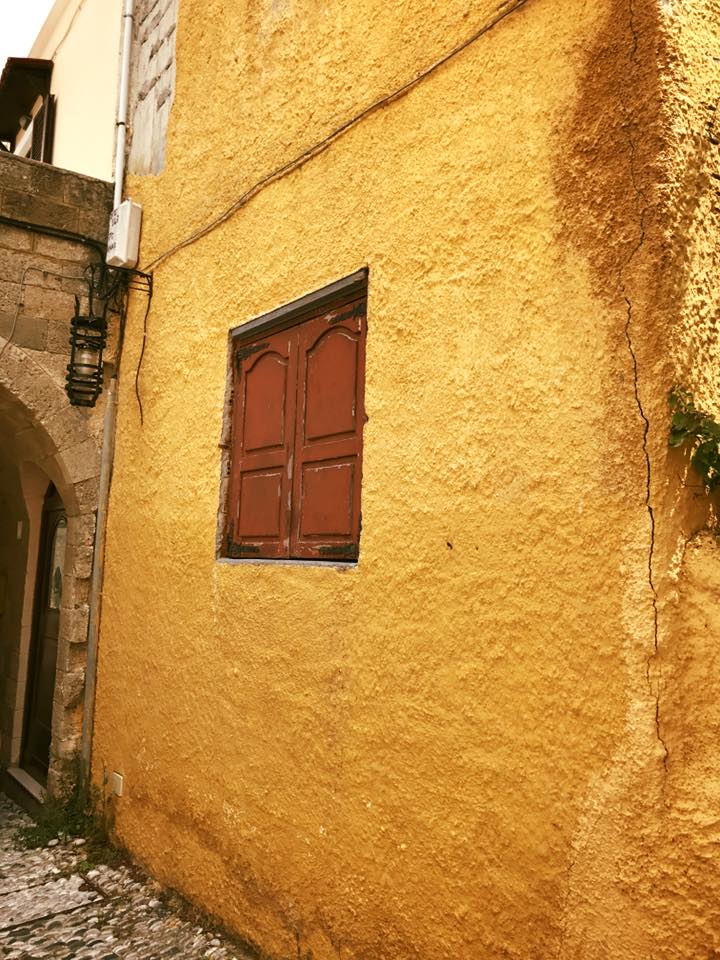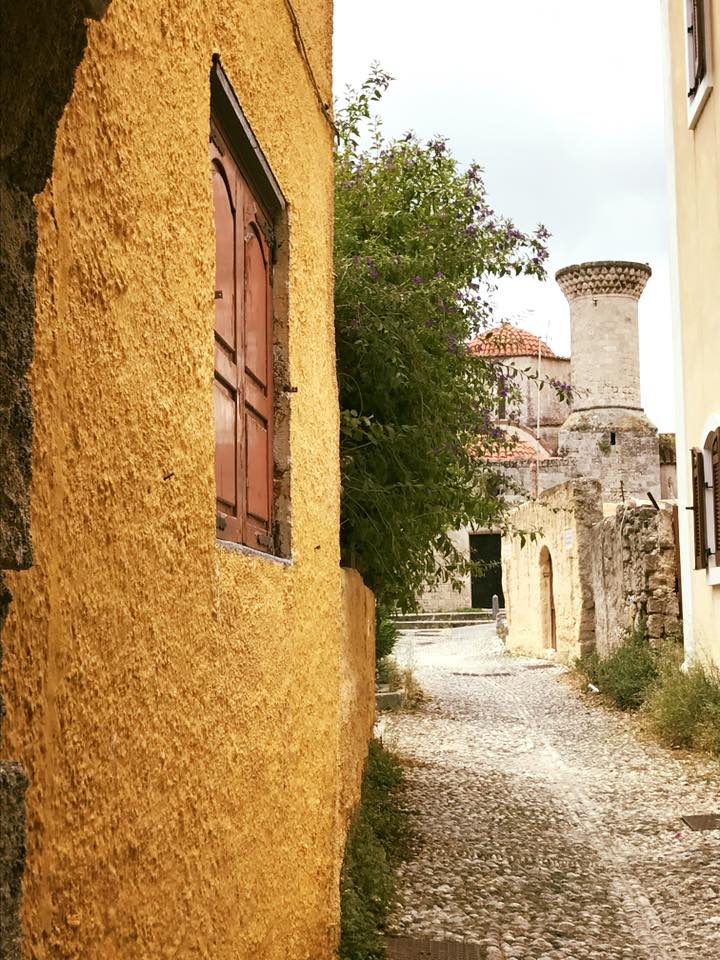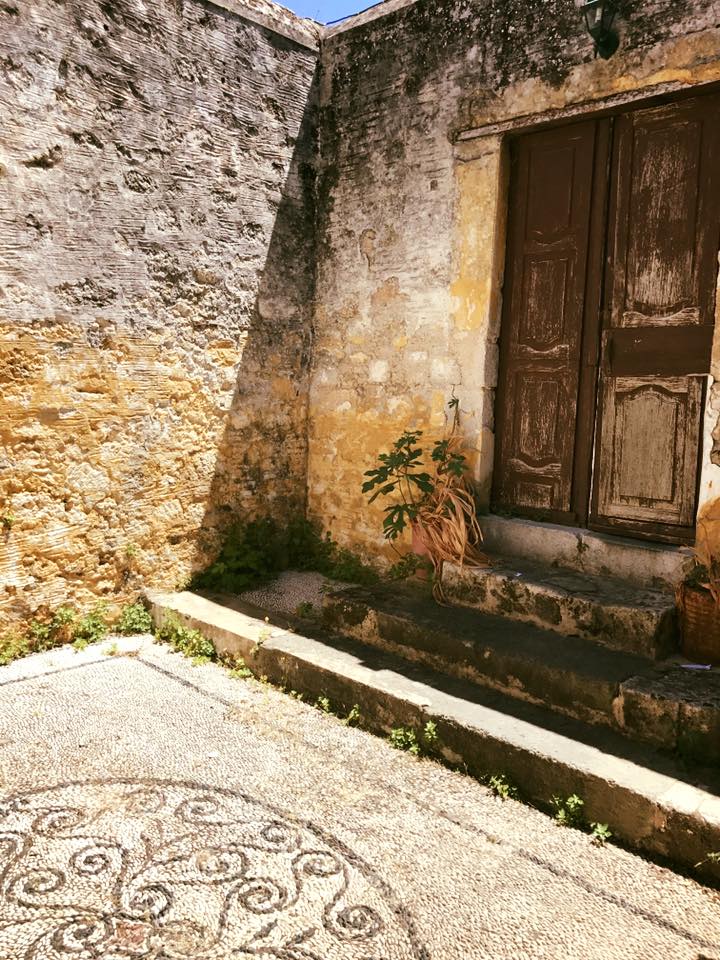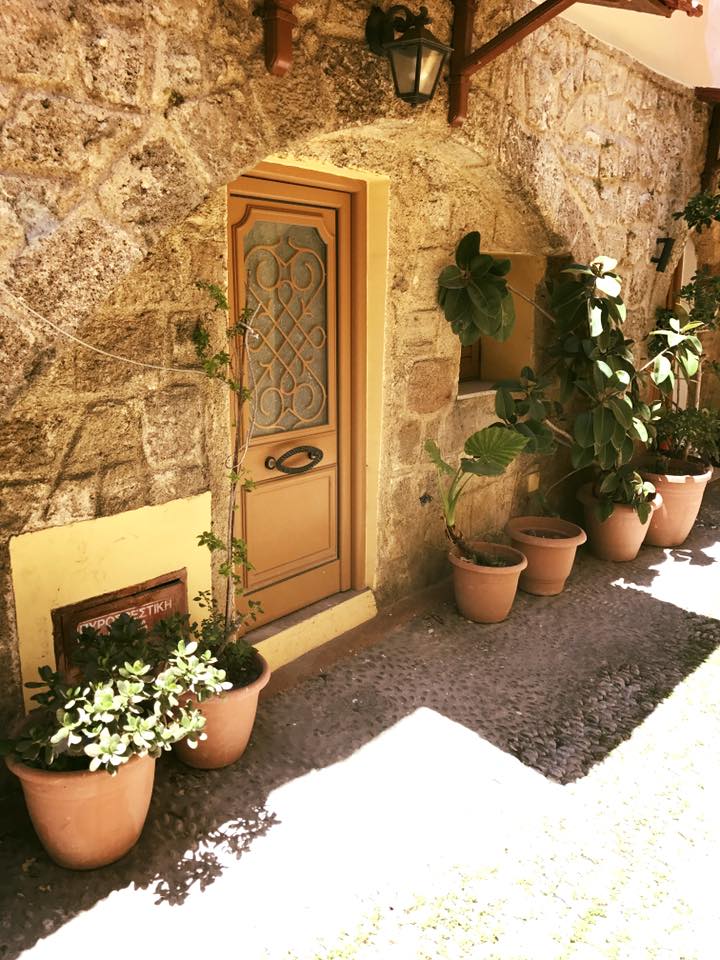 On Angela and Nikos's suggestion (which, by the way, were always spot on), we stopped to eat lunch at this amazing little restaurant and loved the food so much that we came back again, which is VERY rare for us, as we try to eat at as many different places as possible.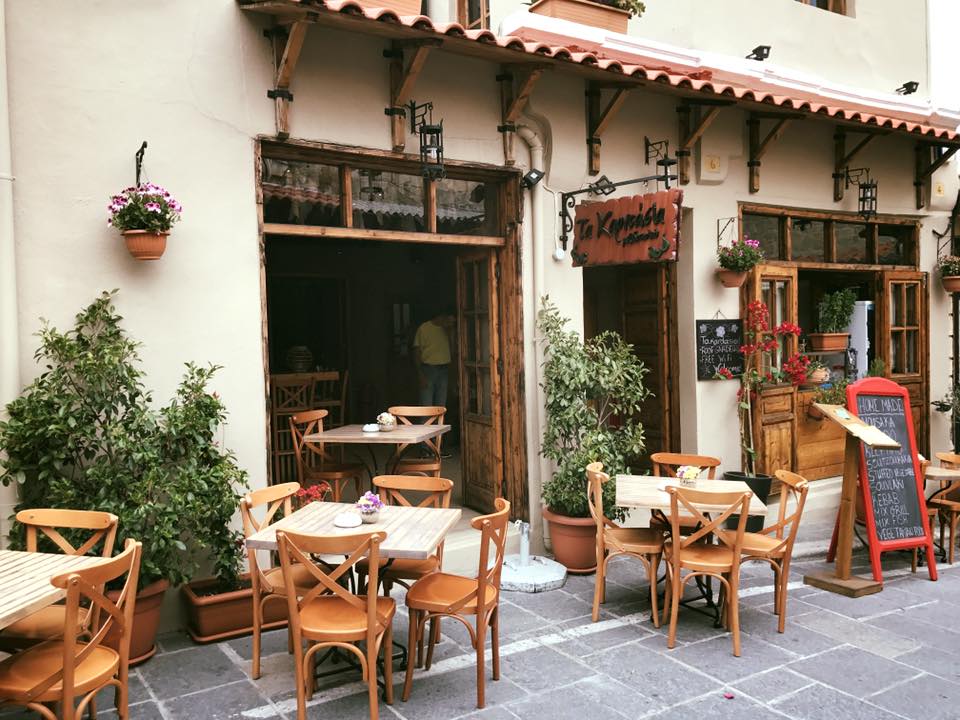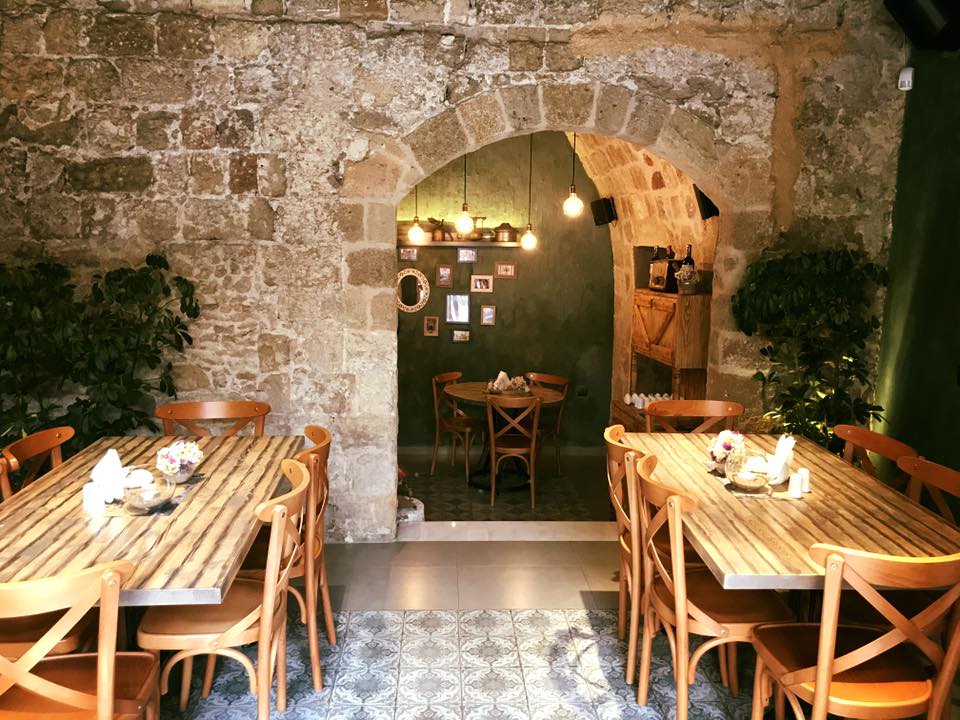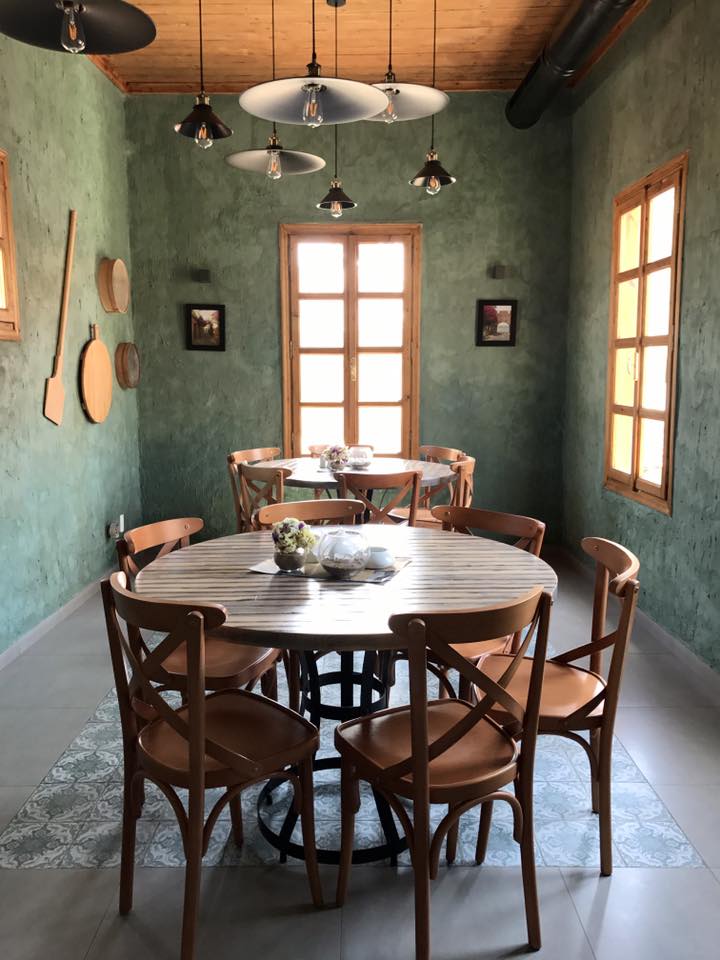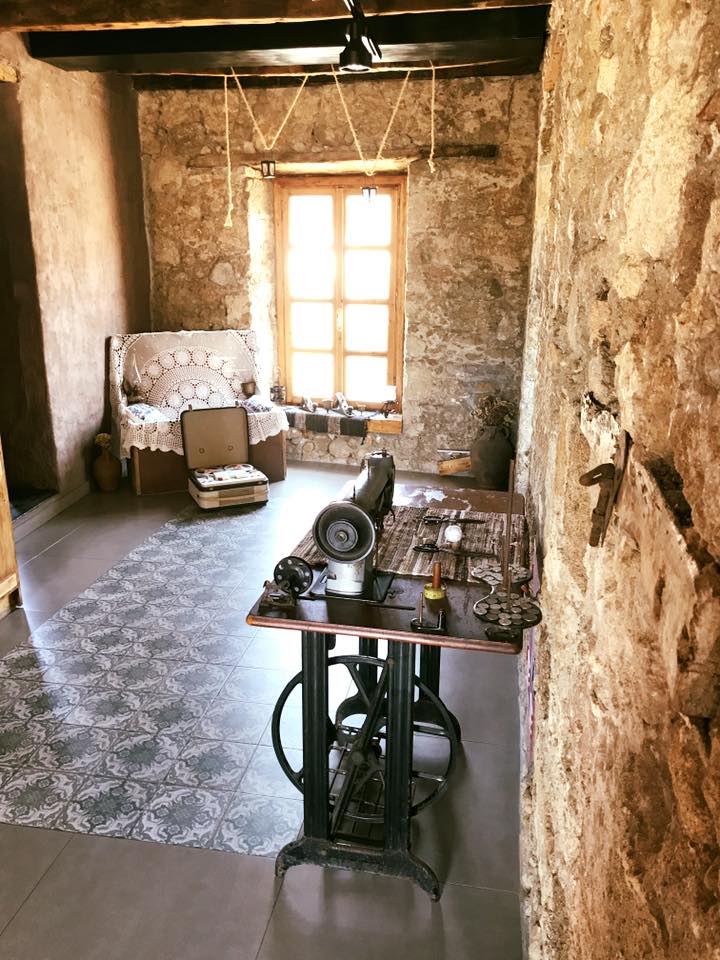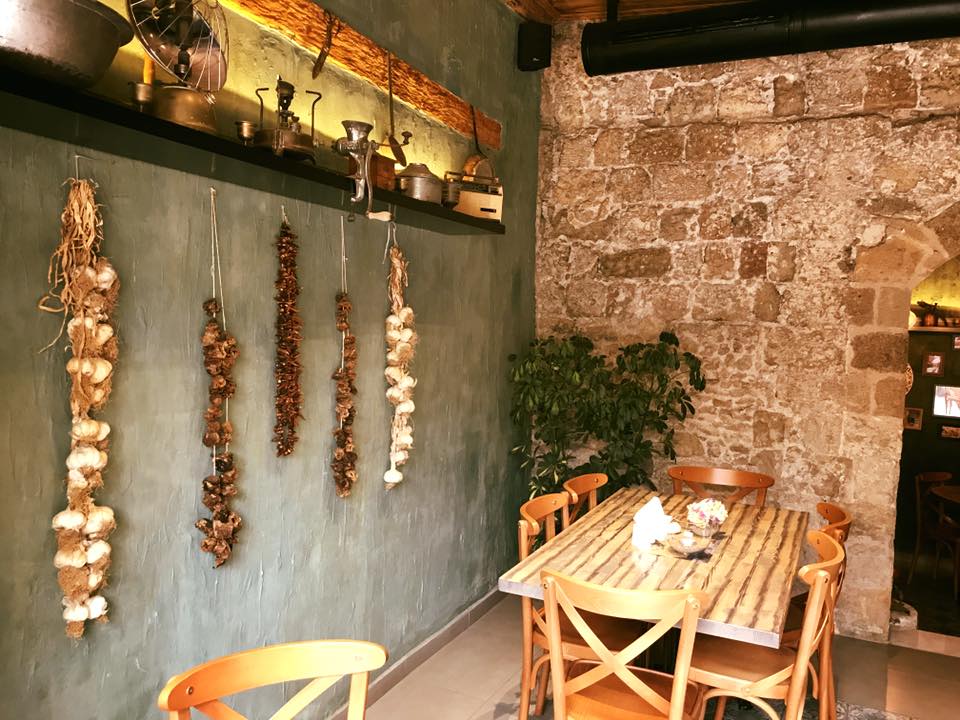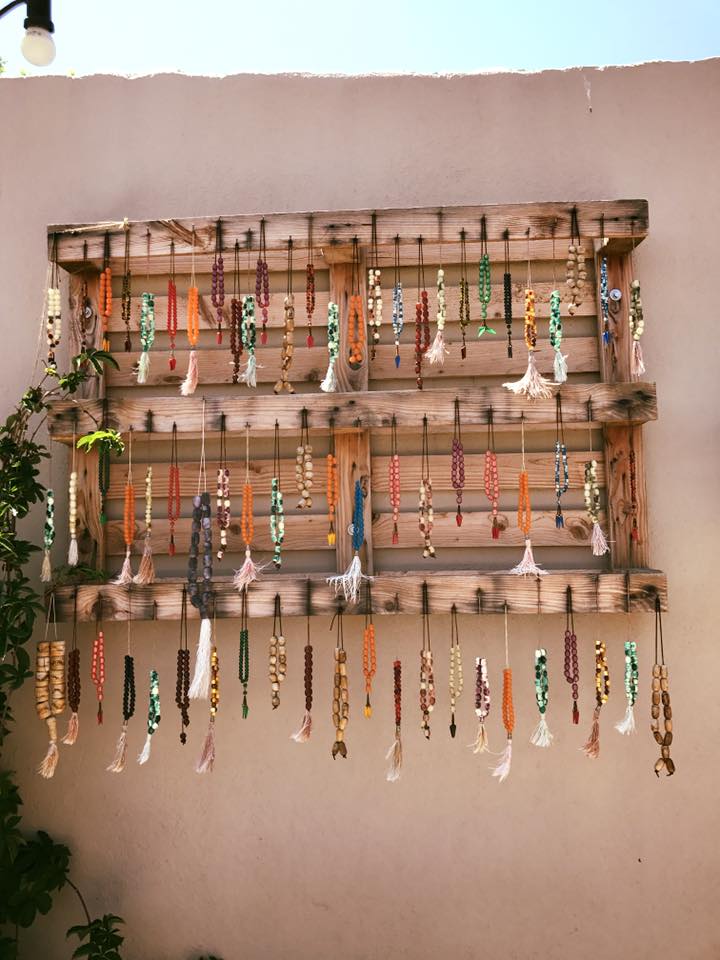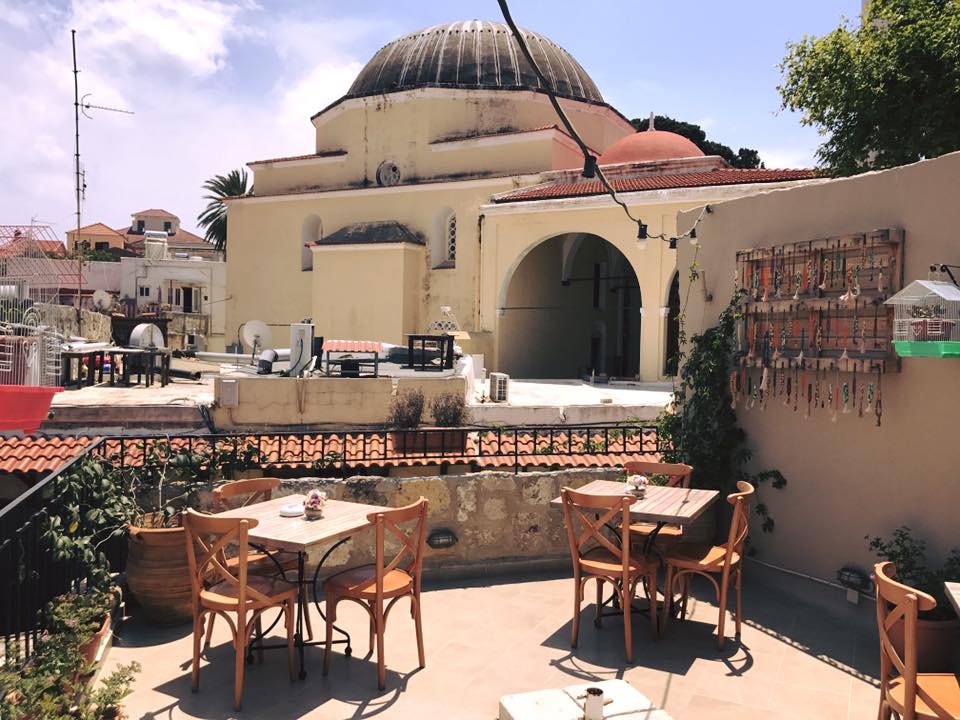 After lunch, we decided to explore the area outside of the Old Town wall.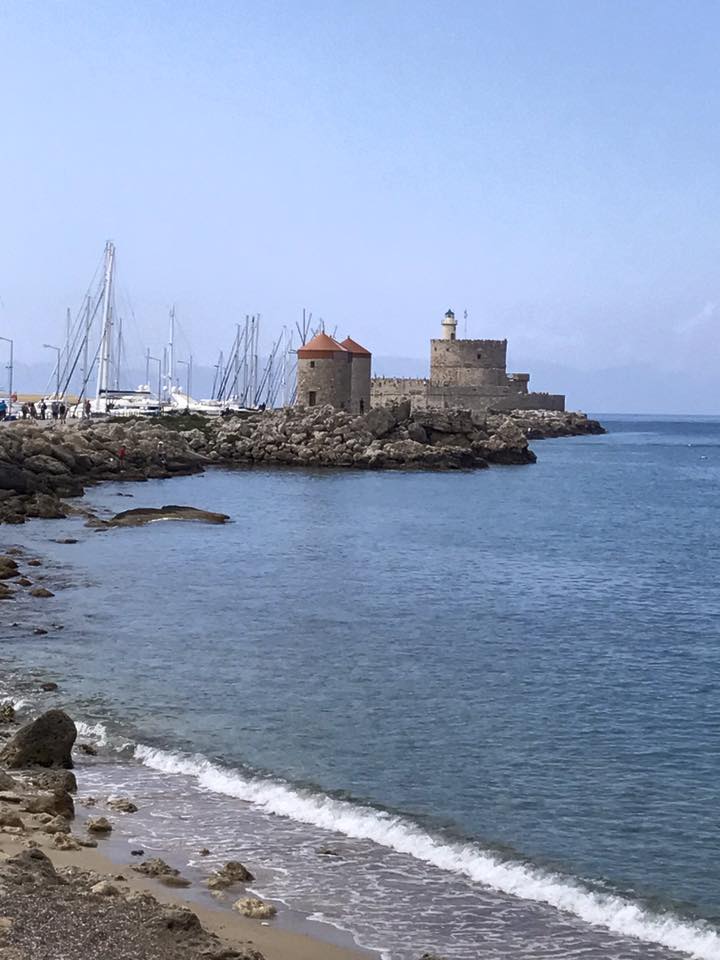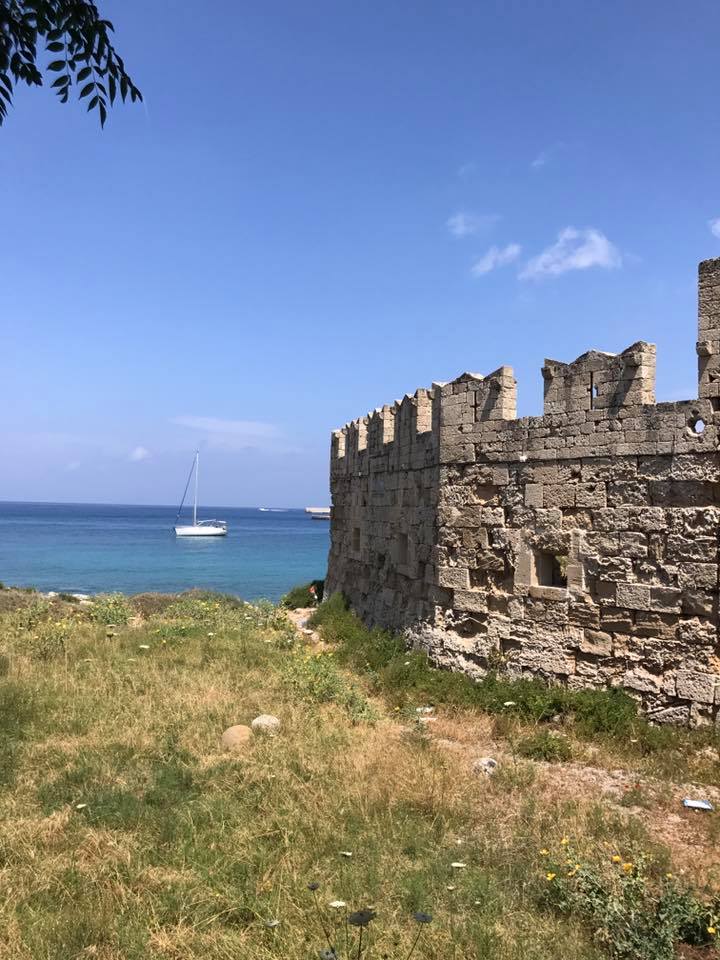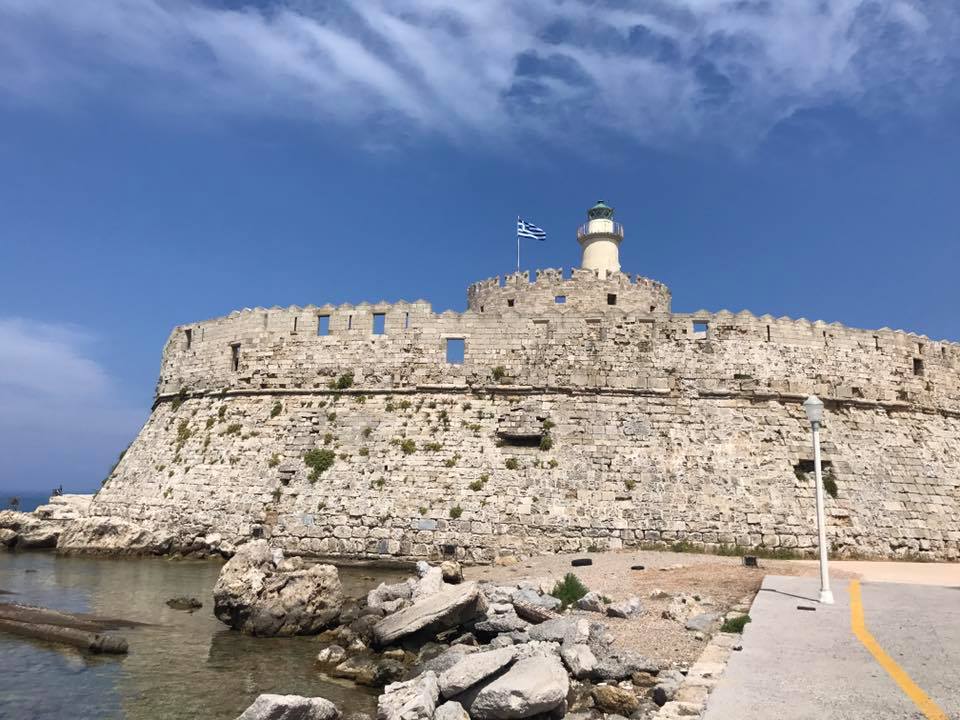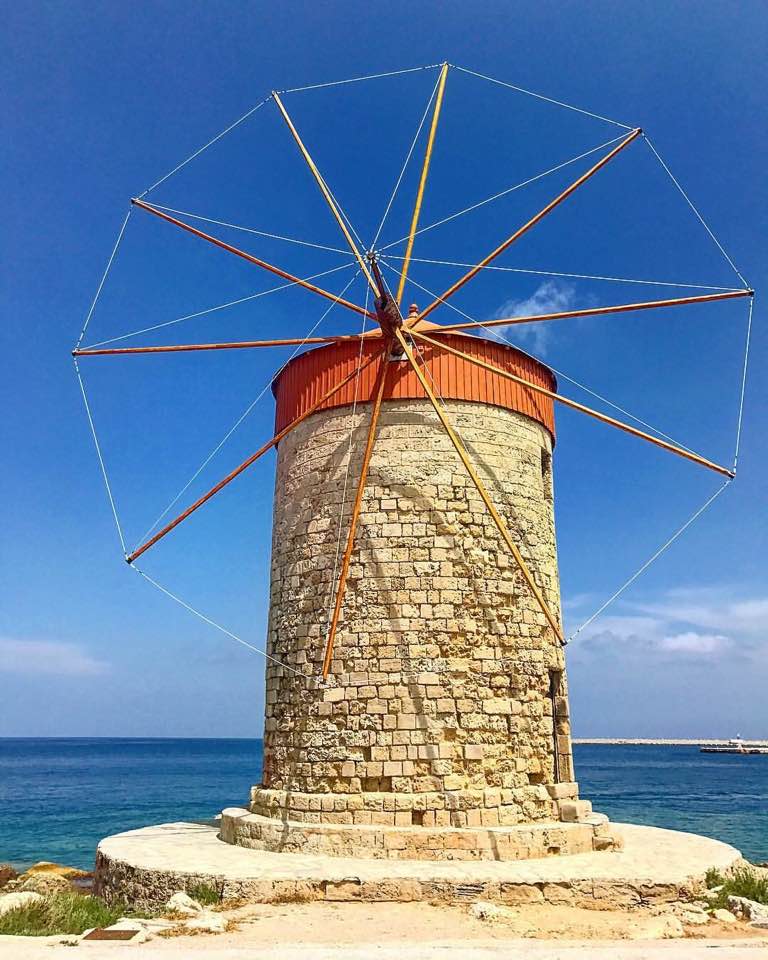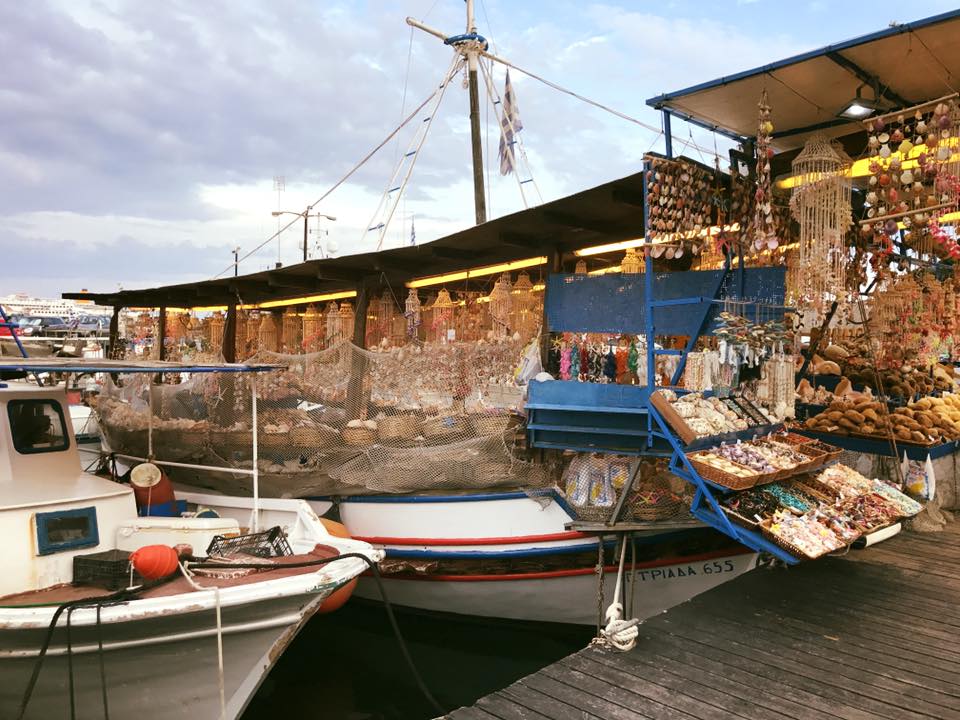 On our second day, we hired Nick of Rhodes Private Tax Tours to give us a tour of the Rhodes outside of the Old Town and to take us to Lindos to visit the famous Acropolis of Lindos.
Lindos is a resort town with a small (touristy) village at its center, which is pedestrian only.  The village gets pretty crowded as does the Acropolis of Lindos, but it is well worth a visit. I would recommend spending an entire day here so you can go to the Acropolis as early as possible and then have time to explore the little village. You can also overnight in Lindos if you want to enjoy the beach.
However, before we left for Lindos, Nick showed us one of the places where the Colossus of Rhodes was thought to have stood. The Colossus of Rhodes was an enormous statue depicting the city's patron god, Helios (the god of the sun).  Many believe that this wonder of  the ancient world stood in Mandraki Harbour, and there are rumors that a fundraising effort is underway so that an architect can build a new monument, albeit one five times larger than the original, to straddle the entrance of this harbor. However, there are some theories that because this monument was so important, it did not actually stand at the harbor, but at the Acropolis of Rhodes.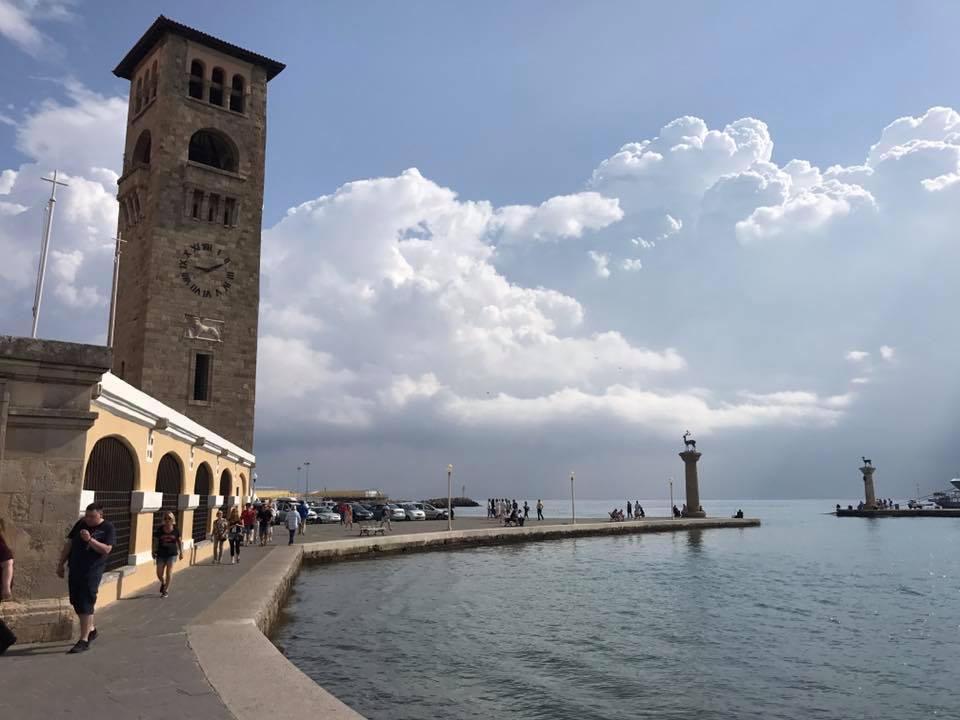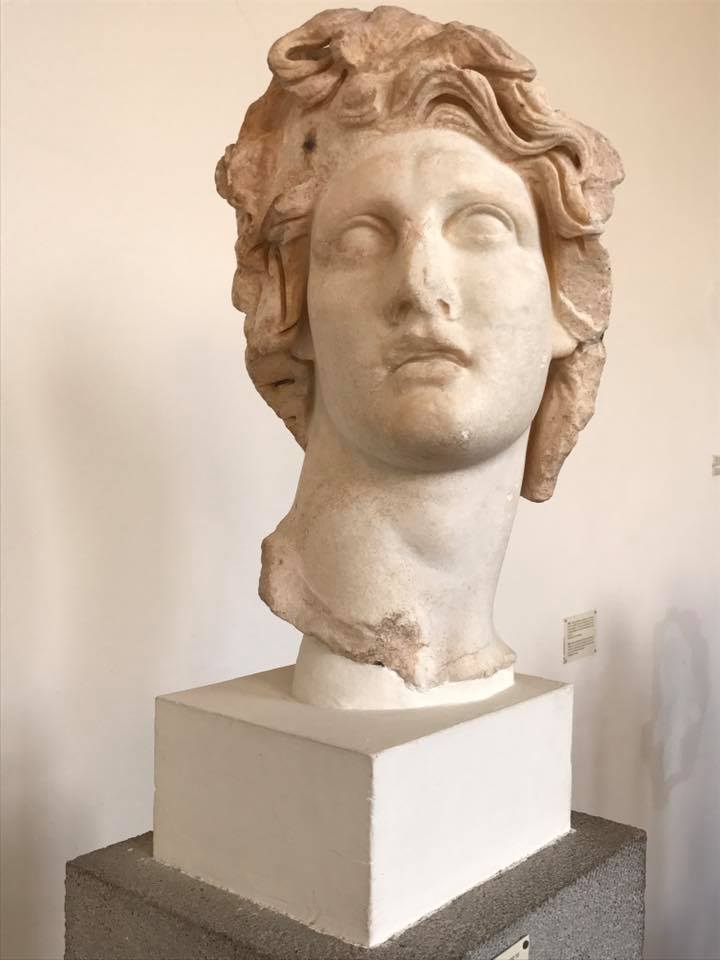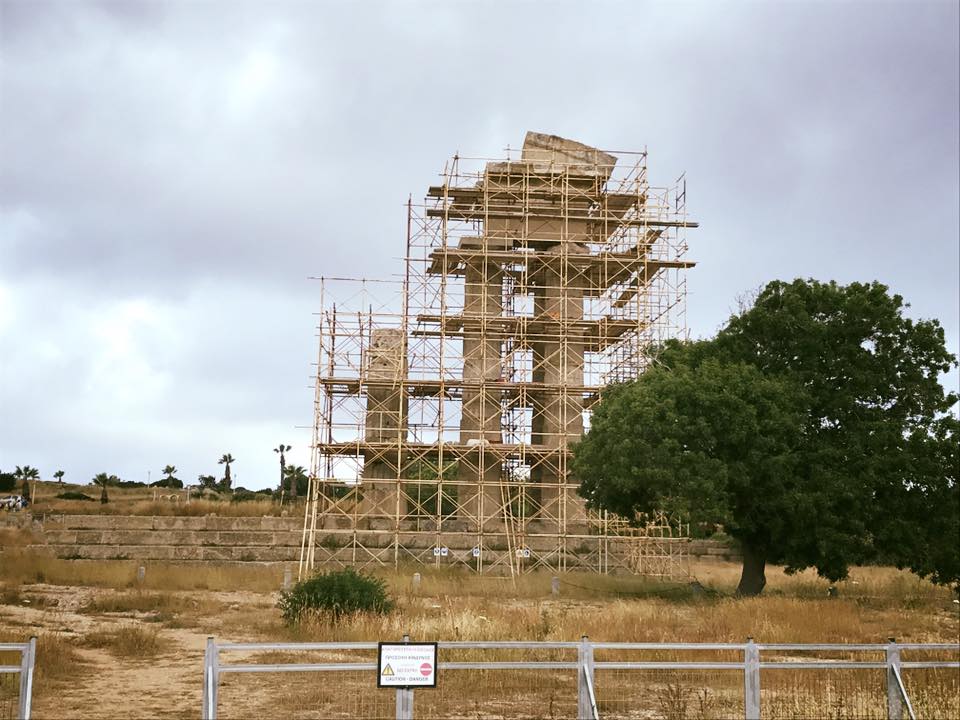 Lindos is a cute little village that has many shops and small, but stunning churches to explore before you make your way up to the Acropolis of Lindos, a climb that includes several hundred stairs of various heights with no guardrails.  Not to worry, it is totally do-able (if you are wearing the right shoes), the views are incredible, and there are donkeys to assist.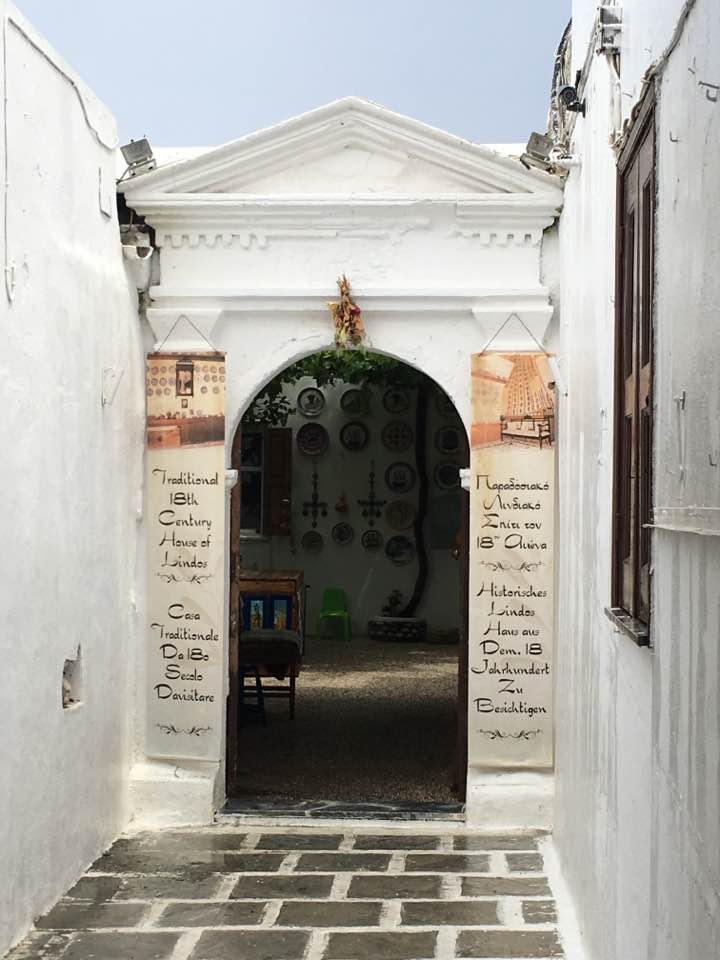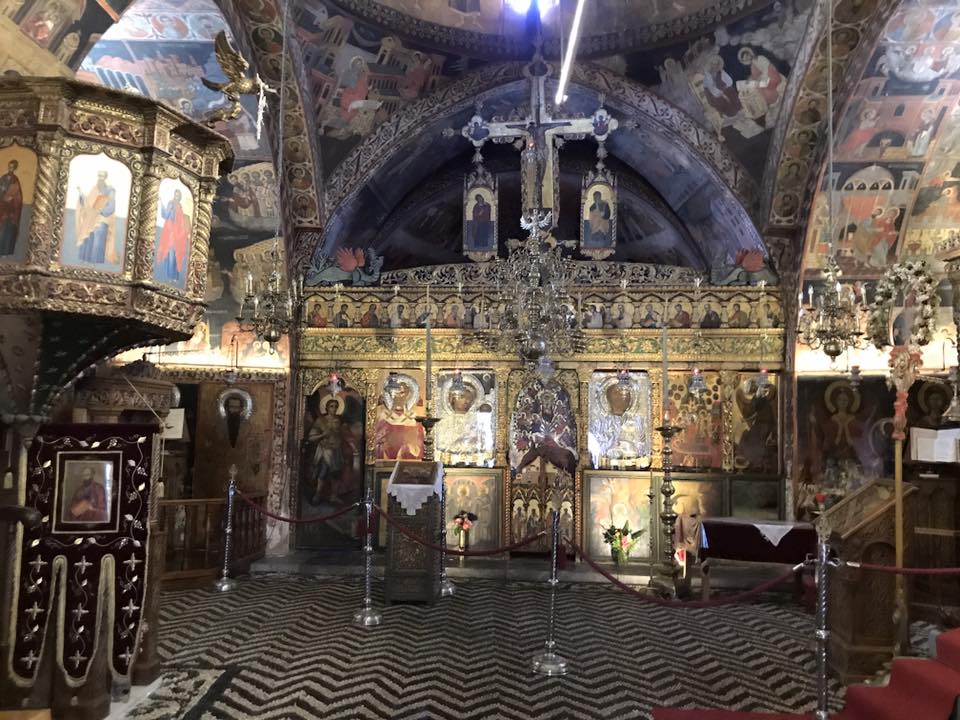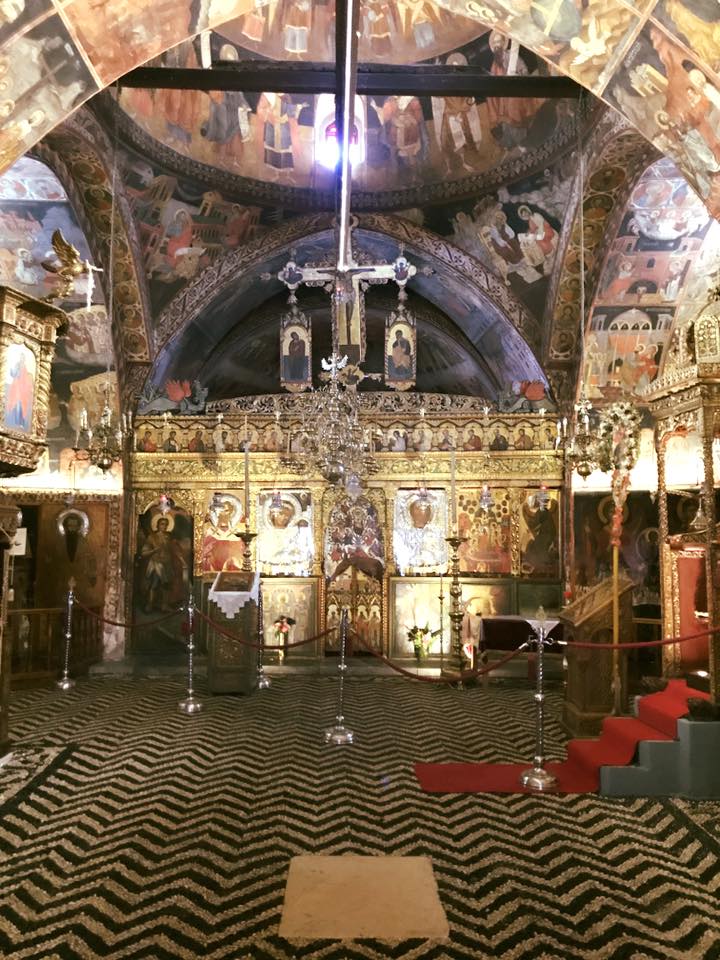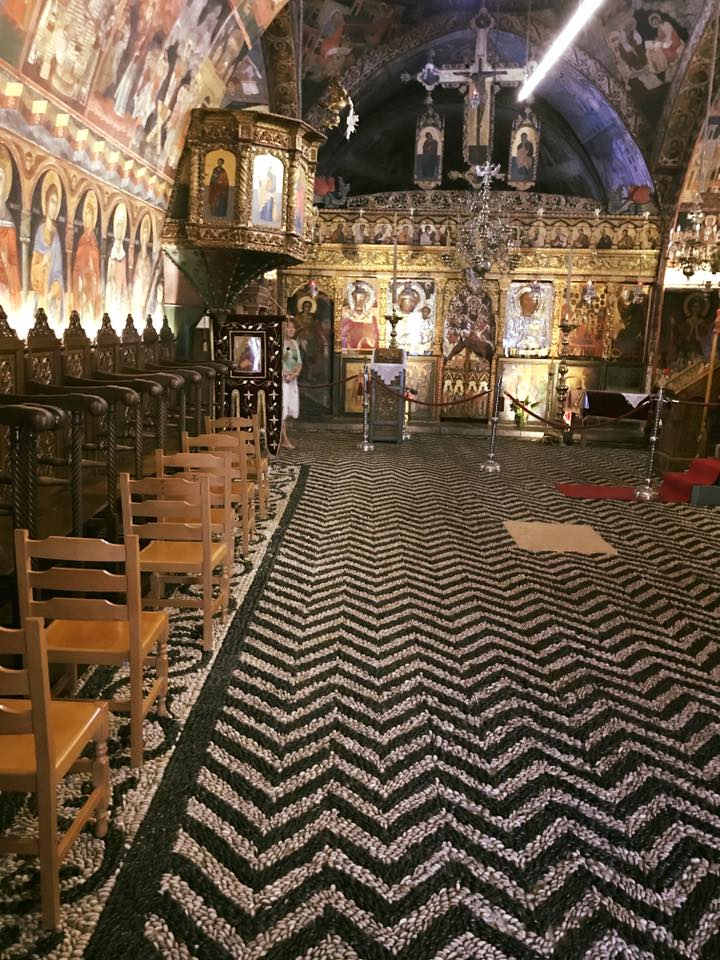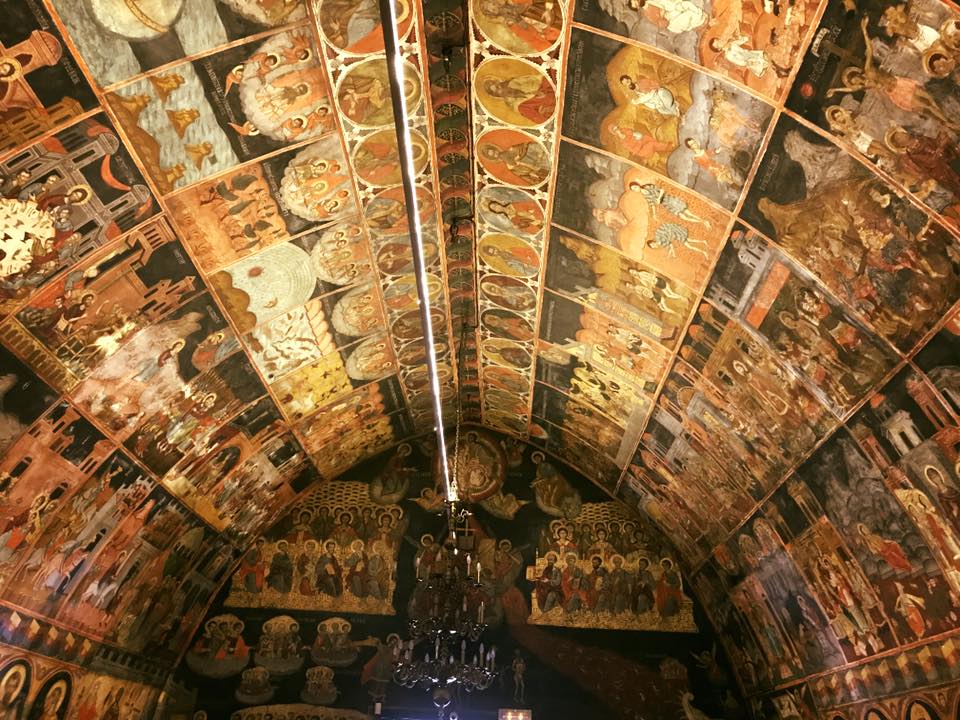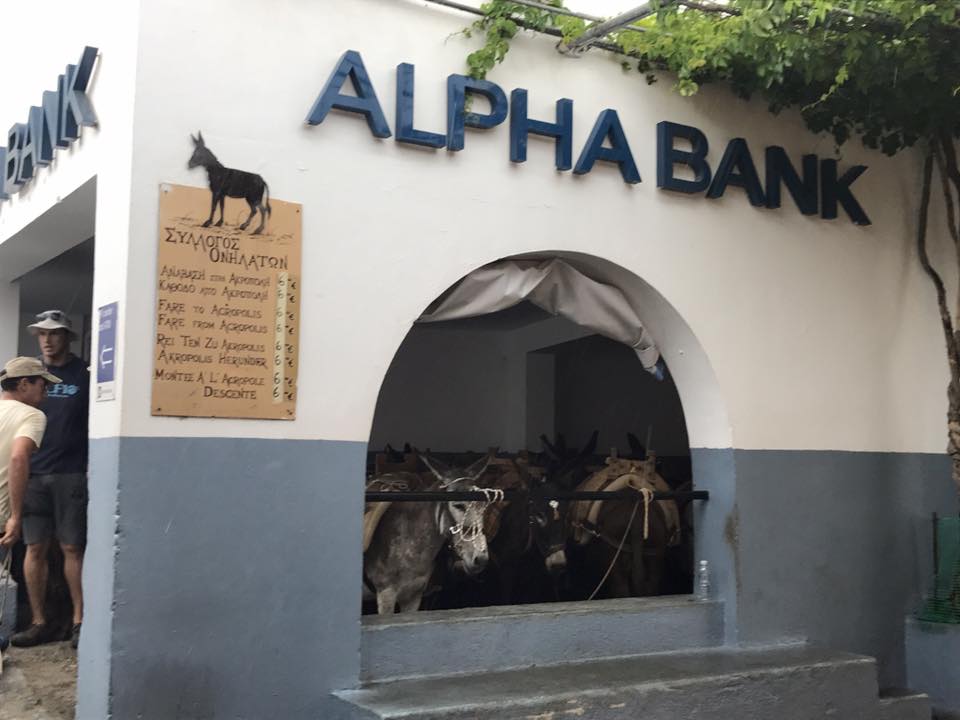 The irony of a Greek bank building being used to store donkey is not lost on me. This is just ripe for Greek financial crisis jokes…like the only ASSets being stored in Greek banks this year…but that's not funny. I mean, it kind of is, but not really.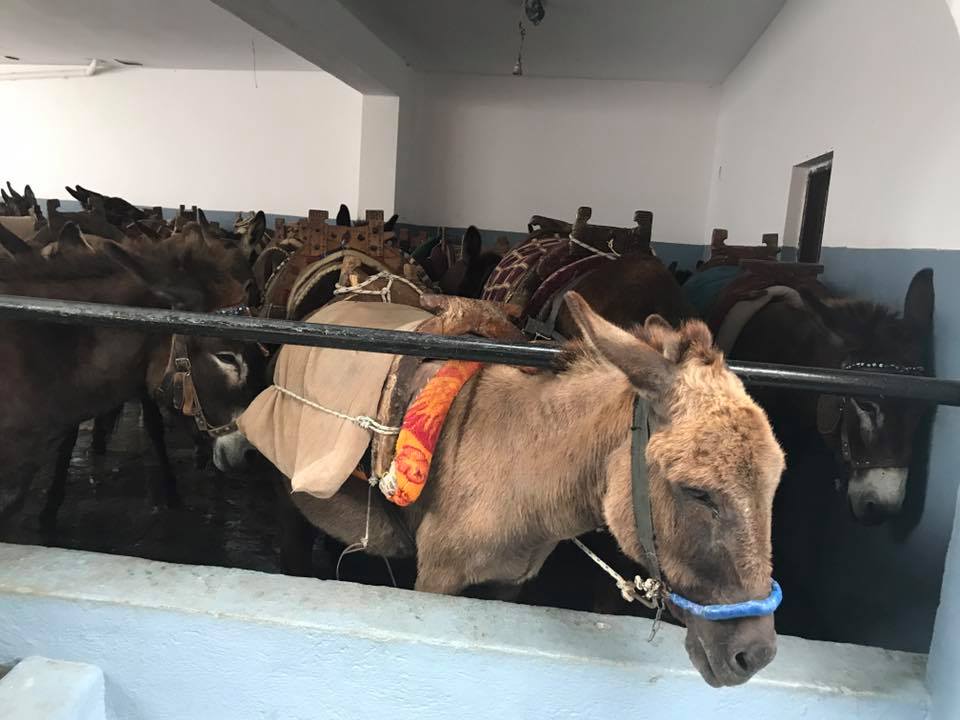 I wish we had a little more time to explore this village, but it was pouring that day, so as soon as the sun came out, we hiked up to the Acropolis!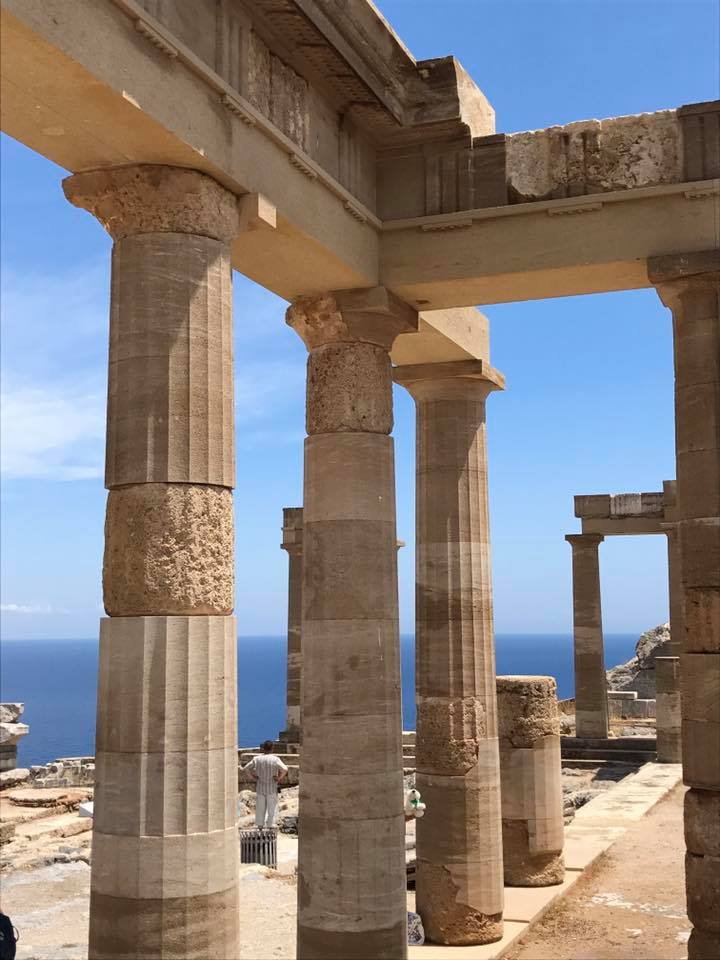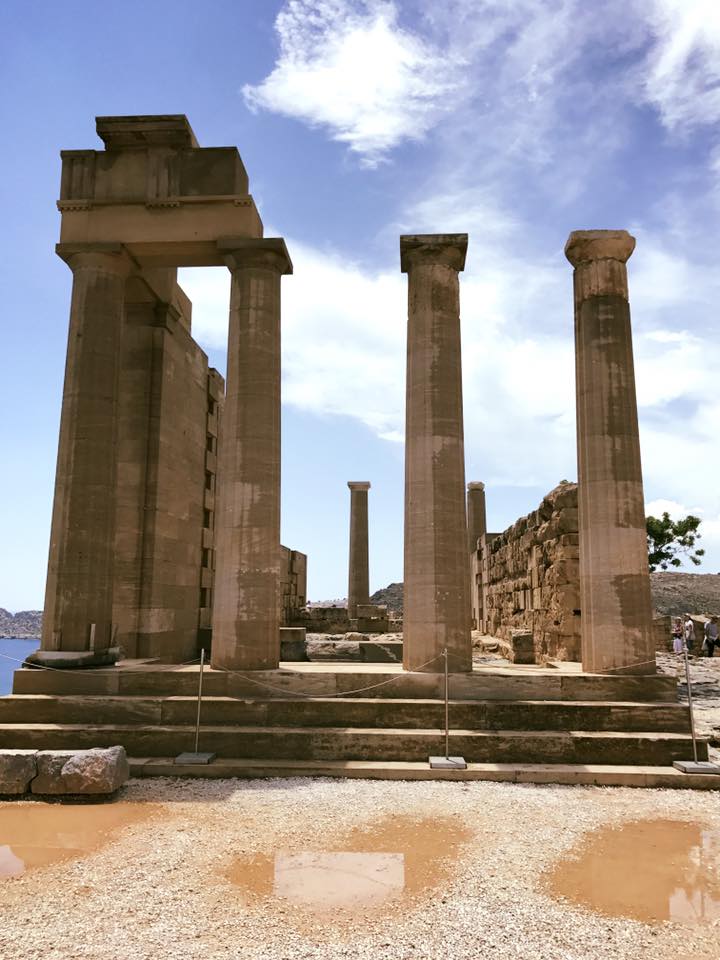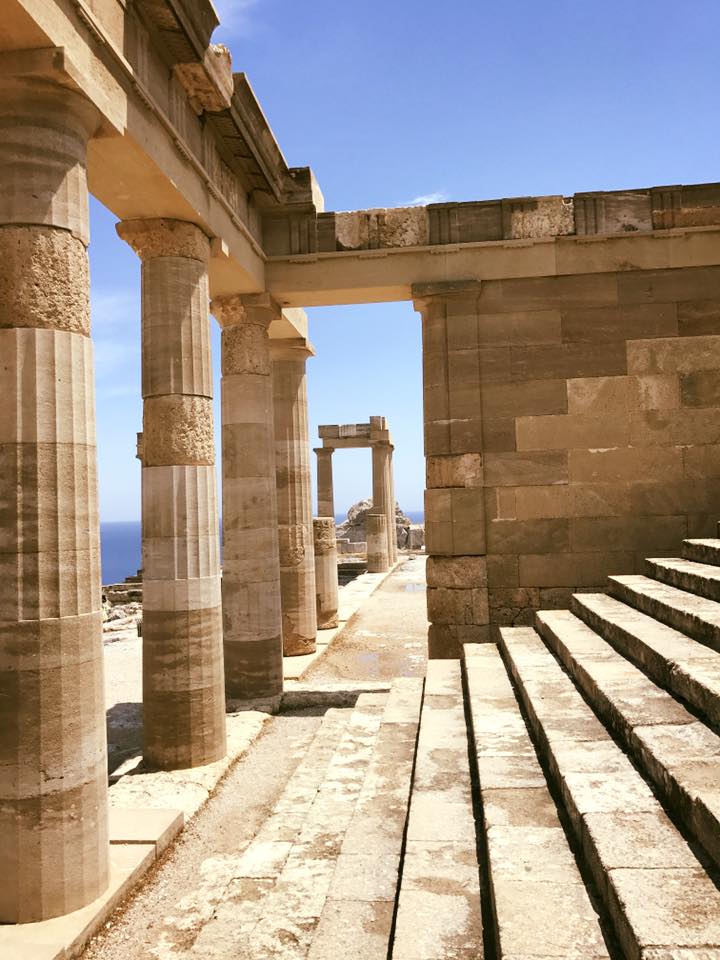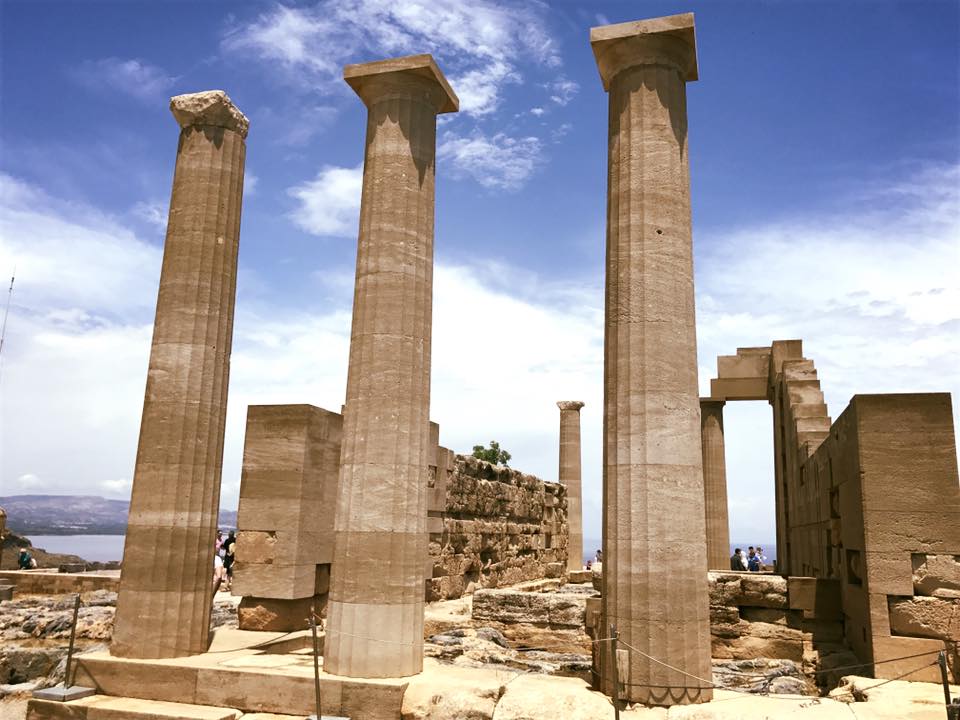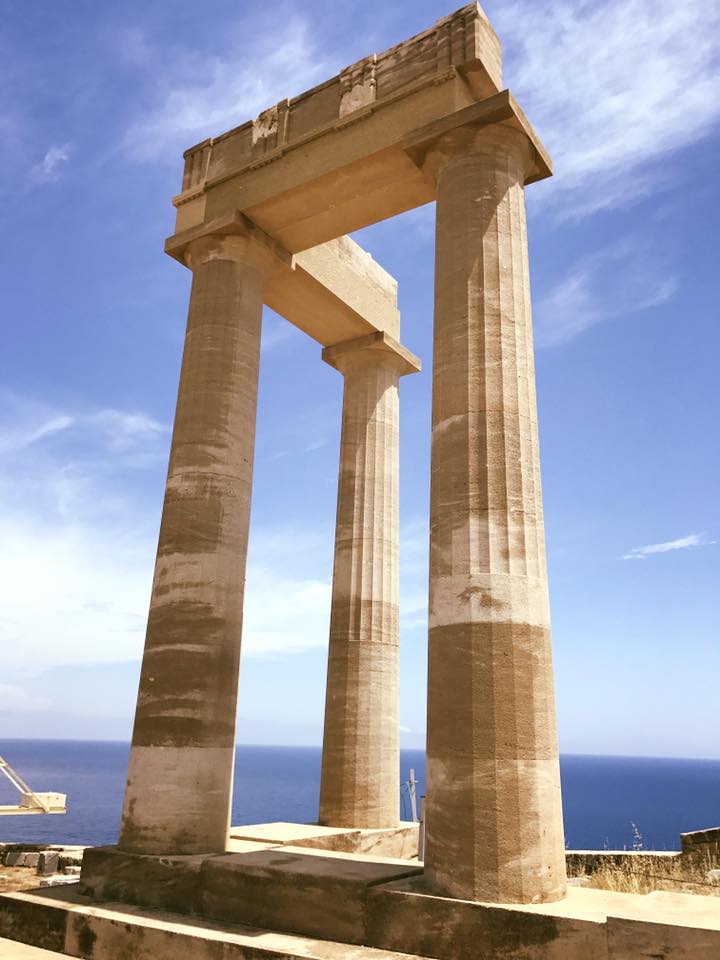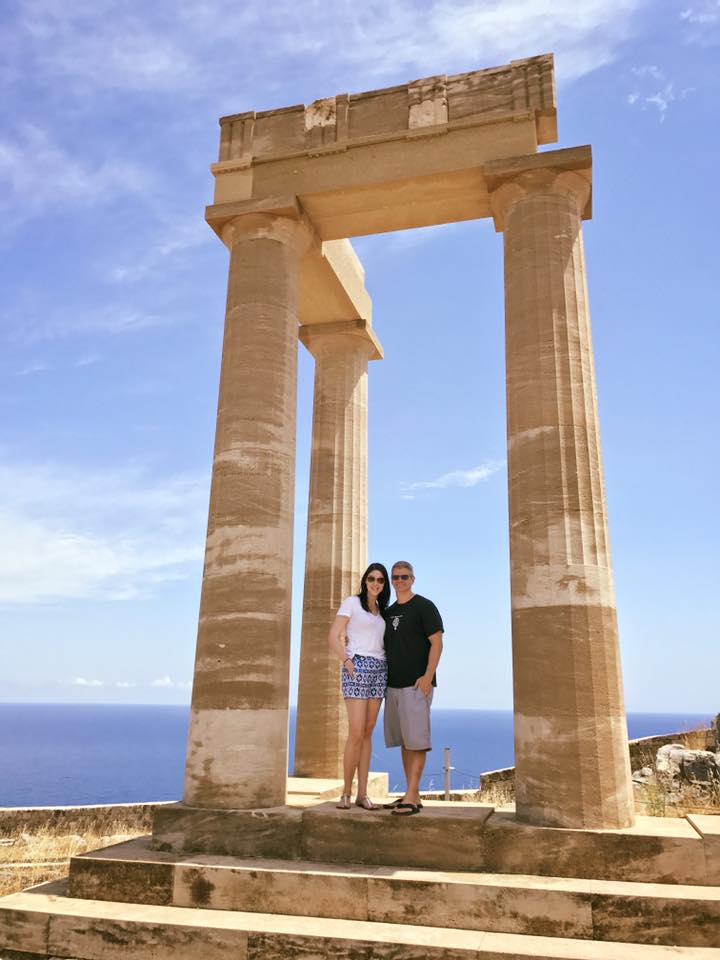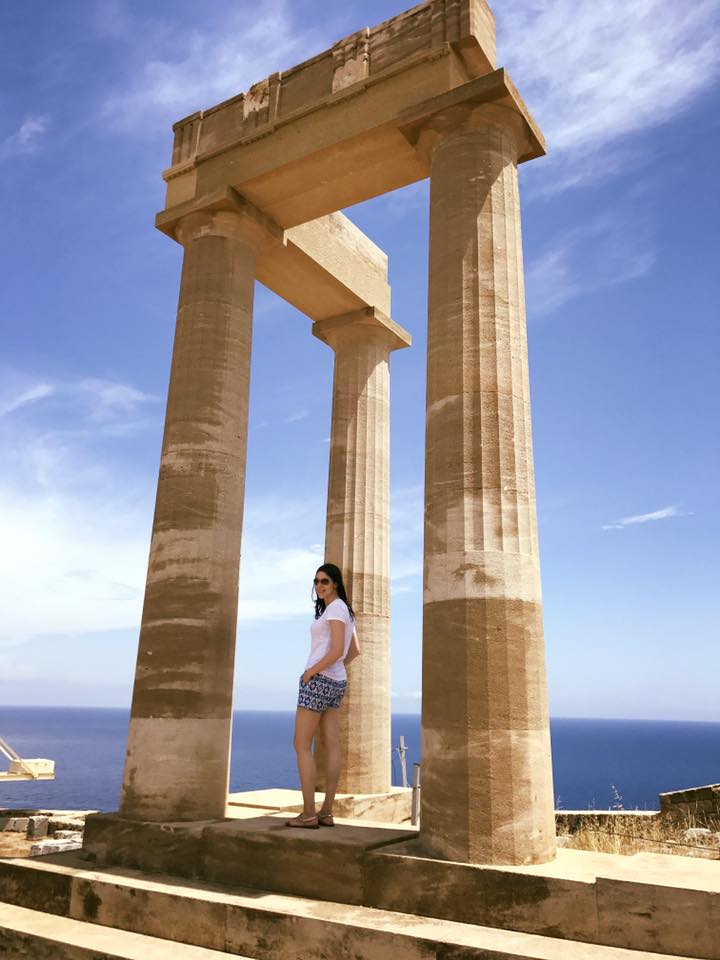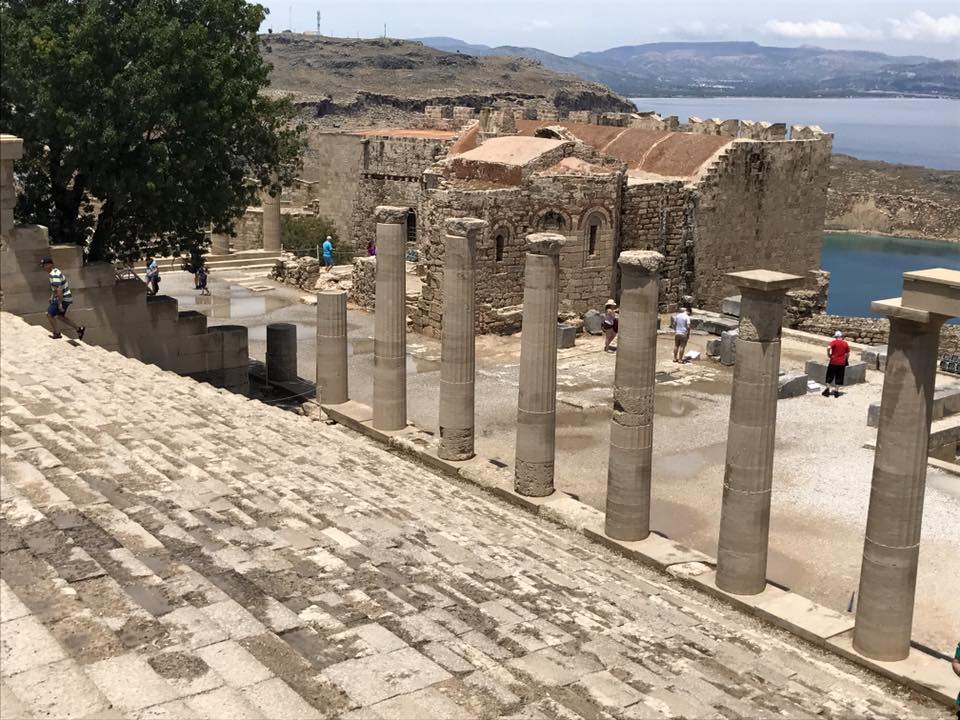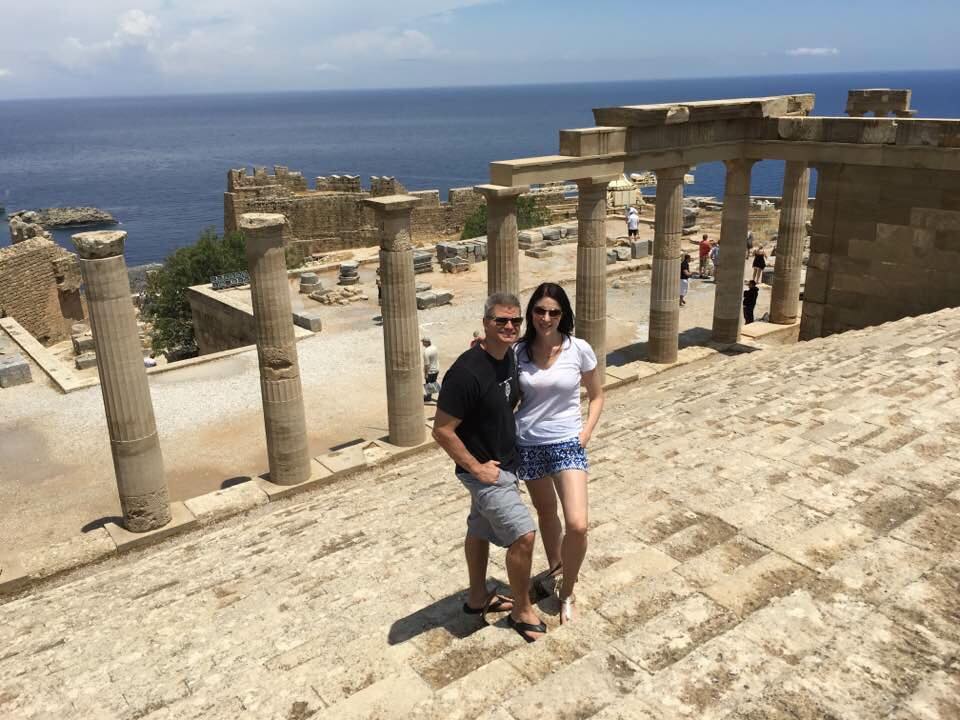 And the views from the Acropolis of Lindos are not too shabby: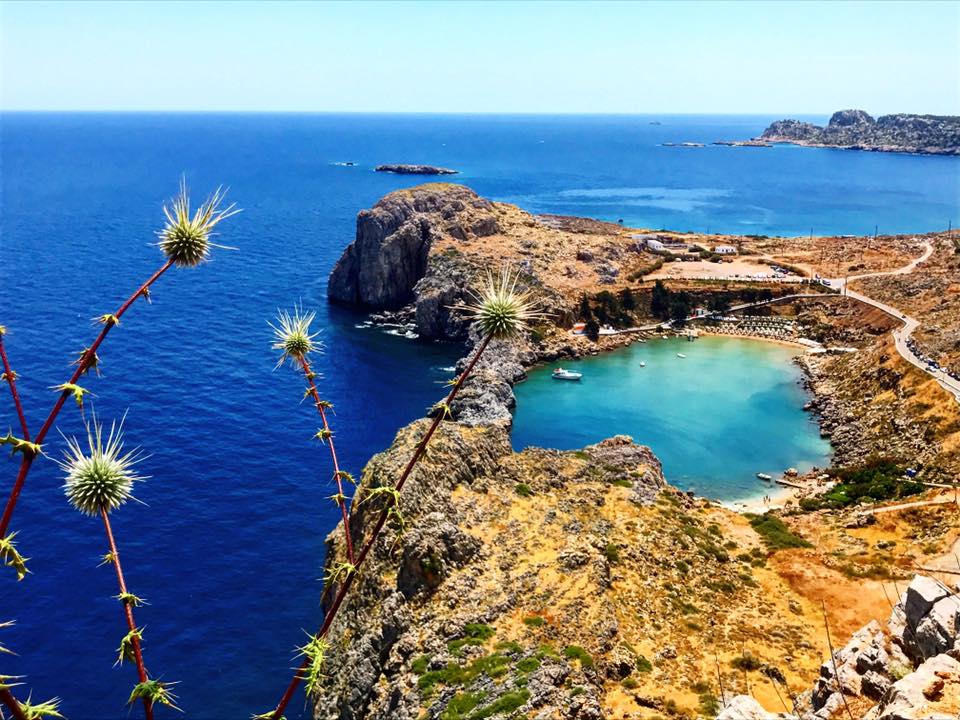 After Lindos, Nick took us to the cutest little beach side taverna for lunch (which had the most INCREDIBLE views) before we set off to explore other sites around the island, including Filerimos, monastery is dedicated to Virgin Mary that has monuments of the seven stations of the cross and  is overrun with friendly peacocks, and Anthony Quinn Bay, which is a beautiful little bay riddled with controversy and drama.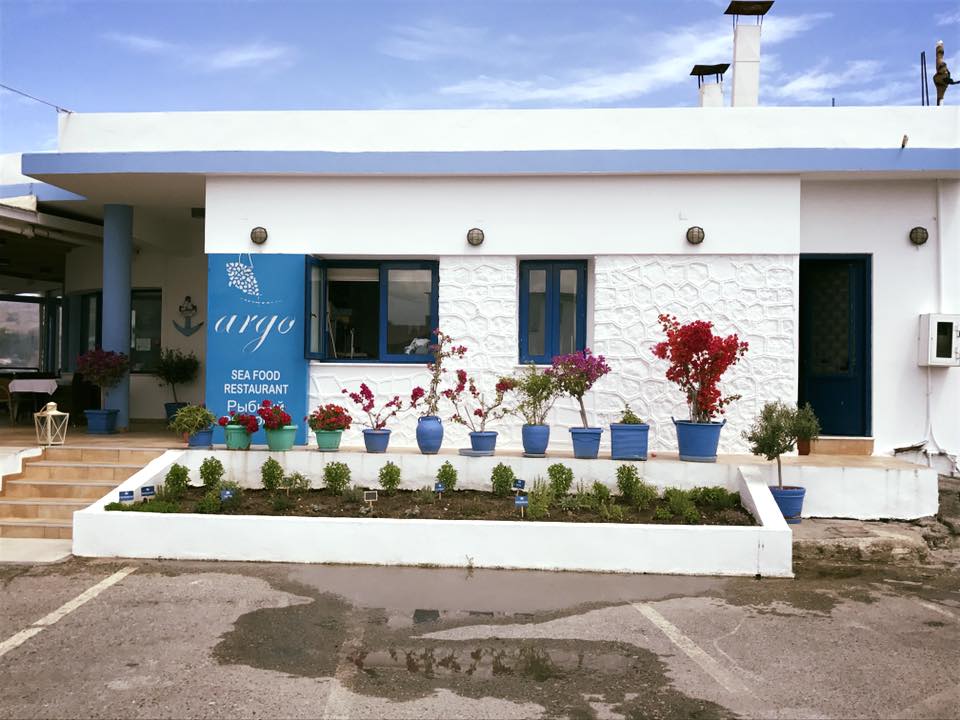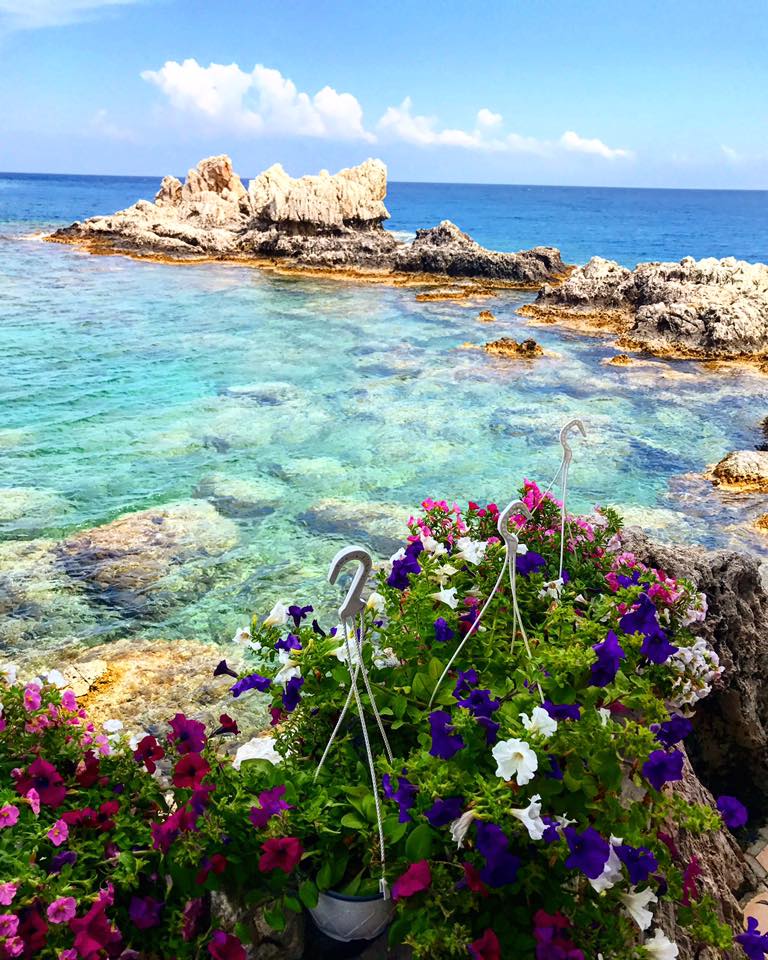 Filerimos: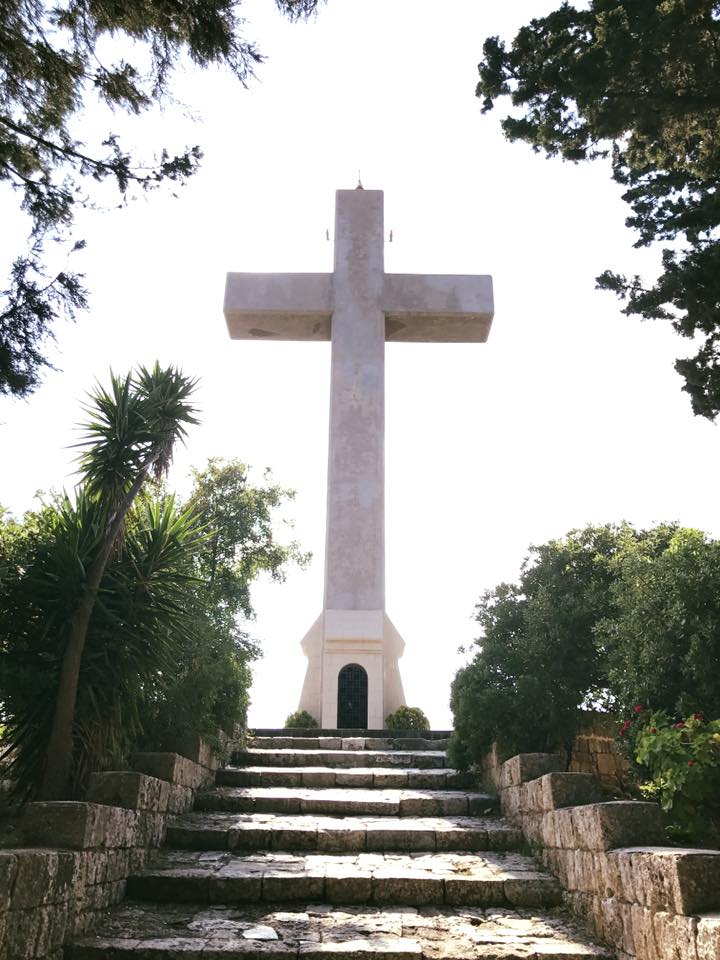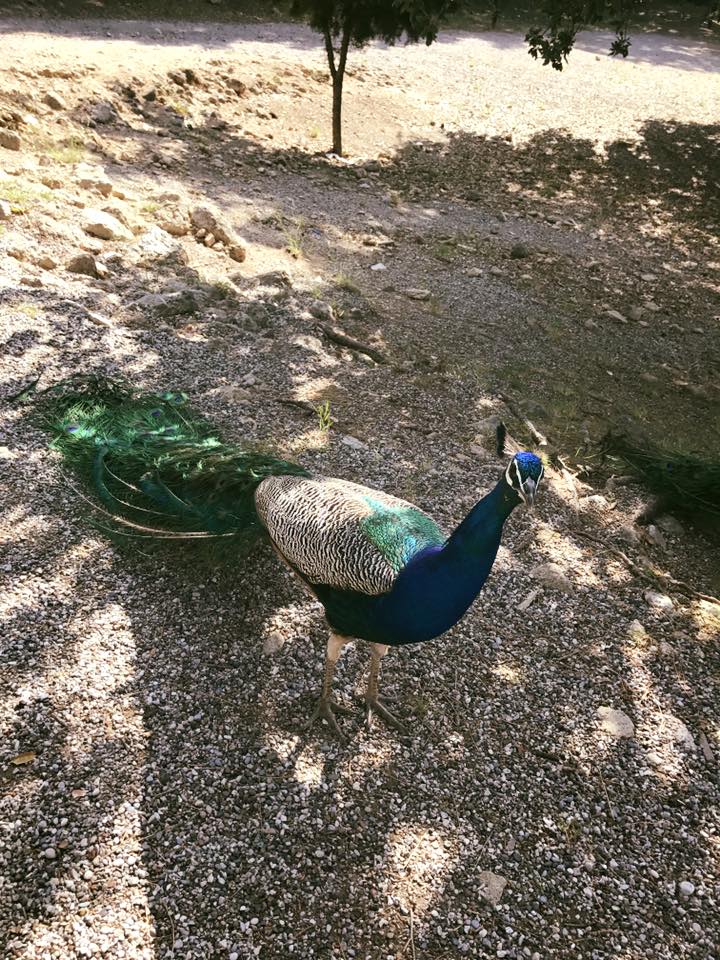 Anthony Quinn Bay: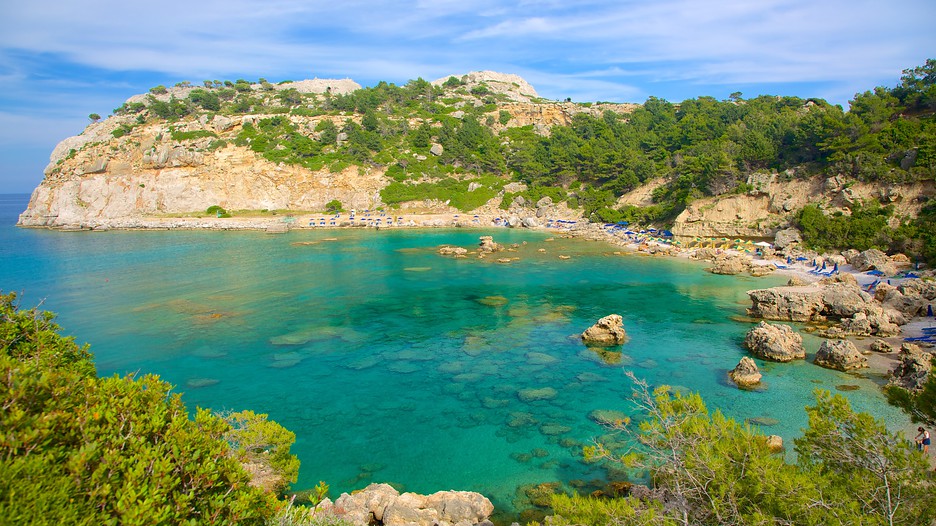 On our third day on the island, we took advantage of the free rental car that came with our room and took to the roads with our tablet to explore other points of interest, such as the Castle of Monolithos, Profitis Ilias, Ancient Kamiros, and the Seven Springs (Epta Piges). Also, in the right season, you can also visit the Valley of the Butterflies. Rhodes is a fairly flat island, so it is easy to drive and navigate. I would highly recommend renting a car for a day or two to do some independent exploring.
Monolithos: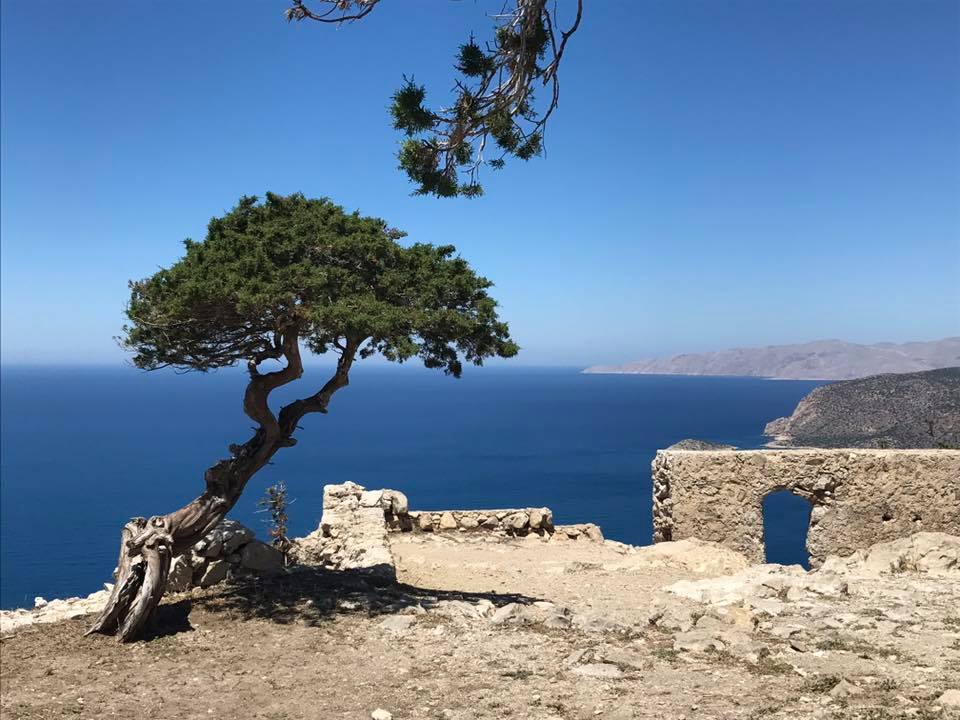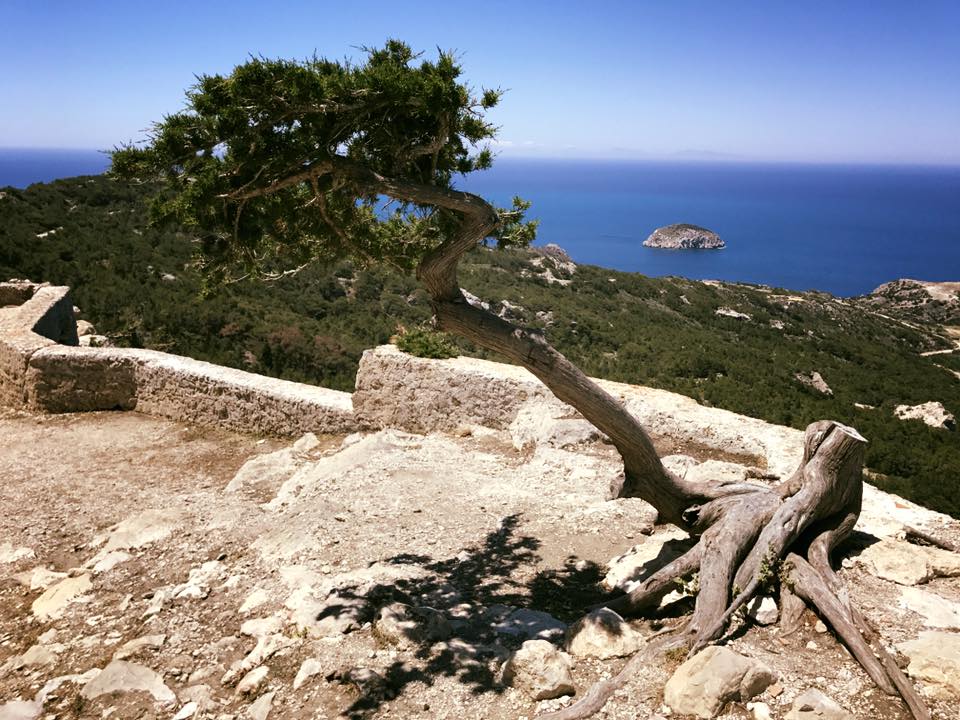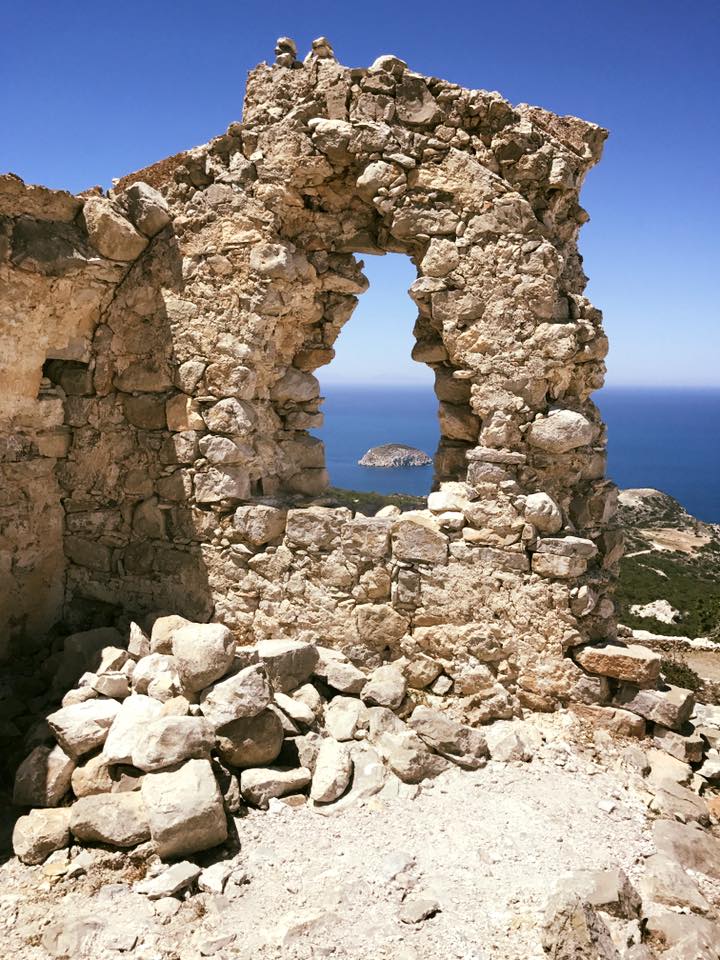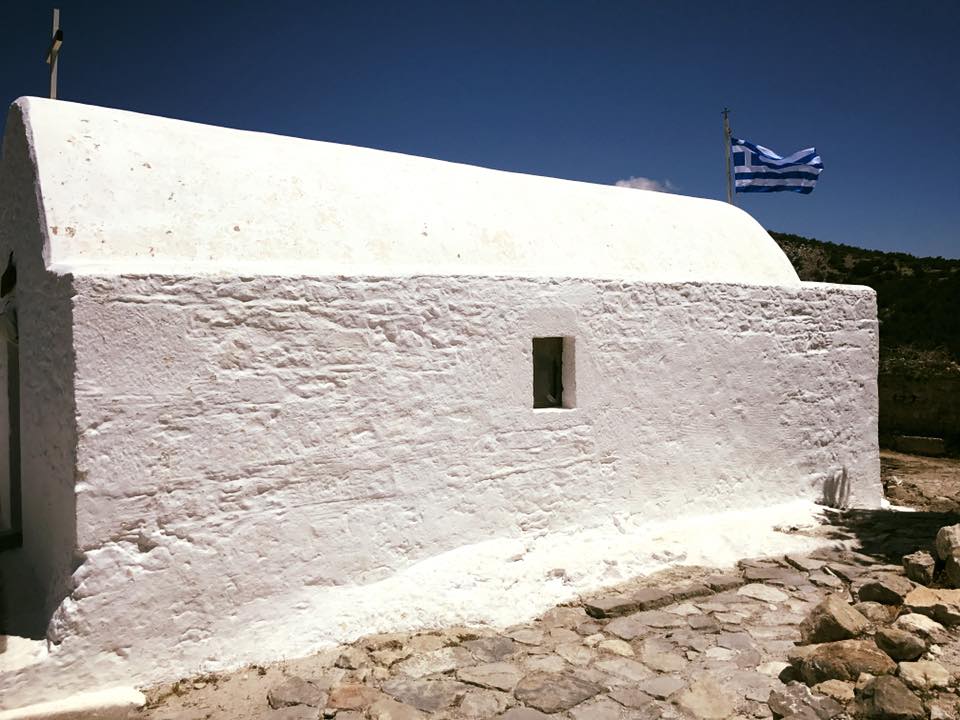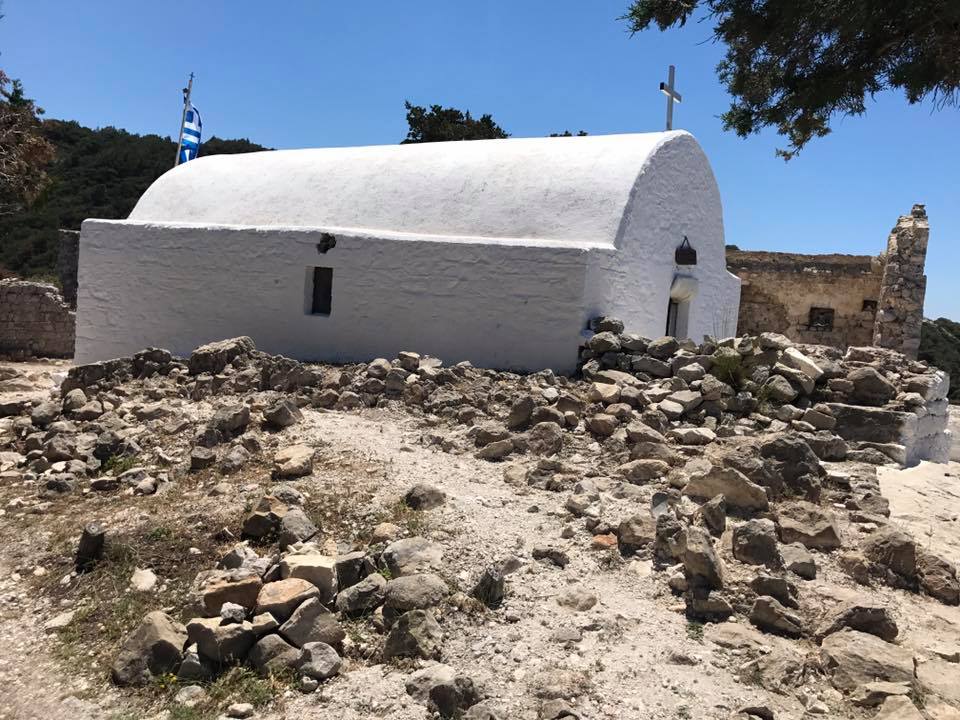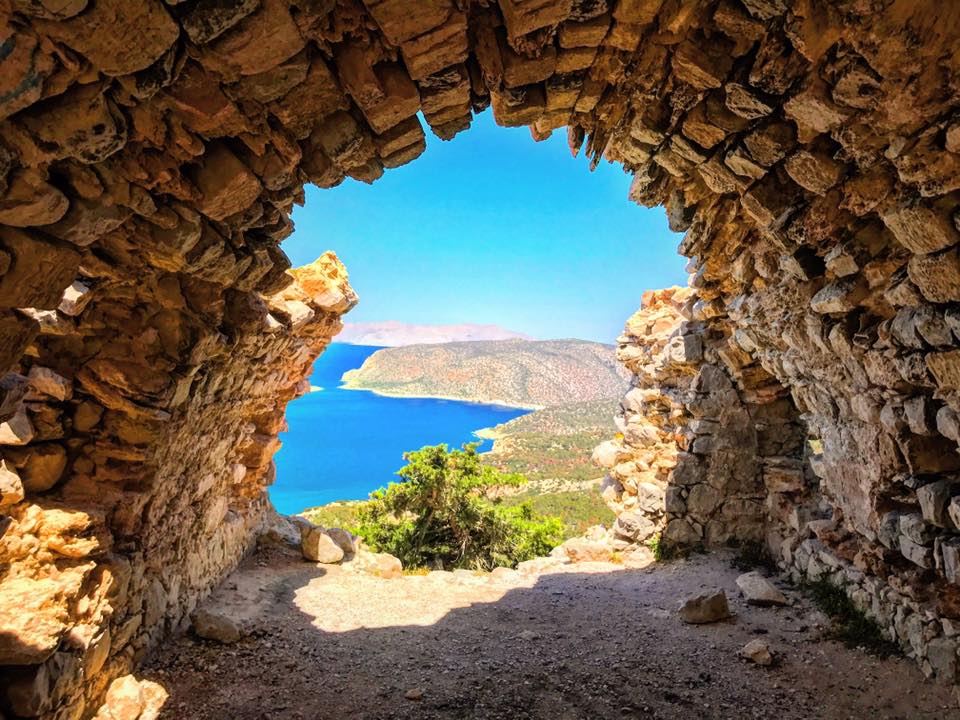 Ancient Kamiros: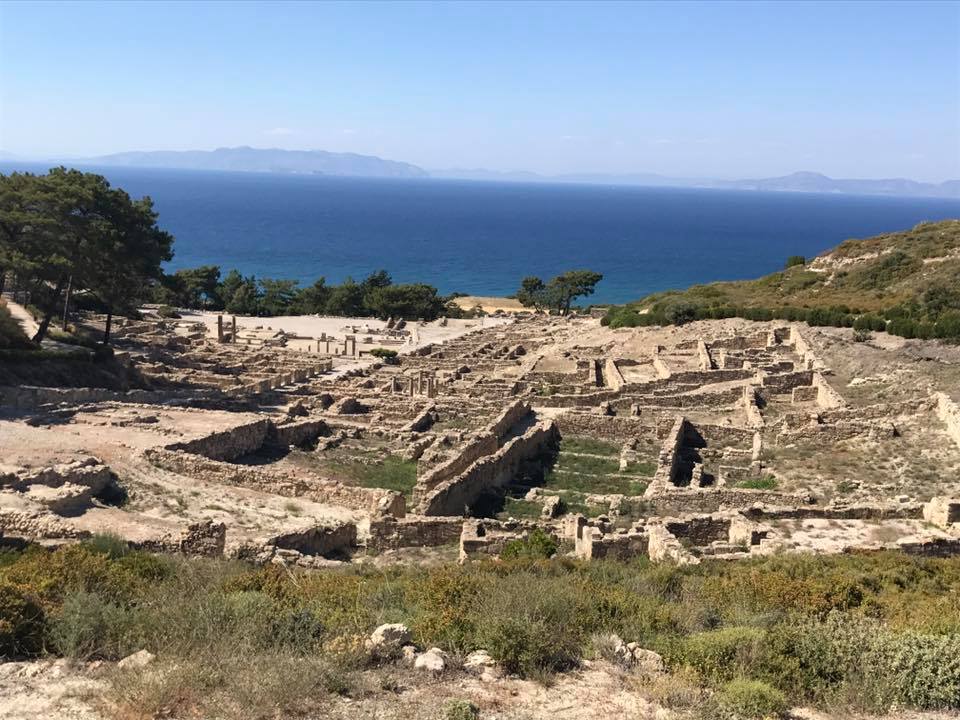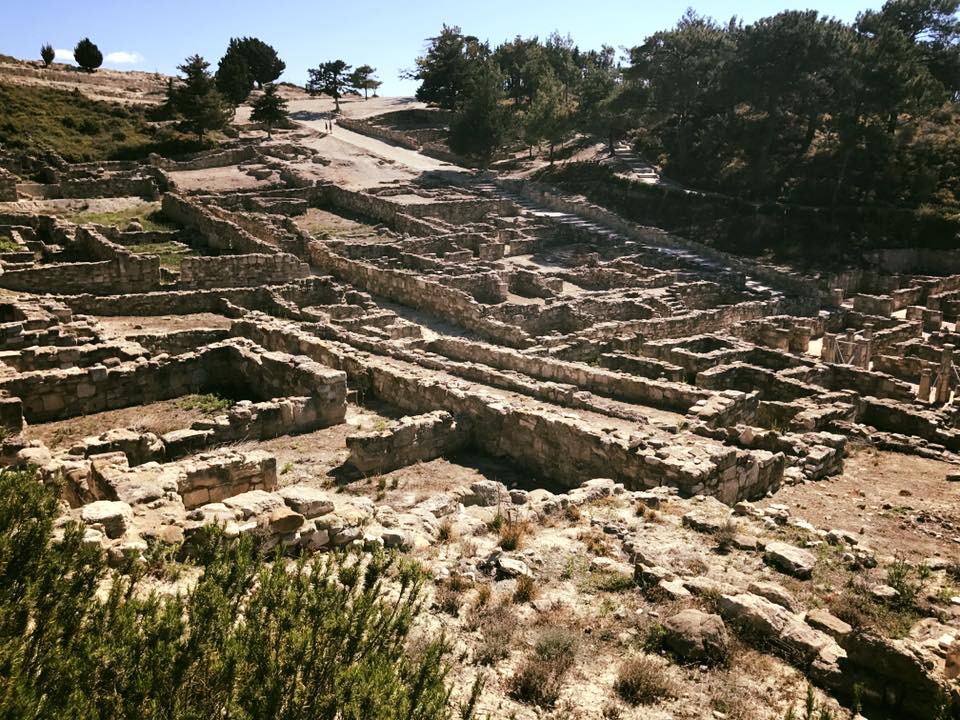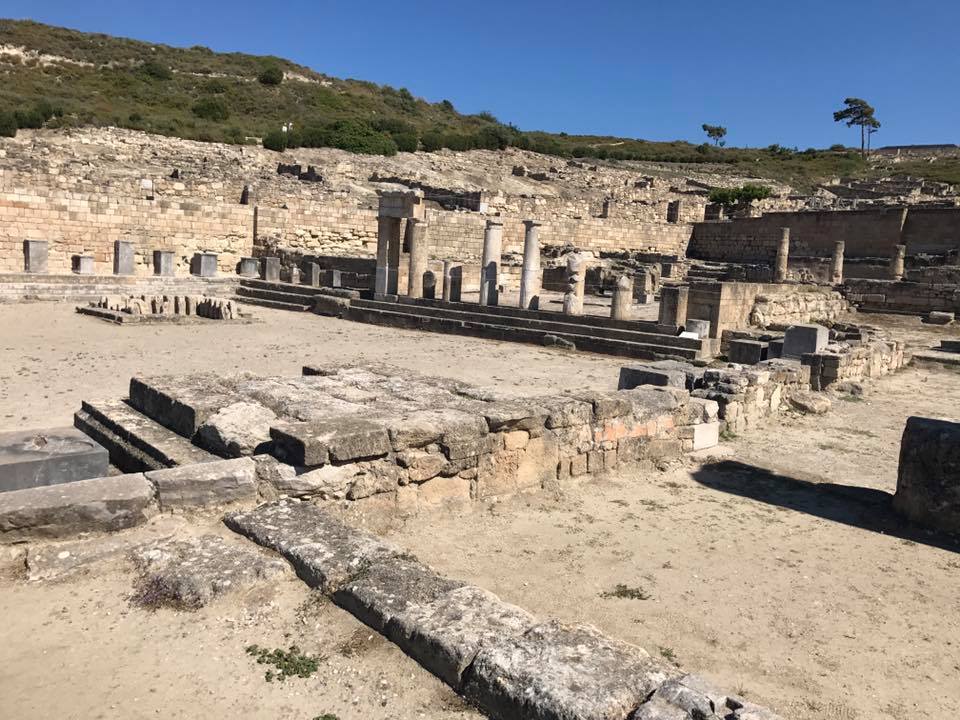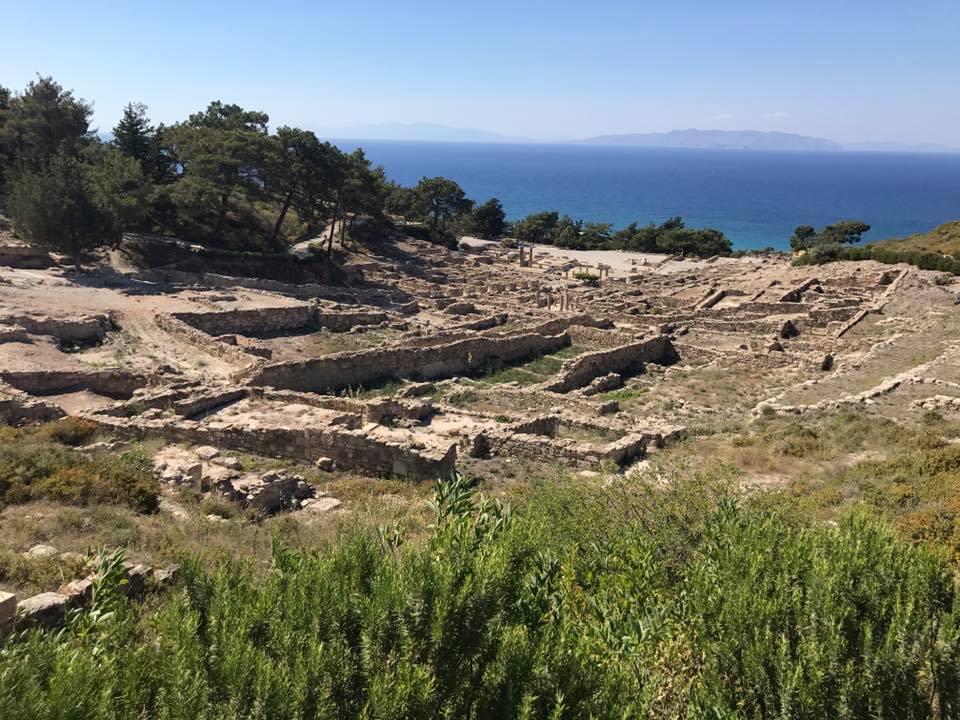 Seven Springs:
Make sure the water is running at the springs before you go because when we went, the water had dried up, so this lovely shot is courtesy of Mr. Google!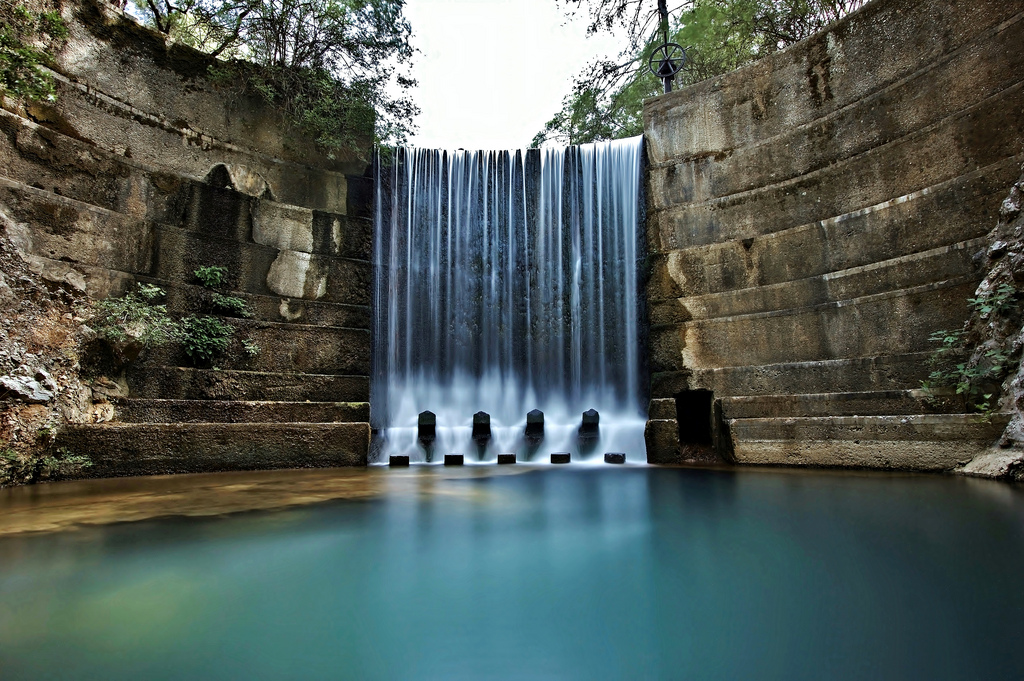 On our last day, we stayed in the Old Town and visited the Palace of the Grand Master of the Knights of Rhodes. We also walked through the moat, which was kind of cool because you see the Old Town above you and there are a few little nooks to explore.  And, we walked on top of the medieval wall, which had fantastic views of the Old Town below, and the exist was literally in front of our hotel!  Finally, we visited the archaeological museum.
Moat: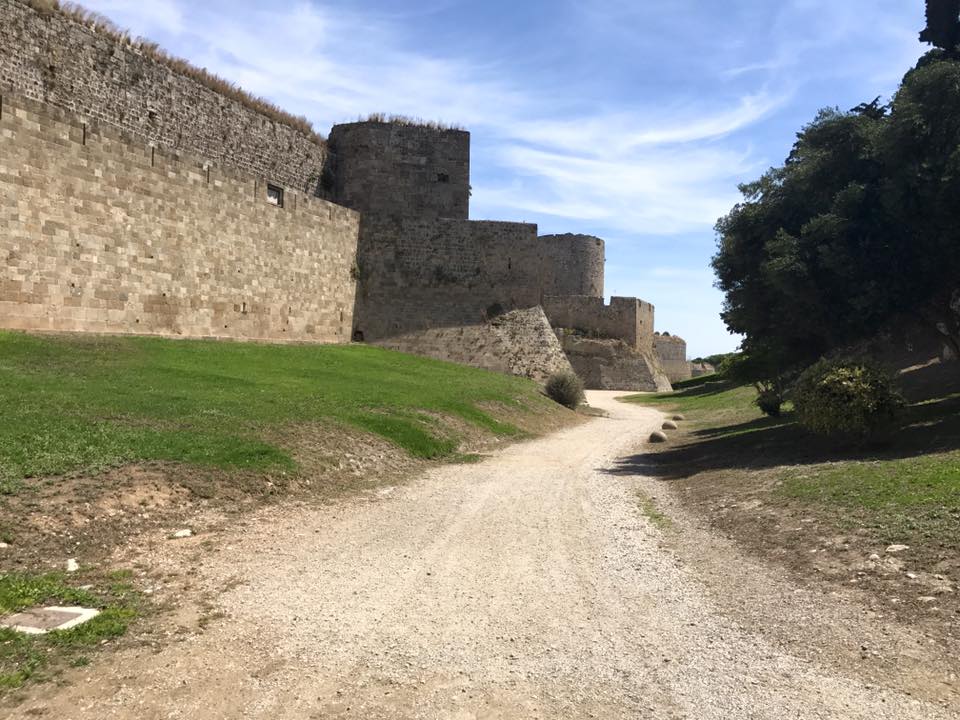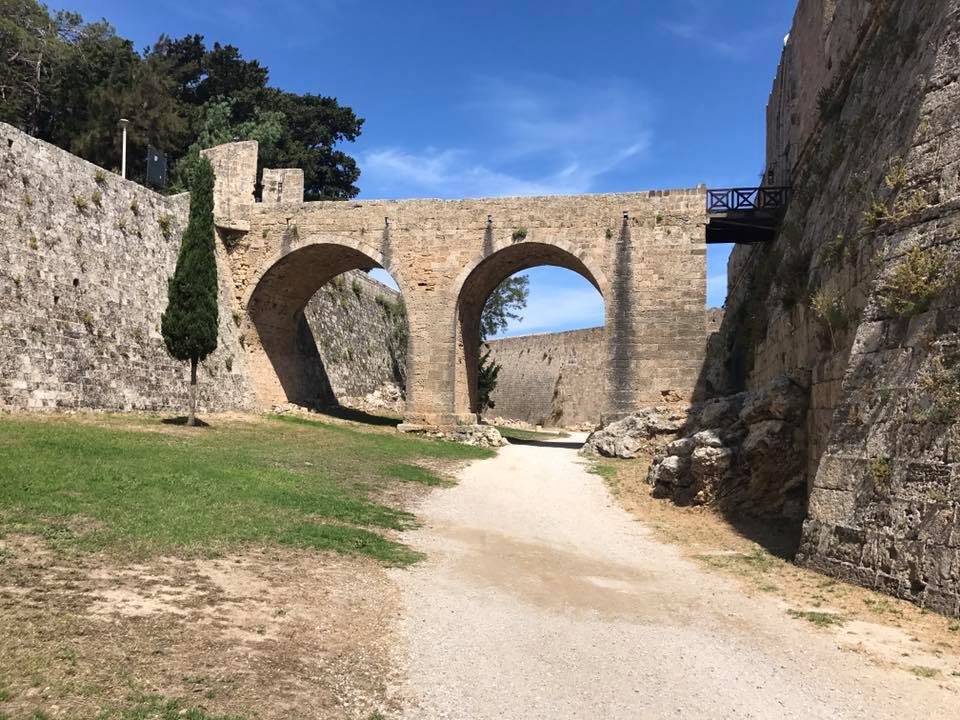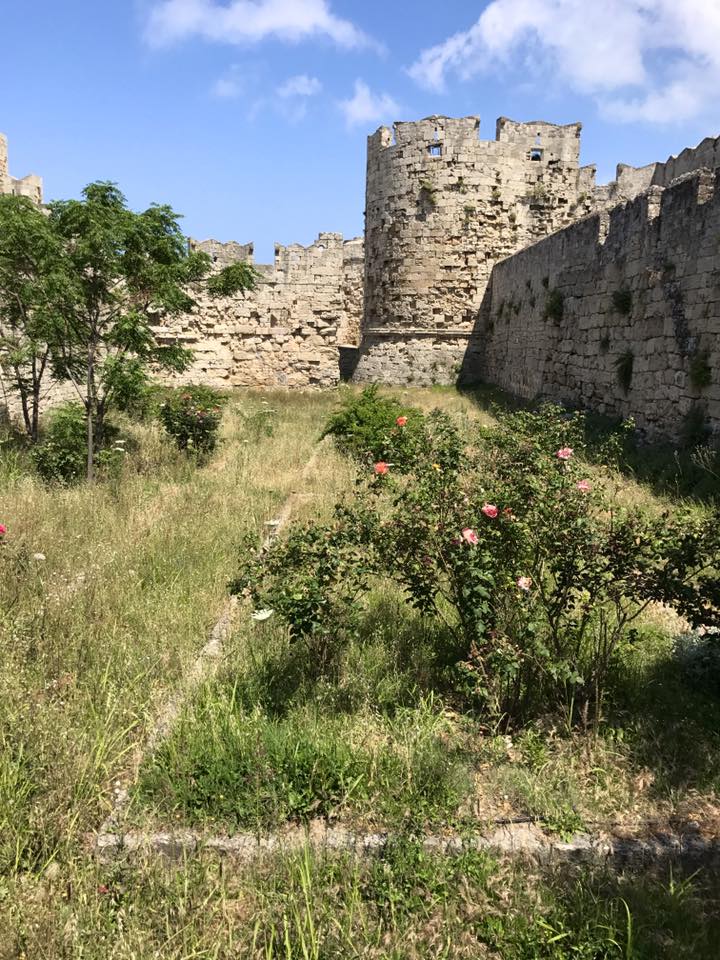 Palace: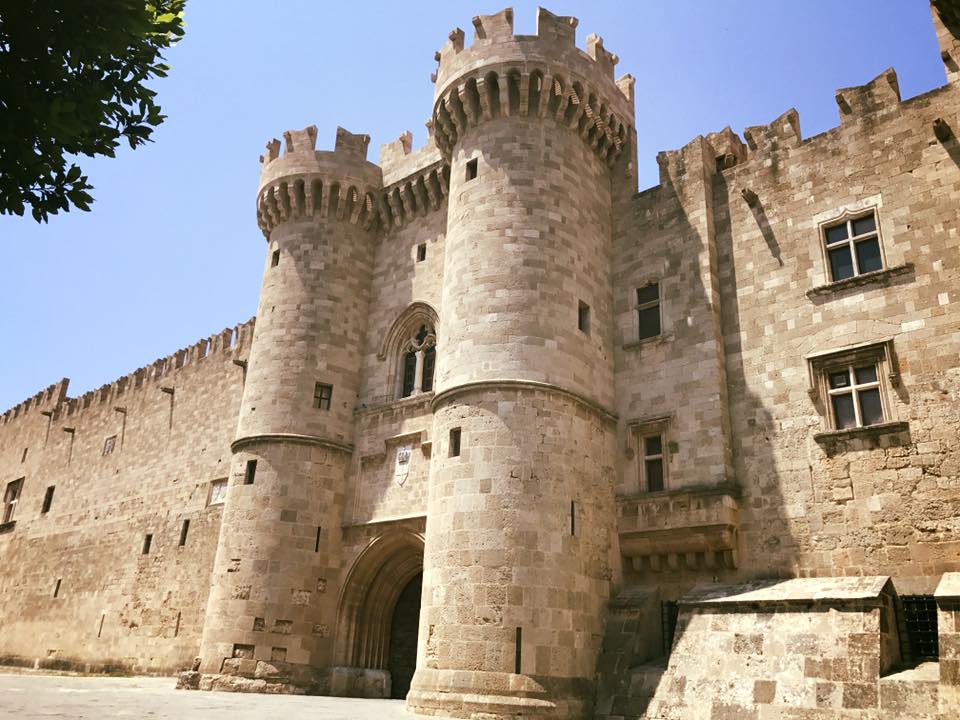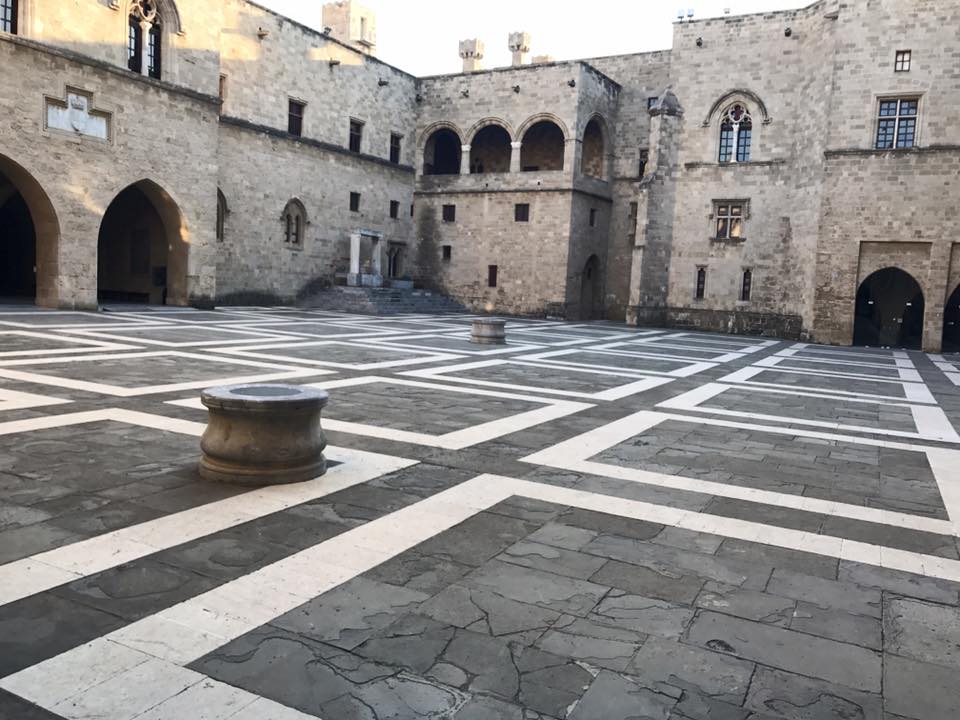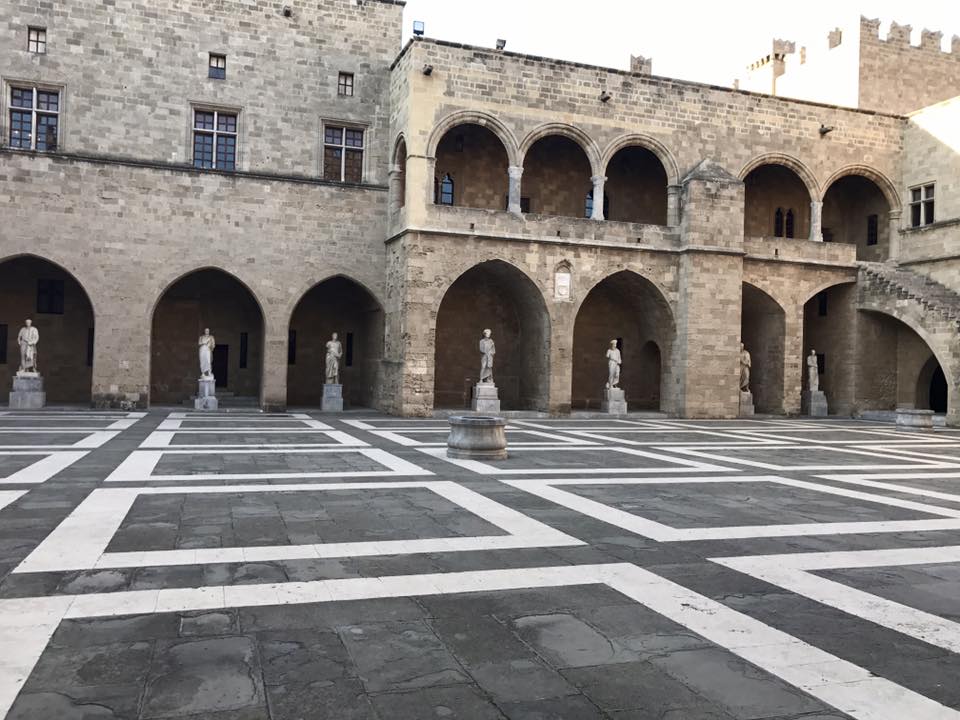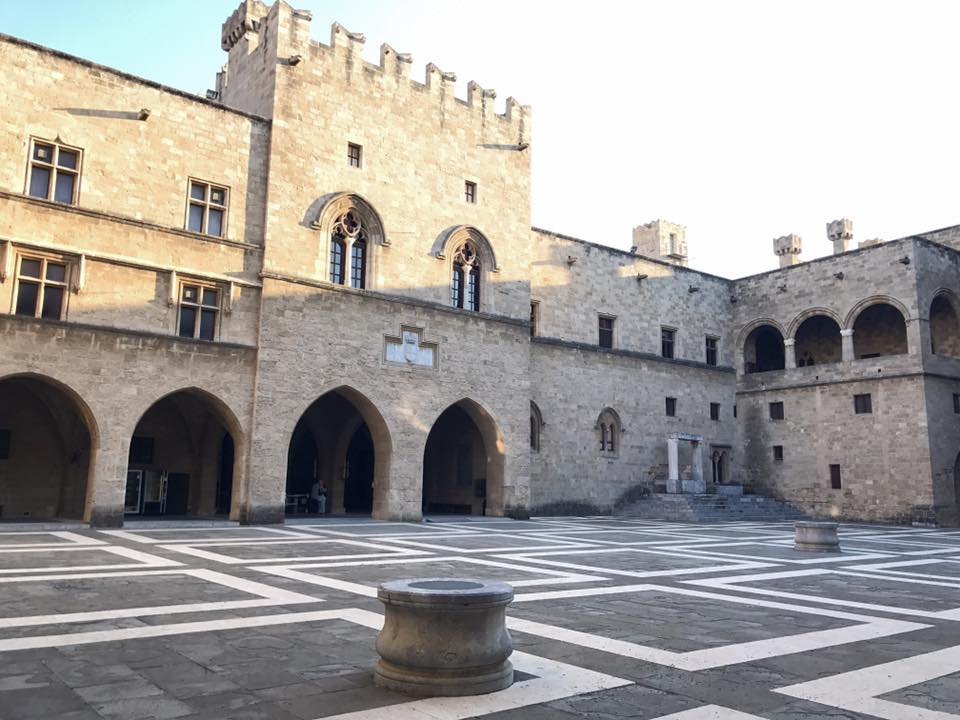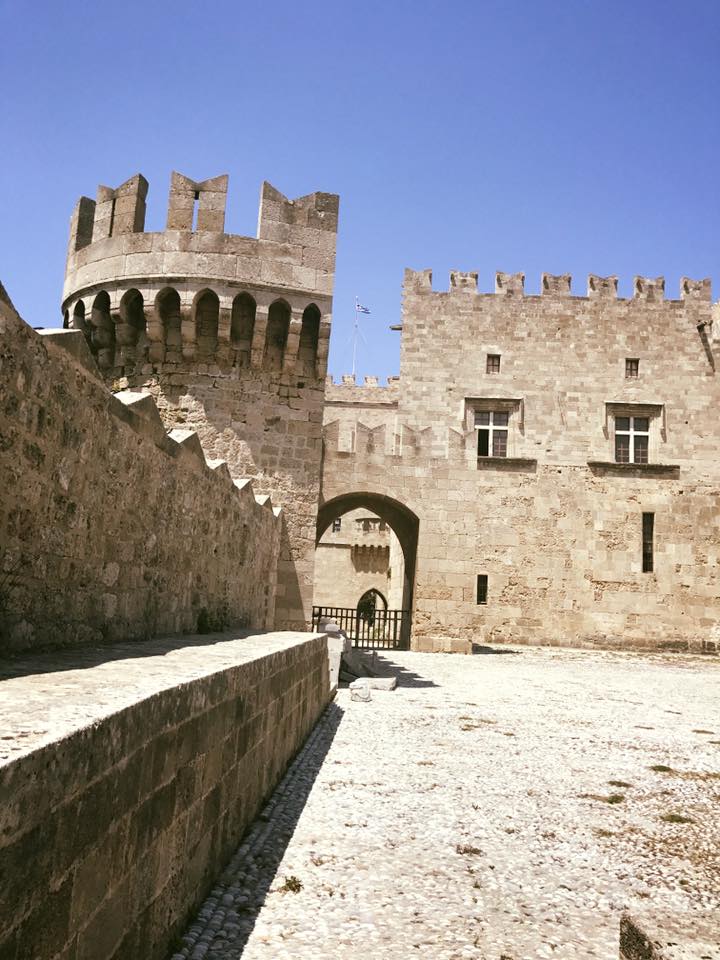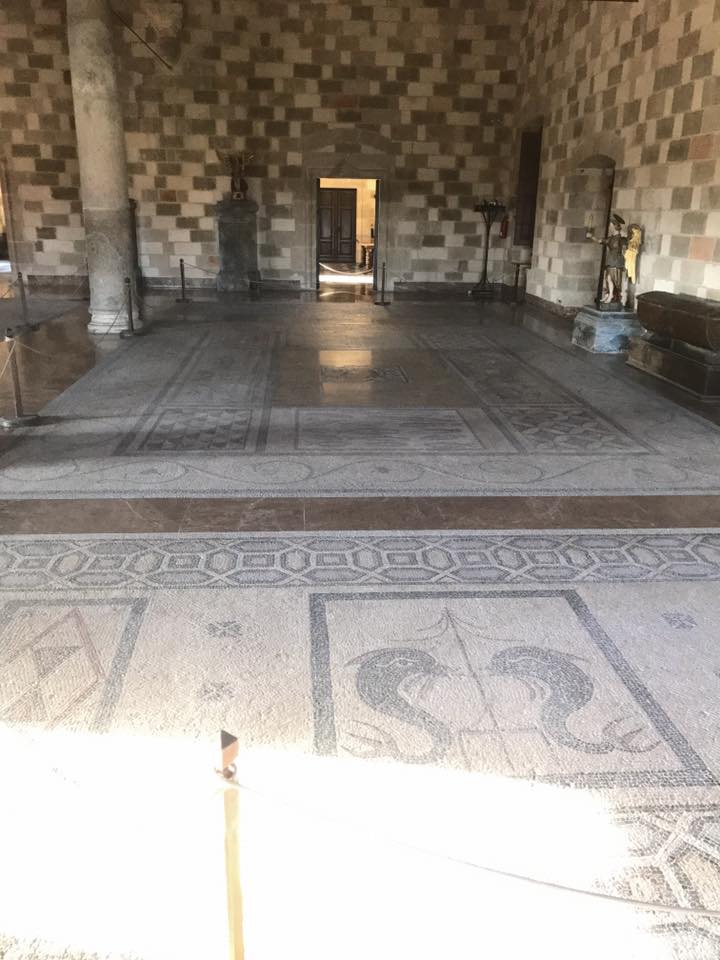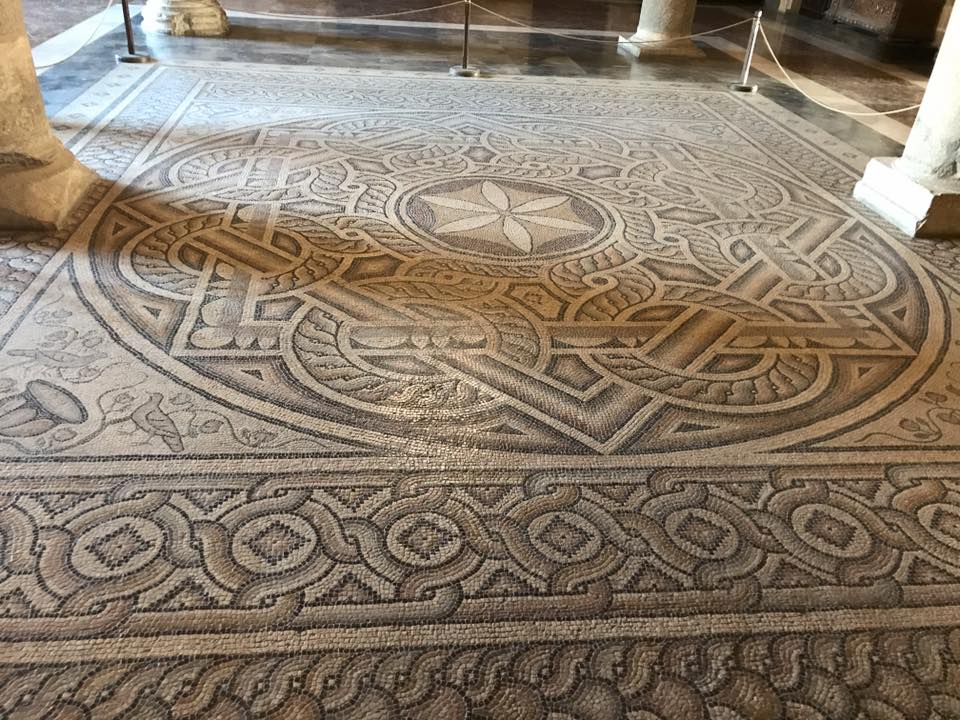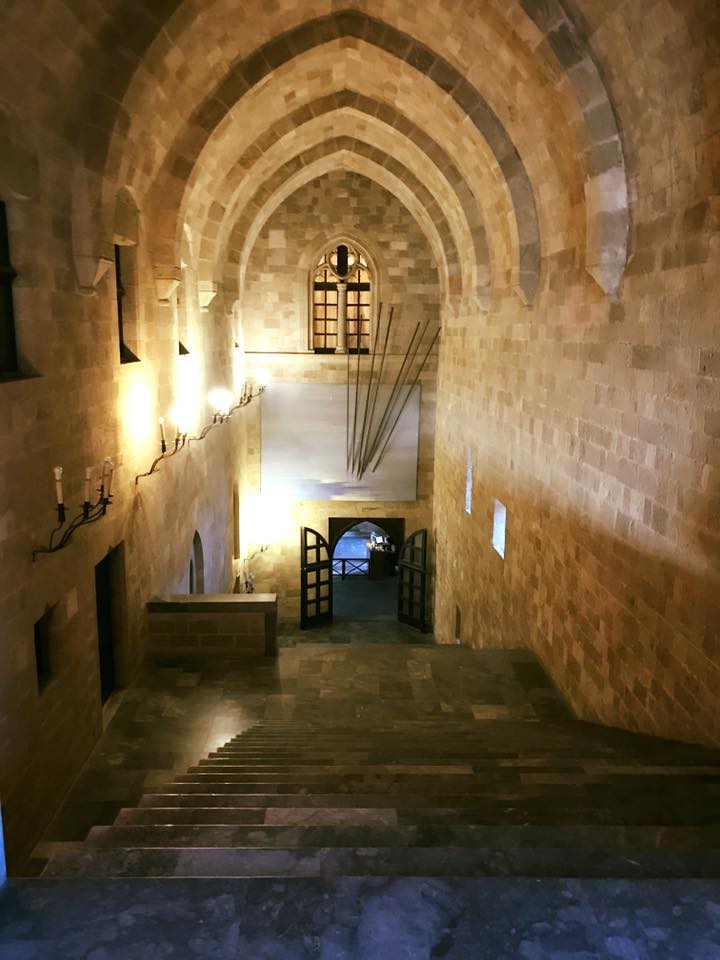 Medieval wall: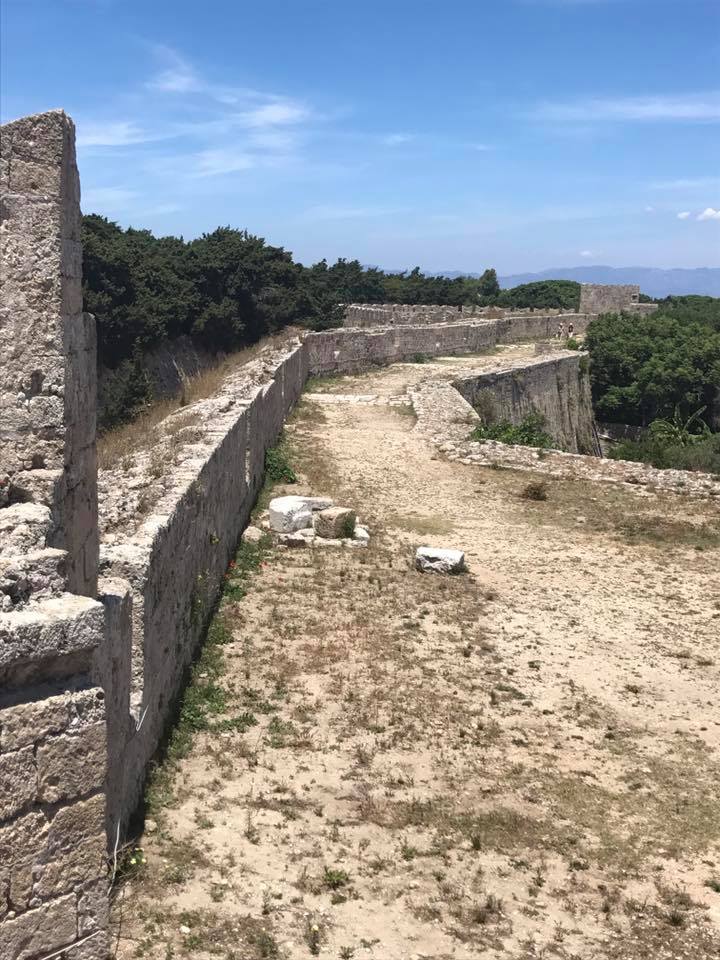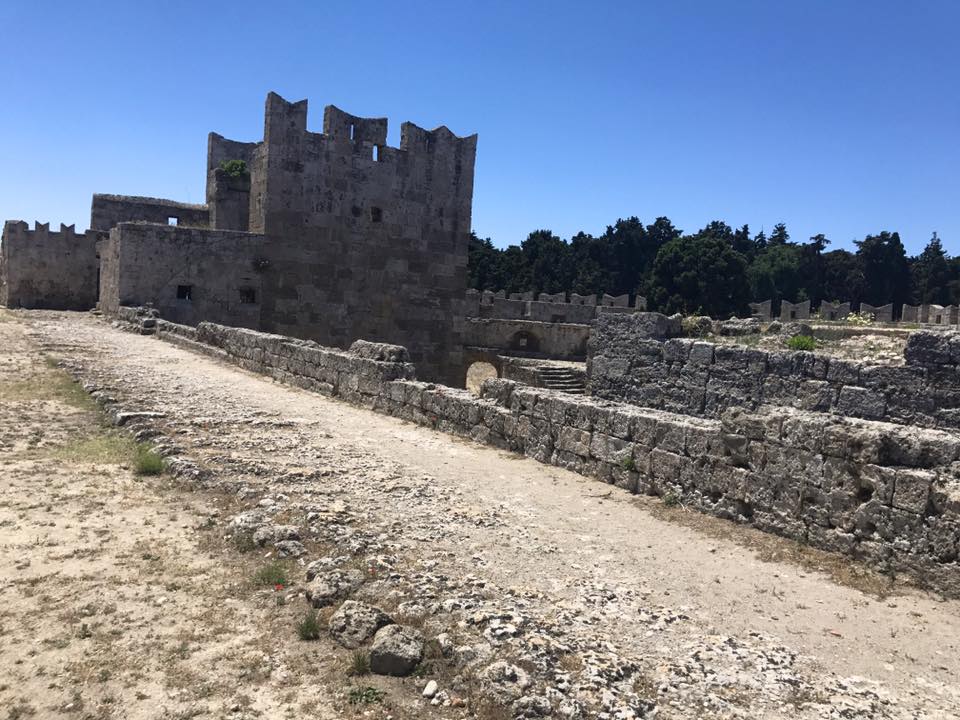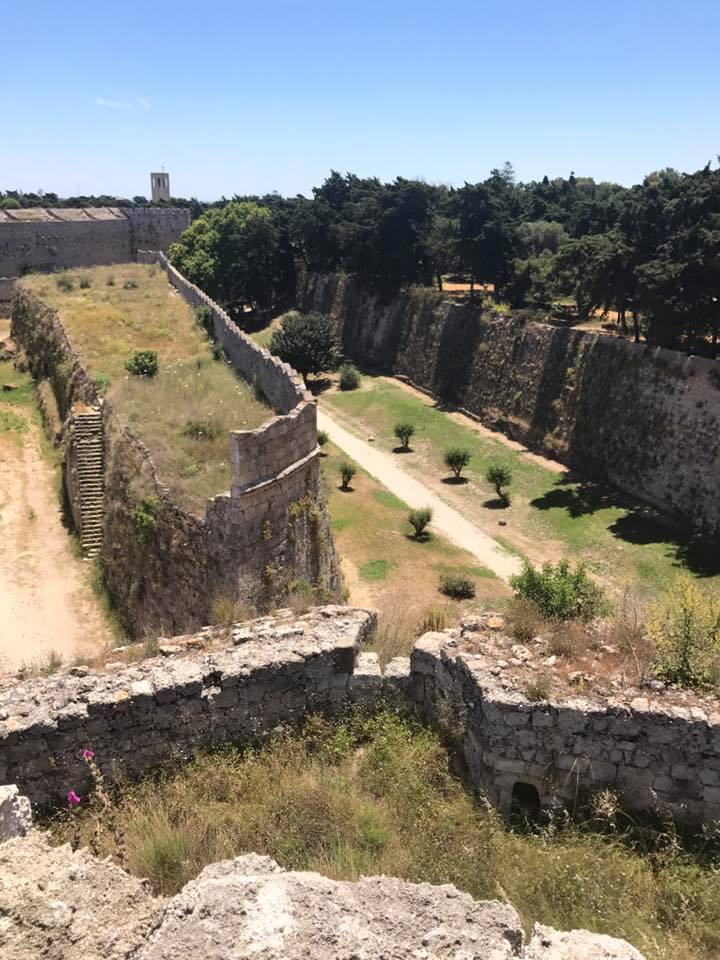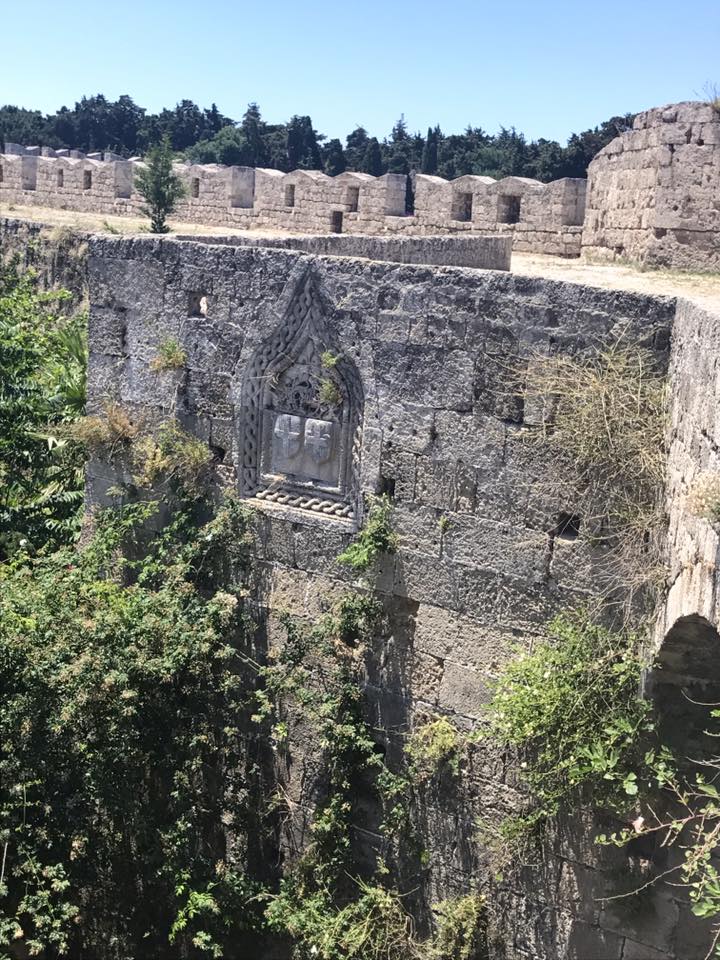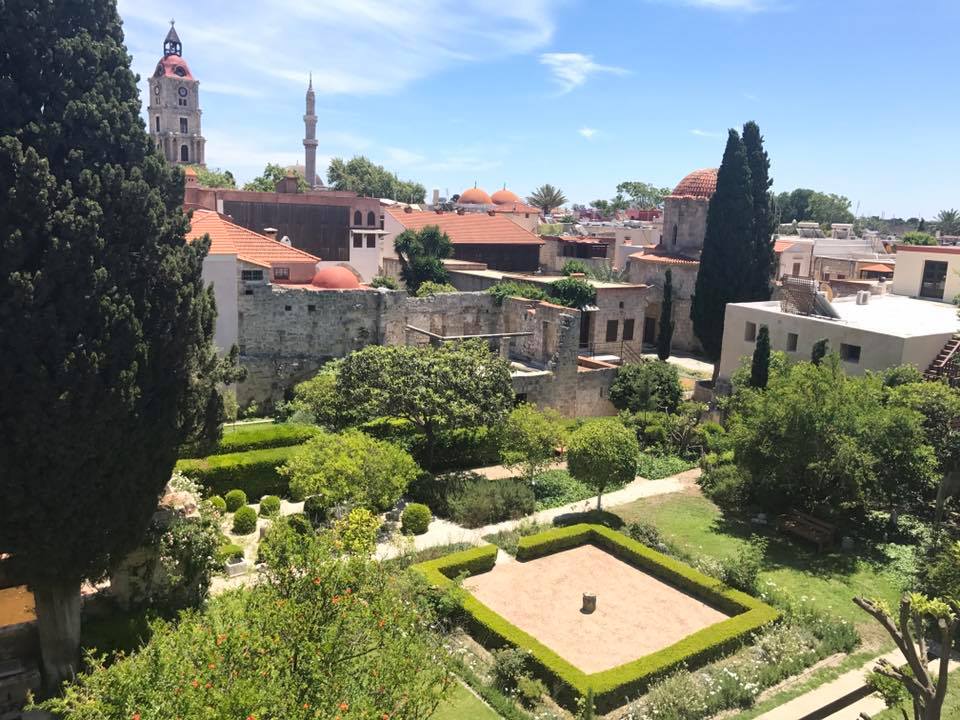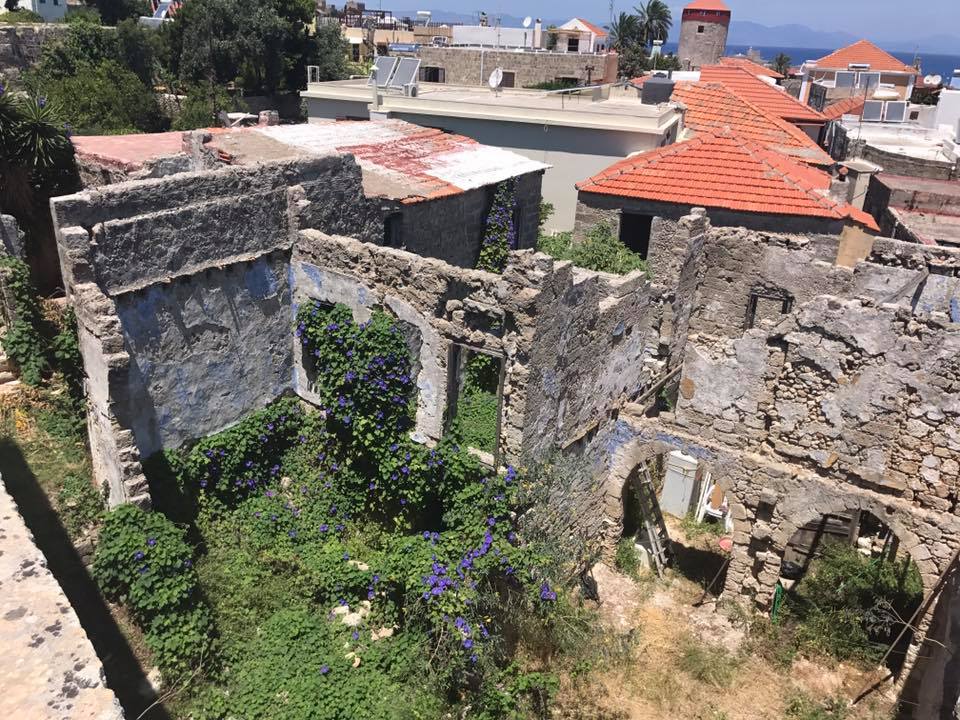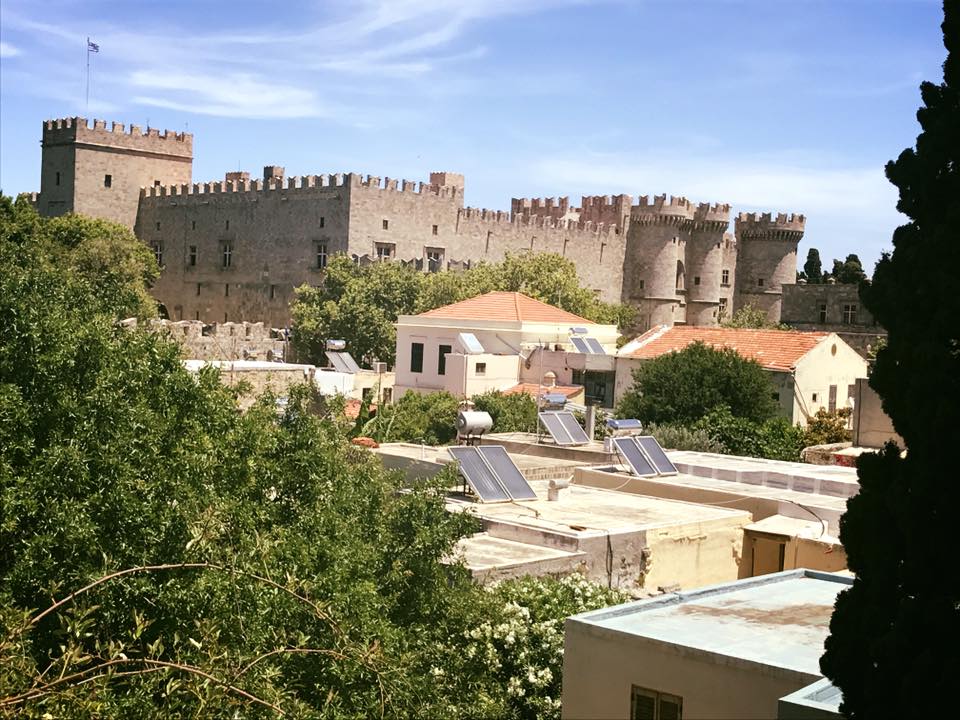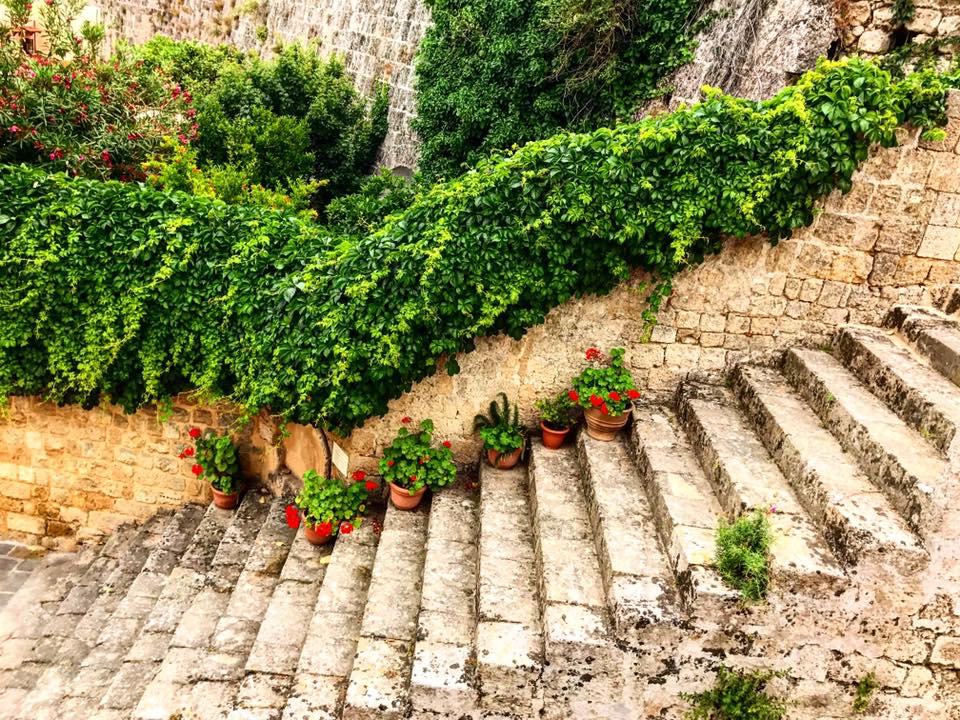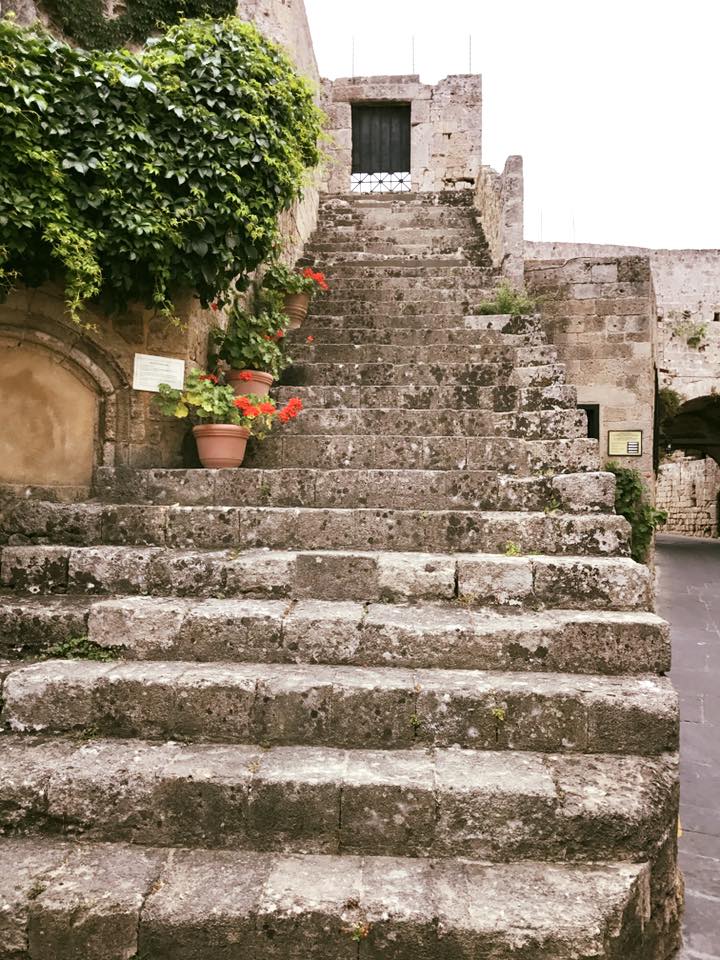 Museum: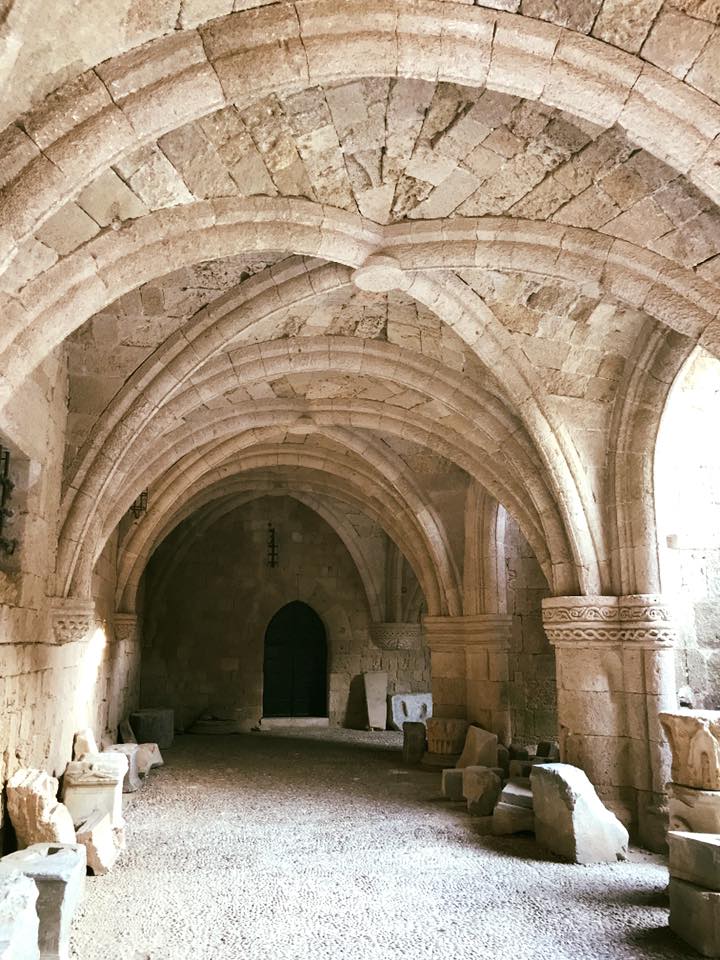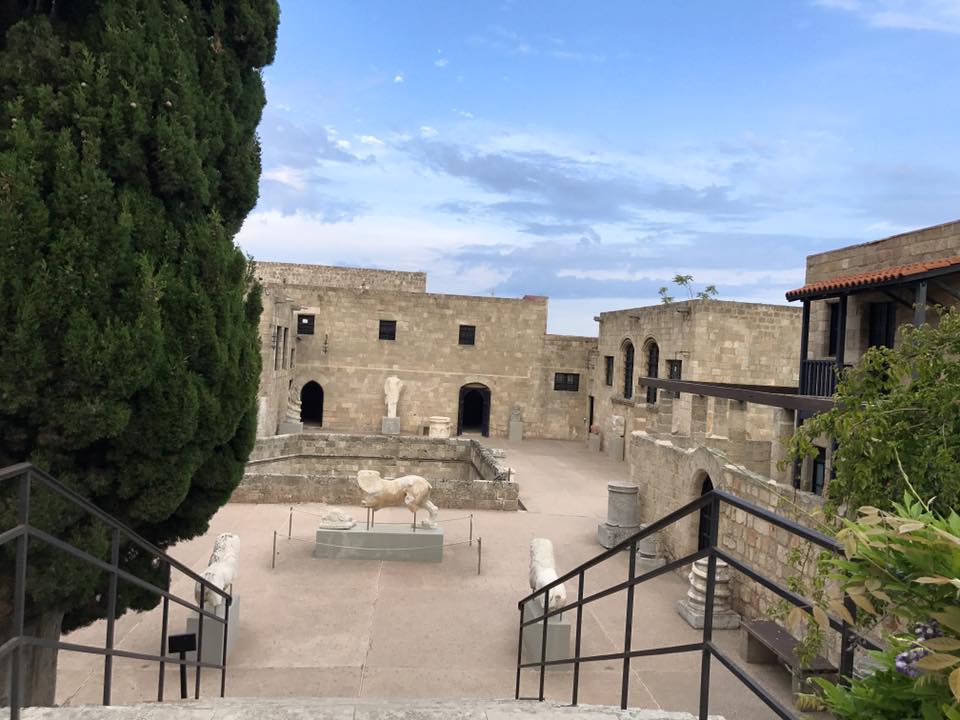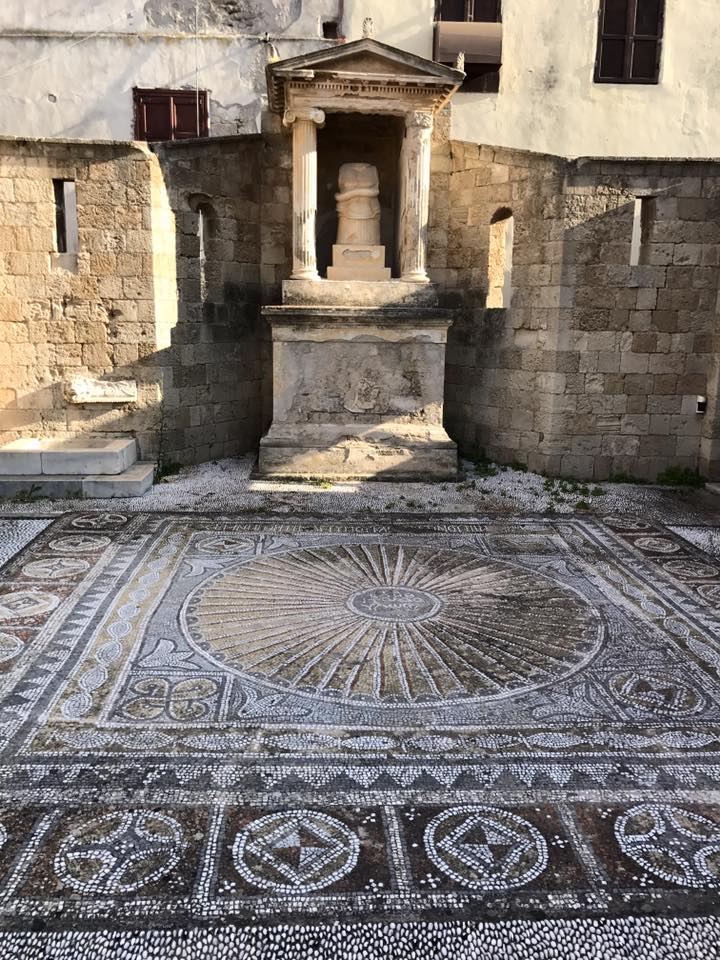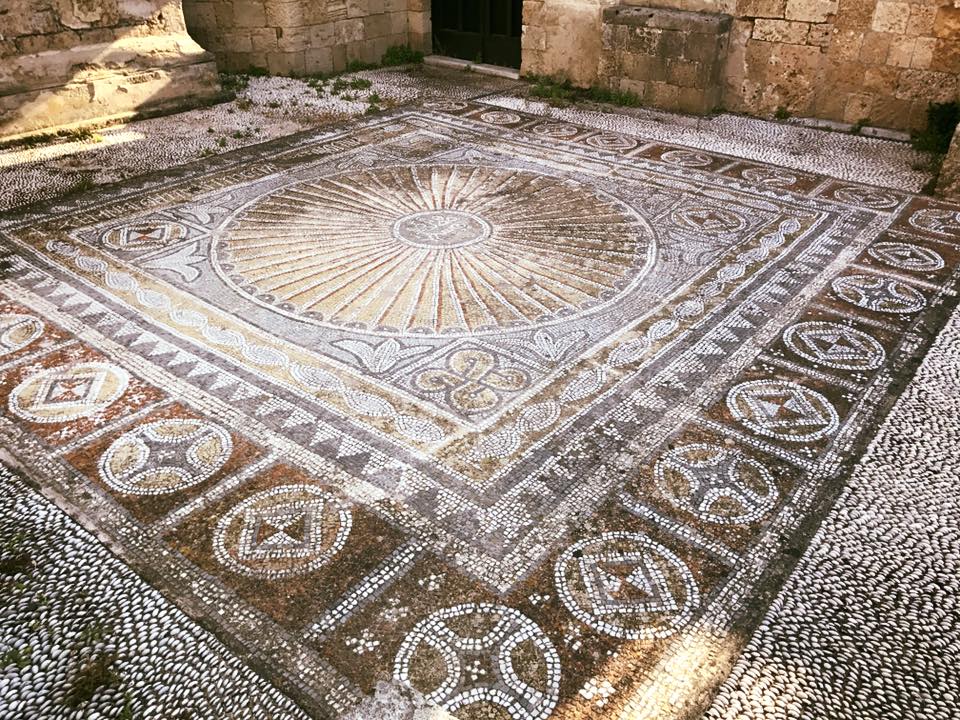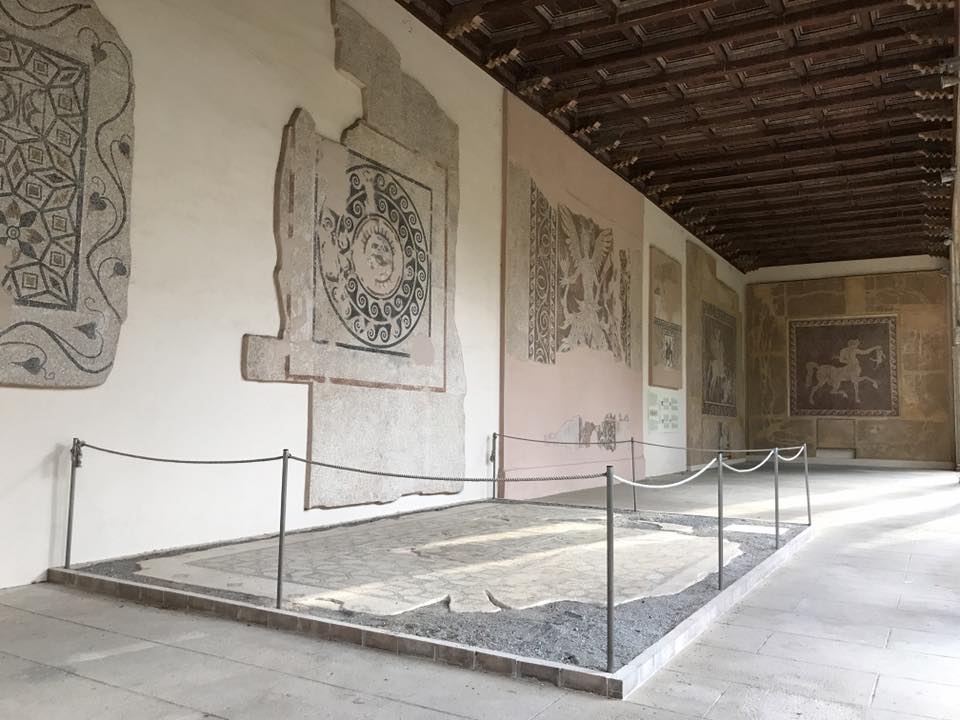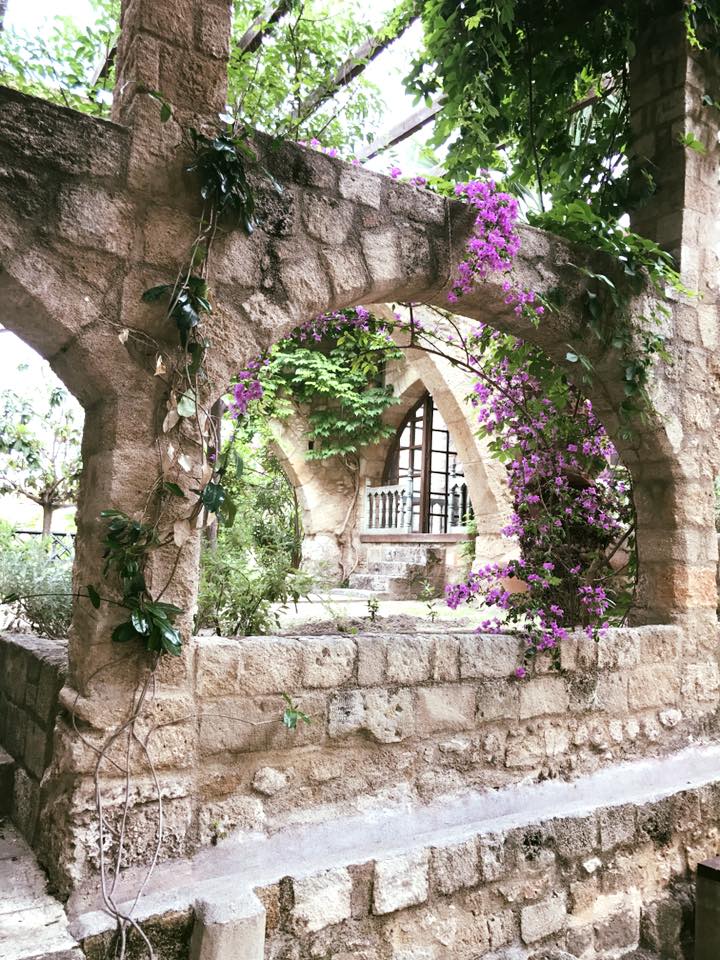 There are several day trips you can take from Rhodes, including trips to Symi,  Kastellorizo, Alimia, and Chalki Islands. You can also visit Turkey for the day from Rhodes! We didn't have time to do any day trips on this visit. We do, however, plan to come back to Rhodes to explore more of the island (but really to stay at Kokkini Porta Rosa again) and to visit some of the neighboring islands. Second to Crete, Rhodes is my favorite island in Greece. Add this little medieval gem to your bucket-list.  I promise it will not disappoint!