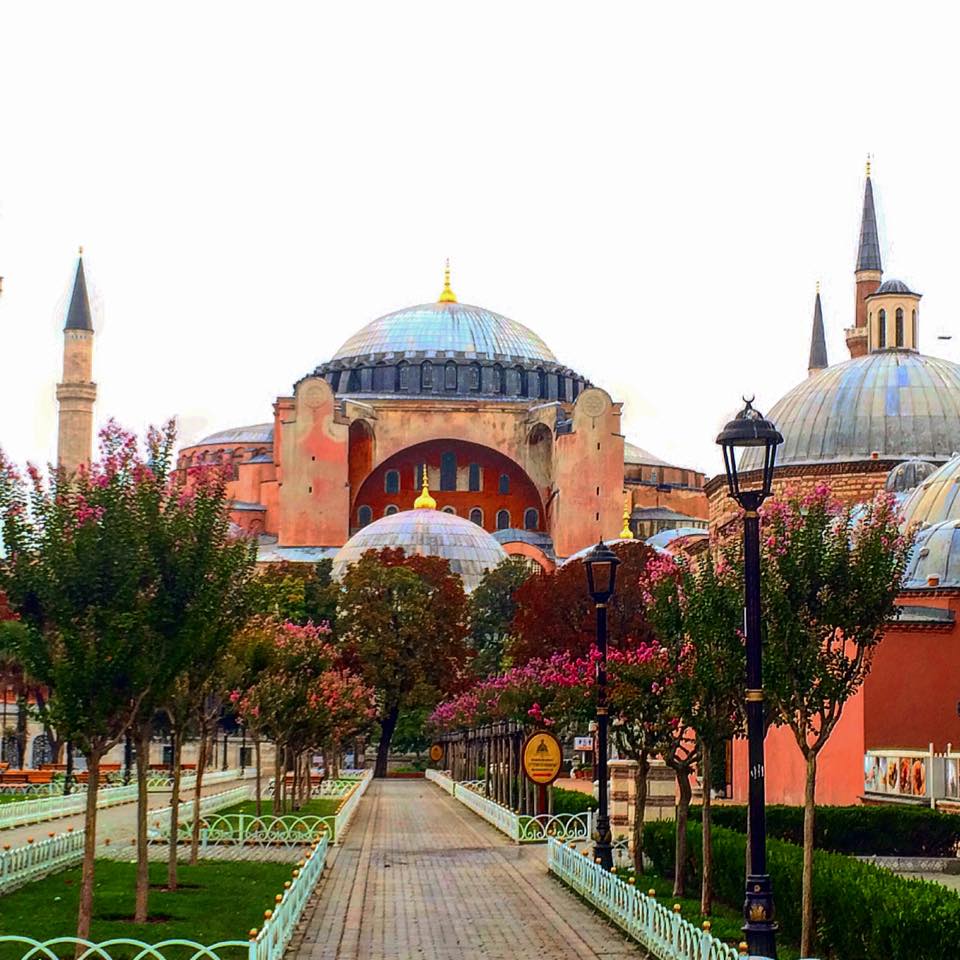 Most people dread a long layover between flights.  Not me.  In fact, I sometimes purposefully plan a long layover, especially in a cool new city.  For me, a layover presents an opportunity for a mini adventure.
Recently, Chad and I decided to take a spontaneous trip to Crete, Greece to visit my dad.  We flew through Istanbul, a city to which neither of us had ever been.  So, we chose a flight with a 13 hour+ layover between Athens and Miami for the sole purpose of having a few hours to explore Istanbul. It was one of our best travel decisions!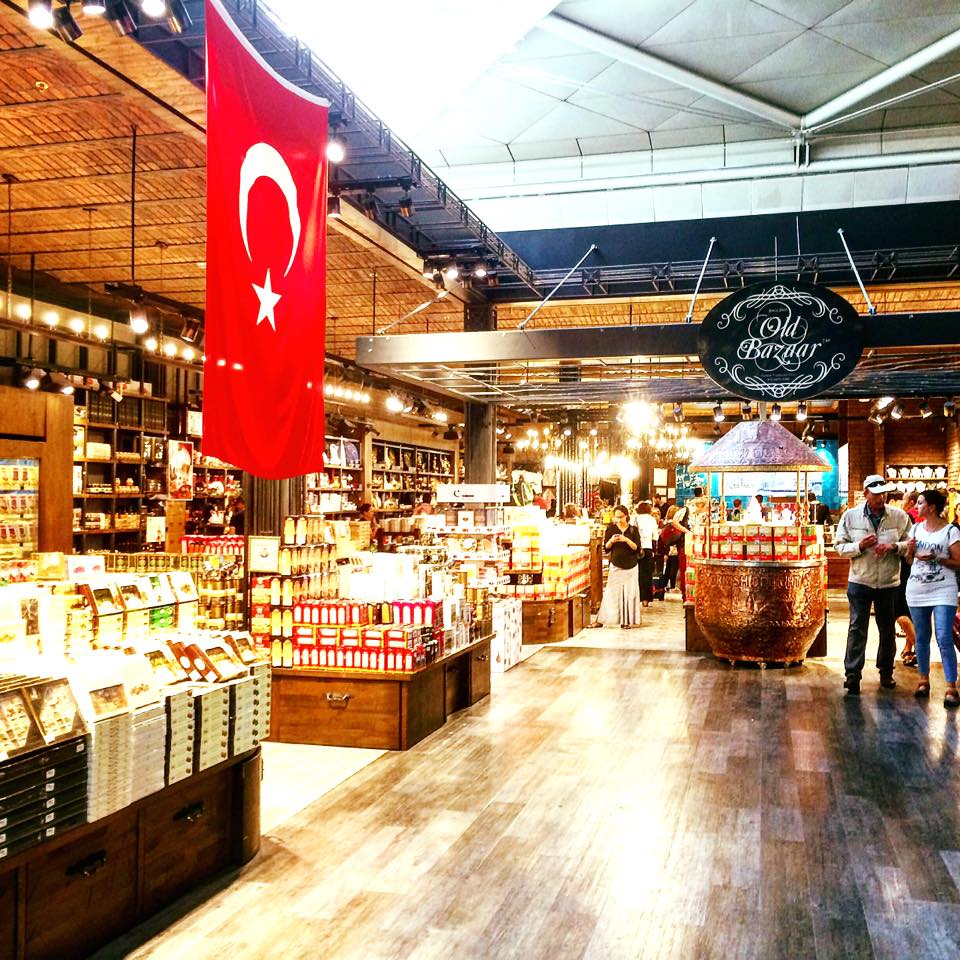 Our flight from Athens arrived in Istanbul at 11: 30 p.m.  With just our pre-planned and pre-packed carry-on bags in tow, we quickly made our way to the visa office to purchase our Turkish visas.  That's right U.S. citizens, as of 2014, you now need a visa to visit Turkey.  It costs $30.00 per person and can be purchased right in the airport before leaving the secure area (you can also obtain an e-visa ahead of time for $20.00).  After securing our visas, we exited the secure area of the airport and found the shuttle for the land-side of the airport's hotel.  This airport has a hotel within the airport that has two sides: the "air side," which is inside the secure area of the airport and requires a boarding pass for check in and the "land side," which is outside of the secure area of the airport but still attached to the airport.  We checked in for the night, had a hot shower, and got right to bed.
After a very early breakfast the next morning (which is included in the room rate if you just ask), we met Aykut from Istanbul Custom Tours.  He was waiting for us in the lobby before our scheduled meeting time. I had contacted him prior to our trip to arrange this day-tour, and he was very responsive and flexible. The nice thing about touring this early on a Sunday morning is that we missed all of the notorious Istanbul traffic (it is a large sprawling city of more than 14 million people).  Also, we had the city and its sights pretty much to ourselves.
Our first stop was to the Asian side of Istanbul to see the Bosphorus Strait.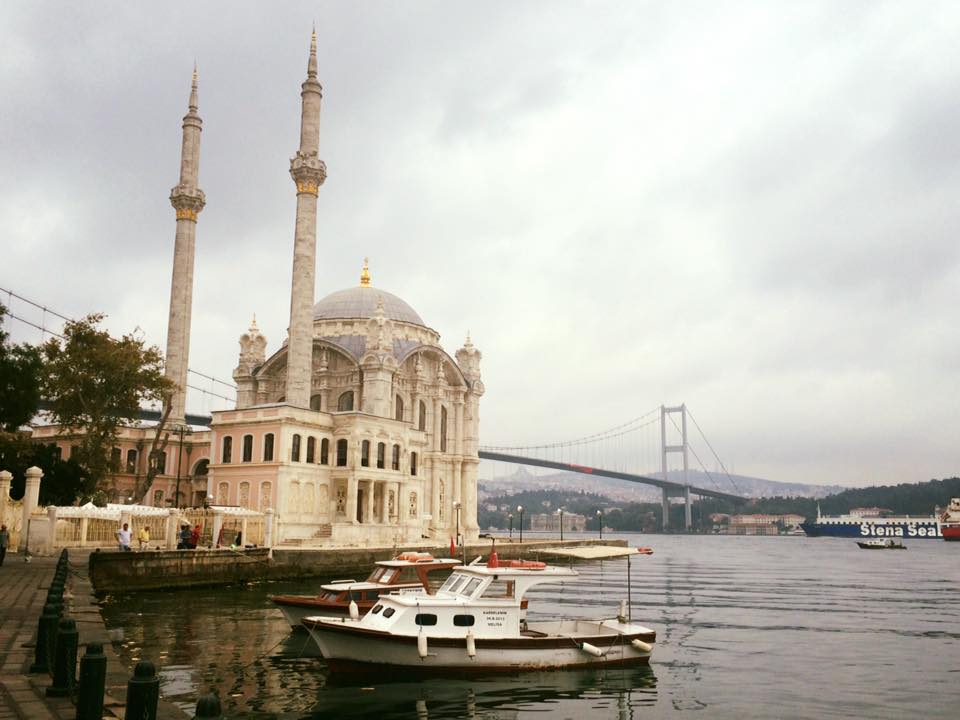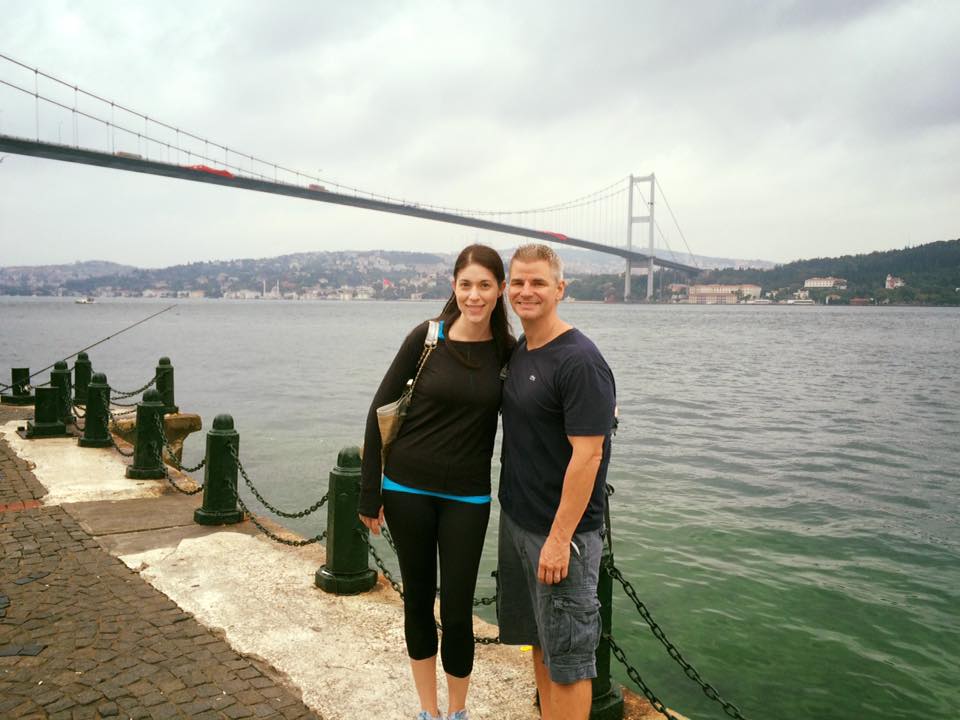 After a few quick picture stops, we made our way back over to the European side to visit the Old Town. We walked through Sultanahmet Square to visit the historic Hippodrome of Constantinople.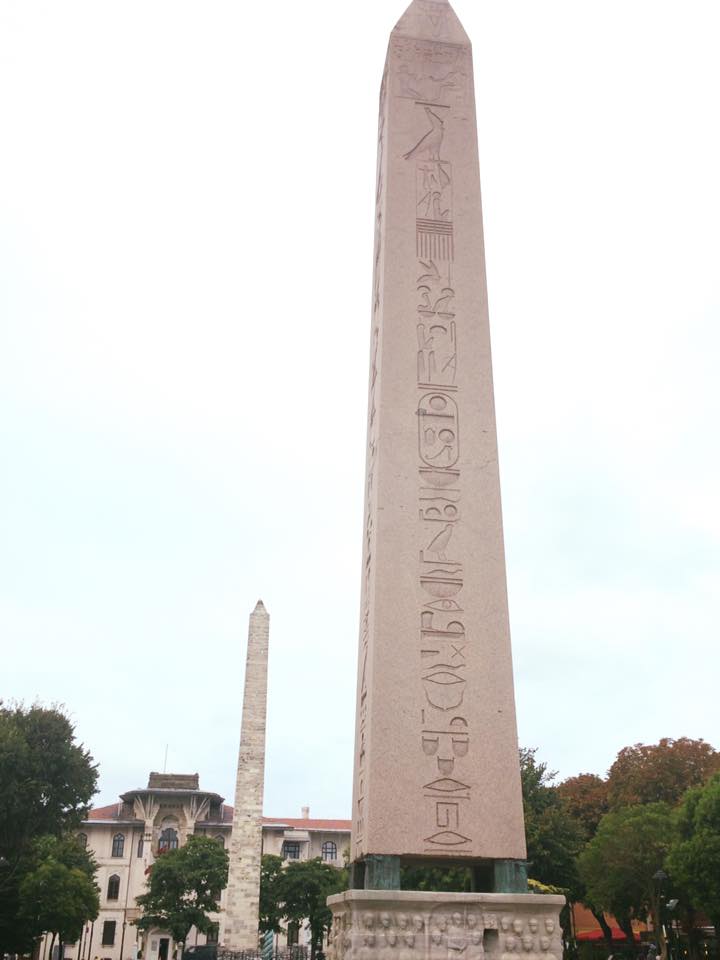 In the same plaza, you will find the German Fountain.  This is a classic example of looks being deceiving.  As you stroll through the Hippodrome, you pass a beautiful, but inoperative fountain. The fact that it is inoperative is by choice. This fountain was given as a gift from Germany to the Turkish people around 1900, which lead to an alliance between Turkey and German. Fast forward 20 years, Turkey ended up on the losing side of World War I, which sent Turkey spiraling into depression for decades to come. As a result, the Turks are no longer fond of the fountain; but it's huge and immovable, so, as a tourist, enjoy its beauty.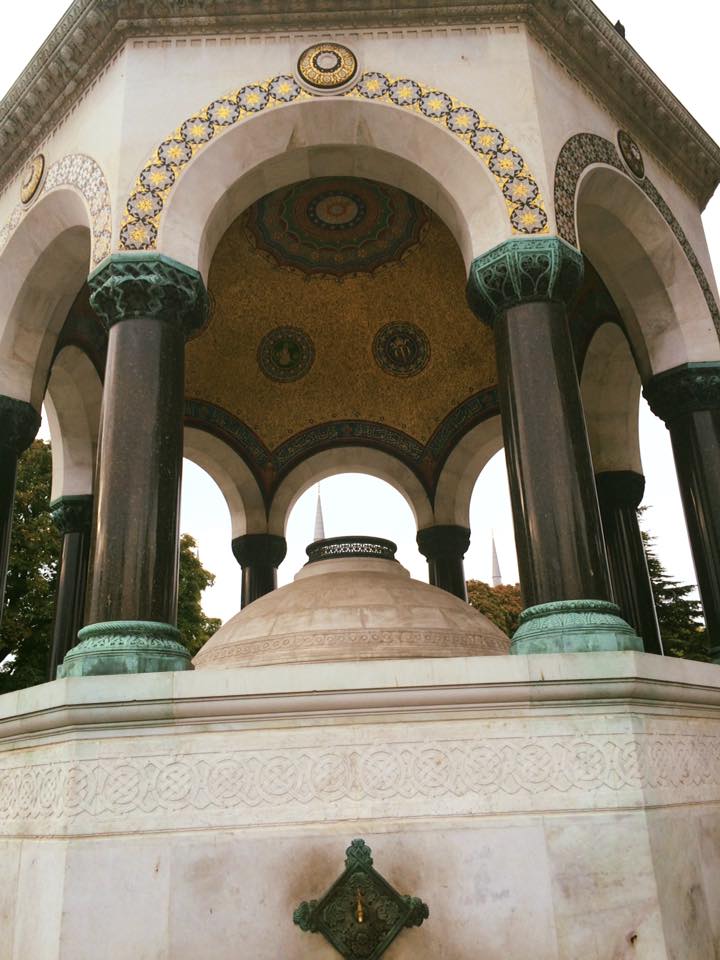 Our next stop was to the Sultanahmet Mosque (better known as the Blue Mosque), where we were the first people in line as soon as the doors opened at 8:30 a.m.  We had the beautiful mosque nearly all to ourselves!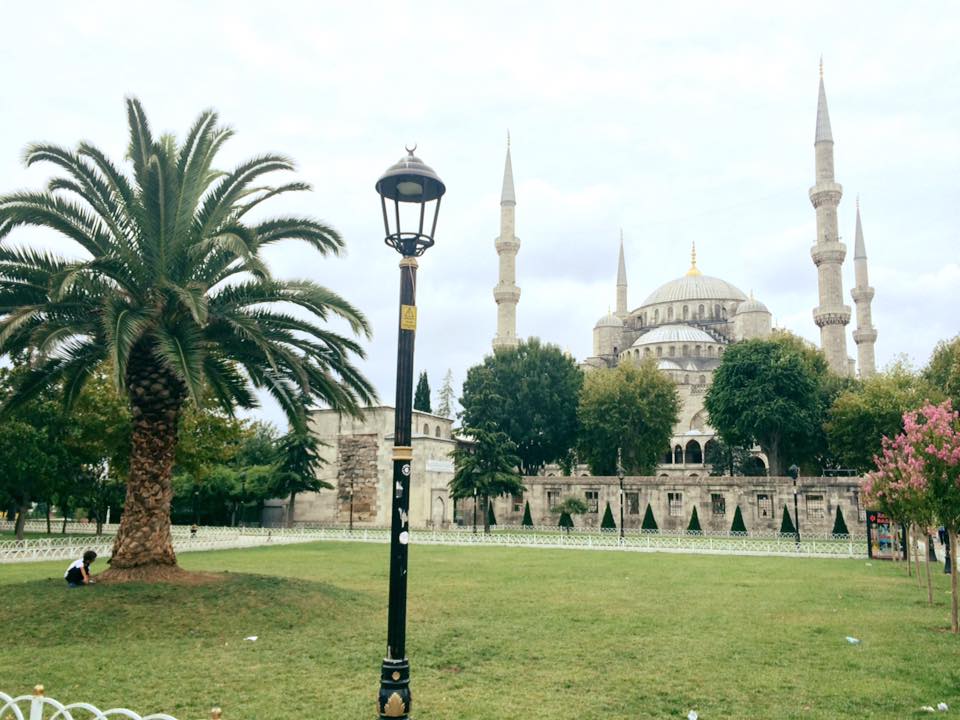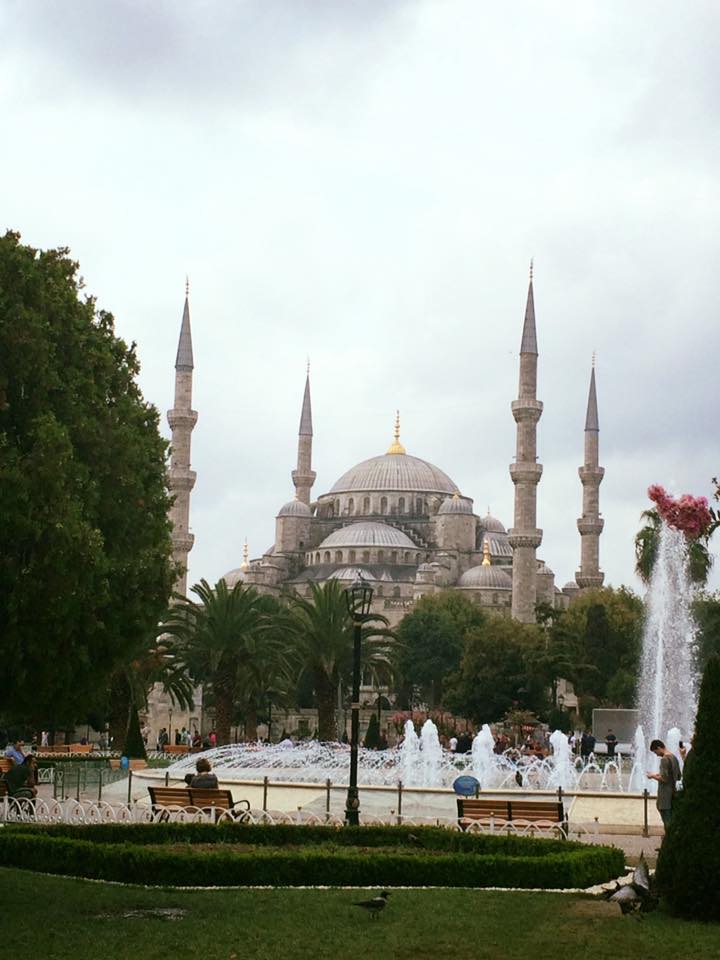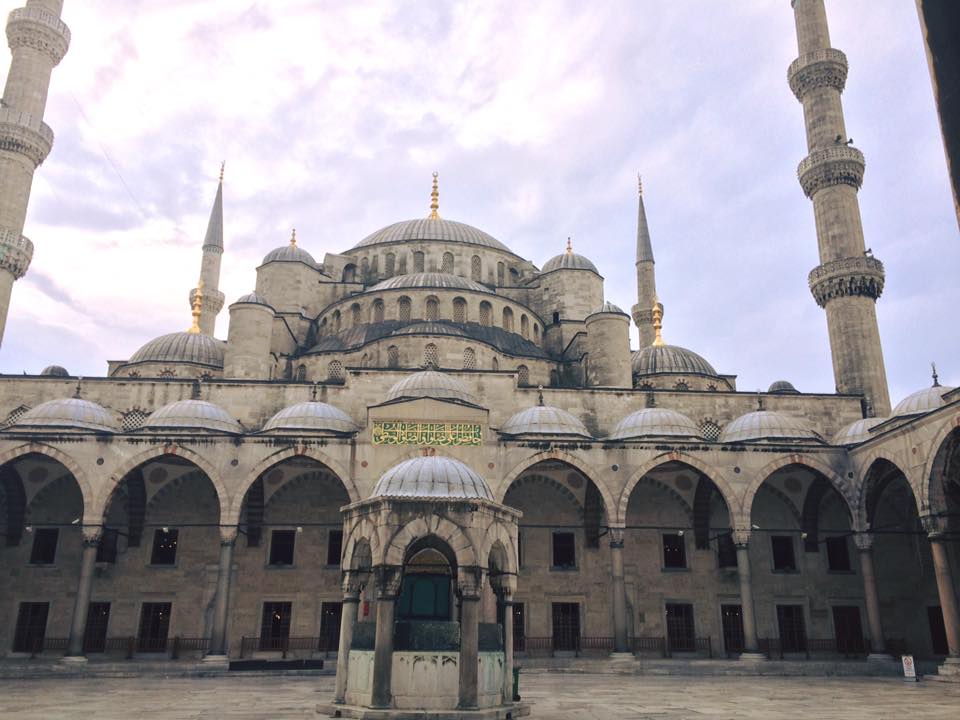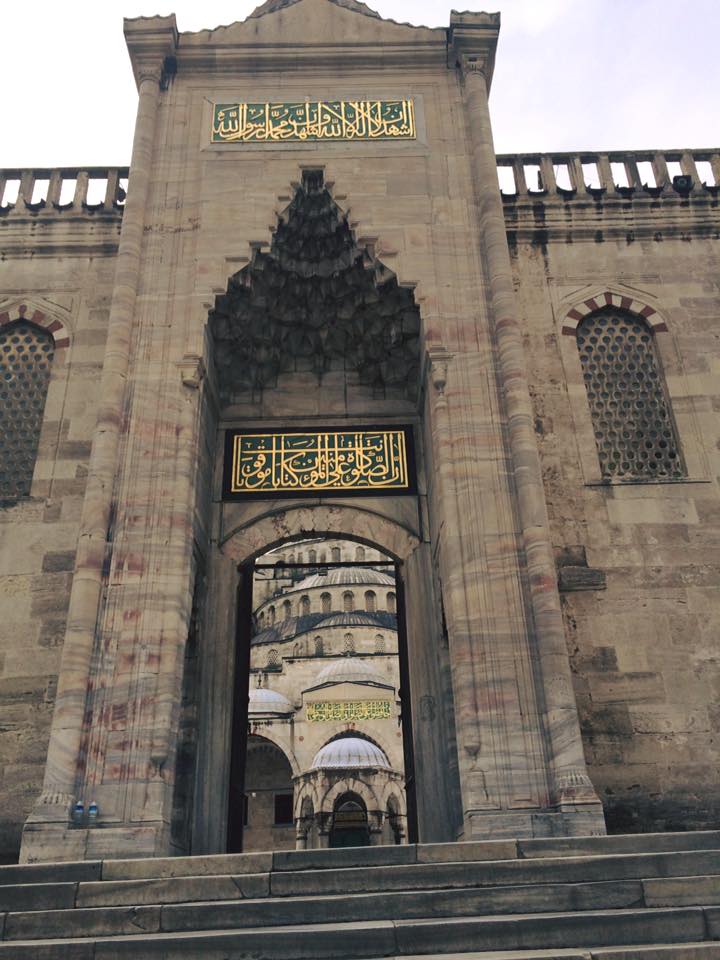 This is an active mosque where people come to pray.  All visitors are required to remove their shoes before entering, and the mosque provides plastic bags for you to put your shoes into and carry inside with you.  Also, women must cover their heads and wear a long skirt to enter. I anticipated this, and brought along a scarf, but the mosque also provides you with loaner scarves and skirts.  By the way, as Chad found out, men are not excluded from this rule.  Men must wear long pants.  If they are wearing shorts, like Chad was, the mosque will happily provide the man with a skirt to wear, and this will double as entertainment for me, and, now, for you!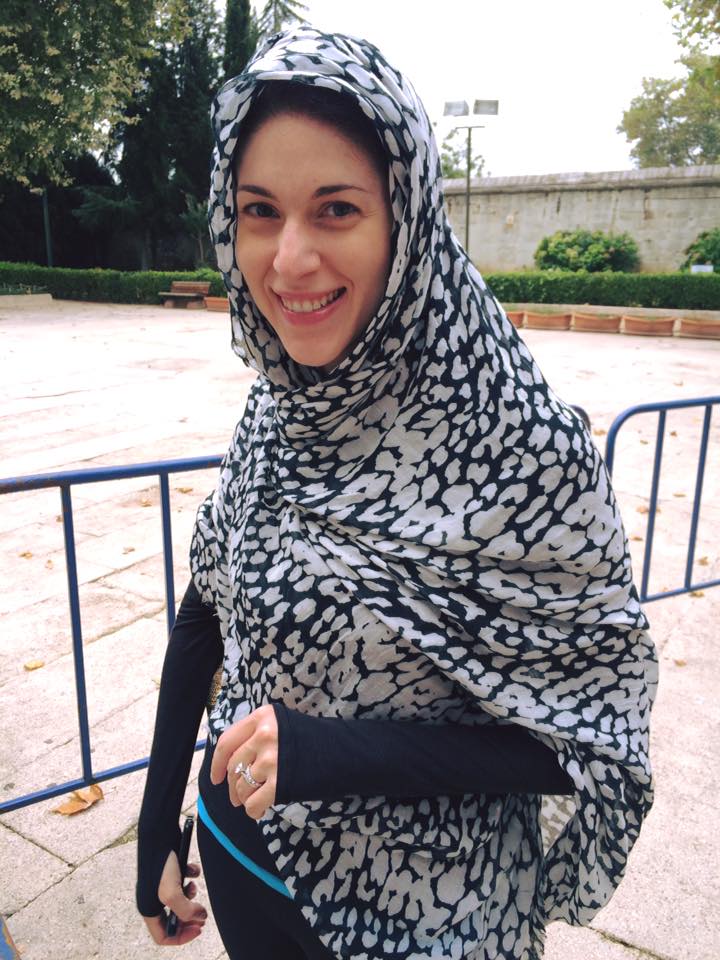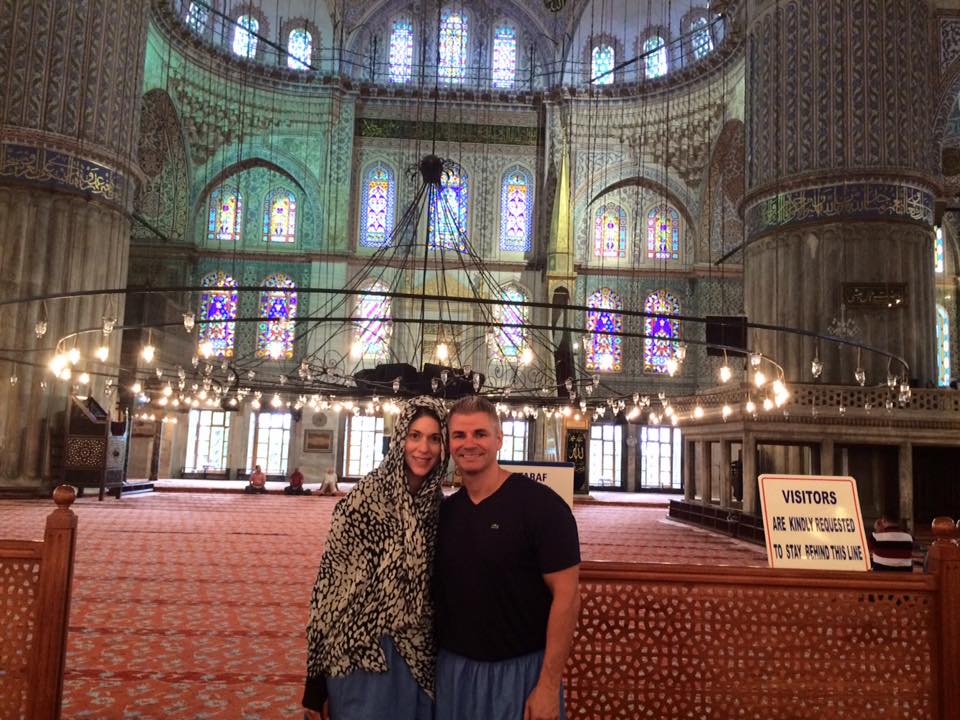 Also, women are NOT allowed pass these wooden gates.  Men, however, are, but only if they are passing through to pray.  Please, please, please be respectful of the mosque's and the religion's rules.  While we were there, an English woman and her child walked into the prayer area, and it caused a bit of a scene.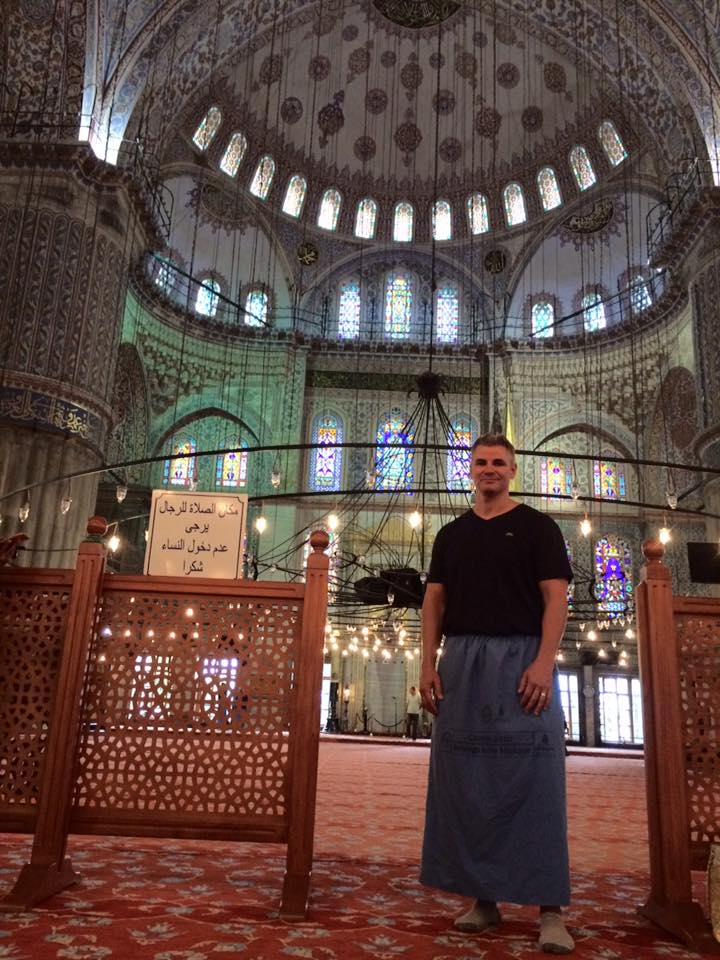 Inside, the mosque is literally stunning.  There is so much incredible color and intricate tile and stained glass work. Even on a cloudy day (which was the case the morning these photos were taken), you get a sense of the awesome illuminated beauty that natural light provides in the mosque.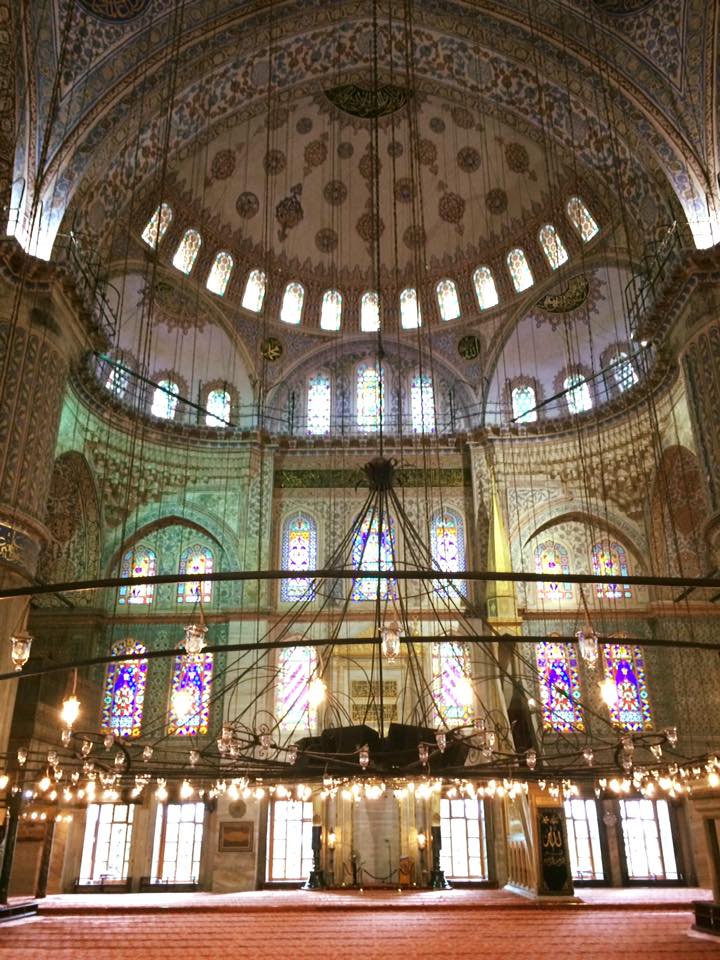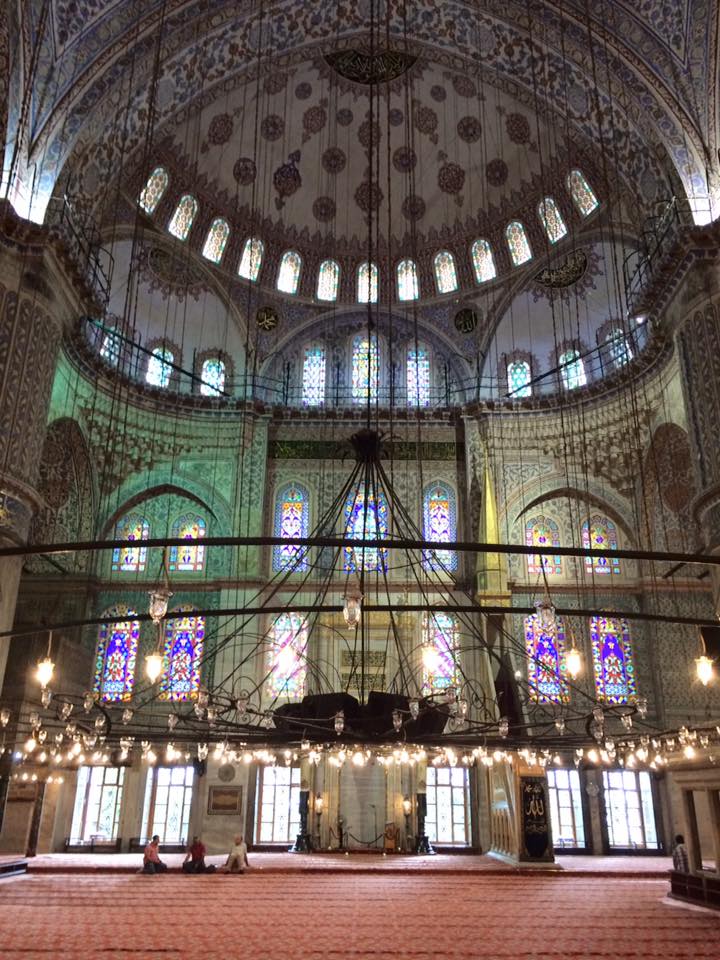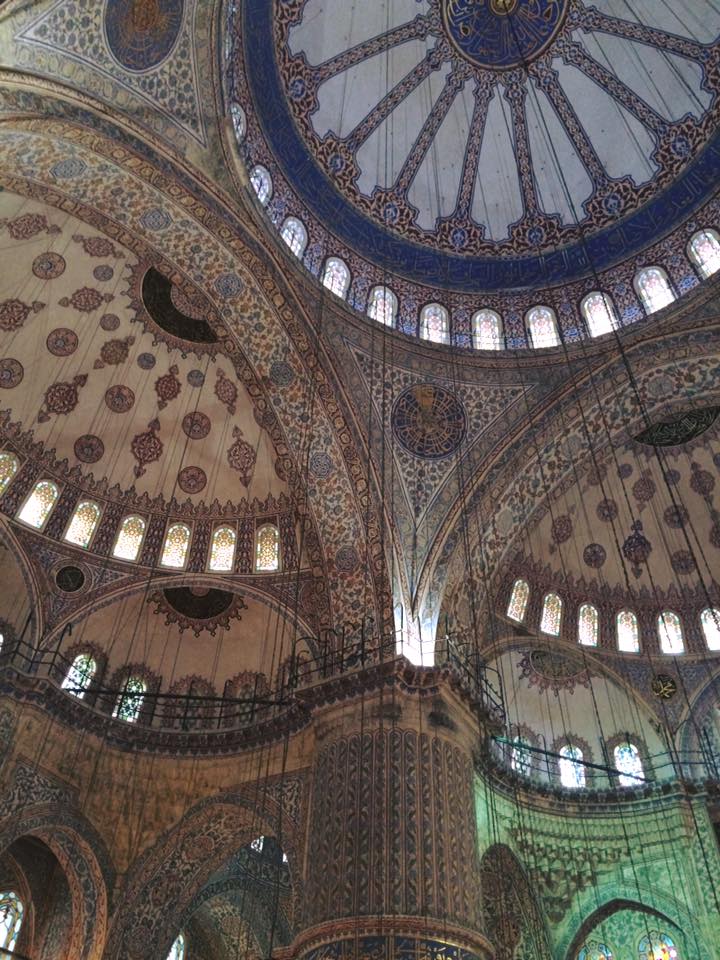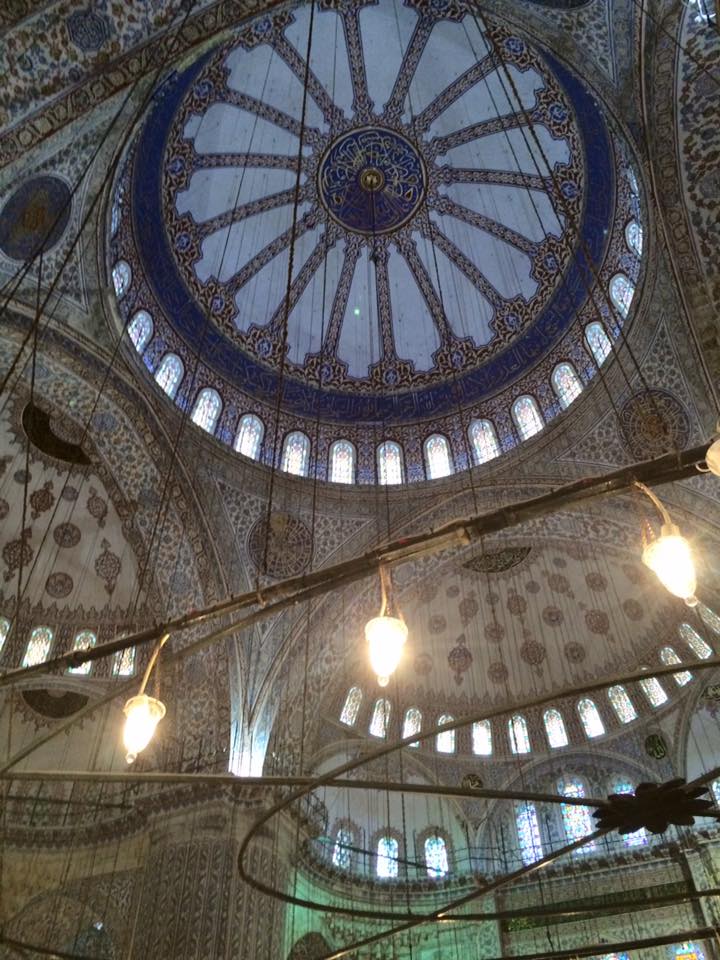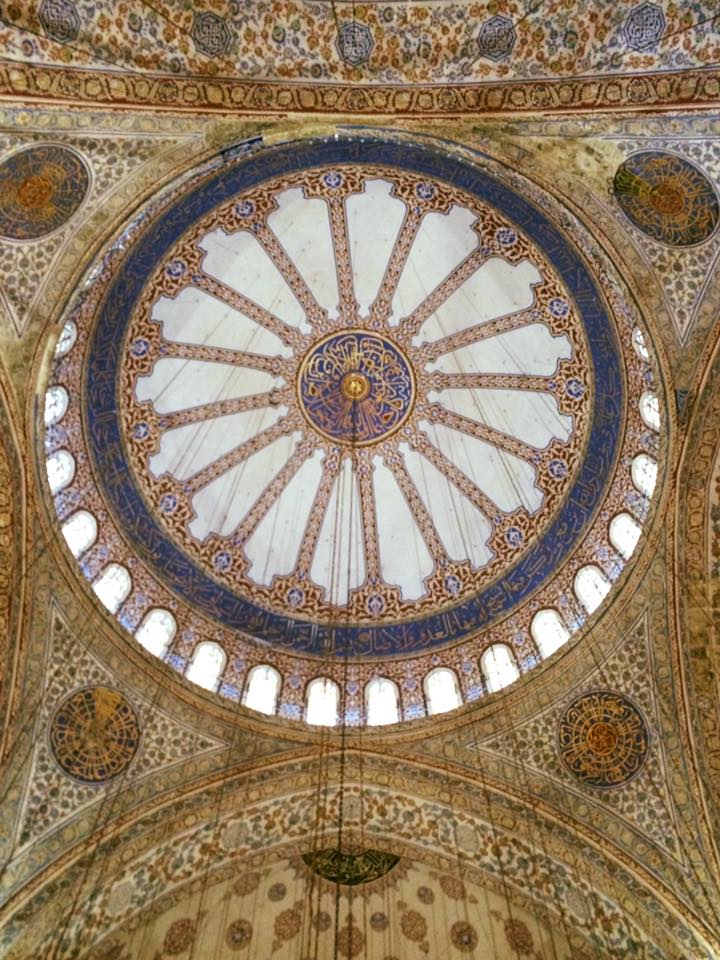 After the Blue Mosque, we made our way to Hagia Sophia, which opens at 9:00 a.m., and is literally across the promenade from the Blue Mosque. We were again the first in line and the first into the museum.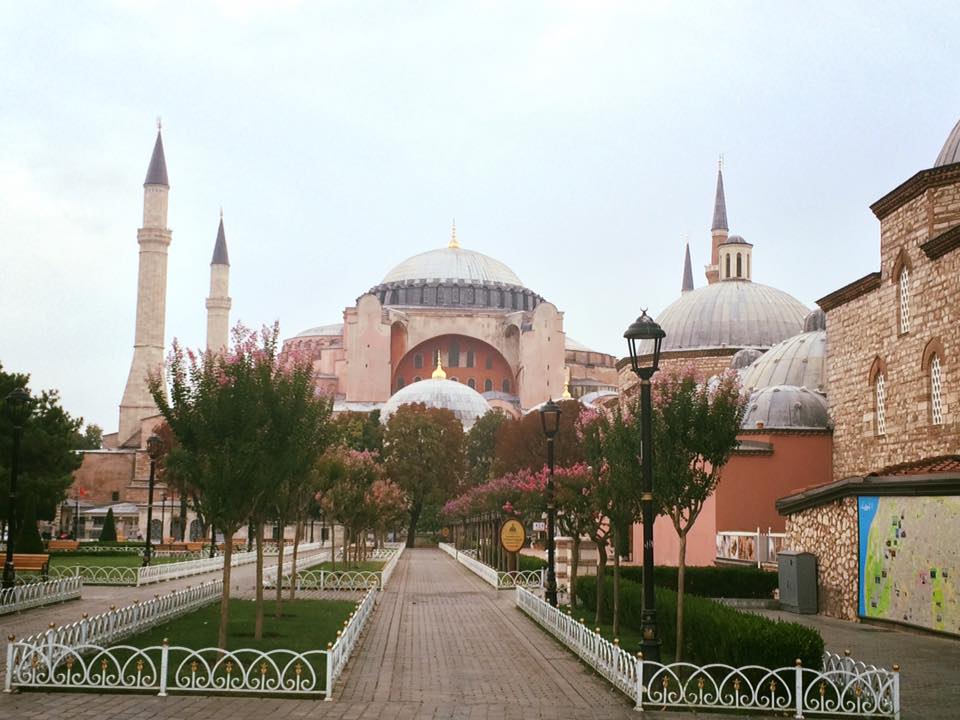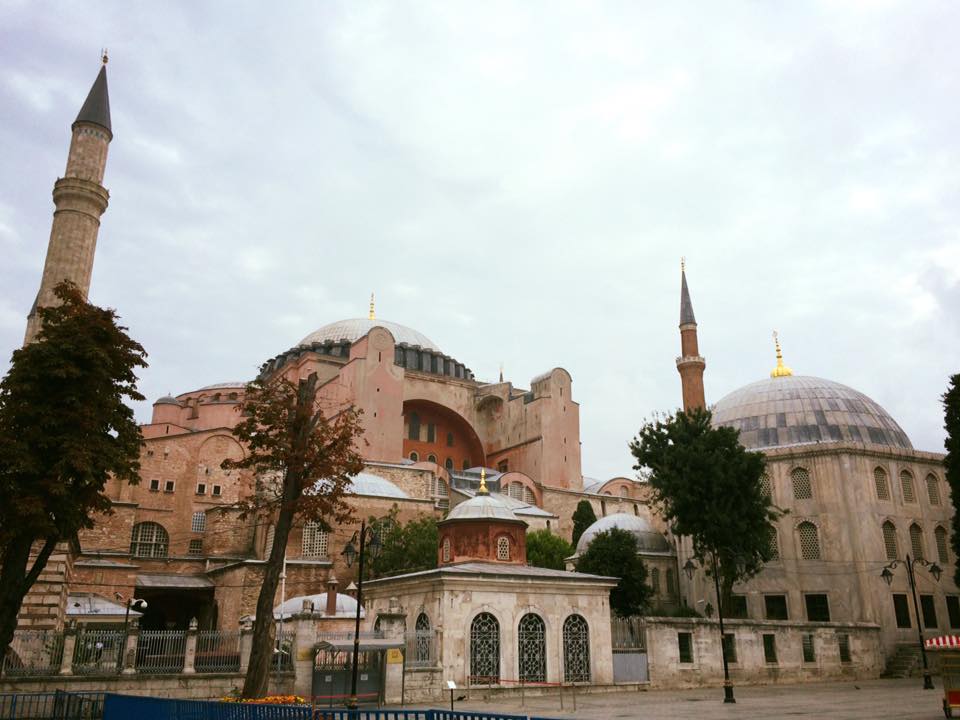 To give you some perspective, the photo below was taken at the gates of the Blue Mosque looking towards Hagia Sophia.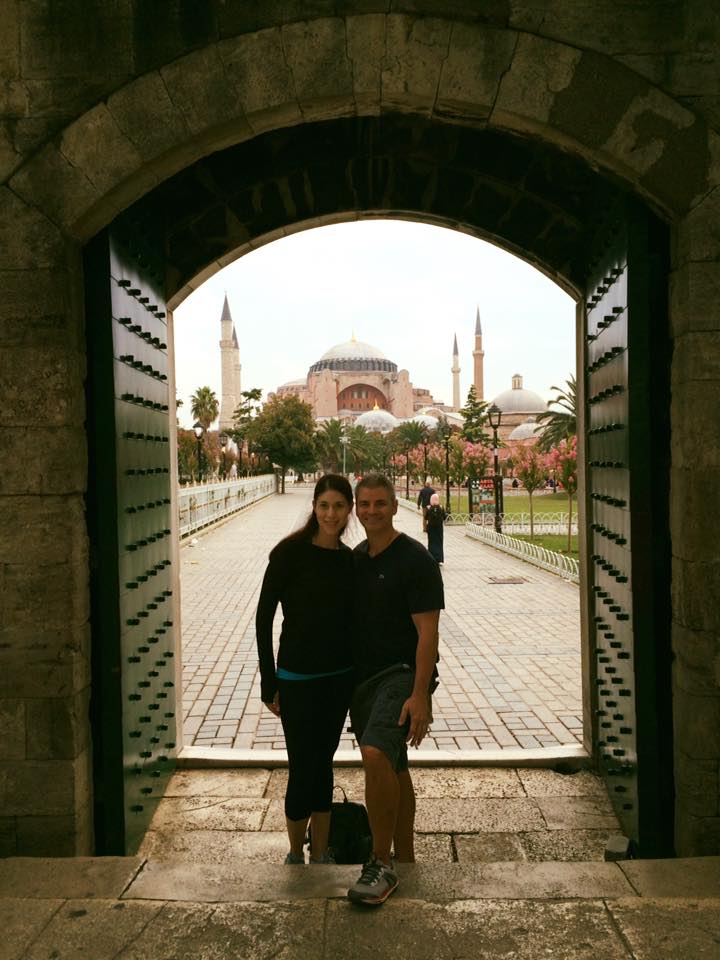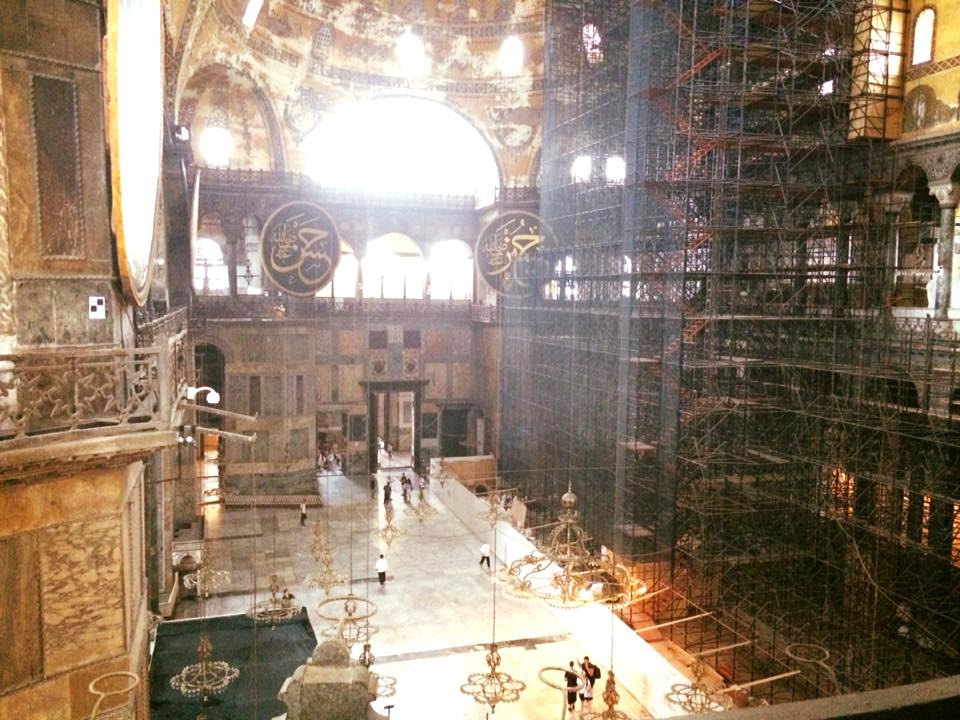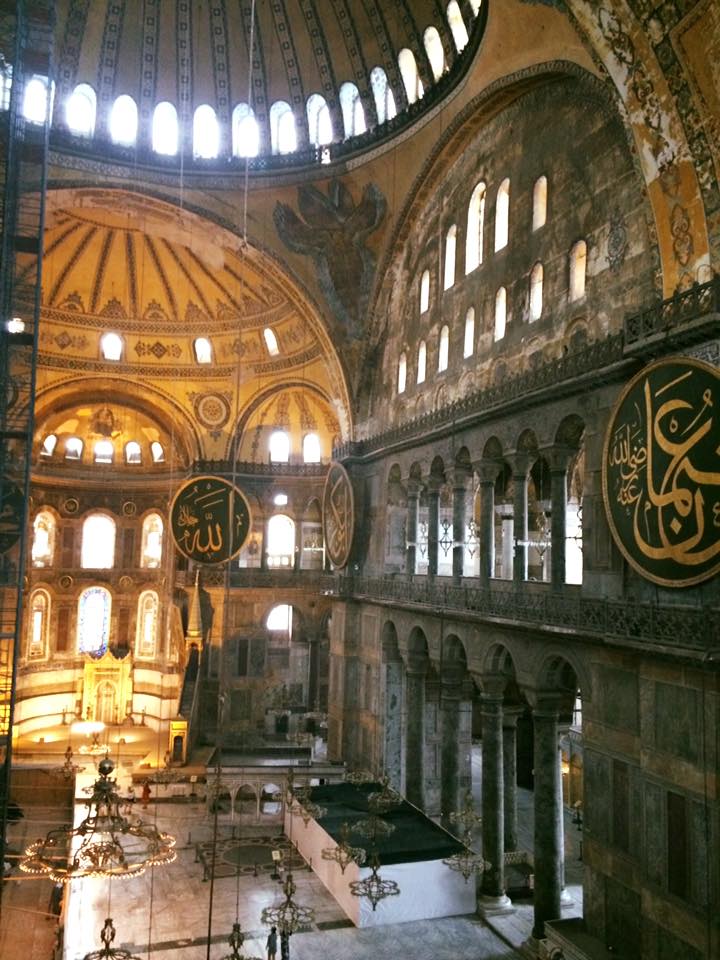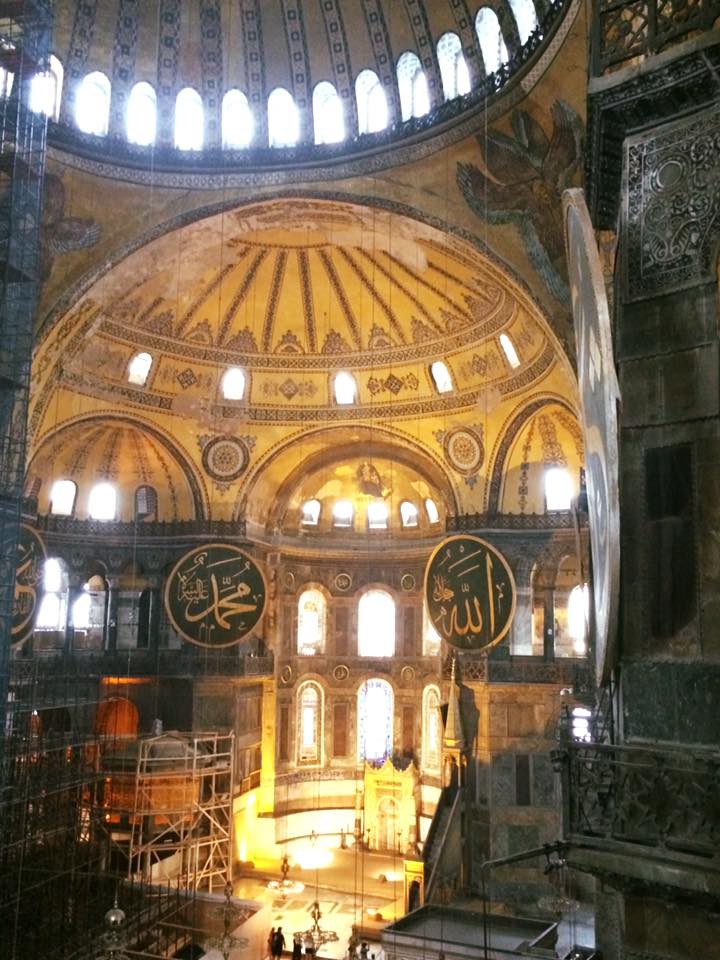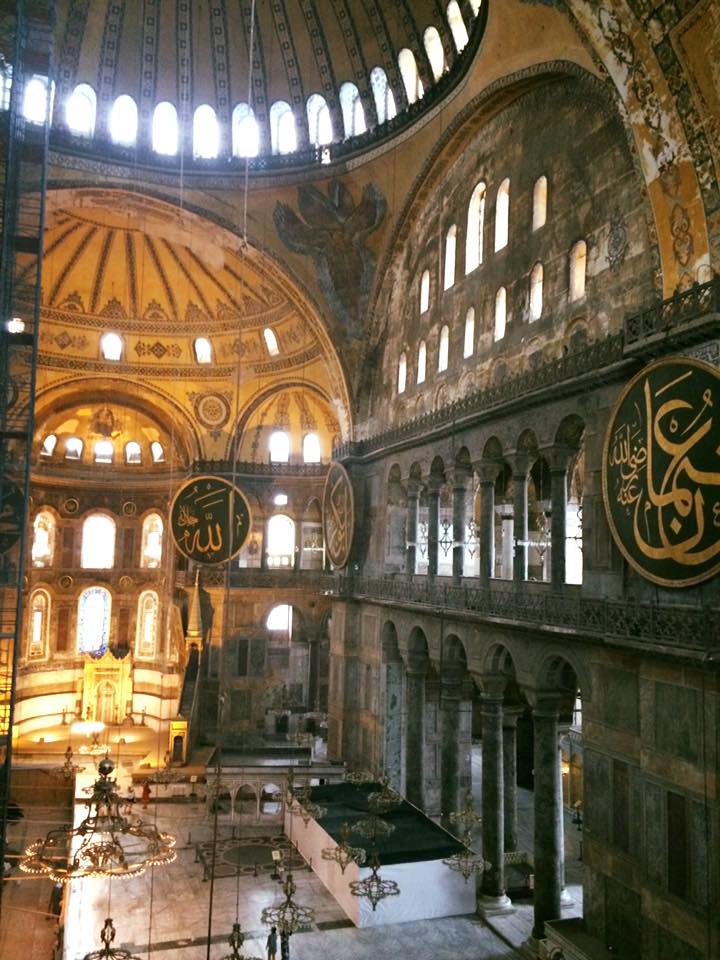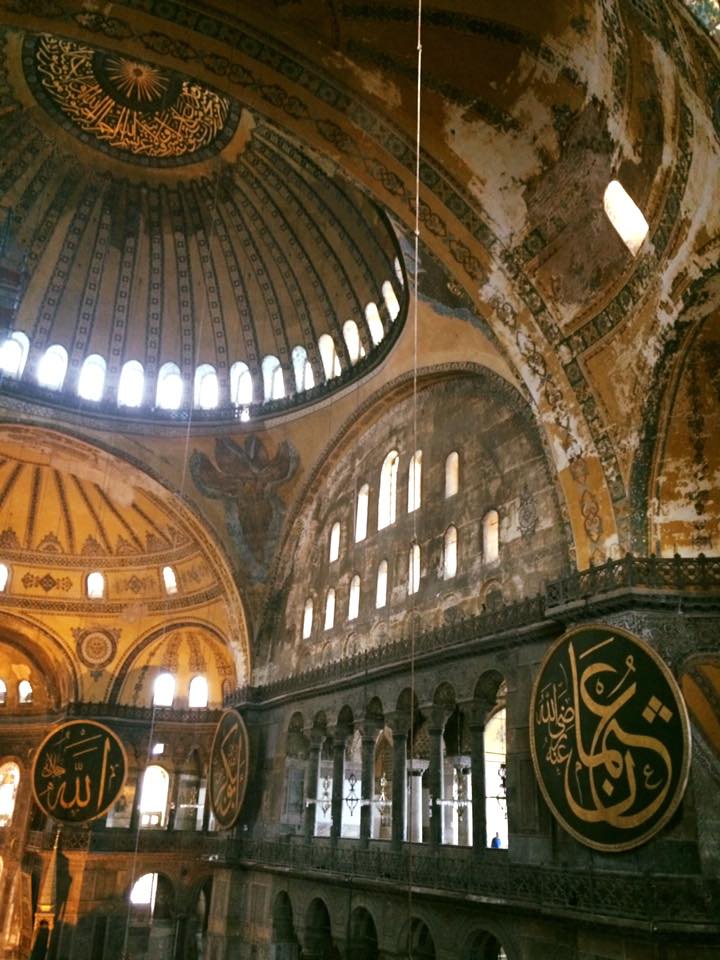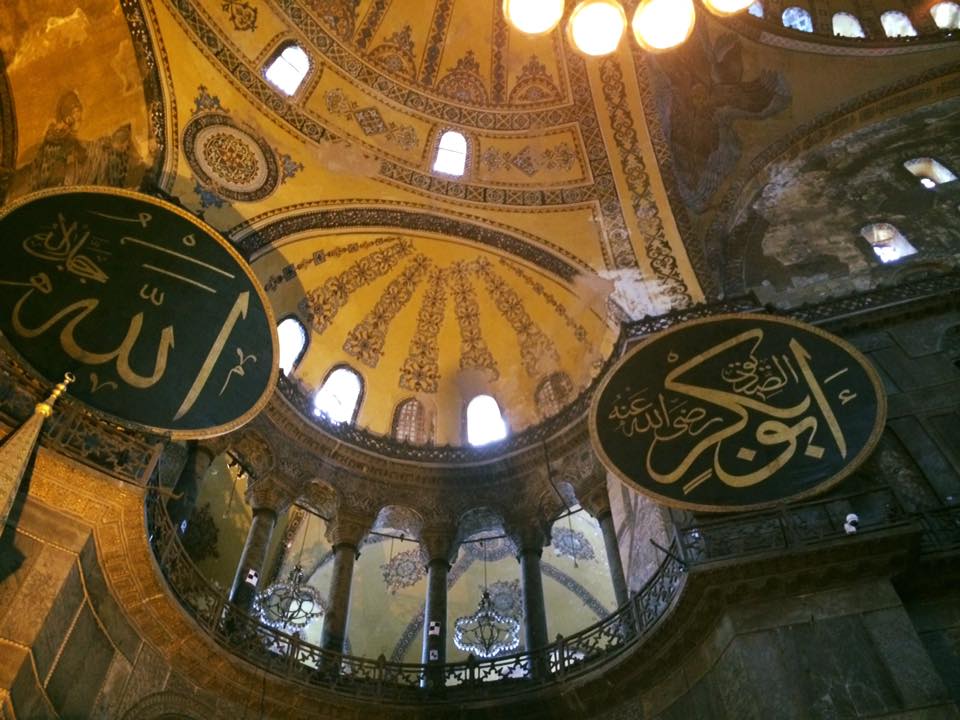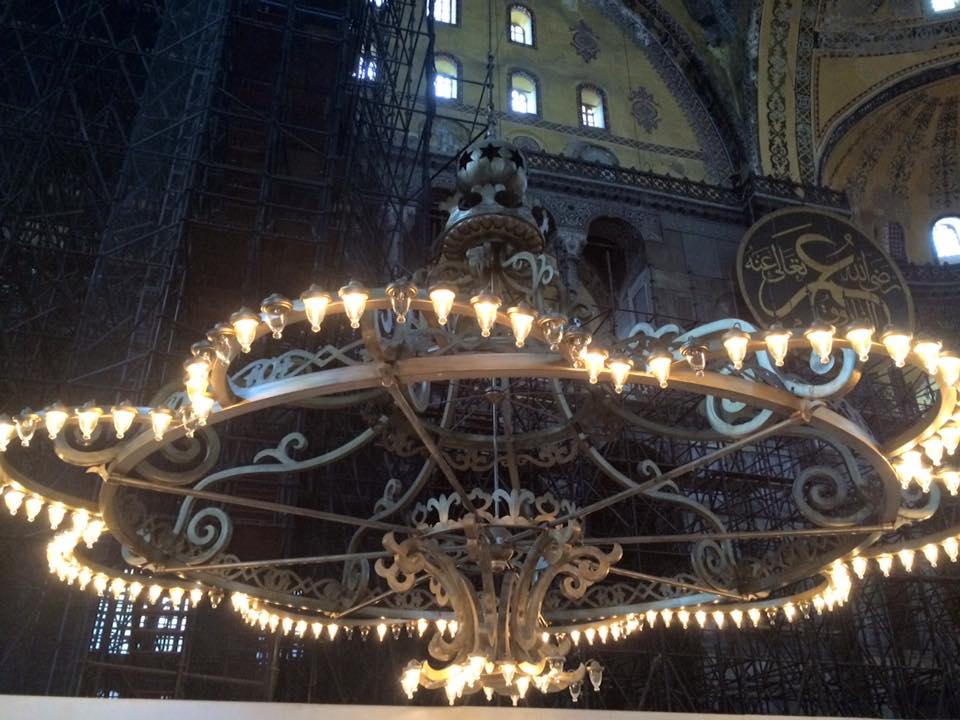 By the way, unless you have been to Hagia Sophia, you may not appreciate exactly how hard it is to get a picture inside with NO people in it.  It's like impossible! I do the impossible.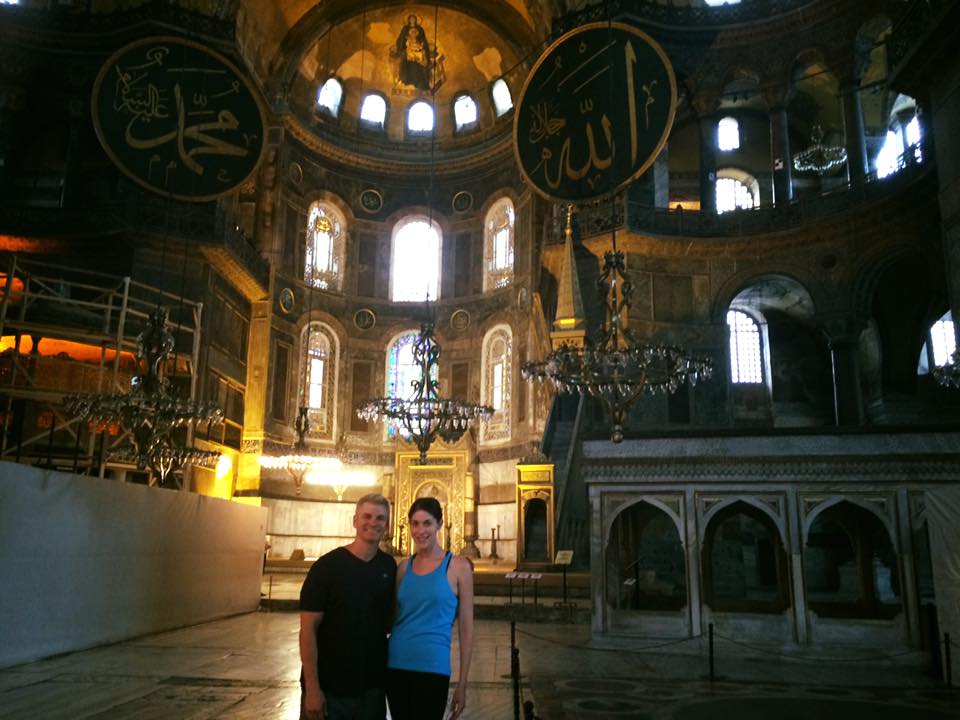 And, if you were wondering where the center of the world is located, according to the Romans, it's right here! This is the spot where coronation ceremonies for Roman Emperors were held during the time that Constantinople (a.k.a Istanbul) served as the capitol of the Roman Empire (and basically the capitol of the world, as far as they were concerned).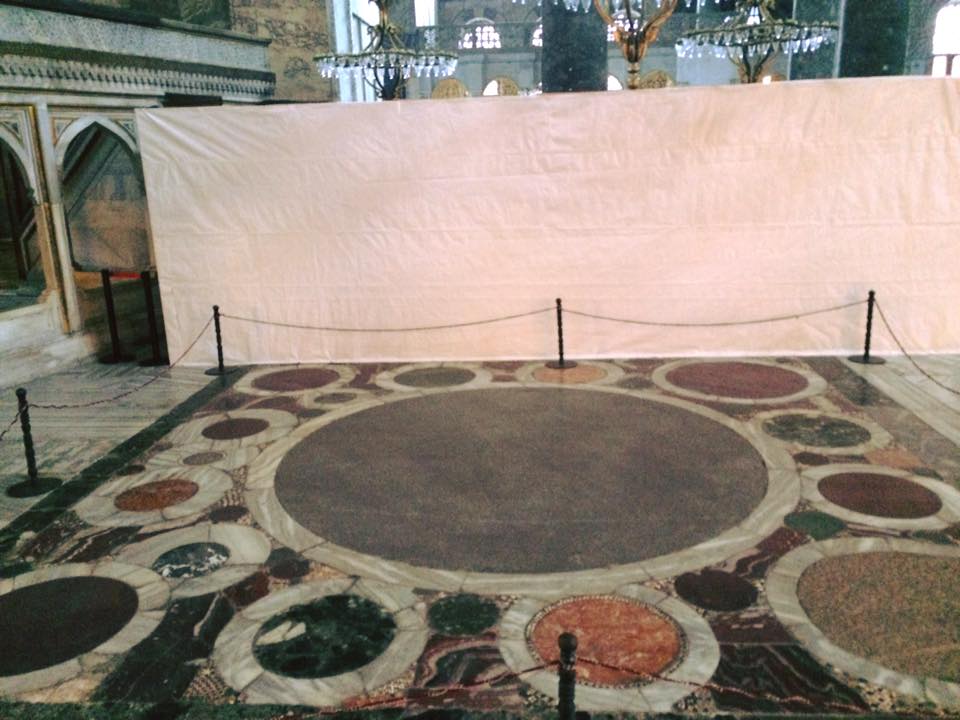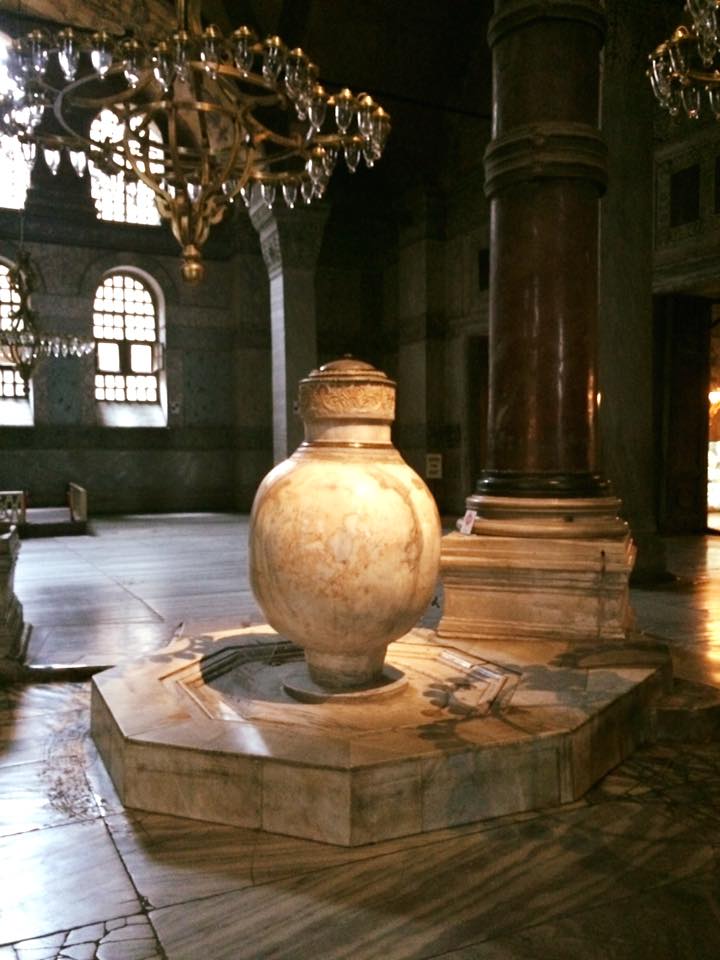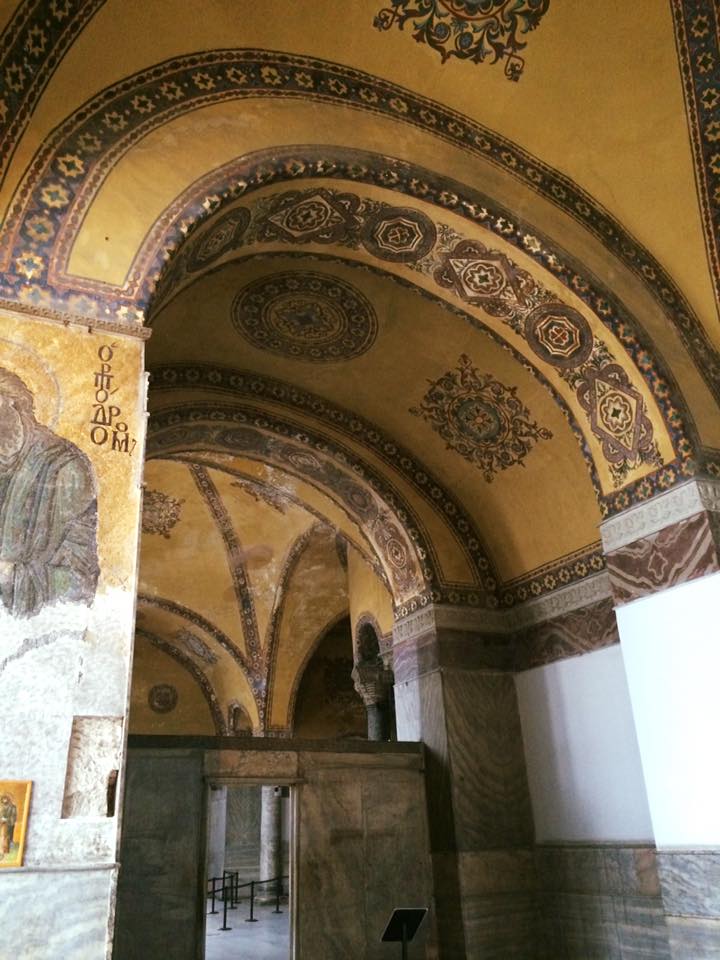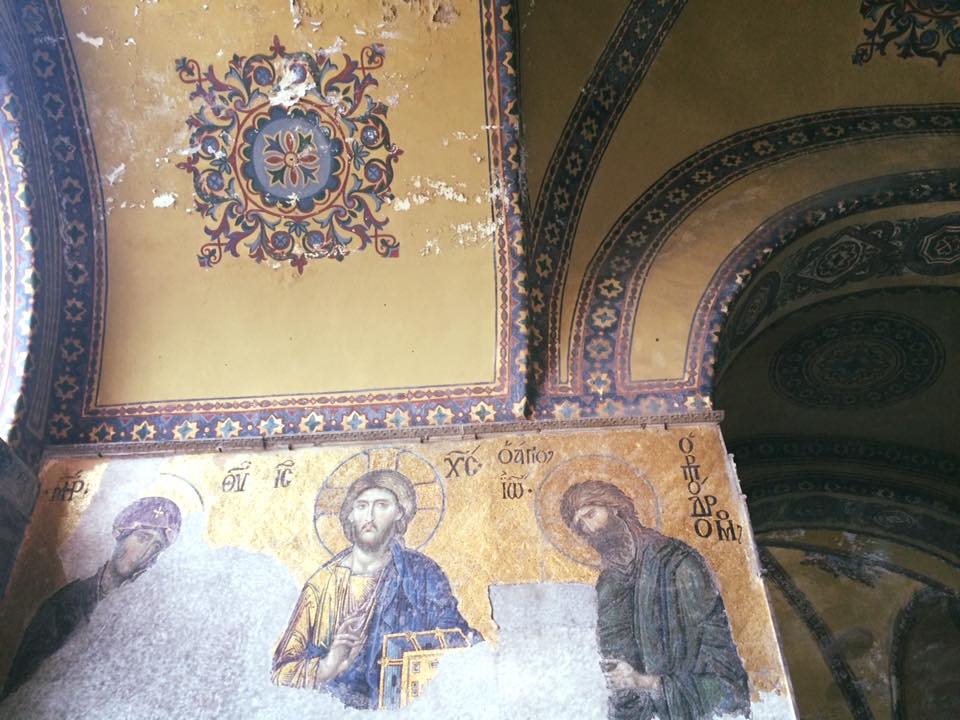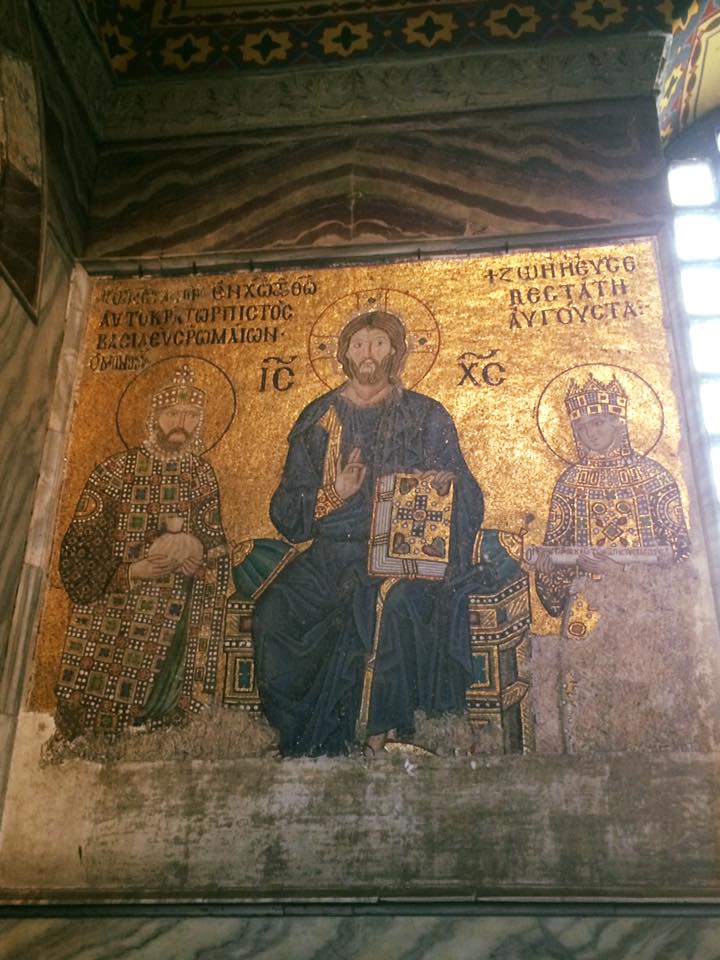 This is the Empress Stand (where she would stand in an elevated position to watch her husband be crowned Emperor), so naturally…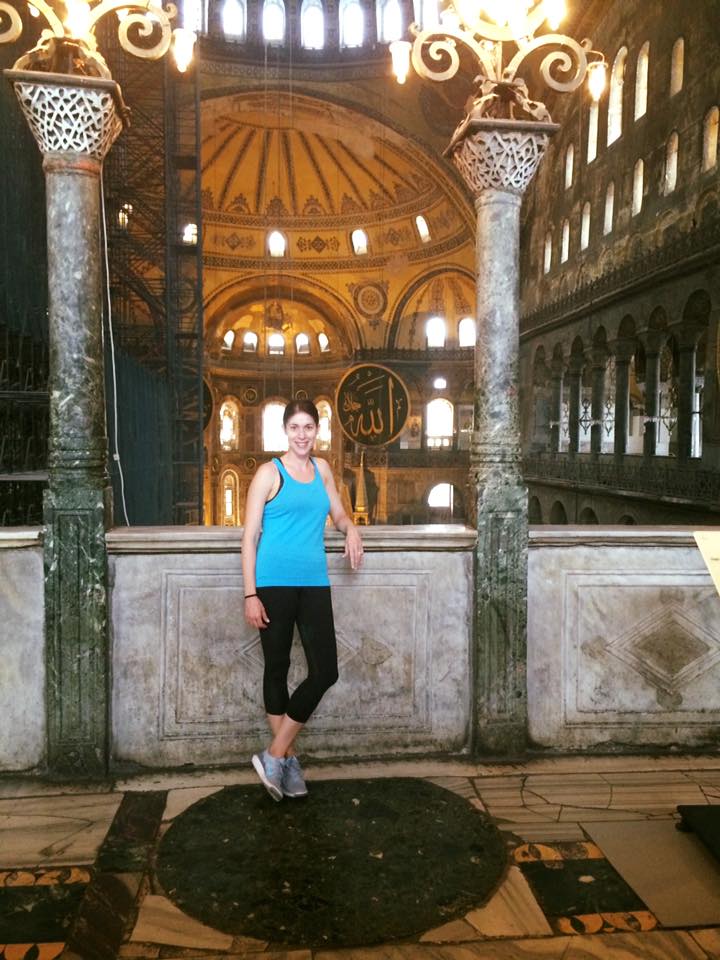 Meet Obama Kitty (a.k.a Gli).  Apparently, when Obama visited Istanbul, he made a stop to Hagia Sophia. This kitty happened to be inside that day, and she marched over to Obama and was rubbing up against his leg.  Obama liked the little kitty, so he picked her up and carried her around while he toured the museum.  Well, that was the best day ever for this little kitty because after that, she became famous. She was renamed Obama Kitty and was given a permanent home inside Hagia Sophia.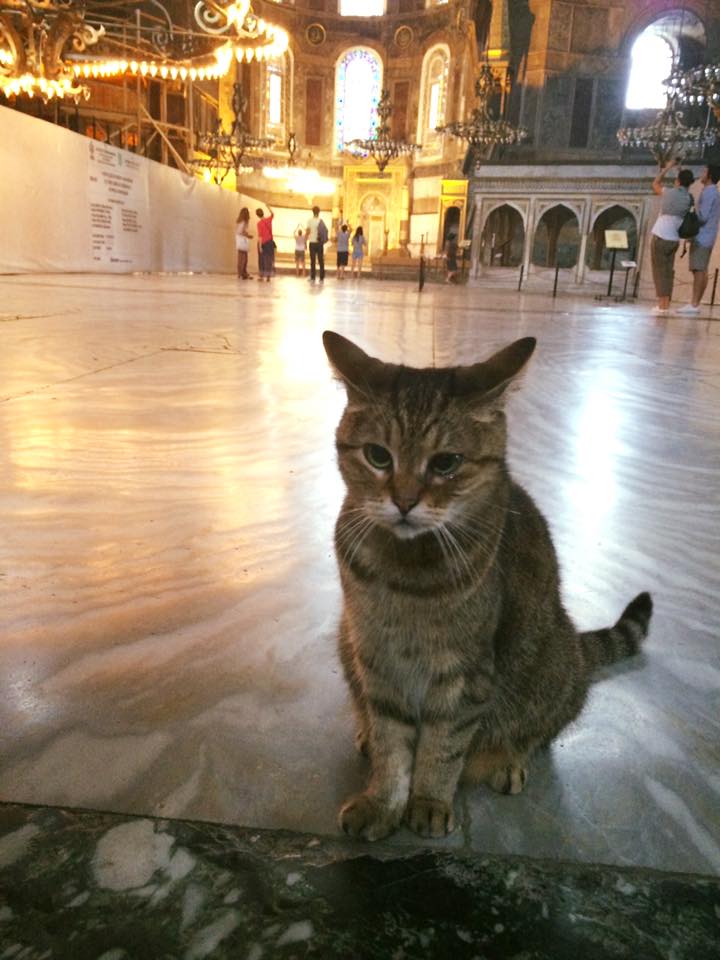 I don't think Obama should get to feeling grand prize about this encounter.  Obama Kitty is very friendly, and she will basically go up to anyone for some love.  She immediately went to Chad and demanded rubs!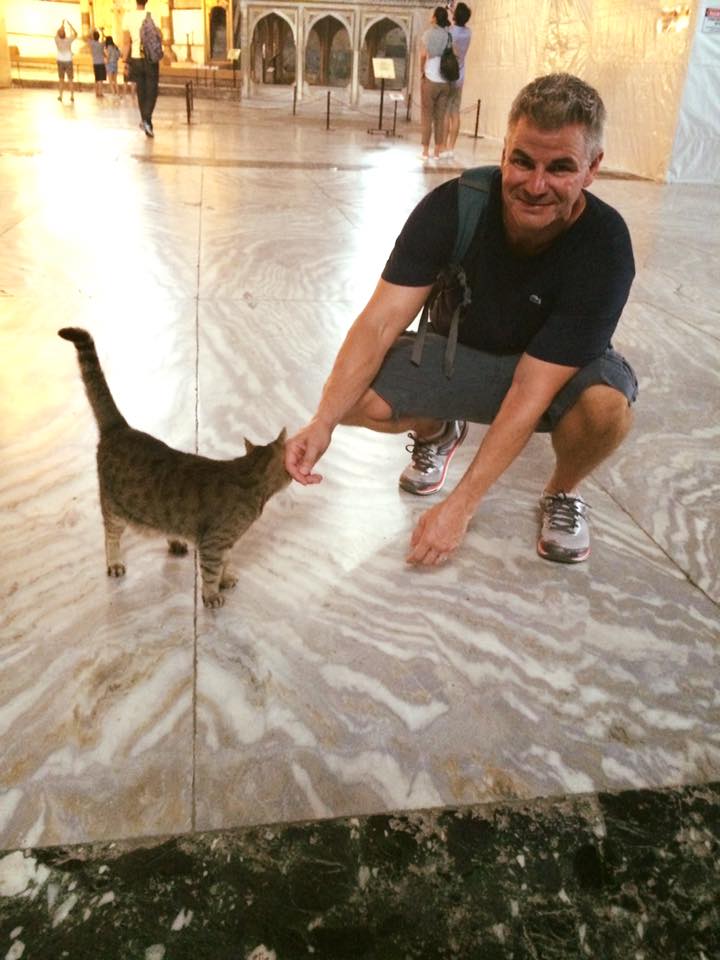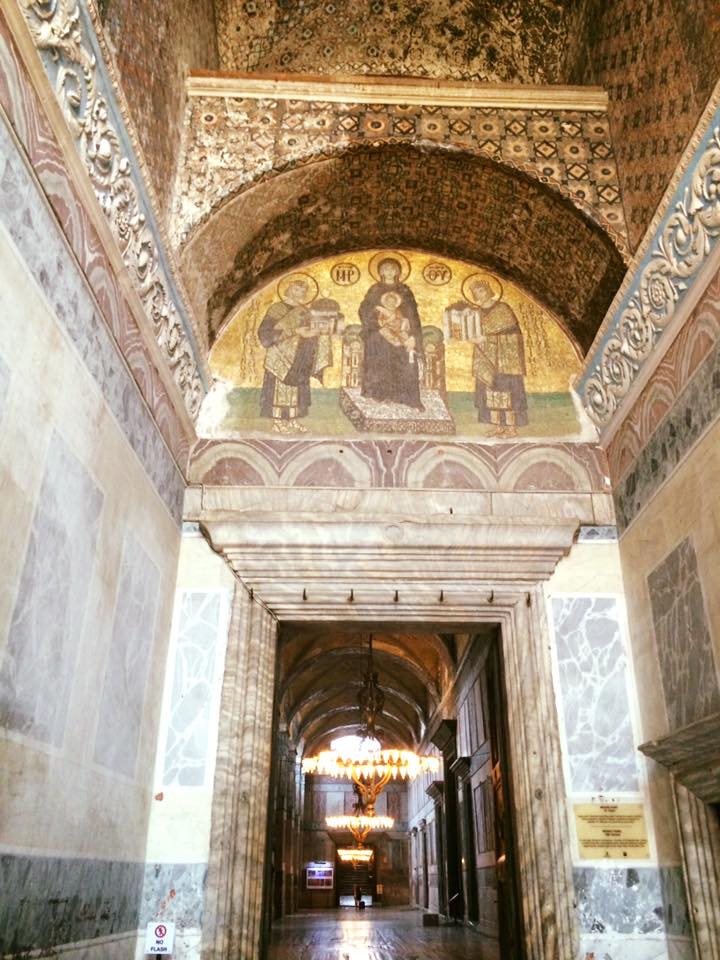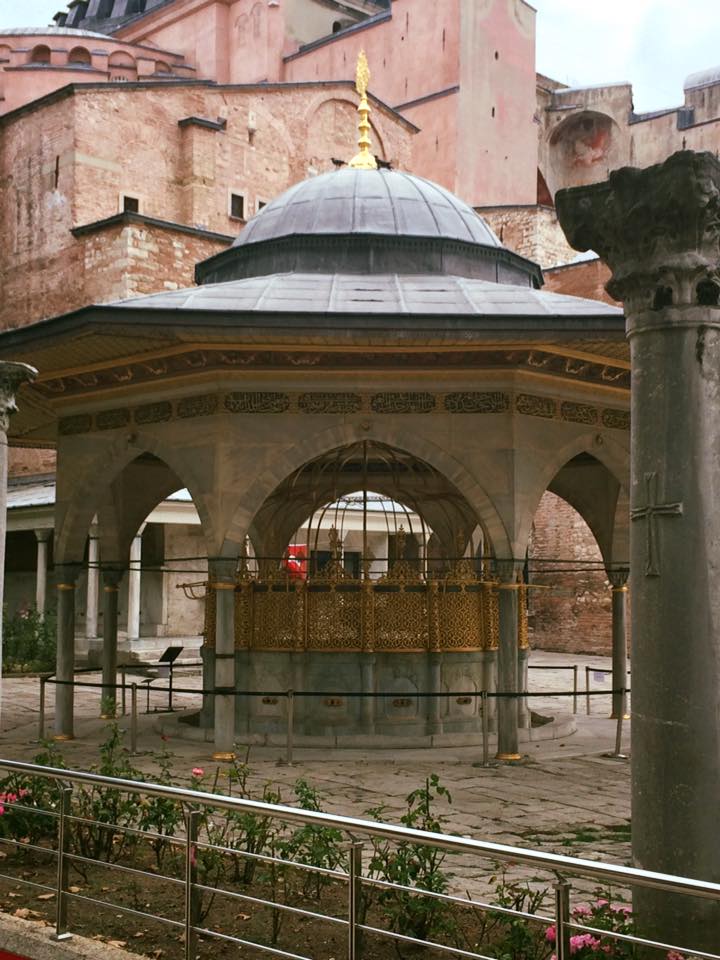 After we concluded our visit at Hagia Sophia, we walked through a small bazaar (note, the Grand Bazaar is closed on Sundays) of beautiful shops, and we tasted Turkish Delight before making our way back to the airport.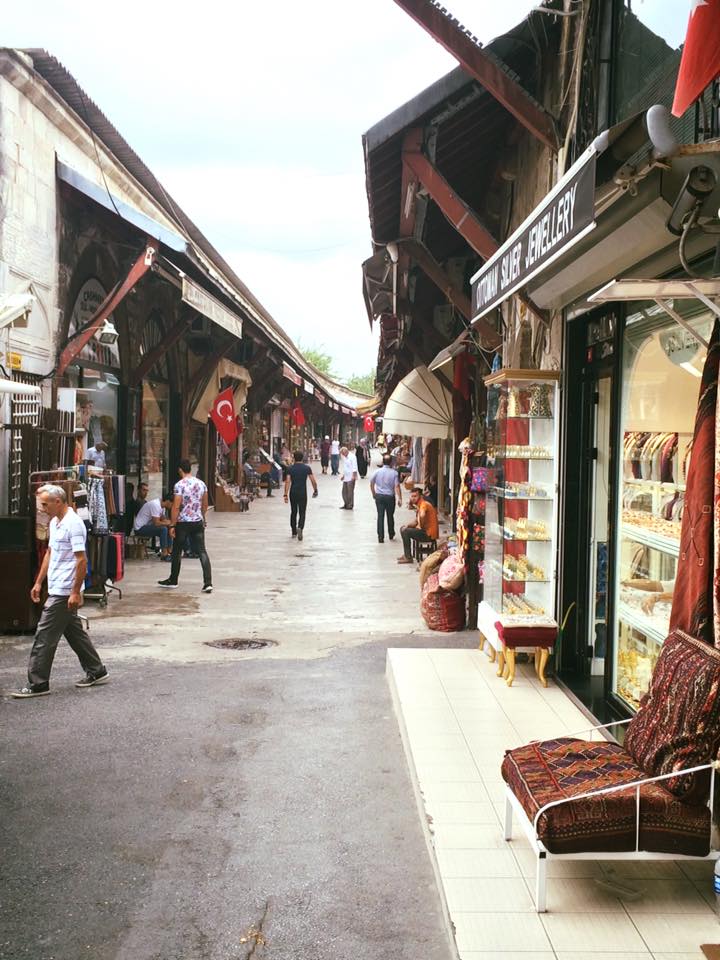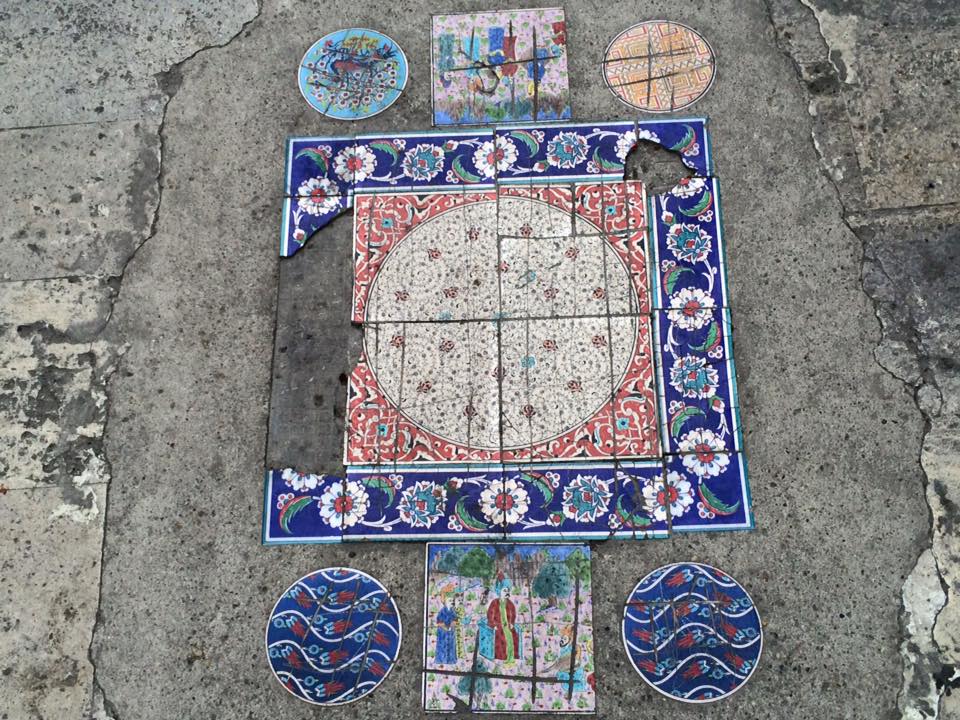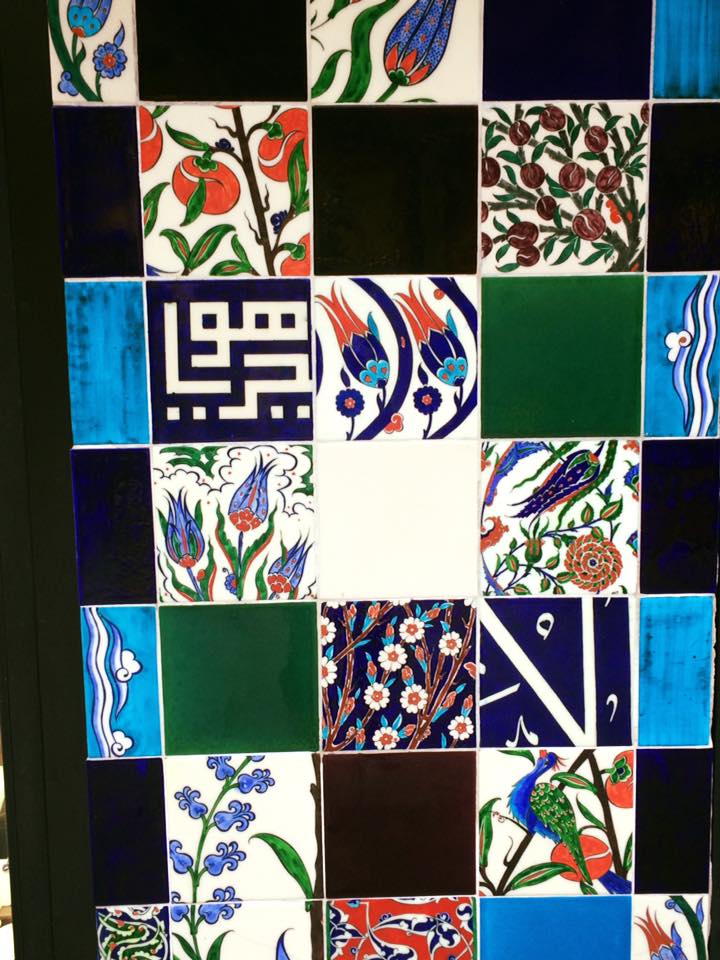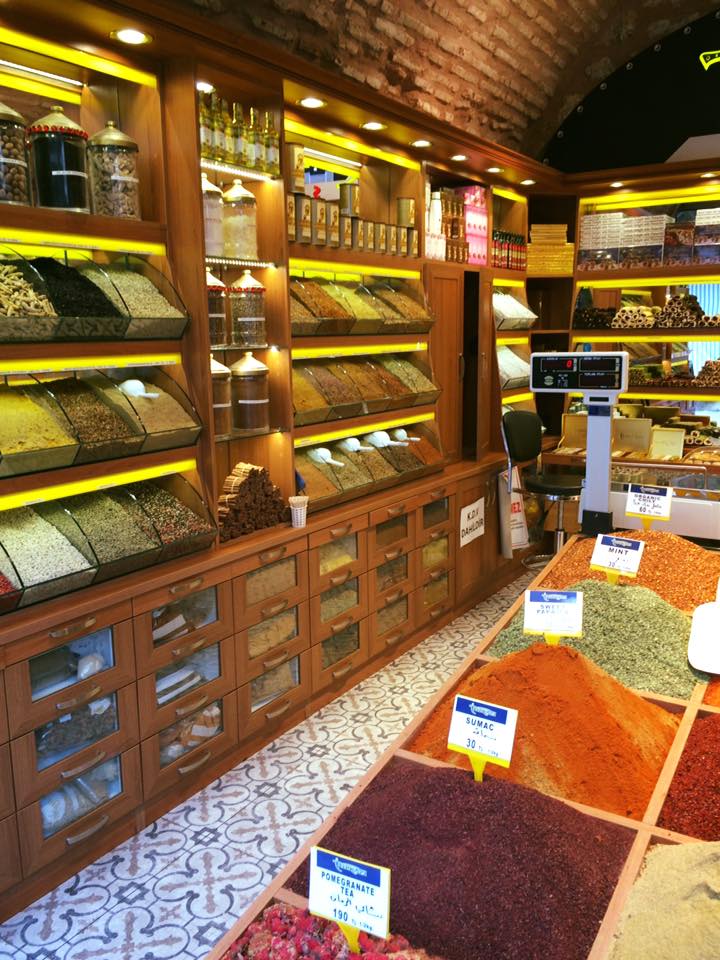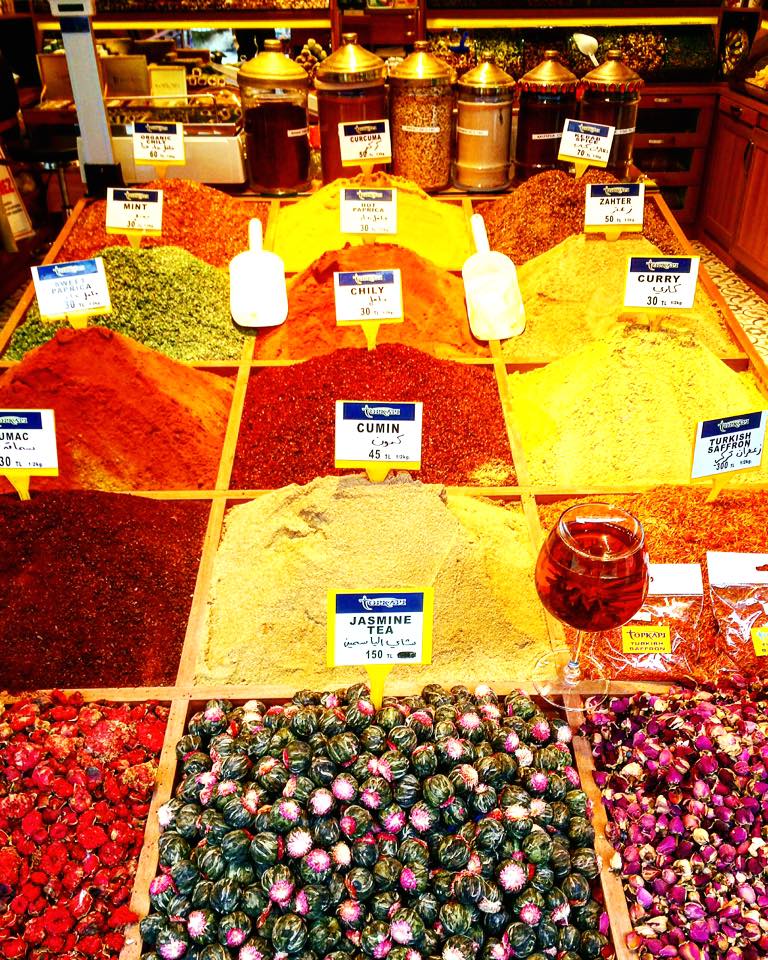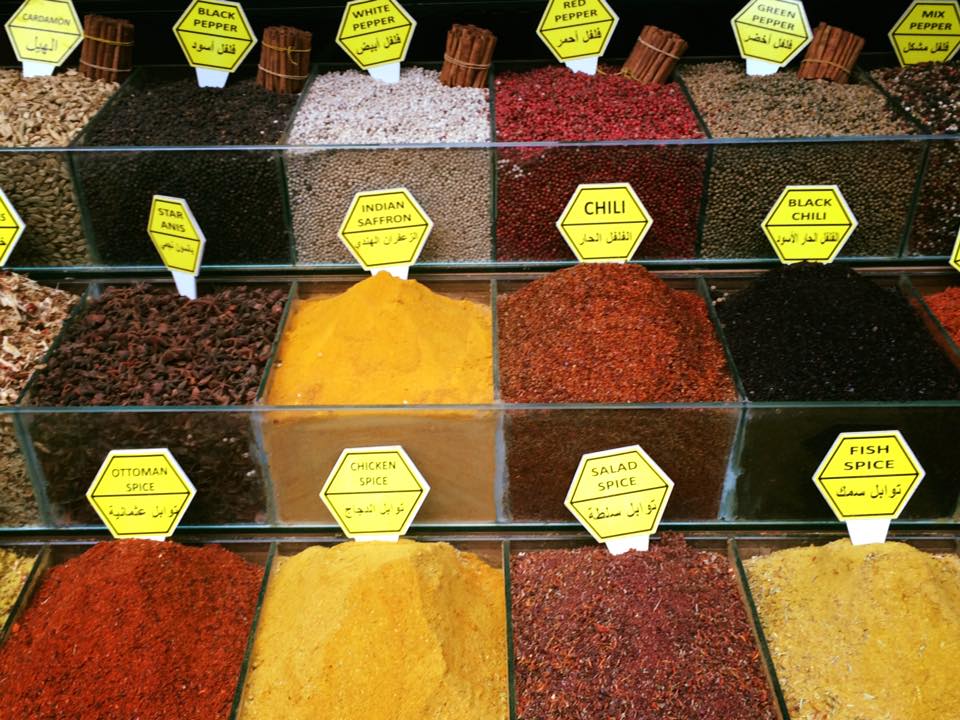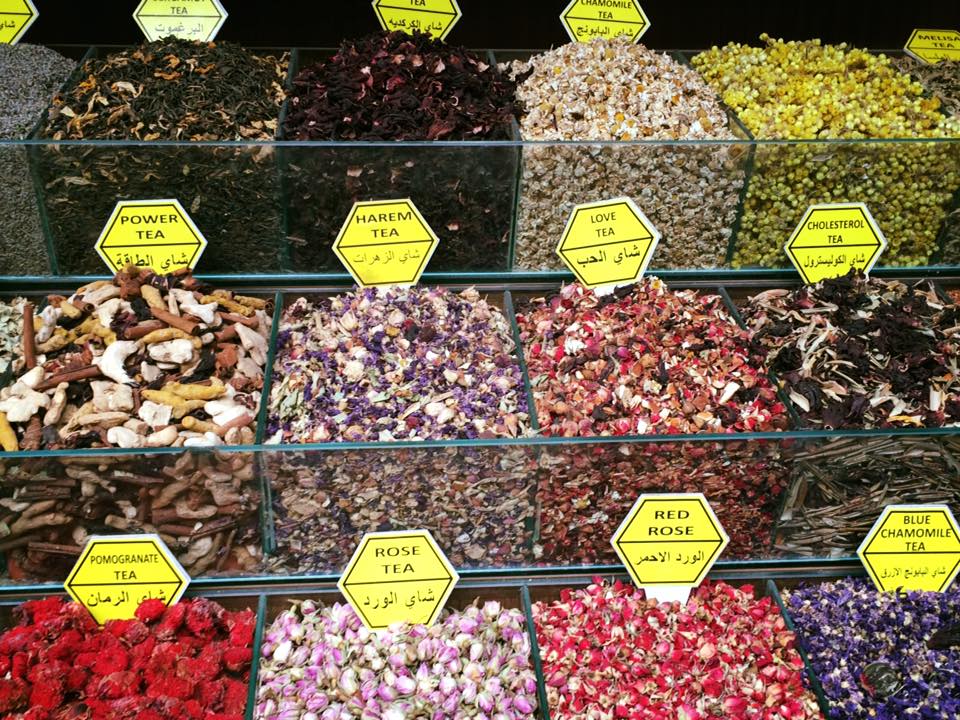 By the way, Istanbul is a shopper's paradise!  If you like textiles, tiles, spices, teas, and jewelry, then you will feel like you died and went to heaven (and this isn't even the Grand Bazaar!). Chad was thanking his lucky stars and giving alms to the time crunch gods.  That is okay, because WHEN we return, I will set aside an ENTIRE day just to shop this oasis of a shopping city!
We were back at the airport before 11:00 a.m. for our 1:30 p.m. flight, which was perfect timing to get through all the security measures at this airport as a result of the recent attacks, which included a car check, a screening at the entrance, passport control, security screening, and two more passport controls screenings at the gate. We counted SIX security and/or passport checkpoints in all. Suffice it to say that the we felt extremely safe and secure at the Istanbul airport.
Both Chad and I agreed that the layover adventure was well worth it. Rather than endure hours of uncomfortable and boring waiting at the airport, we saw everything described above in about three hours, which provided a fantastic introduction to Istanbul and to Turkey and left us with a desire to return for a more comprehensive visit. Planning the layover is crucial.  You want to make sure that you are laying-over during day light hours (or at least with enough daylight hours) so that there is an opportunity to explore.  You also want to have a specific plan in place for what you want to see or do and how you are going to get there.  Keep in mind that you have limited time, so choose the two or three things that are most important to you (depending on the length of your layover).  Build in 30 minutes travel time from the airport into the city and about 45 minutes for the return.  You want to take into account traffic, especially in cities that are known to have a lot of it (like Istanbul and Bangkok).  Also, make sure you return to the airport at least two (but preferably three) hours before your flight, as you will need to pass through security, and, depending on the airport, passport control to get back into the gate area.
Some other important things to keep in mind are that your luggage will likely be checked all the way through to your final destination, so be sure to pack everything you need for the layover day in your carry-on luggage.  Many airports have a luggage storage where you can lock your bags while you explore, but, if you hire a private driver like we did (and, I highly recommend that you do so as well so you are not at the mercy of public transportation and taxi cabs), you can take your carry-on luggage with you and leave it in the car. Second, check the visa requirements of the layover country.  You can usually purchase the visa in the airport before you leave the secure area. Finally, most airlines will pay for your hotel if you have a long layover, but there are some exceptions, and you should be aware of them before you go.  For example, Turkish Airlines will pay for your hotel for any layover that is over 13 hours (like ours was) as long as there is no other flight that comes in from your departure city (for us, Athens) from the time you departed from that city until the time of your next flight. We did not qualify for the hotel voucher because of this exception, but that was not an issue for us.  We simply took the shuttle to the land side of the airport hotel, which was outside the secure area and had our driver pick us up from the hotel lobby early in the morning. Trust me, the layover adventure sure beats sleeping on the floor inside the gate area until it is time to take your next flight! So, whether your layover is on purpose or just a matter of circumstance, take full advantage, and happy exploring!
Do you have any recommendations for fab layover cities?  If so, I'd like to hear about them! Leave me a comment or send me an email.