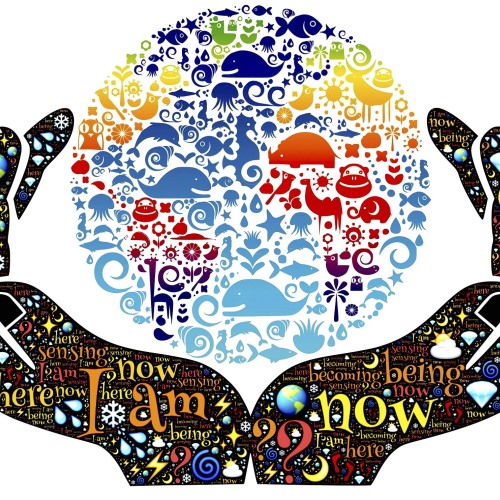 The promise of a new adventure brings so much excitement.  Where will you visit? What will you see and experience? Who will you meet? What will you eat? But, in my opinion, there is a far more important consideration to take into account.  One that likely gets little or no thought at all. That consideration is what effect will your visit have on the people and the place you are visiting.
In my mind, every traveler is an ambassador of his or her country and a guest in the host country. With that in mind, Chad and I have made the decision to be responsible travelers, positively impacting the communities we visit, and leaving them with a positive view of our culture. The goal of this post is to encourage you to travel with a heightened sense of social awareness.  I think you will find that this will ultimately change the course of your travels and your travel experiences.
In my opinion, socially conscientious travel is important because it has the potential to be a catalyst for change. But what exactly does it mean to be a "socially conscientious traveler?"  I think that there are different meanings for different people, but, to me, socially conscientious travel means two things: the first is to be vigilant about avoiding travel experiences and activities that exploit the local community you are visiting, especially those attractions that exploit animals, children, and women; the second is the idea of giving back as part of the travel experience.  I am certainly not saying that you should turn your vacation into a mission trip. I am simply suggesting that you incorporate socially conscientious decisions and experiences into your awesome adventure. Let me explain.
Avoiding Exploitative Travel Experiences 
Chad and I were not always socially conscientious travelers.  I think this awareness comes from the experience of travel. The more you travel, and, quite frankly, the more you expand your geographic travel regions (like, travel outside of the United States and Europe), the more aware you become about (and, hopefully, engaged in) this concept.
I can pinpoint the exact moment that the notion of socially conscientious travel occurred to me.  If you know Chad and I well, then you know that we are major animal lovers. So it was only natural to us that we would spend out honeymoon on a photo safari in South Africa. It was literally the best experience ever. After our safari adventure was over, we made our way back to the city, and our itinerary called for a visit to Lion Park in South Africa. Lion Park offered the opportunity to have a personal experience with baby lion cubs, including petting them. We love animals so much that we didn't even think twice about this. We were so excited to get to interact with and pet a baby lion!
It wasn't until we returned to the United States that I started to think about this experience. Chad and I would never do anything to hurt an animal or intentionally support any organization that exploits, kills, or hurts animals, but I could not help but wonder, how were people able to pet baby lions? Where were their mothers? What happened to the baby lion when it grew up and had lost its fear of people?
I decided to do some internet research. My worst fears were confirmed. The cubs are bread in captivity for the purpose of being petted by tourists, and, even worse, after 6 months of age (when it's too dangerous to continue to allow tourists to pet the lions), the cubs are sold to canned hunts where tourists pay up to $100,000.00 to hunt these lions (who have been petted and fed by humans all their lives) in enclosed spaces. I was literally sick to my stomach over this. I could not believe that Chad and I had paid money to this awful organization to exploit a baby lion that would ultimately die by being "hunted."
After this experience, Chad and I decided that we would never again do something like this.  It was at this exact moment that I became a travel agent's worst nightmare. When we use travel agents, I am very clear with them at the beginning of our consultation that Chad and I will not engage in any activity or experience that exploits animals, women, or children.  In fact, if the company offers these experiences to other tourists, we won't use them at all. Once I get the draft itinerary, I research every single aspect of the trip activities to make sure we are not engaging in exploitative travel.
Two years later, we visited Thailand.  We worked with a travel agency that used only local, in-house guides with ties to the communities we visited and was socially conscious about the activities it planned. Elephant tourism is very popular in Thailand, and that often means that the elephant is being mistreated for the sake of tourism and revenue generation. While Chad and I were very excited about the possibility to have one-on-one interaction with these beautiful, gentle giants, we love animals and we did not want visit a program that exploited them.
On that trip (after a copious amount of vetting), we visited Patara Elephant Farm in Chiang Mai, which is an elephant conservation organization that rescues unwanted or formerly exploited elephants with the goal of preserving the Asian elephant population in Thailand. Patara emphasizes education about the plight of the elephant with programs that allow you to learn about elephants while participating in their daily care. Their "mahout" for a day program, includes a bareback ride on the elephant. We did not see bull hooks being used, and, importantly, there were no chairs or wicker basket strapped to the backs of elephants to facilitate the ride, which could hurt the elephant. Nonetheless, I continued to wonder whether riding an elephant at all was ethical. I have read several articles about this since then, and while it is probably best to not ride an elephant at all, the safest way to ride an elephant is bareback and on the neck, like we did at Patara. That is the thing about socially conscious travel- it is a constant learning experience.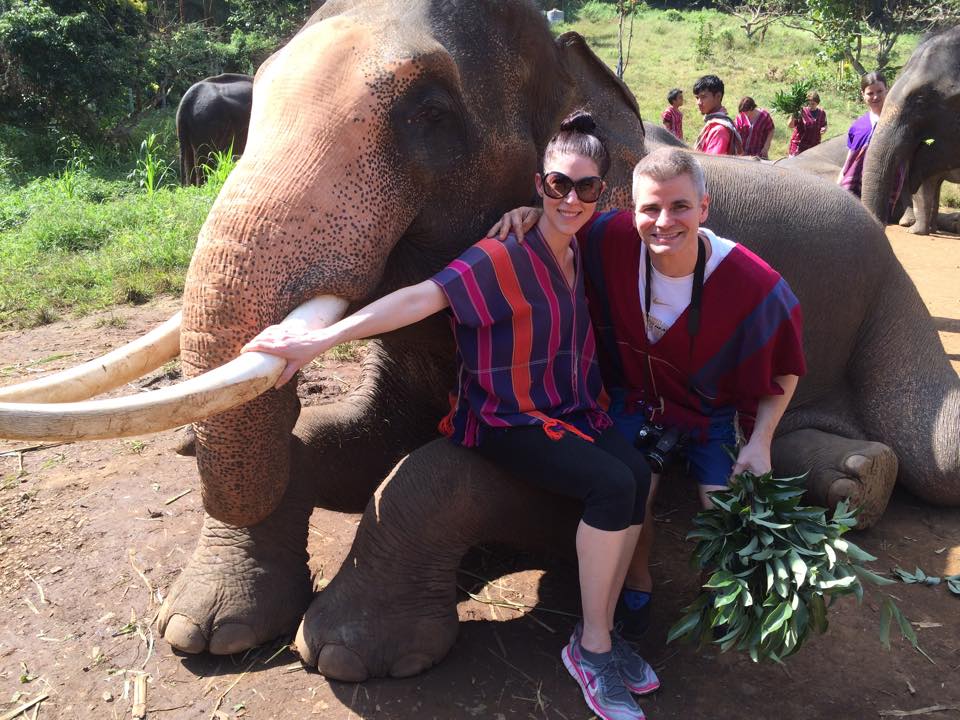 The best option in Chiang Mai is probably Elephant Nature Park. They have several elephant interaction day programs to choose from and even overnight and week-long volunteer programs, but none of them allow riding. Another beautiful aspect of this operation is that they have an on-property dog rescue.
Along the way during our travels in Thailand, we met other travelers who had also visited Tiger Temple and Tiger Kingdom in Chiang Mai, places that Chad and I made the conscious decision to avoid. Like the dreaded Lion Park, these tiger attractions have captive tigers and allows visitors to pet not only baby tigers but also full grown adult tigers.  Based on my research, they are known for drugging the tigers to keep them sedated enough to not attack tourists and also beating the tigers when they are too sedated to interact with the tourists.  It literally made me sick to hear that people were supporting these attractions and perpetuating the exploitation of tigers.
Another popular but controversial tourist draw in Chiang Mai is visiting the Karen Long Neck Villages. The artificial hill tribes popped up around the northern Thai border in the mid-1980s as a result of a civil war. The tribe has a custom whereby female tribe members have elongated their necks as a result of years of wearing heavy brass rings around their necks (from as early as the age of 4 or 5), thereby inspiring tourism to these villages. Many international tour companies discourage these visits because it is like visiting a human zoo, which was why Chad and I avoided the visit. This article does a nice job of explaining why the visit is considered exploitative of the tribe's people, particularly the women and children. However, that does not stop thousands of tourists from visiting these mostly fabricated villages to buy "local" goods, watch children perform for tourists, and snap pictures of themselves with women and children who have the golden rings around their necks. To be fair, there are other articles that discuss respectful/socially responsible ways to visit these hill tribes.
It is exploitative experiences and attractions like these, found all over the world, that I emphatically encourage you to avoid. There are so many other alternatives and more meaningful and authentic experiences to have in the world that do not contribute to the suffering of an animal, a child, or a woman. You just need to spend a little time fully researching the activities, attractions, and experiences that your travel agent, your friend, or the internet recommends.
I think that this article does a really nice job of explaining what exploitative travel is and how to avoid it, but some easy and common sense steps include: i) researching each activity by cross checking them on Google, popular tourists websites (like Tripadvisor), and blogs and going through both the good and bad reviews and the photos; ii) reaching out to the organization to find out more about their conservation program, including where the money goes and inquiring about the full program details; iii) hiring local, independent guides that do not work for and have no financial incentive to bring you to places like the tiger attractions mentioned above; and iv) being weary of attractions where animals or humans are performing unnatural acts or where 100% guarantees of sightings are offered. And remember, there are no guarantees, even with hours of research and planning, that everything you do is going to be 100% ethical, but the point is to engage in experiences where animals and people are not being objectified for financial gain.
Charitable Travel 
On the other end of the spectrum is charitable travel.  This does not necessarily have to be volunteer travel (the idea of taking a trip for the purpose of engaging in a volunteer opportunity).  This can simply mean adding a charitable component to your travels.
Back to South Africa. Our agent mentioned that our private safari concession, Lions Sands Game Reserve partnered with the Bhubezi Community Projects to support a pre-school for a local village.  There were numerous volunteer, sponsorship, and donation programs to support the community project.  After doing some research, Chad and I came prepared with educational supplies to distribute to the children and medical supplies to distribute to the community.  This was such a rewarding experience, that we decided that whenever possible, we would incorporate a charitable aspect to all of our travels.
In Luang Prabang, Laos, we visited the Hmong village and its local school where we brought educational supplies, toys, and snacks to the children. We got to interact with the children in the classroom and see the look of pure joy on their faces when we gave them their very own notepads, pencils, and a snack.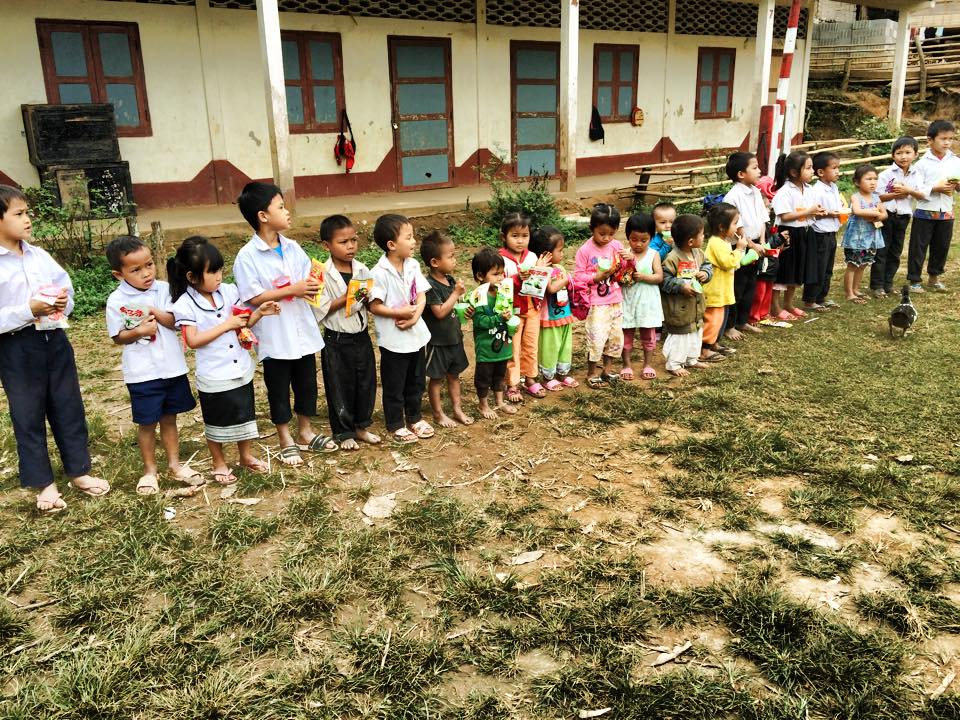 We recently had a similar experience in Peru where we visited an orphanage for girls and brought them toiletries and school supplies.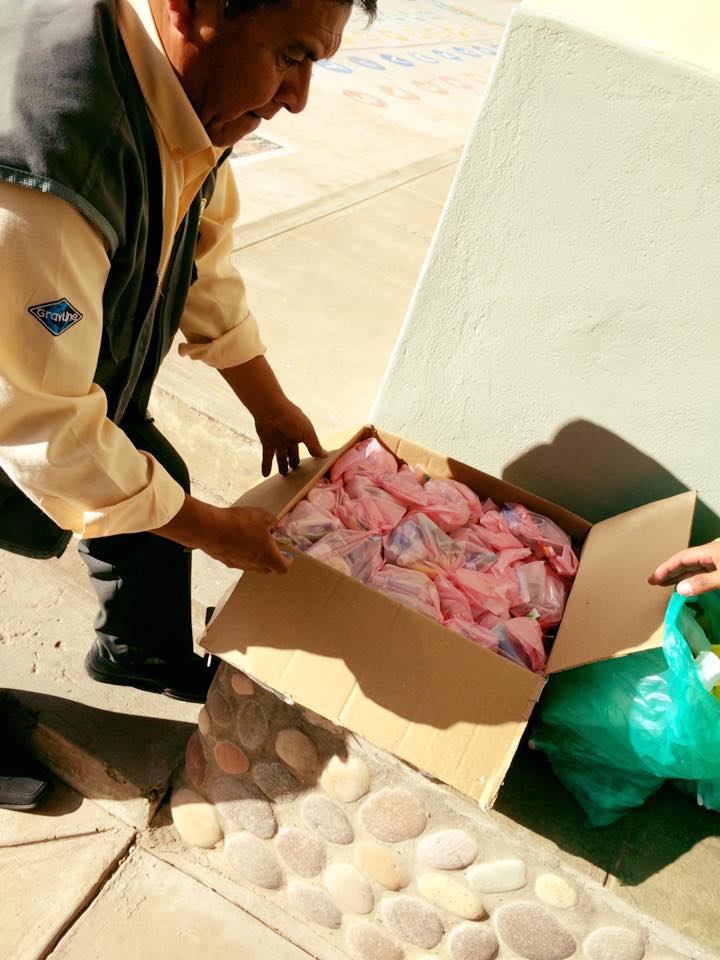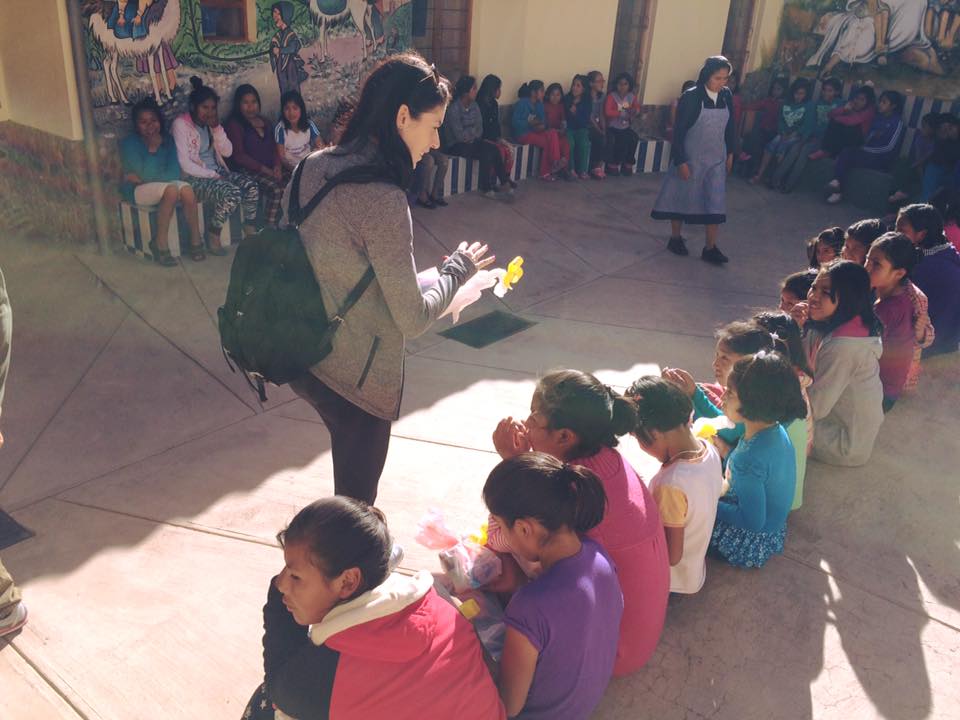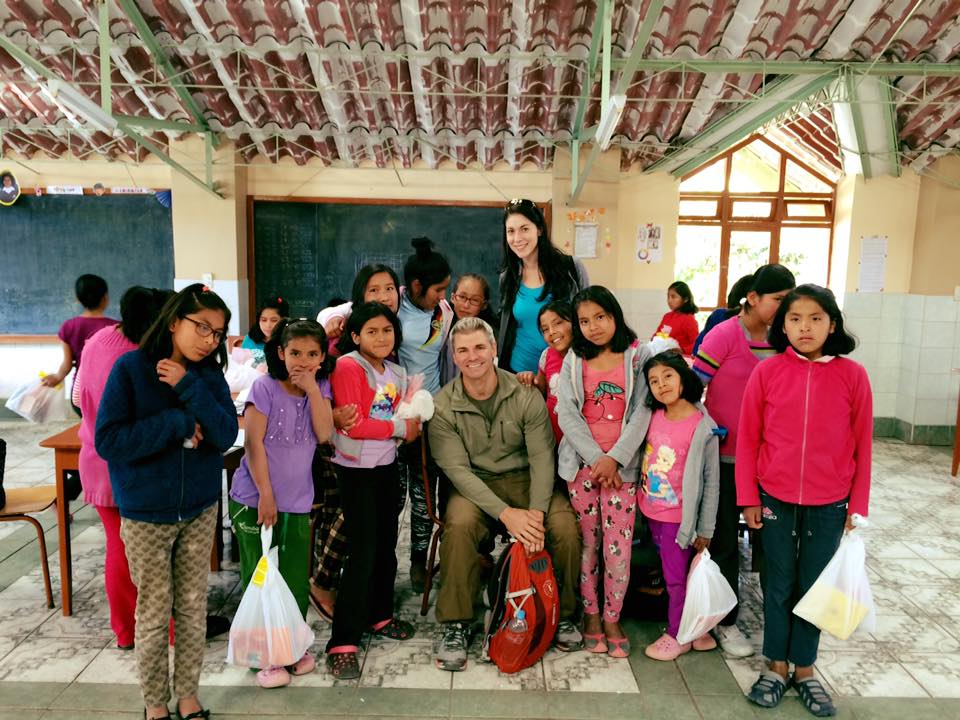 Organizing a charitable travel component is not hard, even if you are not working with an agent, it is not very expensive, it does not take time away from your vacation, and it will probably be one of the more authentic and certainly most memorable parts of your journey.  It certainly leaves you feeling connected to the destination.
I hope this post has given you some perspective and has inspired you to not only be more conscientious about your travels, but also to incorporate some charitable component into your travels.  If your have any personal anecdotes or tips on how to be a more socially conscientious traveler, I would love to hear them. Leave me a comment or send me an email.