ABOUT ME
Thanks for stopping by!  My name is Anastasia.  I am a Greek-American girl who was born and raised in South Florida.  Lawyering is my day job, but my true passion is travel (and food, and fashion, but if I had to pick JUST one, it's travel).  I am married to a sweet southern gentleman named Chad.  He is also my dedicated travel partner, so you will likely be seeing a lot of him on this blog!  When we got married about four years ago, I had only one request- that we take (at least) one amazing adventure a year! So far, so good.
I spend a lot of time deciding where to go next, researching the entire trip from flights, to hotels, to activities, and, of course, restaurants. Sometimes I enlist the help of professional agents (I intend to dedicate an entire post to why this is a GREAT investment), which is a research project in and of itself, and sometimes I plan the whole thing myself. When we return, my friends and family are always asking for my itineraries and my recommendations for hotels, restaurants, and tour guides.  As a result, I decided to try my hand at blogging, so please bear with me as I figure this blogging thing out while simultaneously juggling my full-time job as a civil defense litigator!
I really appreciate your support and would love to hear from you! If you've got questions, comments, and/or things you'd like to see on the blog, please contact me at wheretonexttravelblog@gmail.com.  I'll try to respond as soon as possible!
ABOUT THIS BLOG
If you are like me, your Instagram feed is probably filled with travel posts of one amazing destination after another.  As I scroll through my feed, I often wonder "Why am I not there?" and "Why is this not my life?"  As you learn more about the poster/blogger, it seems like all of these people either work in the travel industry (i.e., get paid to travel! I WISH!) or have sold all their worldly possessions for a nomadic lifestyle of wanderlust. While I certainly applaud that choice (trust me, I am not hating; I totally envy the guts and spirit it takes to make that decision and live that life), it simply isn't feasible or realistic for most people.  Most of us have jobs, families, mortgages, bills…ugh! But, that doesn't mean that we should not or cannot have these same amazing life experiences! With this blog, I hope to encourage you to travel more because you can, even if you have a full-time demanding job, a family, and a budget.  It just takes a little will and a little work.
Join me (and Chad) as we travel the world and figure out Where To Next…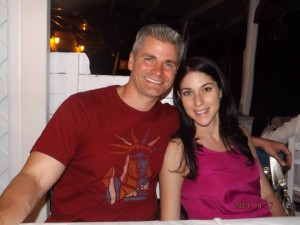 And now for the lawyer stuff:  All of the content on this blog is my opinion.  The information contained in this blog is for general information and entertainment purposes only. It is not intended to provide advice, including any legal advice, or form the basis of any personal decisions. I make no representations or warranties of any kind, express or implied, about the completeness, accuracy, reliability, suitability or availability with respect to the blog or the information for any purpose. Any reliance you place on such information is therefore strictly at your own risk. I am not responsible or liable for any loss or damage including without limitation, indirect or consequential loss or damage, or any loss or damage whatsoever arising from the use, reference to or reliance on any information contained within this blog. Through this website you may be able to link to other websites which are not under my control. I have no control over the nature, content and availability of those sites. The inclusion of any links does not necessarily imply a recommendation or endorse the views expressed within them.
Finally, I am not being paid by any provider, vendor, or company to promote any product or service.  If that changes, you will be the first to know, as I believe in full disclosure.