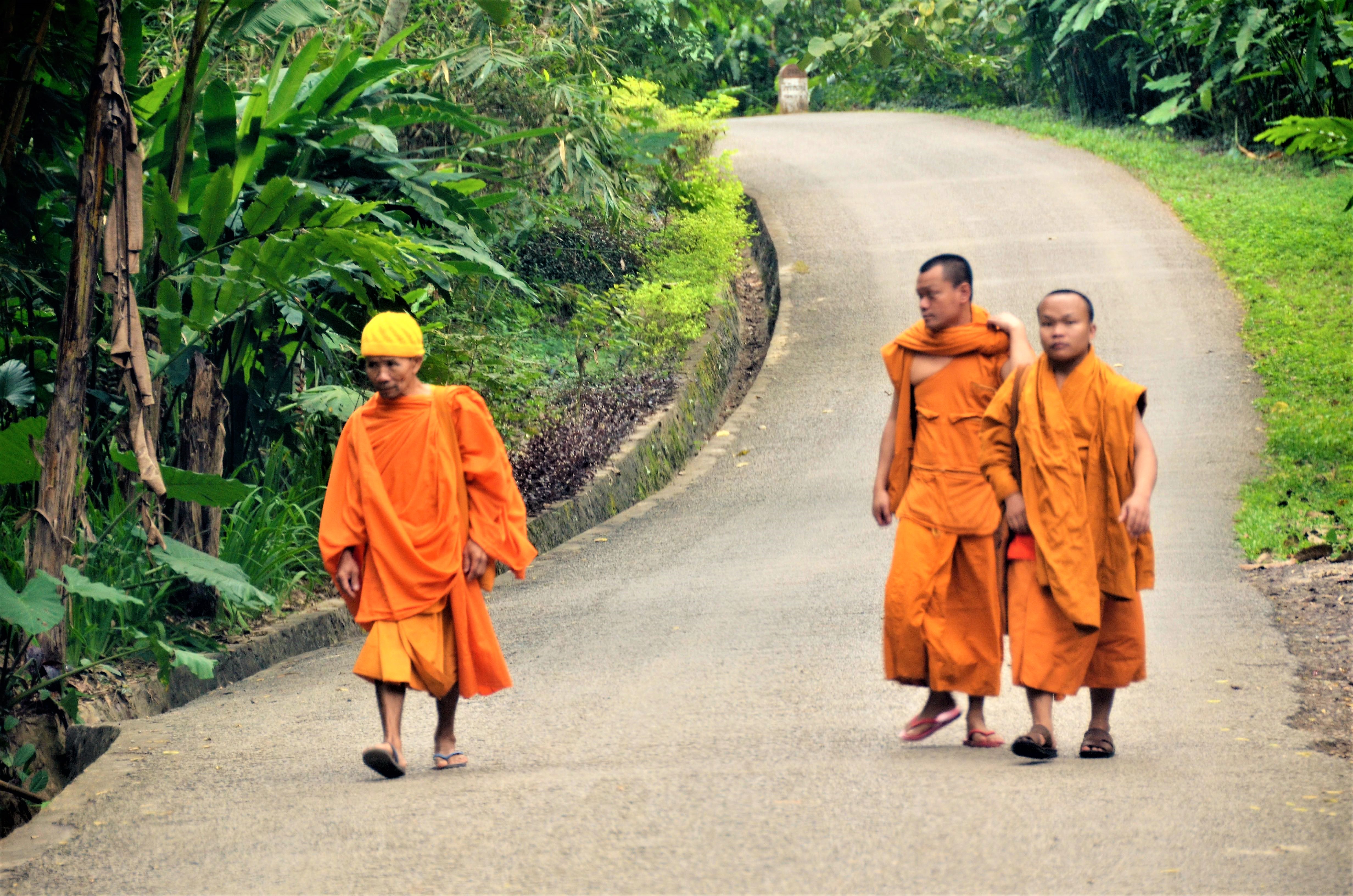 Chances are that Luang Prabang, Laos (pronounced Lao, without the "s" at the end) is not on your travel list (it wasn't on ours), but it should be.  There is something spiritual about this little city that just mesmerizes you. We actually had some of the most memorable cultural encounters in little-known Luang Prabang. We came to Luang Prabang on the recommendation of our travel agent, and I am sure glad we did.
I am almost hesitant to write this post.  I kind of want to keep Luang Prabang a secret and all to myself and those who have discovered it. Luang Prabang has a small village hippie vibe. It is a backpacker's paradise. It is considered the best preserved city in Southeast Asia, which also earned it its designation as a UNESCO World Heritage Centre. Unlike other major Asian cities, the pace of life in Luang Prabang is slower and the scenery more rural. We spent three days there, but Luang Prabang is the kind of place that you think you only need three days for, but wish you had a little more. In fact, a lot of people we met along the way came to Luang Prabang with the intention of staying a few days, but extended their trip for several more days, or, in some cases, weeks.
Before you go, you should know that a visa is required for U.S. citizens who visit the People's Democratic Republic of Laos. To get a visa, your passport must have 6 months of availability on it, and you must have two blank pages available for the visa. You can purchase the visa at the airport upon arrival, but, I strongly recommend you get a visa before you come as many visitors purchase the visa on arrival or are unaware of the visa requirement and then purchase upon arrival.  Since most people are in line for visas, the lines can get quite long. If you purchase a visa on arrival, you get a 30-day visa.  If you pre-buy the visa, you get a 60-day visa. Since we already had visas, we bypassed all that mess and went right through customs in a matter of mere minutes, with no lines at all.
We stayed at the Luang Say Residence, which is a colonial-style boutique luxury hotel set in a lush tropical garden. The hotel is very tranquil and serves an excellent American-style breakfast.  The property is also worth exploring.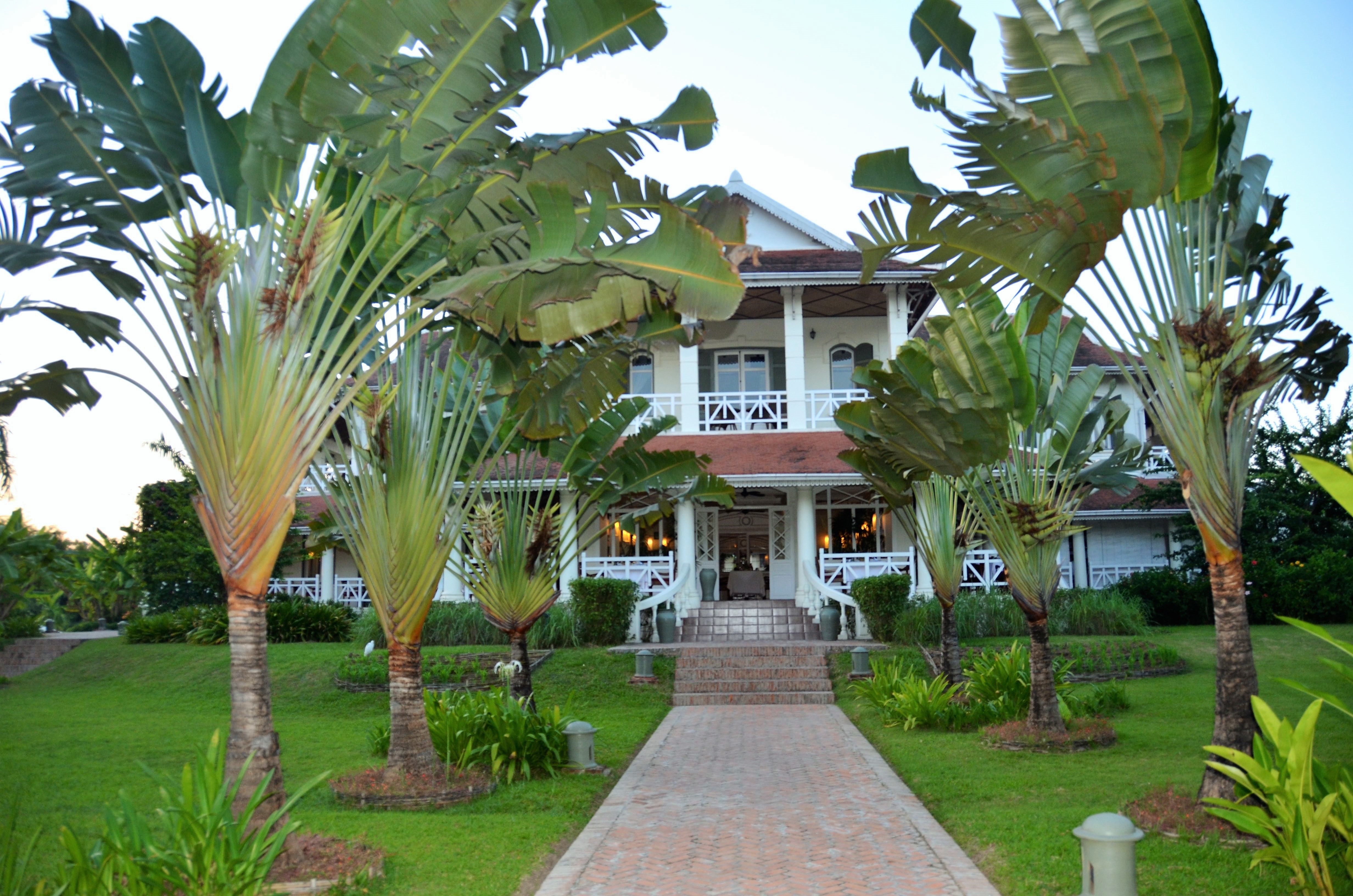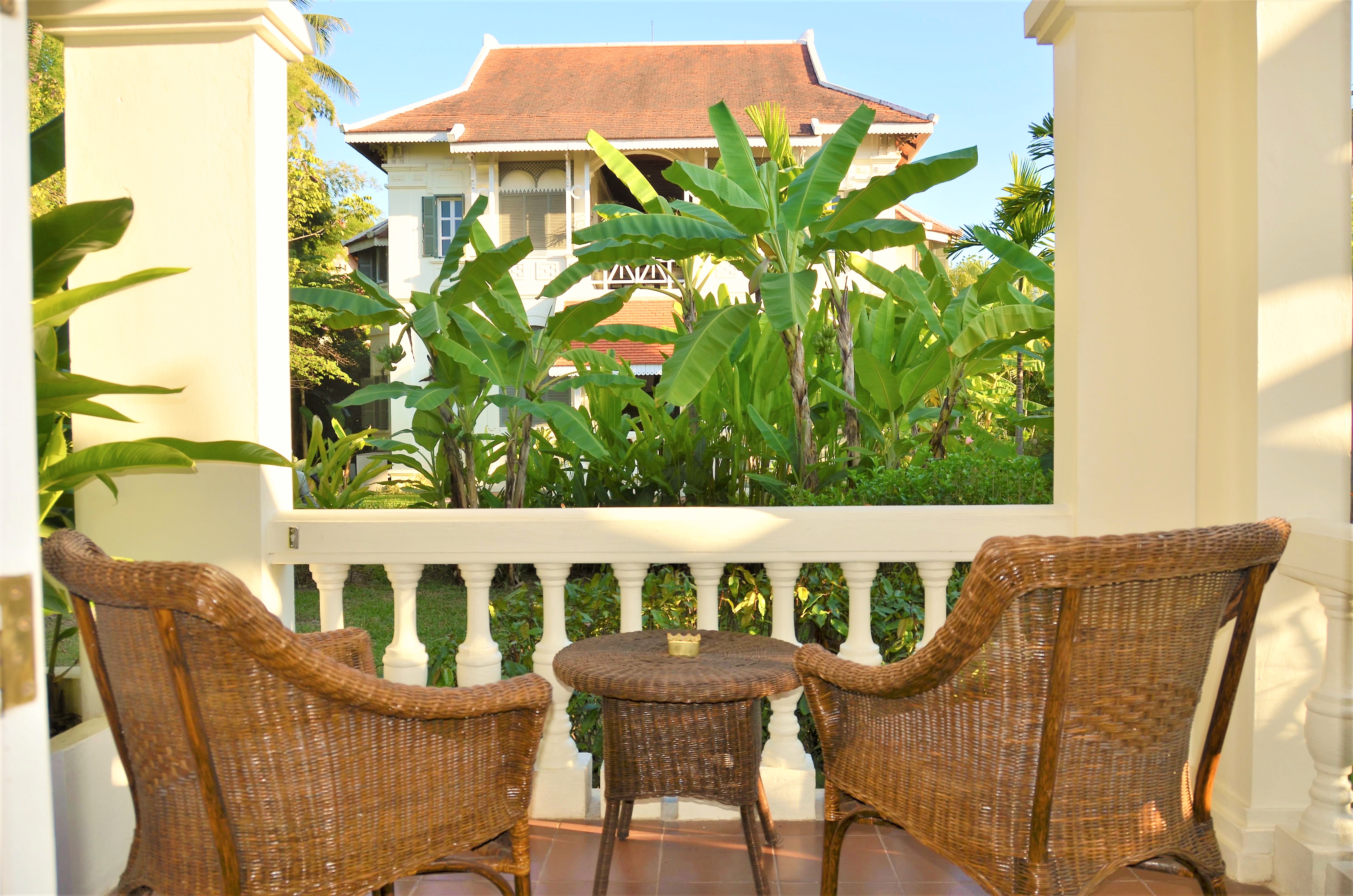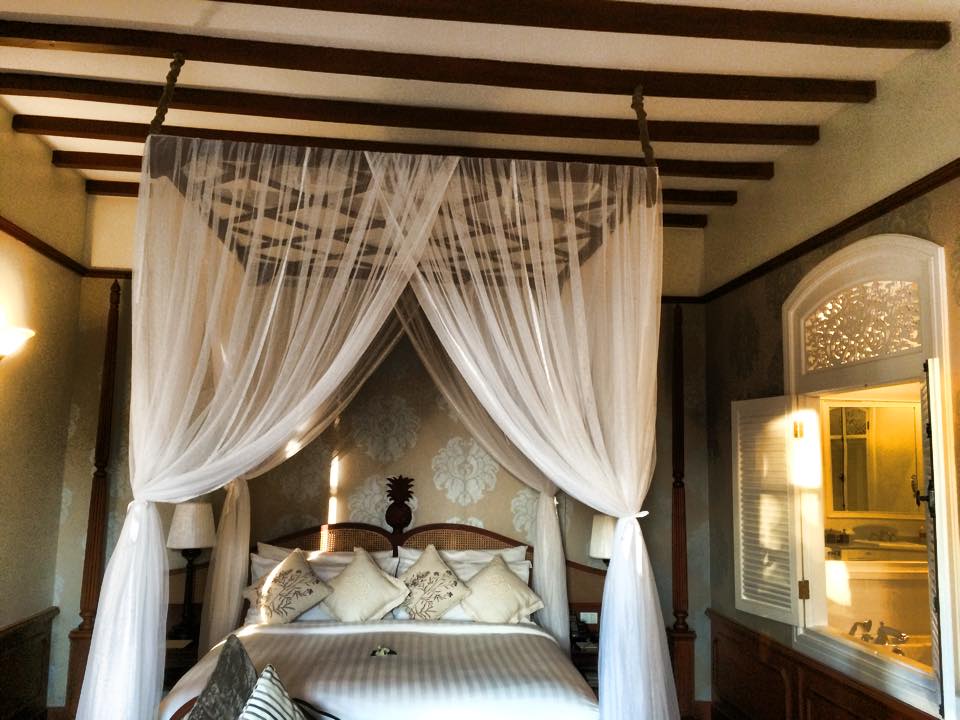 We arrived in Luang Prabang just in time to visit the night market. Apparently, there are a lot of unexploded ammunition left over from the Indochina and Vietnam wars. The locals take these wartime leftovers, turn them into keepsakes and jewelry, and sell them at the local markets.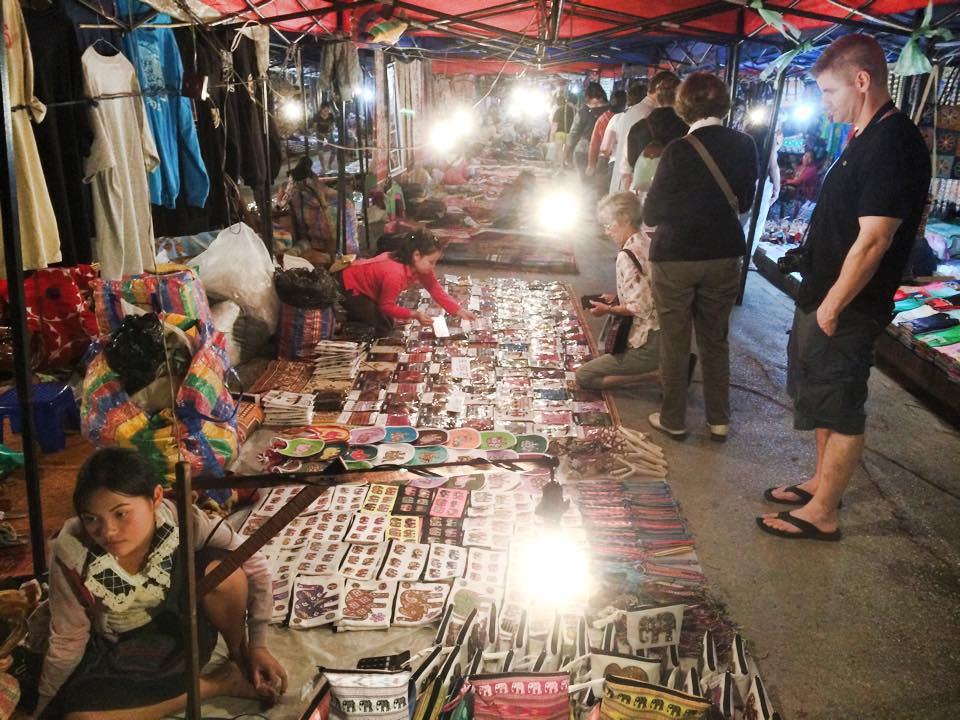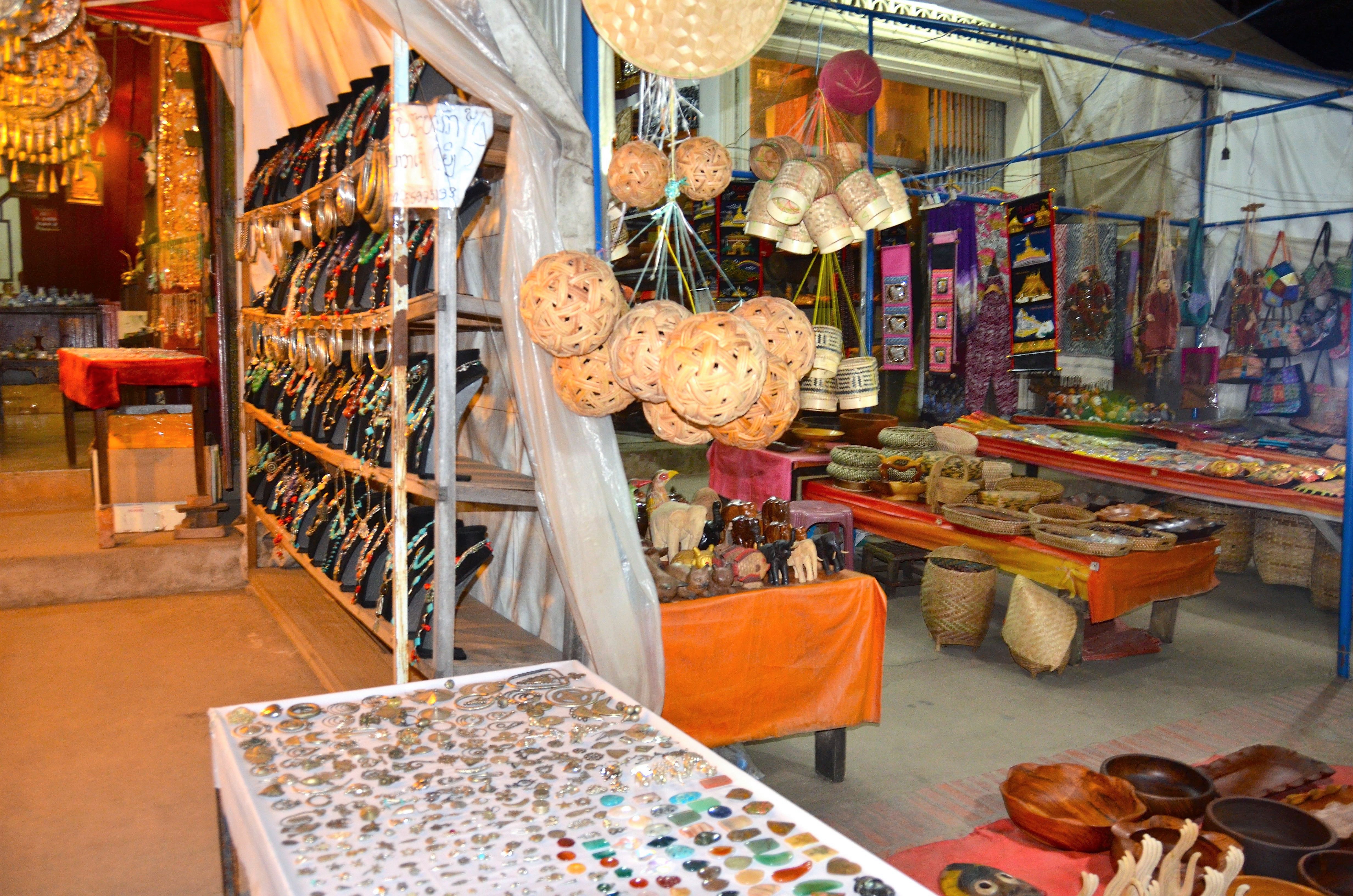 We had some action packed days in Luang Prabang! Along the way, during our all-too-short time in this magical little place, we had some very meaningful experiences and encounters with locals.
On our first full day, a visit to the Pak Ou Caves was on the itinerary.  The Pak Ou Caves are about two hours by boat from Luang Prabang.  So, to get there, we had to first board our very own slow boat, which was an adventure in and of itself.  Check out the gang plank we had to walk: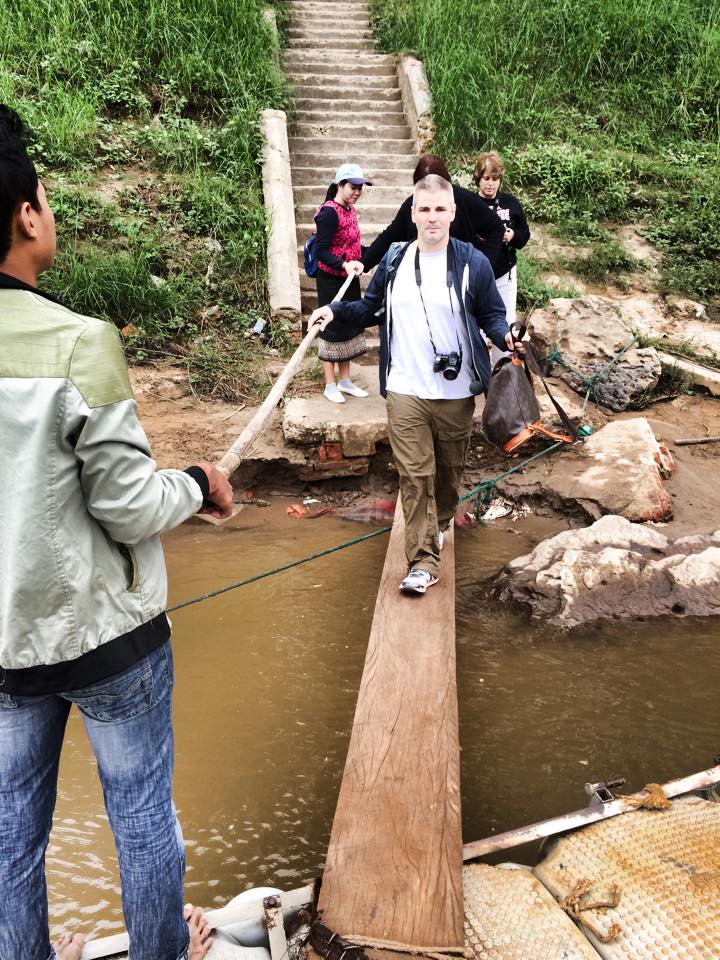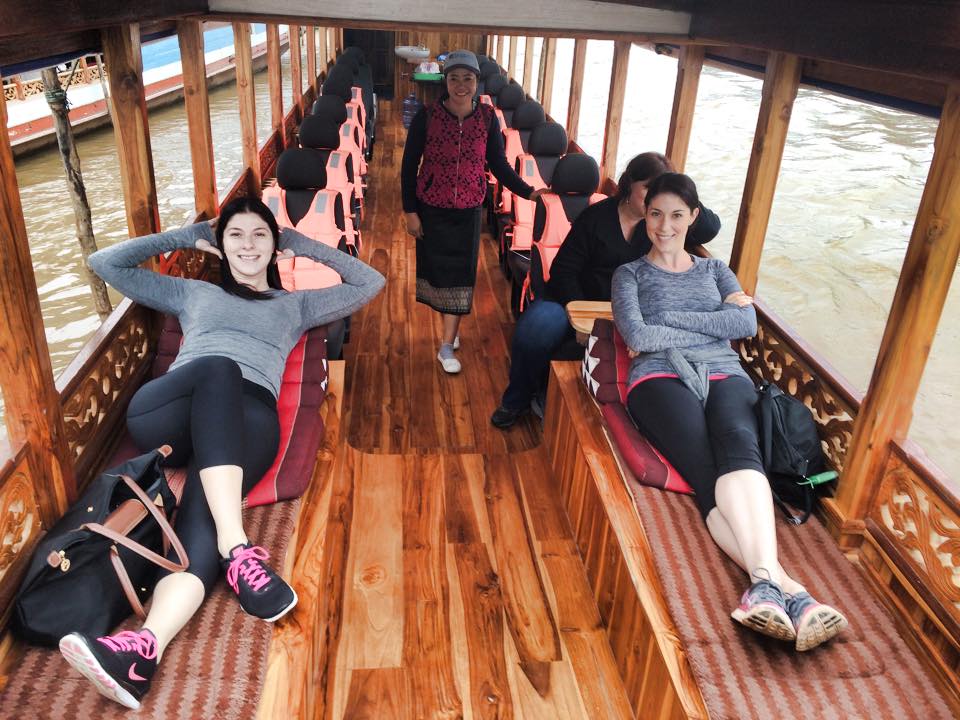 On the two hour journey down the peaceful Mekong River, we got to see a lot of rural everyday life along its banks.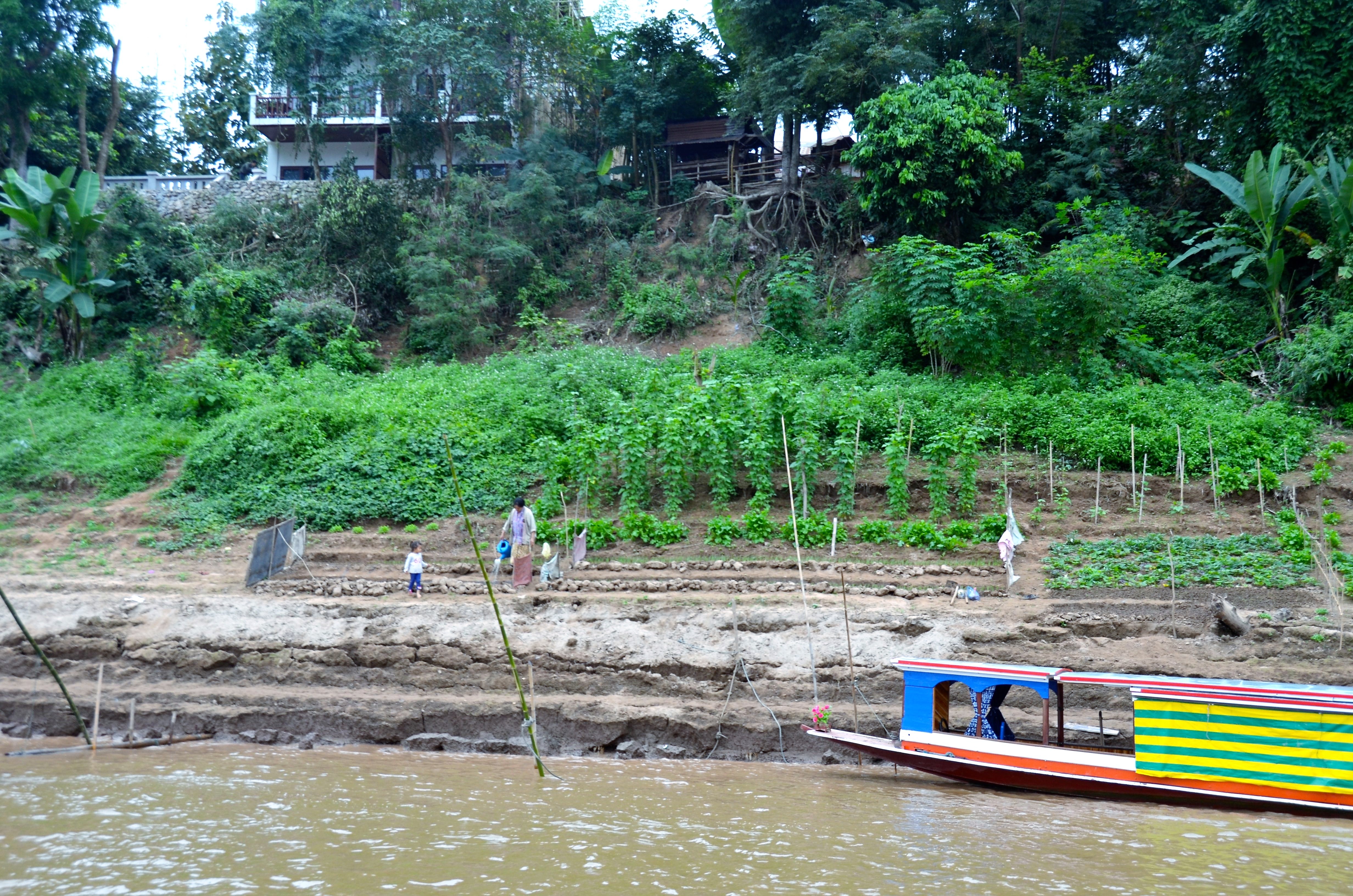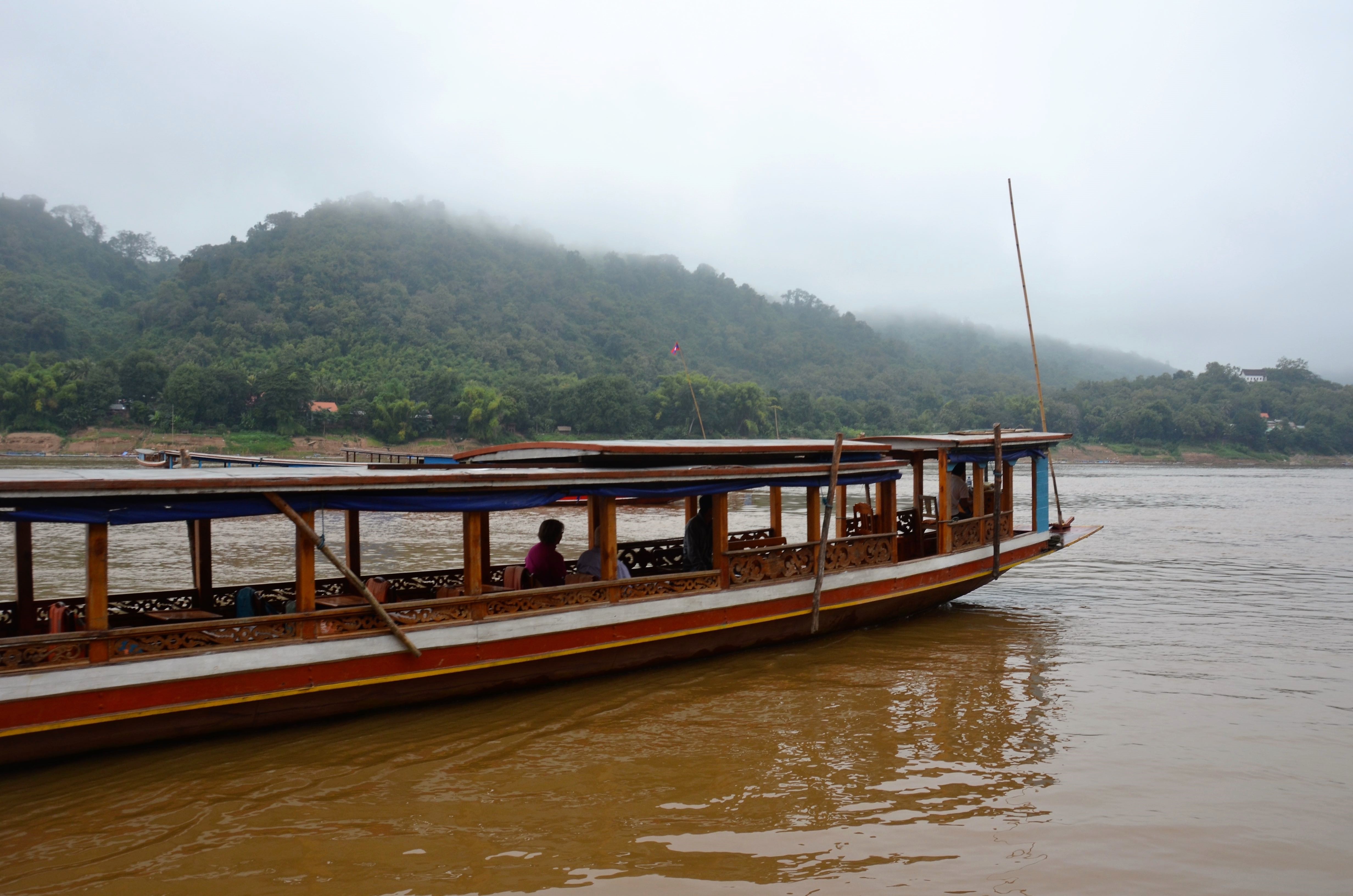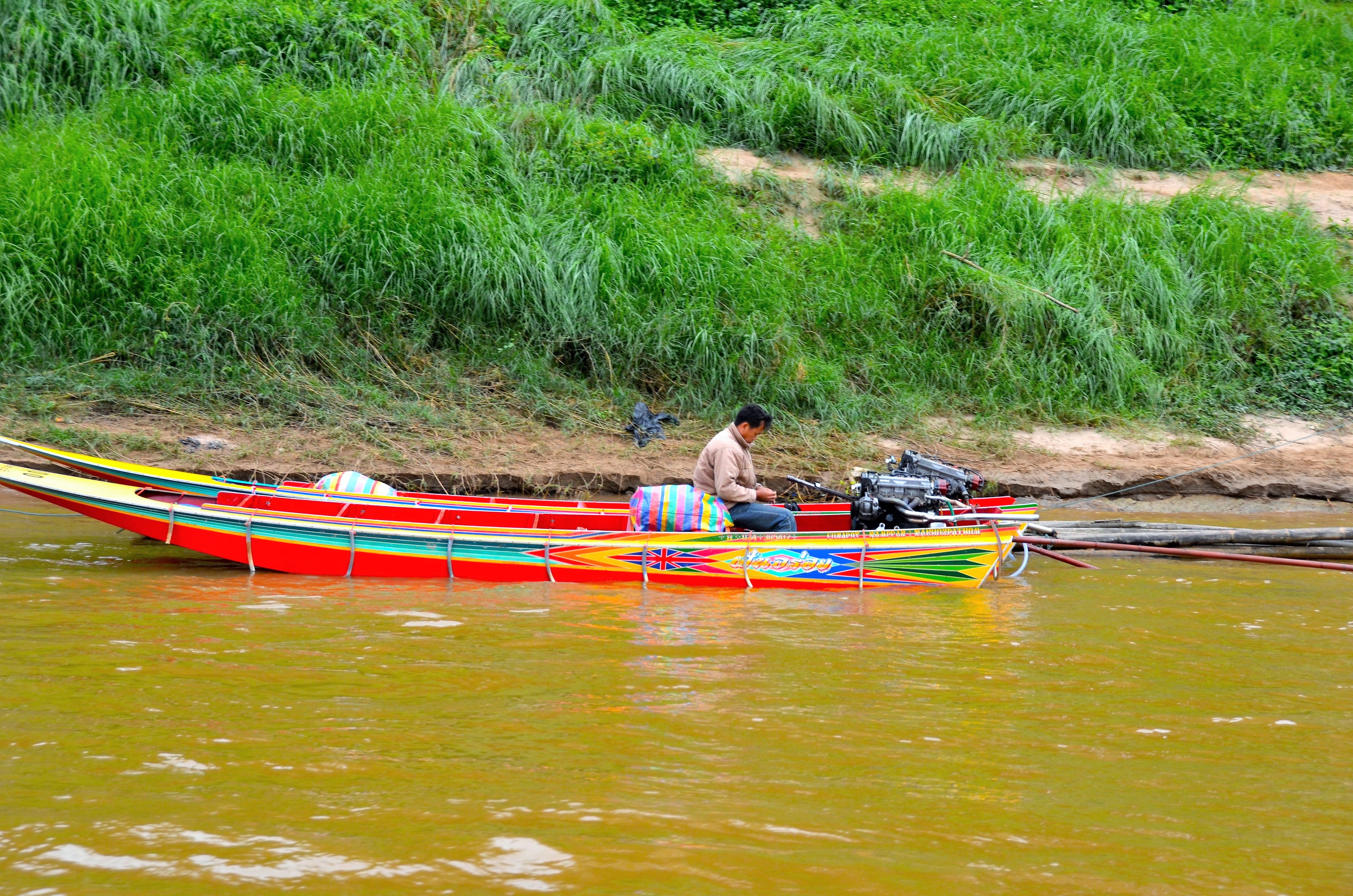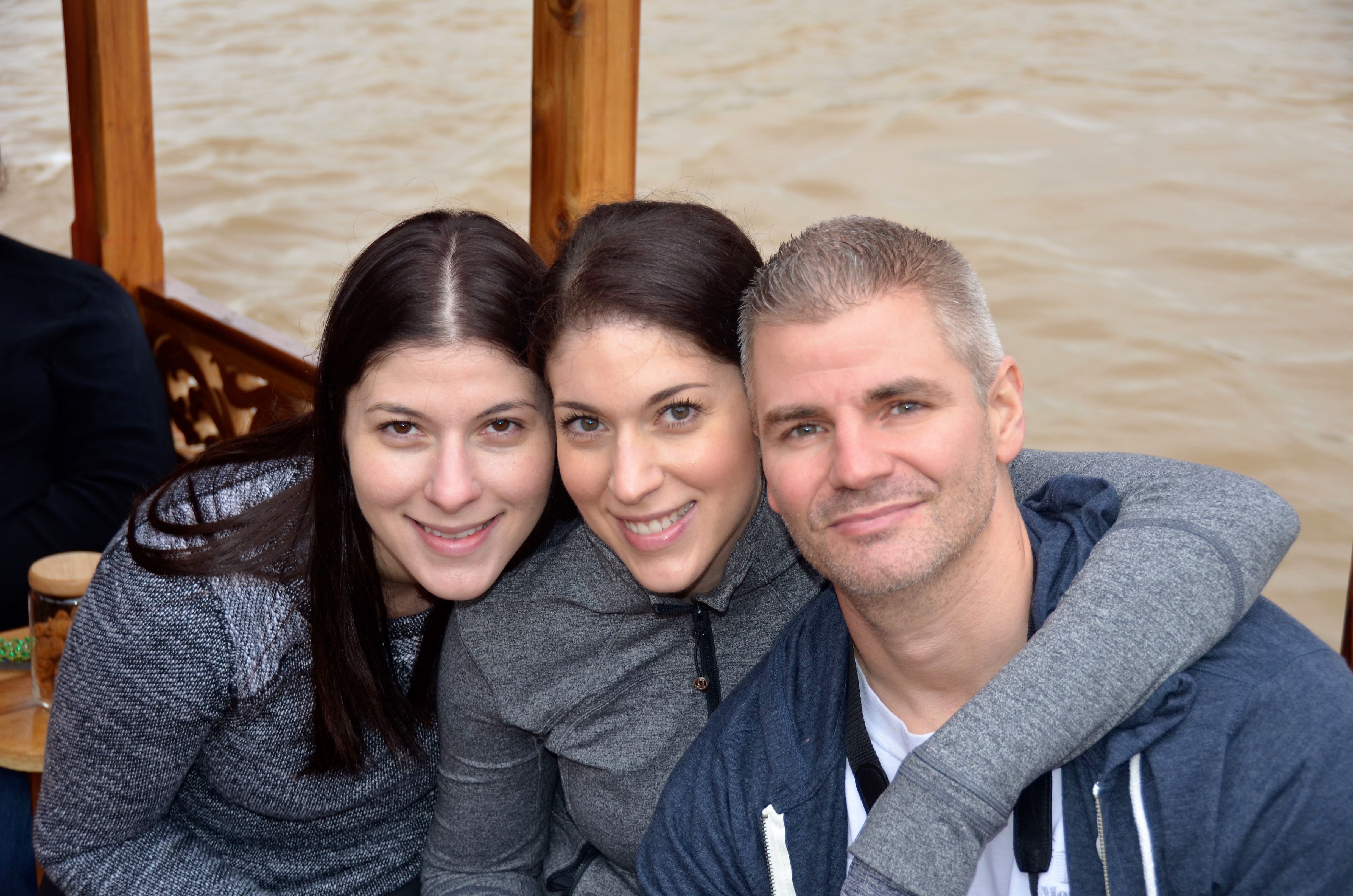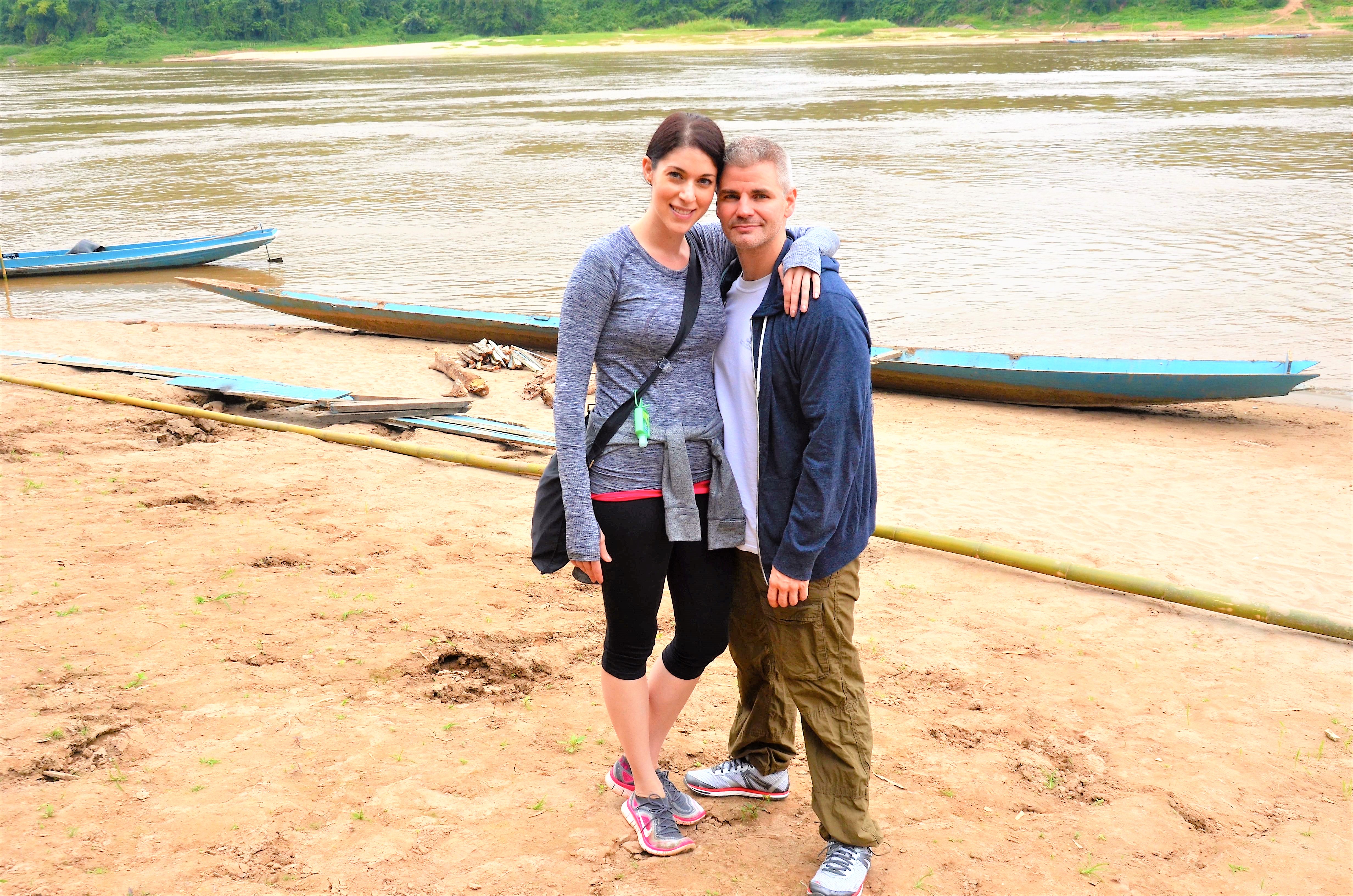 After a couple hours, we arrived at the caves!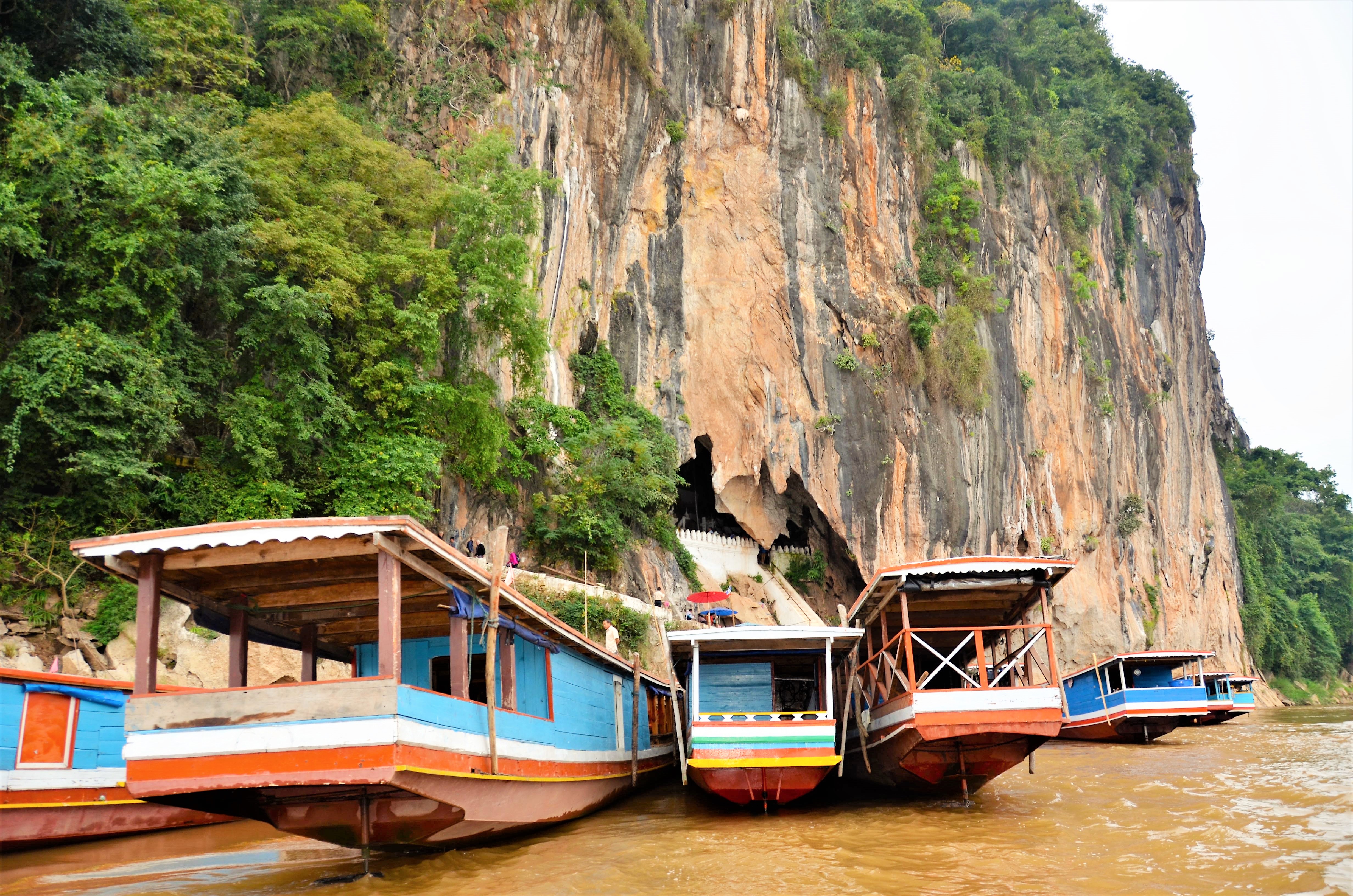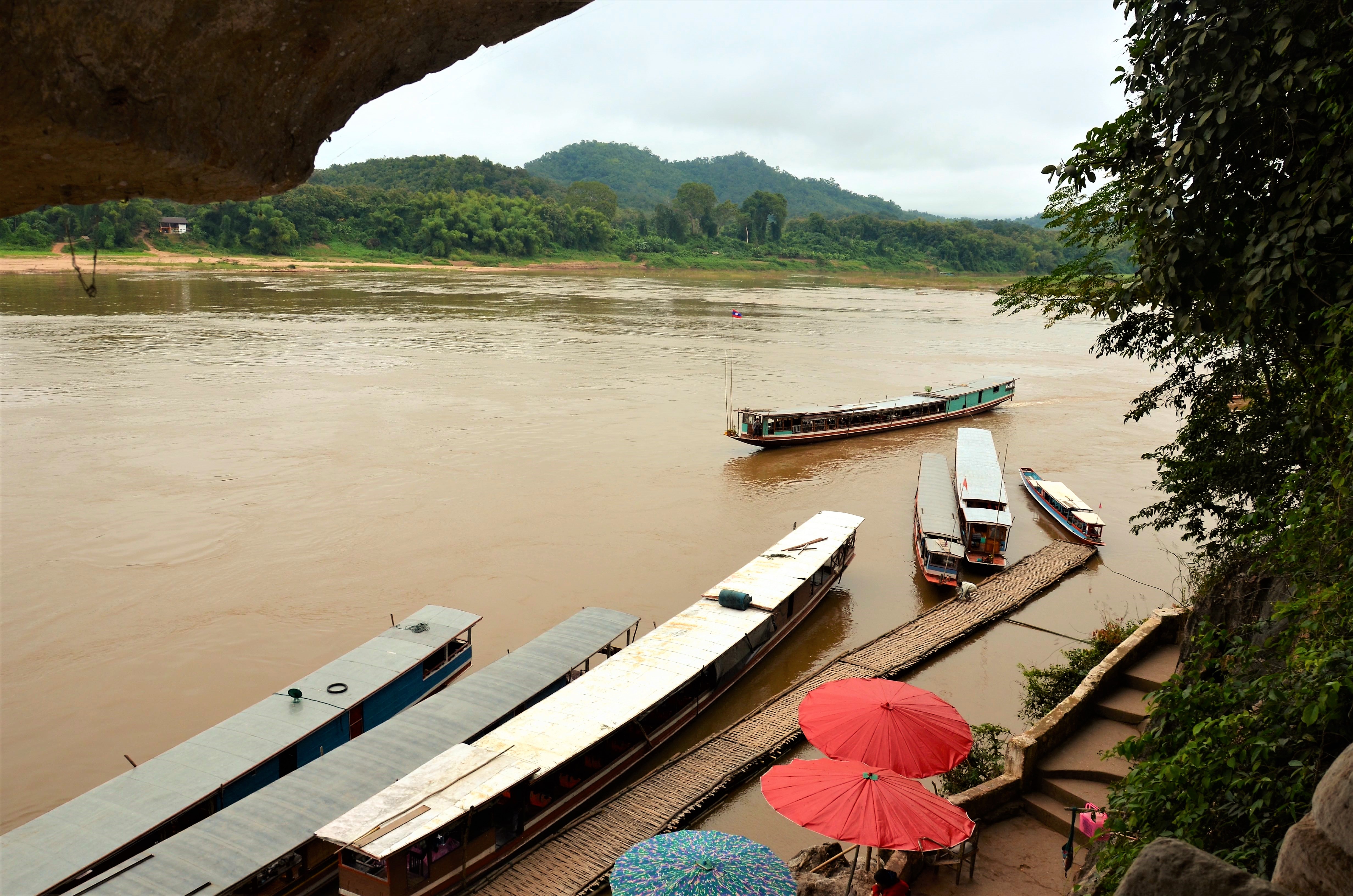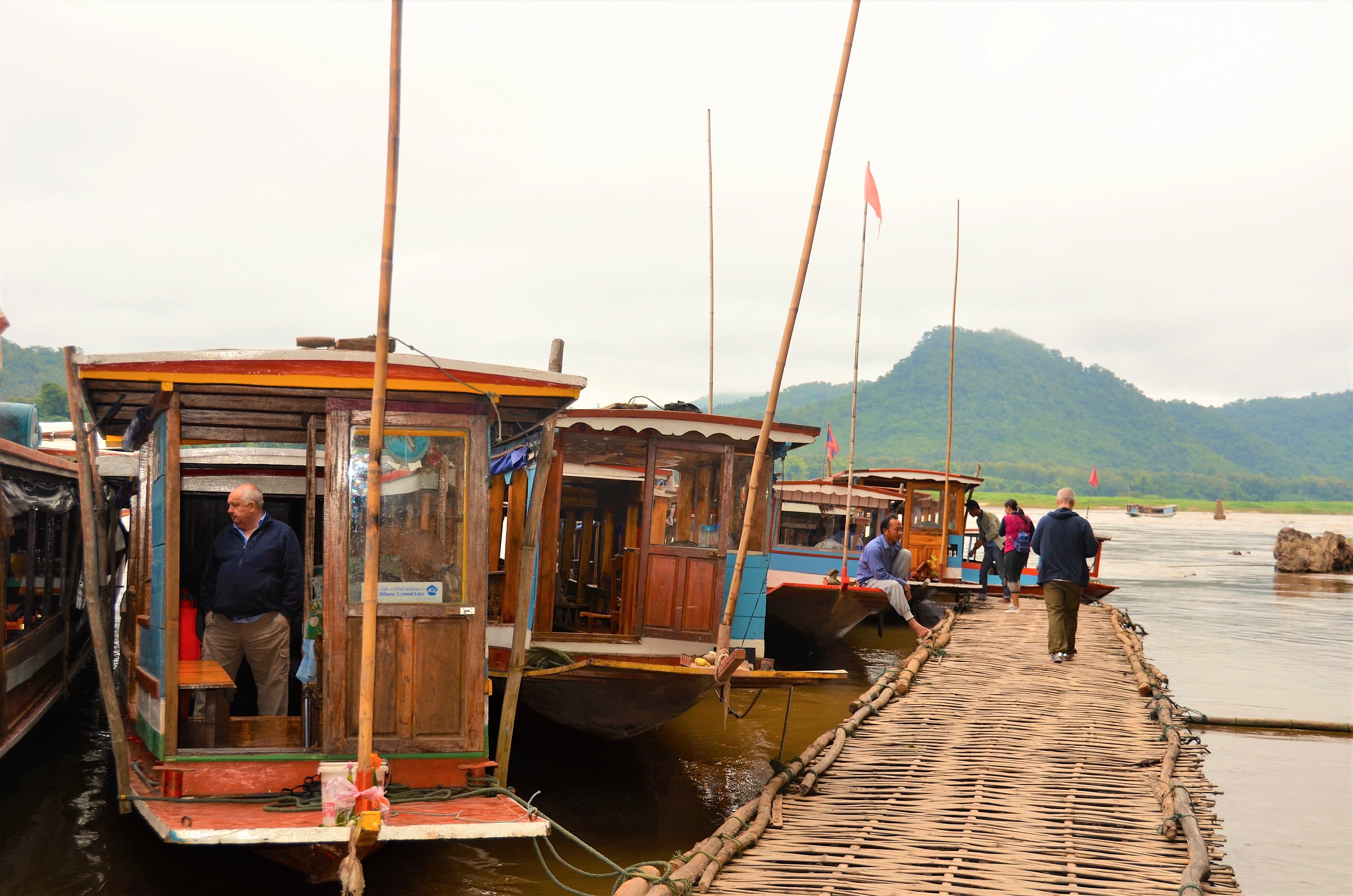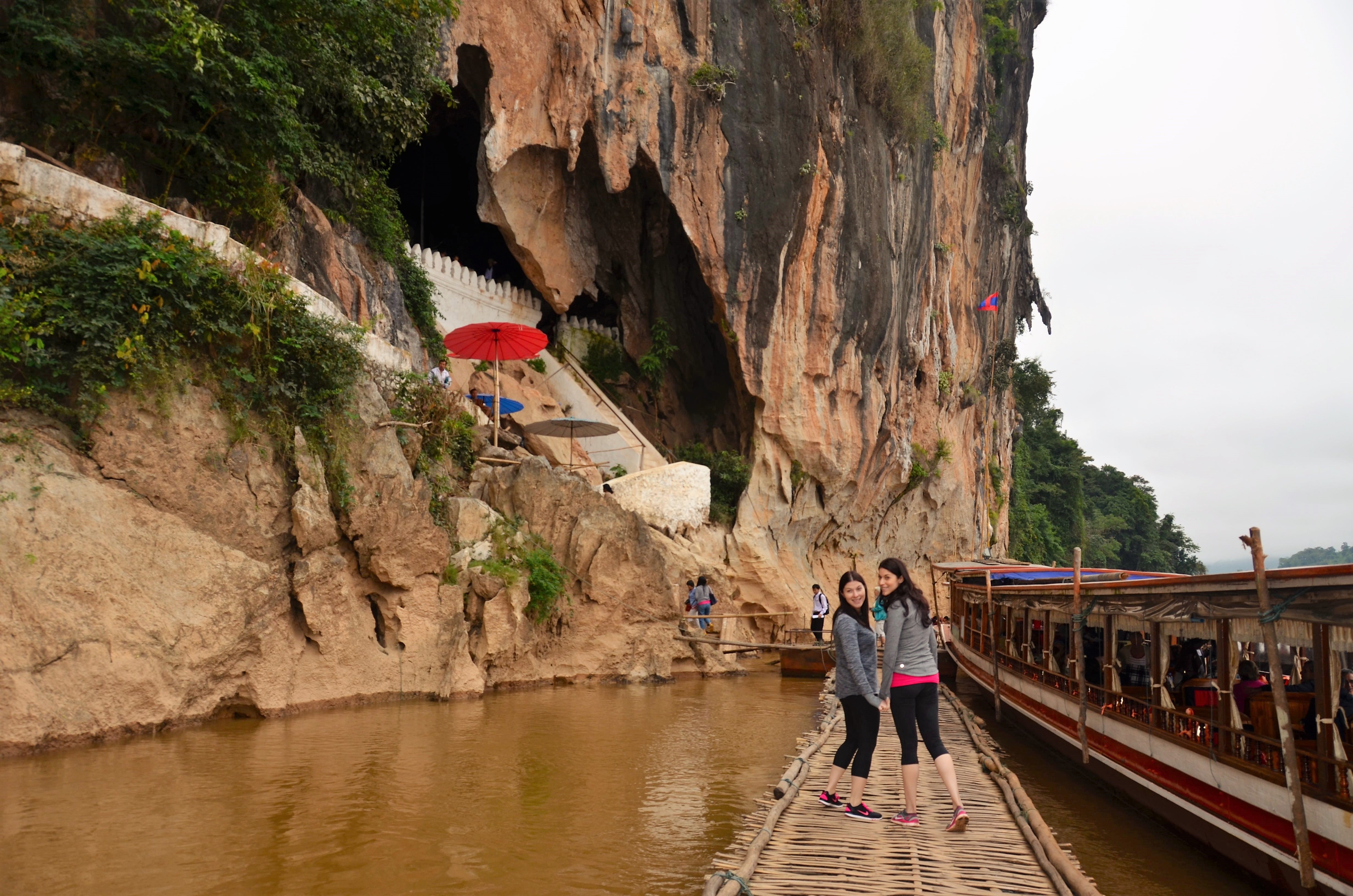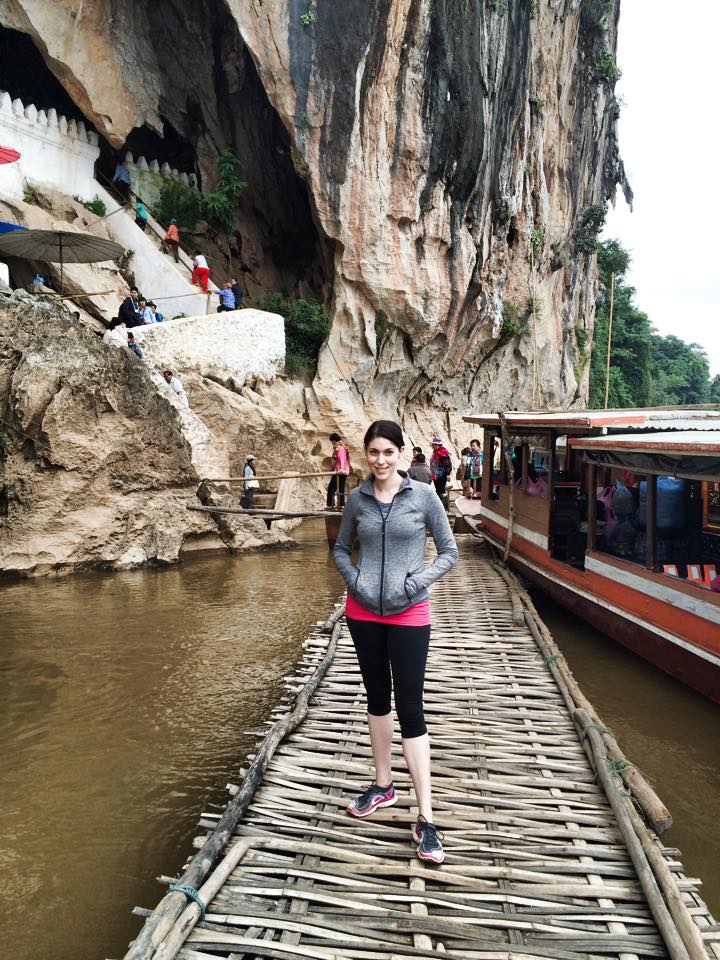 The caves overlook the Mekong River and are  hidden in a mountain side.  Inside the caves are hundreds of old Buddha statues. There is something very spiritual and peaceful about climbing into a cave full of treasure! Little golden Buddhas glittered from every corner.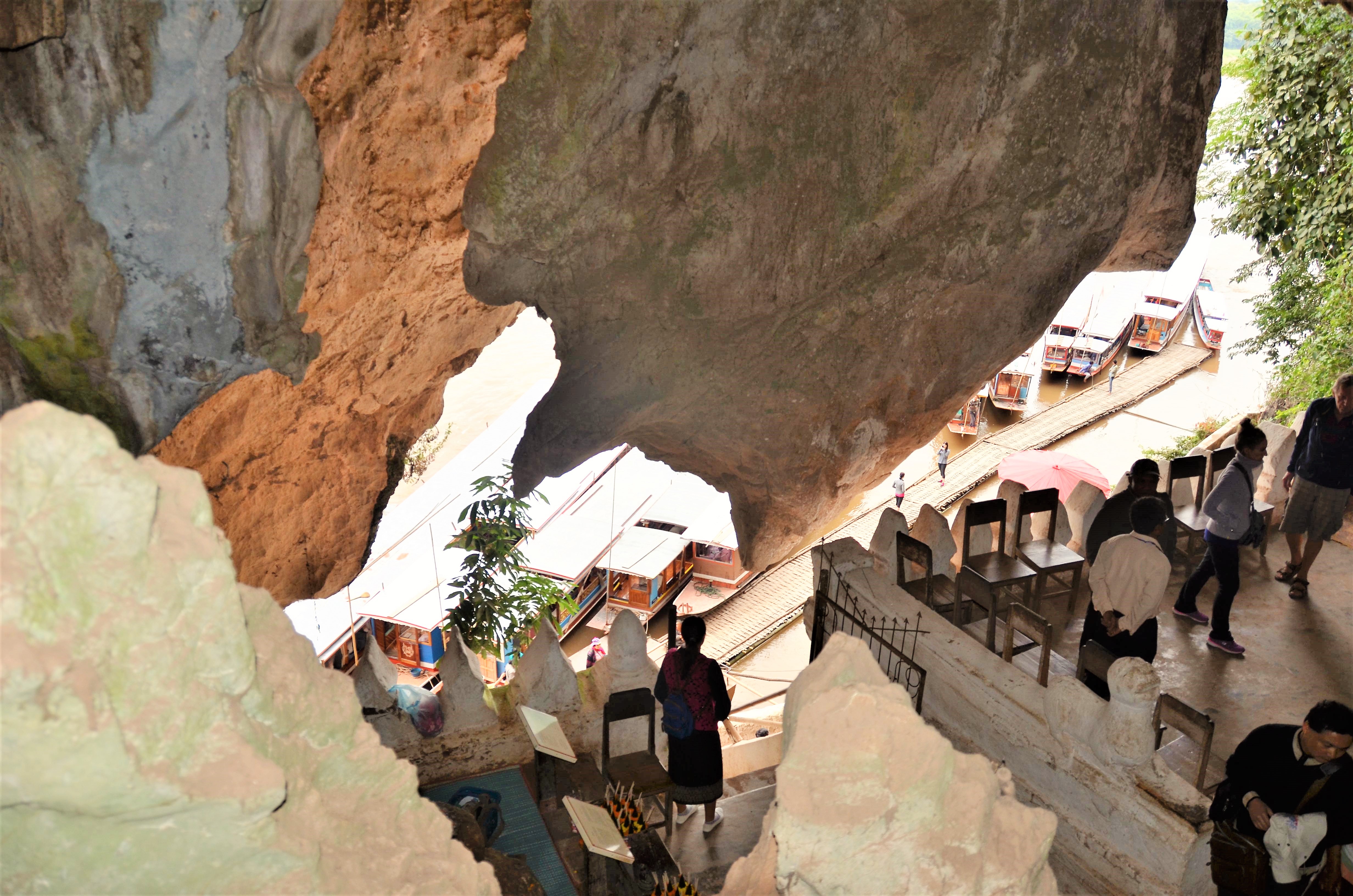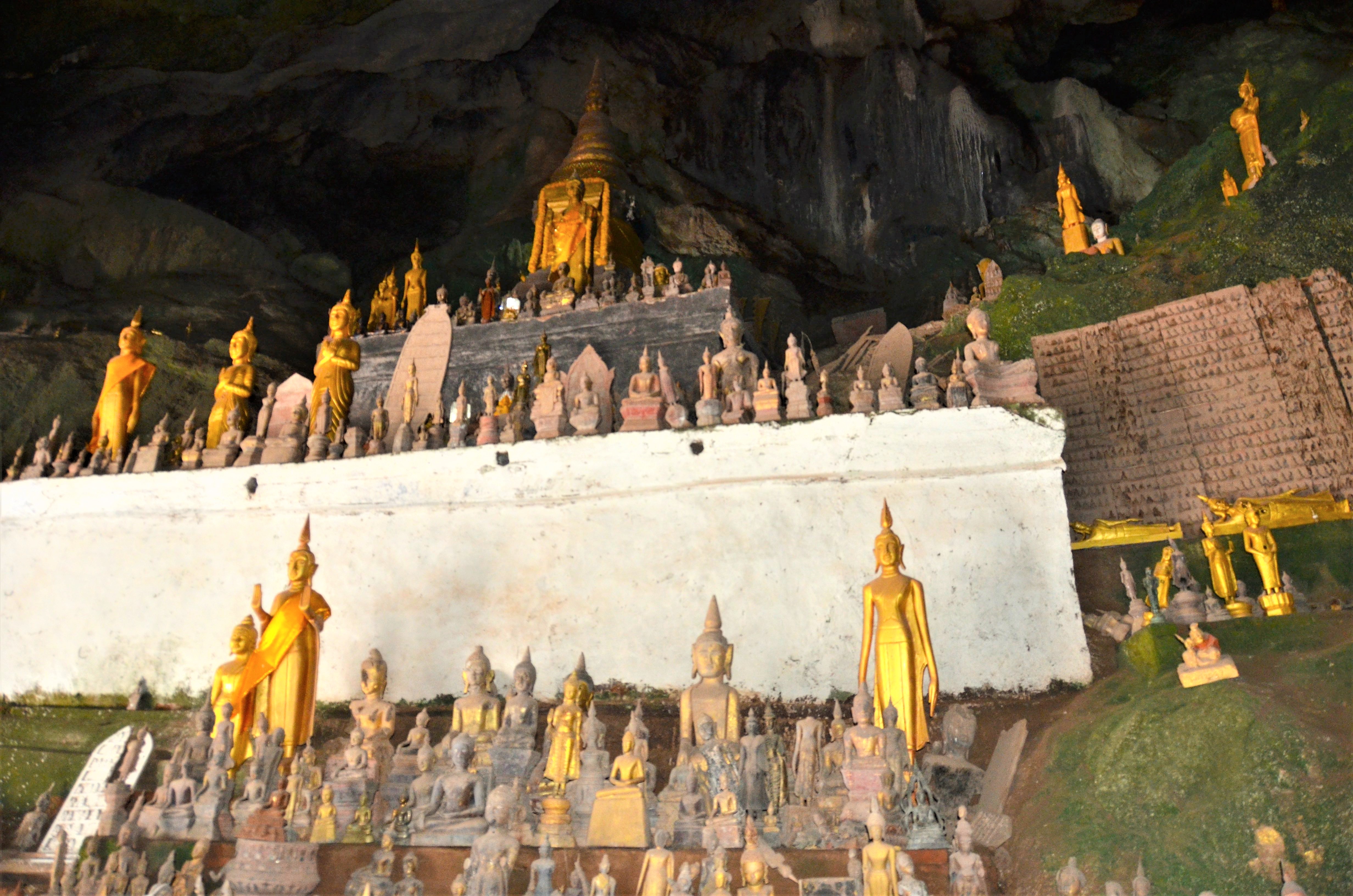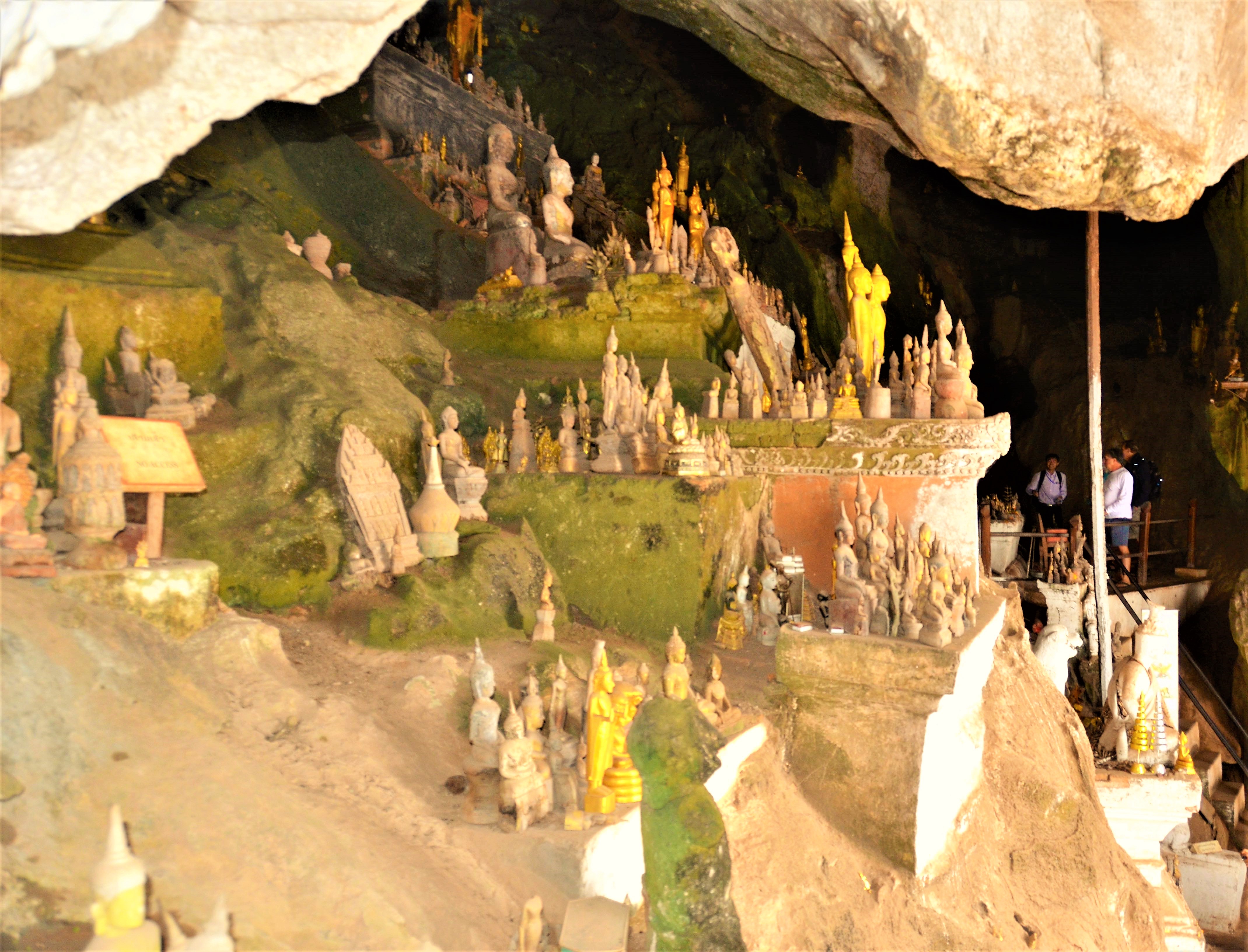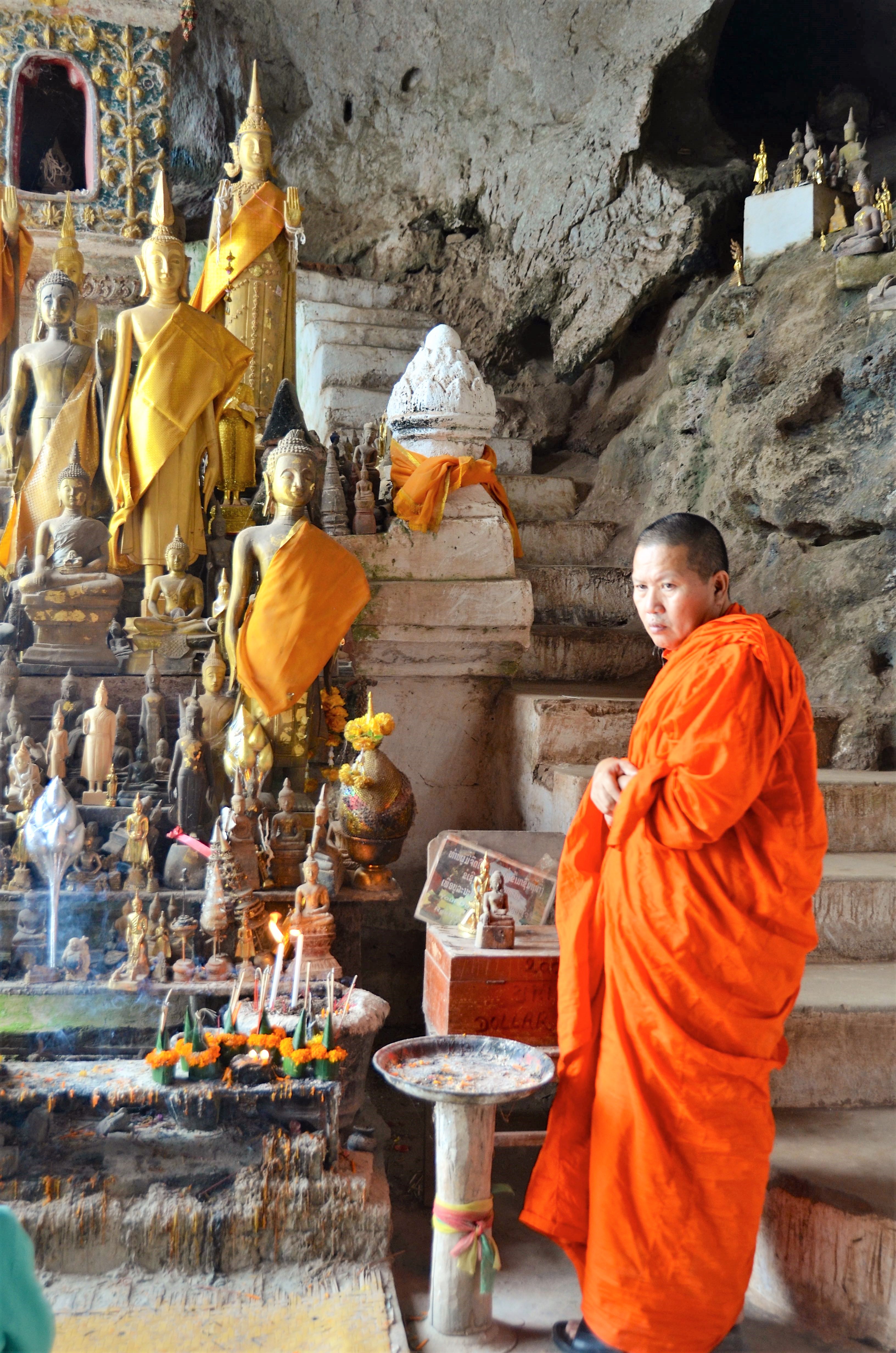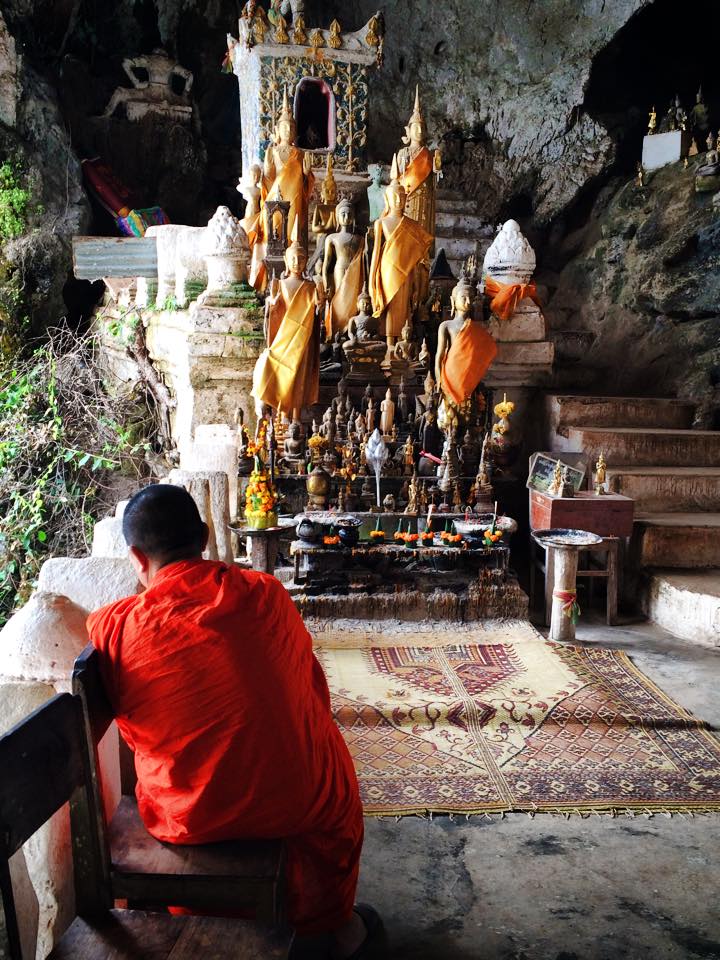 The caves are guarded by monks…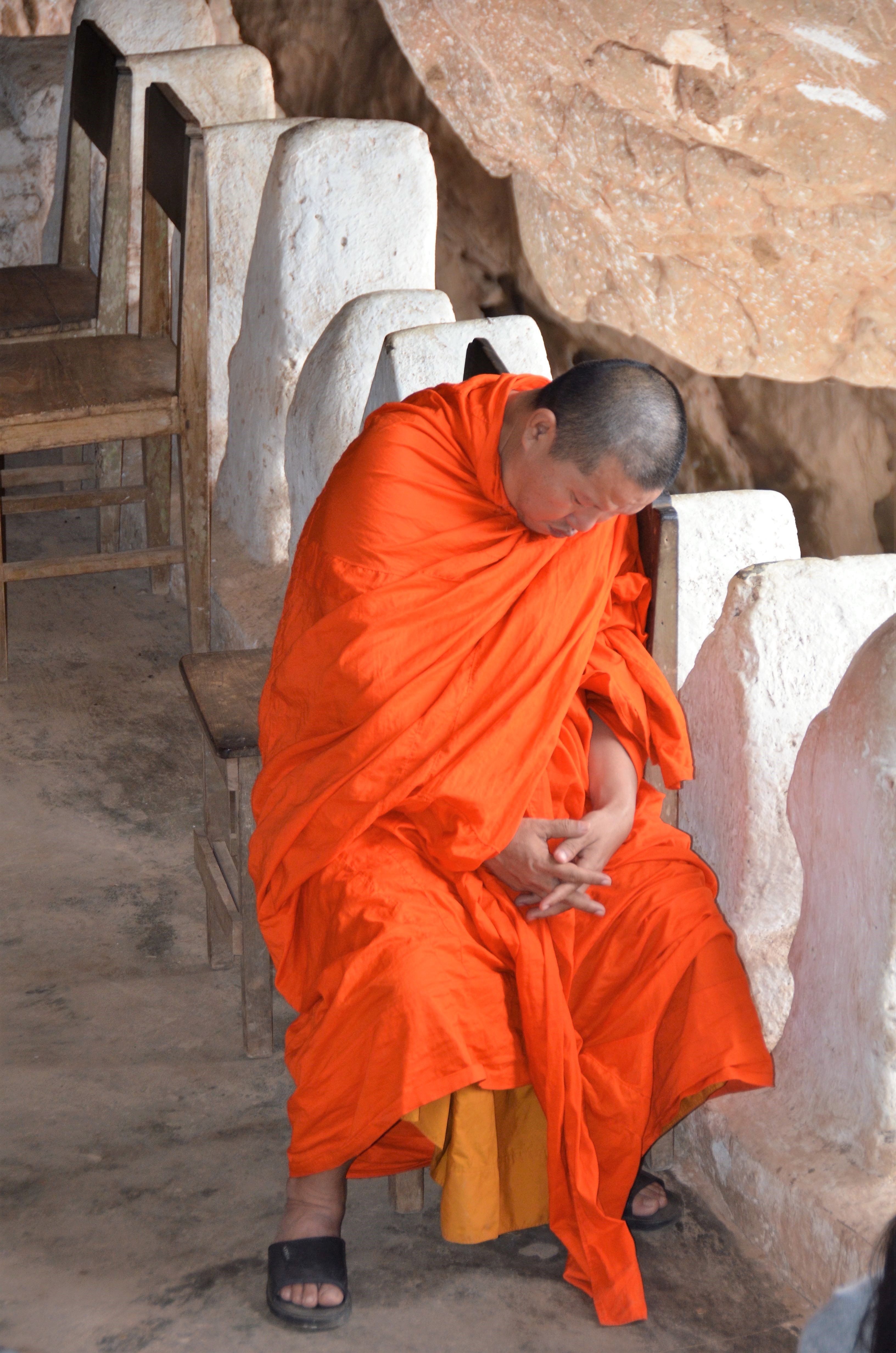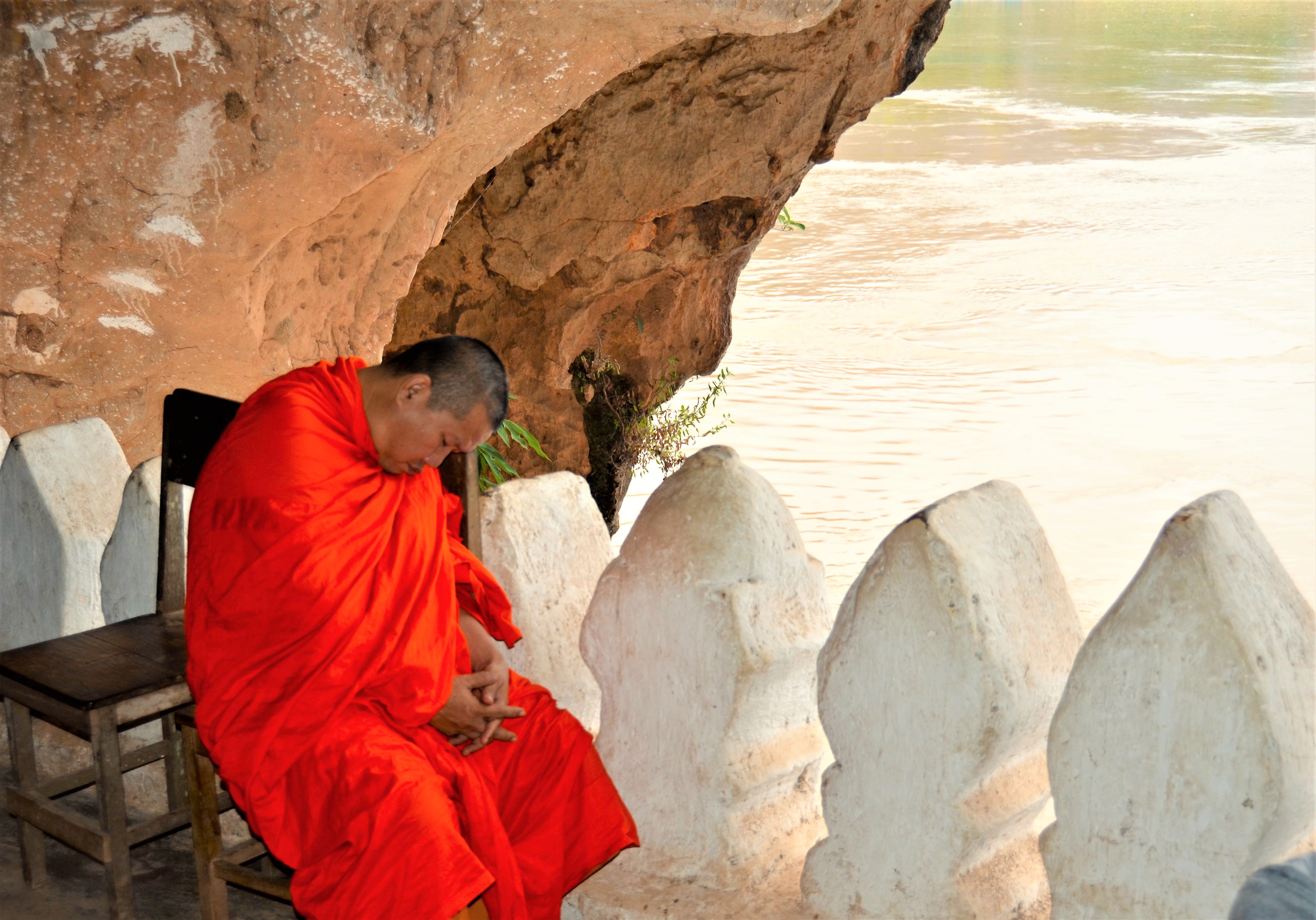 After our visit to the caves, we stopped at a local village, the Muangkeo Village, to try rice whiskey. We came to a village where we were greeted by an older woman who makes the rice whiskey at her home.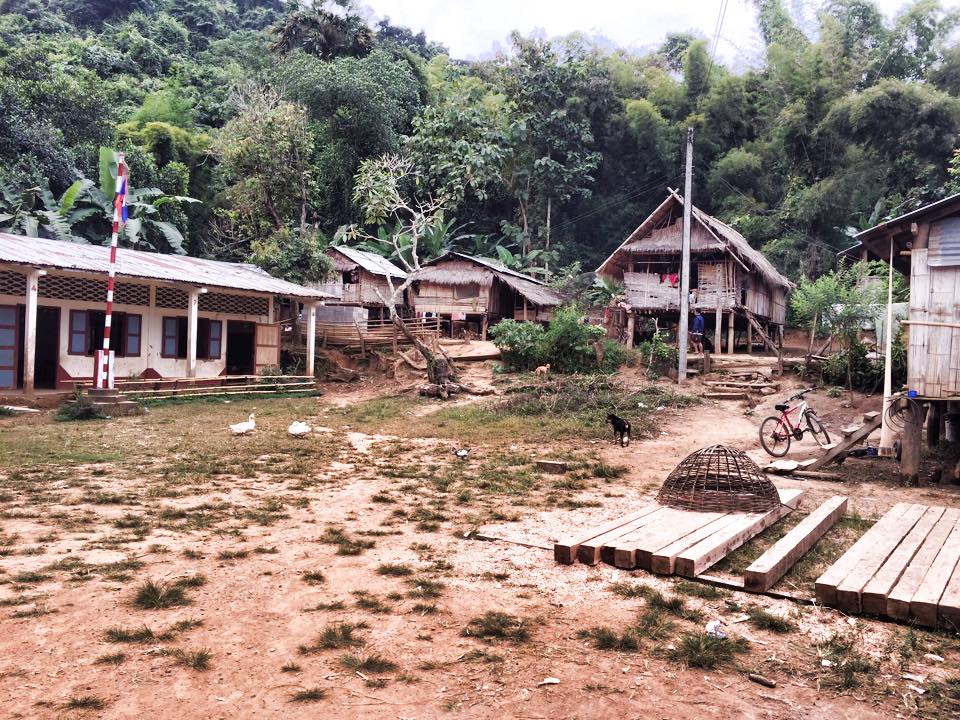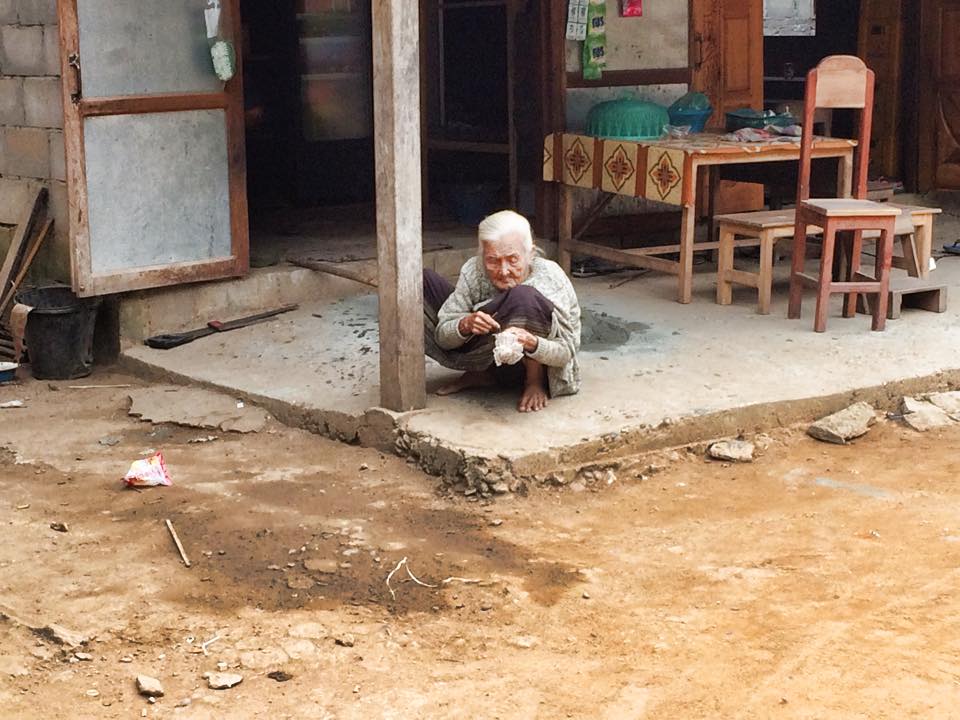 Rice whiskey in clay barrels: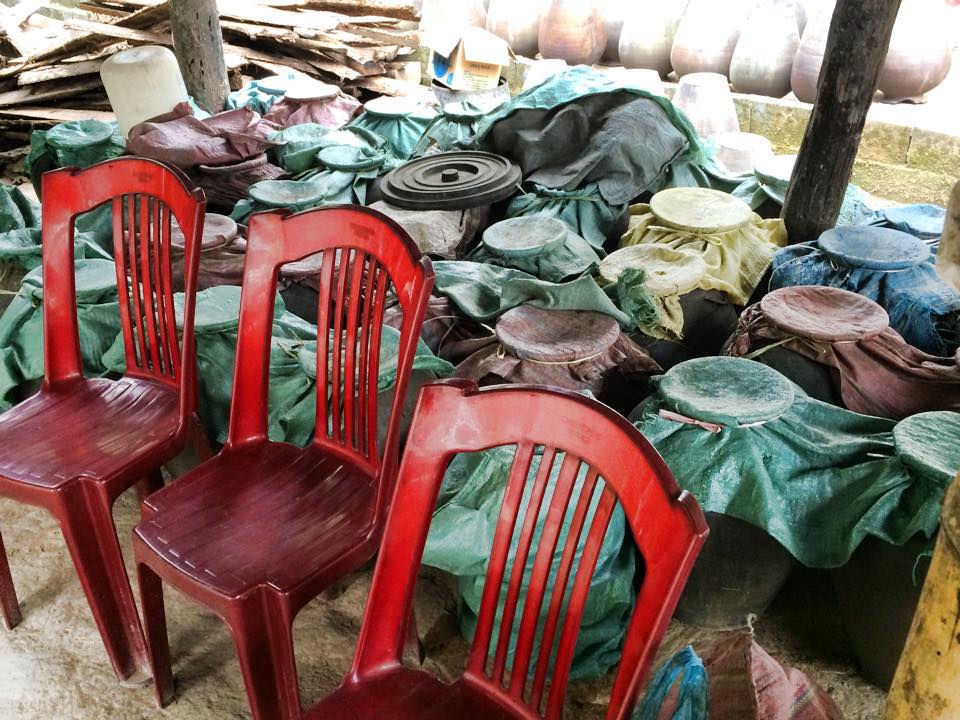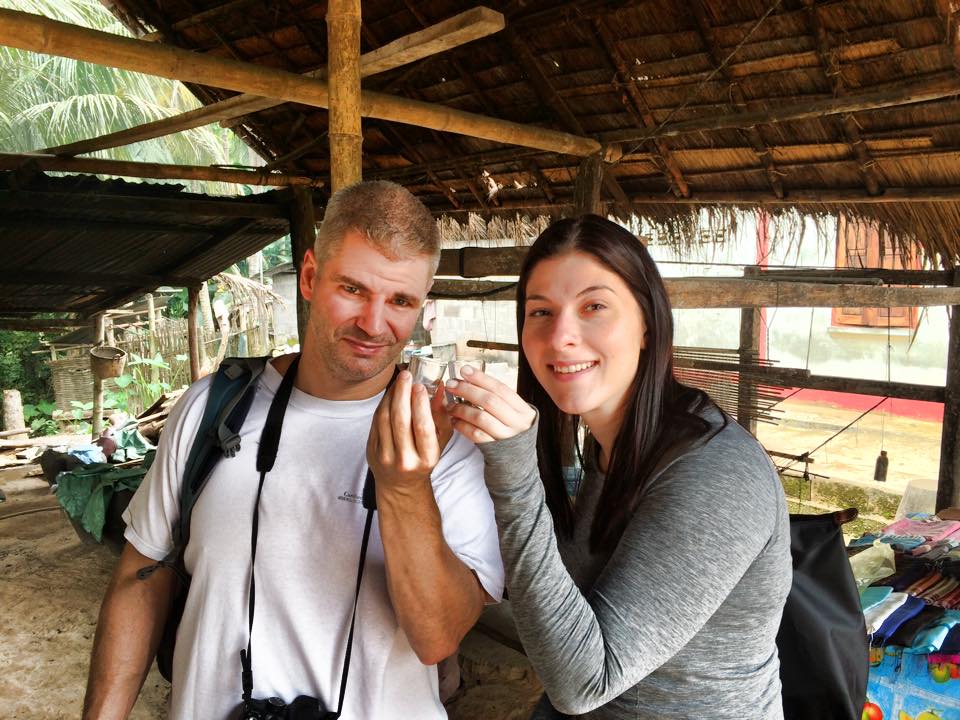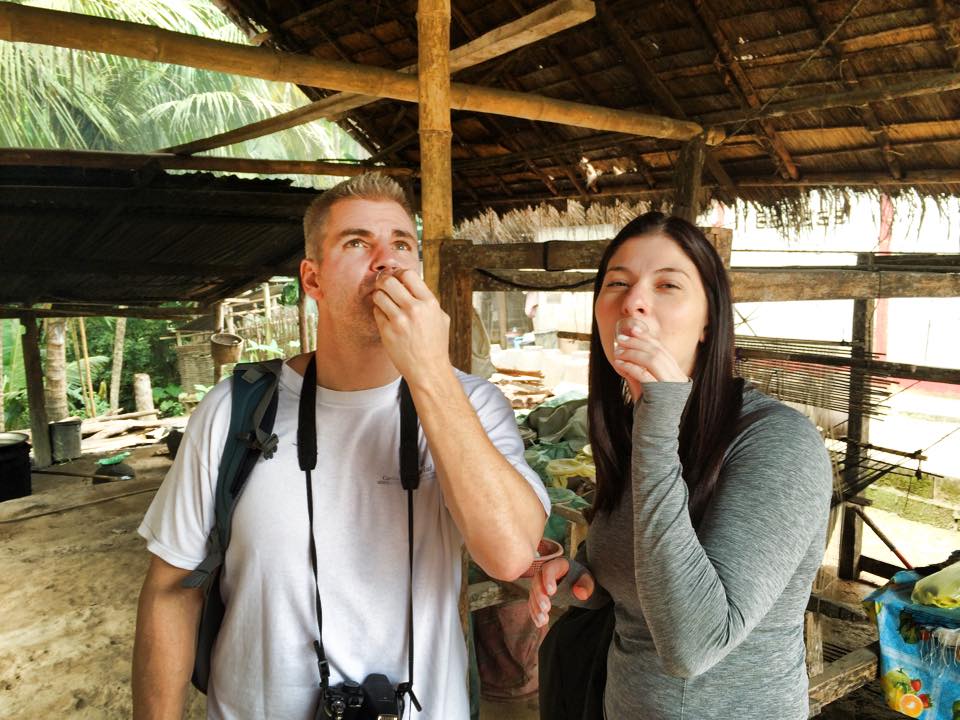 I'm not gonna sugarcoat this part– the village rice whiskey is not smooth. It is unlikely to ever win any tasting awards. It tastes like liquid fire. But it's all part of the experience, so, by all means, drink up!
We stayed a bit to explore the village and meet the local people. Walking through this village, which only got electricity the year before we arrived, you get the sense that it is set up as a cultural stop for tourists looking for a village experience. There were several "shops" where locals sold handicrafts and I questioned whether they were really made by these particular locals.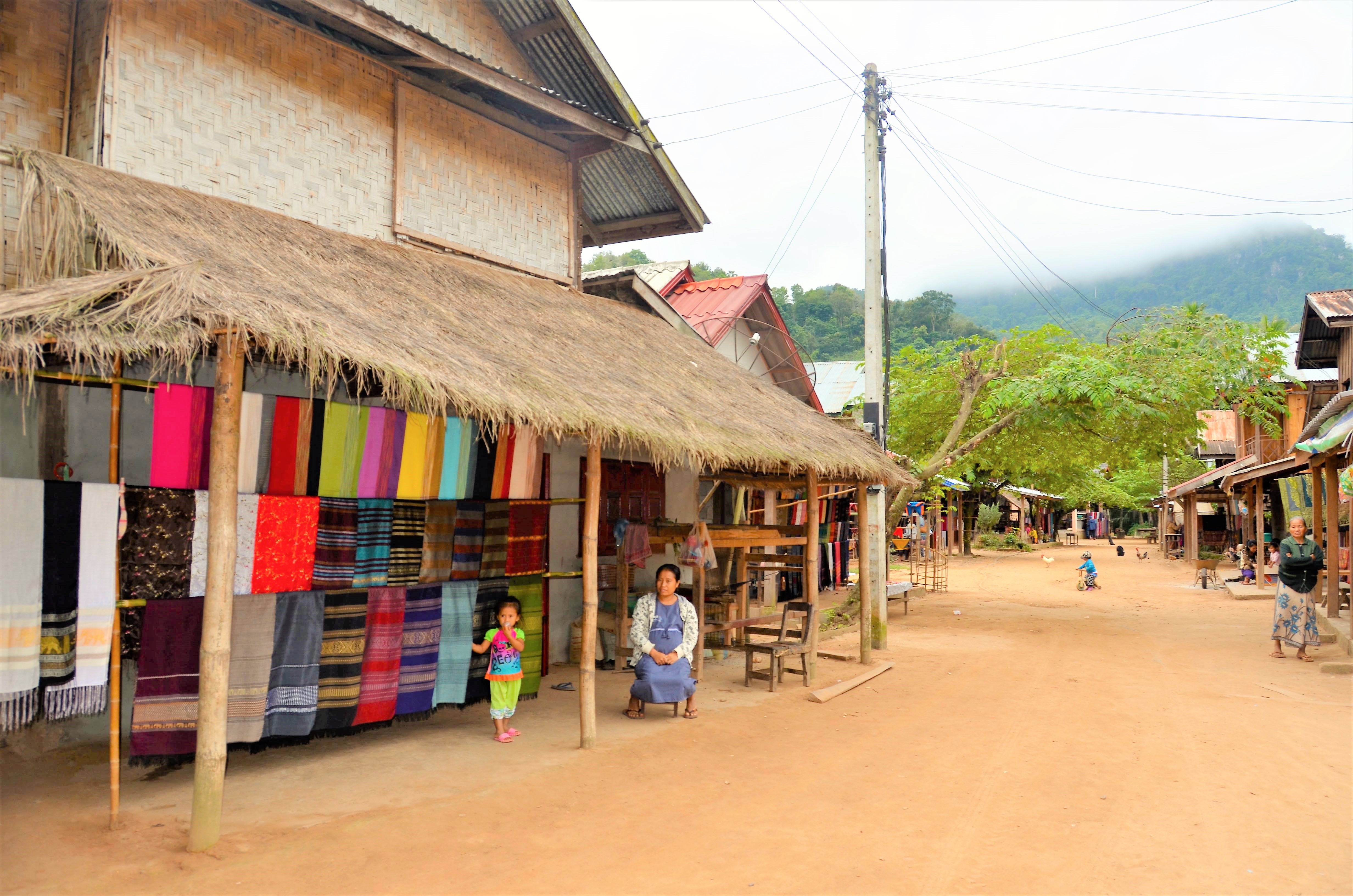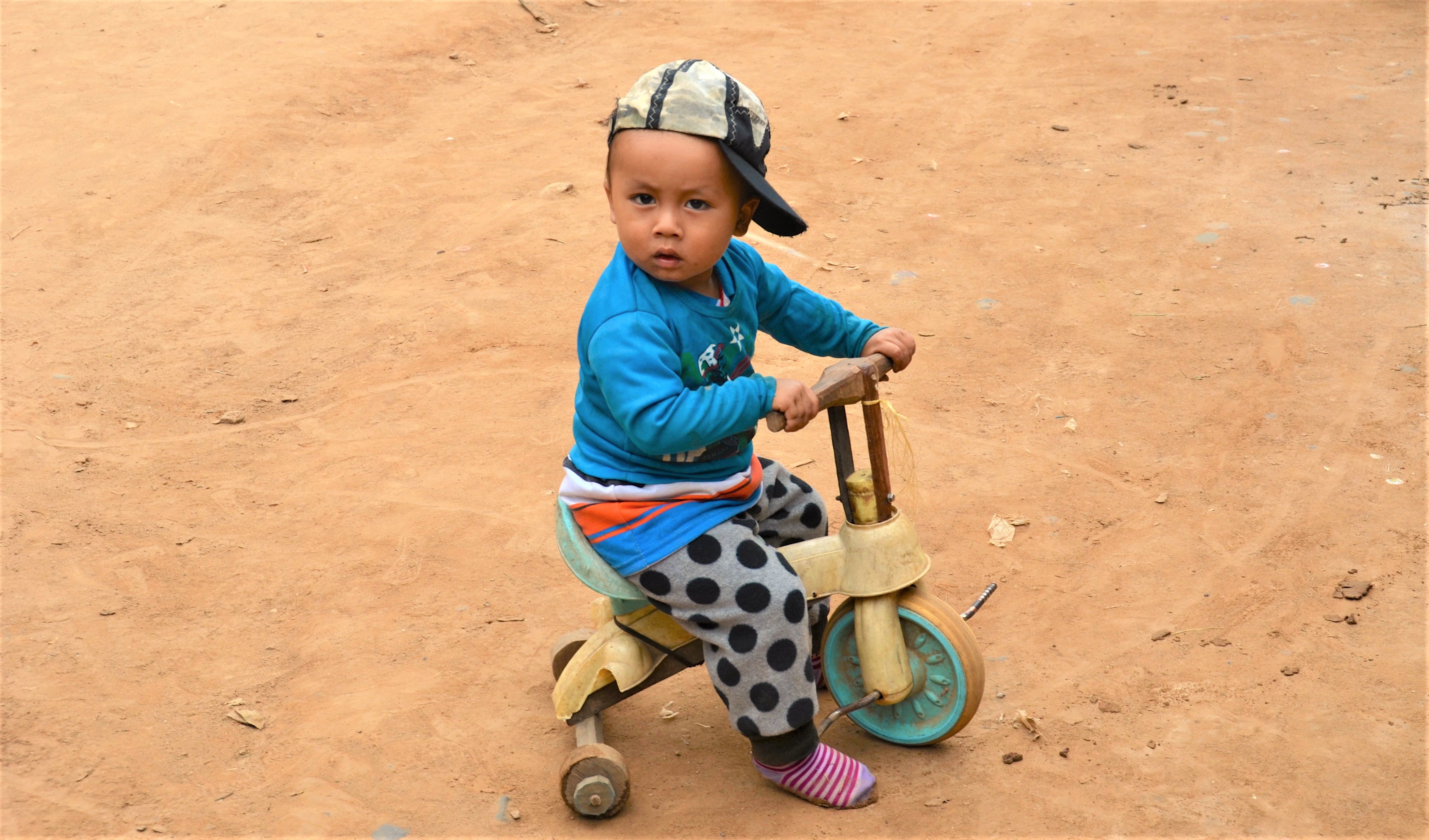 The best part about this visit was stopping in at the local school house, where we got a chance to visit the local children at school.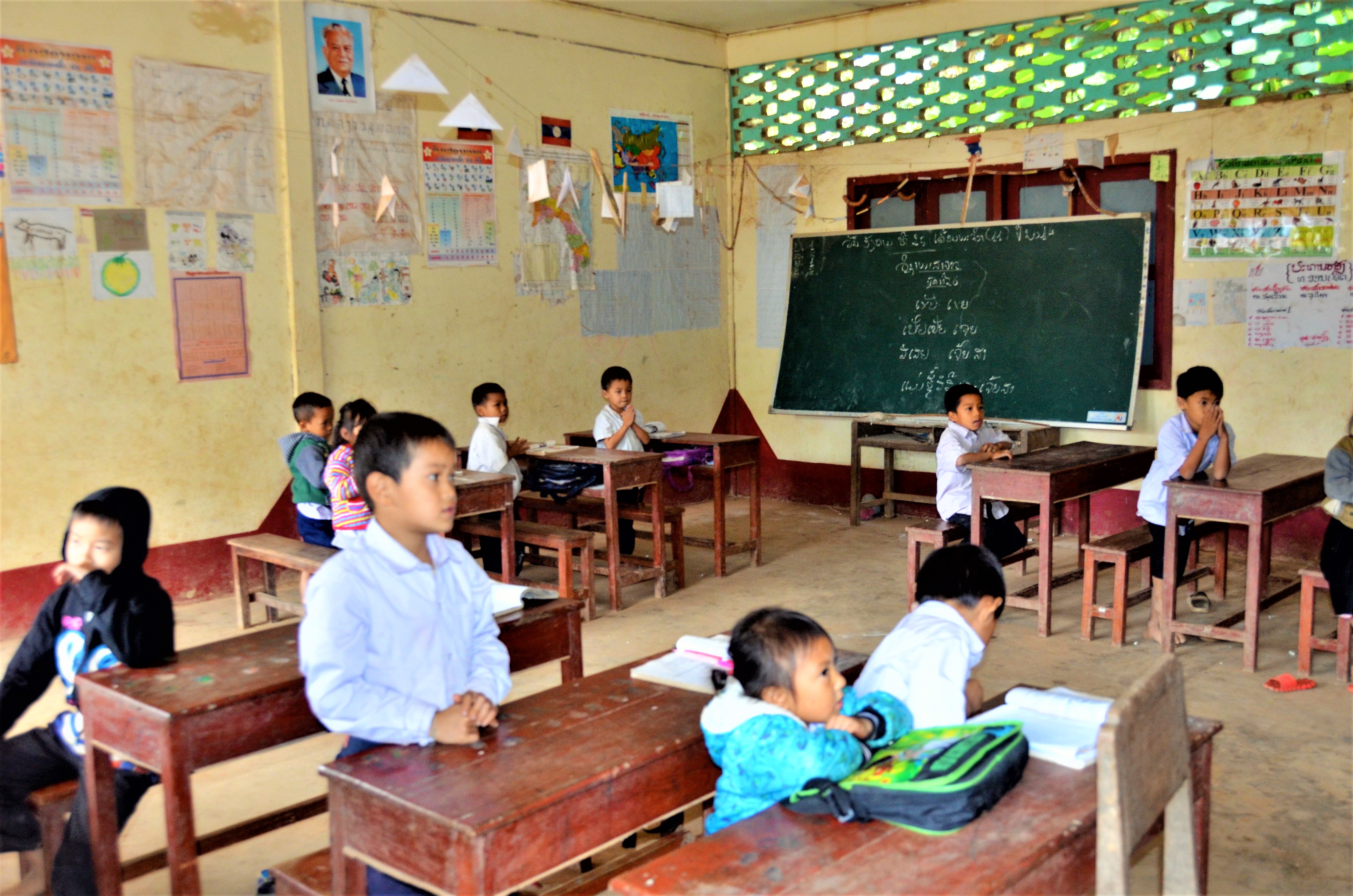 They were so cute that we ran out into the market and bought them all snacks. Word gets around fast in this little village because the next thing you know, little kids were coming out of everywhere lining up for their snack! It was like Christmas came early for these little kids! They were so happy and appreciative that they sang us songs as they ran around eating their treats!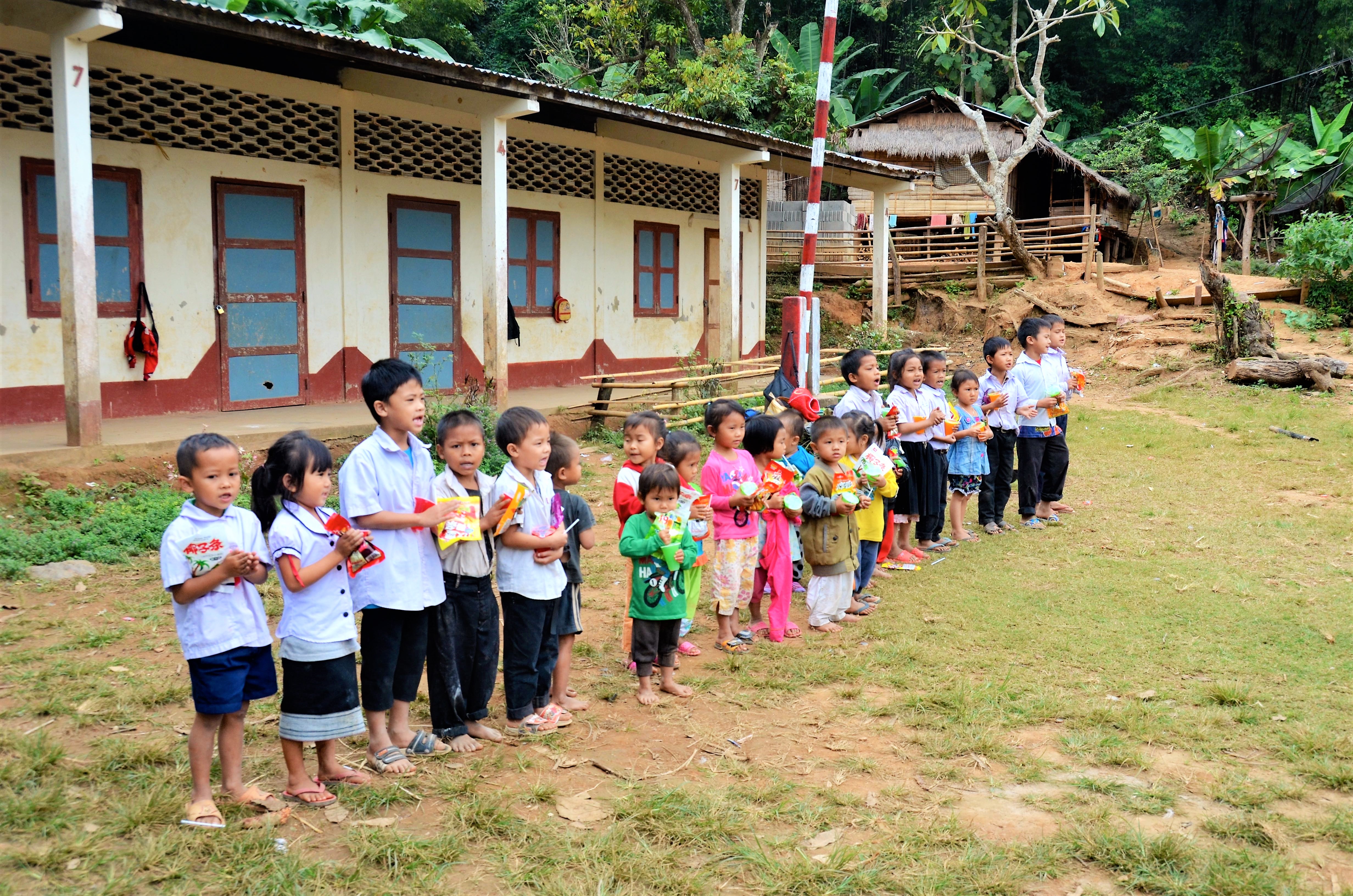 At last it was time to bid adieu to our new village friends and get back into town. After a long day on the Mekong, we came back into Luang Prabang to visit the museum and have some lunch.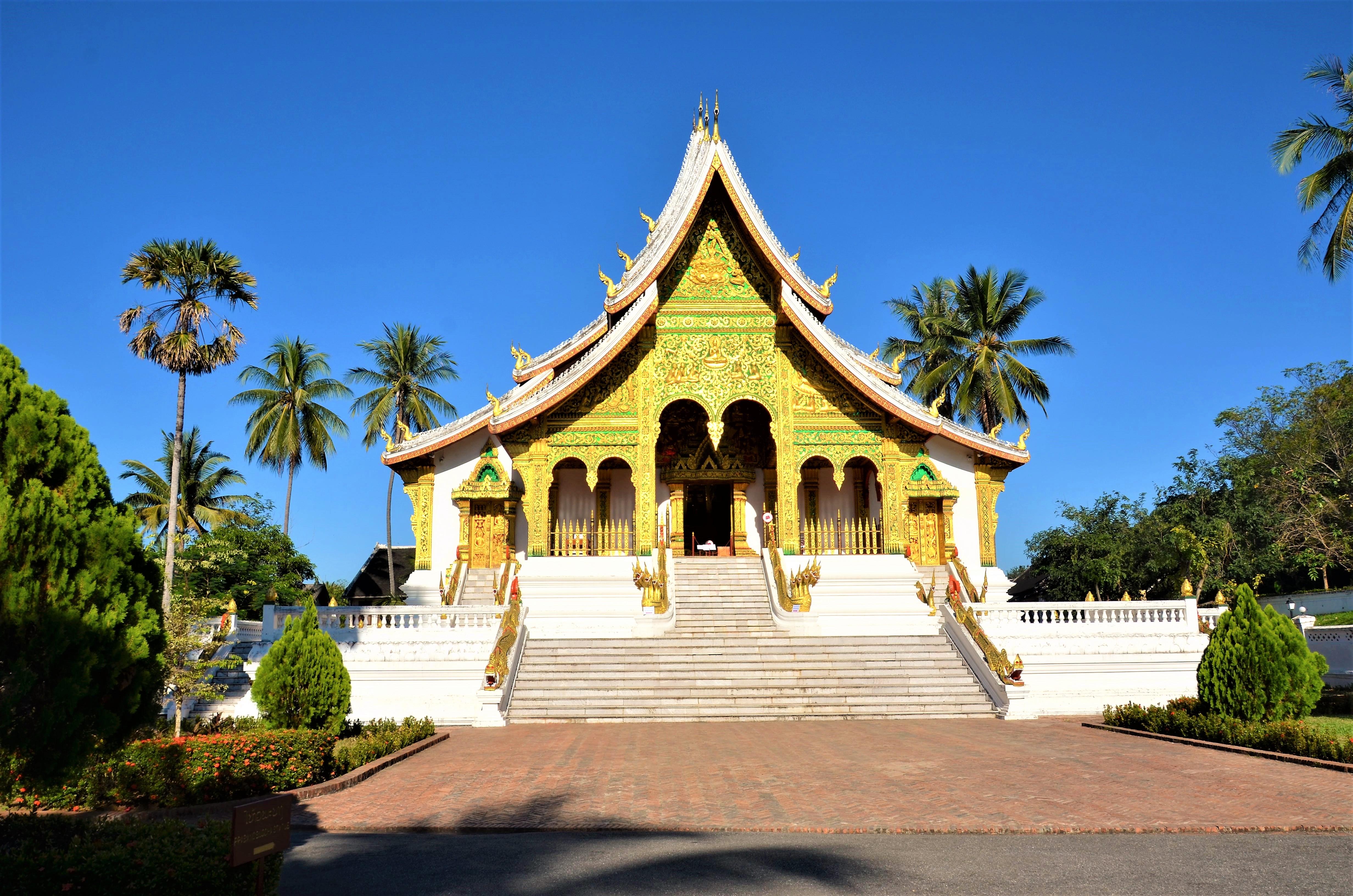 During lunch, we saw a group of monks crossing a make-shift bridge.  We decided to follow them and explore the temple on the other side. By the way, the reason why this bridge seems so ill-constructed is because it only exists for several months. Every rainy season it is destroyed by flooding, so, every year, they construct a new ramshackle bridge to replace the one destroyed the year before.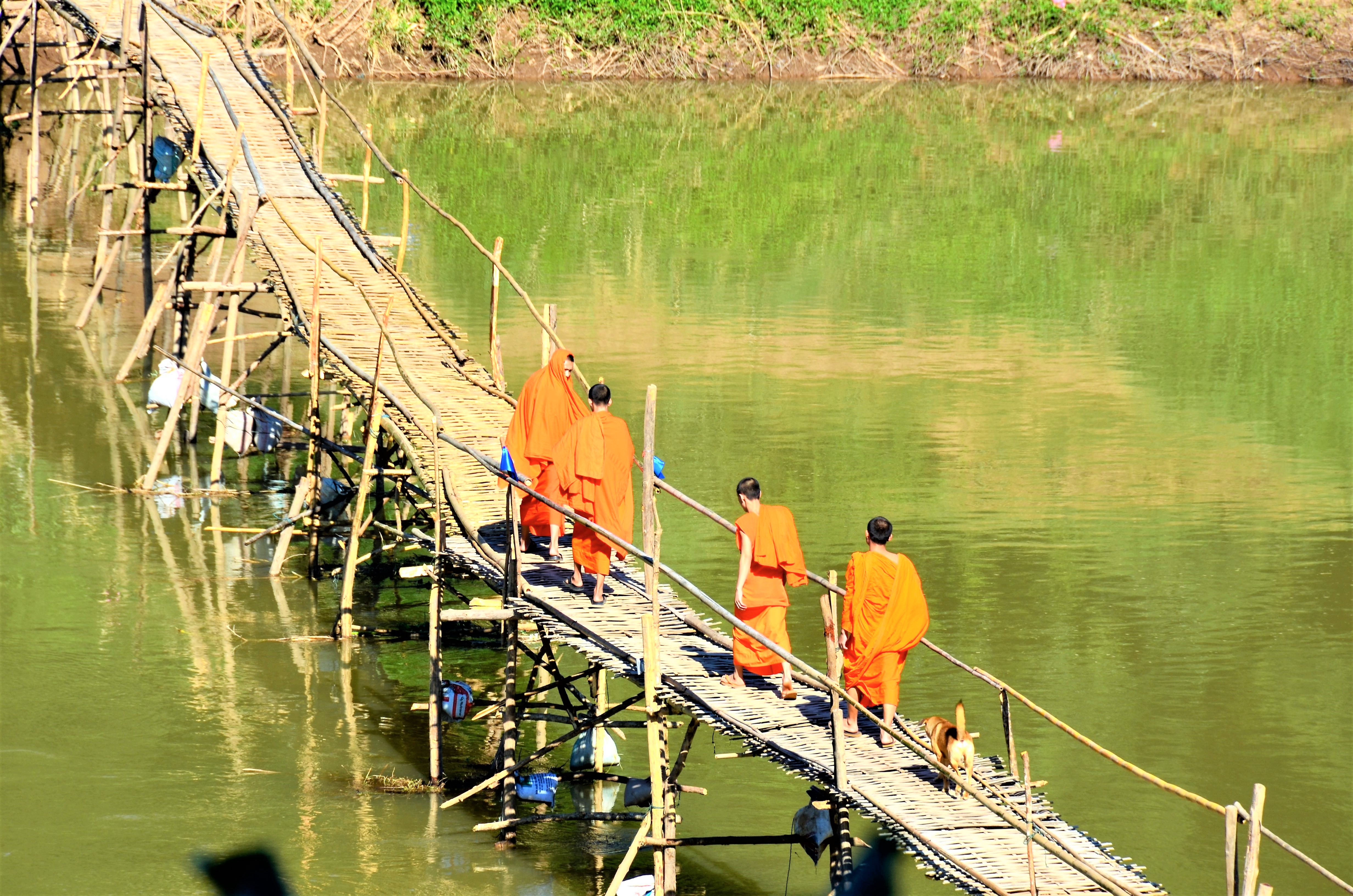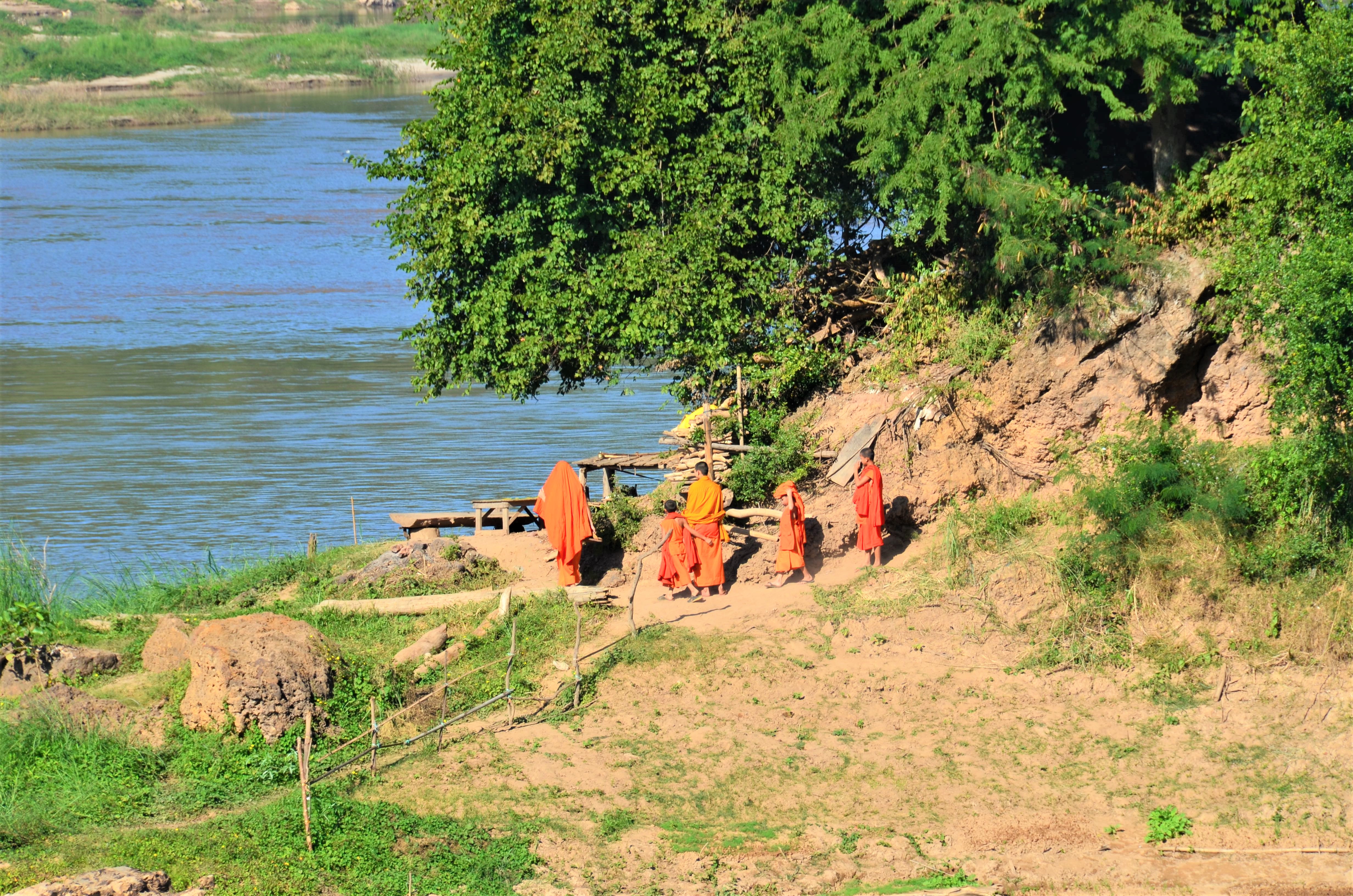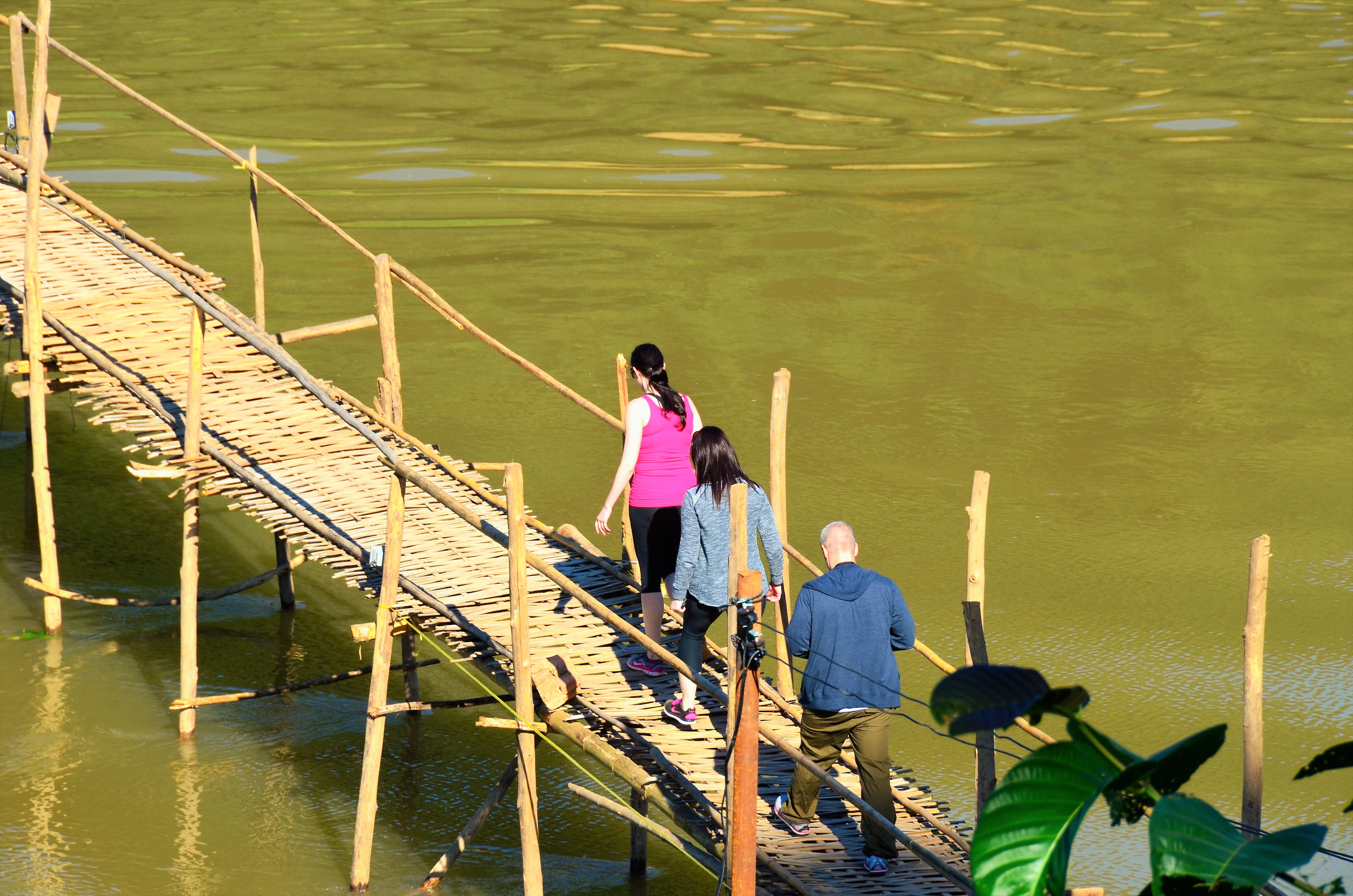 The next day started way before dawn! This was probably my favorite day because we got to do three very cool things that gave us a more authentic experience. The first, and probably my favorite, is that we got to participate in the daily ritual of givings alms (or thanks) to the monks. This is a sacred ceremonial tradition in Laos, and our guide set it up so that we could not only witness it, but participate in it.
This ritual takes place a sunrise in the streets of Luang Prabang, but you have to get there way before that to secure a spot and set up. Our local guide set up our mats and brought our offerings for us.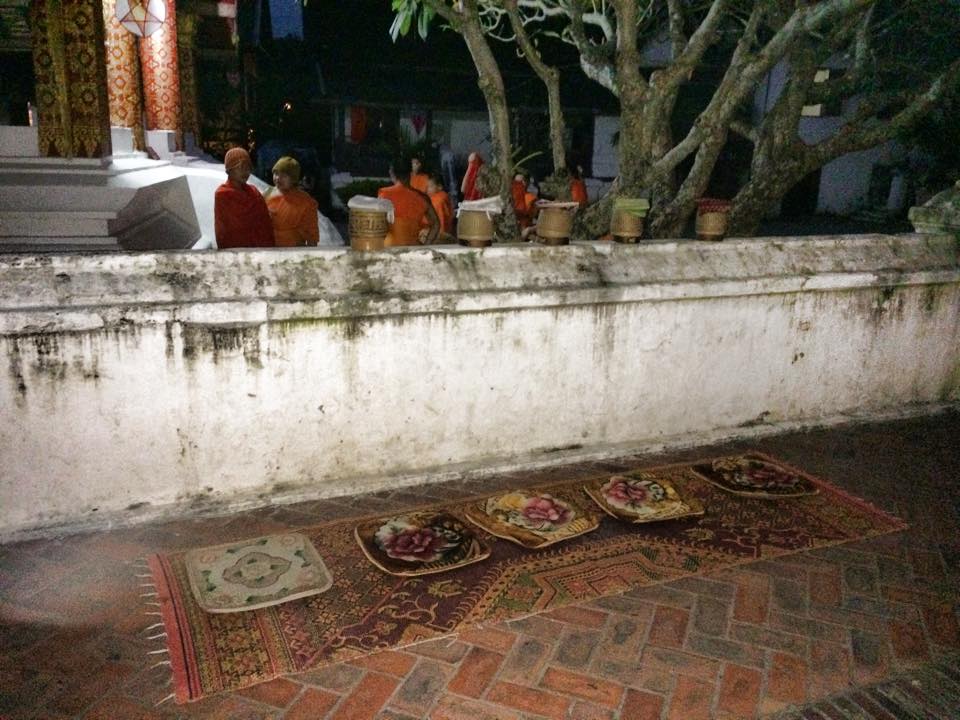 As the sun rises in Luang Prabang, around 200 Buddhist monks depart from their various temples to gather their daily meal (as monks only eat once per day). All the food that is collected is shared by the monks of each temple.
There are many rules to both attending and participating in this ritual, but the most important is that it is a silent ritual, so you are not supposed to talk, break up, or follow the processional. If you are giving alms, you must be dressed modestly, you must kneel, and must remove your socks and shoes, and you must not touch the monks. You typically sit on the floor to give your alms as the monks pass you by.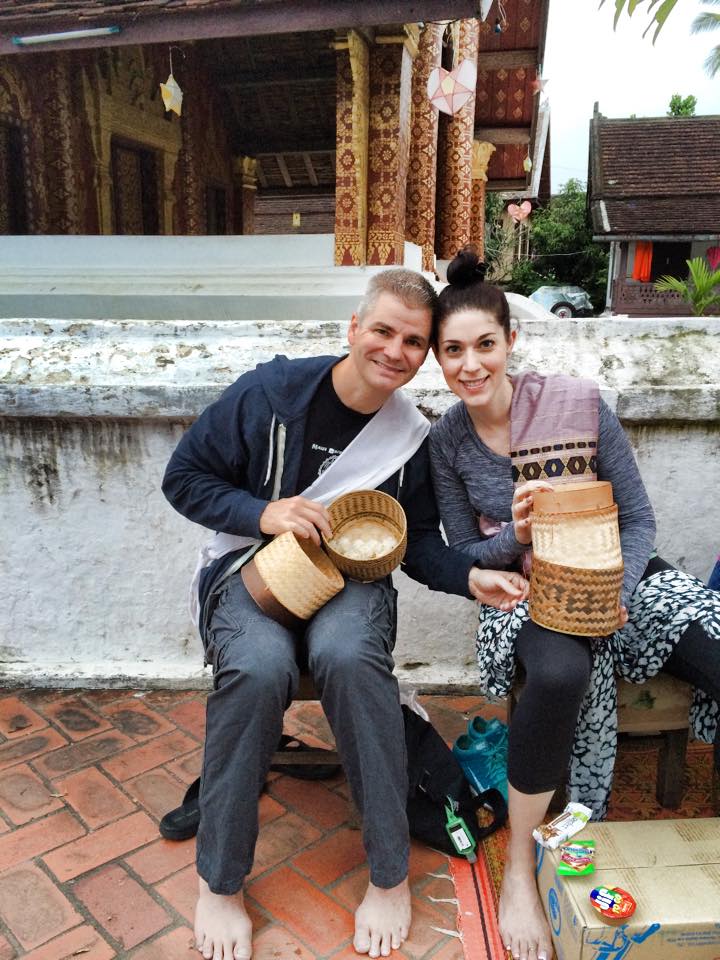 Offerings are typically rice and fruits.  We had traditional offerings, but we also brought along some American treats, like peanut butter, almonds, and snack bars, which the monks were very excited to receive.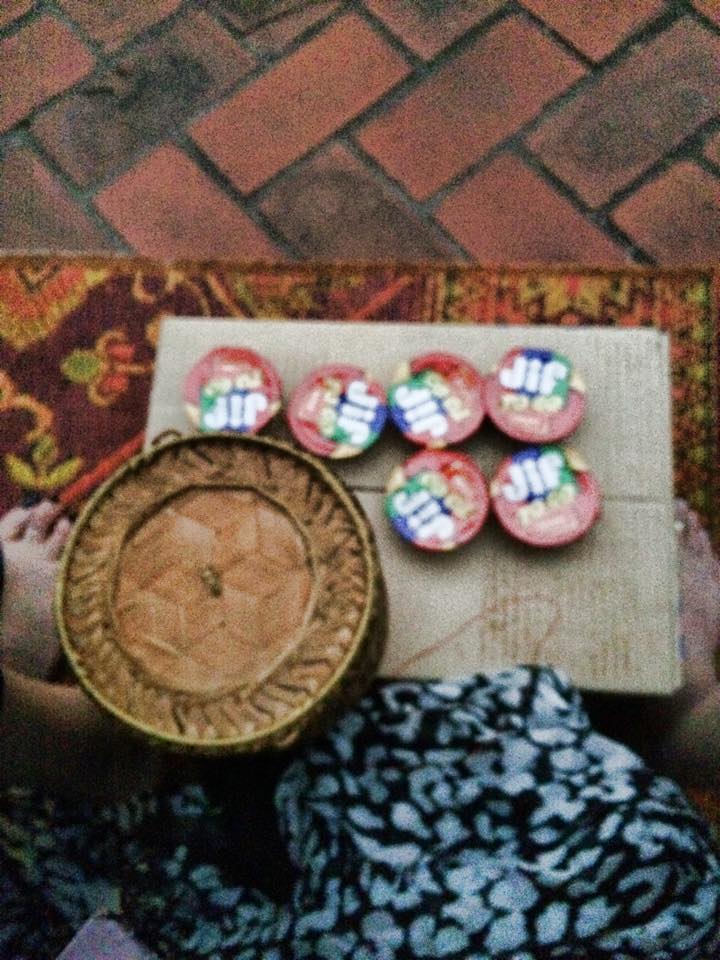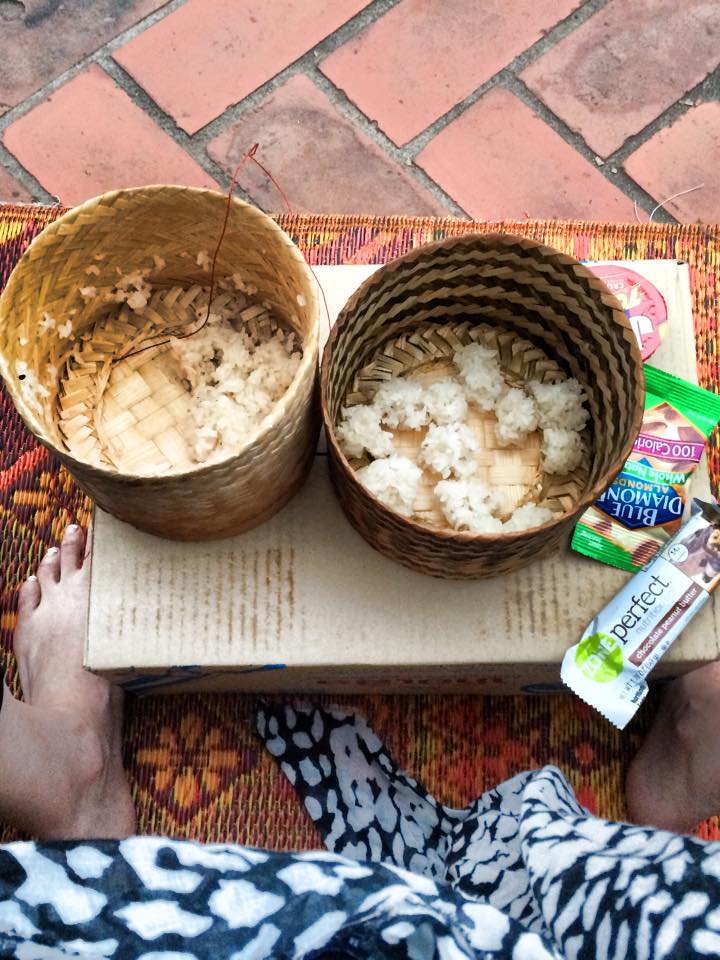 The monks carry a large bowl which they keep open, and you place your offering in their bowl as they pass by. This processional goes quickly and there are a lot of monks, so you need to be on your game, as they will not stop and wait for you.  Here's a pro tip: when you get your big bowl of sticky rice, roll it into balls so you are ready make an offering at lightning speed!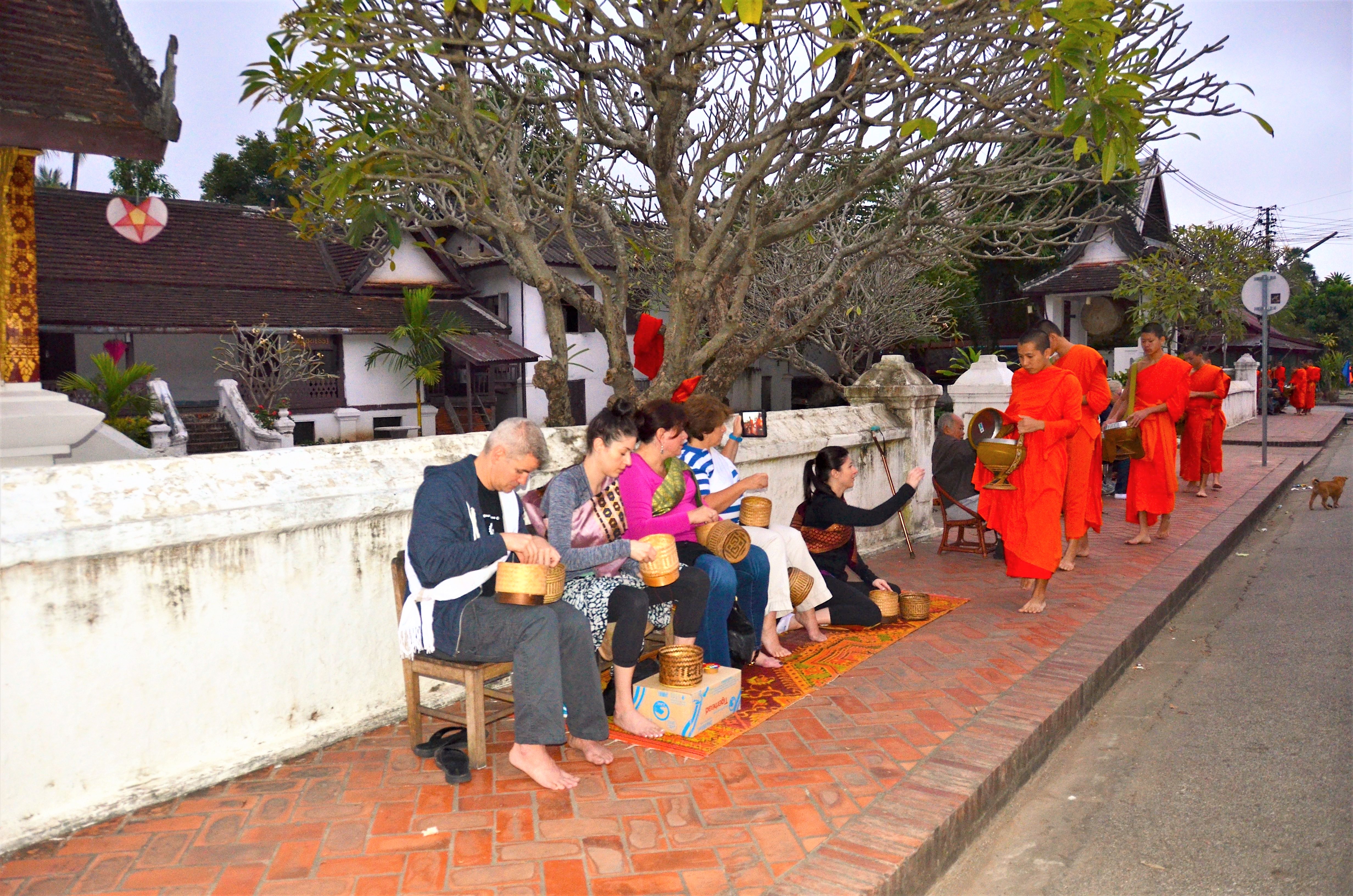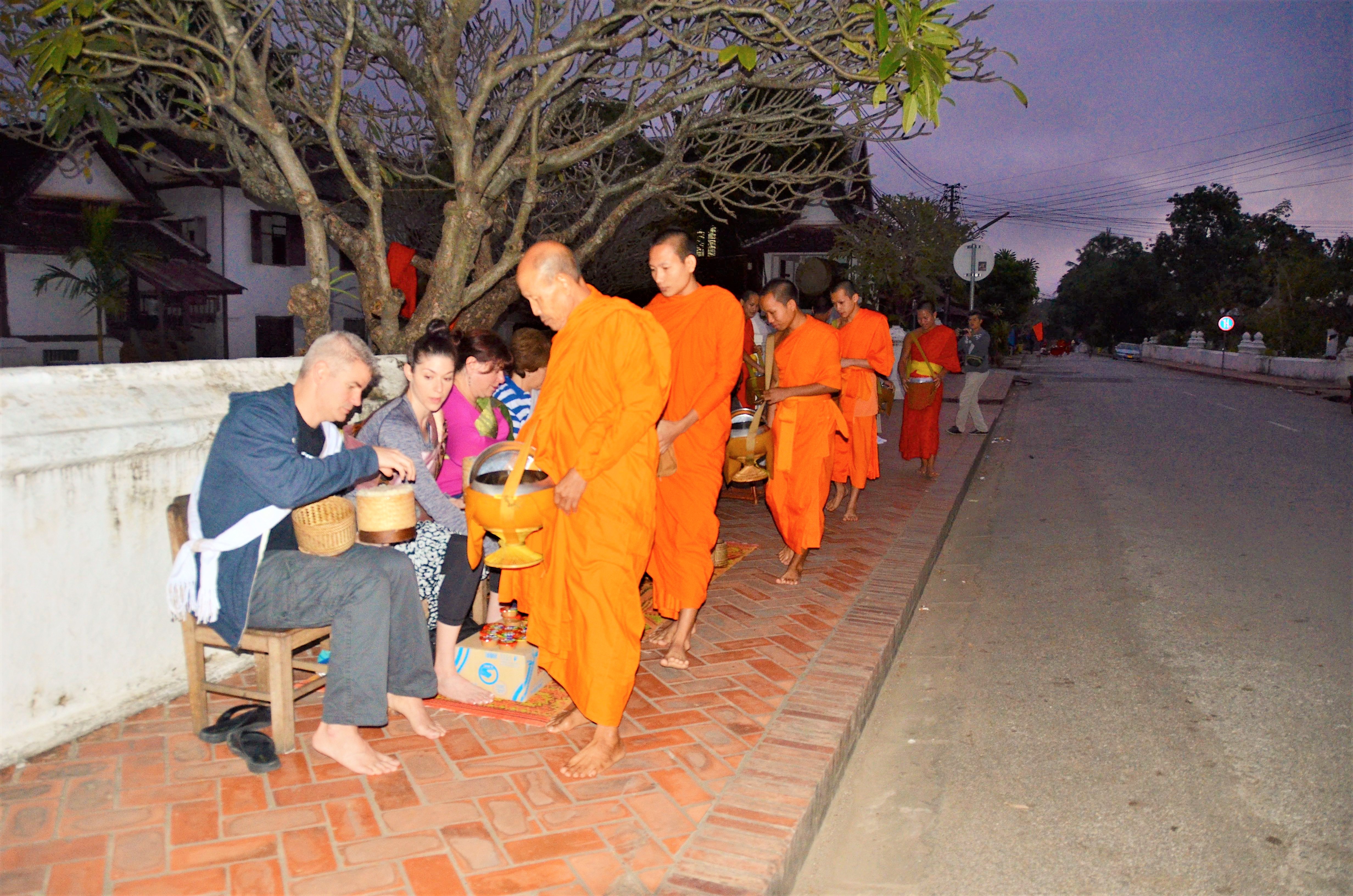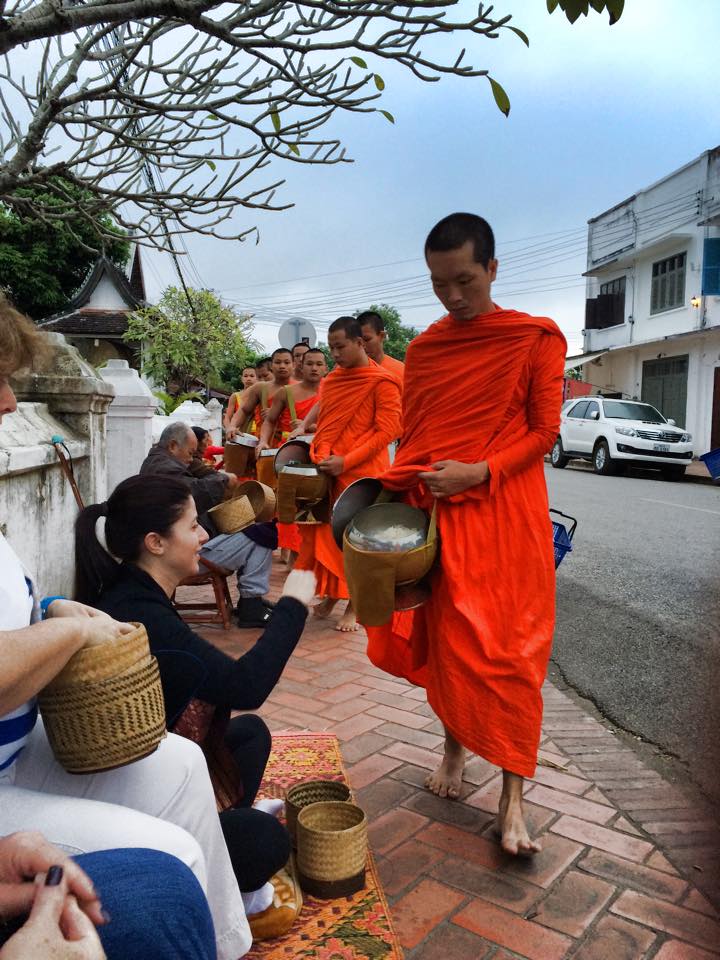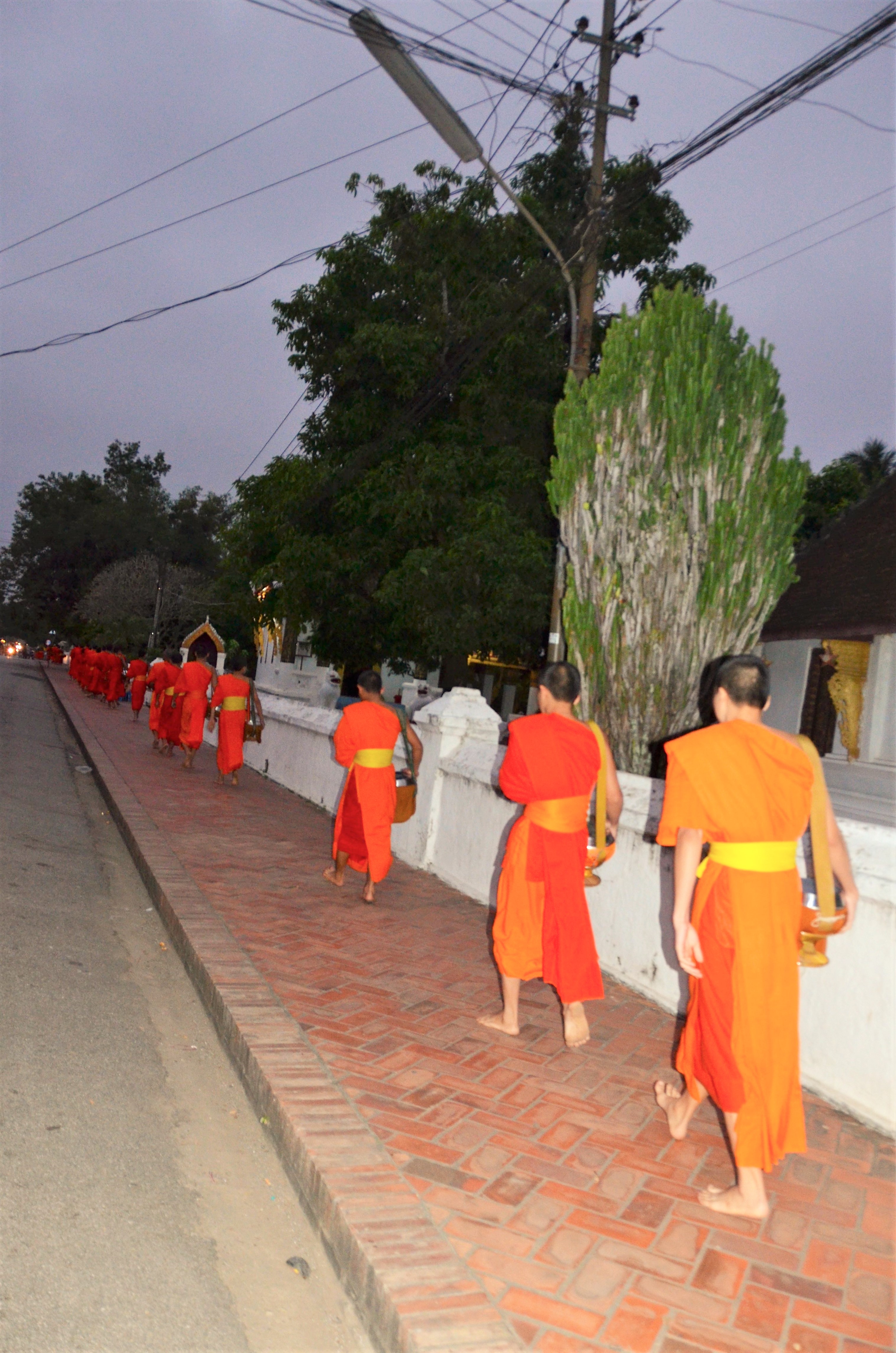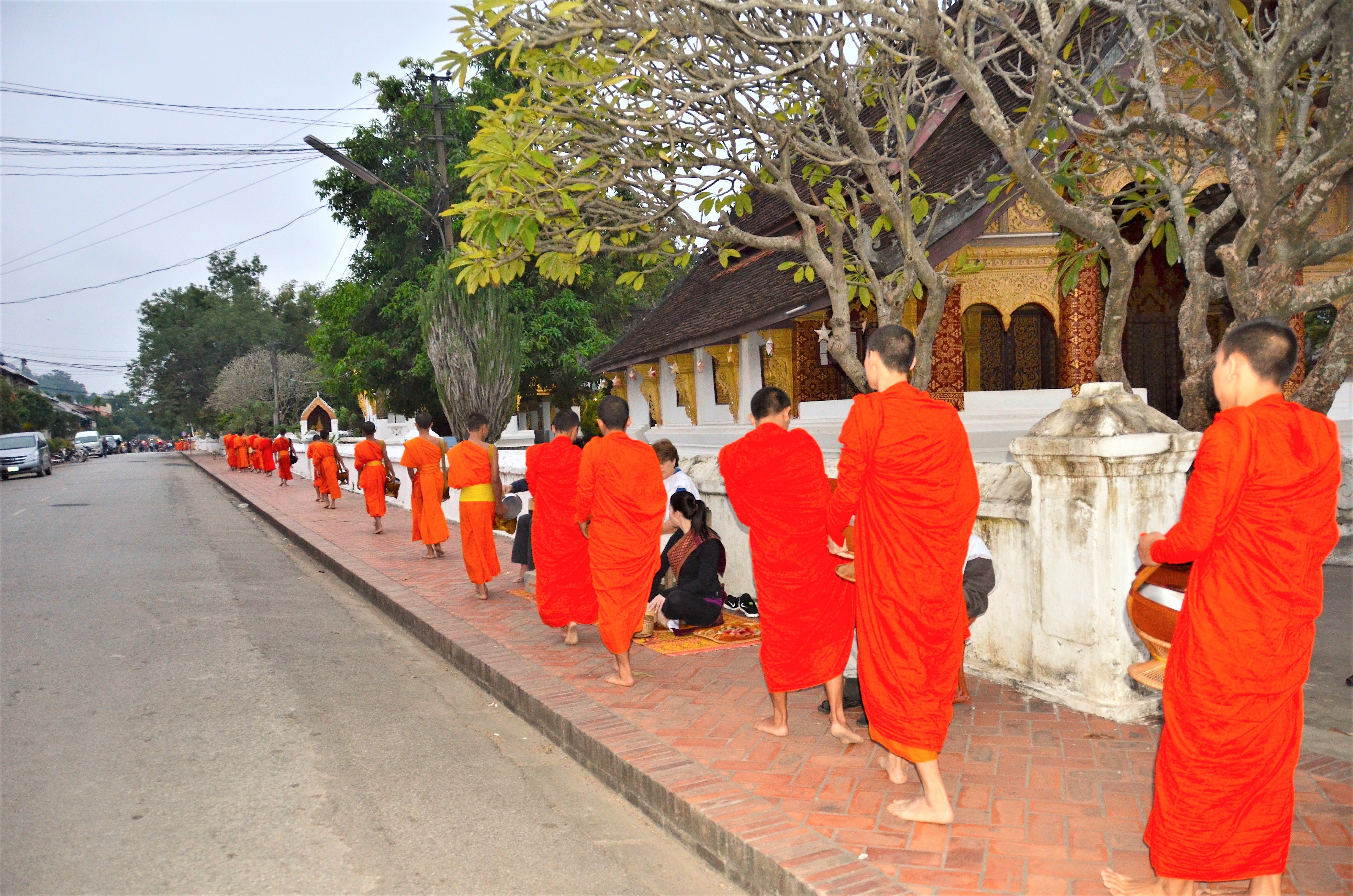 At the end of the processional, the monks line up in front of their temple and chant a prayer before heading into their temple to share their food and eat their daily meal.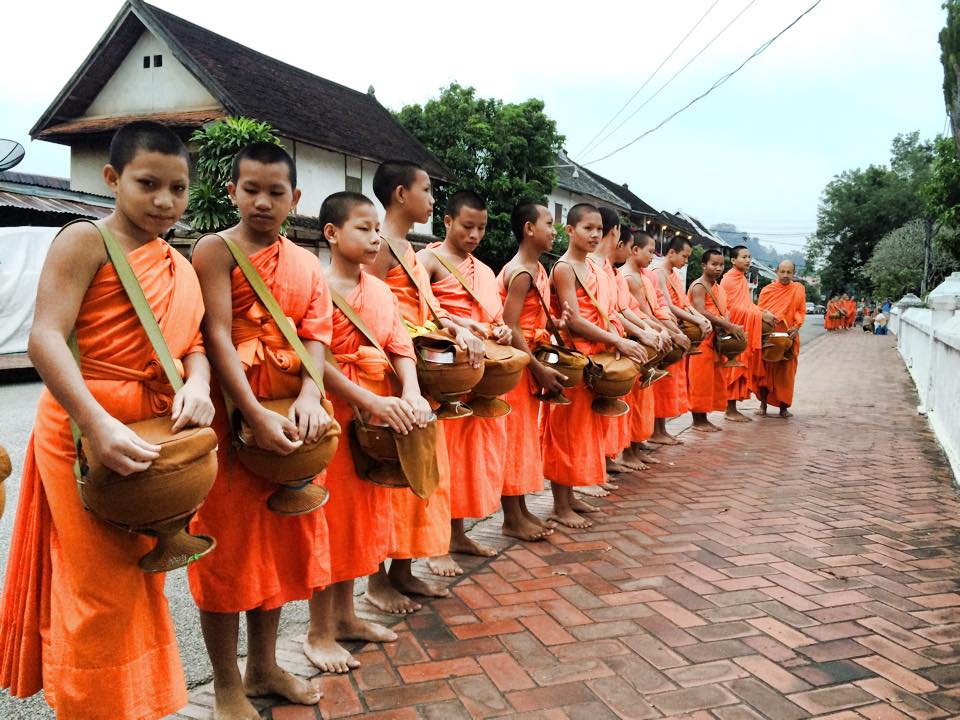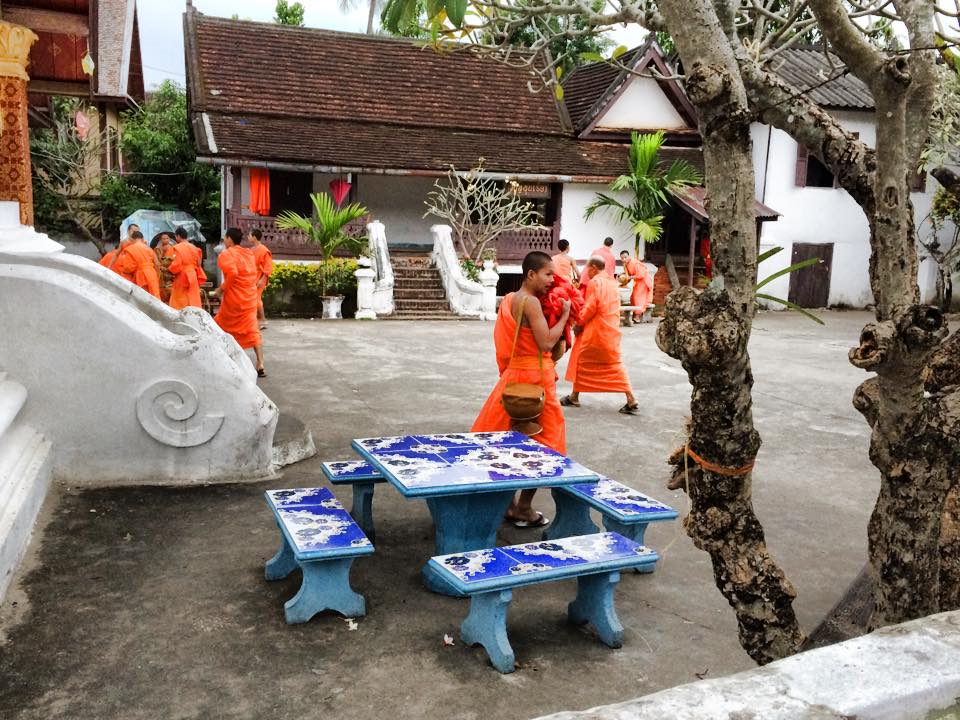 After the ceremony was over, we were invited to explore the inside of one of the temples.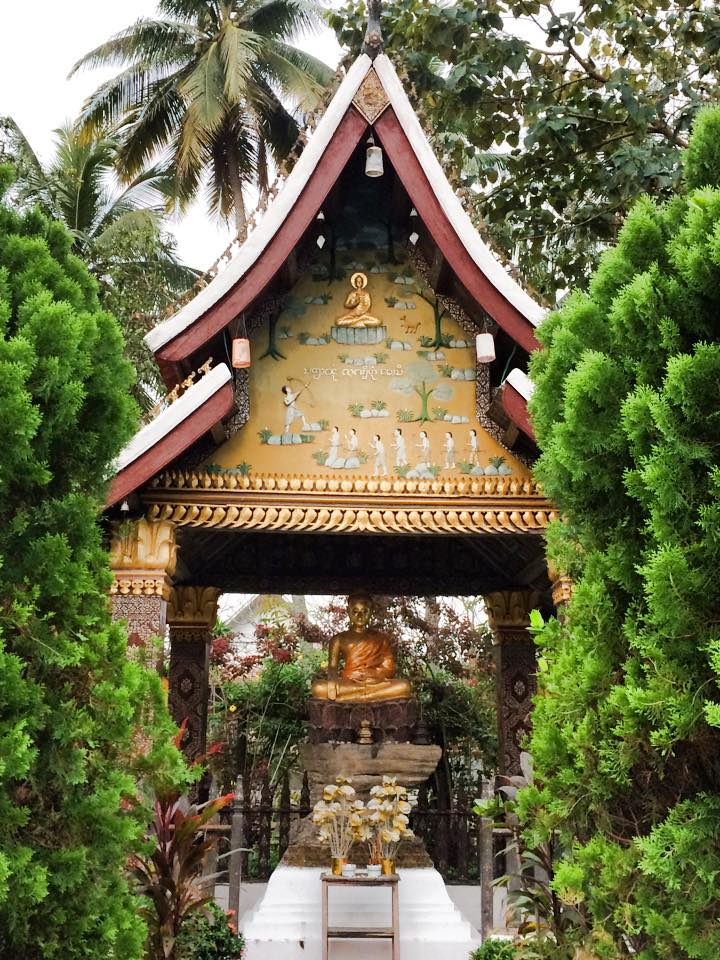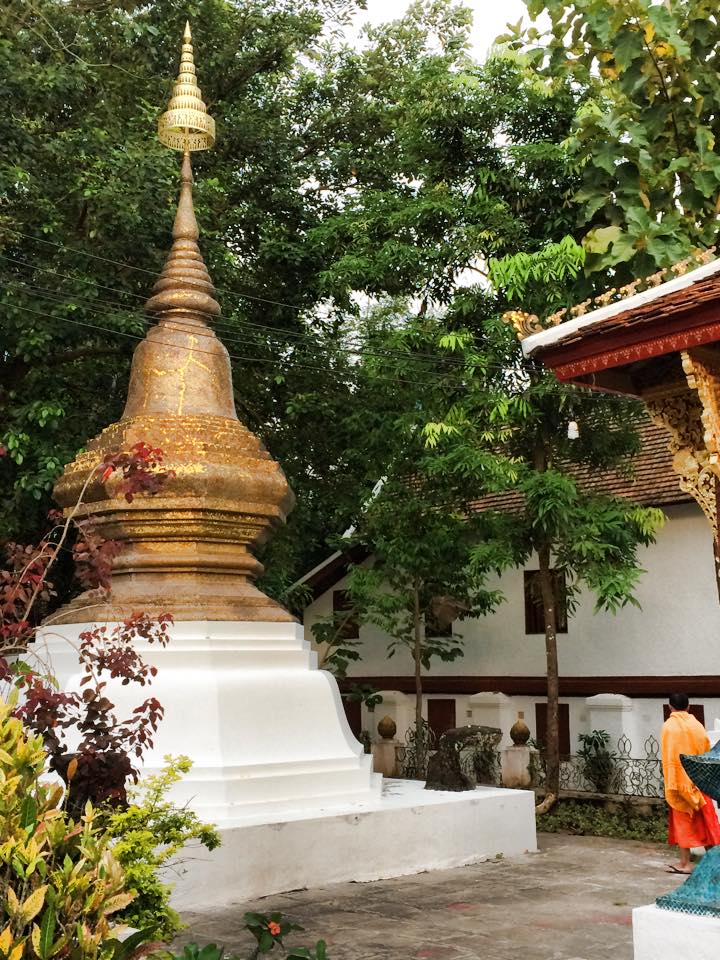 First, we left an offering of sticky rice in the tree.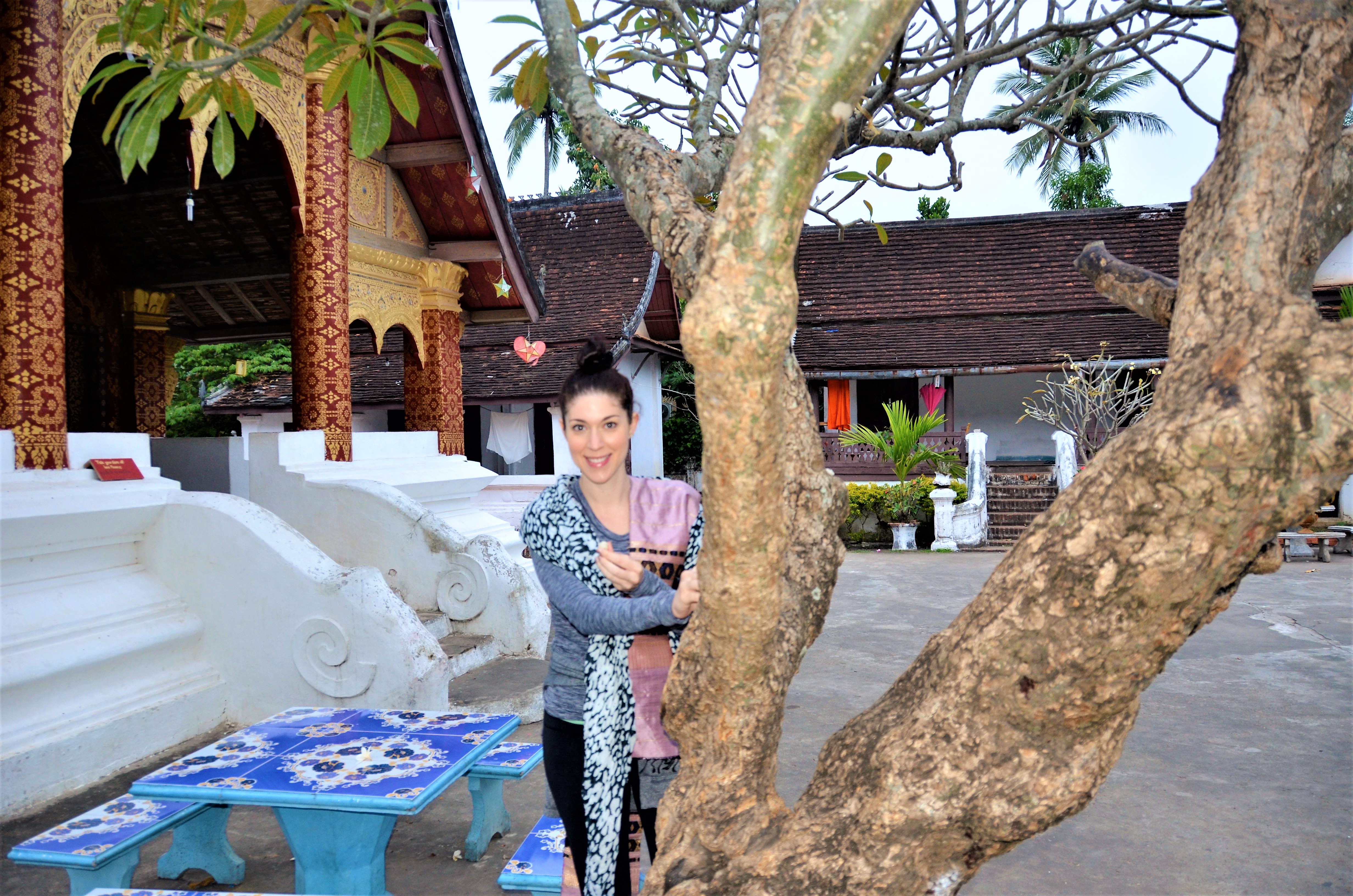 When the locals visit the temples, they typically bring an offering of marigolds, and our guide came prepared.  She gave us this beautiful cone of marigolds that we offered to the temple.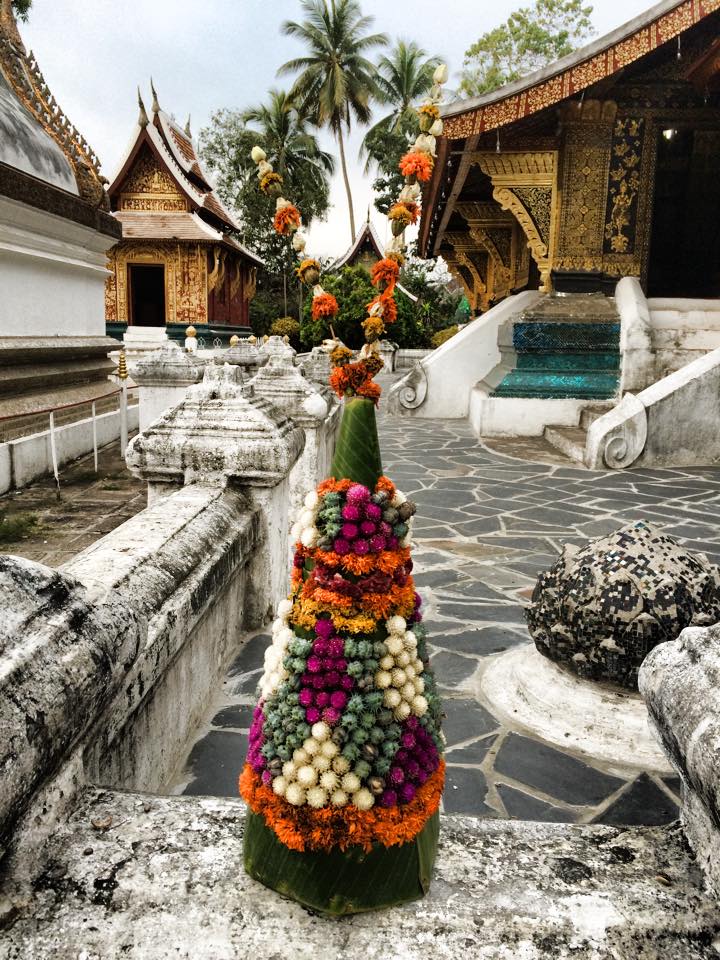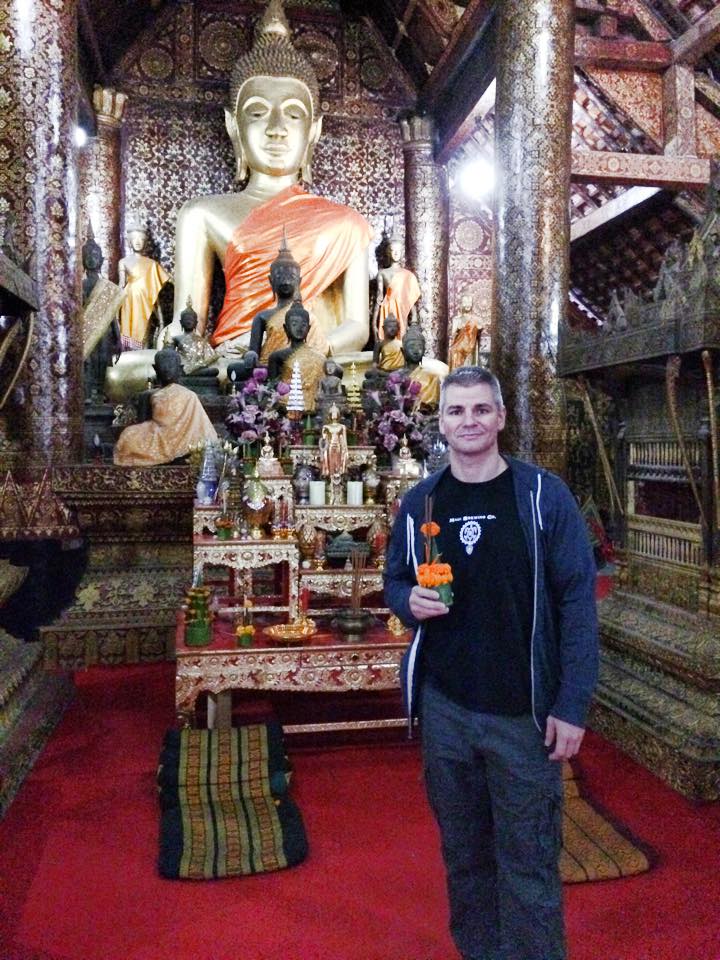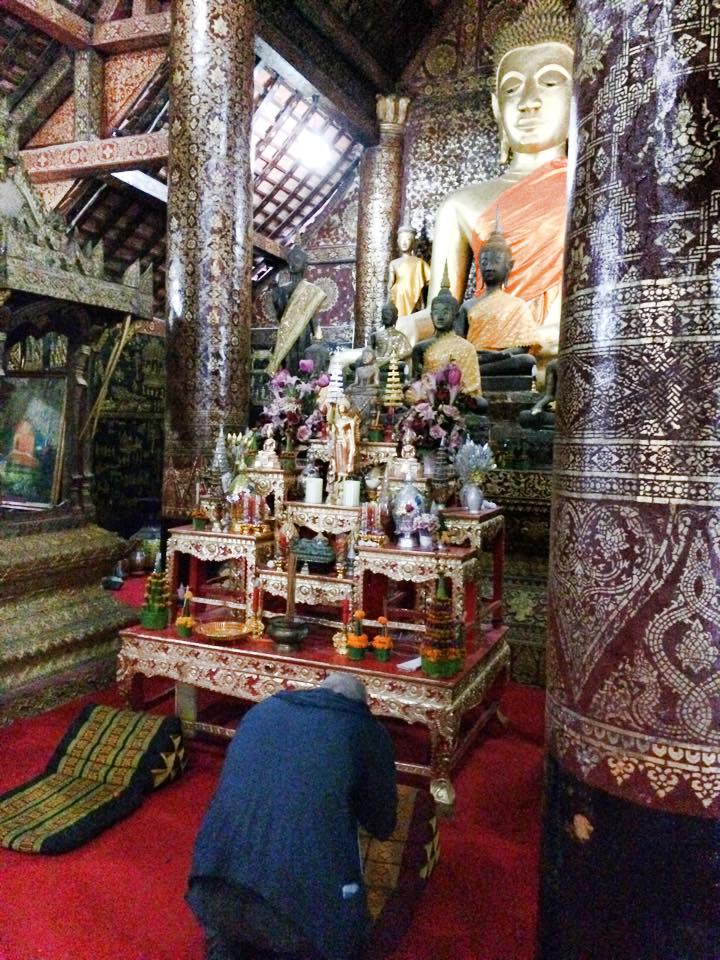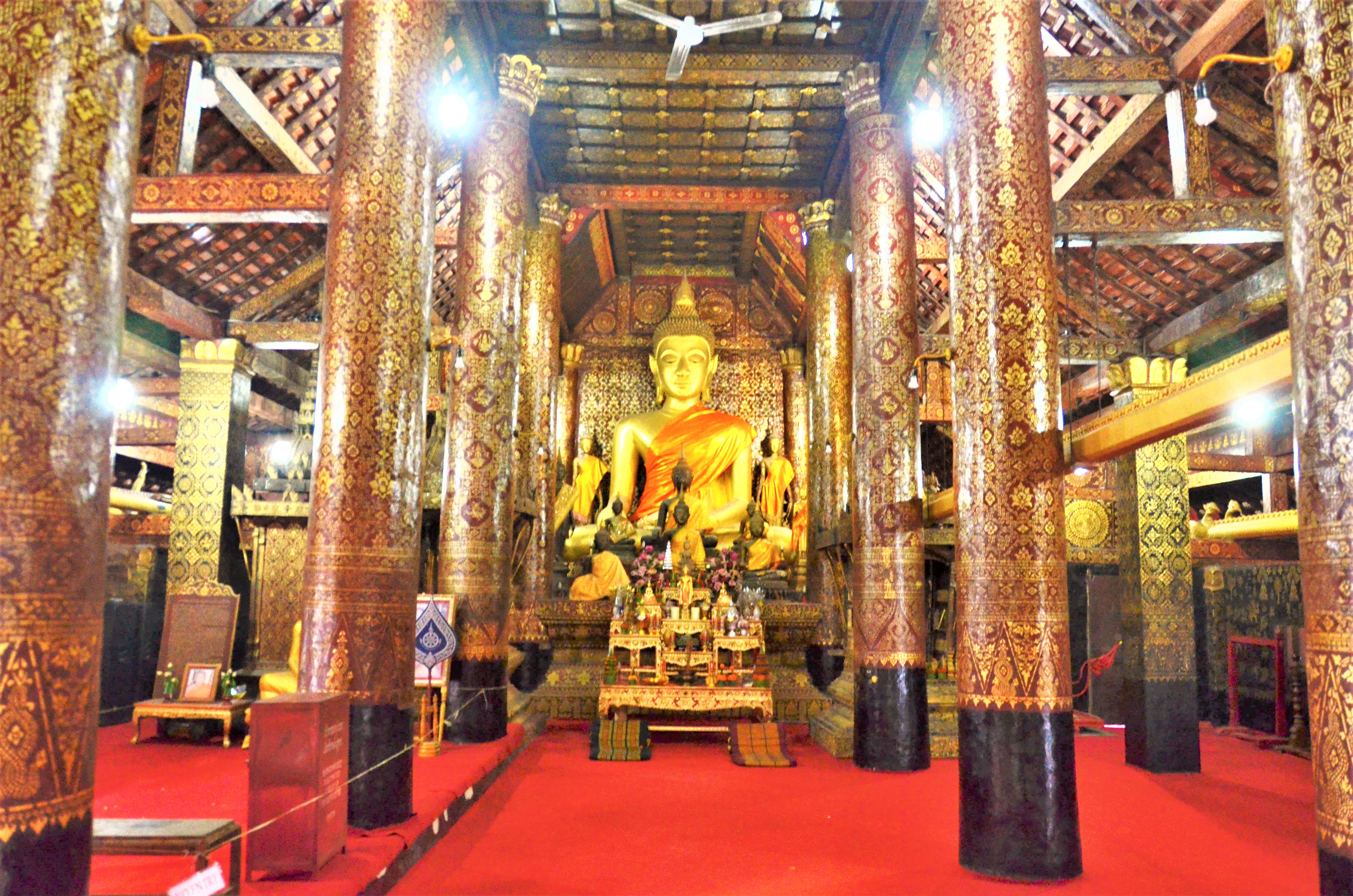 Our next order of business was to go to the morning market and buy all the ingredients we would need in order to cook a traditional meal at our guide's home which we would share with her family. She gave us our lists and our money, and we were on our way.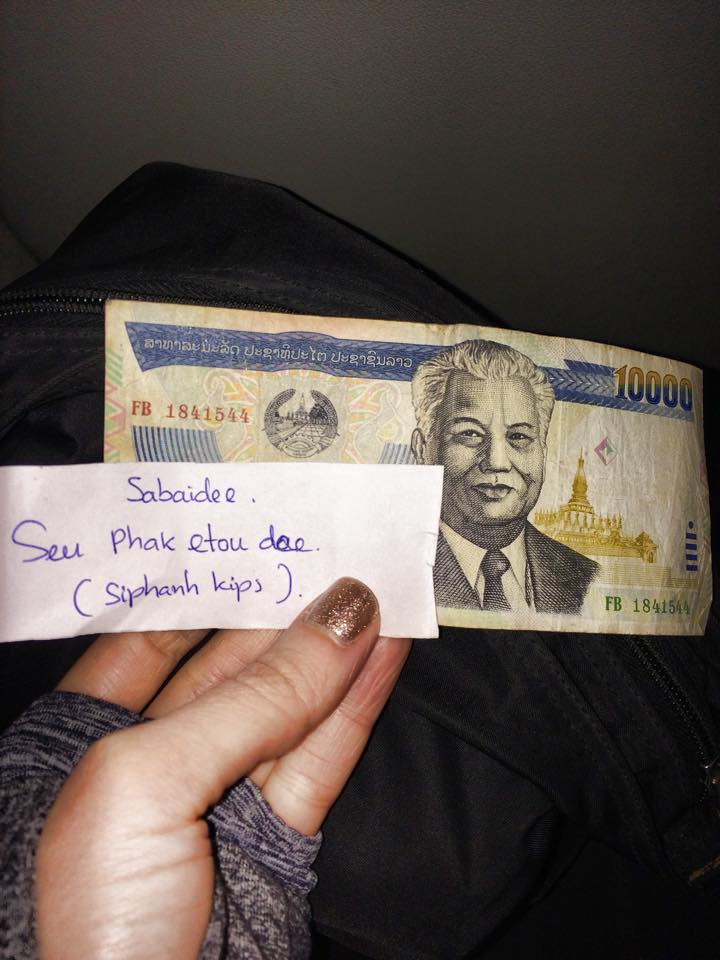 The morning markets are fascinating.  They are a great way to get a glimpse of everyday life and interact with the locals.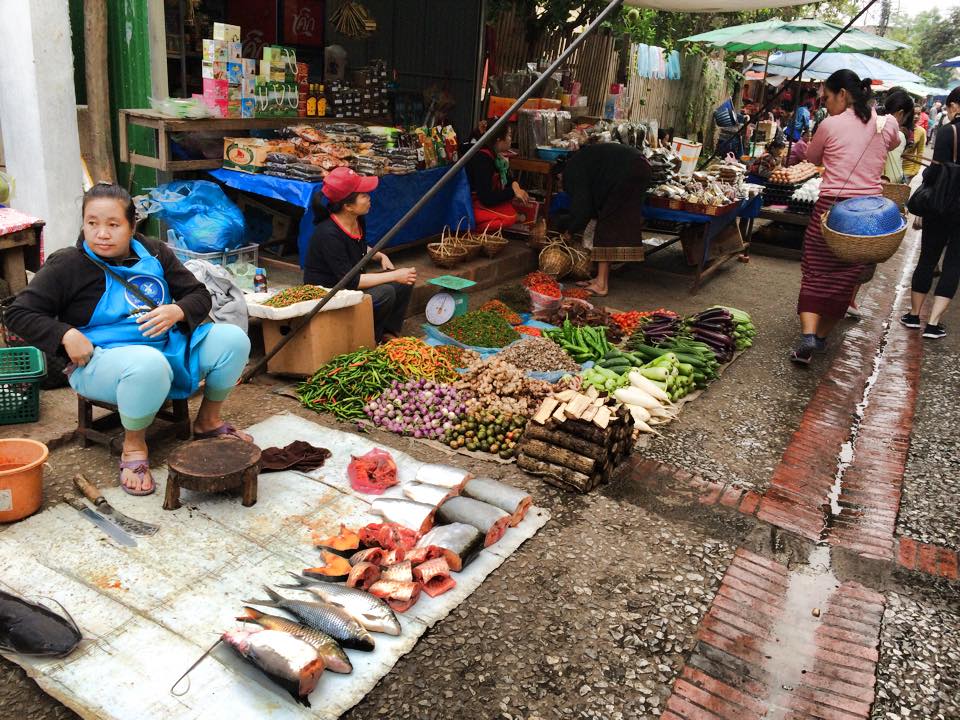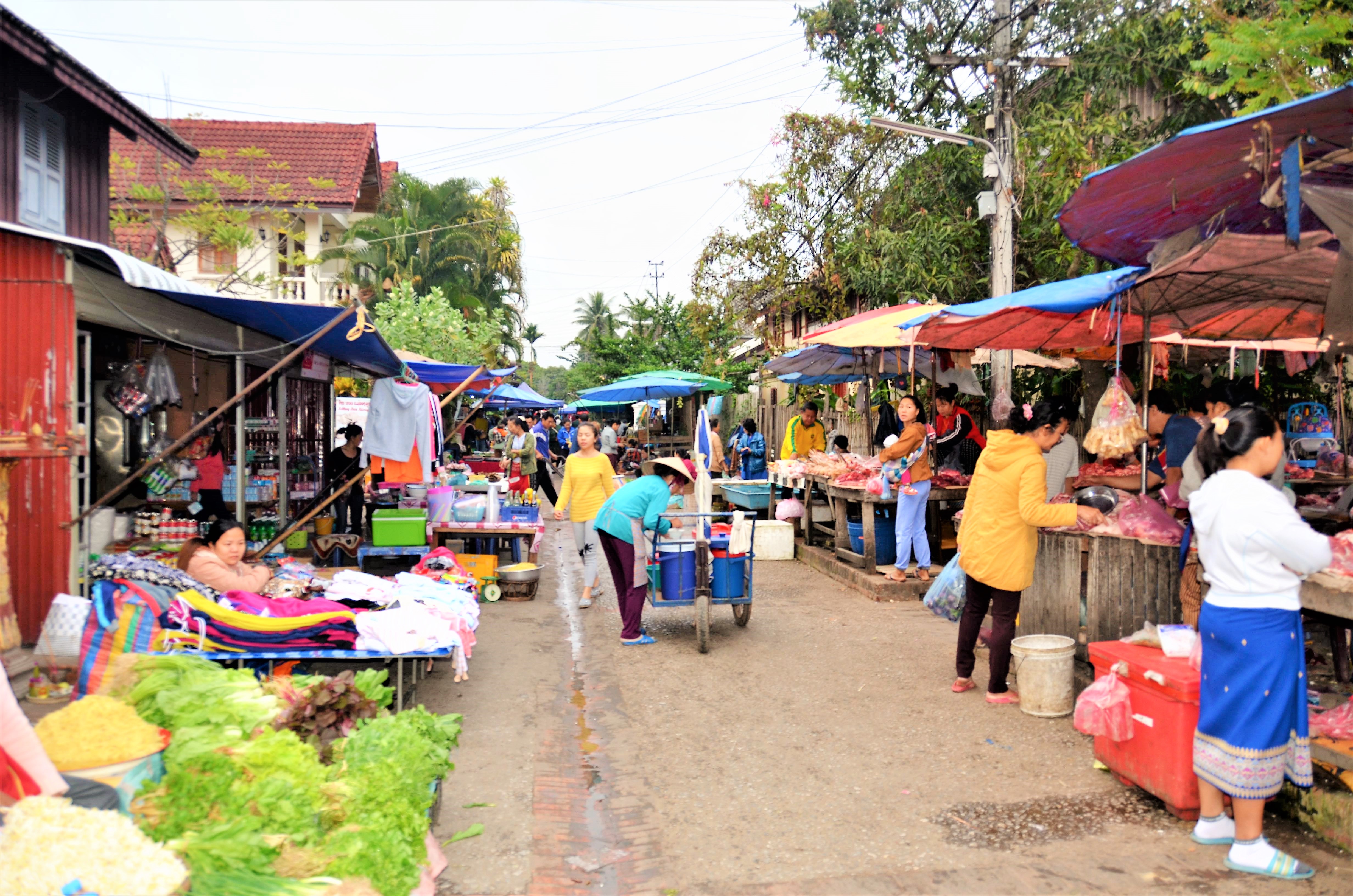 There is an array of fresh vegetables, fruits, and fish on display.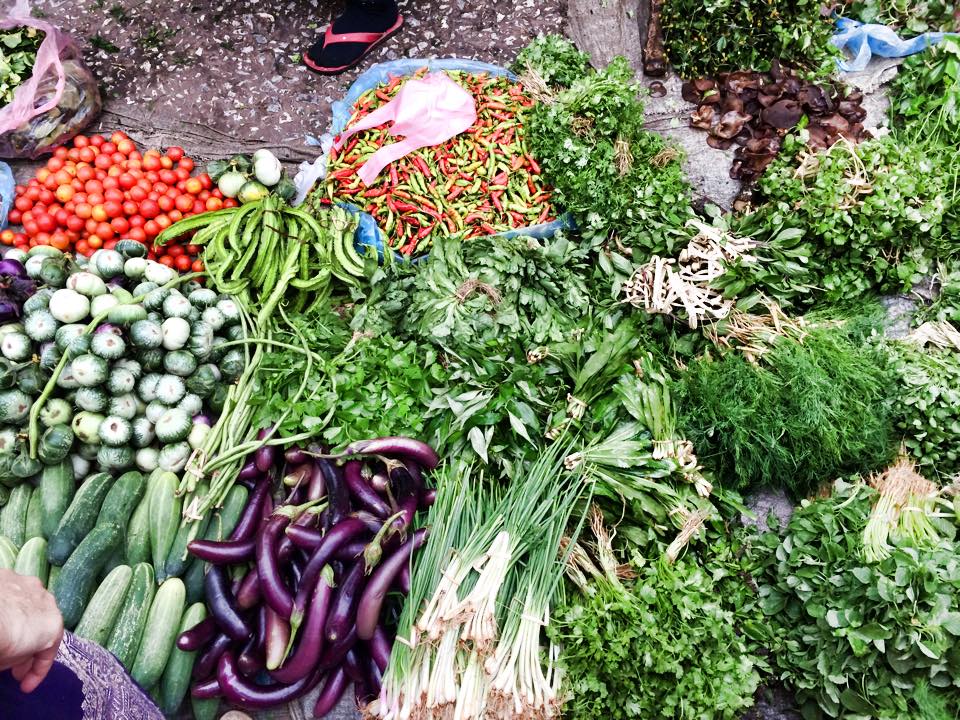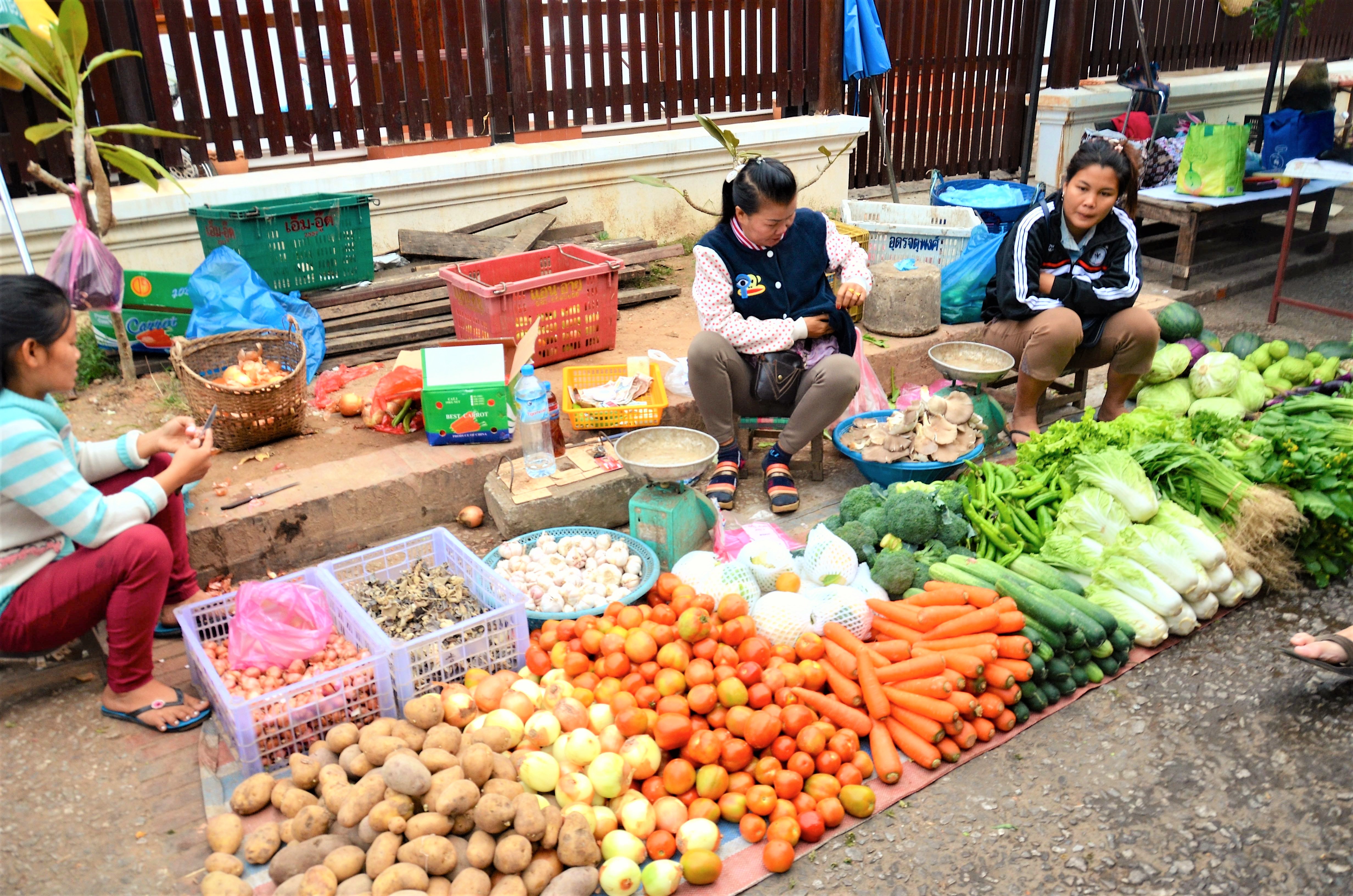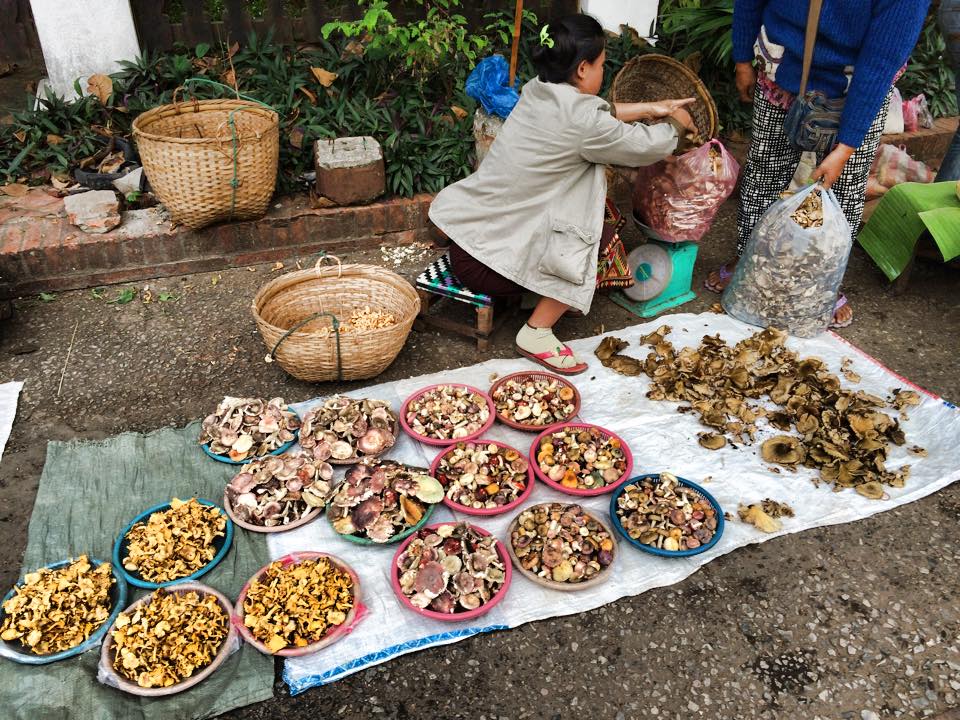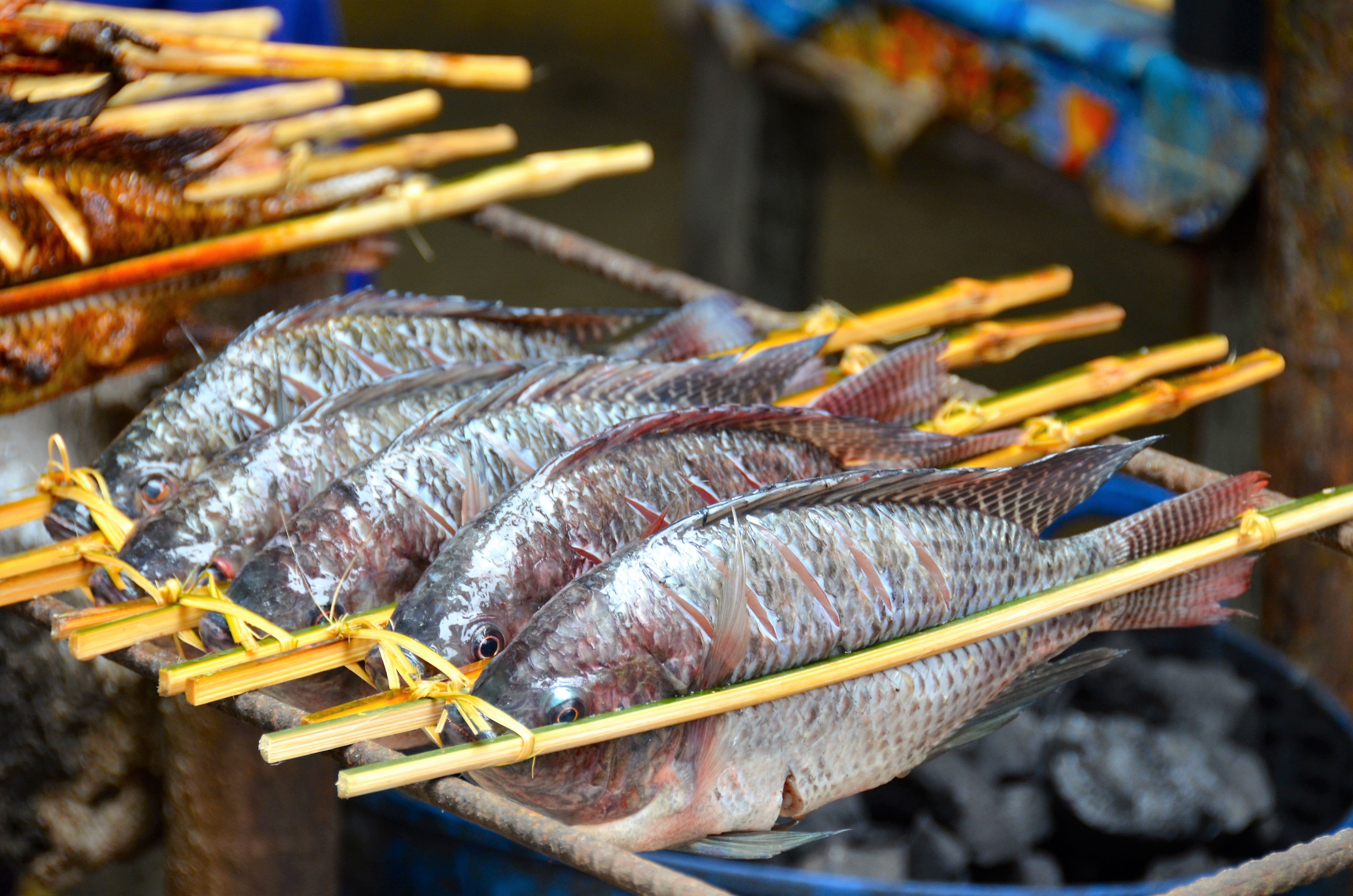 And then there are these: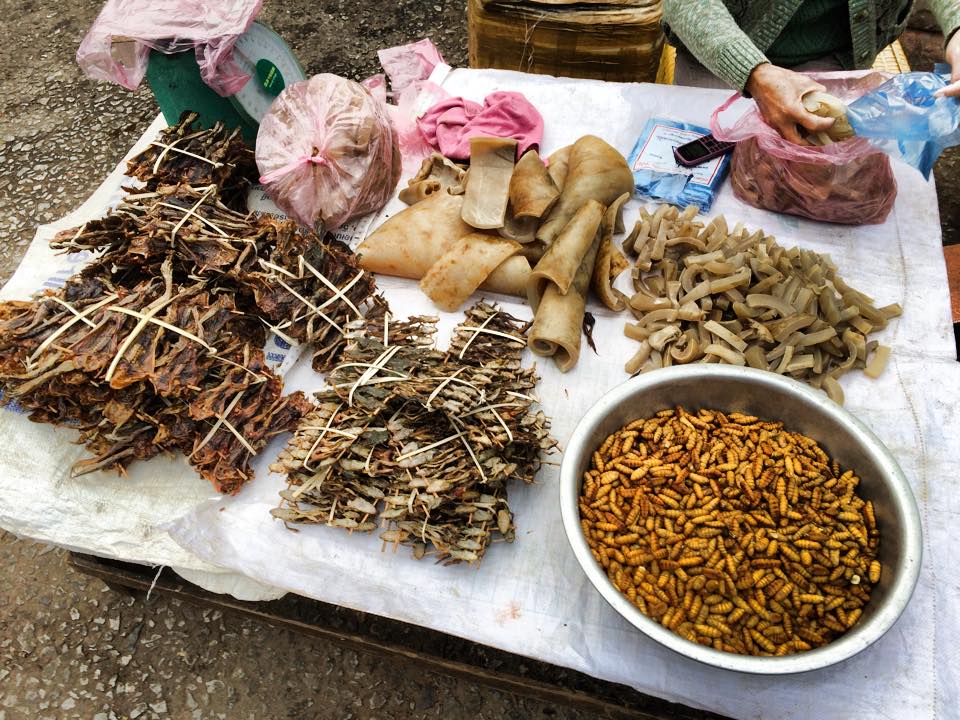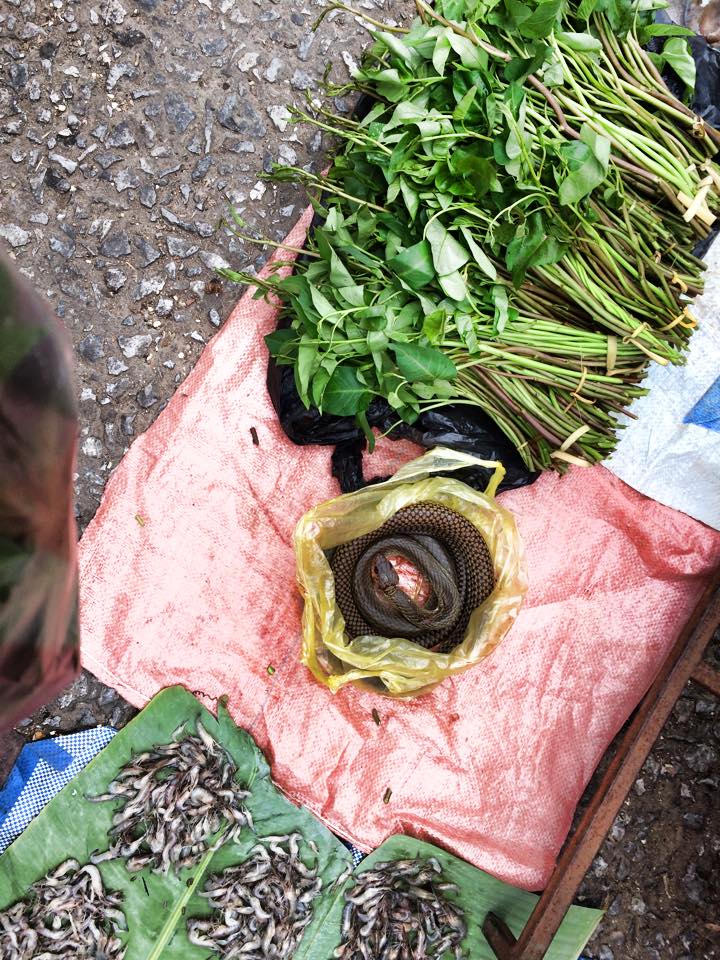 Insects and snakes?? My adventurous spirit only goes so far… No thanks!
After our shopping was done, we went into to town for a different kind of shopping, which leads me to the second coolest thing we did on this day: a visit to a Hmong village! We were so intrigued with our cultural village visit, that we asked our guide to take us to a true local Hmong village that is not set up for tourists. Before we went, we stopped off at a local market to purchase snacks and educational materials to give to the children, and then we were off.
On the nearly hour-long drive, we got to see some more rural areas of Luang Prabang.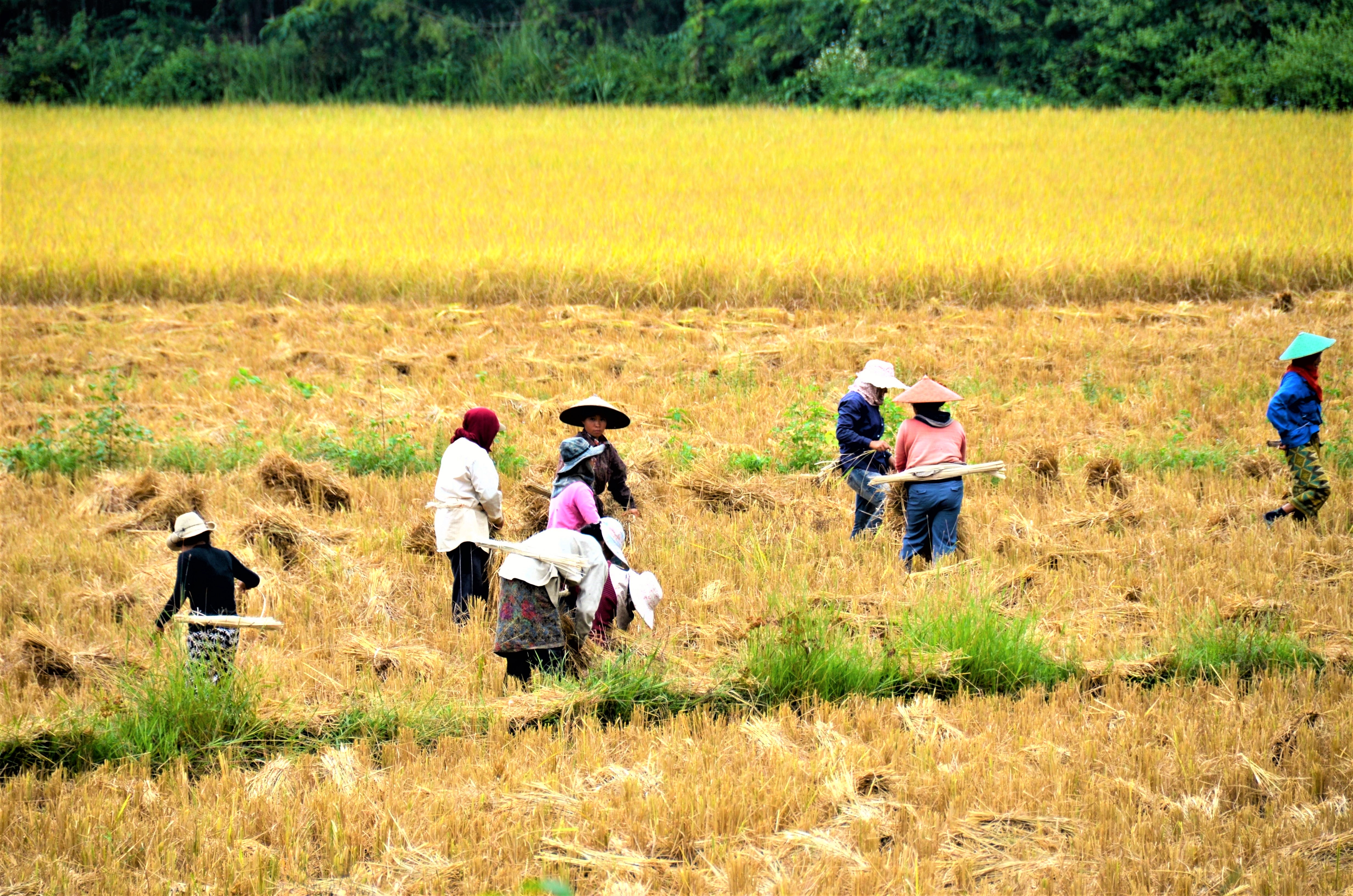 We arrived at the village with our goodies in tow!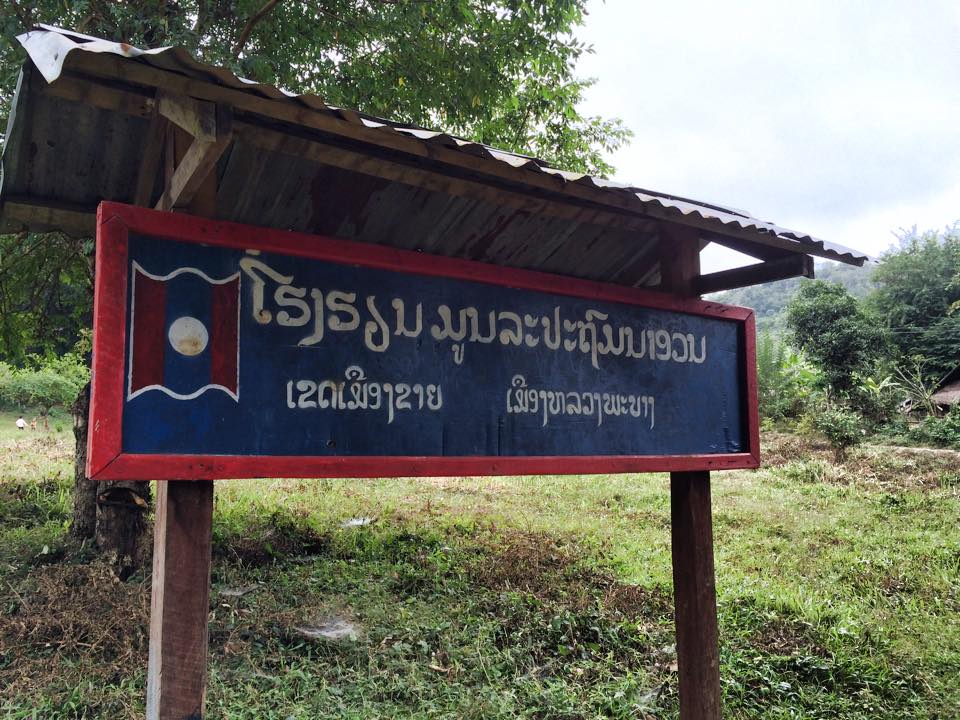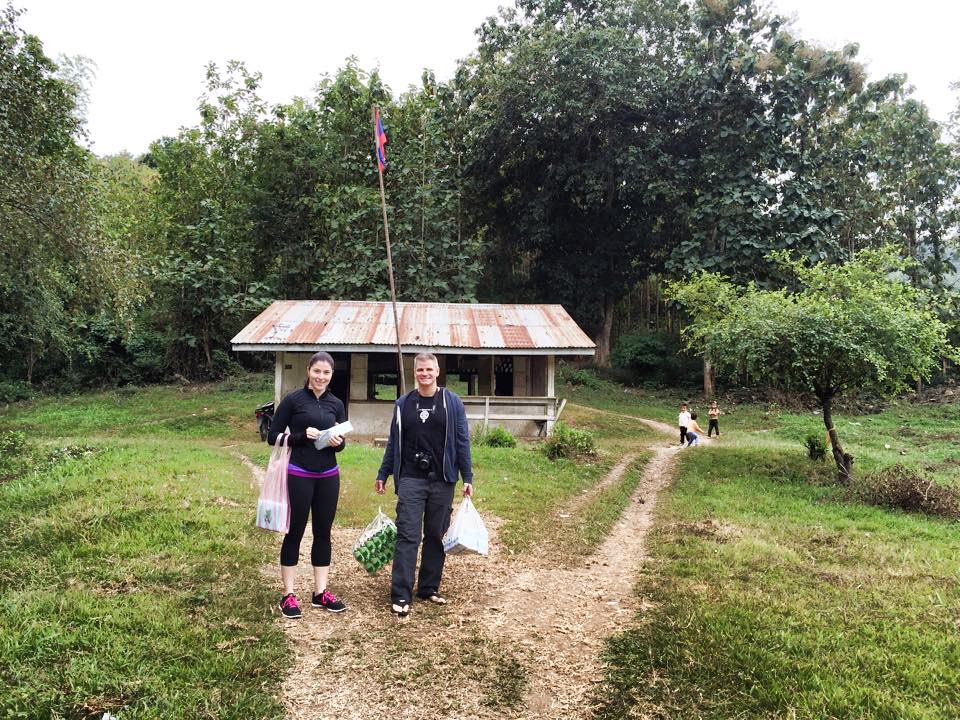 The Hmong are an ethnic group that live up in the mountains. There is a long history of persecution of these people, which you can read more about here. But, we were here to visit the children of this ethnic village, and help them practice their English!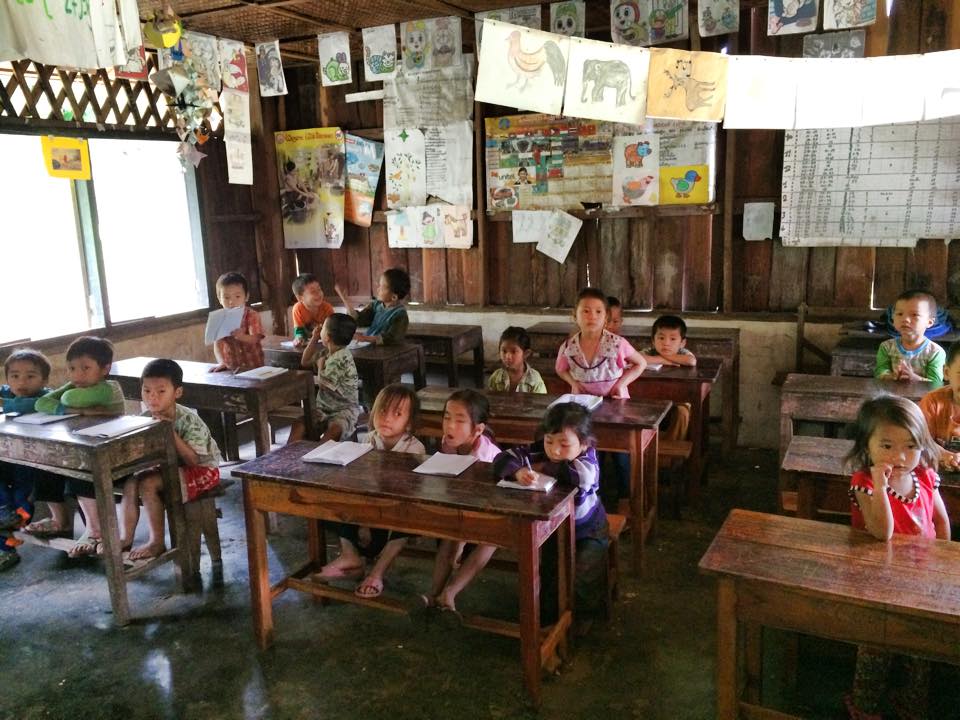 The children were so excited to receive their treats and clapped along as we sang the English ABCs. They were very curious and excited to see Western tourists in their village.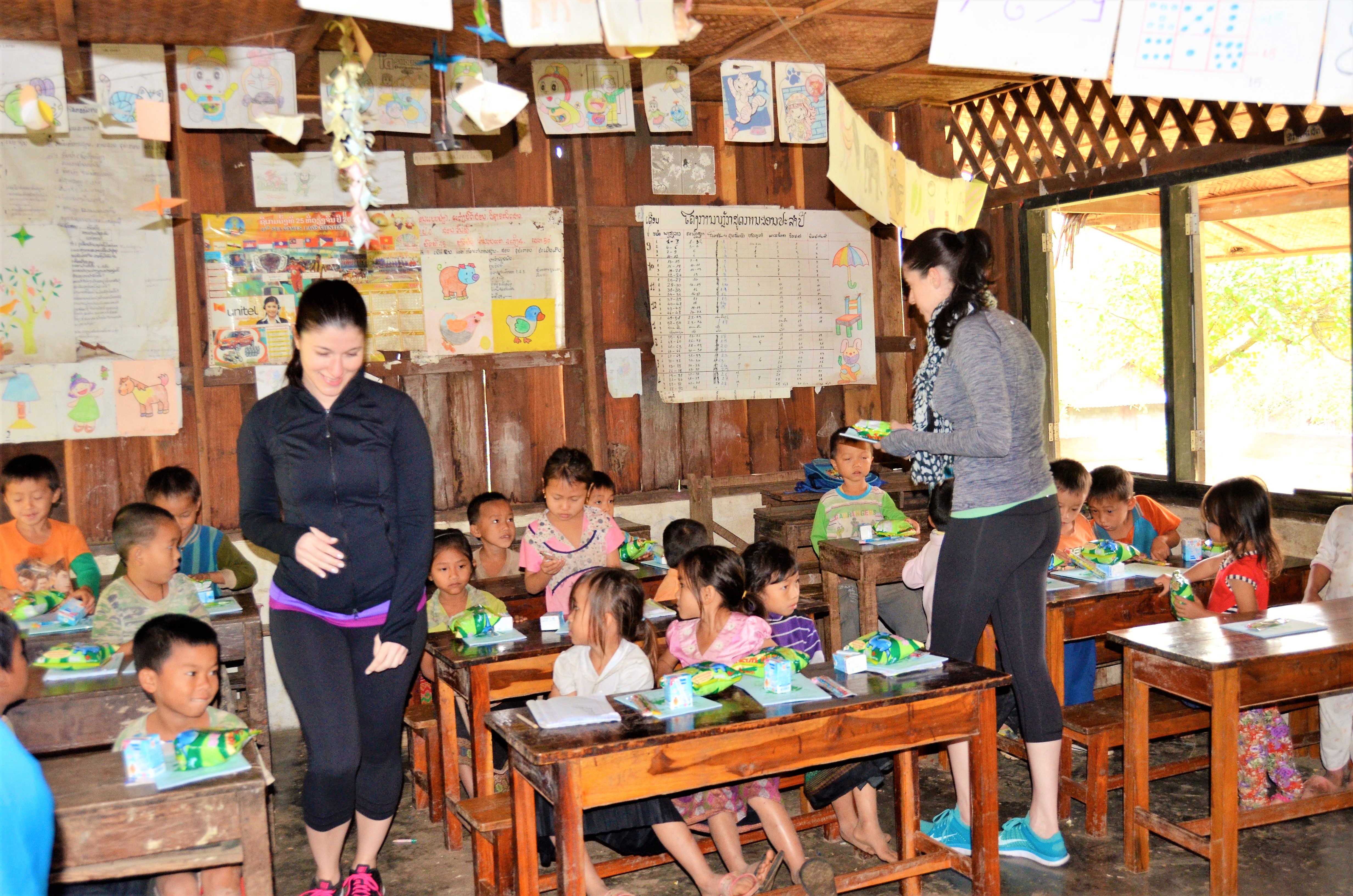 We happened to visit when UNICEF was there for the purpose of vaccinating the children. They come once a year to hold a vaccine clinic and provide basic medical care to rural populations of children.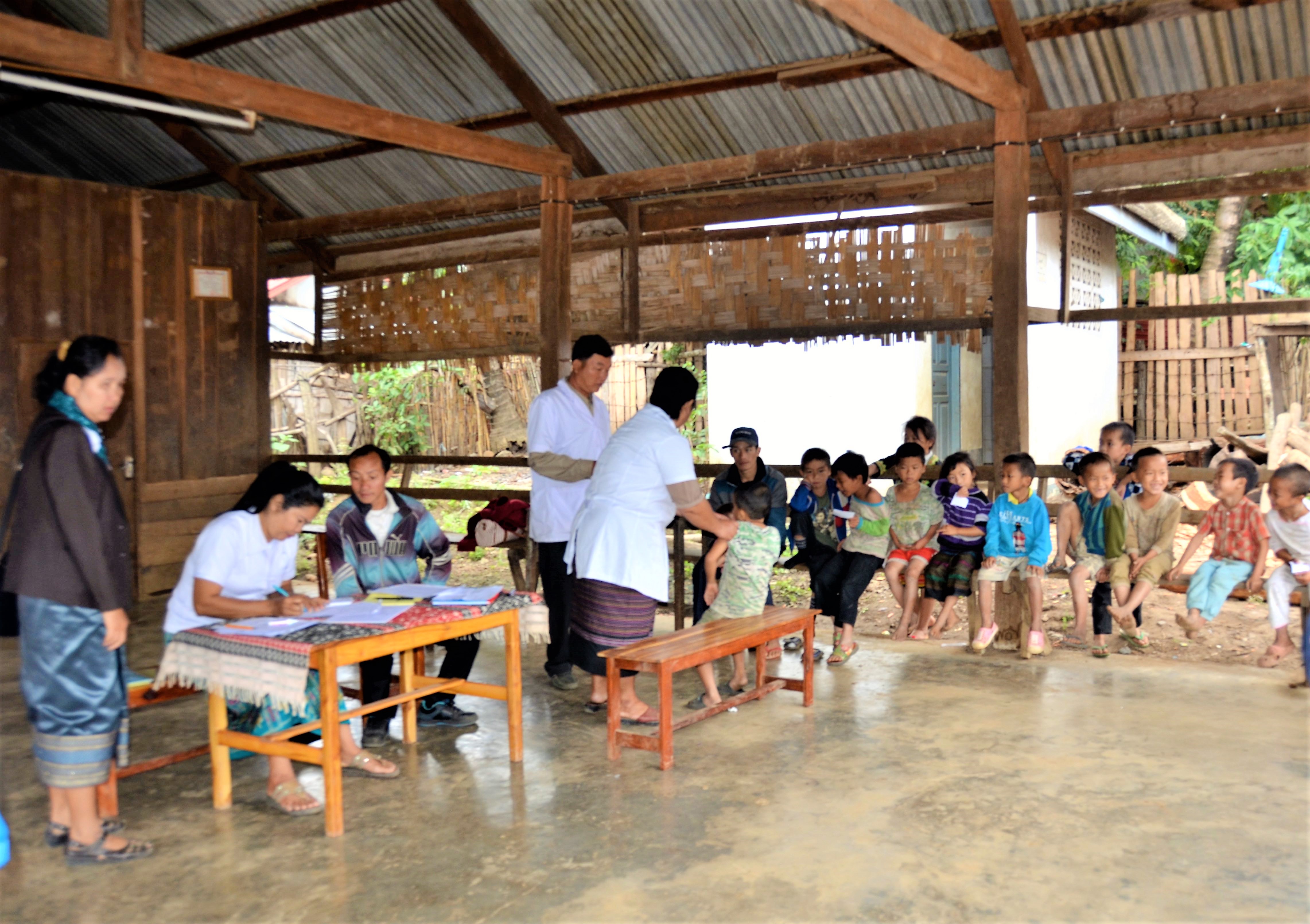 On the way back from the village, we stopped at the famed Kuang Si Falls. These falls, while certainly not as large as Victoria Falls (which we visited the year before in Zimbabwe), are stunning in their own different way.  They are a series of smaller falls that collect in beautiful turquoise pools.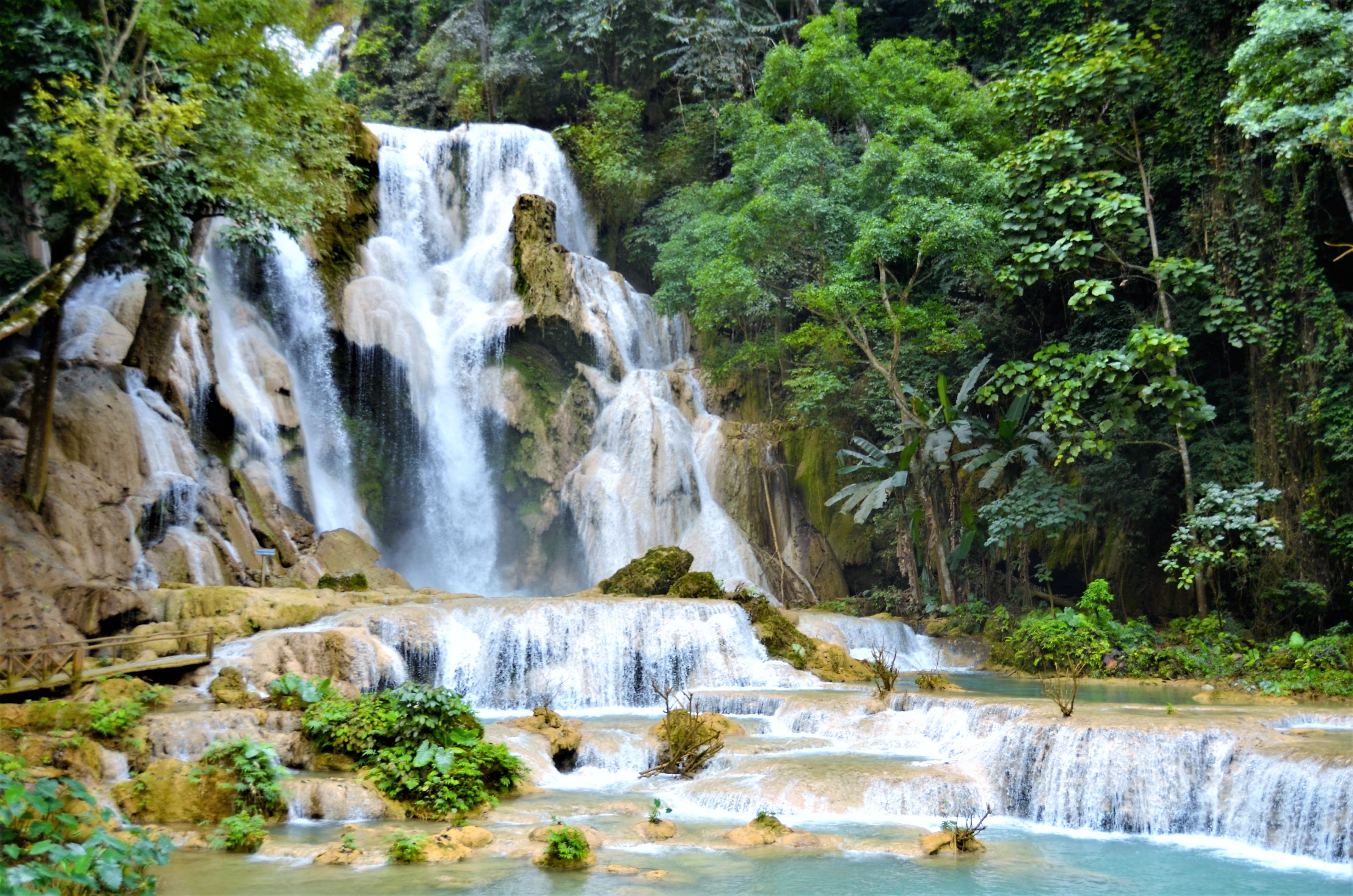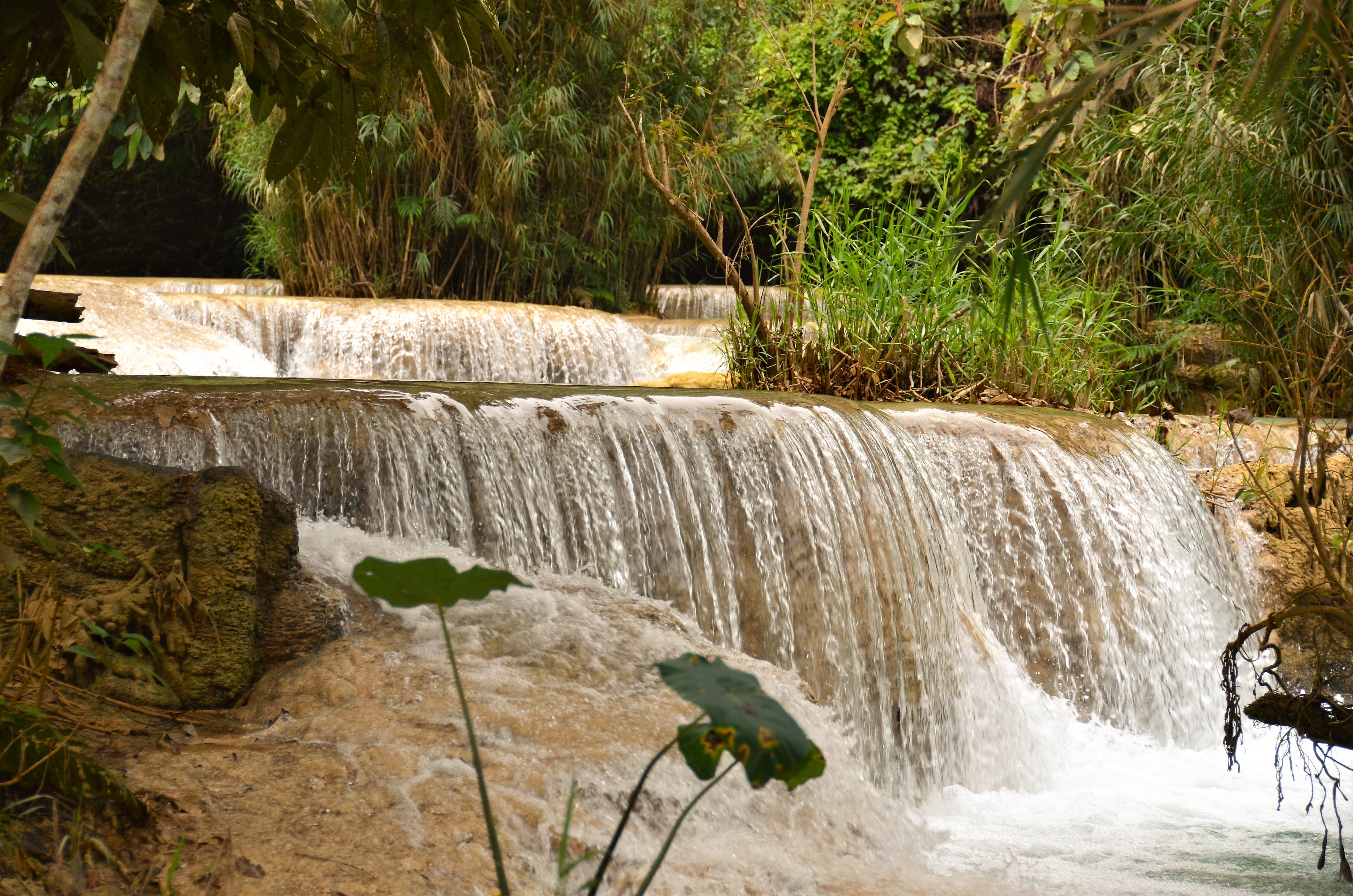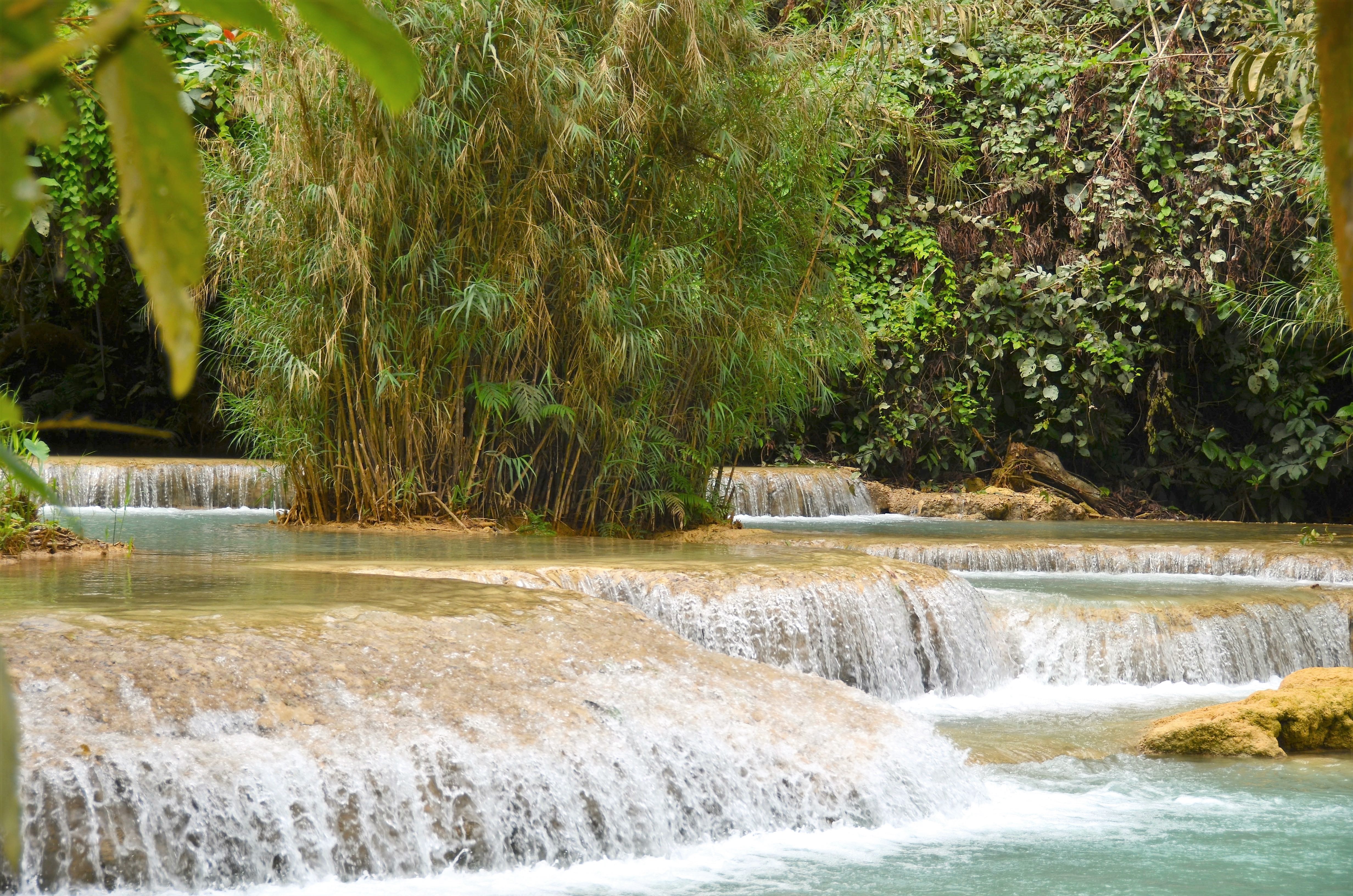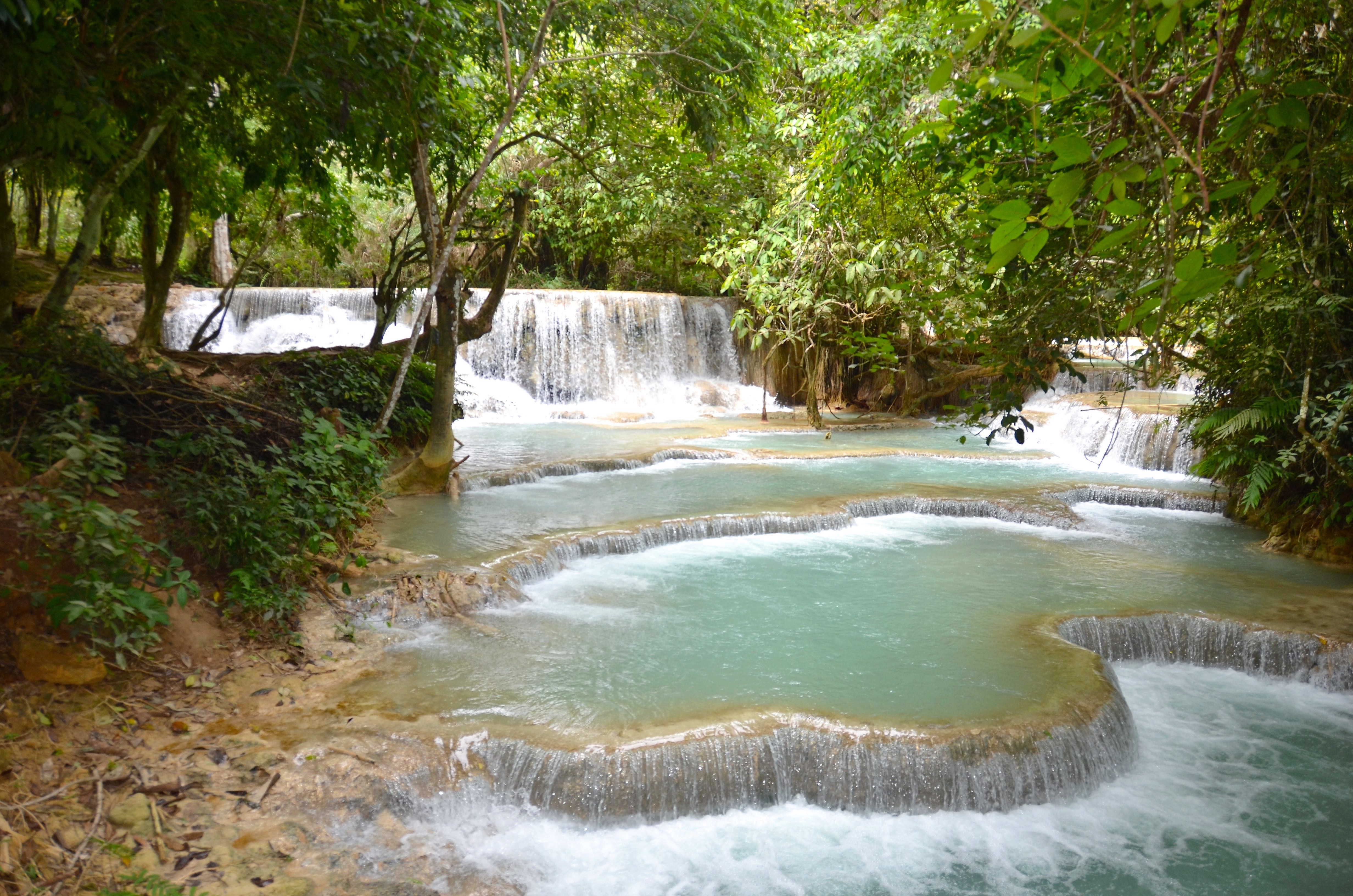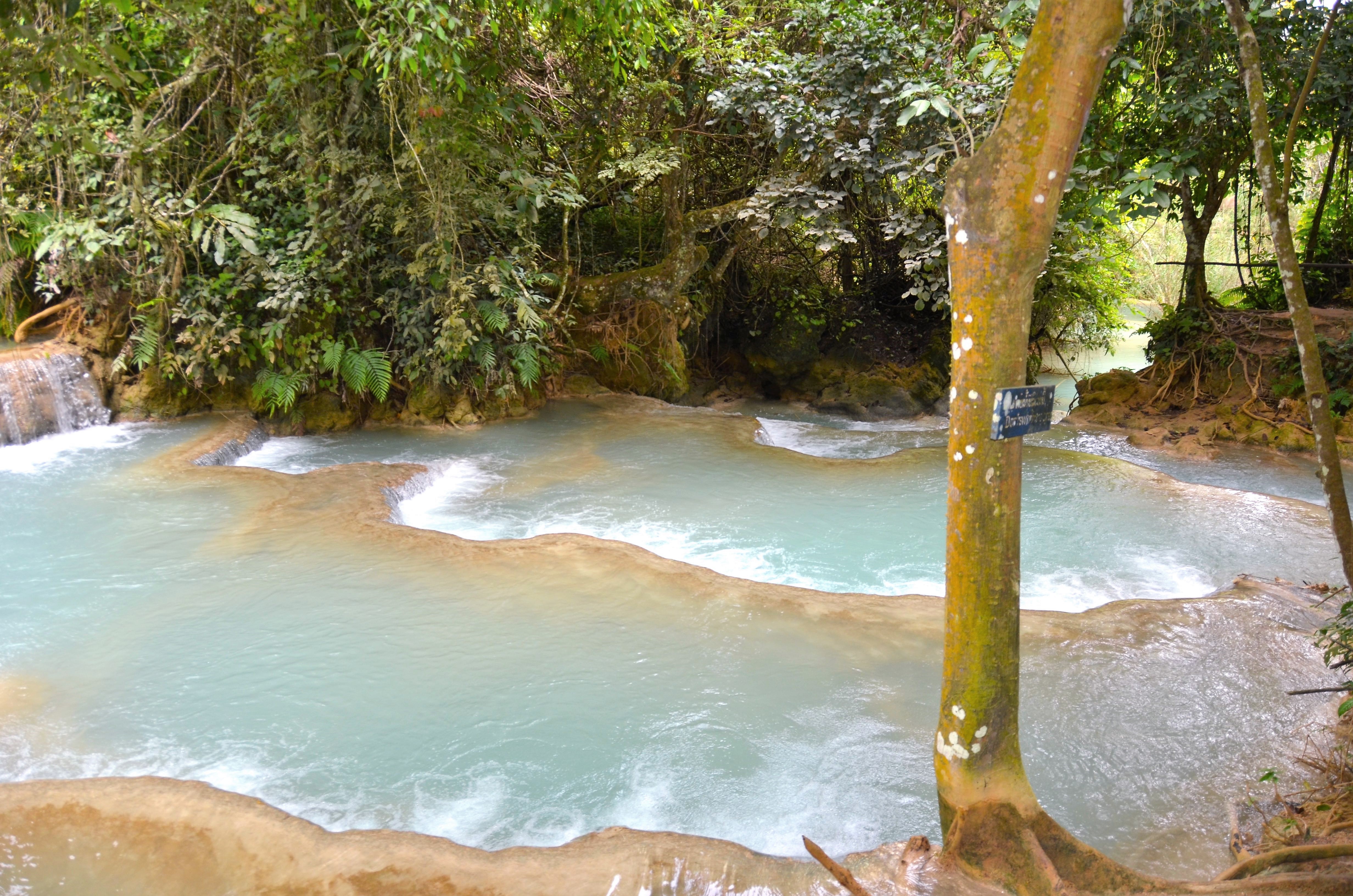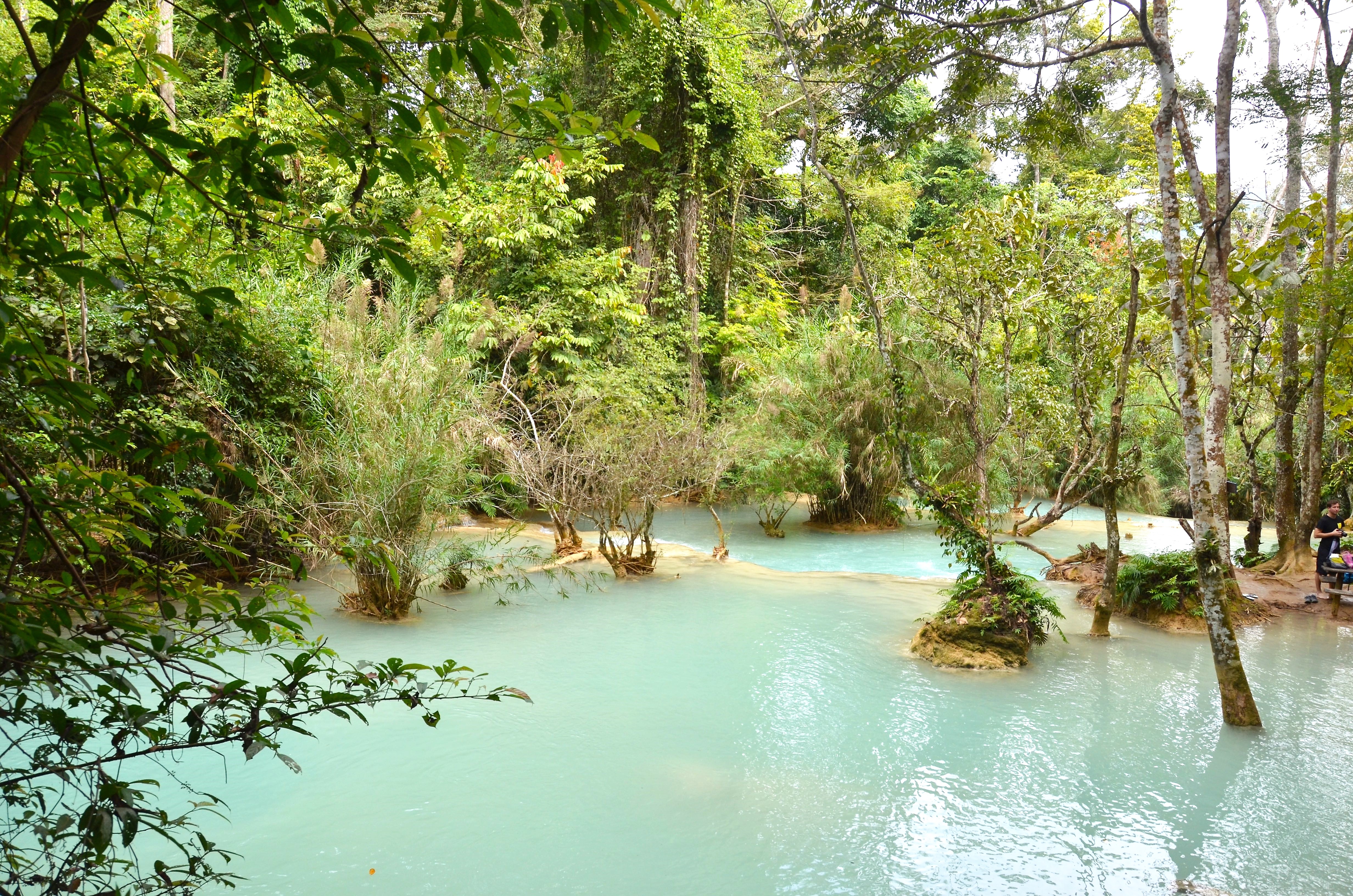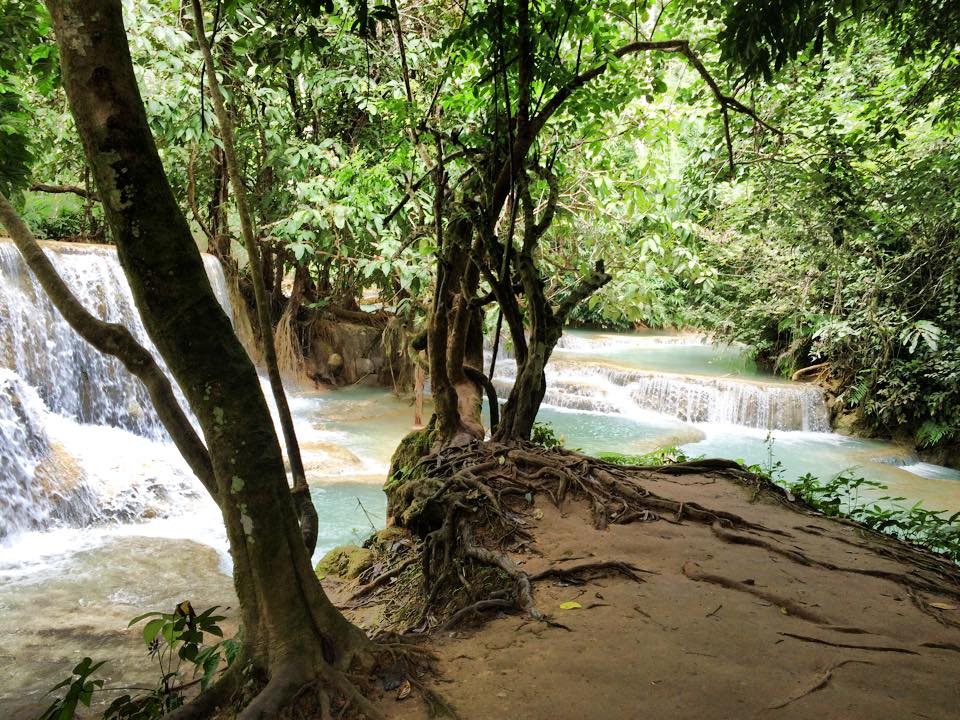 The cost to get into the park is about $2.50 per person. There are a series of trails and bridges that you can use to walk among the falls. You can even swim in them, although when we were there in late November, the water was cold; but that didn't stop this spectacle.  Allow me to introduce you to the Amazing Asian Man, with whom I fell in love. Not only was he wearing a magnificently small Speedo, but he would climb up to a tree or rock, strike a pose, and demand that his friends photograph him before he jumped into the water.  I was mesmerized by this creature, and he has inspired in me a book idea!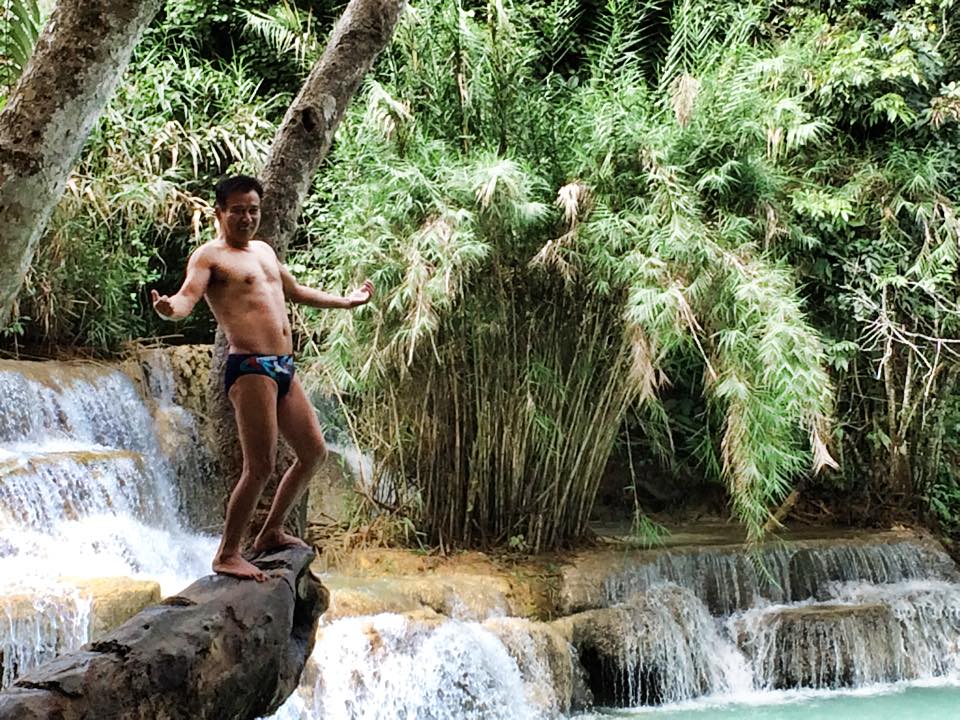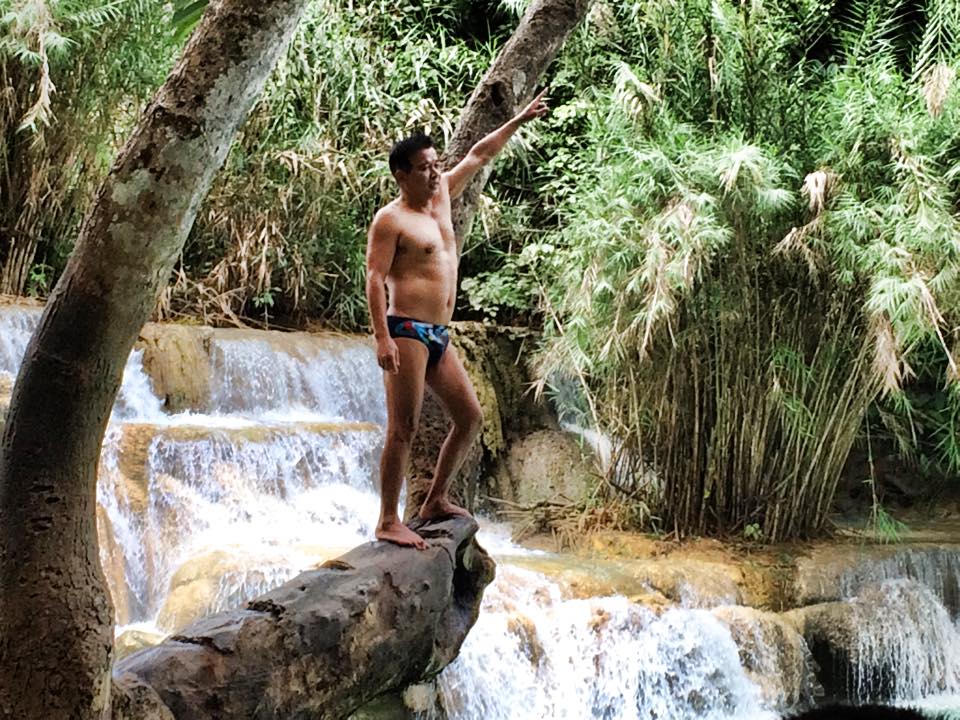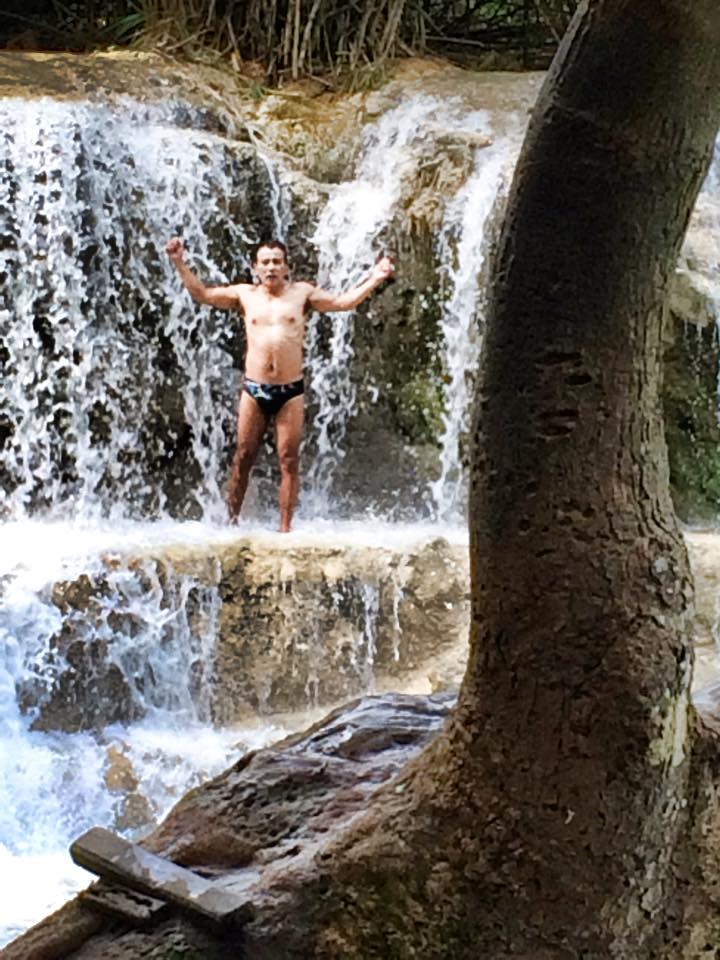 After studying this jewel for a very long time, we made our way over to the bear sanctuary on property. These black bears are an endangered species because their bile is used by the Chinese for medicinal purposes. This sanctuary rescues them and houses 23 bears. I love animals, so I just loved watching these bears roam and play.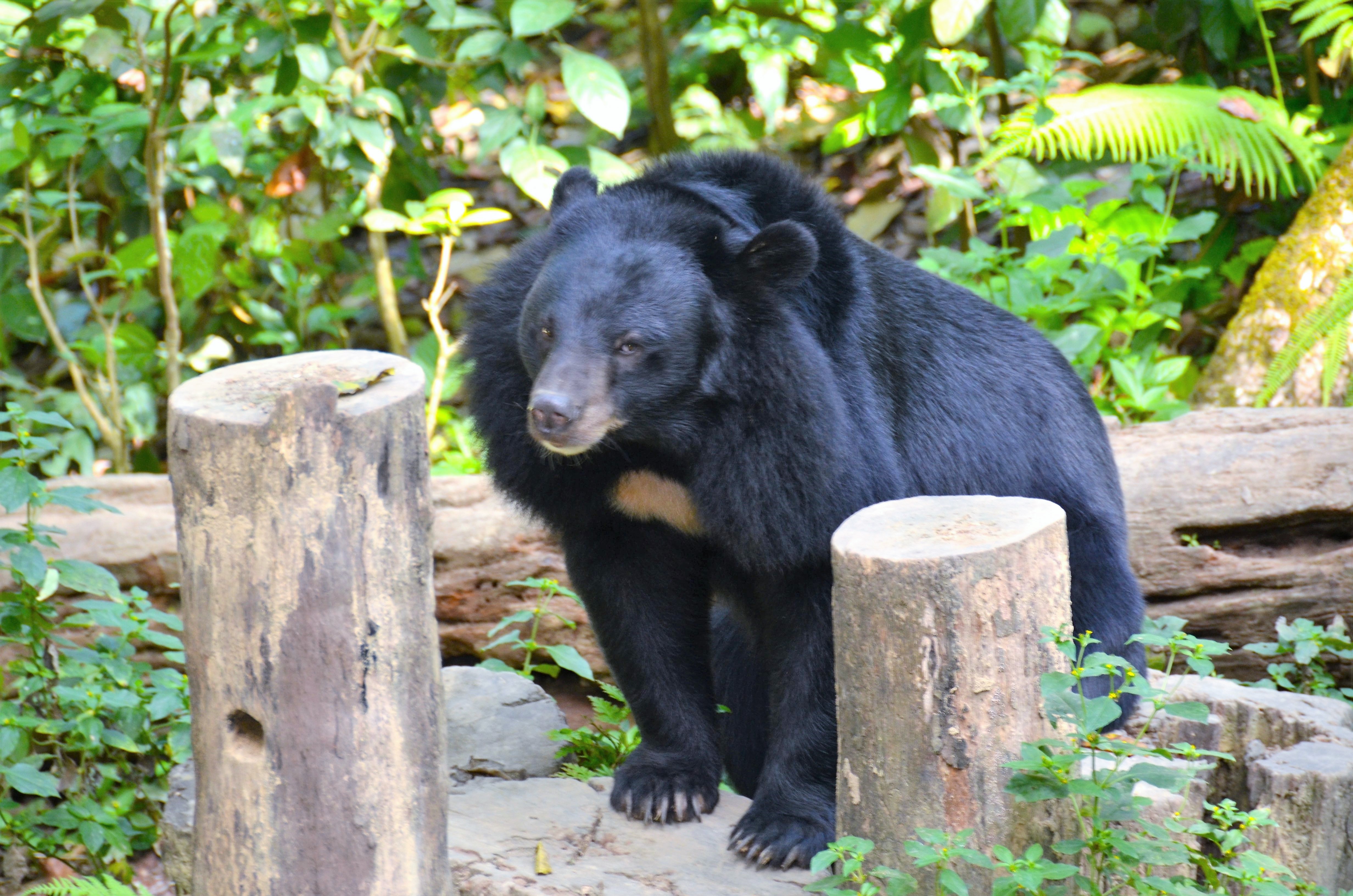 Our next stop was to Ok Pop Tok to get our weave on! Ok Pop Tok is a living crafts center set in the jungle on the Mekong River. It teaches traditional weaving techniques in demonstration style classes or you can sign up for half day, full day, or multi-day classes. You can even stay on the property while you attend classes. They have a shop that follows fair trade principles and have Village Weaver Projects, where their weavers work with local NGOs to teach skills to artisans in villages in 11 different provinces, using their knowledge of the market to help villagers make a better living from their handicrafts, as well as buying, selling and promoting their products.
We came for a half-day class where we learned about the different fabrics, how the dyes are made using natural ingredients, how to create and then to dye the fabrics, and how to use the weaver's loom to make different patterns.  The cool part about our class is that we got to come home with a scarf that we made!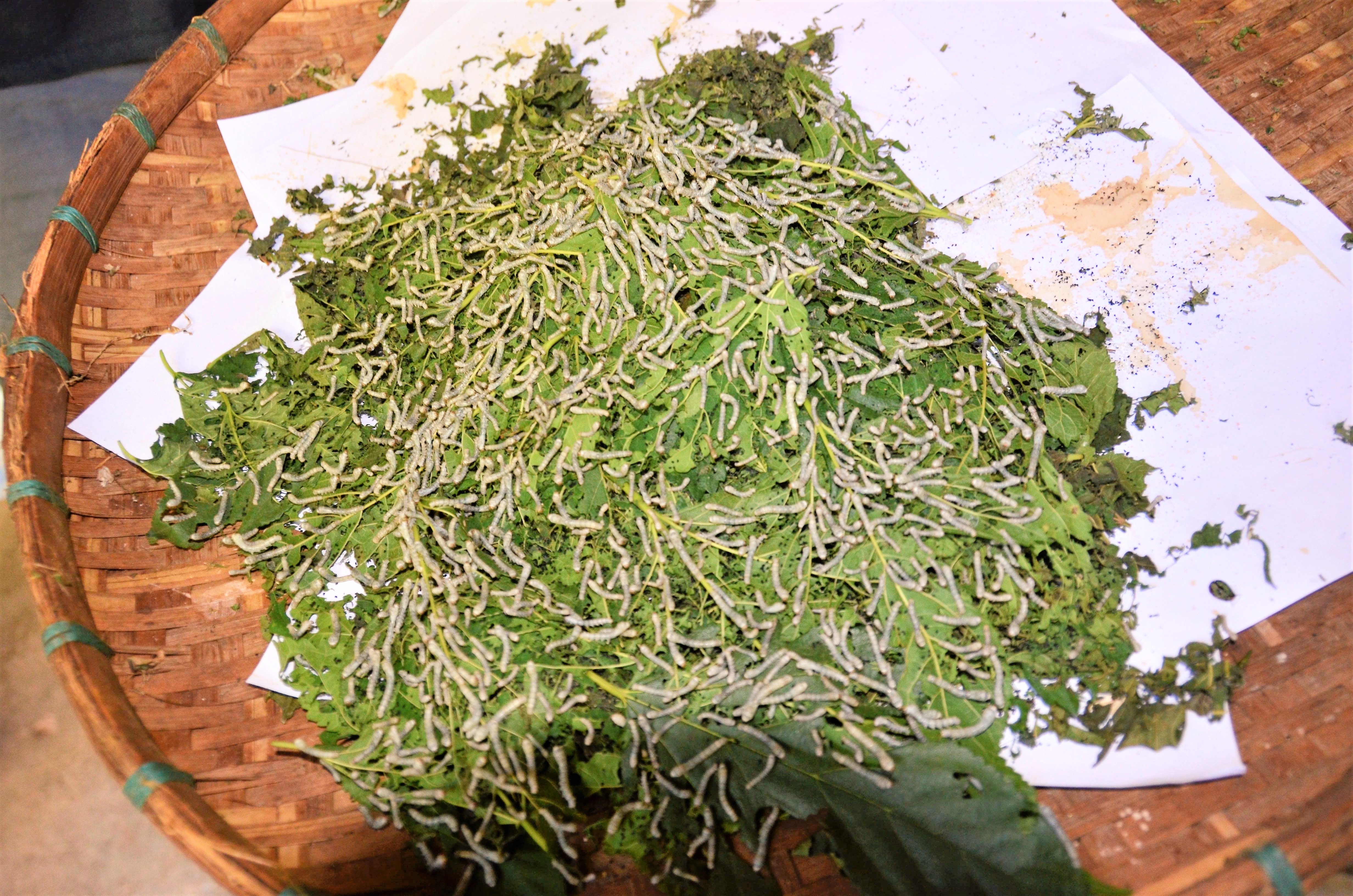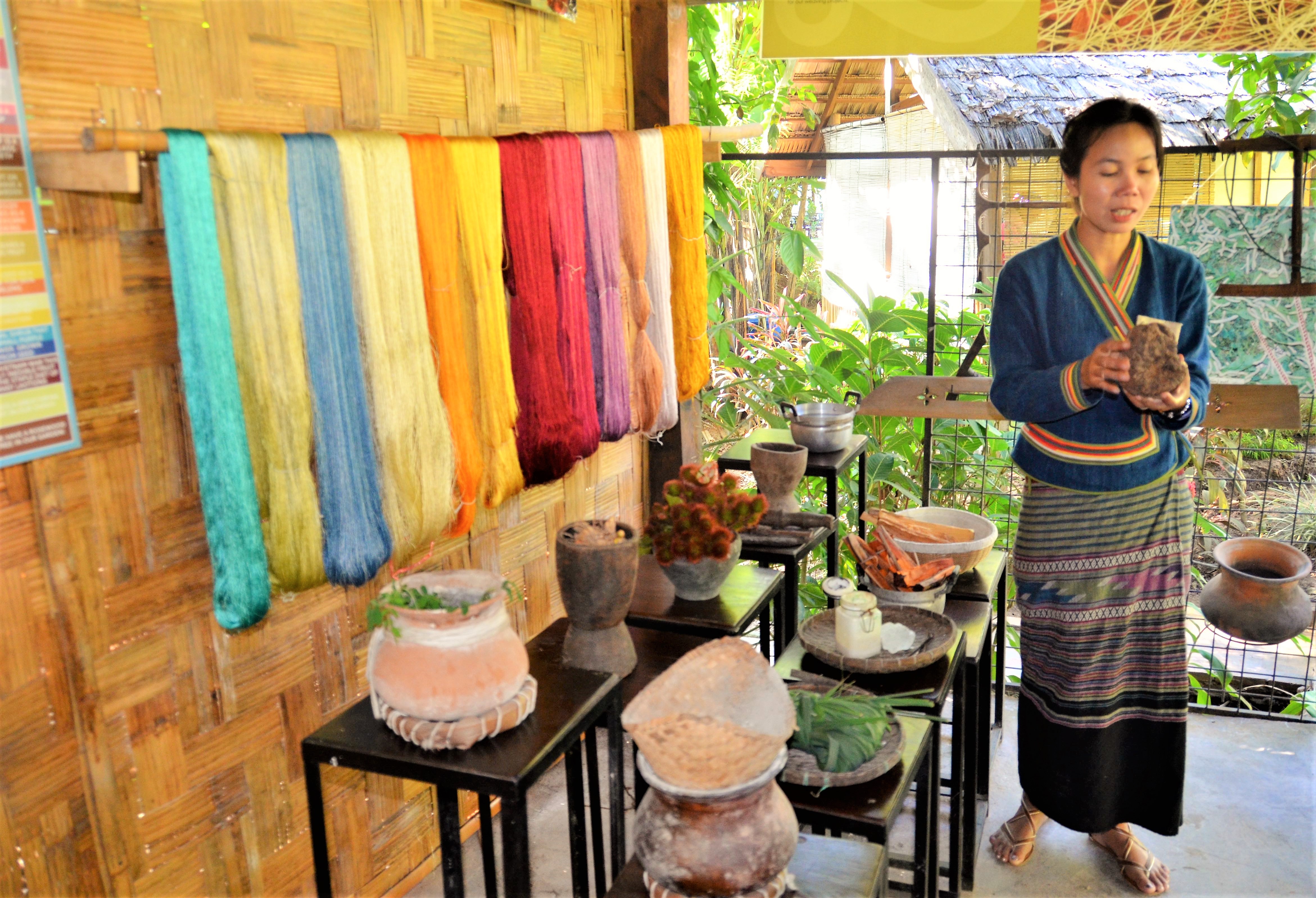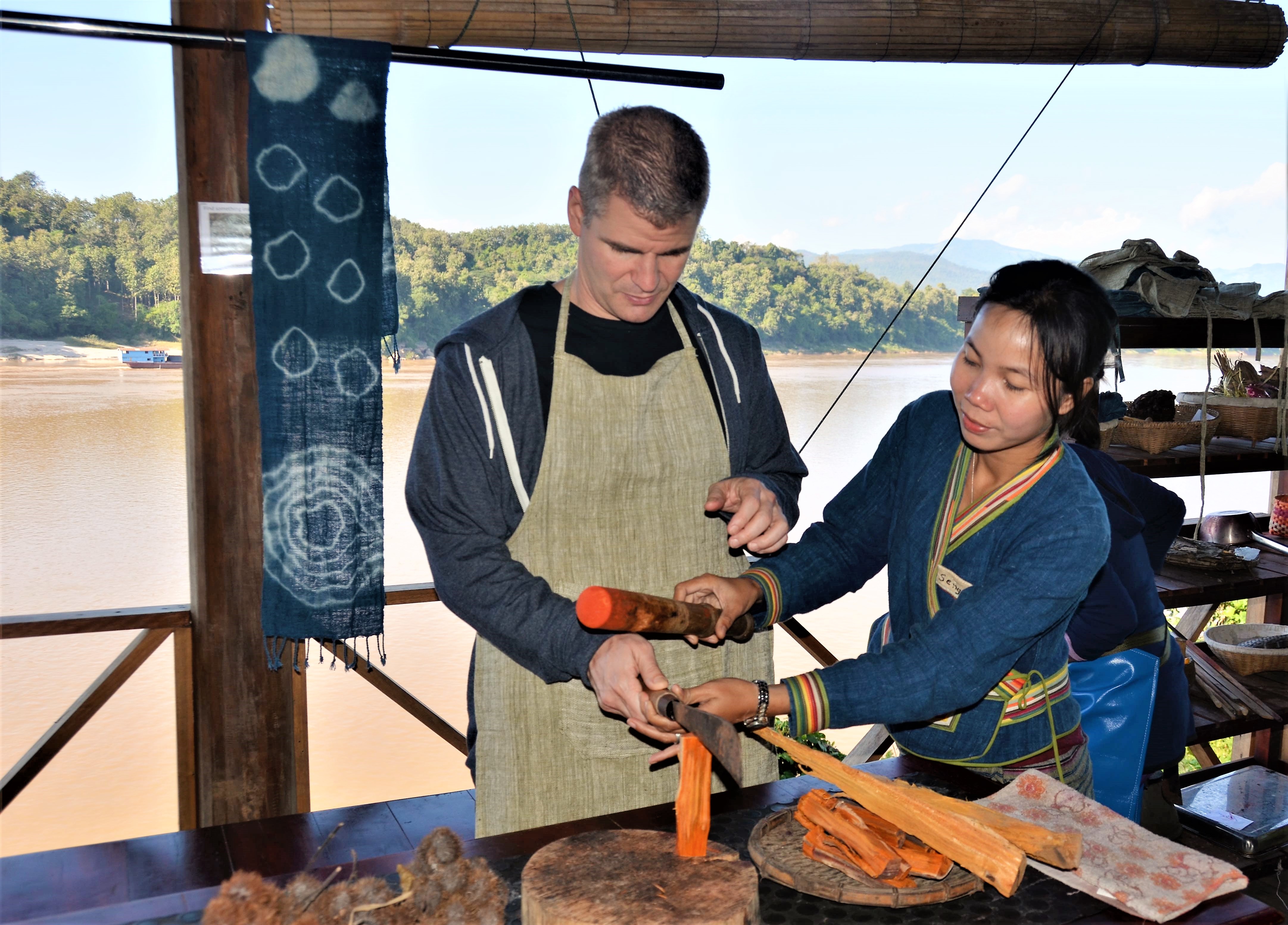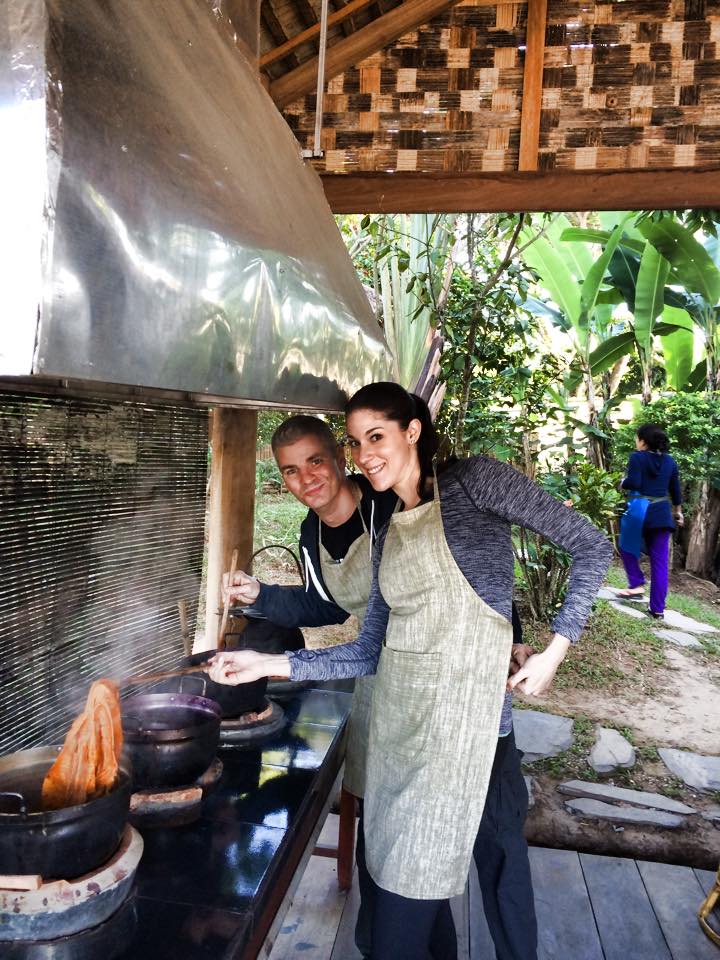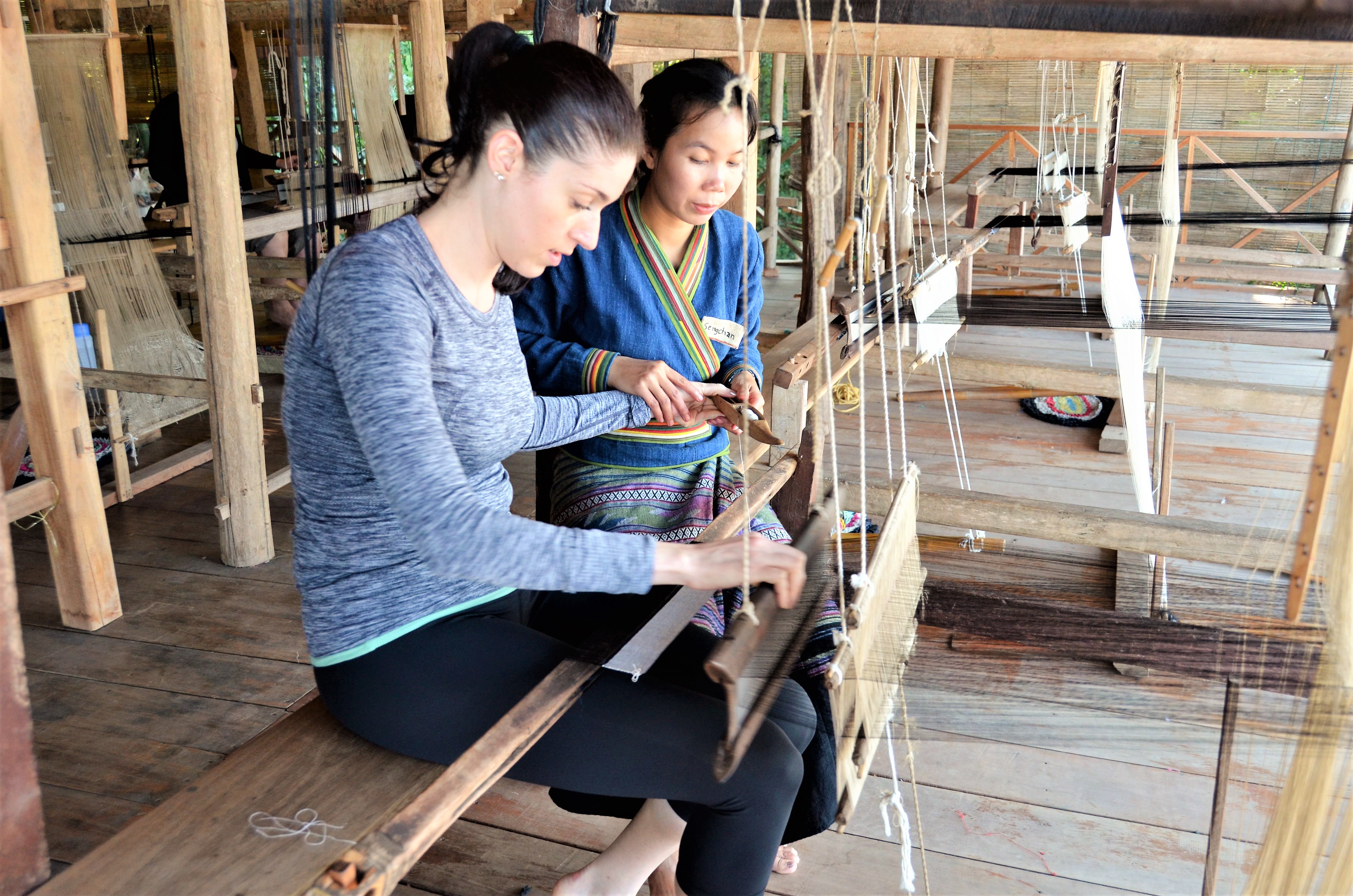 But, our day of learning was not over.  It was time to go to our guide's home and learn to cook a traditional meal that we would share with her family, which is where we had the third coolest experience!
First, we had to get dressed for the occasion…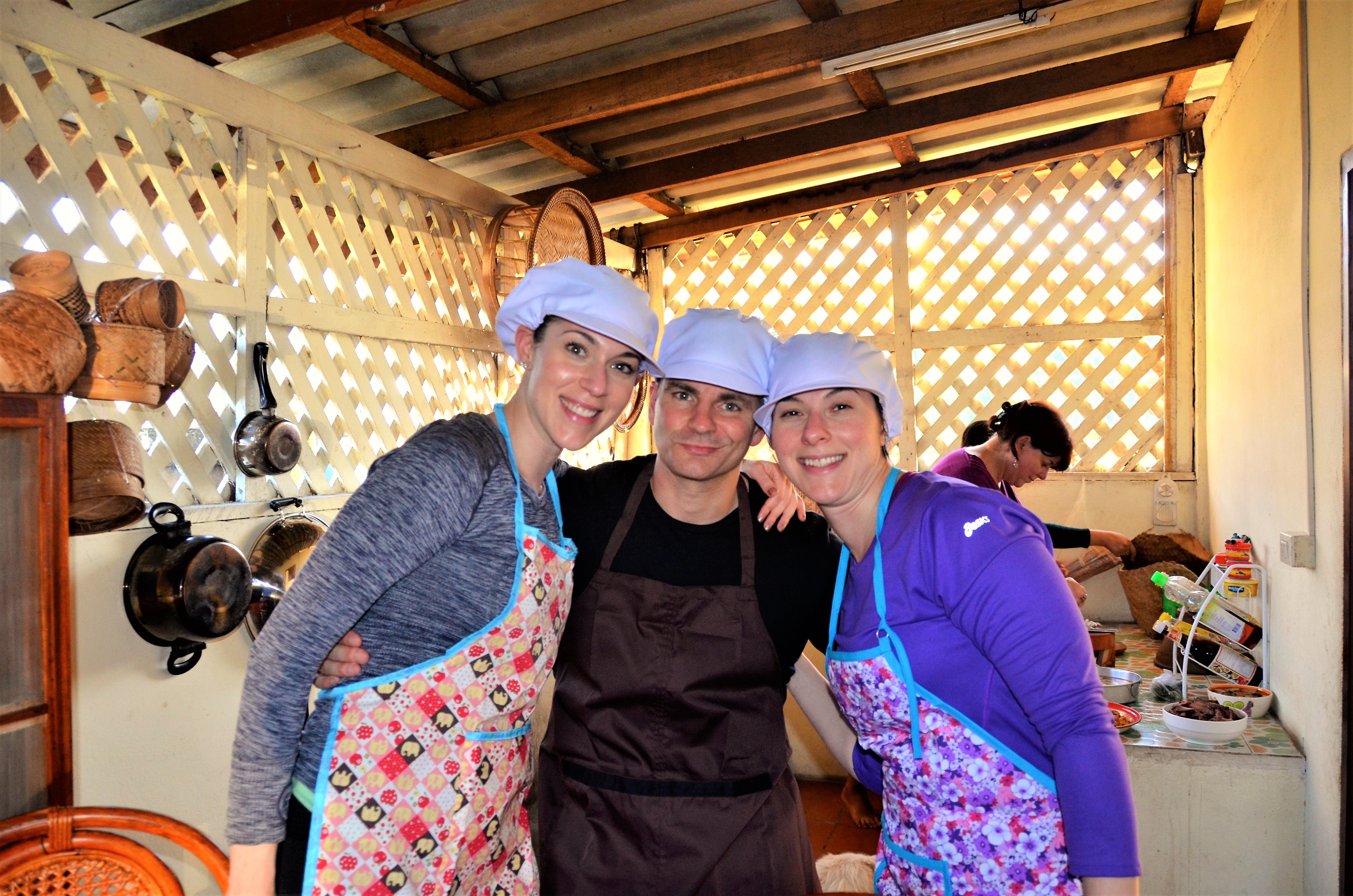 Then we got to work cleaning, chopping, mincing, and cooking.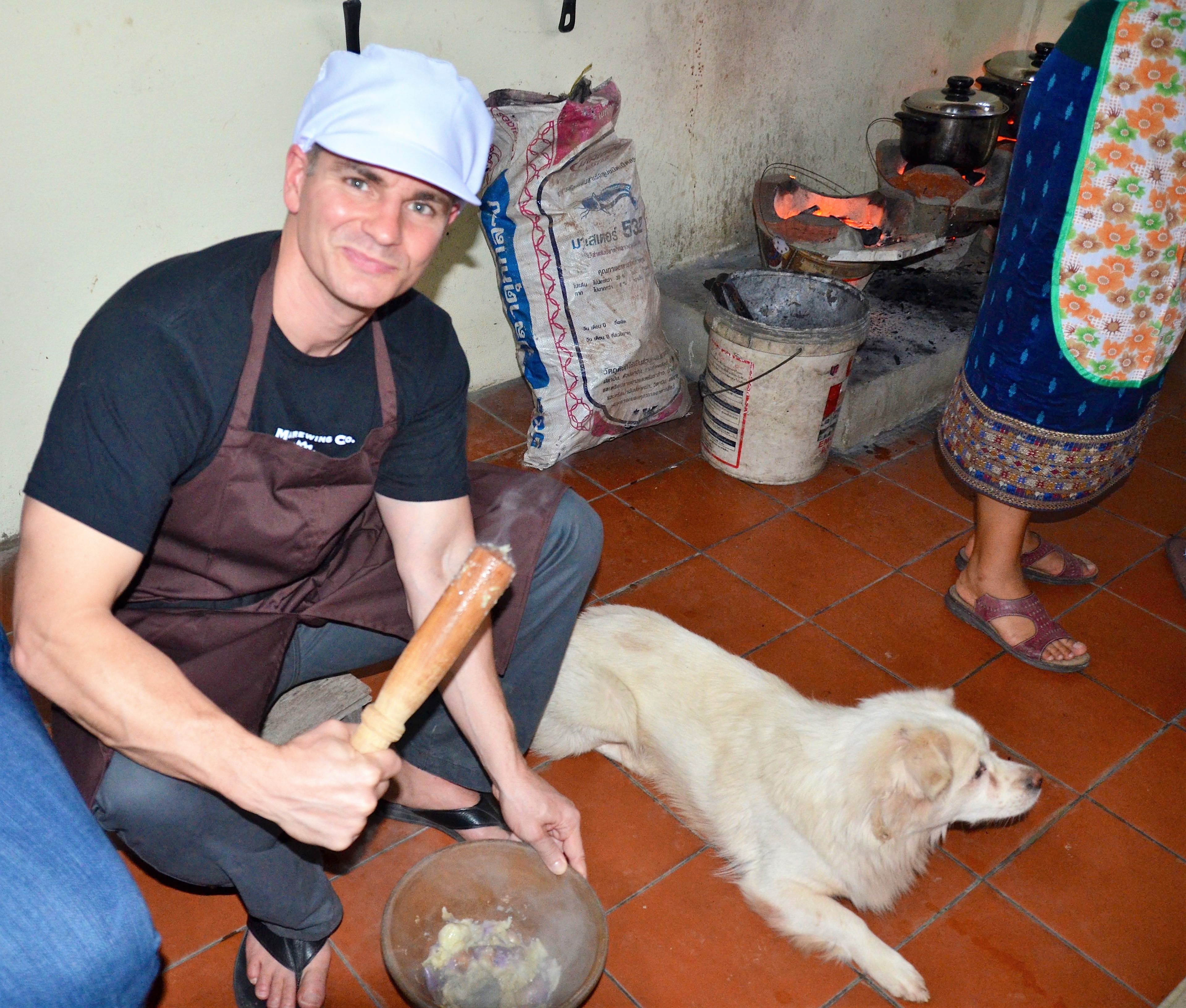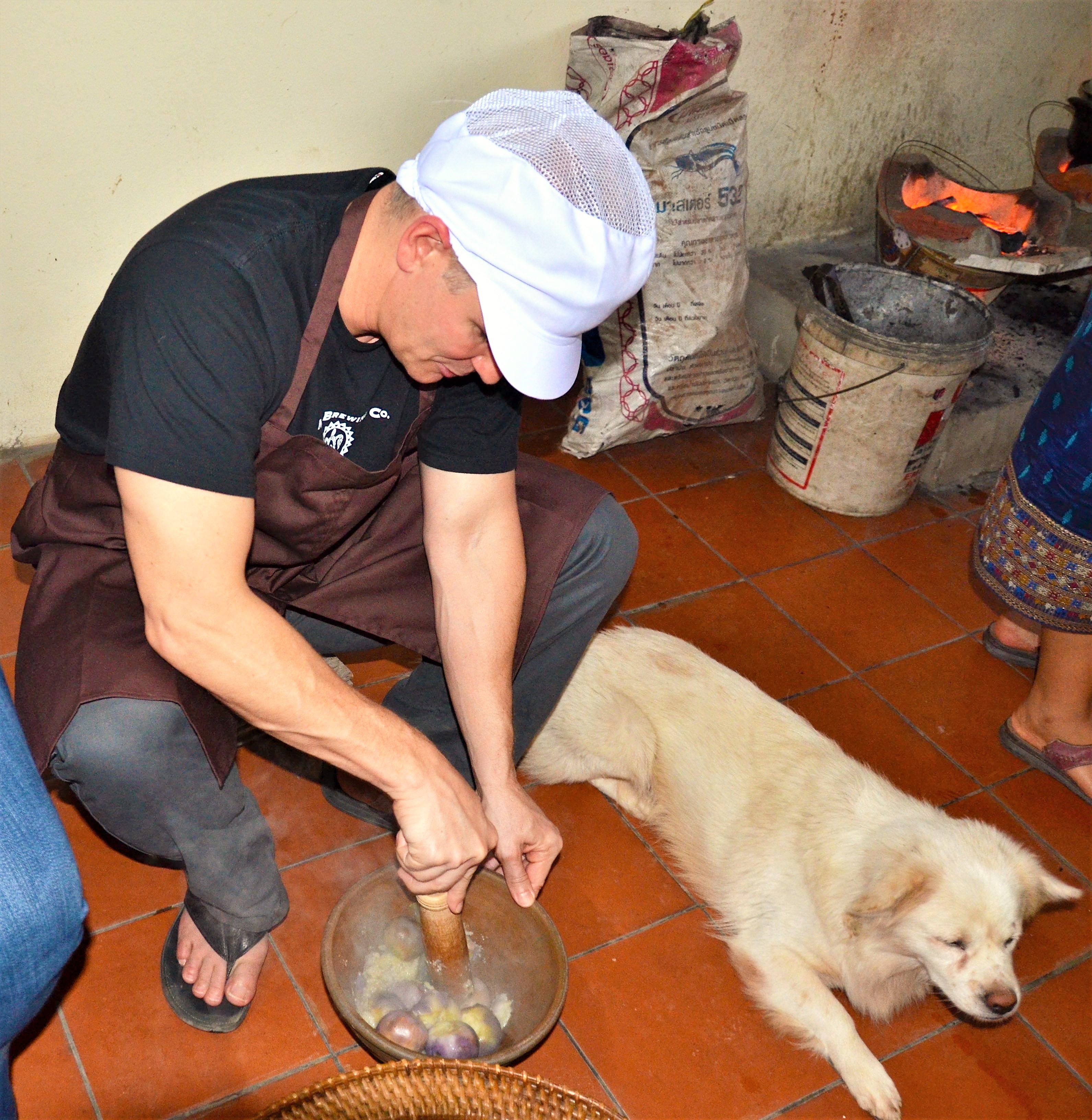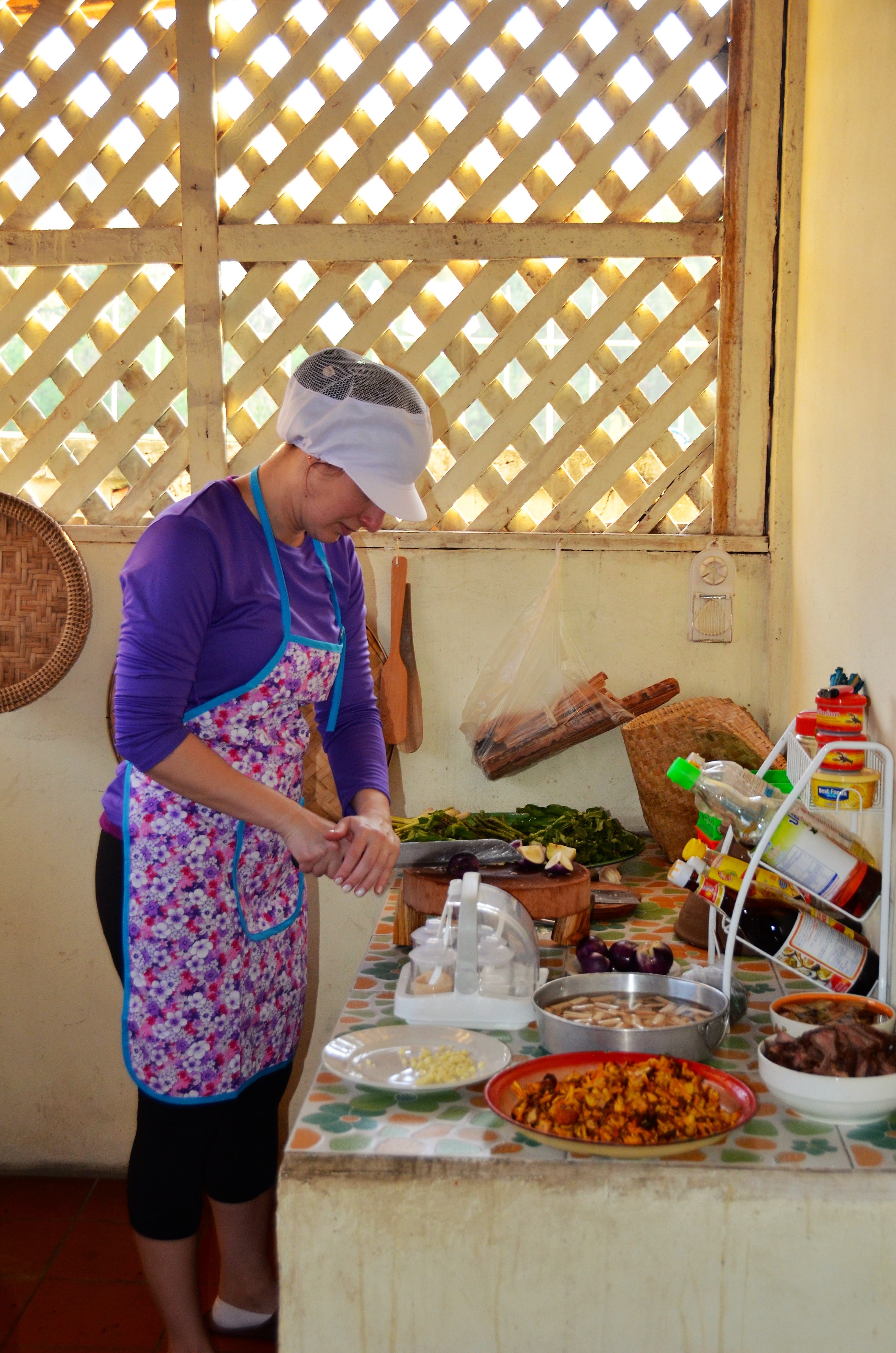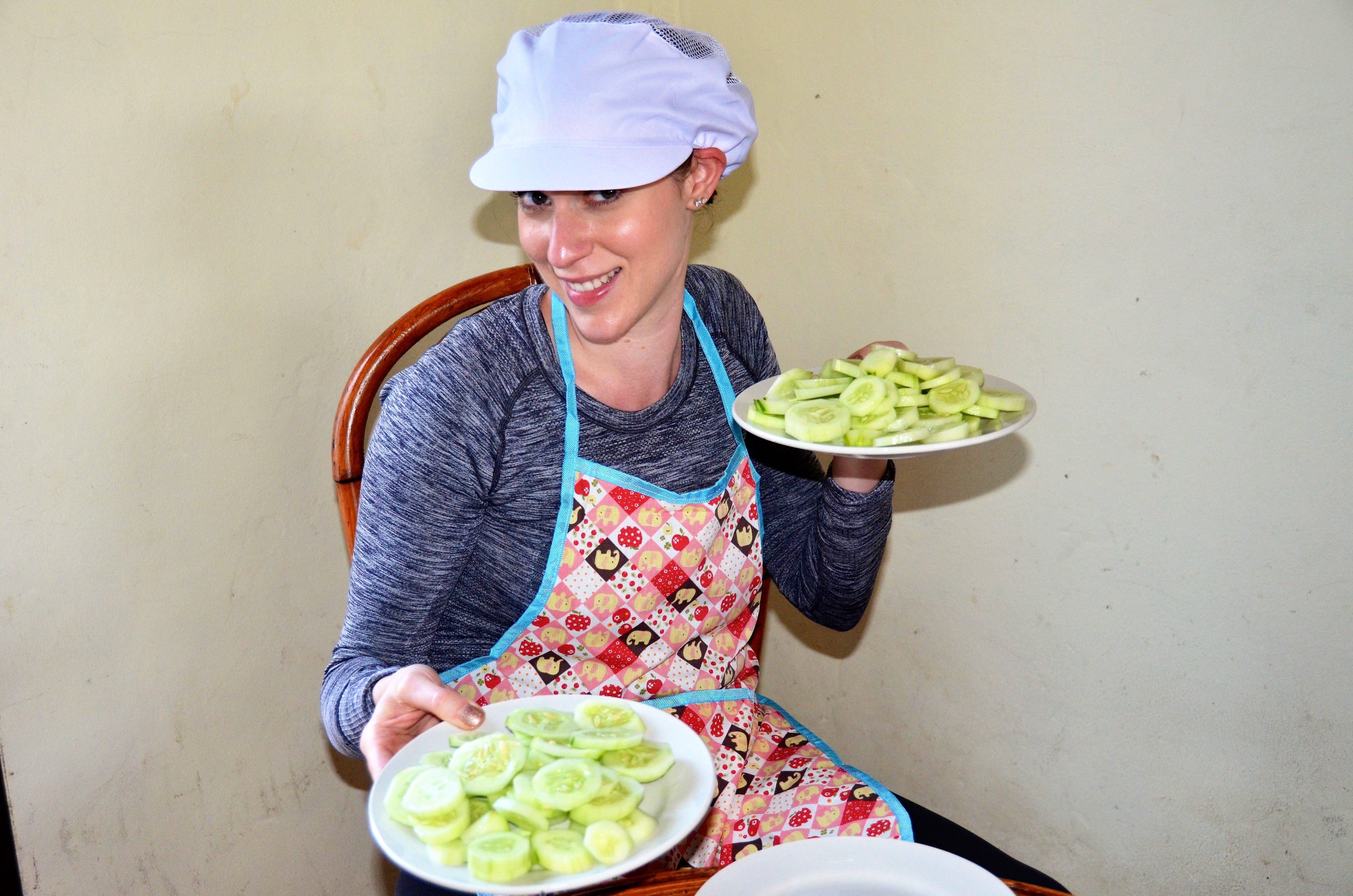 While we worked in an outdoor kitchen, inside, the elders prepared the centerpiece that they would use to offer a blessing to us.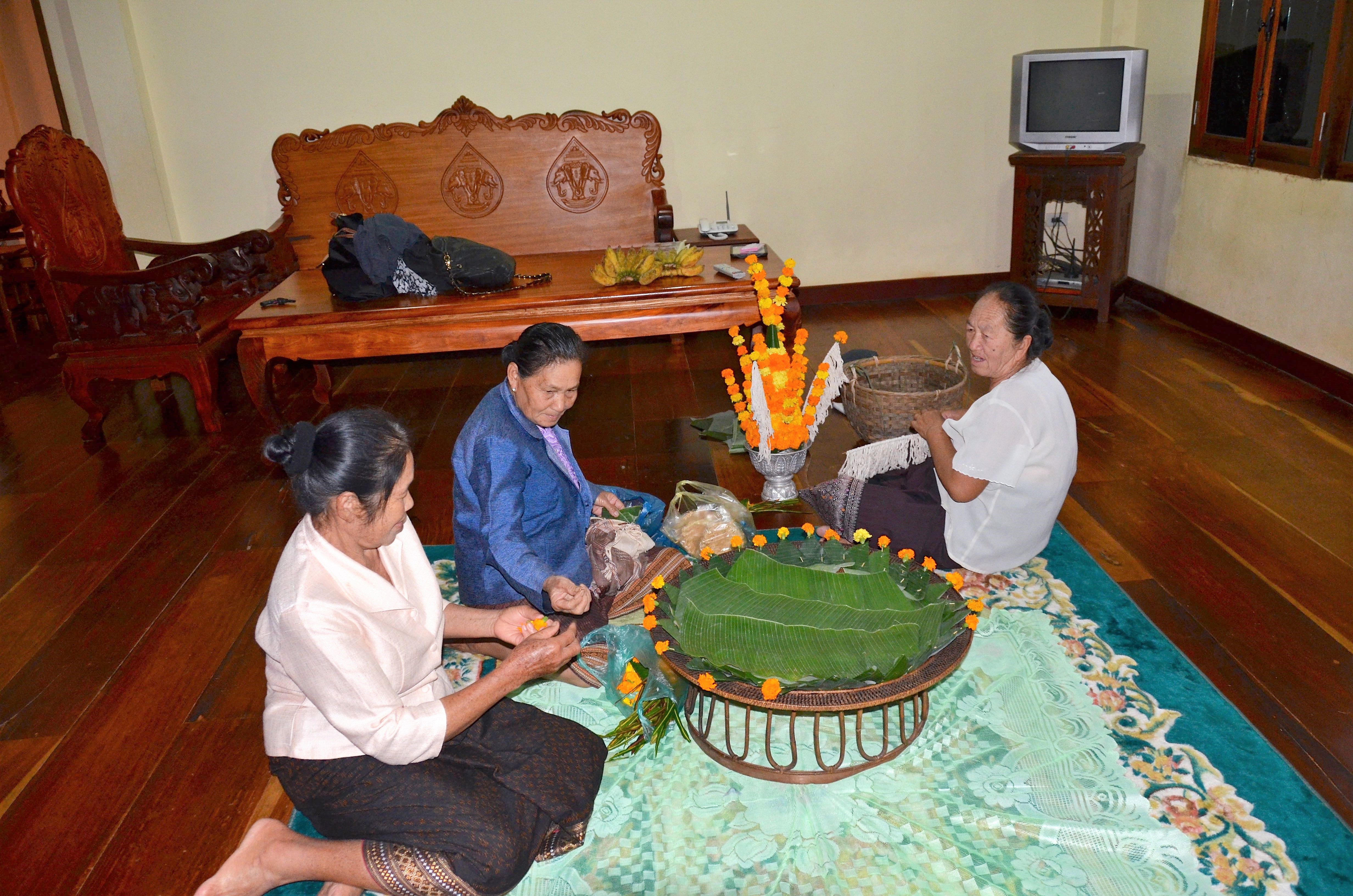 They used banana leaves, marigolds, and sweets for the offerings. Candles were placed in the center and poles of white string were placed in the center. Our guide's uncle, a former monk, led the blessing ceremony as the elders sang.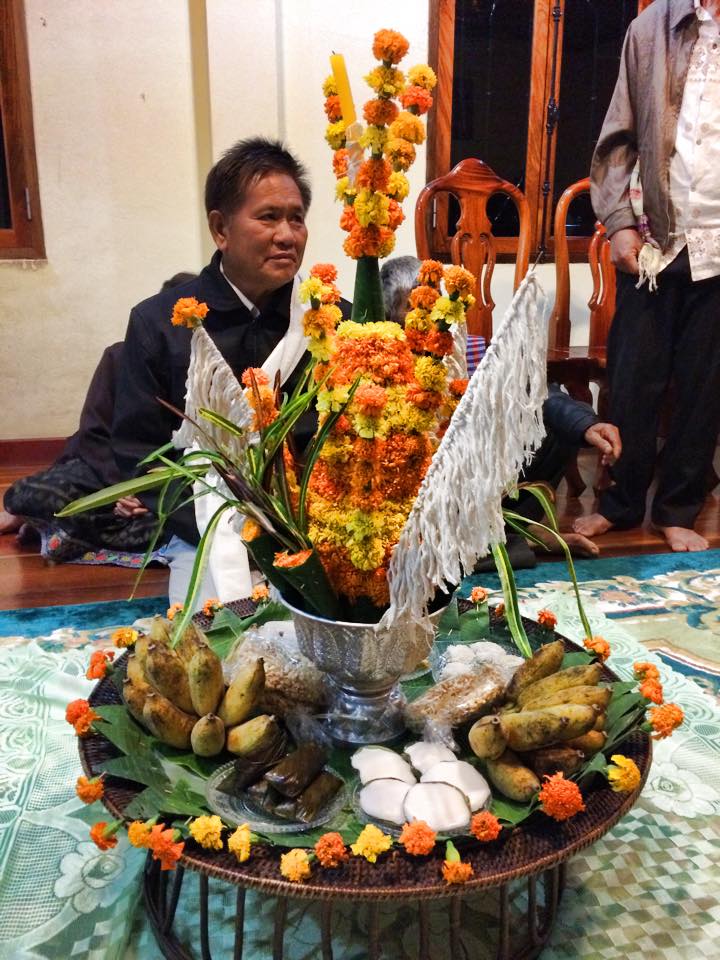 One by one, each elder removed a set of white strings and came around in a circle placing one string on each of our wrists as they gave us a blessing.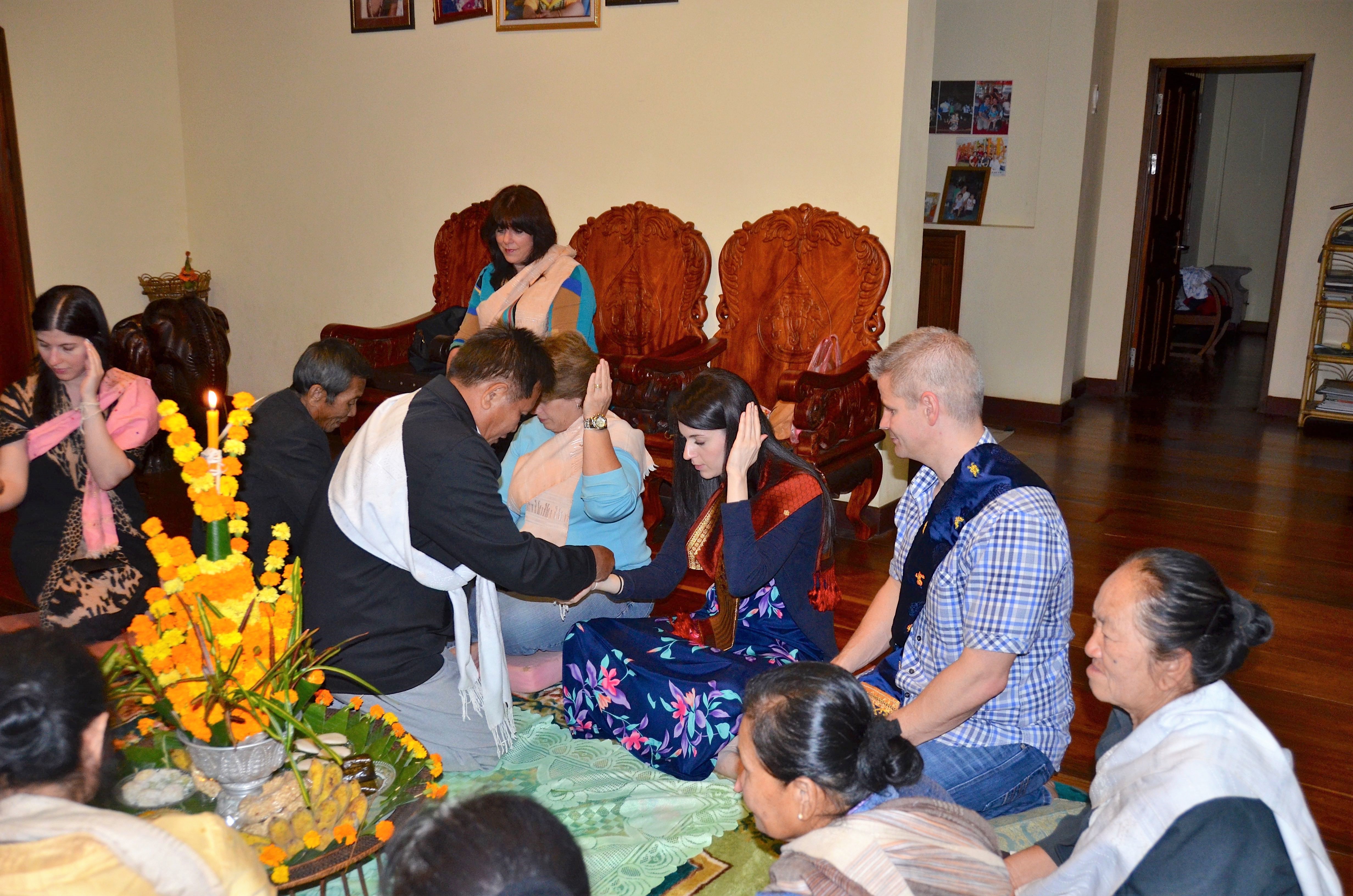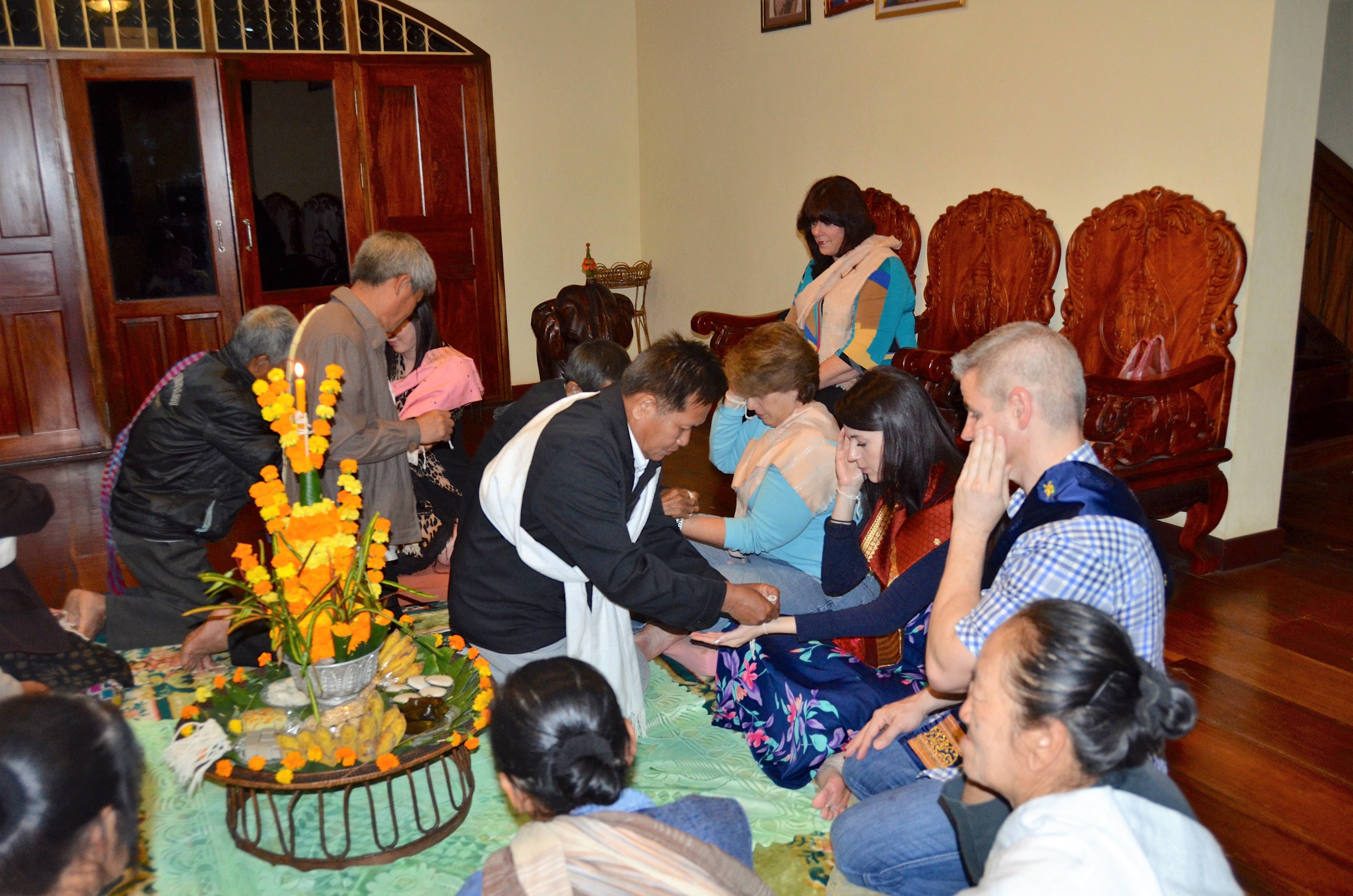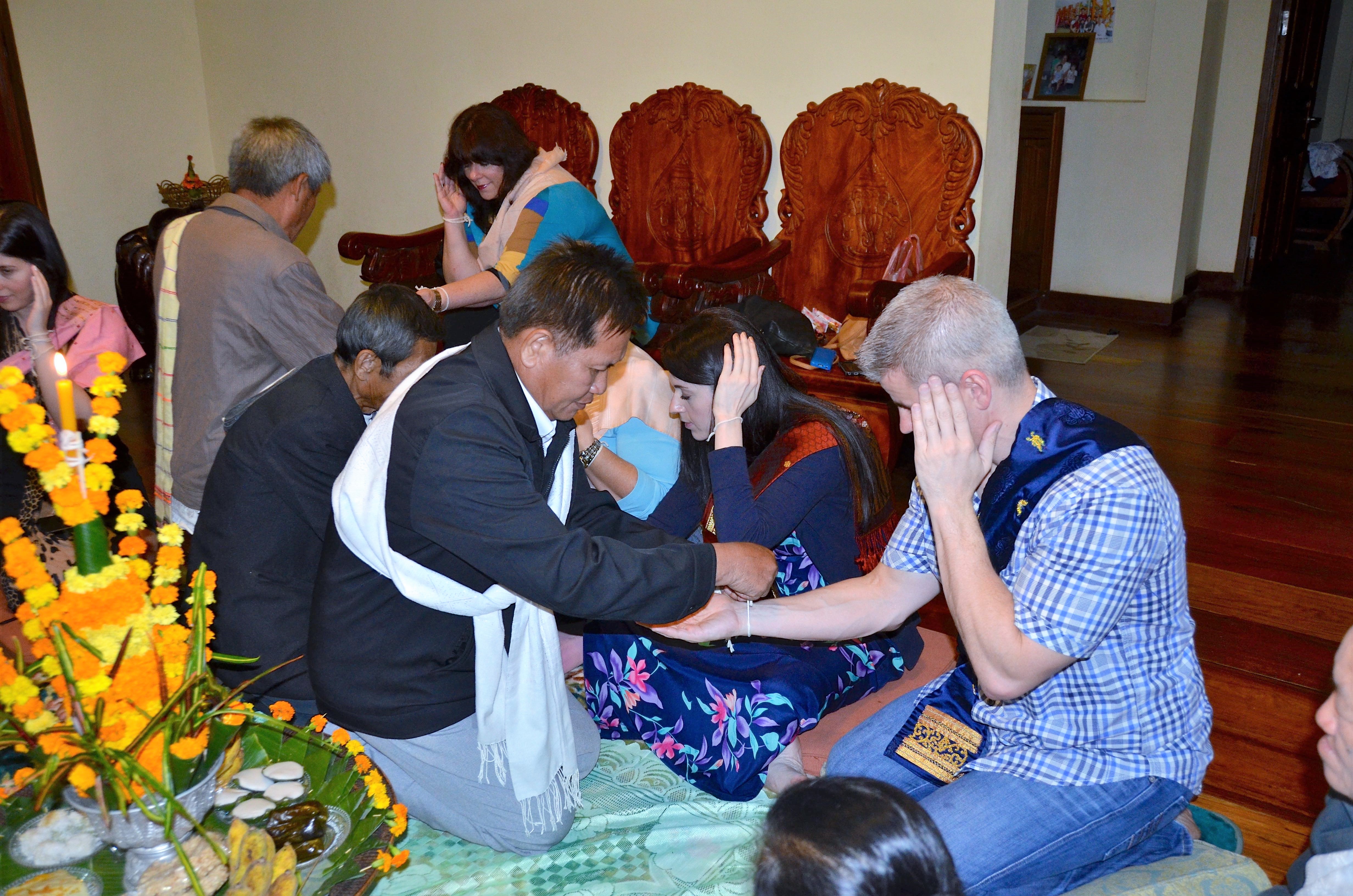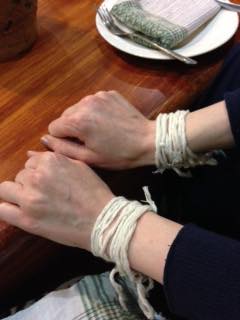 At the end of the ceremony, they offered us the marigolds.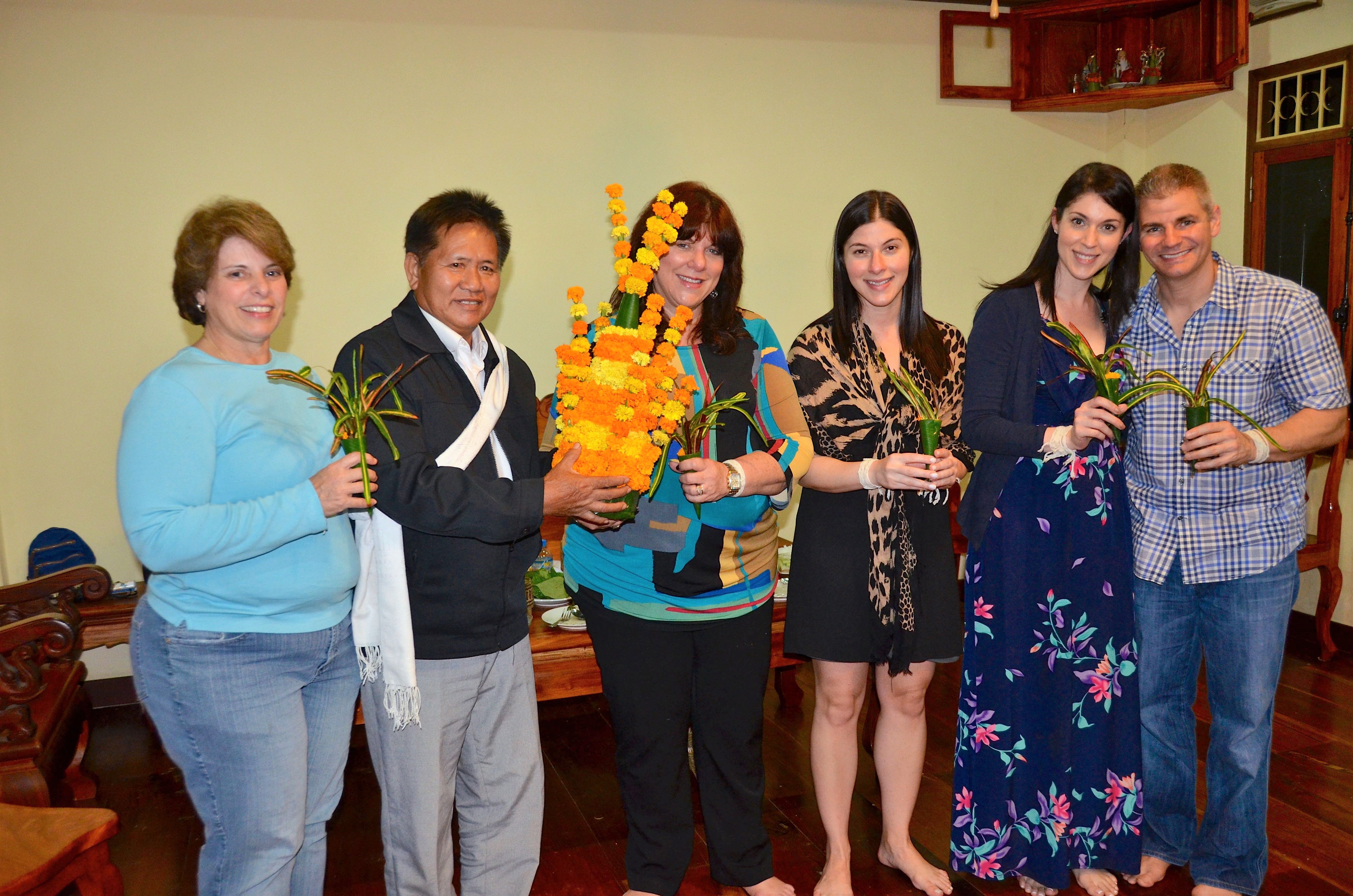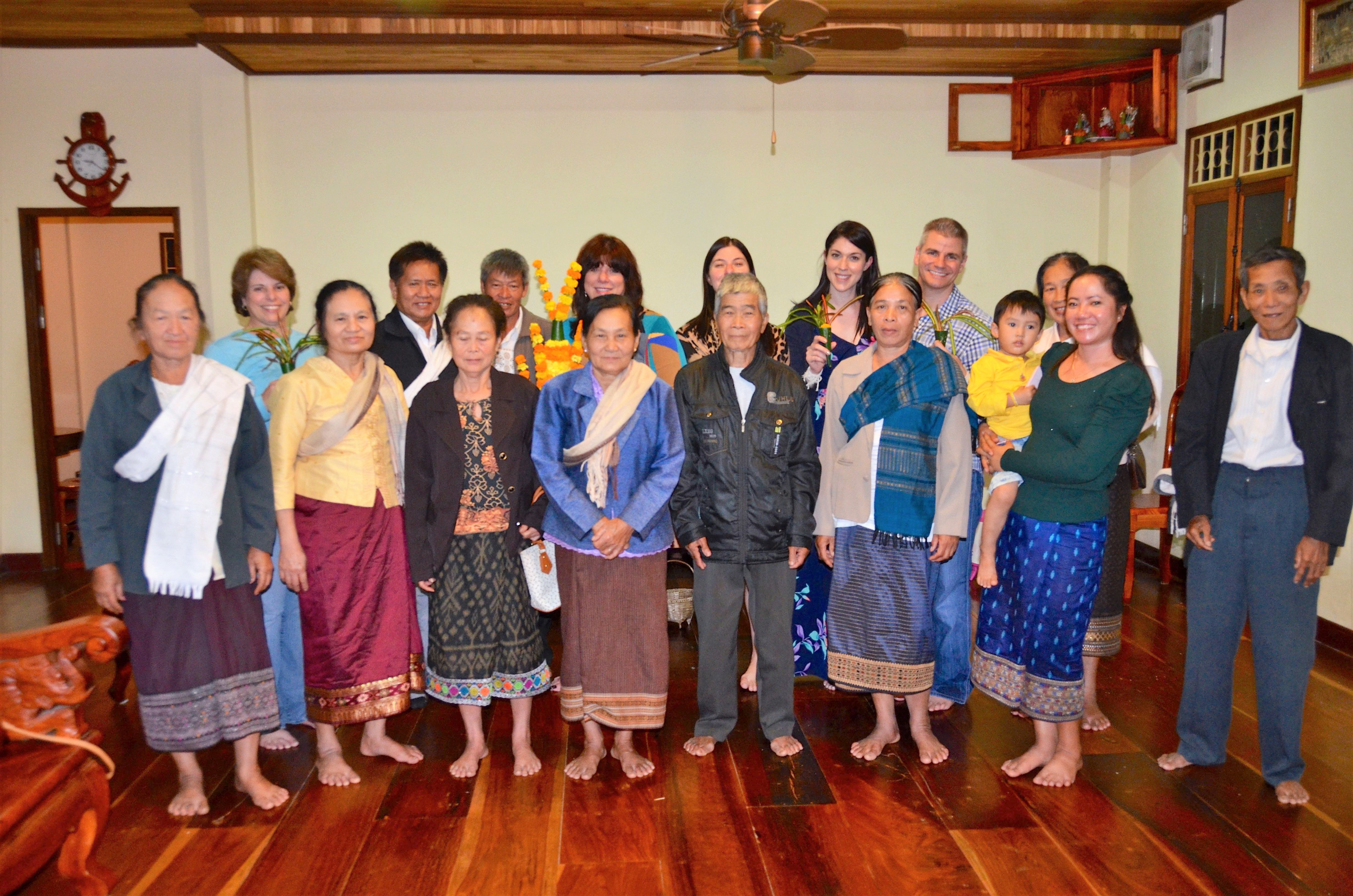 After the ceremony, it was time to eat and party! We shared the lovely meal we prepared with her family.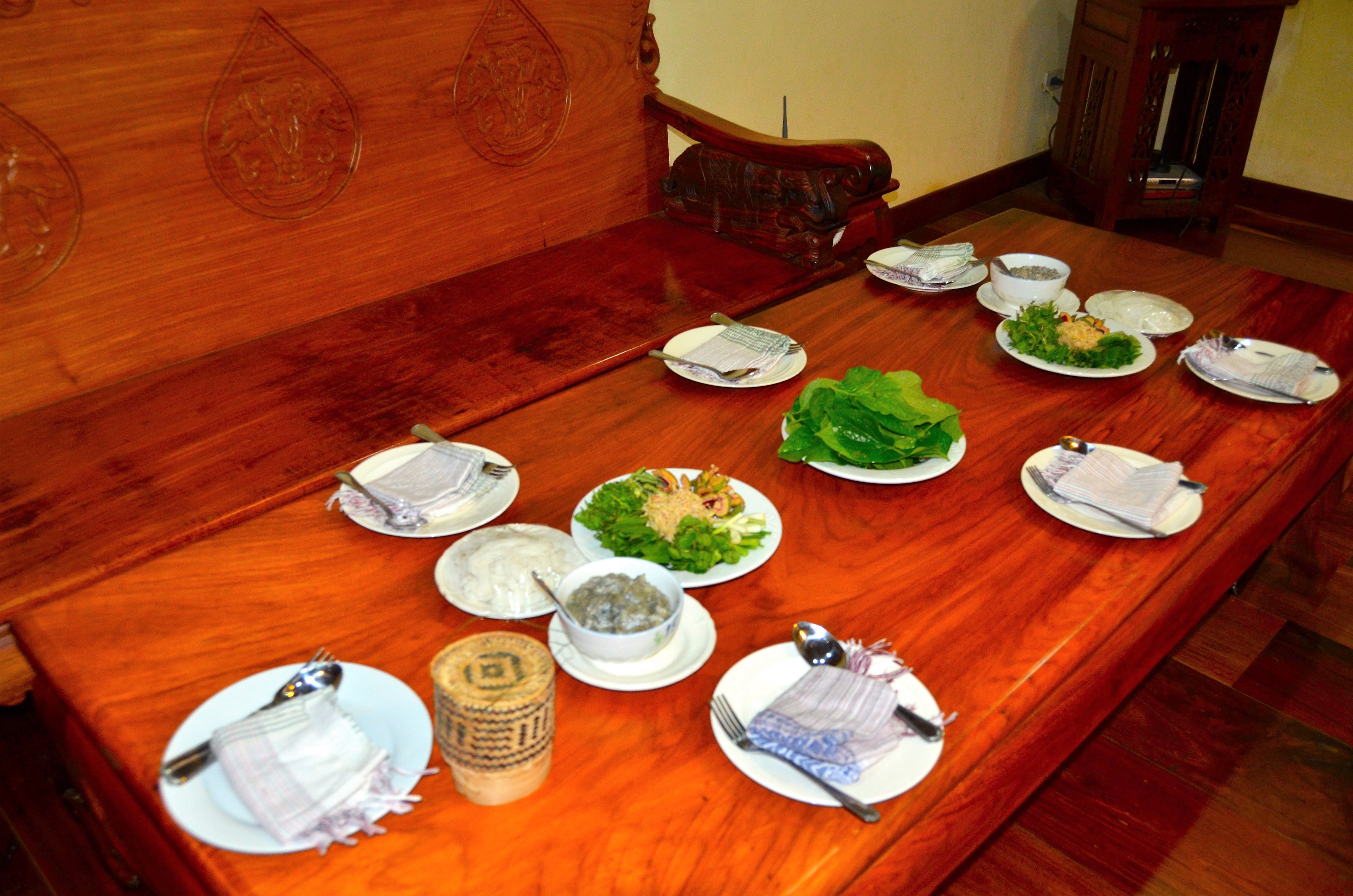 You see the guy in the back row, third from the left? We nicknamed him "Uncle Crunk"! He kept coming around with a growler of Beerlao (the main, locally brewed beer in Laos, which Chad says is actually a pretty good lager) and  doing the 'ol "one for me and one for you!" It wasn't long until Uncle Crunk, was well, Crunk!  He turned on the tunes and then it was time to dance; and, let me tell you, Uncle Crunk LOVES to dance, especially with his new American lady friends. Here is also where my sister, whose name is Haroula, solidified her nickname: Colorado, Asian Temptress. If you are wondering what I am talking about, then you need to read this.
Although we only spent few days in Laos, they were truly excellent days! That's the thing about traveling; sometimes you come across a gem and love it more than you could have ever imagined, and it changes you as a person. That is how I feel about our short time in this charming little country and city. I hope you too make it to Luang Prabang one day, and when you do (or if you already have), I'd love to hear from you! Sa Bai Dii!