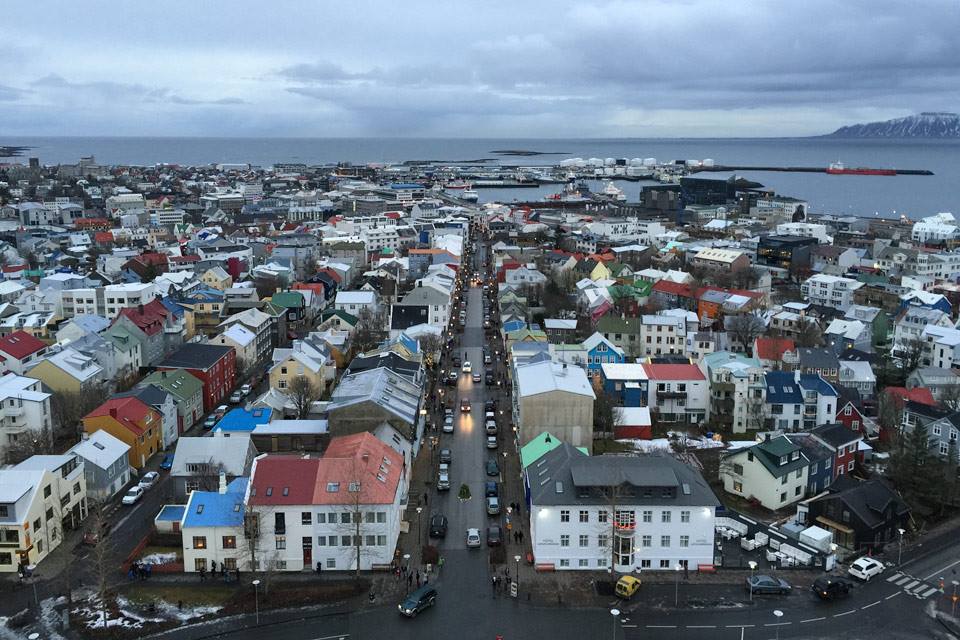 If you're being honest with yourself, Iceland probably only recently came on your radar.  It's not like you dreamed of going to Iceland since you were a child. In my opinion, social media has almost single-handedly boosted tourism to the once mostly unknown (from a tourism perspective) country. But now that you know about it and have seen all the amazing pictures, you HAVE to go right?!?! I mean, it is soooo cheap! You can get there in just a few hours and for just $99! I know! I felt the same way. Which is why I am writing this post.
Don't get me wrong, we had a GREAT time in Iceland. The people are so friendly! The country is so beautiful! The food was delicious! But there were things about Iceland that I didn't know until I got there, and I do A LOT of research for our trips. So, I feel like it is my duty to arm you with as much information as possible about this trip so that you come prepared and enjoy every second of it.  Here we go …
FLIGHTS 
There are basically two ways to get to Iceland: WOW Air and Icelandair. I am sure you have heard of WOW.  Big pink planes? Low, low fares? Well, there's a reason for that. You.Pay.For.Everything! Want a seat? It will cost ya. Bringing a bag? Gotta pay! Would you like to drink some water or eat a snack on the plane? Well, there are no freebies here.  You MUST pay. FOR WATER! (This is NOT a joke).
So, assuming you can even find the $99 fare (they exist, but most of the time it's slightly higher than that, like in the $200 range), you have to be prepared for the extras. And, that is also assuming you live in a city from which WOW departs.  If not, then you have to factor in your domestic ticket, and don't forget to leave enough time to claim your luggage, transfer to the international terminal, re-check your bags (and check yourself in), and go through security. Once you factor in all the extras, your $99 fare is more like $400 to $600, which honestly, is still pretty inexpensive.
Also, make sure you adhere to their very strict baggage restrictions because if you don't, you'll be paying. And, before you board, load up on snacks, drinks, and in-flight entertainment, because their planes do not even have TVs!
Icelandair is slightly better.  Yeah, their base fares are higher, but once you add on the basics from WOW (which you don't pay extra for on Iceland Air), there's not much of a difference, and you can get JetBlue points for flying on Icelandair. Also, their baggage allowance is a little more generous, if you are making a stop and are flying JetBlue for the first leg, your bags will be checked all the way through, they offer a beverage service, and there is in-flight entertainment. So, if you ask me, it all shakes out to about the same in the end, with Icelandair being less of a hassle.
HOTELS/APARTMENTS
Iceland's tourism really started to grow in the last eight or so years.  First, they experienced a financial crash in 2008 and then, in 2010, they had a massive volcanic eruption which covered the European skies in ash and grounded planes all over Europe for days. As a result of these two events, the media flocked to Iceland to cover these stories, putting Iceland on the map. Since then, tourism has gone from an insignificant industry in Iceland to the island's biggest industry. In fact, tourism has risen by 30% every year since 2010. Then Hollywood came a knocking: Game of Thrones, The Secret Life of Walter Mitty. Instagram followed, and before they knew it, Iceland had more tourists than they knew what to do with.
Why am I telling you this? Because, Iceland is still learning how to host and cater to tourists. This is most evident in its tourist accommodations. Compared to other cities, there aren't that many hotels, and most people stay in apartment-type accommodations. If you are used to big, fancy luxury hotel brands, well, sorry about your luck. There aren't any. Even at nice, corporate run hotels, there is a sense that something is just lacking.
For example, most of the flights get into Iceland at an ungodly hour (like 4:00 a.m. to 5:00 a.m.), so I suggest you book your room for the day before you arrive so you have a room ready when you get to the hotel. Don't expect the hotel to accommodate you.  They won't.  All they offer is luggage storage. So, you see many weary travelers napping in the lobby.  Same goes for the apartments.
If you are lucky enough to get a hotel that serves breakfast, don't expect much. It will be buffet style and basic. No omelette stations here. Any special requests will be met with looks of bewilderment. For example, a lot of the tour pick ups begin before breakfast does because you have to travel a long way. Most hotels in tourist cities know this and can accommodate guests with a breakfast box or bagged lunch. Not here. Thankfully, they have 24-hour grocery stores, so you can (and really, have to) fend for yourself.
If you are staying in an apartment, there will likely be no breakfast. But, that's okay, you can go to the 24-hour mart and buy food to prepare on your own. But, check and make sure you have the necessary tools to cook (you know, like a pan) because a lot of the apartments have nothing!
Also, bring ALL your toiletries.  The hotels will provide soap (from a pump bottle), and it ends there. No shampoo. No conditioner. Nothing. This is especially the case if you are staying in an apartment. Time to hit that 24-hour market again. But, I will say, the WiFi in Iceland is good, strong, and readily available!
FOOD/ALCOHOL
The food in Iceland is delicious. Fresh fish galore. But it is EXPENSIVE! Like very expensive. I dare you to eat dinner for two for under $150. I literally dare you. It is nearly impossible.  And, not just at nice restaurants, but everywhere. A salad and pizza for lunch cost us $80! Lunch at the Blue Lagoon was $120!
Also, you need reservations everywhere. This is also not a joke. If you don't pre-book restaurants, you are going to have one hell of a time finding a place to eat dinner. Again, this is another painfully obvious sign that, while well-meaning and friendly, the tourism industry in Iceland is simply overwhelmed and playing catch up. Time to get back to that 24-hour market! No, but seriously, even local, seemingly casual spots will ask you if you have a reservation when you walk in. The good news is that tipping at restaurants is not a thing here. Like, not even 10%. They literally don't expect to be tipped.
If you are shocked by the food prices, you will die when you see how much alcohol costs.  Chad was looking at a beer menu that had $85 beers. As in $85 for a bottle of beer. He was able to find a good, locally brewed craft beer on draft for $15 (that was the best "deal" he found!). We paid $8 for a ginger ale. It is insane! So, what's a lush to do?  I'll tell you! When you get to the airport and collect your luggage, you will see a duty free shop.  Stop in and LOAD UP.  Better yet, stop at duty free in the States and LOAD UP. Buy all the alcohol you think you will need. You'll be the most popular person in town.
Also, a side note about the food: Some restaurants offer puffin (a cute little bird that looks like a penguin), Minke whale, and Icelandic horse on the menu. Please don't order/eat these things. These are traditional foods that were eaten back in the day out of necessity. Most locals do not regularly (if at all) eat these things. They appear on the menu solely for tourists. Please don't contribute to the terrible whaling industry or support the needless slaughter of cute little birds and horses. Okay, PSA over.
TOURS
You are going to be hard-pressed to find a company that offers individualized private tours. I asked around. They looked at me like I had two heads. Who would pay for that? (Um, ME!) They literally do not seem to understand the concept of private tours. The best you can hope for is a small group tour.  Opt for that.  It is a much nicer experience. Unless, of course, you want to rent a car and go at it alone; but I would not recommend that in the winter when there is about four hours of daylight and a whole lot of snow (sometimes causing unexpected road closures)! Most of the waterfalls and scenery spots are two or more hours outside of Reykjavik. In the spring/summer when there is endless daylight, you should be fine. Whether you take a small group tour on a mini bus or larger group tour on a big bus, you can rest assured that your vehicle will be equipped with WiFi. Also, most people were not tipping the guides; but, if you were on a small group tour, and the guide was good, you should tip. They don't really expect it, but, in my opinion, it's the right thing to do.
You are also going to have to pre-book these tours. They fill up fast, and they are also not that cheap. Because the weather changes so quickly in Iceland, make sure you have a Plan B activity in case your tour gets cancelled.  Three of our tours got cancelled, but luckily, we were able to re-book onto other tours. Be mindful though that if everyone's tour cancels due to weather conditions, a lot of people will be trying to re-book onto the few tours that are still operating, unaffected by the weather.
Finally, have an idea about what you want to see and make sure you are going in the correct season. For example, if Northern Lights is your goal, then you have to go in the winter.  But, in the winter, you have limited day light (sunrise is at about 11:00 a.m. and sunset at about 3:30 p.m.), so you don't get much time for day-time activities and there is no greenery.  If greenery and scenery is your goal, then go during the spring or summer where they literally have almost 24 hours of daylight.
WEATHER
Which brings me to my next point– the weather. The locals say if you don't like the weather, just wait five minutes. That saying is so true.  One minute its snowing and the next the sun is out! So, come prepared! Depending on the season, it could be snowy, then cold, then FREEZING, then sunny all in one day. Bring layers– clothes for the cold and for the rain. And, now is not the time to be cute; wear sturdy weather-proof boots.
MONEY
The official currency is the Icelandic Krona, but most places take the Euro or the U.S. Dollar. But, if you pay in Euros or dollars, they will give you change back in Krona.  My advice is to avoid all of this, and just use a credit card that does not have foreign transaction fees. Surprisingly, credit cards are widely accepted in Iceland. On planes, at hotels, on the tour buses, in taxis (in case you were wondering, there is no Uber here, but the entire city is very walk-able), in stores, and at restaurants.  This way, you get the daily rate and don't have to bother with cash.
THE NORTHERN LIGHTS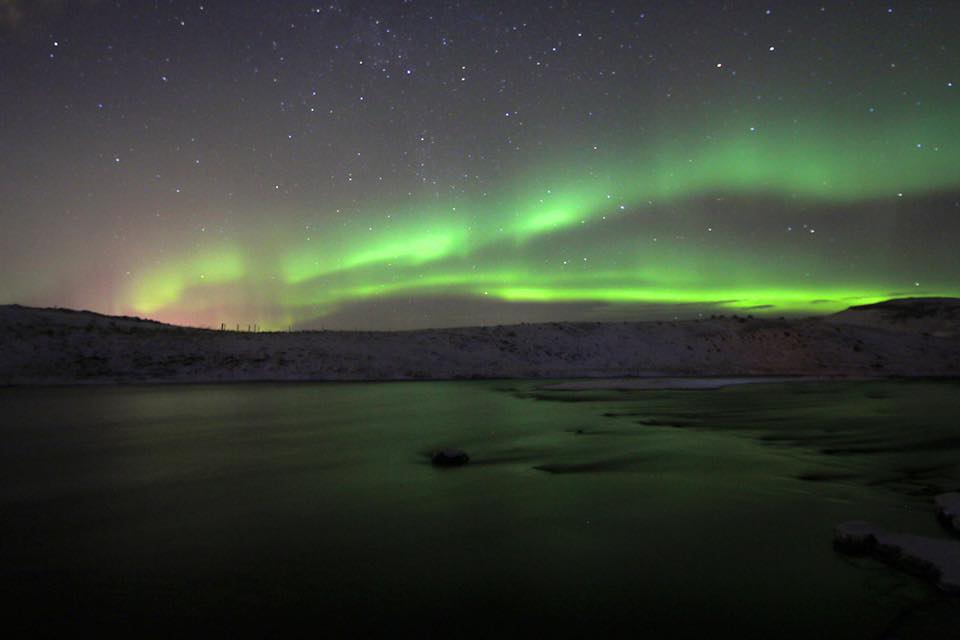 It's basically on everyone's bucket list. It's like one of, if not, THE reason to go to Iceland. But, if you go to Iceland expecting to see all those (filtered!) photos from Instagram with your naked eye, you may be disappointed.
This is a pretty good explanation of the what the Northern Lights are. Visibility is measured on a scale (known as the Kp index) of 0 to 9.  Zero means no chance of seeing the lights, while 9 means the best viewing ever in life. Just so you can temper your expectations, 9 hardly ever happens.  In fact, the highest our guide had ever seen in all his years of chasing lights was a 7, and that was a rare event that he told us about with a great deal of excitement. He said he would basically die if he ever got to see a 9. In Iceland, a 5 is about the best you can hope for, but usually you get between a 2 and a 4. You can monitor the Aurora forecast for Iceland here.
You may want to take a seat for this next one. You should know that you rarely see the bright green color in person.  To the naked eye, the lights appear as a whitish/grayish band that kind of looks like a wisp of clouds. On the night we went out, the forecast was about a 4, and, after many hours of standing outside and waiting in frigid temperatures, we saw a faint green color. I was not prepared for this. I thought I was going to see a magnificent bright, neon green band of lights dance through the sky. You know, like the ones I've seen on Instagram. I was wrong. I also thought I was going to capture this phenomenon on my iPhone camera! Wanna know how that turned out for me?  Like this: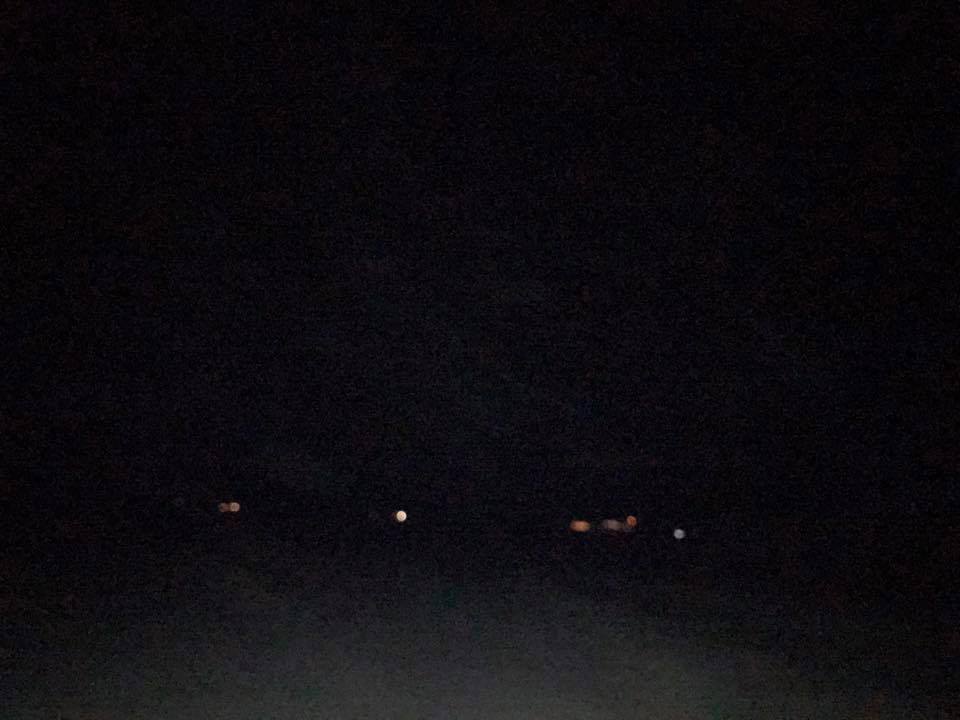 There are some iPhone apps that claim to help you capture the lights, but I could not get them to work. If you want to get fantastic pictures of the lights, you need professional grade gear. And it's not enough to have a professional camera, a tripod, and the correct lenses. They all have to be set to the correct settings. It is very technical, so I found what appears to be the definitive guide on how to photograph the lights, and I linked it here. Amazingly, when you photograph the lights correctly, you can see all those beautiful colors right from your digital camera!
But don't despair, here's the good news: If you take a small group tour with a professional guide, the guide will set up your equipment for you and help you shoot the northern lights. If you don't have all this fancy gear, the guide will also be shooting, and, at the end of the tour, the company will email you a file with all the lights from your trip already edited for you! Also, I learned a neat little trick. Apparently, the guide sets the shutter to flash like 10 times.  He had us stand in front of the camera with the lights behind us.  He then used his phone's flashlight which he brought up to about eye level and then lowered again while the lens was shooting. Apparently, this helps people show up in the foreground with the lights in the background!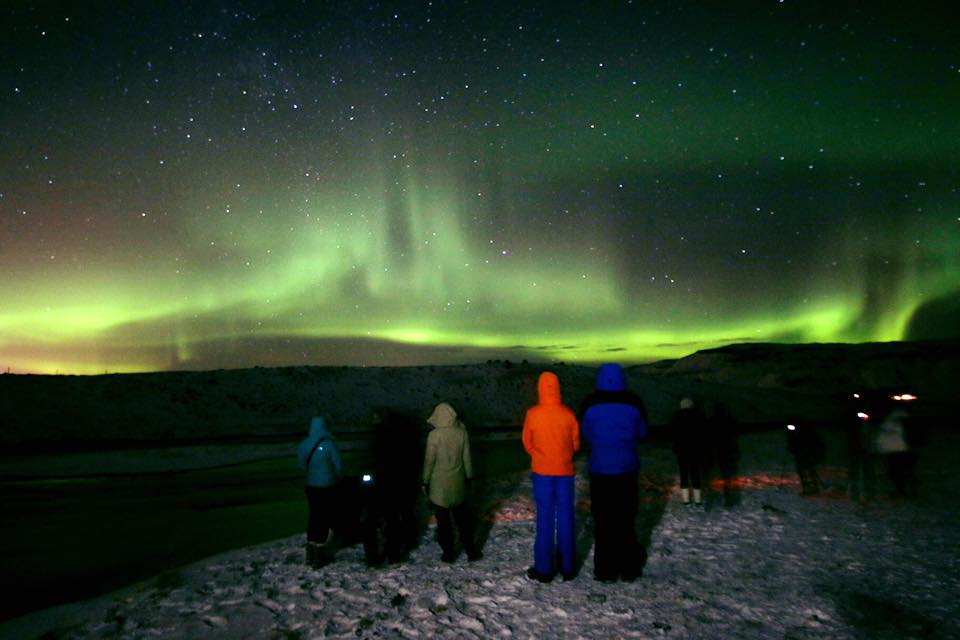 Finally, patience is a virtue with the lights. You sometimes have to drive to a couple of spots and just wait. It is VERY cold, so overdress in layers and pay special attention to your shoes and socks situation. There are no bathrooms, and you will be out there for about four hours. Although I was initially disappointed that the lights display was not quite as bright and colorful as I was expecting, it was still a pretty amazing experience, and I am so glad we did it.
THE AIRPORT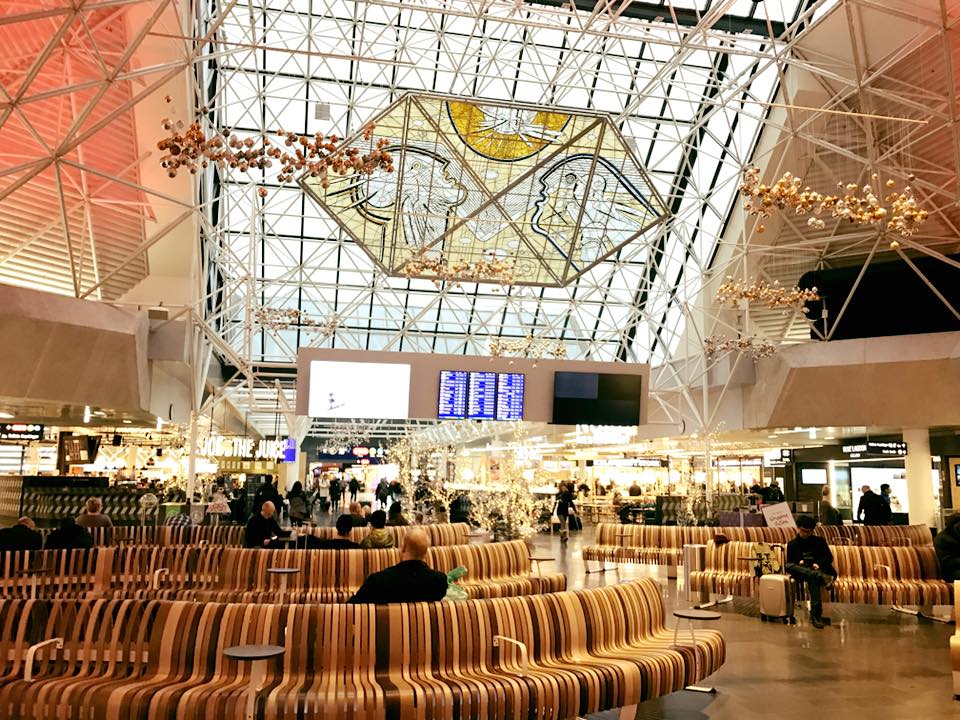 For being so relatively new to tourism, Reykjavik has a surprisingly impressive, modern little airport! First, it is all digital and almost all self-service. You can check yourself in, print your boarding pass, and print your bag tags all from self-service kiosks.
You get your boarding passes and bag tags here: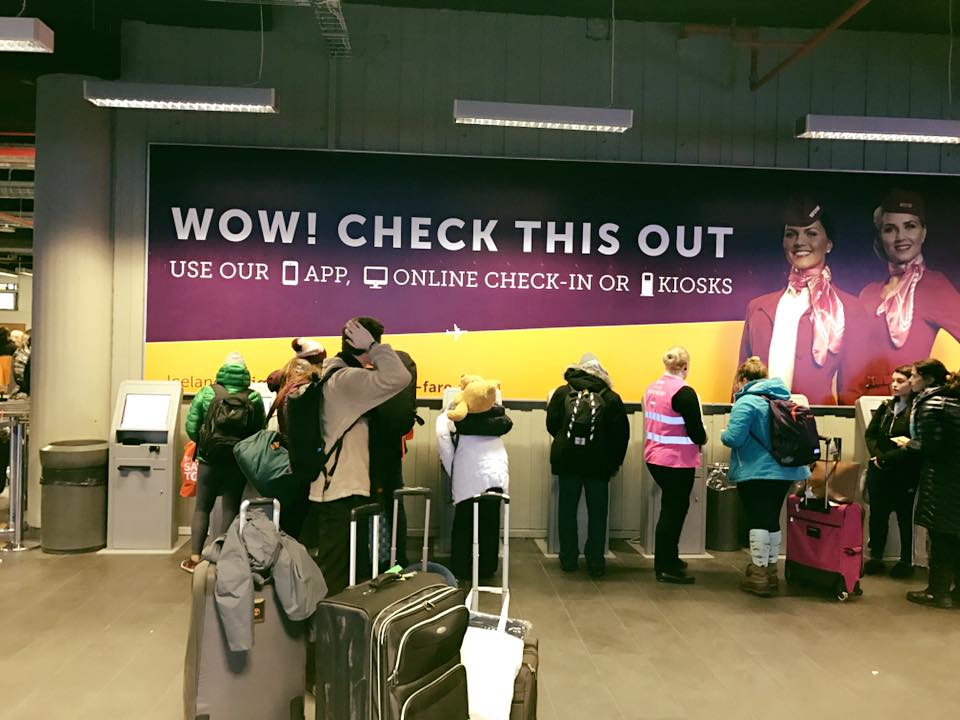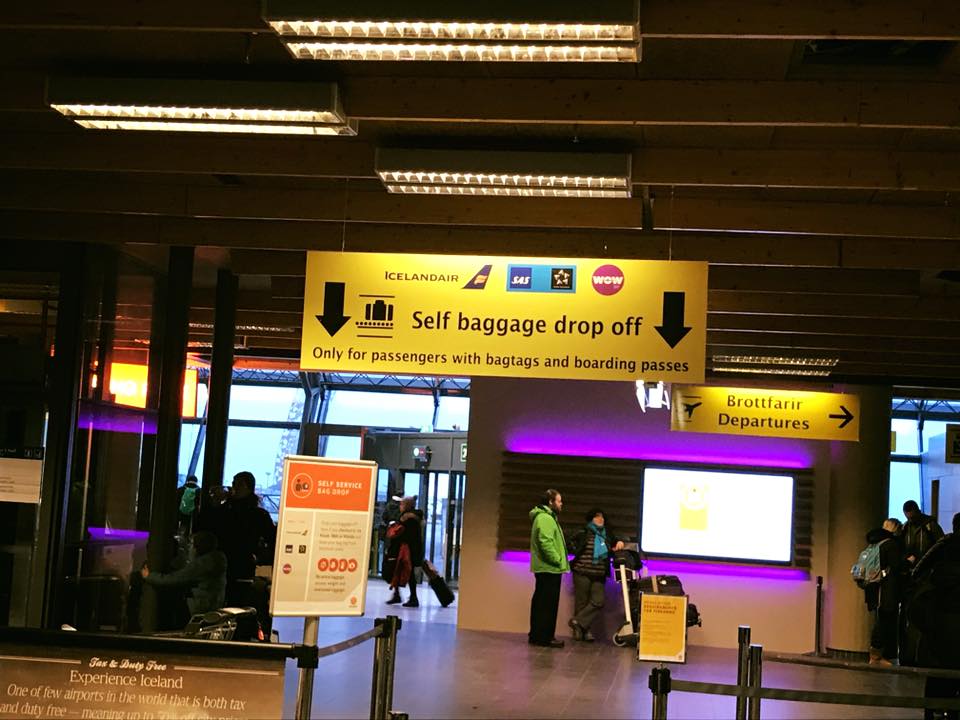 You check you luggage in on your own here: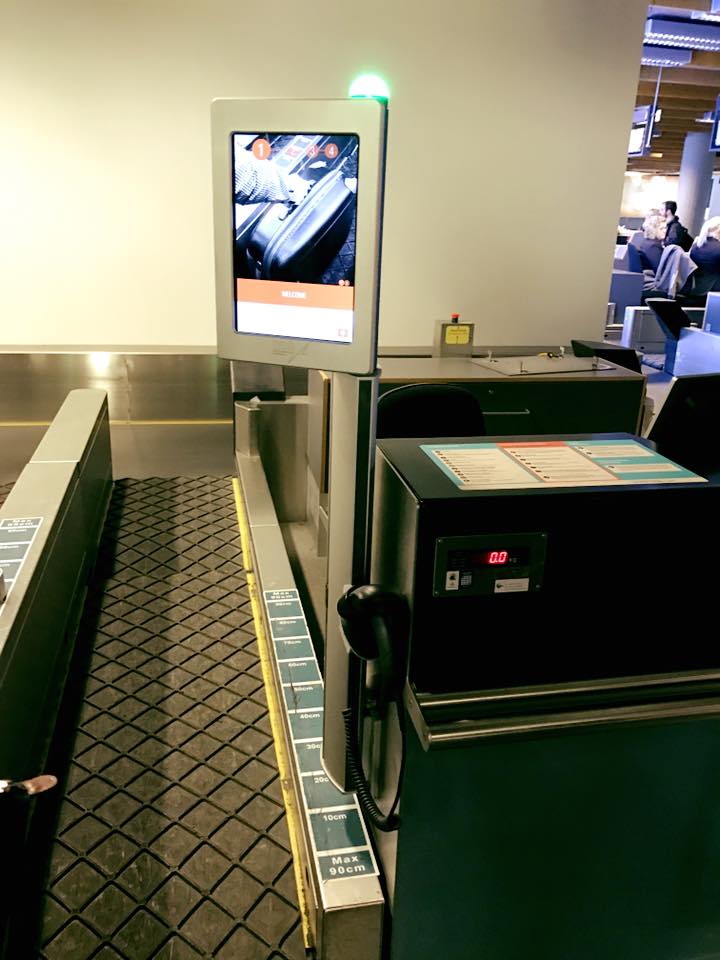 Even their security is fully automated!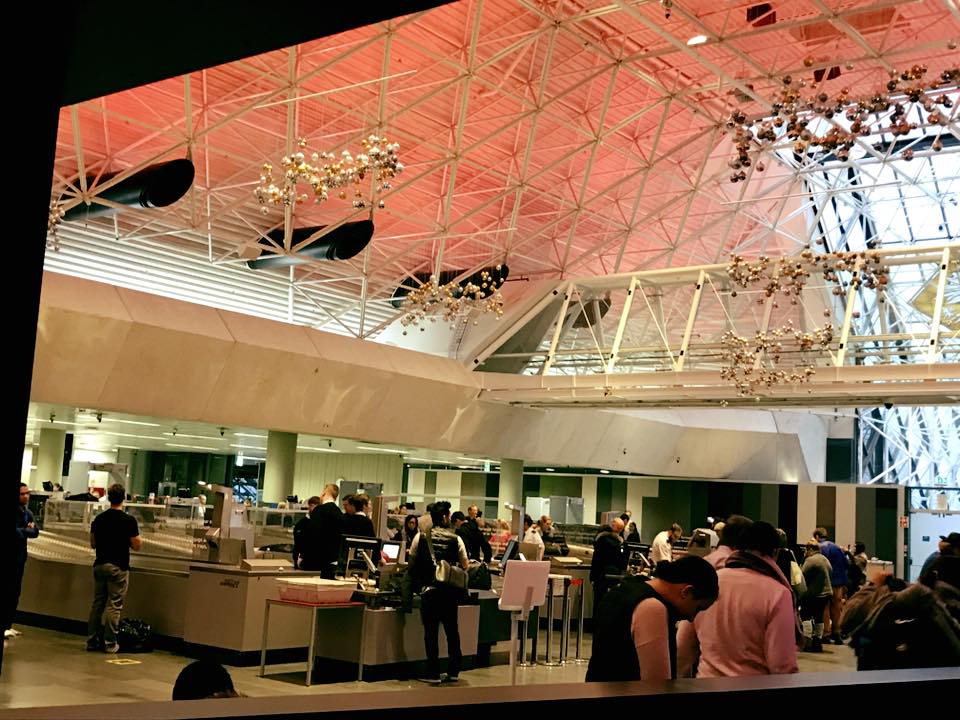 It is a very quick and easy process, which leaves plenty of time for you to stroll through their quaint little shops and have a real meal before you board your (meal-less) flight!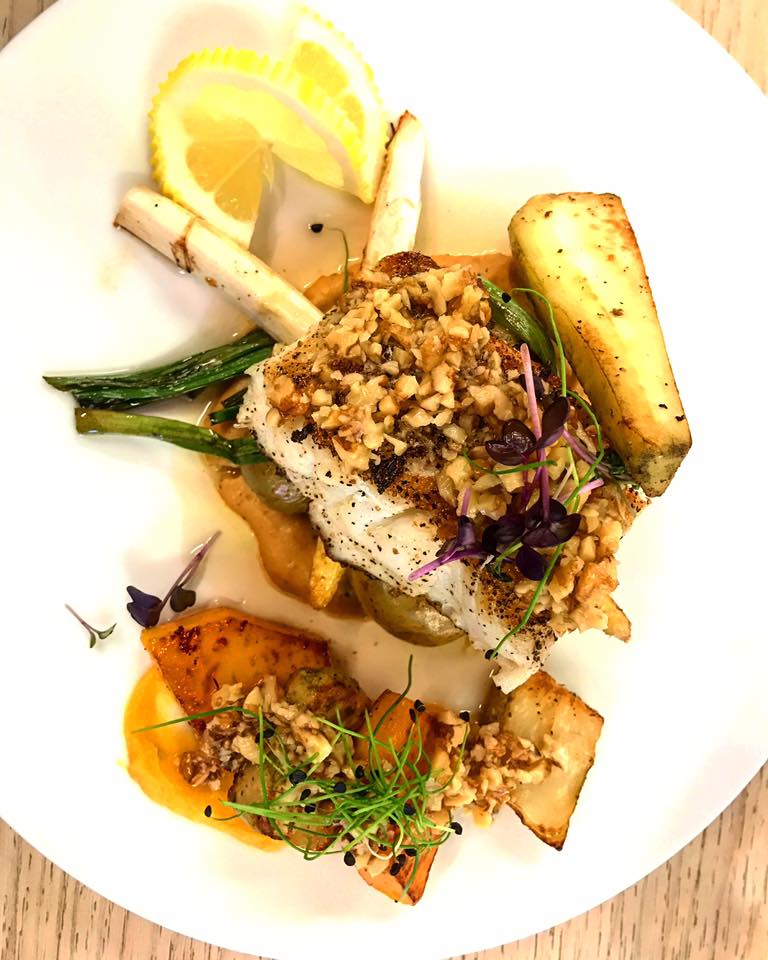 Even the restrooms are automated, allowing you to wash your hands and dry them all from the sink!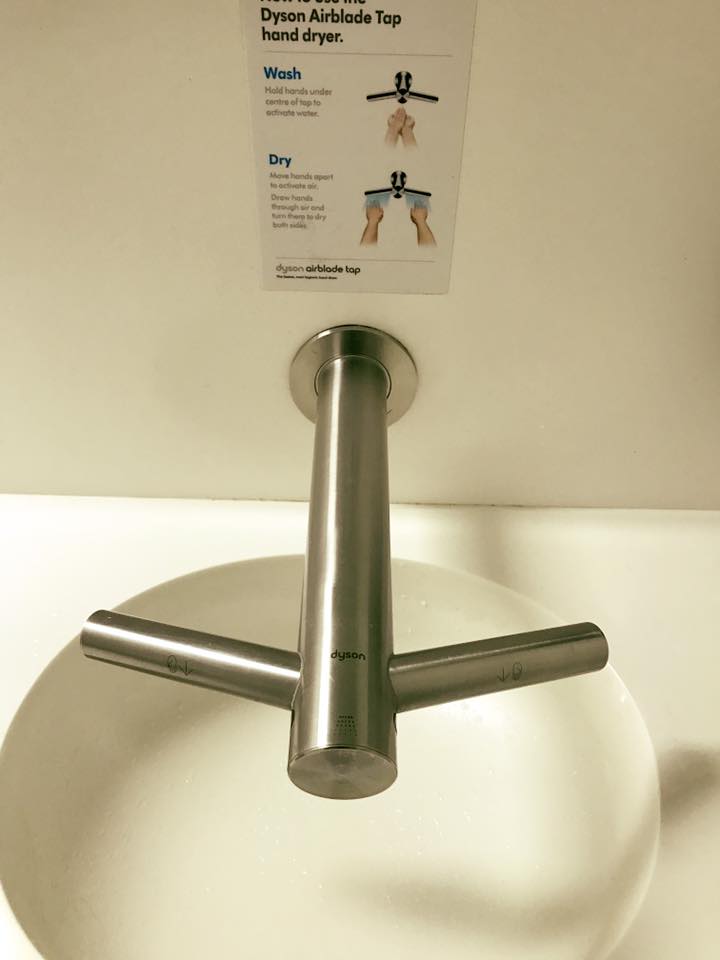 And, throughout the airport are little stations asking you about your satisfaction with check-in, security, the restrooms, and cleanliness!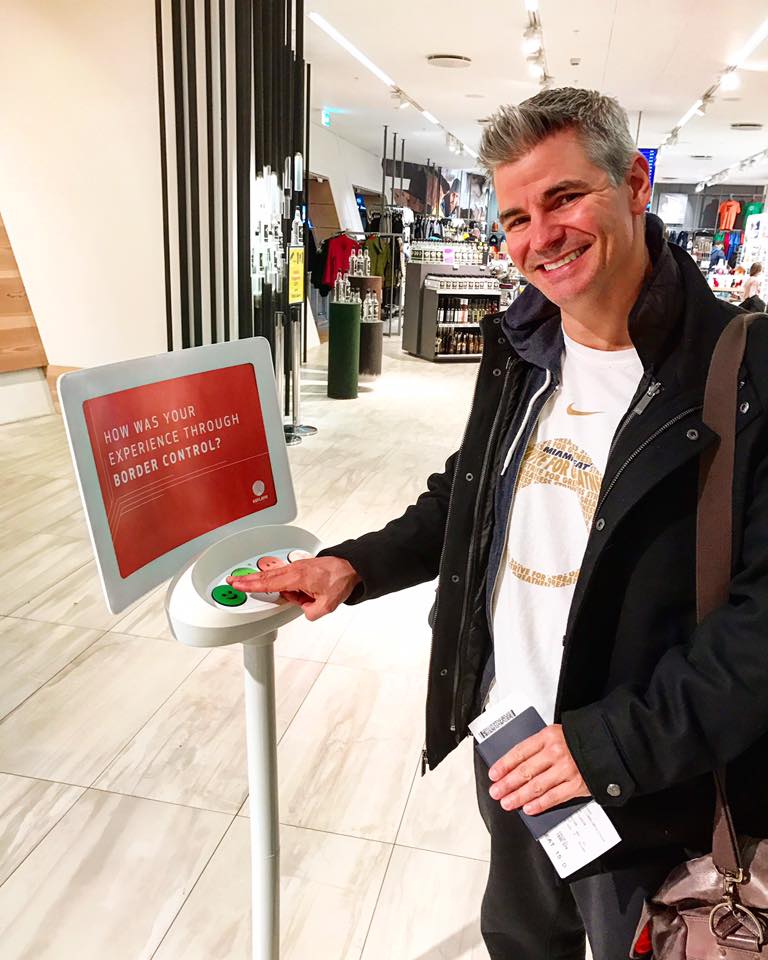 As you can see, Iceland is a dichotomy of sorts.  In some ways it is so progressive (airports, WiFi, credit card usage), and in other ways so primitive (accommodations, tour operations, and the fact that they believe in invisible elves who have their own political lobby (that's not a joke; give it a Google)). Nonetheless, I absolutely recommend that you hop over for a few days and check it out for yourself. It truly is a beautiful country filled with incredible sights, delicious (albeit insanely expensive) food and friendly people.
If you have any questions about planning a trip to Iceland or want to share your own quirky Icelandic tale, leave me a comment below or send me an e-mail! Until then, Vertu Blessaður!